"Where would you like to go for your birthday?" asked Jared a few days before my birthday. I wasn't sure it mattered too much where we go really. But after a day of not knowing what my decision was, he said to me, "Well, let's watch a West End musical." I like West End musicals so I gave it some thought, and after checking online I found out there was no available tickets on the night of my birthday. I decided that we'd put the West End plans on hold, and see if we could do this for another occasion. Jared then suggested that we should just do an afternoon tea at any historic five-star hotel of my choice. I was stunned.😮My husband doesn't like eating out very much especially at fancy hotels and restaurants you see. That's why I was astonished to hear him say about going to afternoon tea. He was convinced that the disappointing birthday experience at The Ritz Hotel sixteen years ago (I shared a little story about it 
here
), can be redeemed only by an outstanding afternoon tea somewhere. I pulled out our old photo at The Ritz and showed it to him, clearly, he looked askance and grim. Suitably contrite, he looked at me and said: "I cringe every time I see this photo. I am very sorry. I promise you, my dear, I'd never give you the tiniest hint of exasperation, and I'd be happy to go out with you for afternoon tea on your birthday." Evidently, he promise that he'd behave himself properly for the occasion, and that he's clearly trying to recompense for that mishap sixteen years ago. Too late, I told him.😂 I decided, however, that a dinner at a London historic hotel is better than having afternoon tea since Jared is not really enthusiastic about this quintessential British ritual. It's really not his cup of tea.😉
We eat out pretty rarely, but every now and then, we go out for a really wonderful meal. So with a list of restaurants in London I've wanted to try, I decided on having the celebratory meal 
here
 — a couple of factors were the deciding ones. First, it wasn't so over the top (like The Ritz Hotel) that we were going to break the bank or have to dress up too formal, which I don't mind really, but which Jared equates with various sorts of torture (for someone like him who, once upon a time, had a medieval castle as a playground, he'd rather be in the countryside exploring the woods or deer hunting). Secondly, I am a history and culture buff, and also an intrepid eater. I do enjoy visiting historic places and like to try new treats to savour. Jared, on the other hand, is the sort of eater who, when faced with various arty-crafty portions on his plate, is wont to say things like, "uh-oh! What's in it? It's such a tiny portion, it won't fill me up. I'll be
bitin
!" (He knows a little bit of Tagalog you see).😉 Oh, and by the way, if you bring him to an 'Eat All You Can' — buffet type restaurant, he'd never complain.😂So it's not easy to get him to accompany me to a new restaurant especially if I wanted to try a tasting menu. In fairness to Jared though, he doesn't mind trying new food albeit rather hesitant, and once he likes something, he'd ask for it on many occasions. Like for instance, he doesn't like the smell of dried fish but after he tried some 
danggit
, 
dilis
 and dried squid many years ago, he liked it a lot that after he first had it in Manila, he occasionally asks for it, here in London, of all places! 🙂 And he even enjoys eating them just like any Filipino would do — with bare hands, dip the crispy fried
danggit, pusit or dilis
 in coconut wine vinegar and eat it with loads of rice. I am always proud to tell everyone that my husband loves Filipino food, and that he even eats danggit, pusit, and dilis. So yes, when it comes to food he can be adventurous. He once had a 
balut
😮
much to the delight of my family back home (I have yet to try this bizarre Filipino delicacy).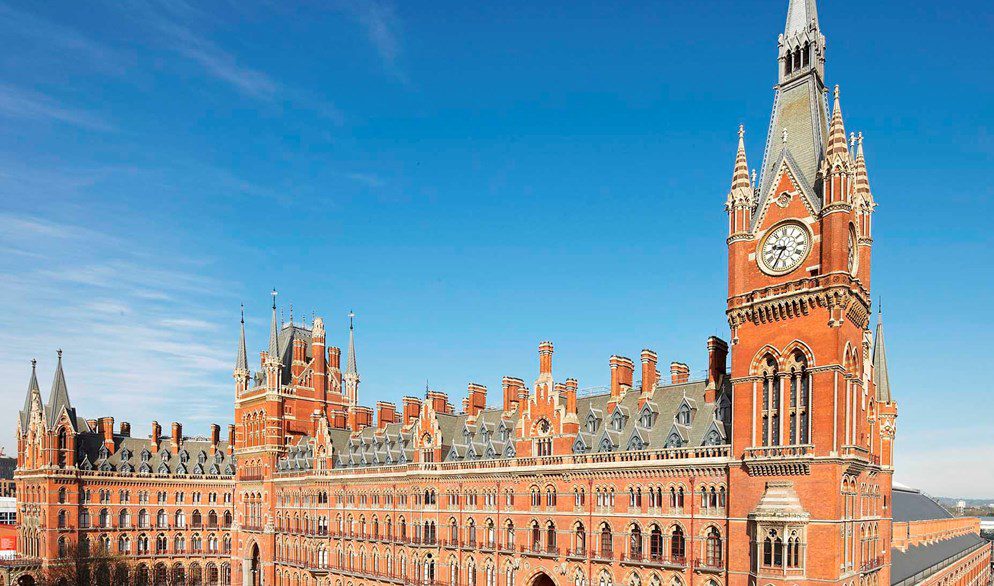 Going back to the birthday dinner . . . so we went to The Gilbert Scott restaurant at St. Pancras Renaissance Hotel. St Pancras, formerly Midland Grand Hotel, is an iconic building in London, and one of the few surviving Victorian railway hotels in the country. During the Victorian period, each of the London termini (Victoria, Charing Cross, Paddington, St. Pancras, Marylebone and Liverpool stations) had its own grand hotel and they were one of the wonders of the Victorian age.
We were greeted as soon as we walked into the huge lobby.  Pictures above show the former taxi lane that has been turned into a beautiful lobby, this is where the carriages and cars would drop people off to get on the train during the Victorian era. Adjacent to this massive space is Booking Office Bar & Restaurant, once the bustling ticket office of St. Pancras station.
After taking photographs of the jewel-coloured Gothic ceilings and 22-carat gilded cornices, we went to see the Grand Staircase. It is indeed so grand that seeing it for the first time reminded me of the ill-fated Titanic. For a few minutes we explored and admired the gigantic staircase with its soaring church-like windows, colourful ceiling, and romantic murals, and then we finally went to the restaurant.
We were seated promptly for our reservation. Appropriately named after the renowned Victorian architect, the Gilbert Scott Restaurant and Bar is a pretty massive space, with friendly service.
Shortly thereafter a server brought the menu and after she took our order, we were then offered a choice of warm slices of breads. Then another server showed up with a complimentary drink called '1873' (the year the hotel was opened), and we tasted it but Jared didn't like it at all. It was too sweet but I like it, and ended up drinking it all. 🙂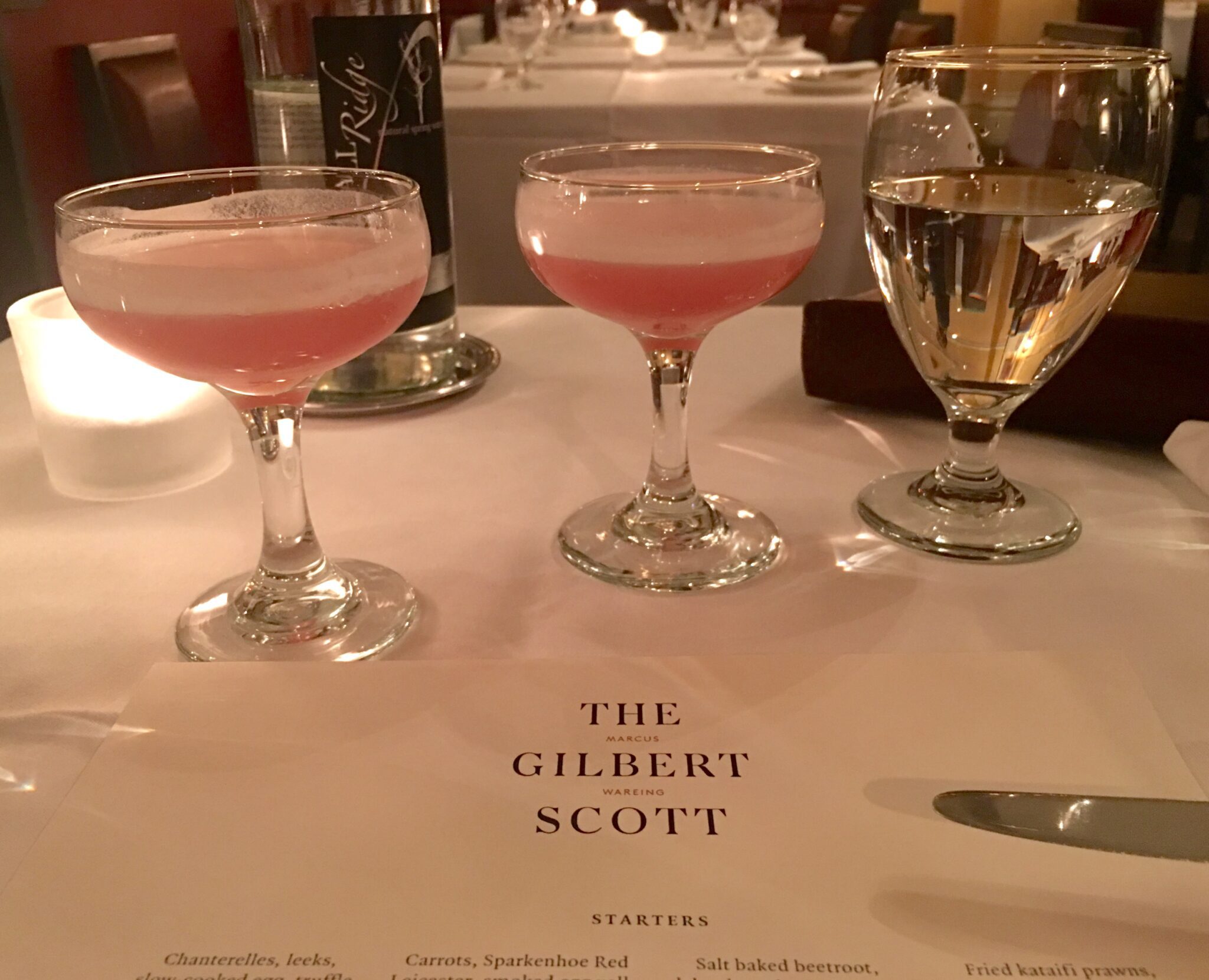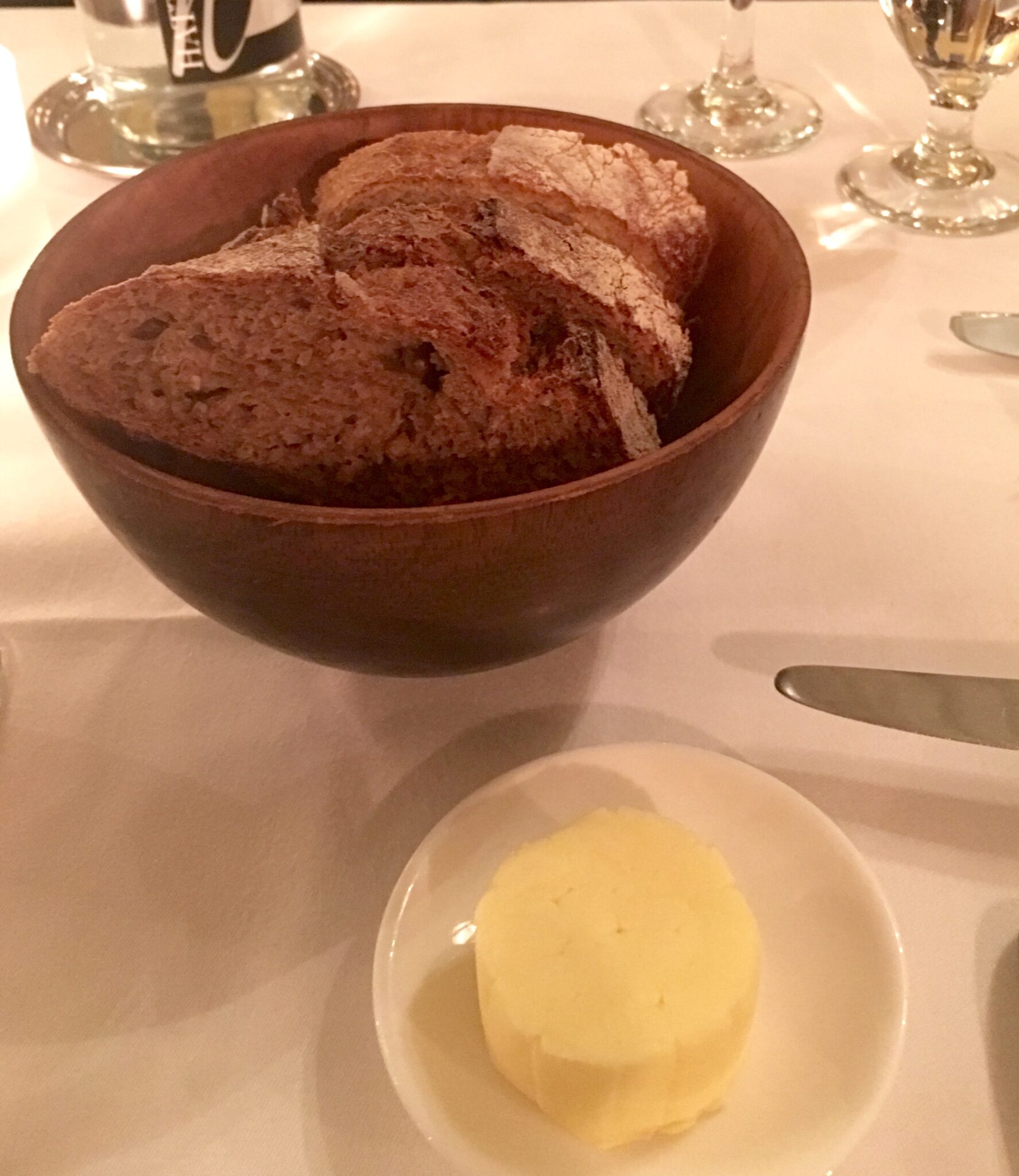 I loved my first course — foei gras and chicken liver parfait topped with crunchy granola and served with toasted brioche on the side. It was a big surprise — lovely flavour and texture, and I really enjoyed it. Jared was just as happy with his starter. I tasted it, and could see why he was very impressed. He had chosen a warm smoke trout; served in a bed of finely shredded celeriac and drizzled with beetroot aioli, which turned out to be a very fine combination. Again, it's nothing I'd ever think of throwing together, necessarily, but it is quite lovely and I will try to replicate it at home. Surprisingly the smoked trout wasn't oily nor salty and it was perfect with the crunchy celeriac — the very thing designed to tick off my husband. These tasty appetisers boded well for the main course to come.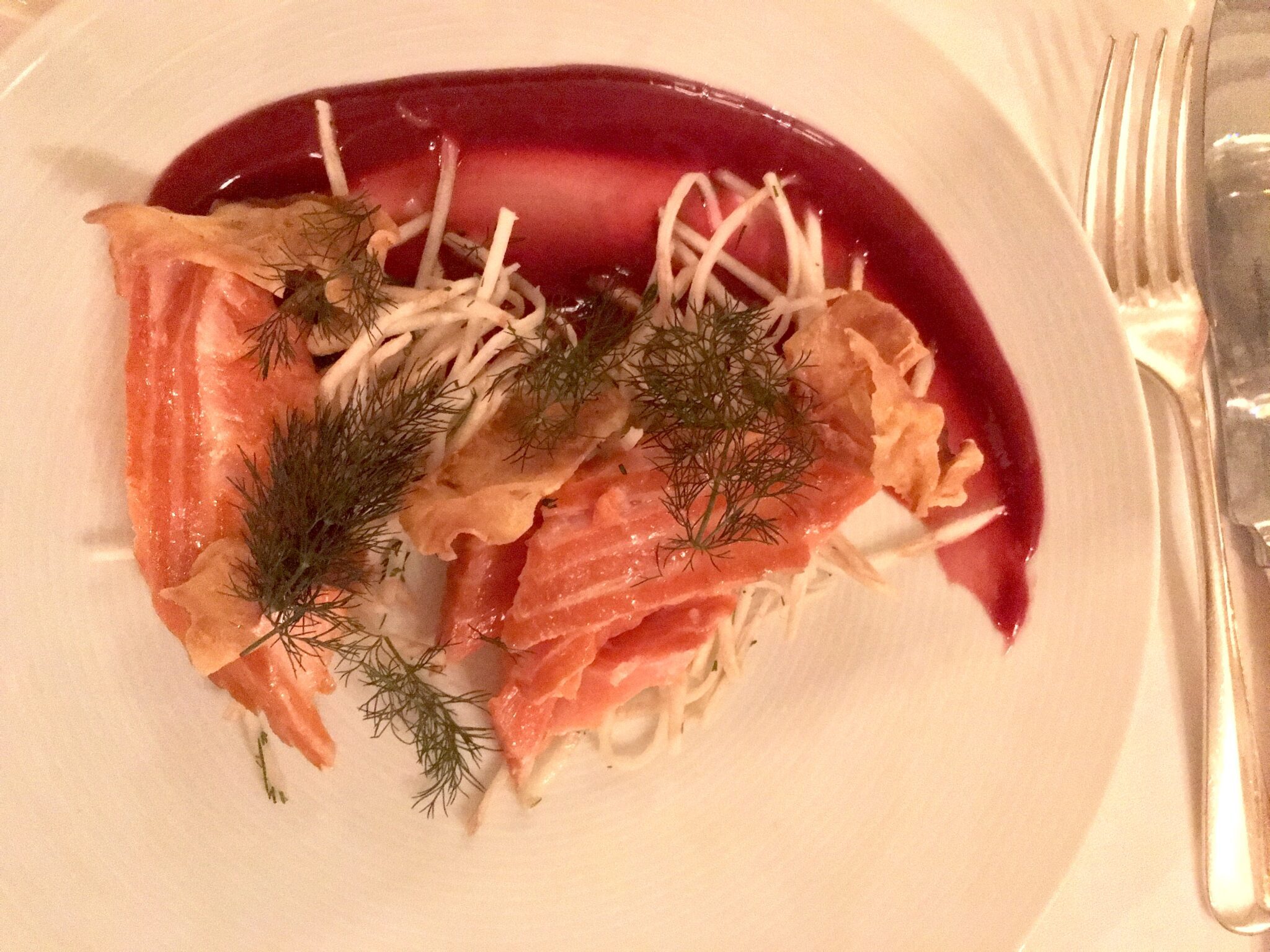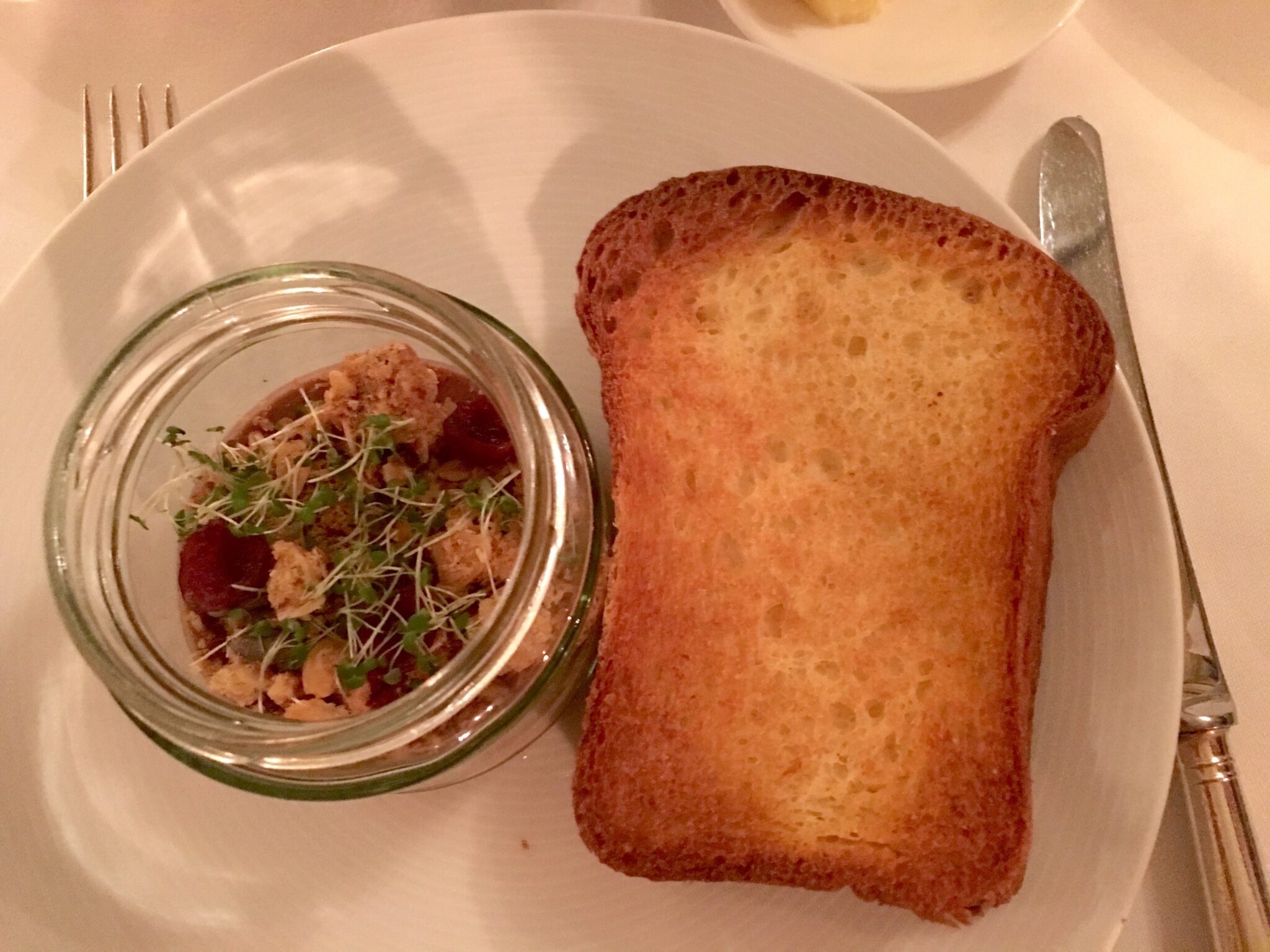 Both of our main-courses, however, were exceptional. I had sea bream brandade — more than sufficient for me, since I always have to pace myself with a multi-course meal. I very much enjoyed the fish and the accompanying perfect block of creamy mash potato, and the little clump of pungent black cabbage. I wanted to lick my plate, but refrained. 🙂 Jared was very happy with his Cumbrian pork chop — two huge chunks of pork served with Brussel sprouts, parsnips and sauced with chestnut and cranberry jus reduction — I had a bite, and the meat was tender and very delicious.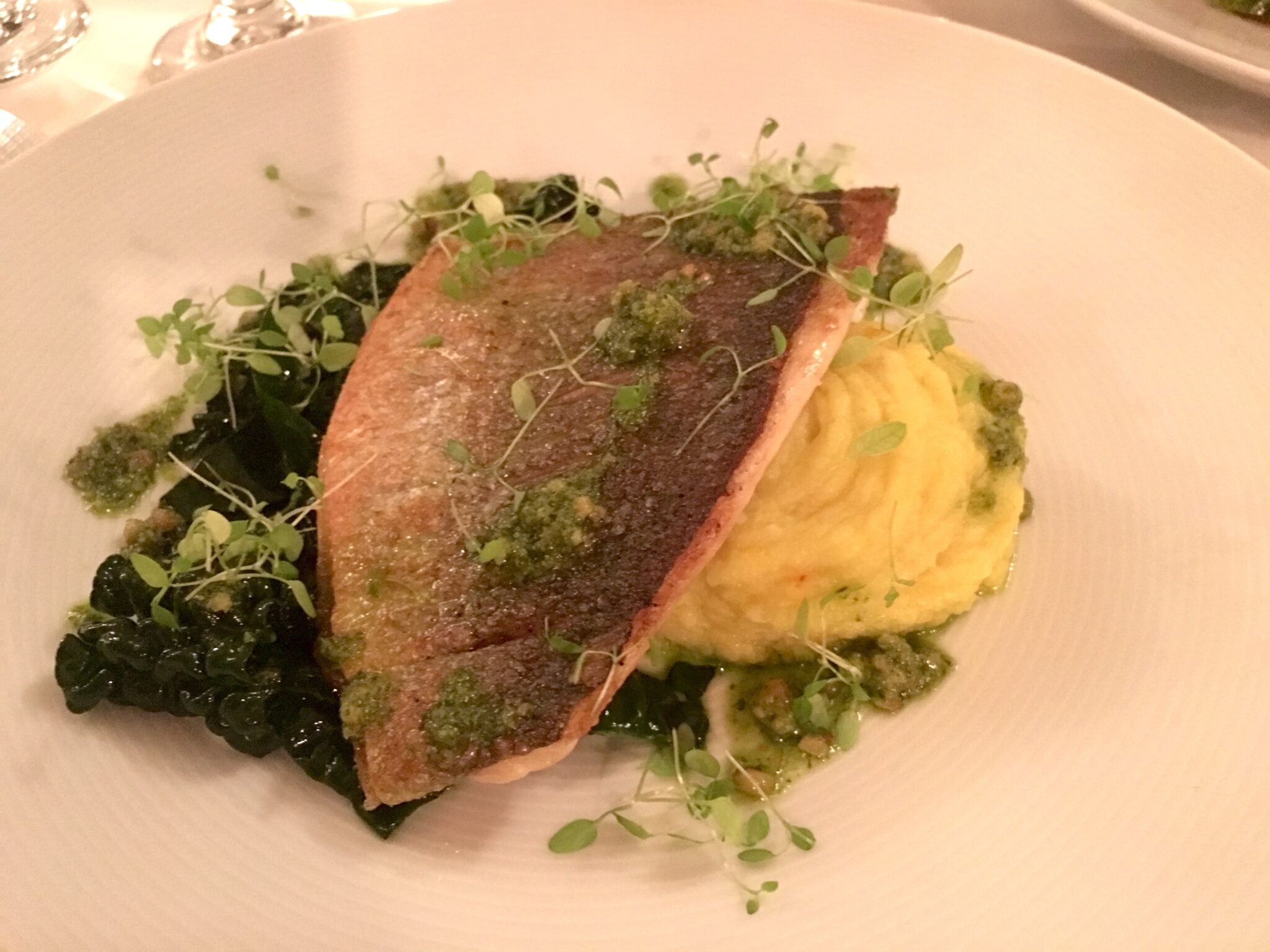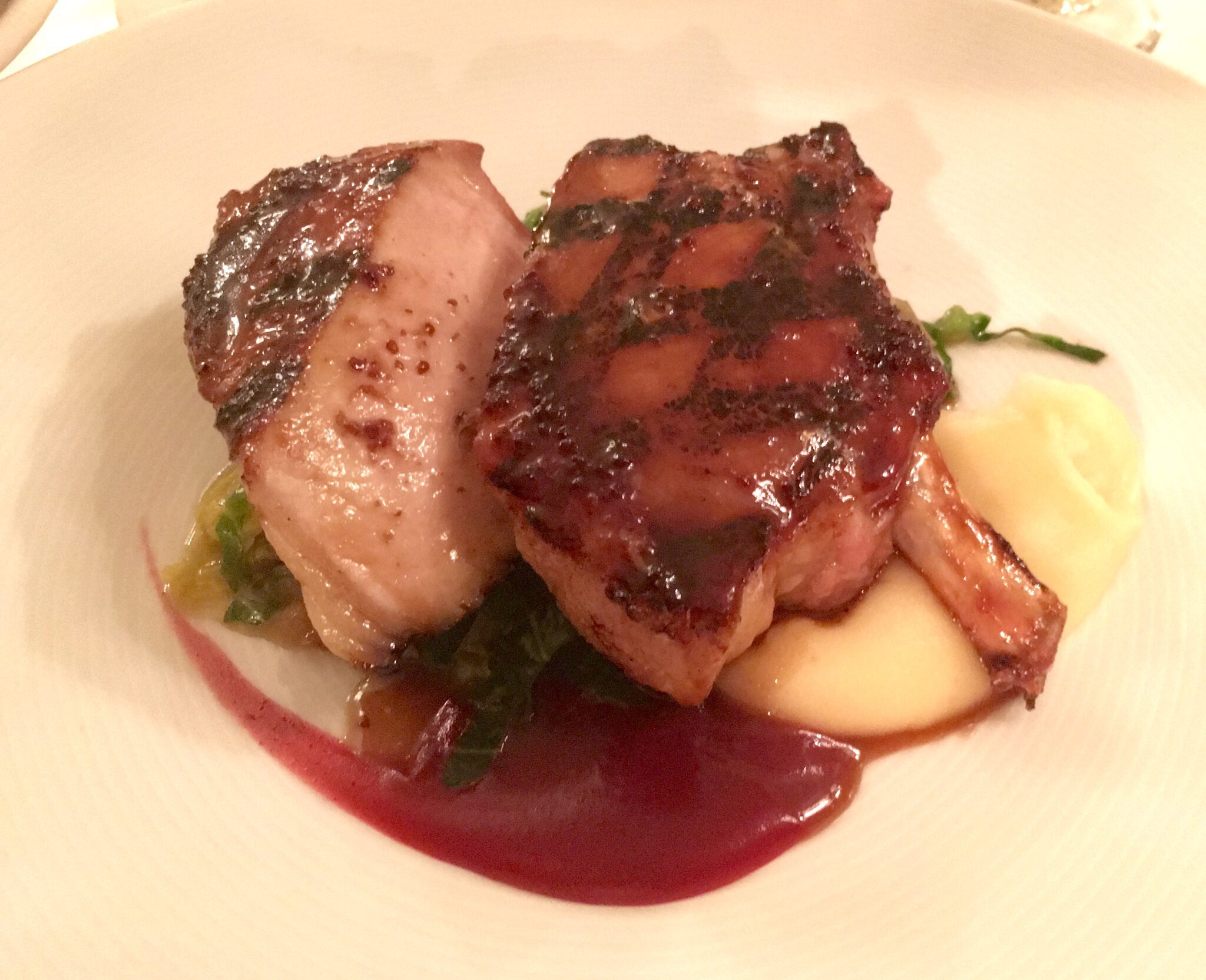 We were busy with our desserts when I began to pick up the conversation from the other side, a couple of diners next to our table, while Jared appeared not to notice, engrossed as he was in forking up his dessert. There was talk of wedding, baby shower, etc. I took a spoonful from the crumbly carrot cake, and eat it with ice-cream, and then our conversation shifted to feminism, discrimination, etc., after Jared overheard one of the men sitting on the other table made a blatant sexist remark to the server. This lady was the one who also took our order, and I felt sorry for her. Realising that I really tend to forget about other people because we mostly dine á deux, I said to Jared, "She's from eastern Europe, and with her seemingly limited English, she probably didn't even understand the sexist remark made by that dirty old man." I glanced at the server and the two old men, and said, "Ah, the theatre of dining out . . . sometimes it can get dramatic. Let's get the bill and go see the most iconic chamber of the hotel." (St Pancras has a Ladies Smoking Room back in the Victorian/Edwardian era, now a function room,  it was the very first place in Europe where women could smoke publicly.)
The server brought this to our table — a big surprise.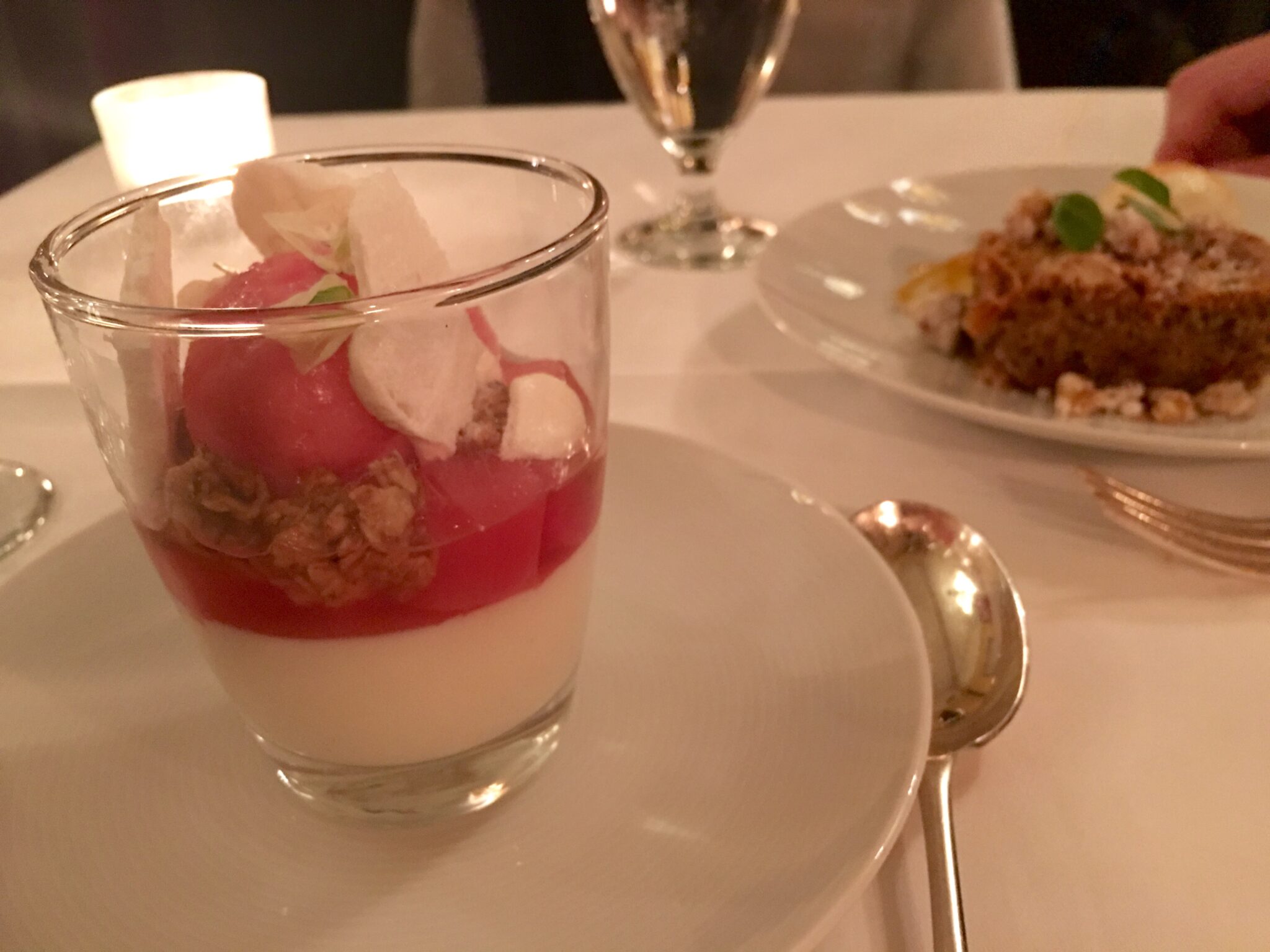 I then looked up from the luscious two plate of sweets, and caught Jared's eye. He looked at me and said, "I'm so glad I married you. There is no one else in the world I wanna be with but you. I love you."  "And I you, my love," I responded, as the waiter brought the check to our table.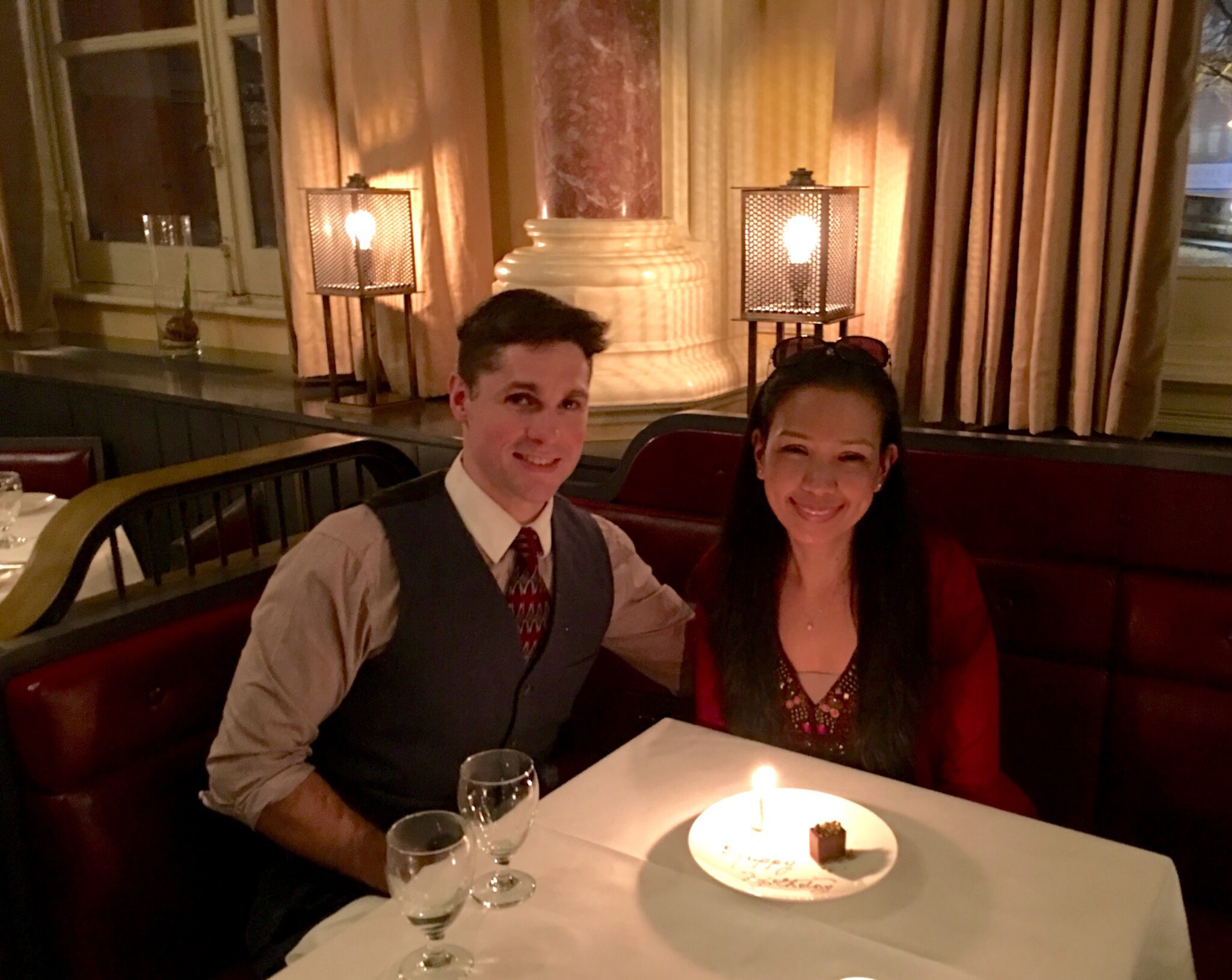 Not only did we have an exquisite dining experience, but being at the hotel afforded us a priceless glimpse into one of Victorian treasures; the cathedral-like windows, picturesque murals, and low lighting that imitates original Victorian light bulbs are nostalgic charm of a vanished era.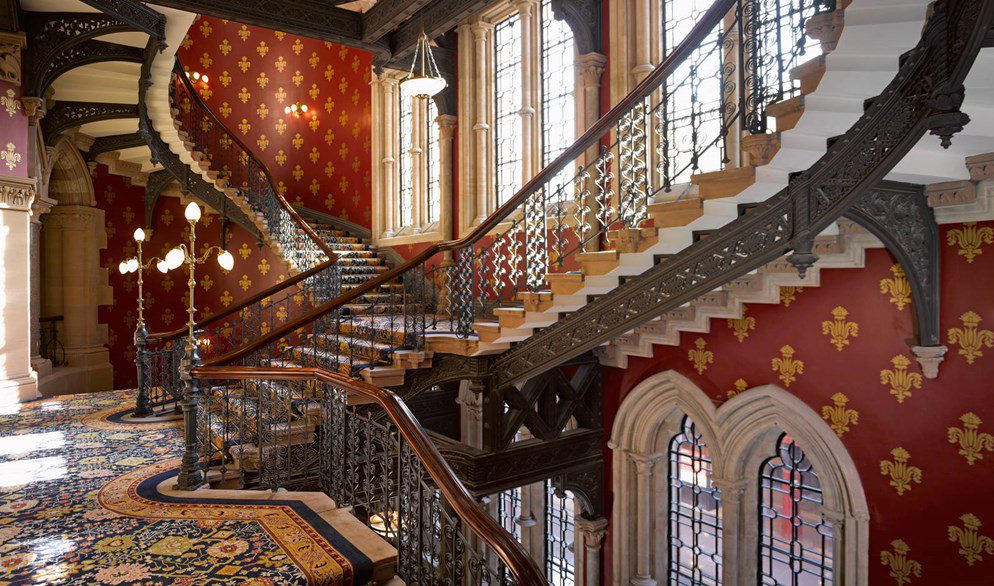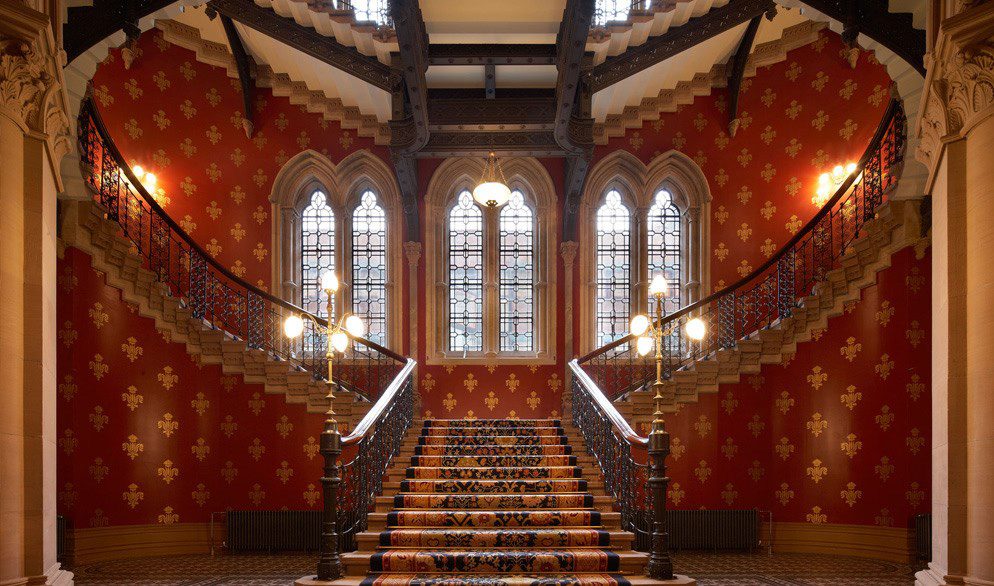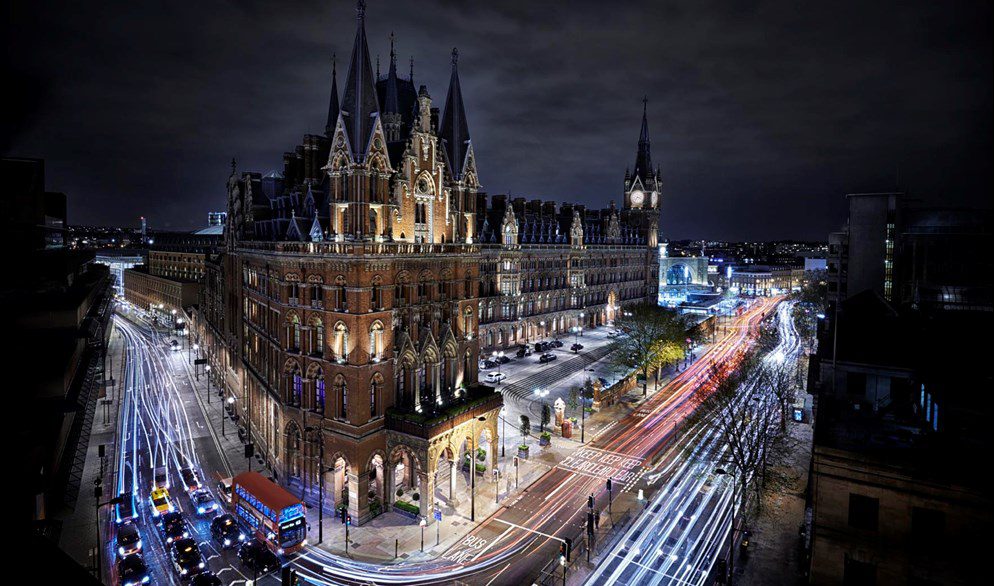 Note: Featured image – St Pancras Hotel. We only have our iPhones as a camera to this meal, and the restaurant had a very low lighting so most of them are blurry — which is sad, since the food was pretty.