Every time my friends ask me for a list of traditional British things to do when they're visiting London, I always put 'afternoon tea' on the long list of suggestions I give them.  More importantly, I always add a note: "there's nothing more quintessentially British than Afternoon Tea, and you must do it at one of the historic hotels in London."  More often than not, they'd consider my suggestion and tell me later on that either "they enjoyed it or it's just not their cup of tea." 🙂  
When Mary Ann, my old neighbour/friend (she's not old, we're of the same age 😉 ) came to London, she agreed with me that taking tea together was the best thing for us to do after a sightseeing tour.  And I had chosen Andaz  Liverpool Street Hotel simply because it's one of the historic hotels in the city and we would be in the area that day.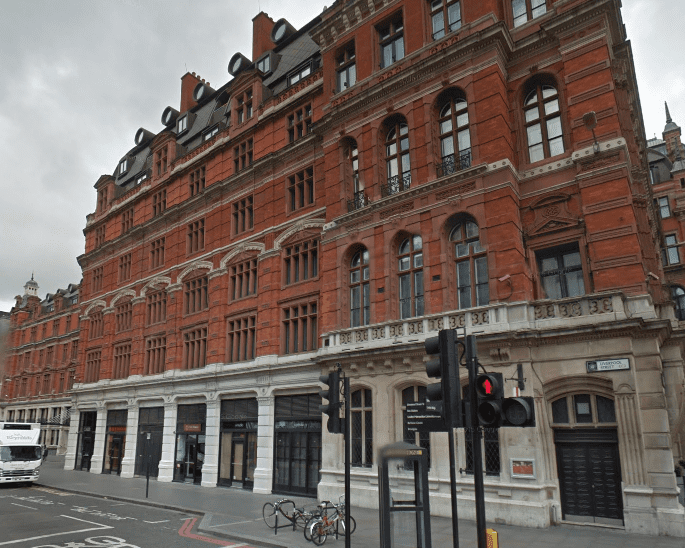 History of the Hotel:
Originally called the Great Eastern Hotel, it opened in 1884 and was bought by Global Hyatt Corporation in 2007 and rebranded into 'Andaz  Liverpool Street Hotel' (Andaz means personal service).  It's one of the seven hotels located in the main stations in London during the Victorian Period. (The others are: The Great Northern Hotel – Kings Cross Station, The Great Western Hotel – Paddington Station,  Grosvenor Hotel – Victoria Station, Charing Cross Hotel – Charing Cross Station,  The Midland Grand Hotel – St Pancras Station, and Great Central Hotel – Marylebone Station.)  Construction of grand hotels near the stations became fashionable as railways grew in the mid-eighteenth century.  The railway companies realised that having a luxurious hotel right next to the station could be very profitable.  So they invested enormous amount of money into building these plush hotels not just for profit but also for prestige.  Just like the other railway hotels, Liverpool Hotel originally had its own dedicated railway tracks and sidings connected to the train station.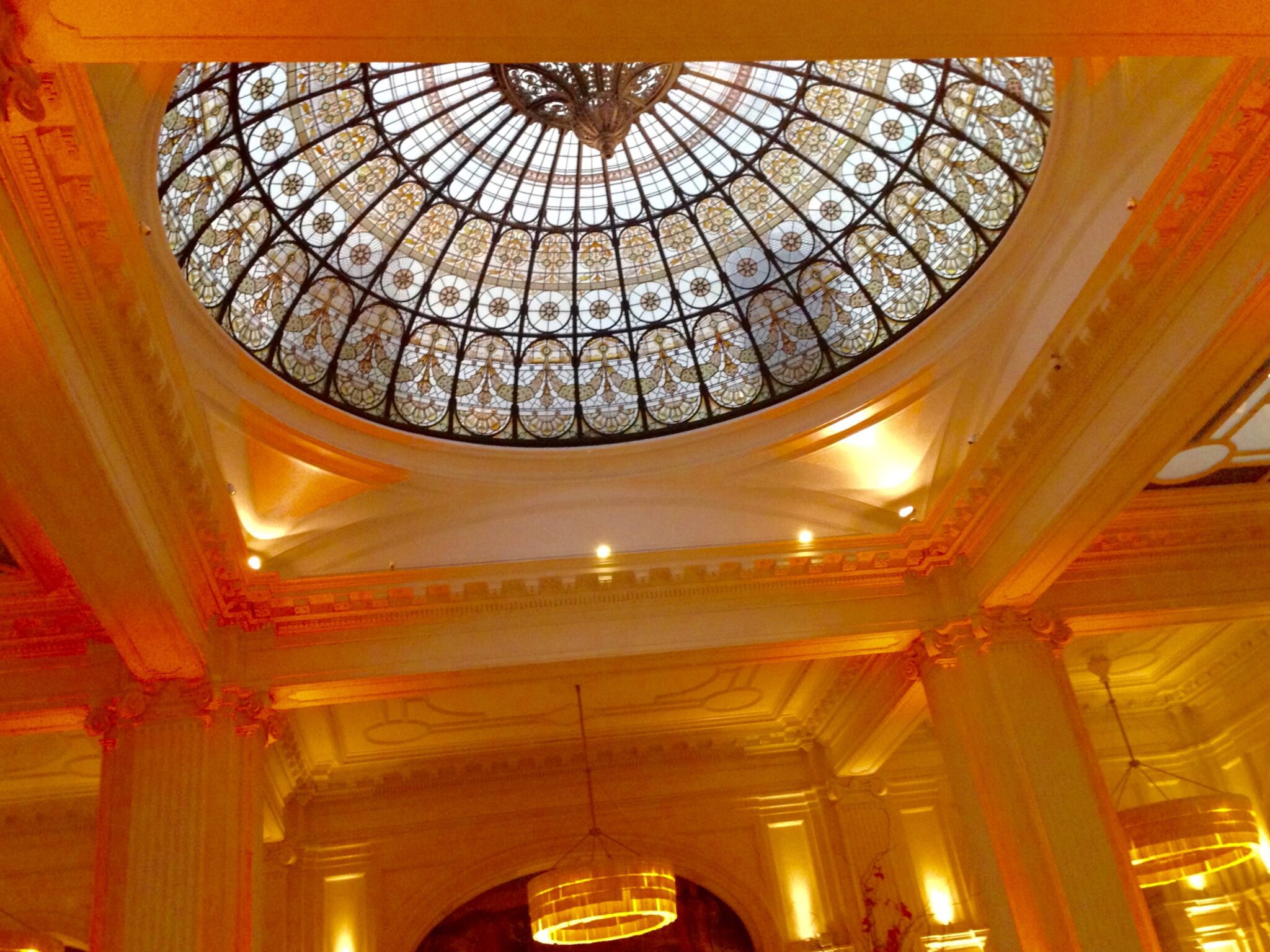 Setting:
Some of the historic hotels have a designated Tea Room usually at the foyer or lobby of the hotel.  But at Andaz Liverpool, Afternoon Tea is held at one of the dining halls called '1901 Bar and Restaurant.'  One of the striking features of this large room is the stained glass domed ceiling (above photo).  Originally the hotel's ballroom, it oozes class and timeless elegance.  As soon as we entered the room, I thought about the Victorian aristocrats and their well-bred friends having elaborately organised parties and other entertainments here (when I go to historic places like this I can't help but imagine the events I've read about in books — I guess that's the result of reading too much history books 🙂 ). Perhaps one of the reasons the hotels of this era have a huge ballroom is because the Victorians loved dancing.  Queen Victoria and Prince Albert were very musical and they have greatly influenced the popularity of dancing and music in Victorian home life and society.
Tea and Sandwiches:  They have a good selection of herbal teas, and I usually go for green tea or try the house blend but this time I requested for Darjeeling tea.  Mary Ann had a different blend which I do no longer remember – sorry Mary Ann! 🙁 The finger sandwiches were served first and it came with the classic fillings: smoked salmon, cucumber, roast pork and egg mayo, and were freshly made. It surprisingly came with a very nice and refreshing prawn salad served in a tiny bowl.  They initially served each person with four sandwiches and then only offer refills when they're gone.  I did appreciate that the sandwiches came first before the scones and sweets were served.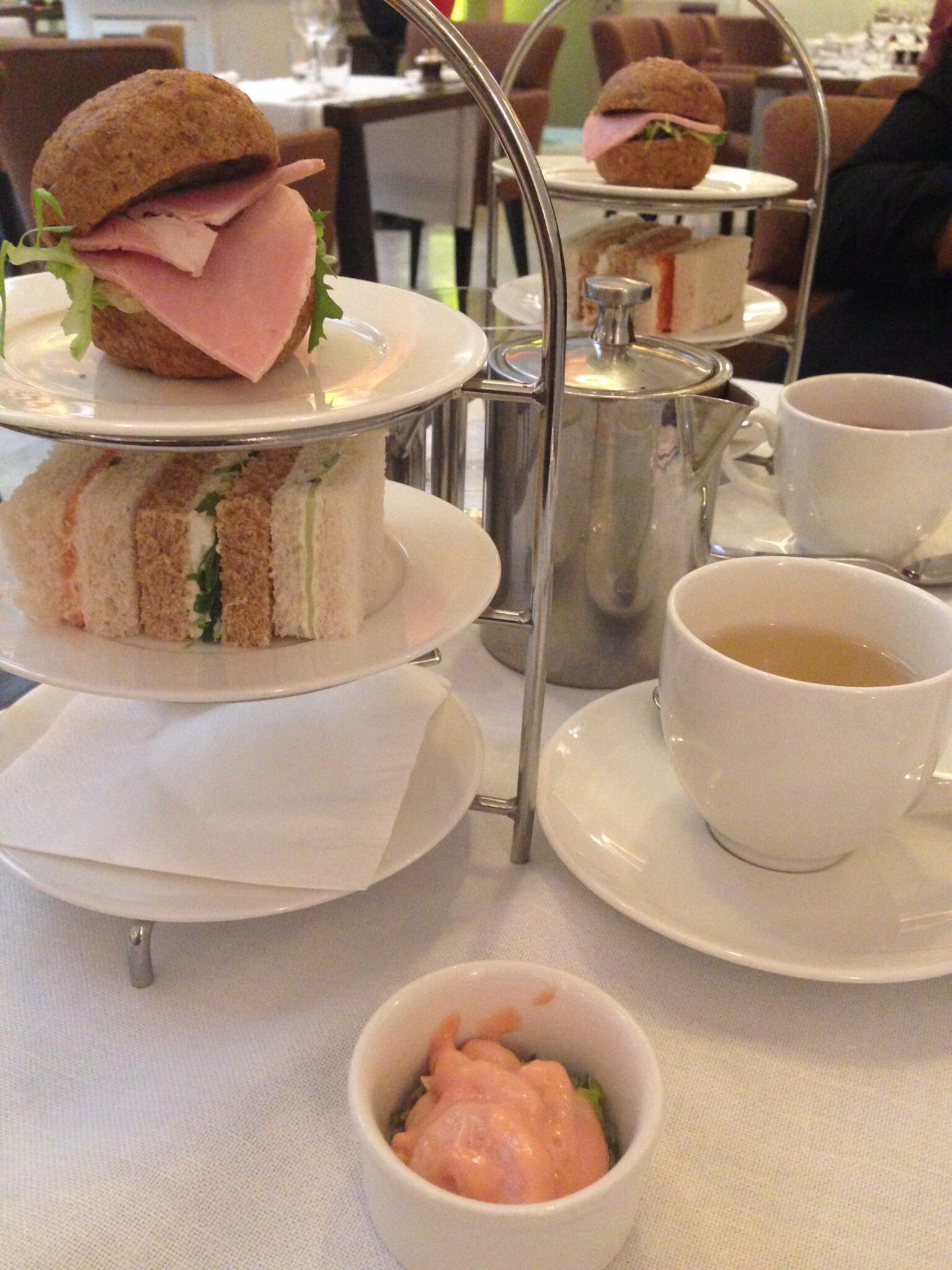 Scones:  After finishing off the prawn salad and the sandwiches, the scones arrived.  They were tiny little things, two raisin and two plain, wrapped in a napkin blanket served with clotted cream and three choice of fruit preserves: strawberry, raspberry and apricot.  The scones were warm and very light.  I enjoyed them so much that I was tempted to ask for an extra plain scone but decided not to. 😉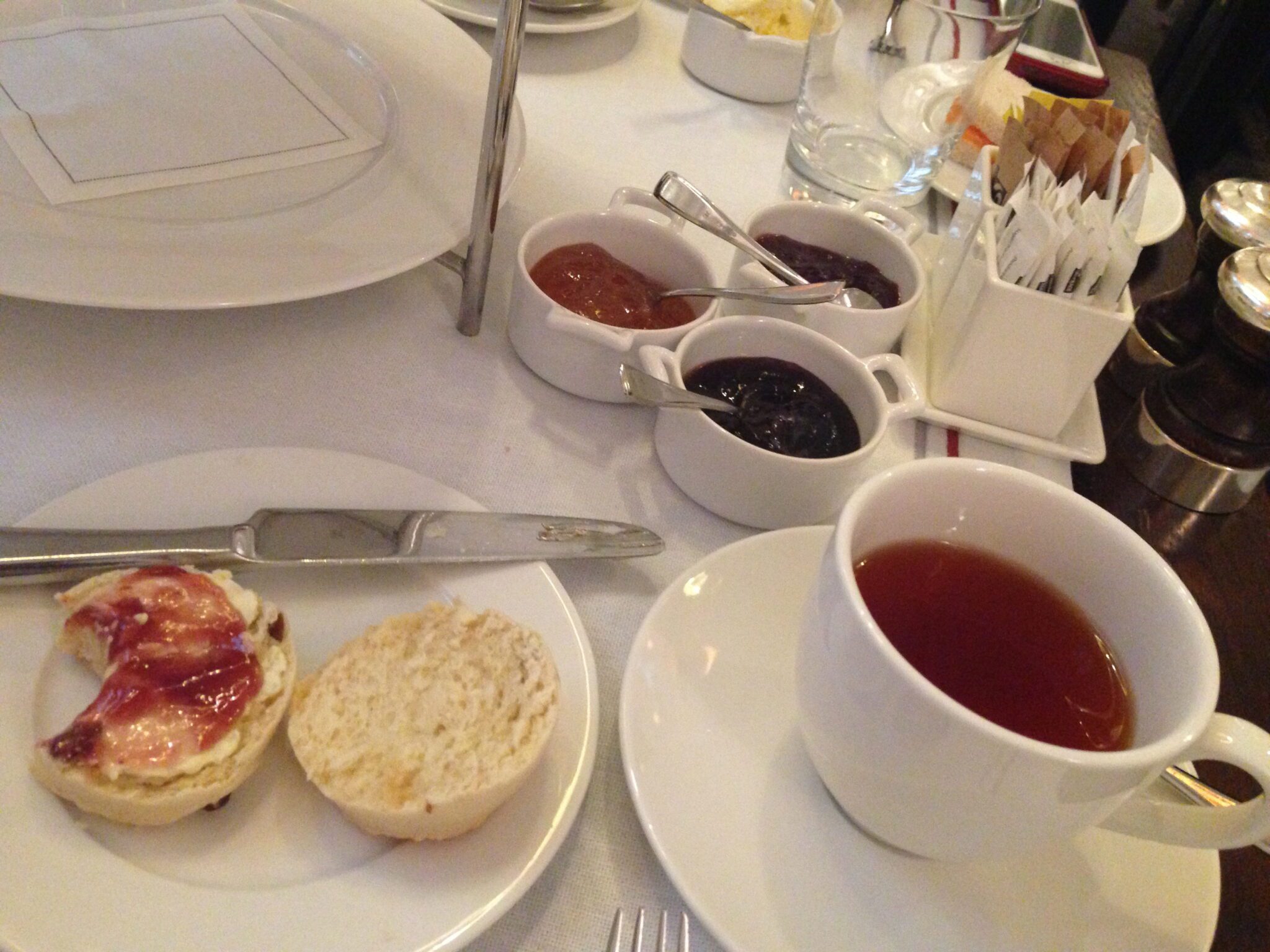 Sweets/Cakes:  The second tray was brought in filled with sweet concoctions.  You can request more for no extra charge.  The selection changes seasonally, but ours was a 'French-theme' and included a decorative chocolate/dried fruit concoction whimsically named French butter cookies, chocolate macaroons, miniature tart topped with shredded coconut, mango layered cheesecake and pistachio financiers.  They were small and pretty, very sweet and lovely to look at, and just as delectable as any French desserts I've had at other hotels before.  Mary Ann and I shared some of the cakes but it was too much and we didn't get to finish everything.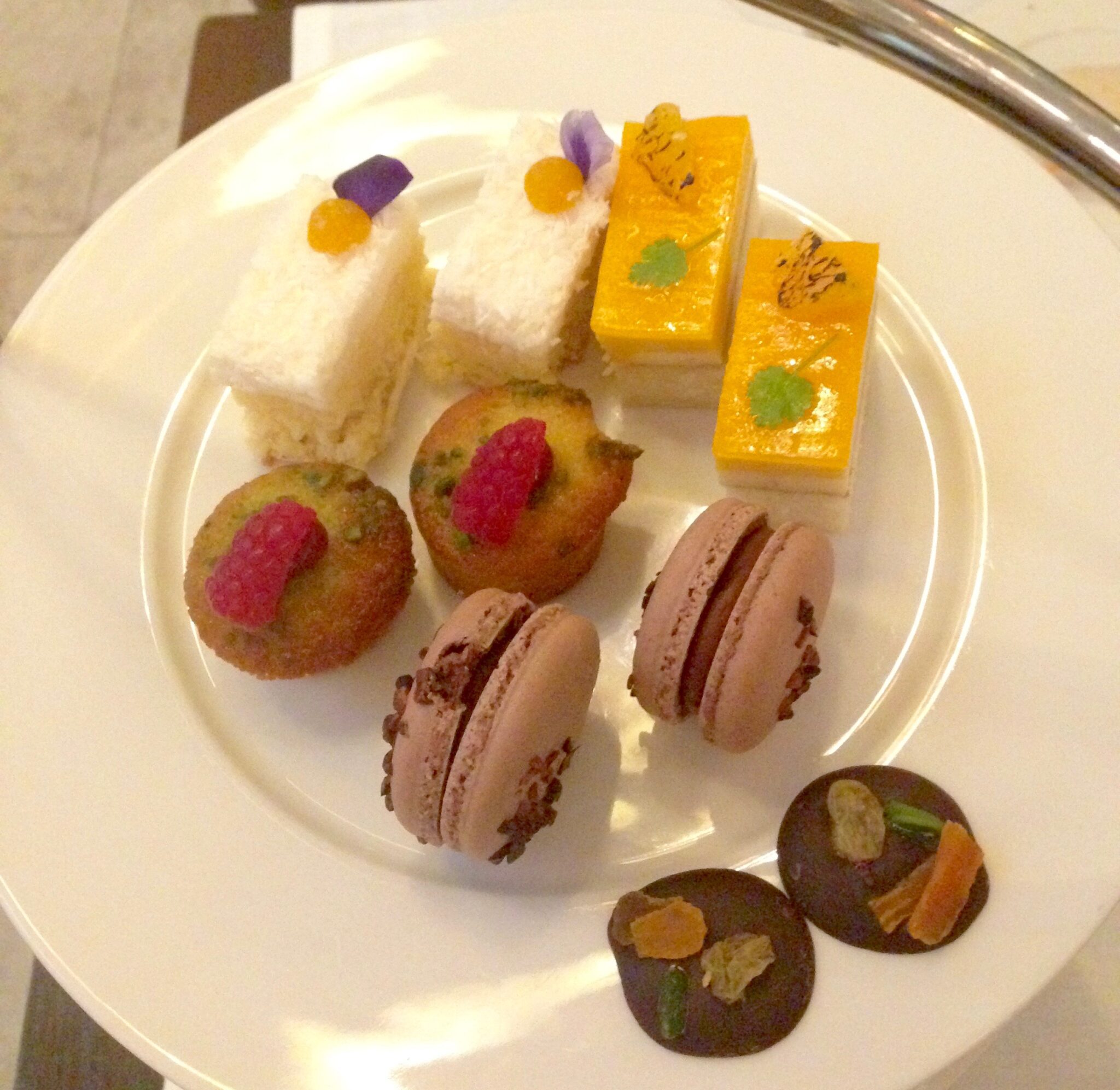 Service:  The waiters were helpful, smiley and they happily replenish our pots and plates without us having to ask.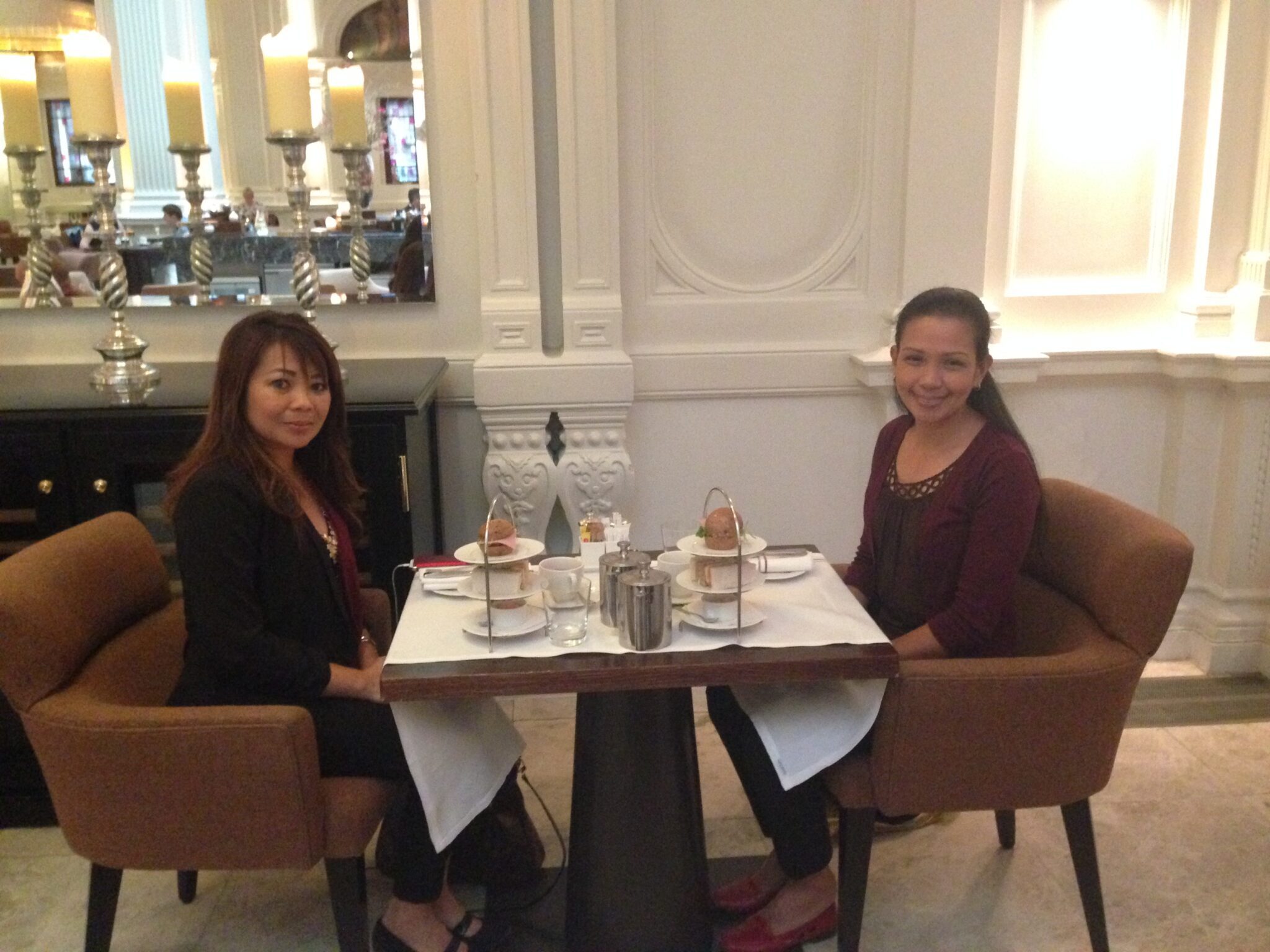 Mary Ann and I lived just a block away from each other when we were growing up and at age 18 or 19 she and her family moved to the states, and we haven't seen each other for over two decades.  We had a wonderful time catching up and reminiscing the good old days while sipping tea and eating dainty sandwiches and cakes in a leisurely fashion.  The food was perfect and it was a stunning setting.  Just before we left I couldn't help but take a photograph of this beautiful staircase. 🙂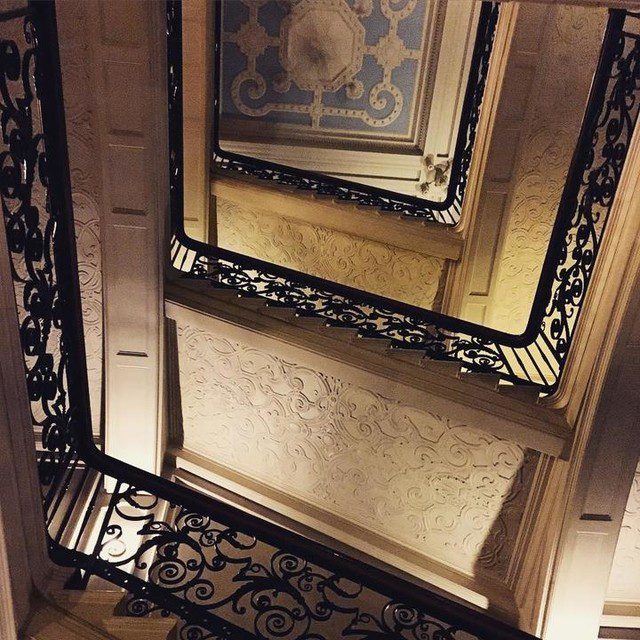 For tourists who want an authentic Afternoon Tea experience in a memorable setting, I'd highly recommend Andaz Liverpool Street Hotel.  Although it is a five-star hotel (Lady Gaga and Beyonce are some of the famous residents of the hotel when they're in town), tea is relatively cheap and just as good as any afternoon tea at other historic railway hotels in London.
Featured Image: Andaz Liverpool Street Hotel