We were in the Philippines from mid-January to mid-February of this year and it was a great blessing to be in the tropics to get away from the freezing cold London weather.  Our third week was spent at Club Paradise in Palawan, one of the best tropical destinations in the country.  Thanks to our very generous benefactor for giving us this exceptional gift. (Thank you L&P 🙂 )
We've been to El Nido a few years back so we had high expectations and to put it bluntly, we had some disappointments which I will mention towards the end of this post.
After an hour plane ride and twenty minutes land transfer, there's another half an hour boat ride to the resort.  It was low tide so we got into a small pump boat for about 10 minutes before we transferred into a bigger boat that took us to the island.  The video above shows the boat trip and the remarkable scenery — the tiny fishing village, mangrove trees, and the tiny islands and islets — before we finally reached the resort, which is nestled in Dimakya Island, one of the smaller islands in beautiful Coron.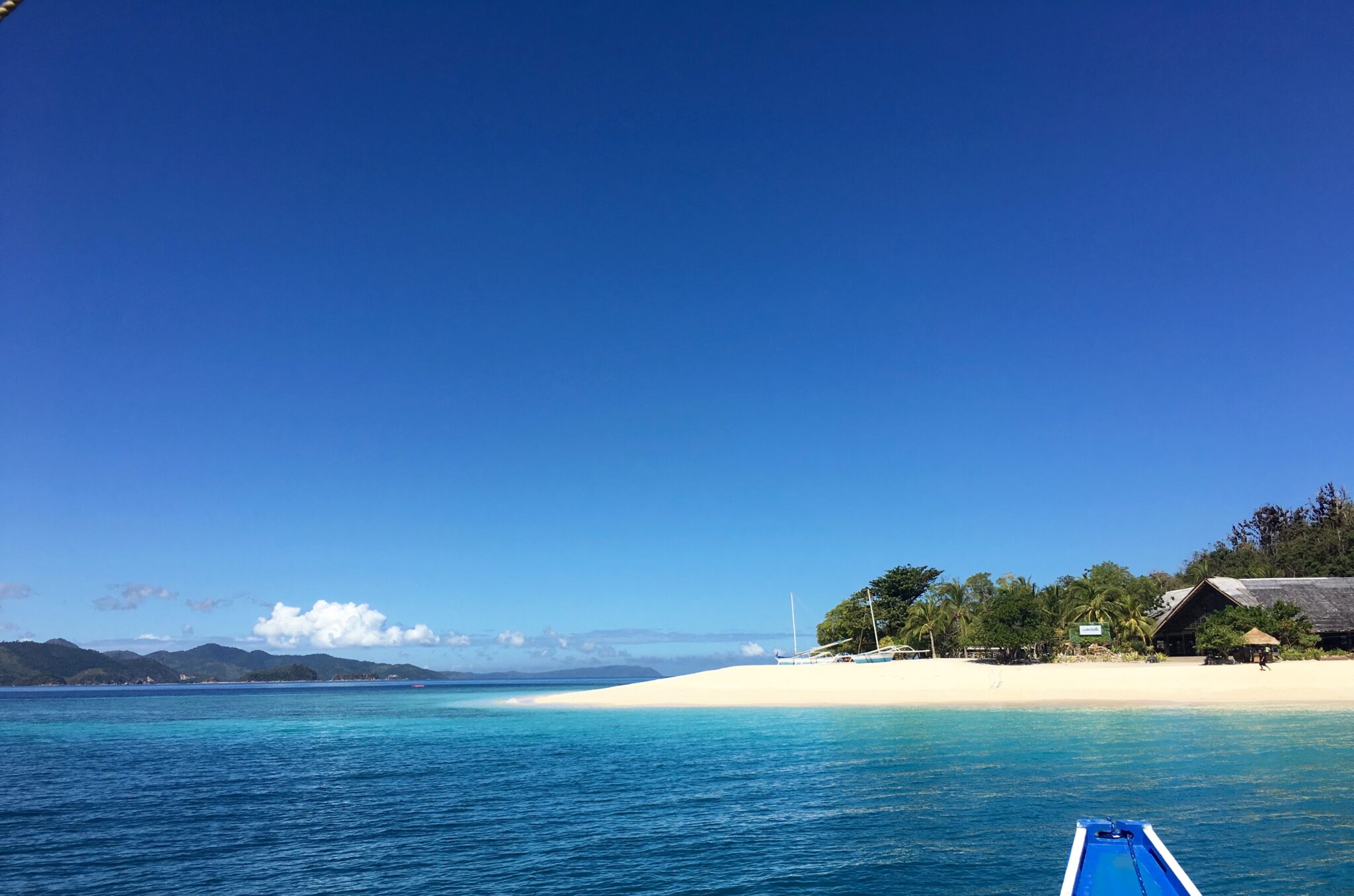 We were greeted by this breathtaking view!  The staff were there to welcome us with 'Welcome to the Paradise' song and we were offered some tropical juice as soon as we landed.
Even before we landed on the island, we were already captivated by the pristine white beach and the magnificent landscape.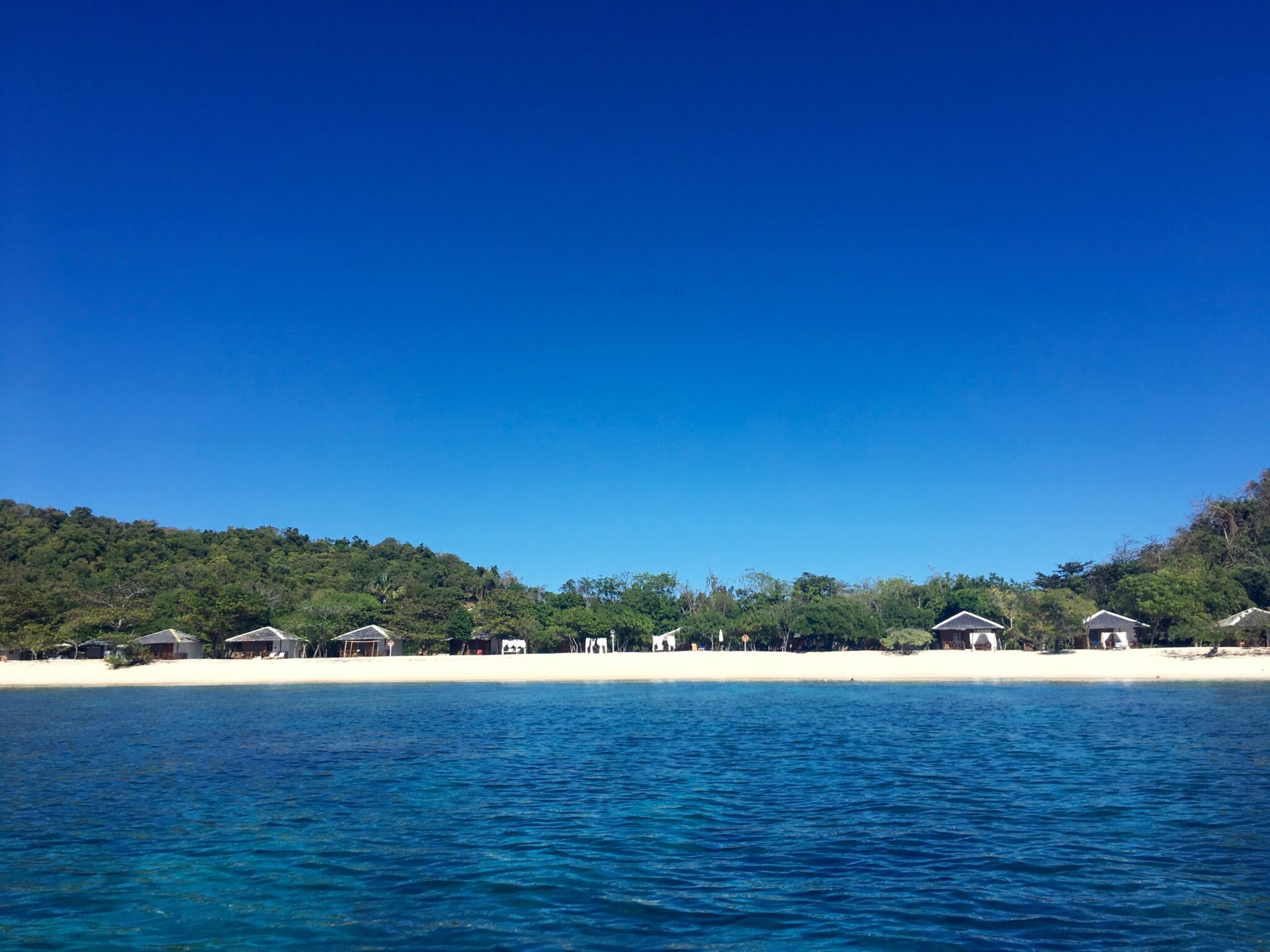 The casitas facing the ocean look so tiny from afar but the most striking feature of the island was the turquoise blue waters that matched with the beautiful blue sky.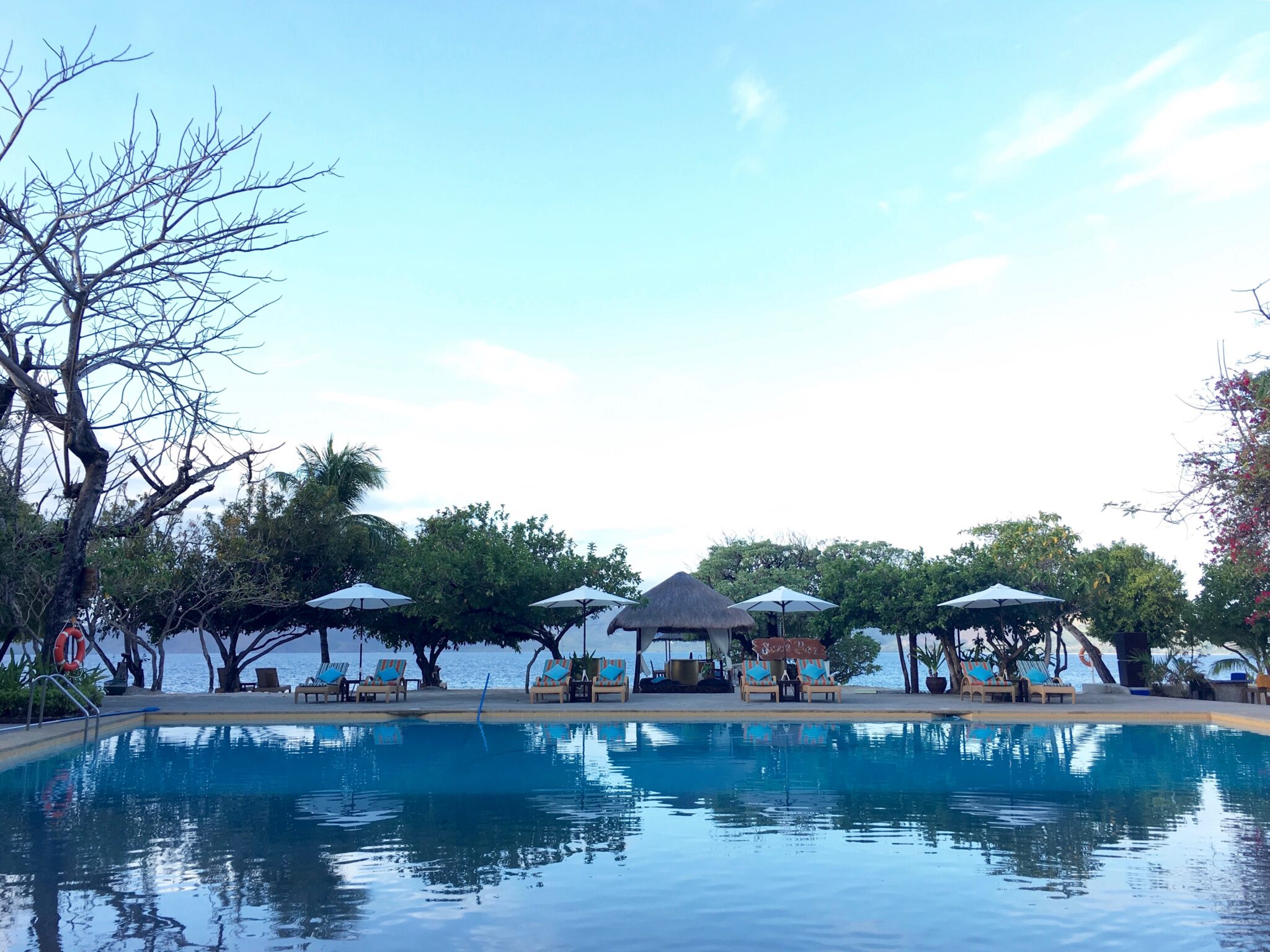 The swimming pool located in between the club house and the entertainment area (bar, spa, sports facilities, etc.) is a wonderful place not just to swim but also to hang out while sipping a coconut juice or mango juice.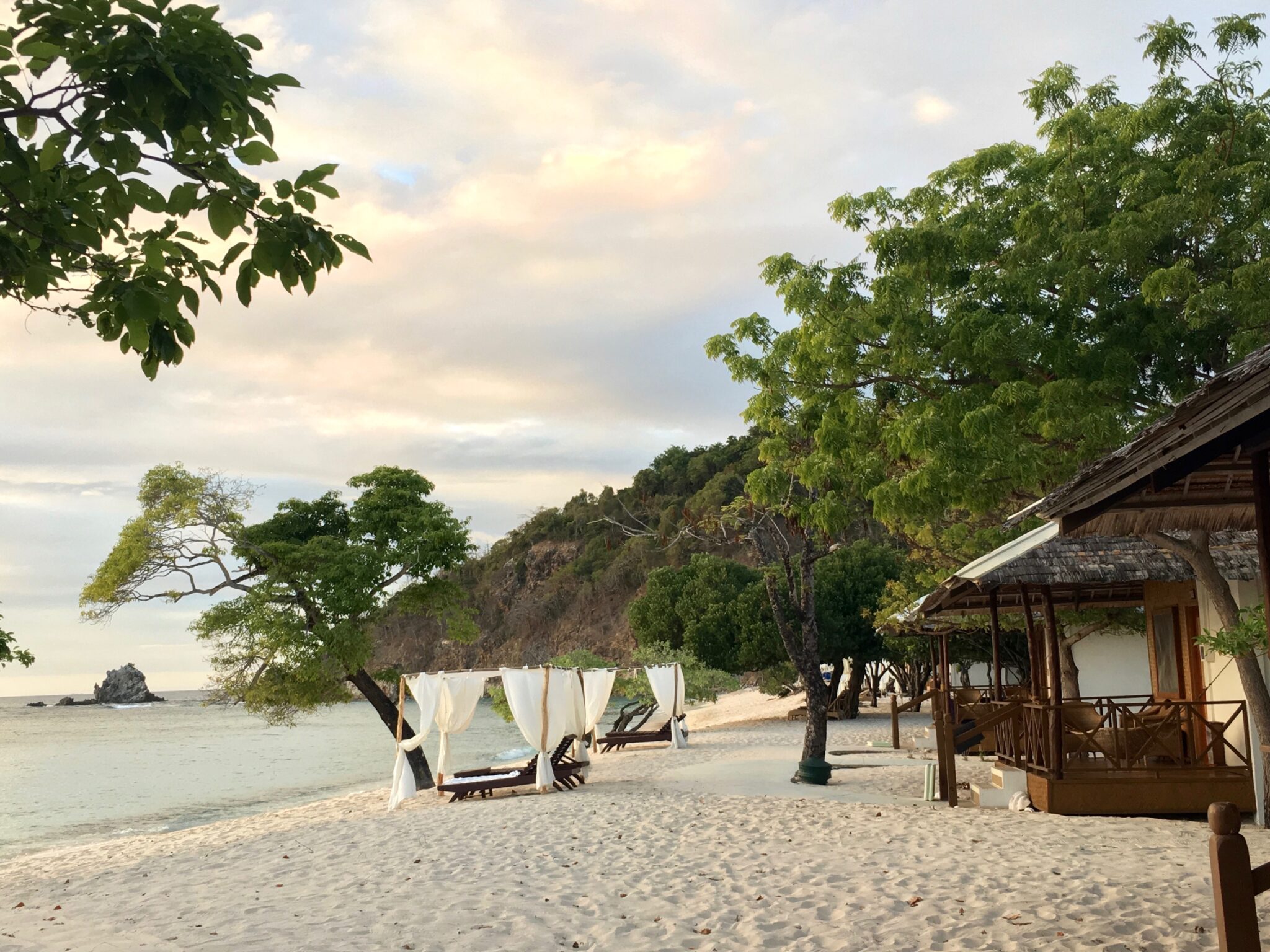 There's sun loungers to laze around while listening to the soothing sound of sea waves or watching the sunset.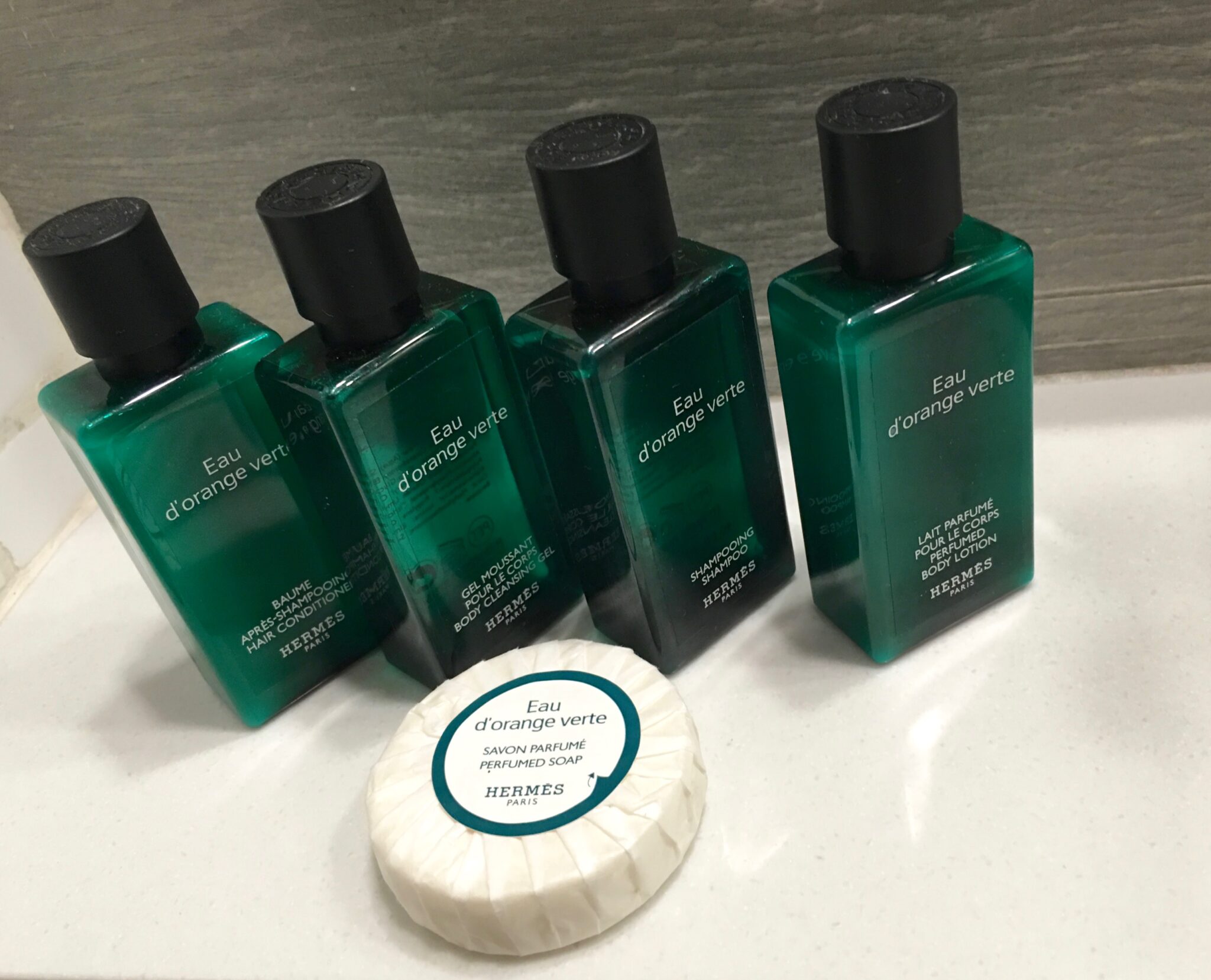 One thing that surprised me the first time I got into the wash room was the Hermes toiletries.  I had no idea that the French fashion luxury brand that's renowned for Kelly and Birkin bags also make toiletries for luxury hotels and resorts around the world.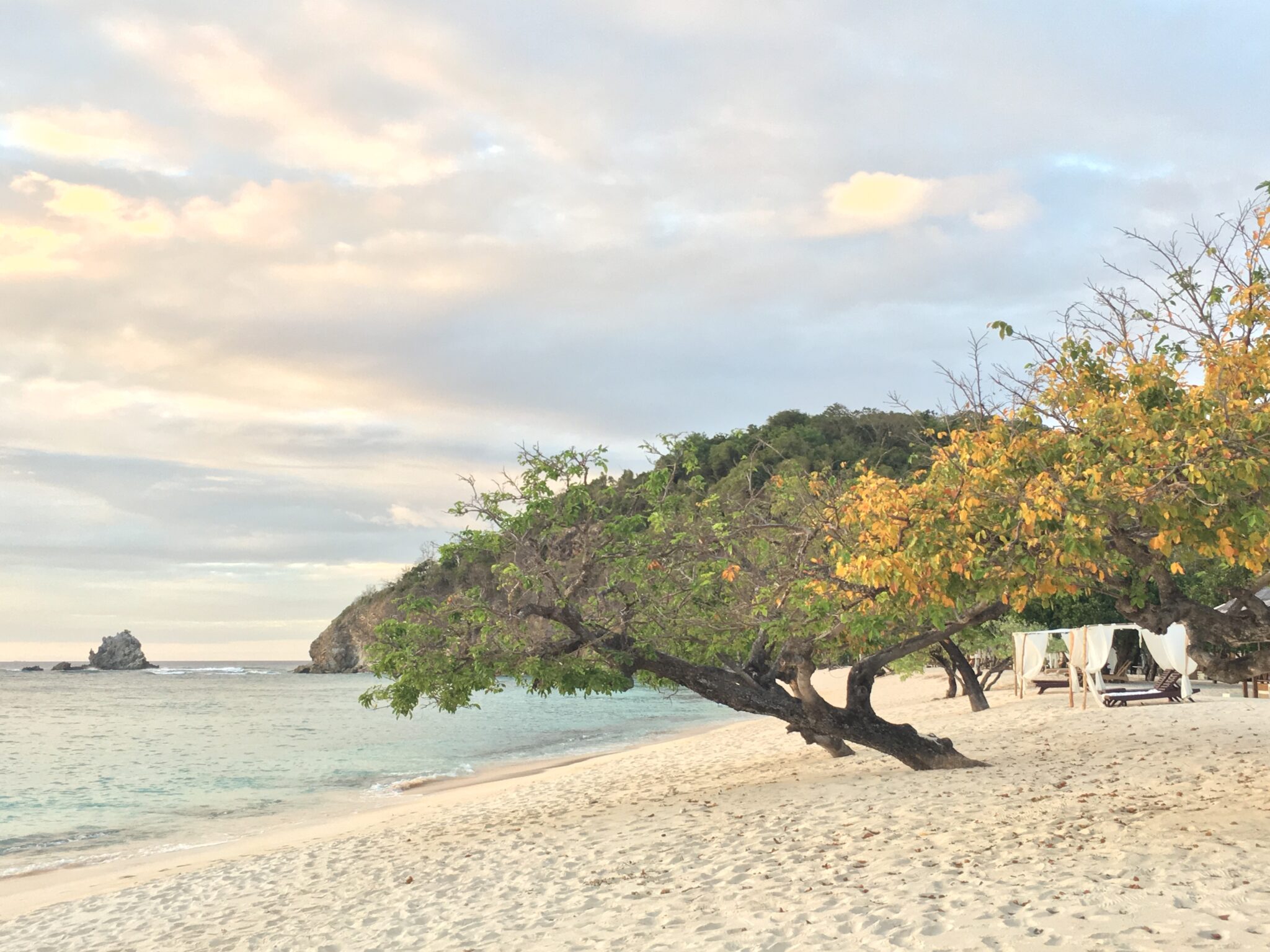 The foliage made me realise that God does indeed work in mysterious ways; the apparent sign of autumn even in a tropical island with only a dry and wet season is overwhelmingly impressive.  I thought may be the tree was dying so I  talked to a staff and she told me that this particular tree does seem to change its foliage all year round.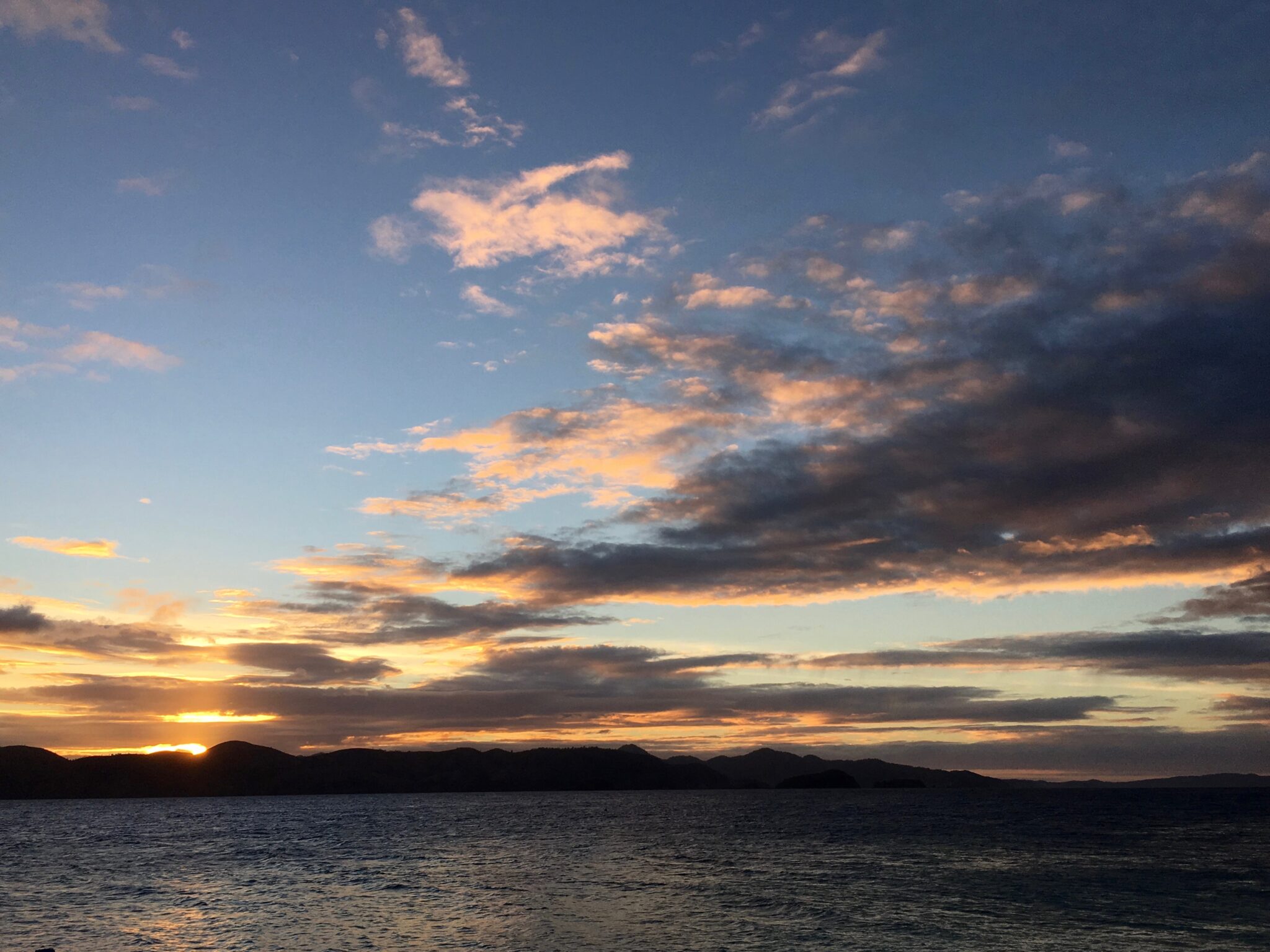 Sunsets in Coron are spectacular!  We enjoyed watching the sky turn a kaleidoscope of colours as the sun slips out of view.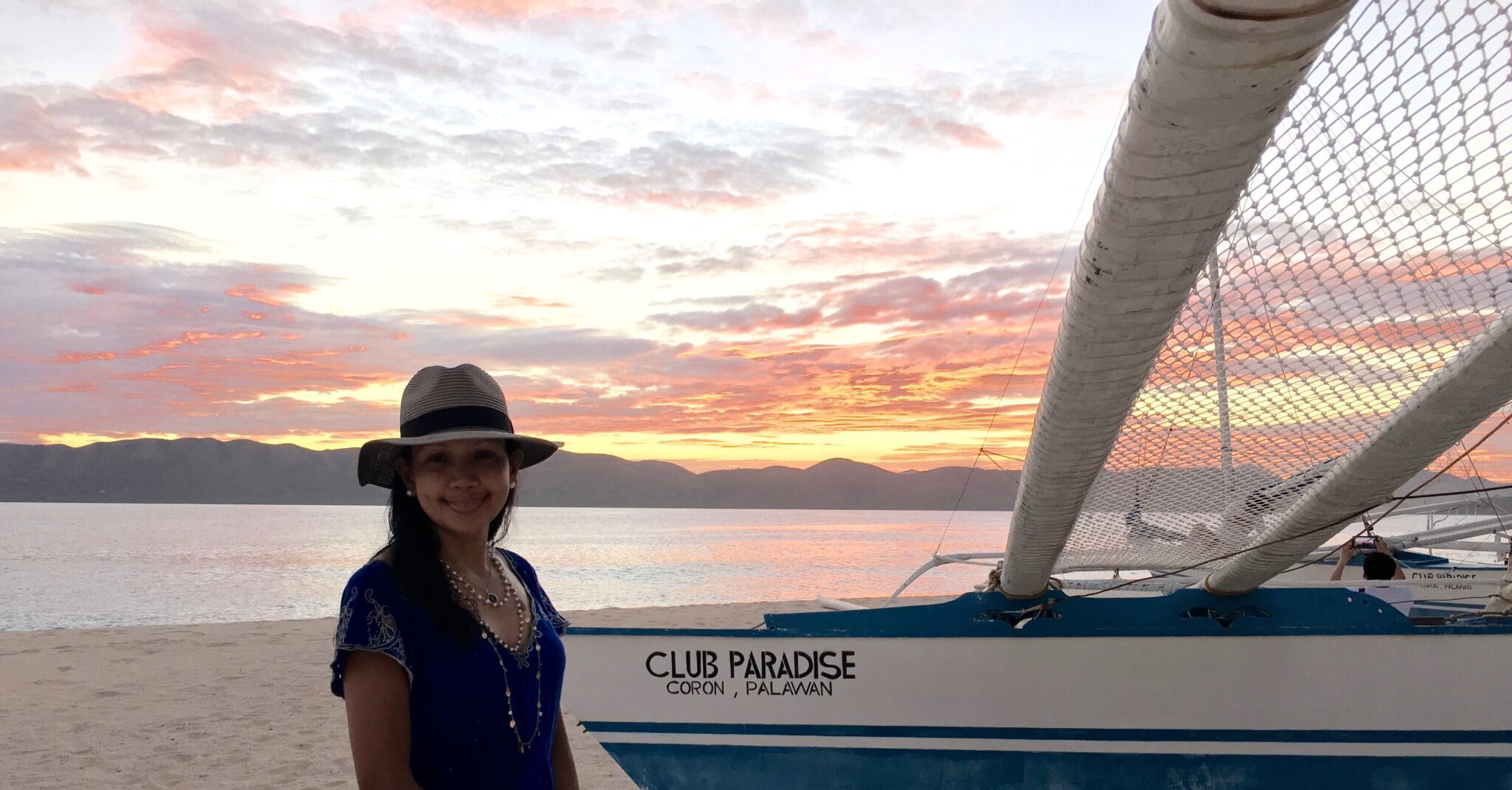 A bright orange sky is seen at twilight.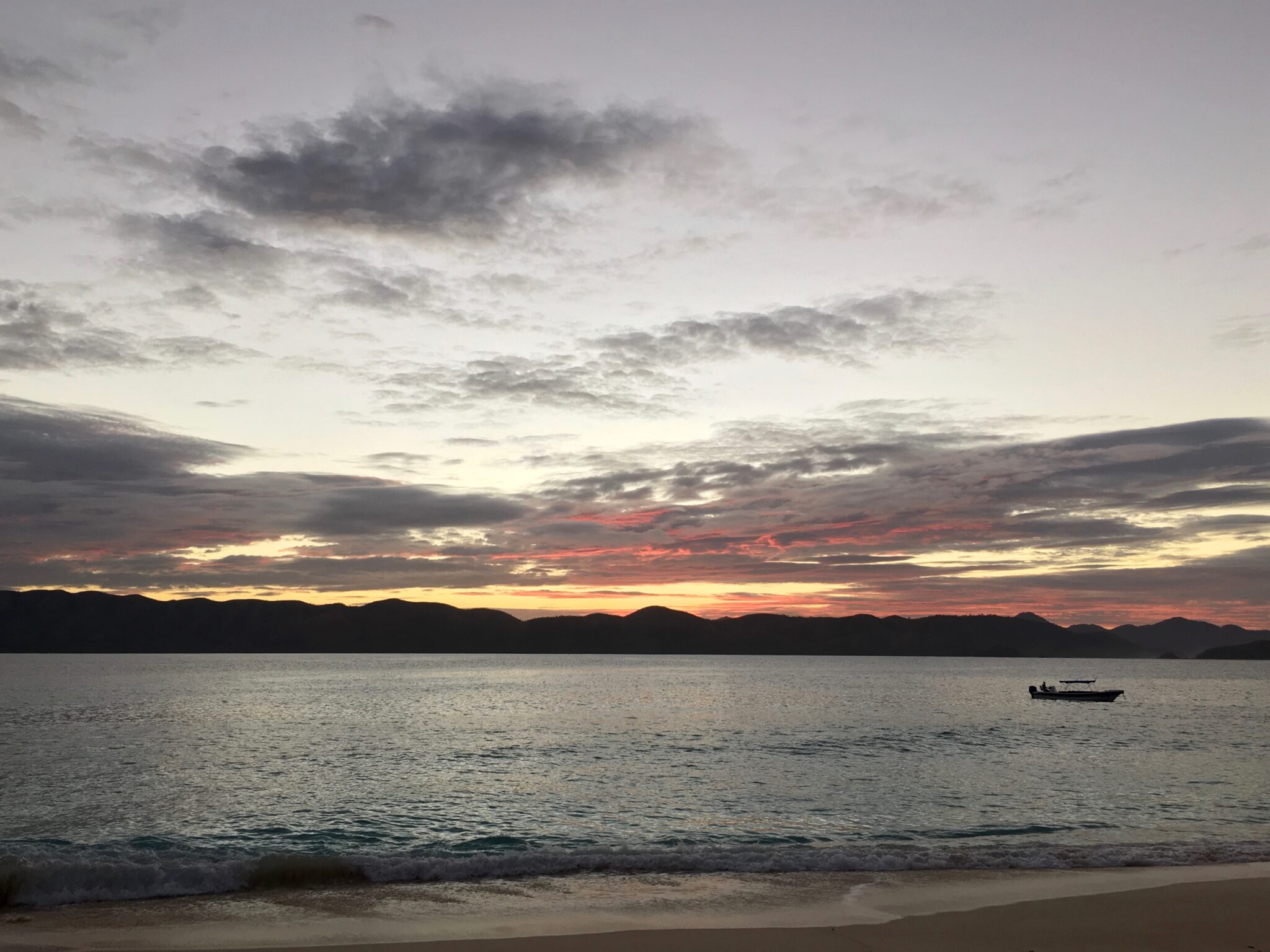 Growing up in a tropical island, I've always loved watching the sunrise and sunset.  That's something I miss while living in London.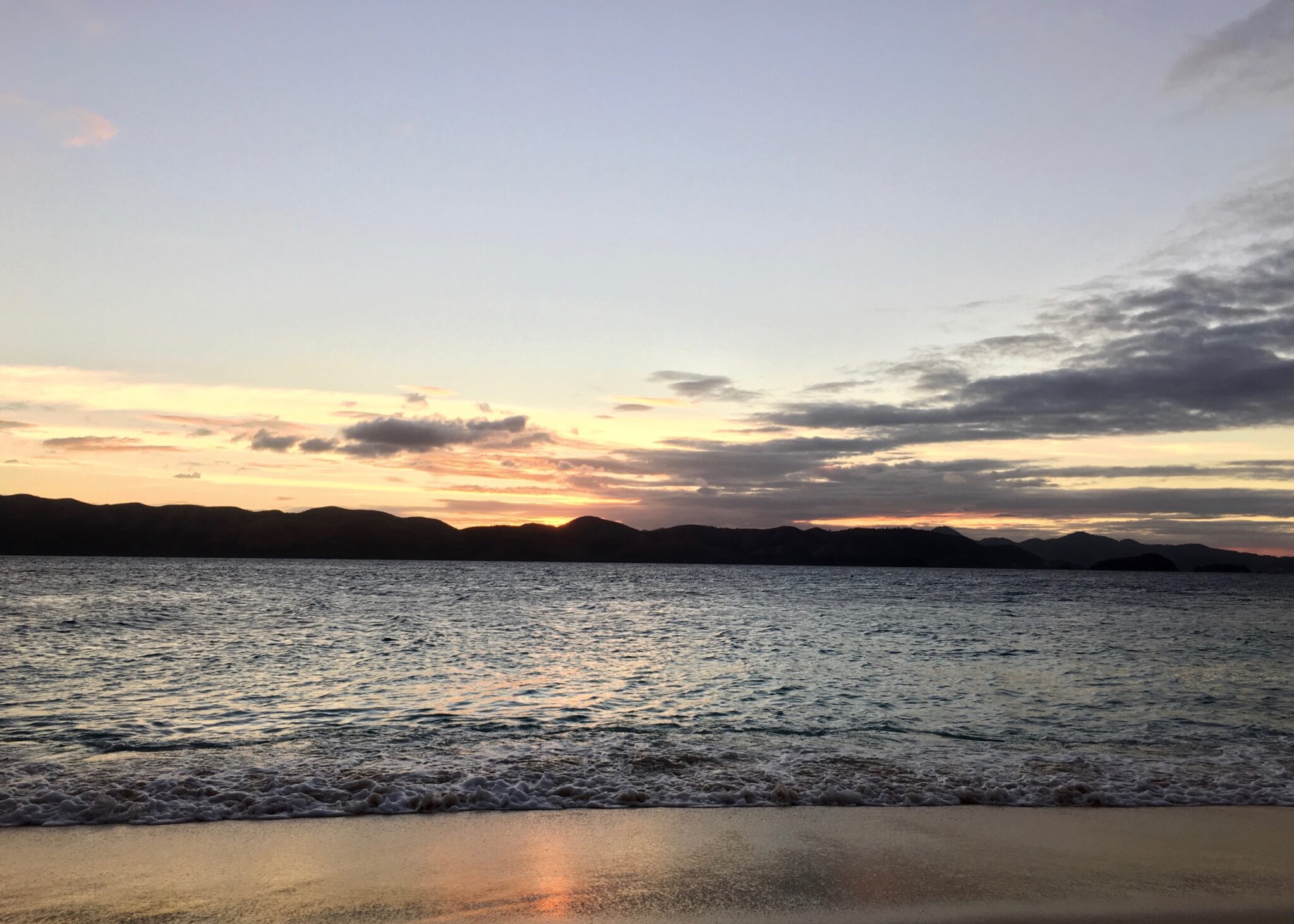 There's something inherently enthralling about sunsets; it's calming, timeless and awe-inspiring.  Indeed, it's a beautiful moment that you feel when you're in an exotic tropical island, free from everyday obligations.
We enjoyed kayaking using the fiber-glass boat.  The crystal clear water allows you to see through to the seabed with the corals, fishes and other sea creatures.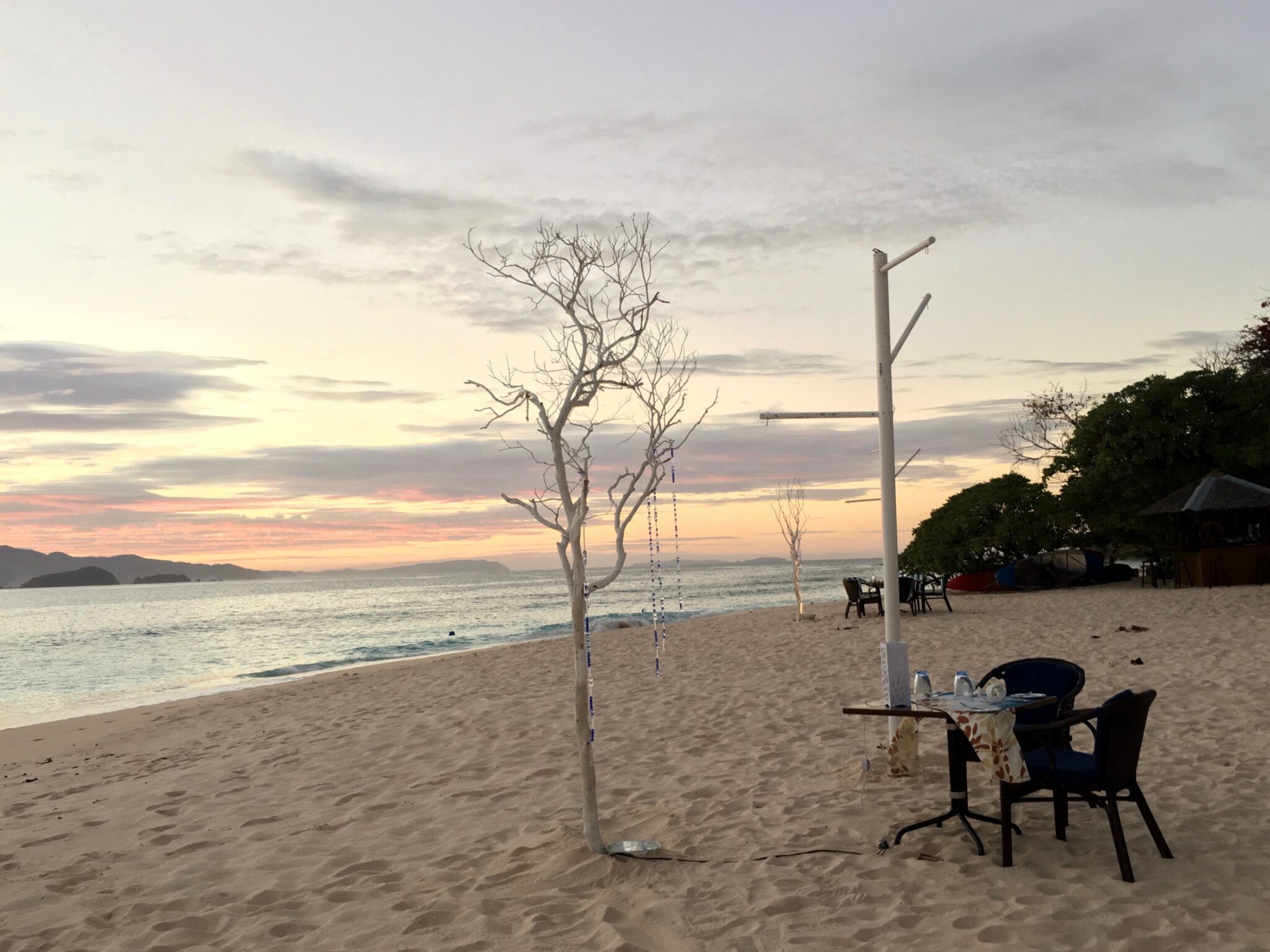 Every night, they'd set-up tables and chairs  by the seaside and they choose a handful of guests to have a private and intimate dinner away from everyone else who are dining at the club house.
It was the biggest surprise on our first night.  As soon as we ordered our food, we were told by a staff to follow him, he led us to this table and we had quite a romantic dinner under the starlit sky, only several feet from the rolling waves. 😉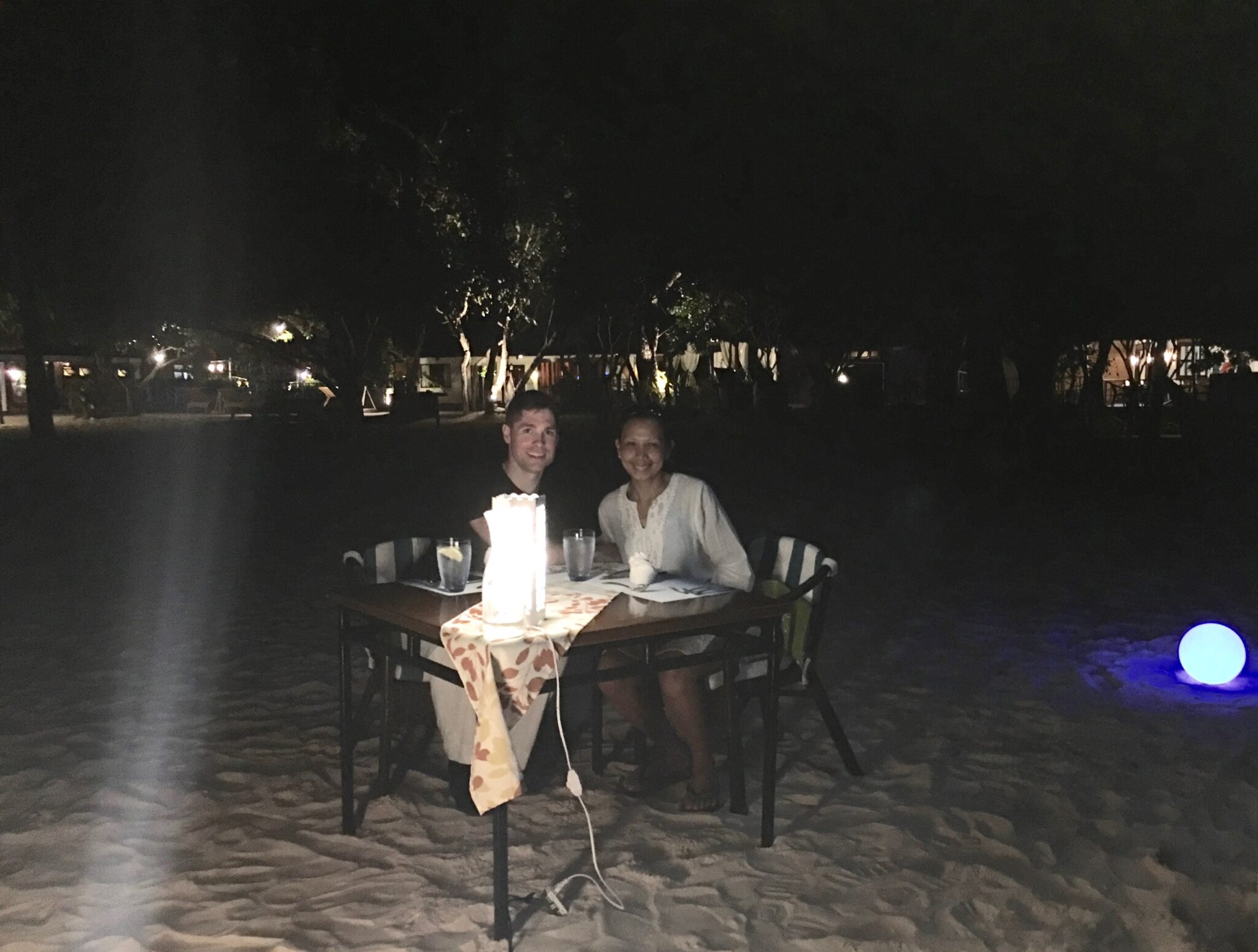 On our second day we took a day tour to other islands.
Our first destination was the beautiful Twin Lagoon where we enjoyed swimming and snorkelling.  A short video of the first lagoon shows a tiny house nestled in between the rock formations.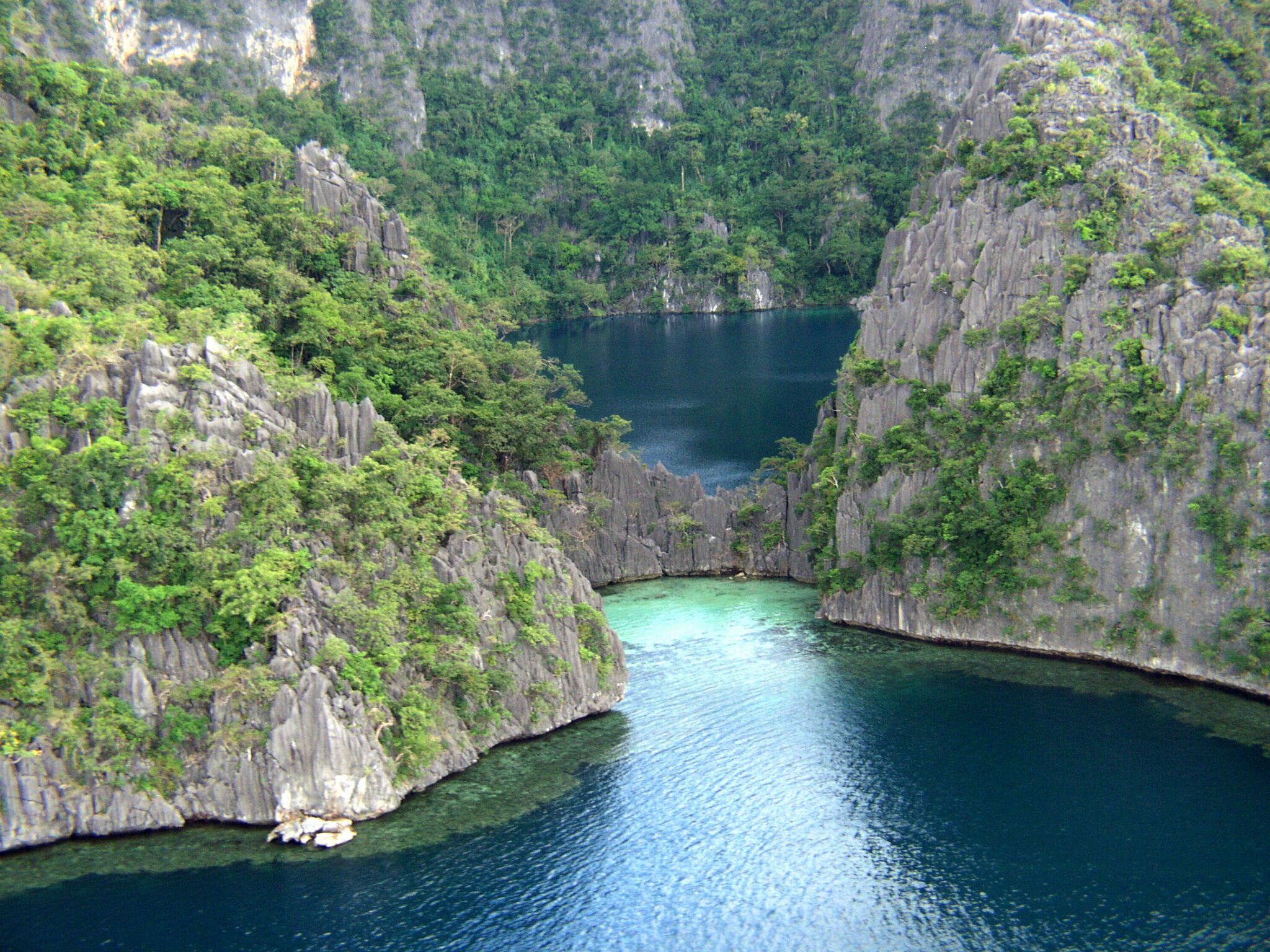 We had to swim under the cave-like opening to get to the other side of the lagoon.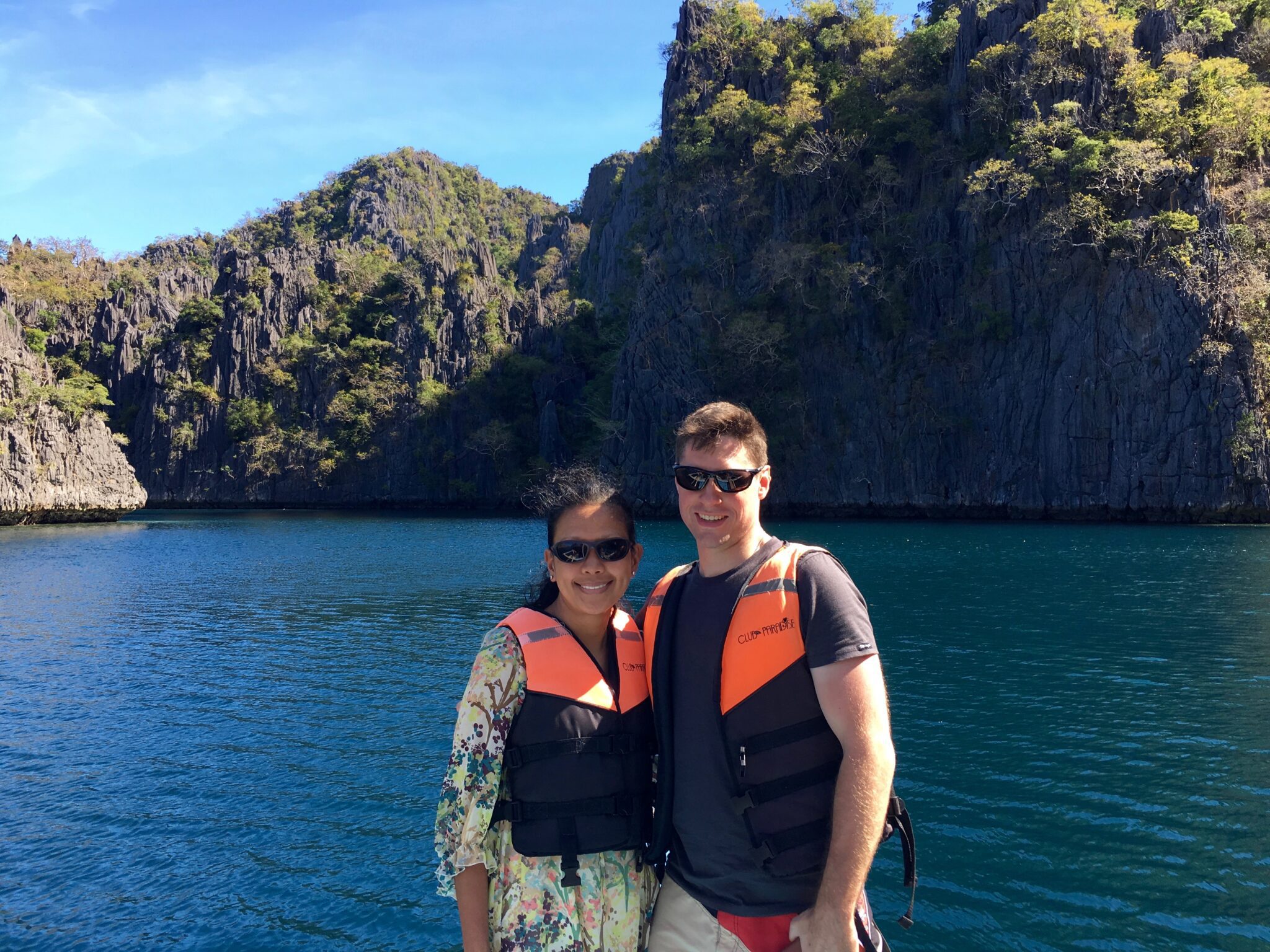 Just like in El Nido, the limestone rock formations can be seen around Coron and its surrounding islands.  Life jacket was required while on the boat.
We also went to a set of seven tiny islands/islets called 'Siete Picados' and we had one of the best snorkelling experiences there.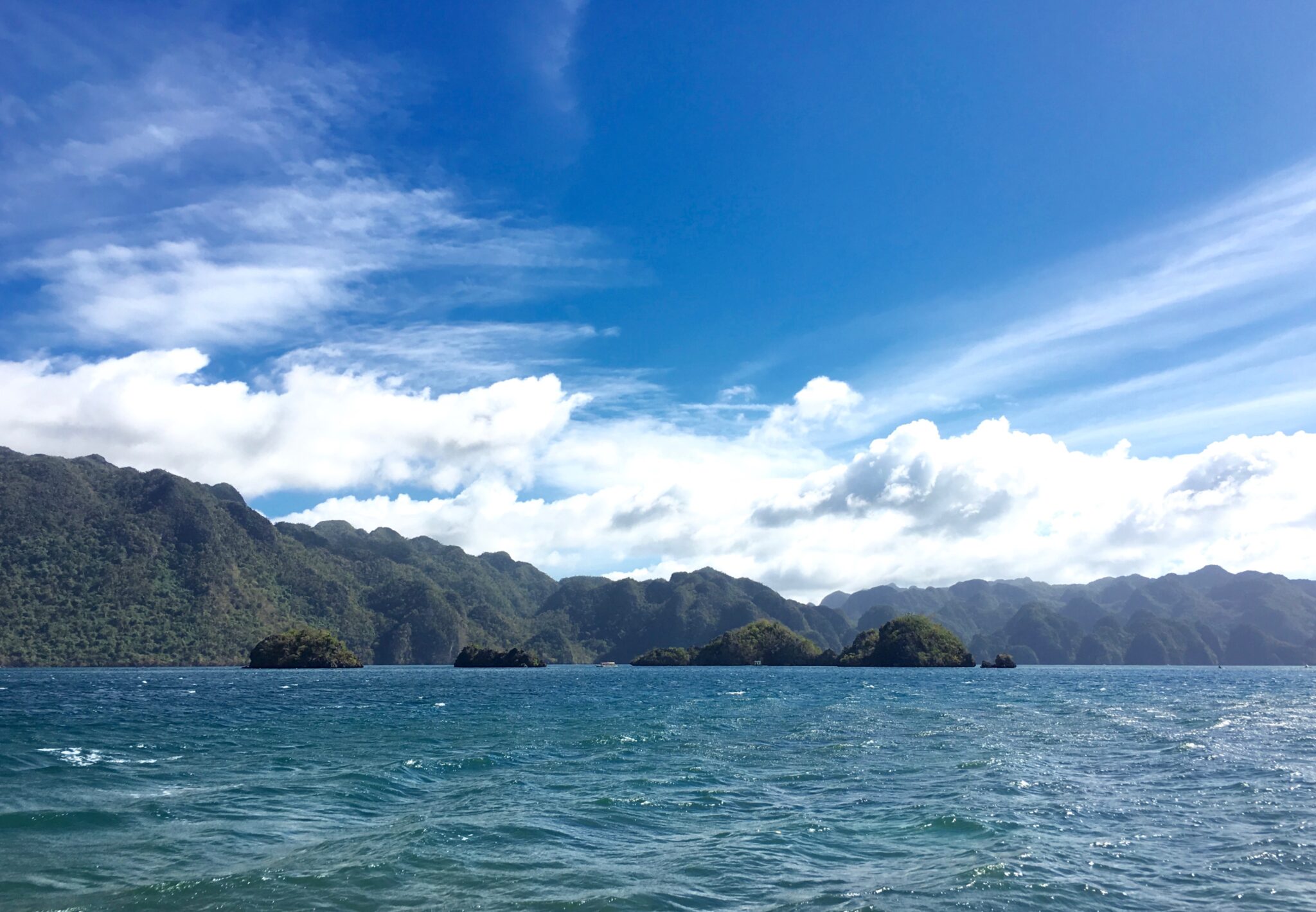 Our next destination was Kayangan Lake.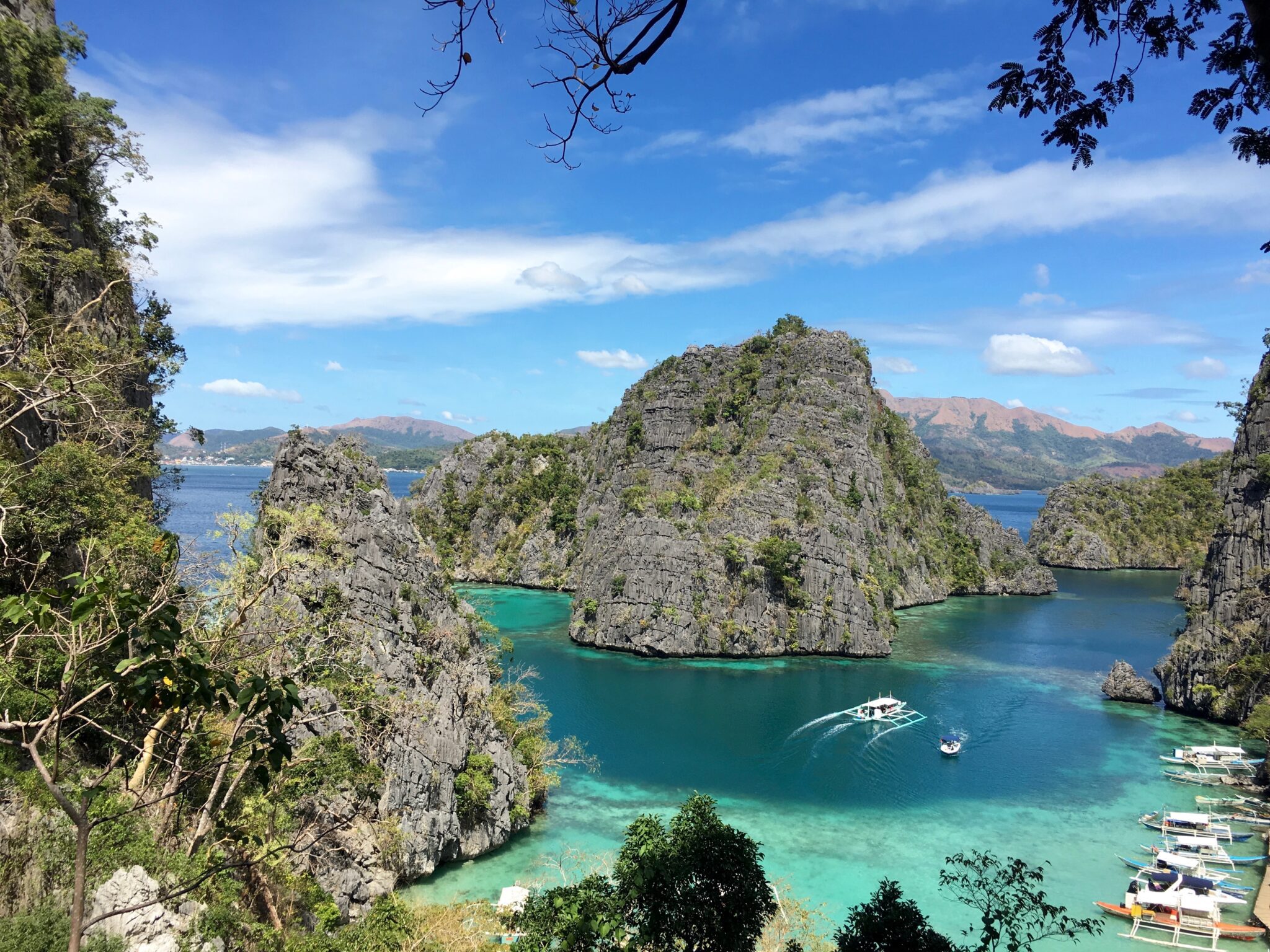 A short but exhausting hike up the mountain took us to the lake.  It's surrounded by jungle-covered limestone hills and really an incredible place!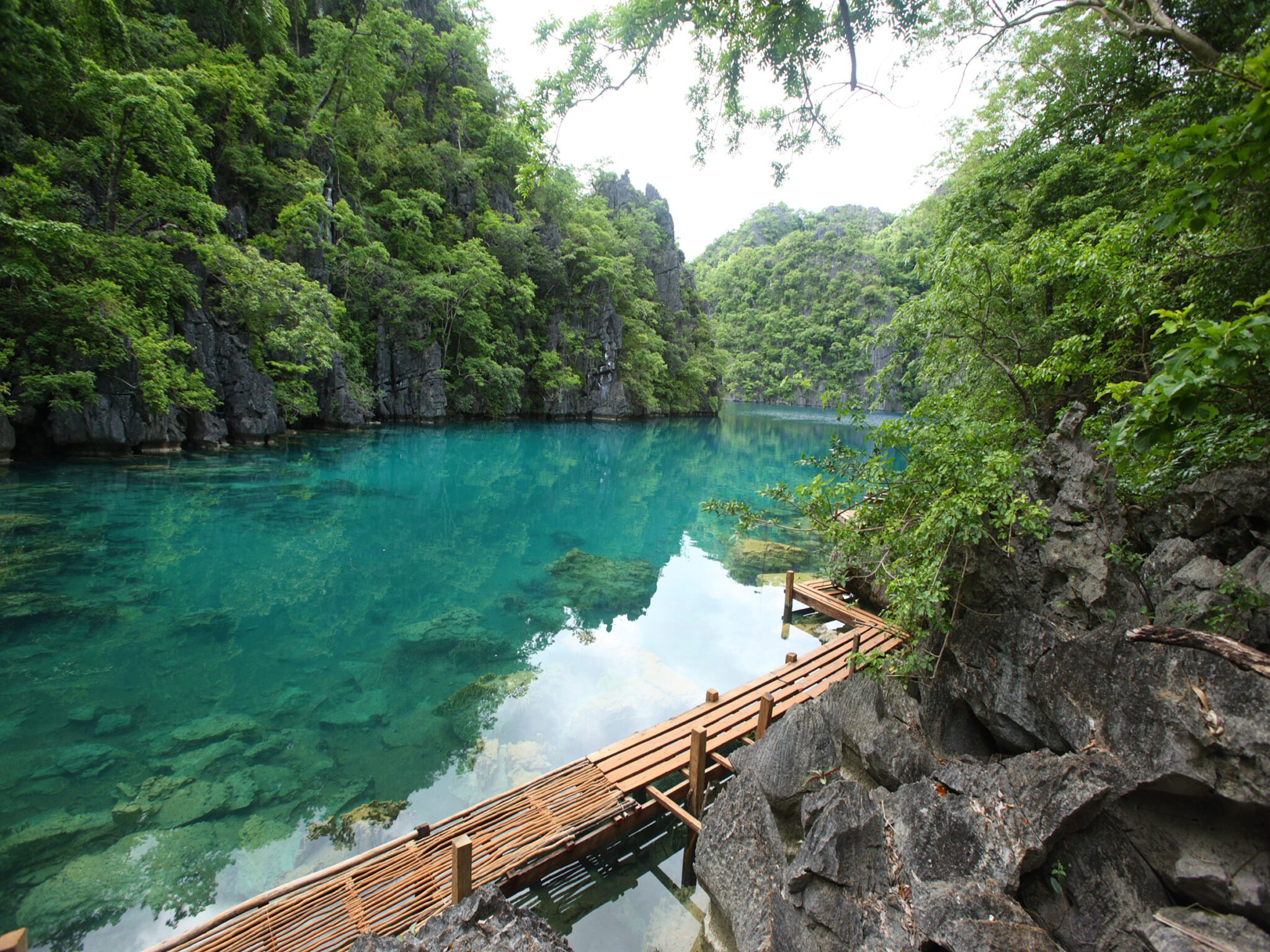 We did a few minutes of snorkelling here and the water was cold.  Kayangan Lake is an enchanting place indeed!
We were starving when we returned from the hike and was greeted by this sumptuous meal!  The video shows the crew grilling the meat/seafoods.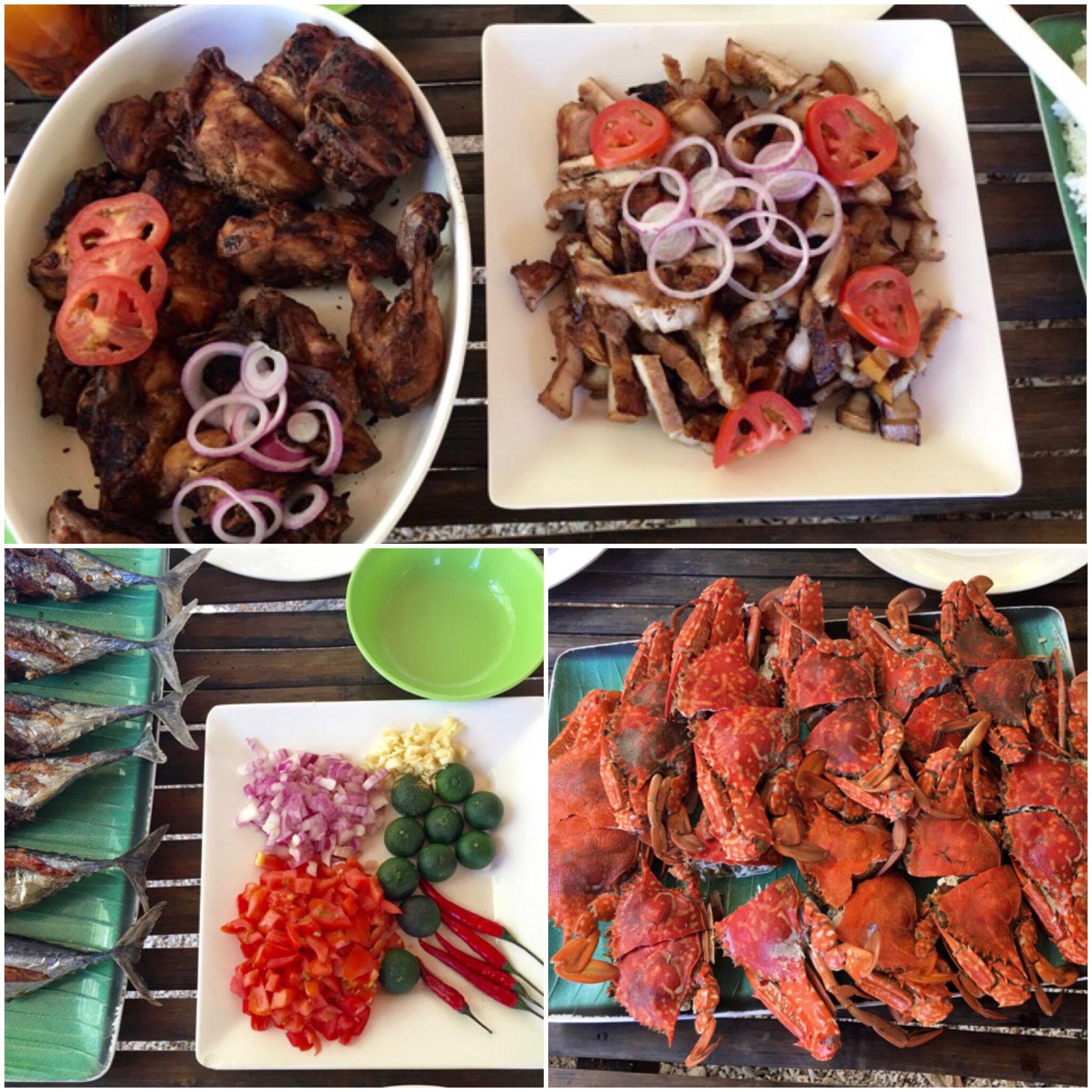 It was a wonderful lunch cooked on the boat by the resort staff; grilled fish, crabs, chicken and pork barbecue, etc. We also had mangoes, bananas and melon for dessert. We did eat using our hands to our tummy's content. 😉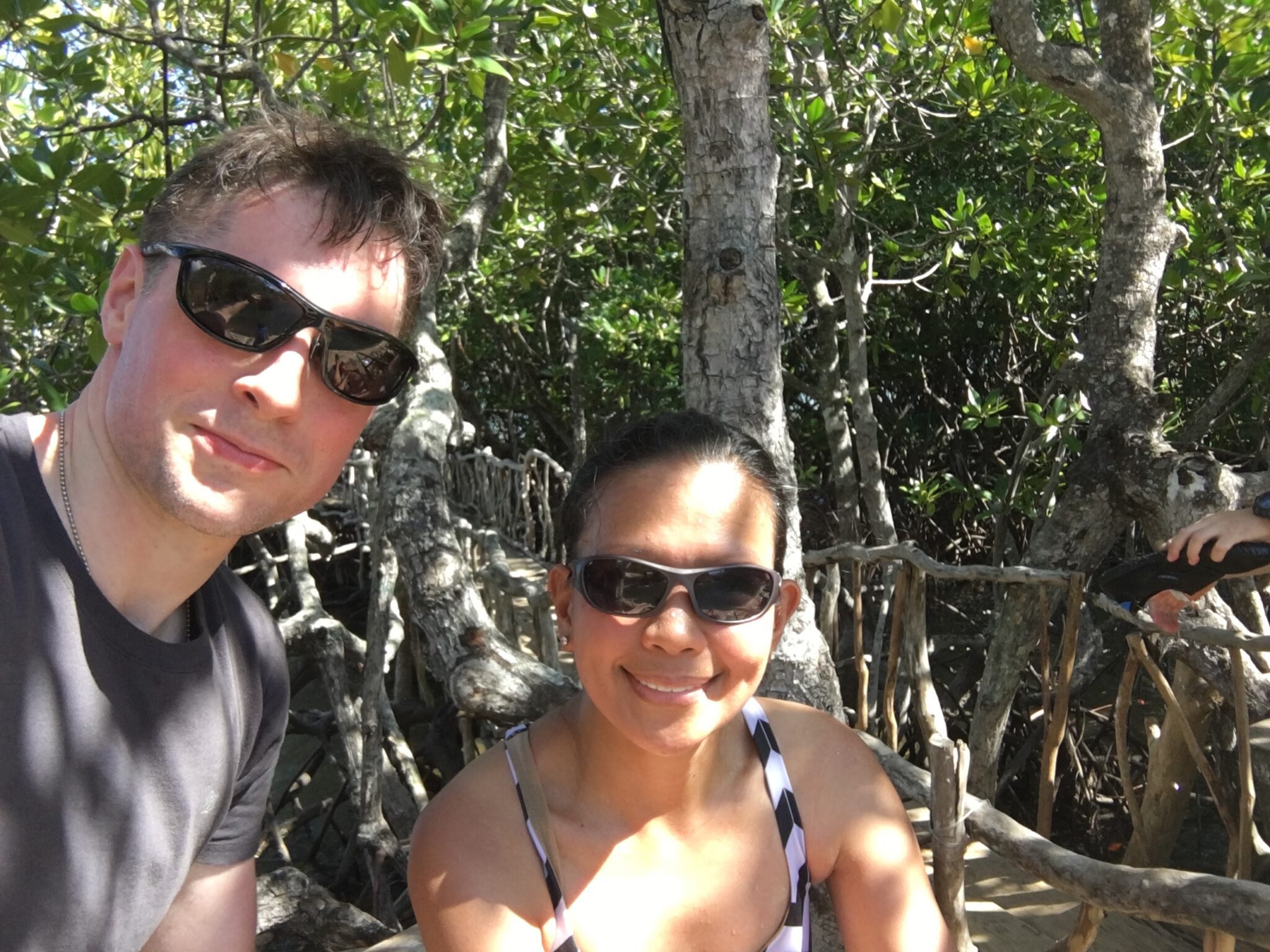 Our last destination was the Maquinit Hot Spring, located between a forested hill with an underground volcano and the sea with lush mangrove trees, it is known to be the only saltwater hot spring in the country.  We soaked ourselves in the hot springs for about 25-30 minutes, and it was a perfect place to be in after a physically exhausting day of swimming, snorkelling and hiking.
After a long day of island hopping we went back to the town of Coron and our tour guide took us to a souvenir shop.  Then it was another half an hour car ride to Busuanga and another fourty minutes boat ride to the resort.
The next morning we got up early to walk along the beach and watch the sunrise.  And we were thrilled to witness three of the resort staff coming to work in style — not by car or jeepney but by boat nonetheless!  Some of the staff live in the town of Busuanga and nearby villages and they commute to work everyday.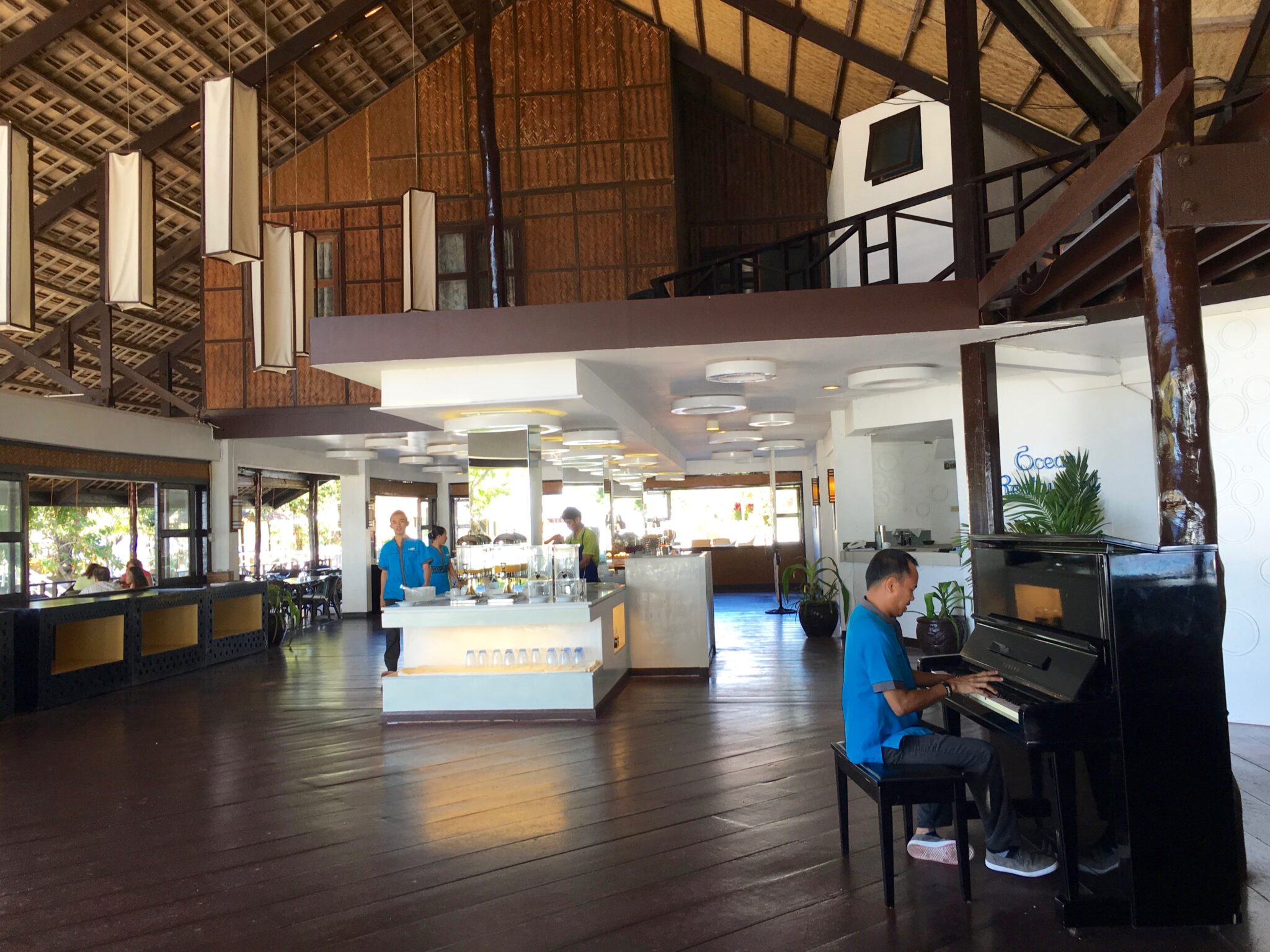 Club Paradise has great facilities that caters for everyone.  This is the Club House where the guests can enjoy their meals.  A staff plays the piano as soon as buffet breakfast is served.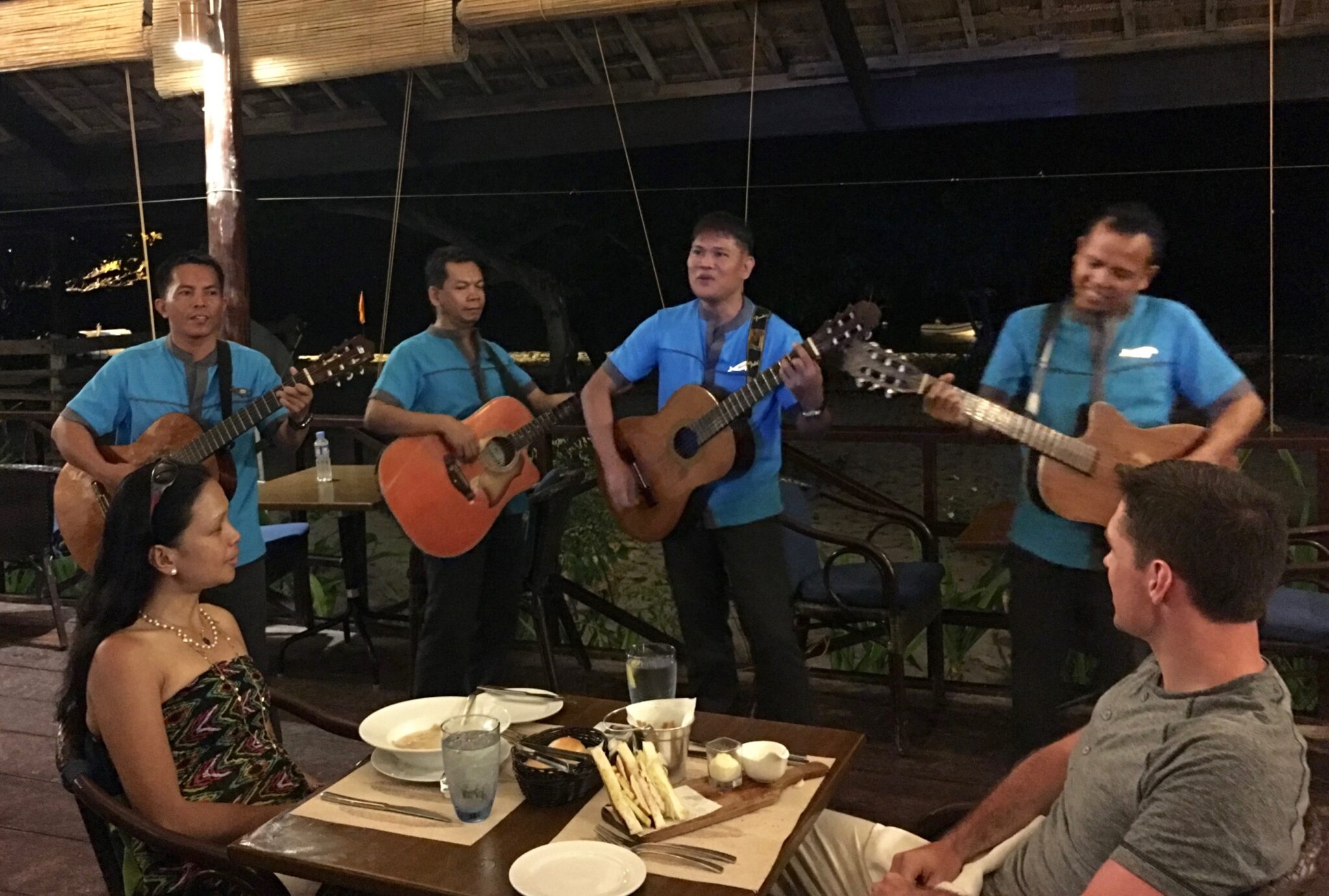 We were serenaded while having dinner. 😉 You can request whatever song you want.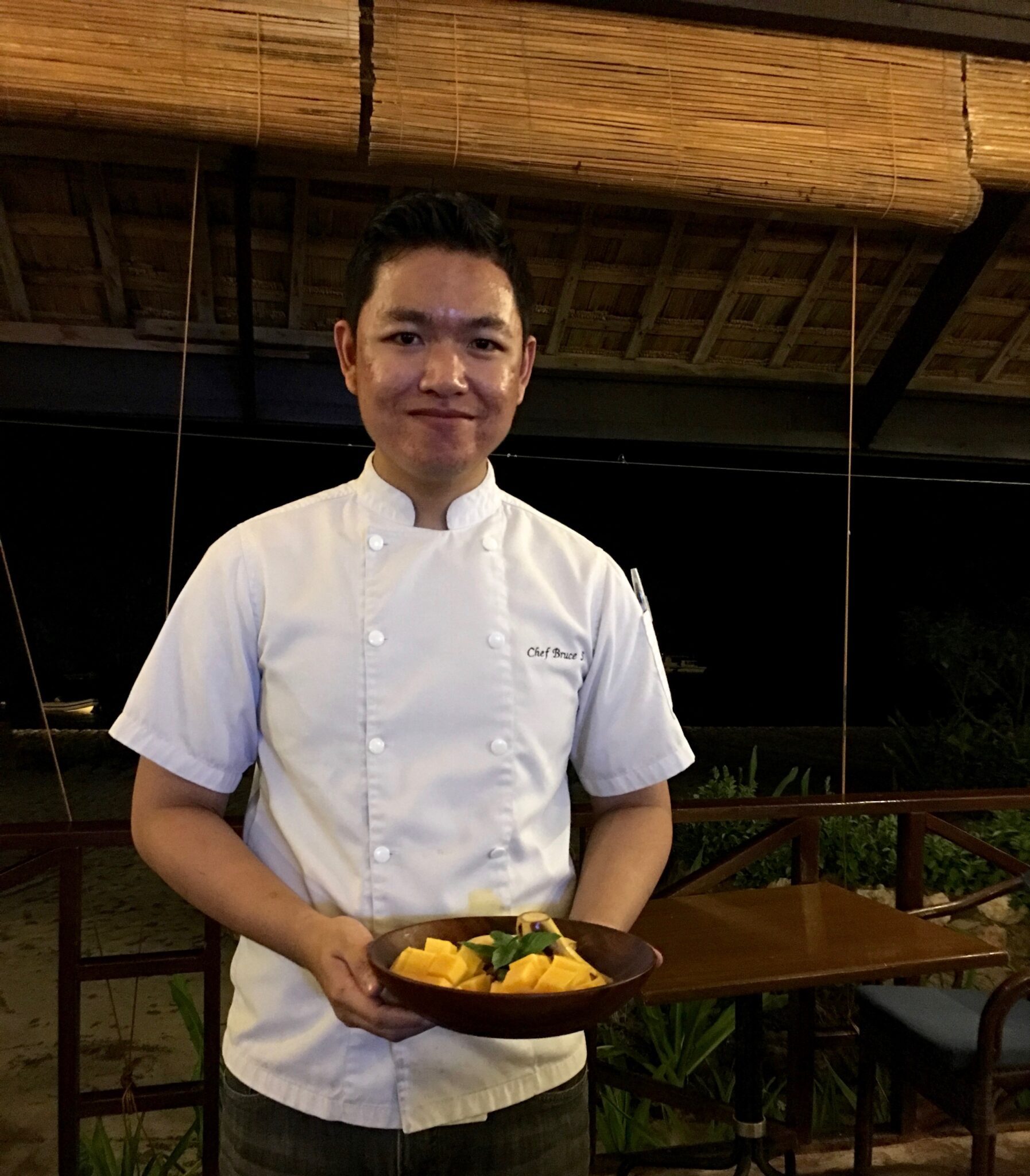 On our last night, Chef Bruce came over to our table and brought us some freshly cut-up tropical fruits.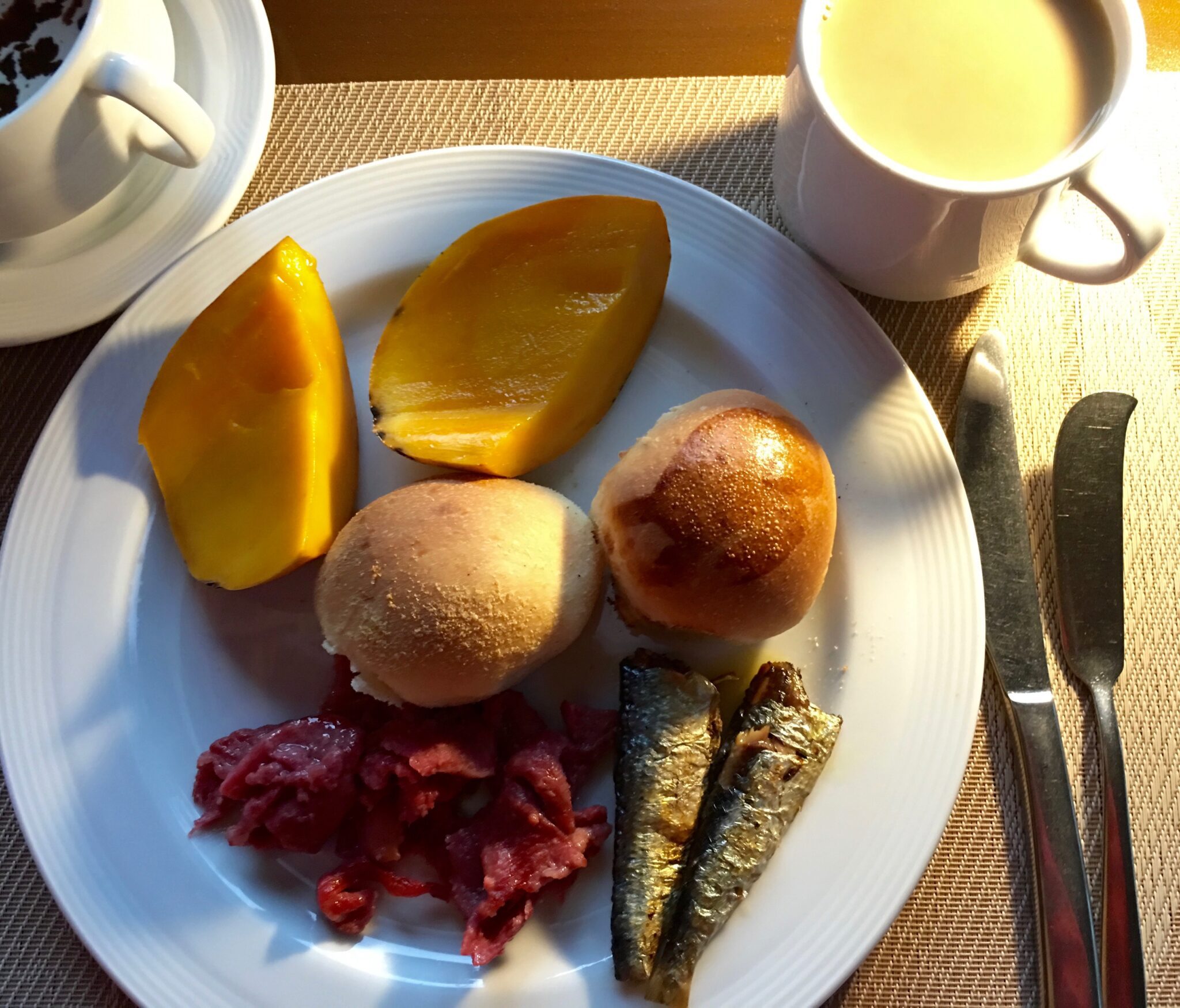 A buffet breakfast is included in the package; there's a variety of choices from Continental, Asian, to English breakfast. But I had a Filipino-style meal every morning. I'd usually start with mango juice then one or two pandesal (Filipino rolls), a few slices of pork tocino or beef tapa, sardines or smoked fish but on our last day I had fried rice, scrambled eggs and fried danggit. 🙂 There's also a selection of fruits like mangoes, rambutan, papaya and other tropical fruits to finish off the meal. Of course, I always had a cup of coffee every morning to wake me up. 😉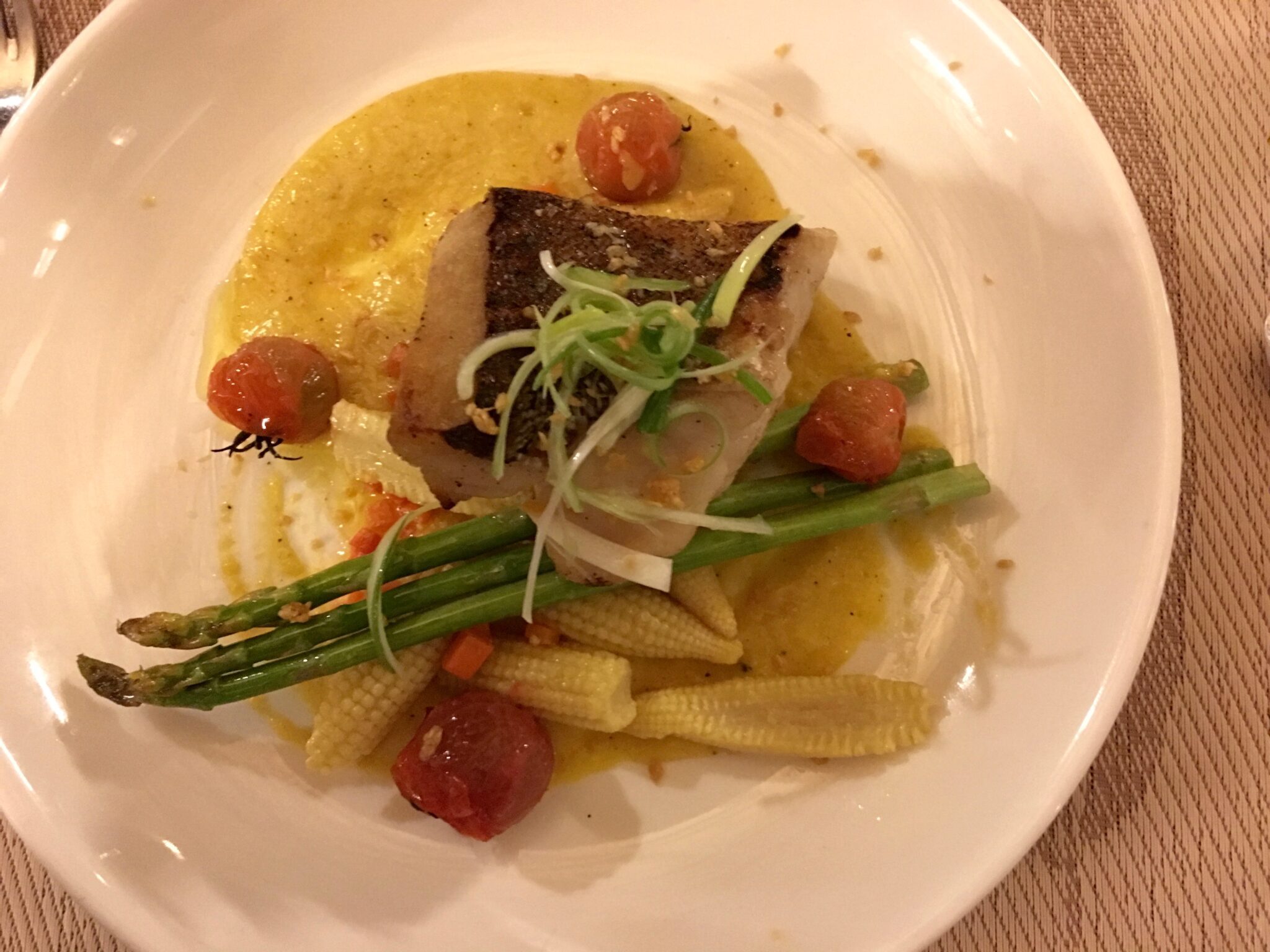 All the food we tried was very good like this sea bass we had one night.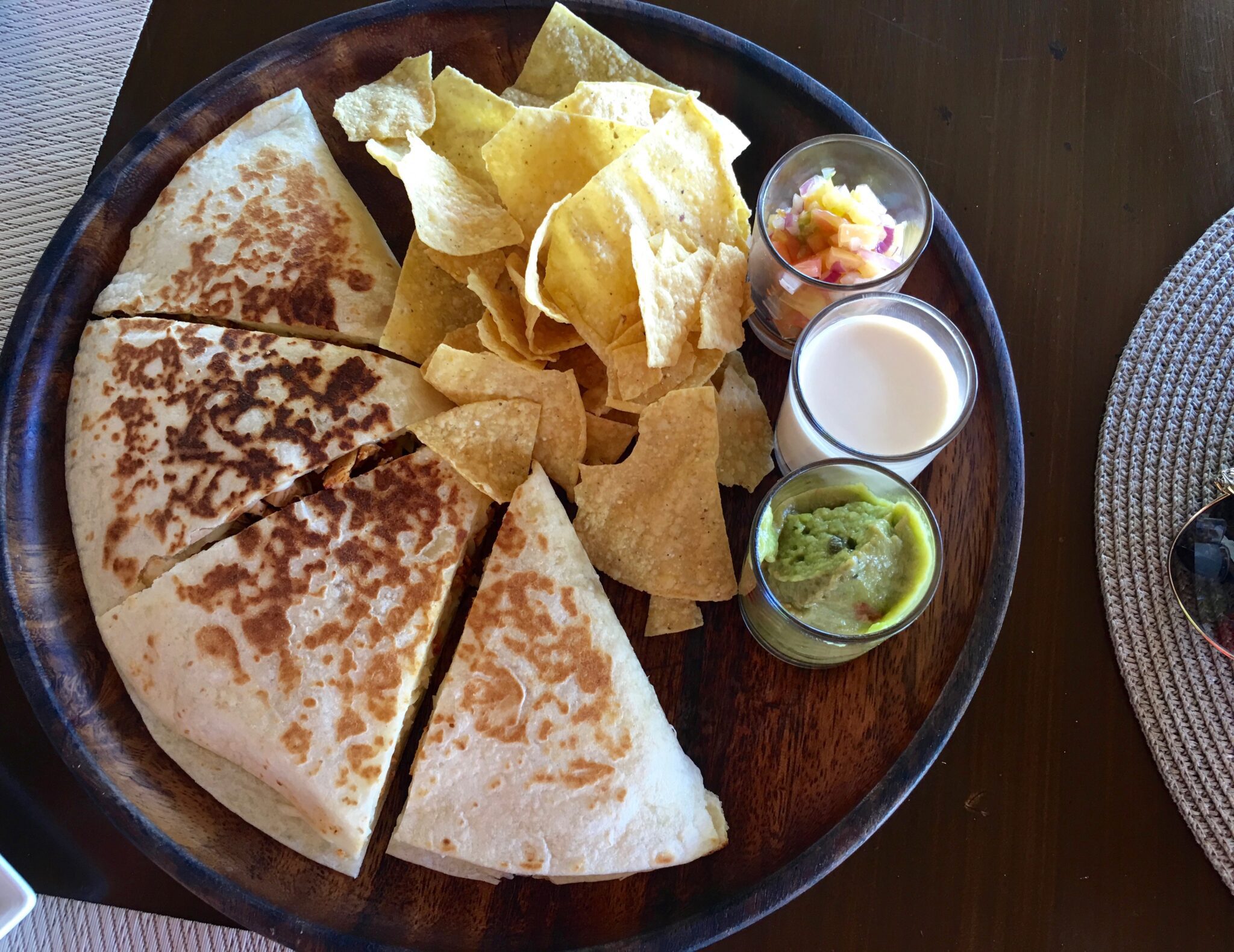 We had pizza, quesadilla and other exotic dishes and they were all good.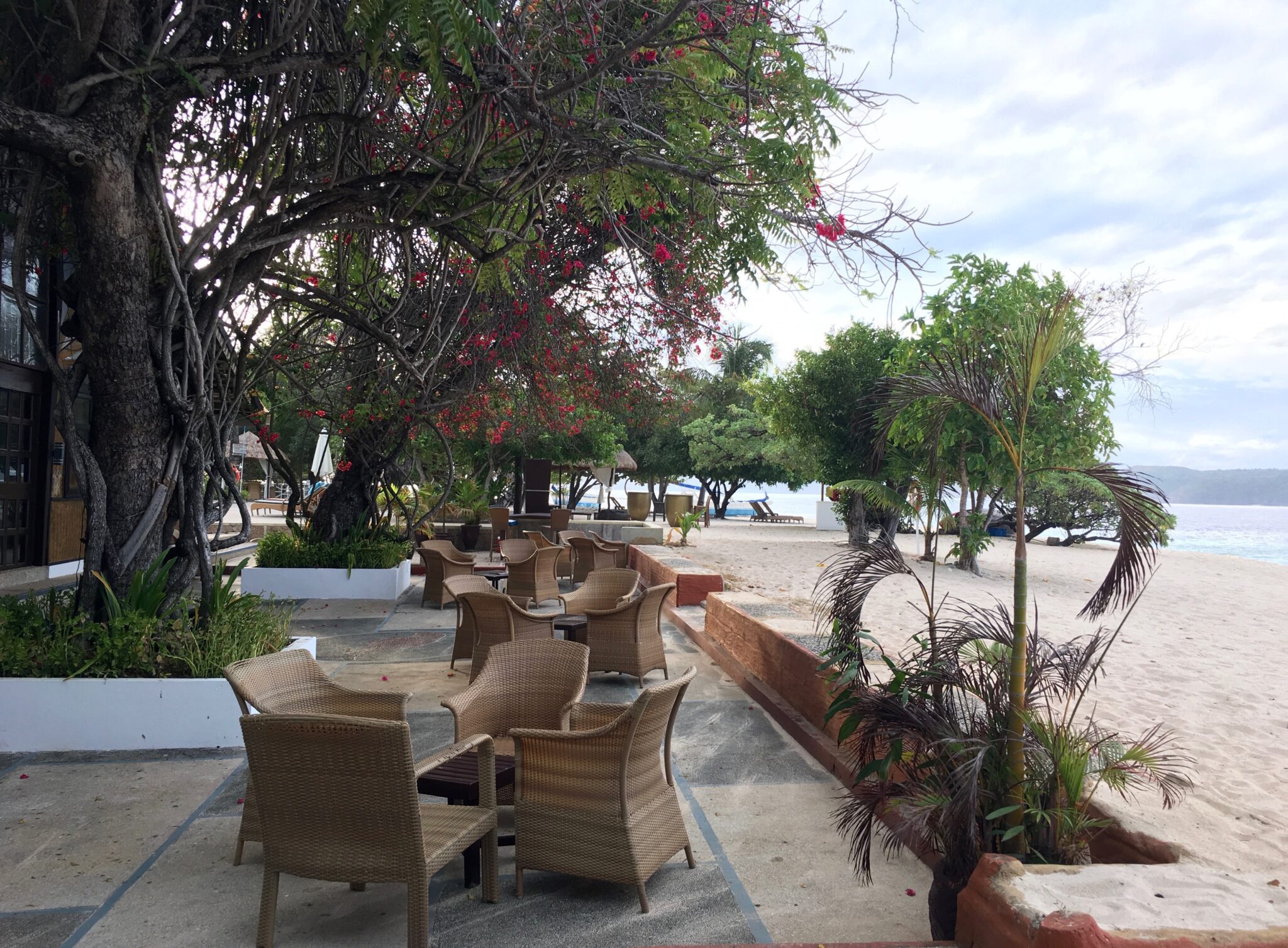 In the afternoon after doing some water sports we'd usually sit down and relax somewhere facing the ocean . . .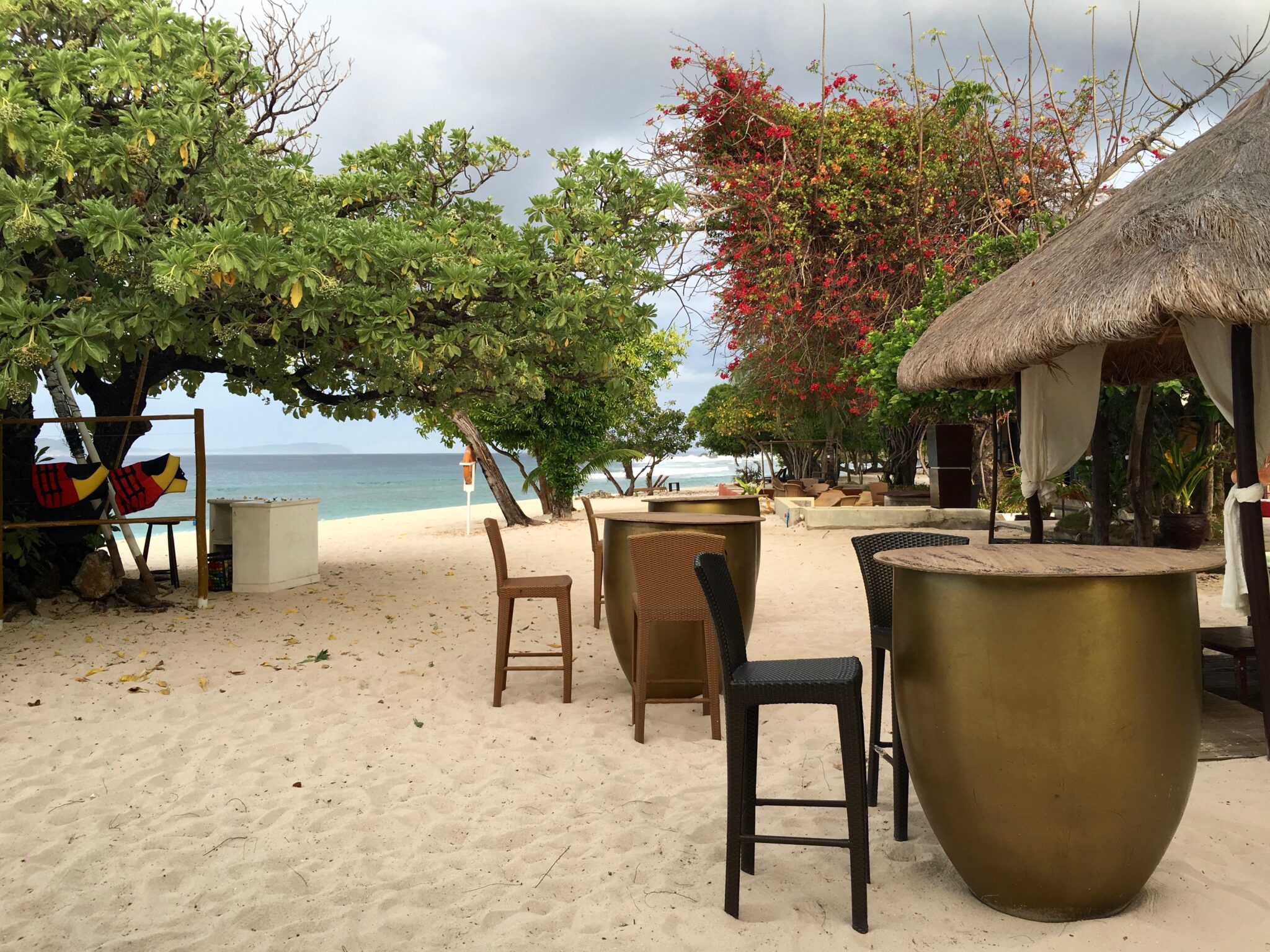 And we'd usually order a 'halo-halo' or a tropical juice . . .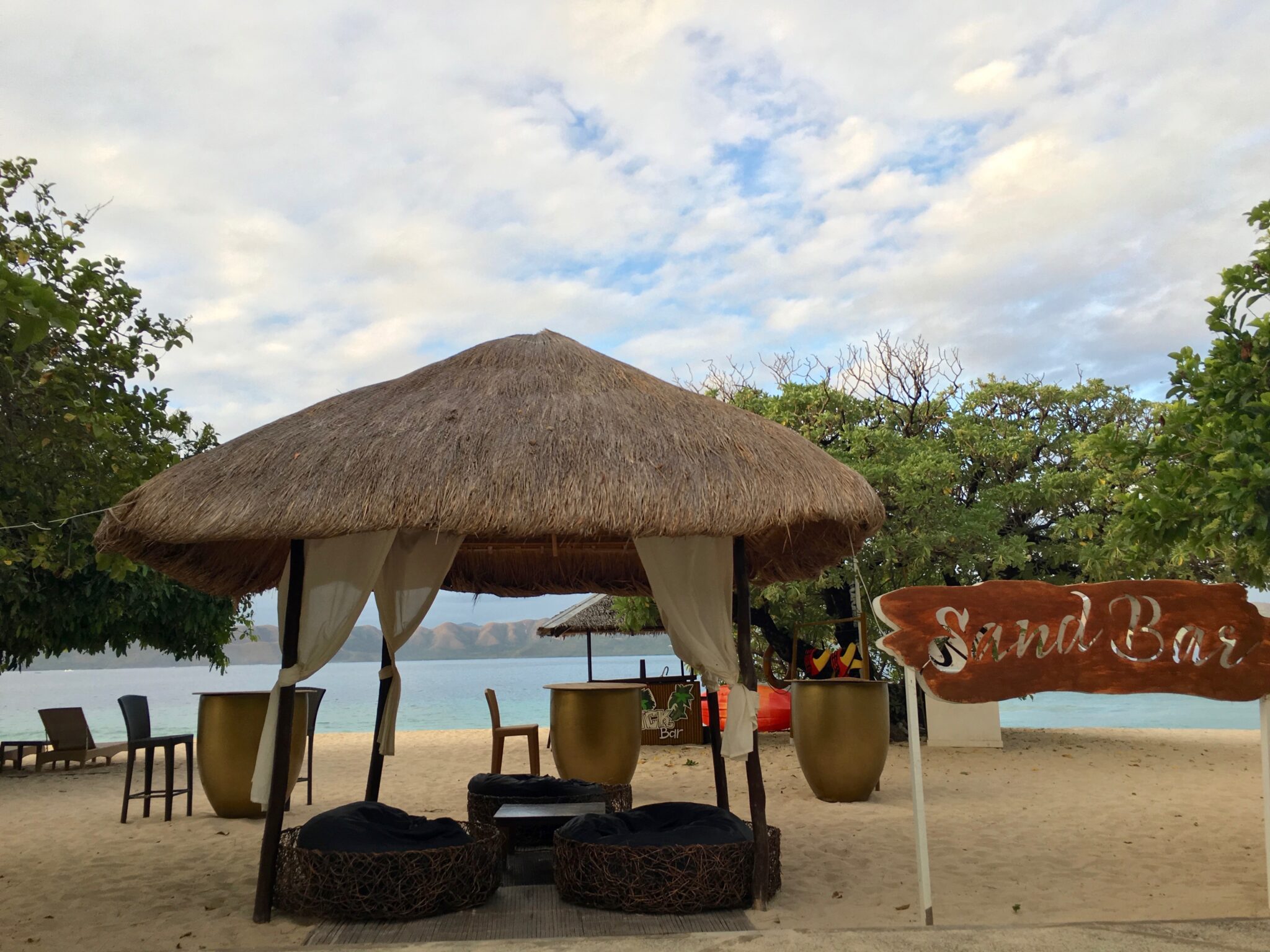 We'd  often sit in the Sand Bar sipping a tall glass of mango, coconut or melon juice.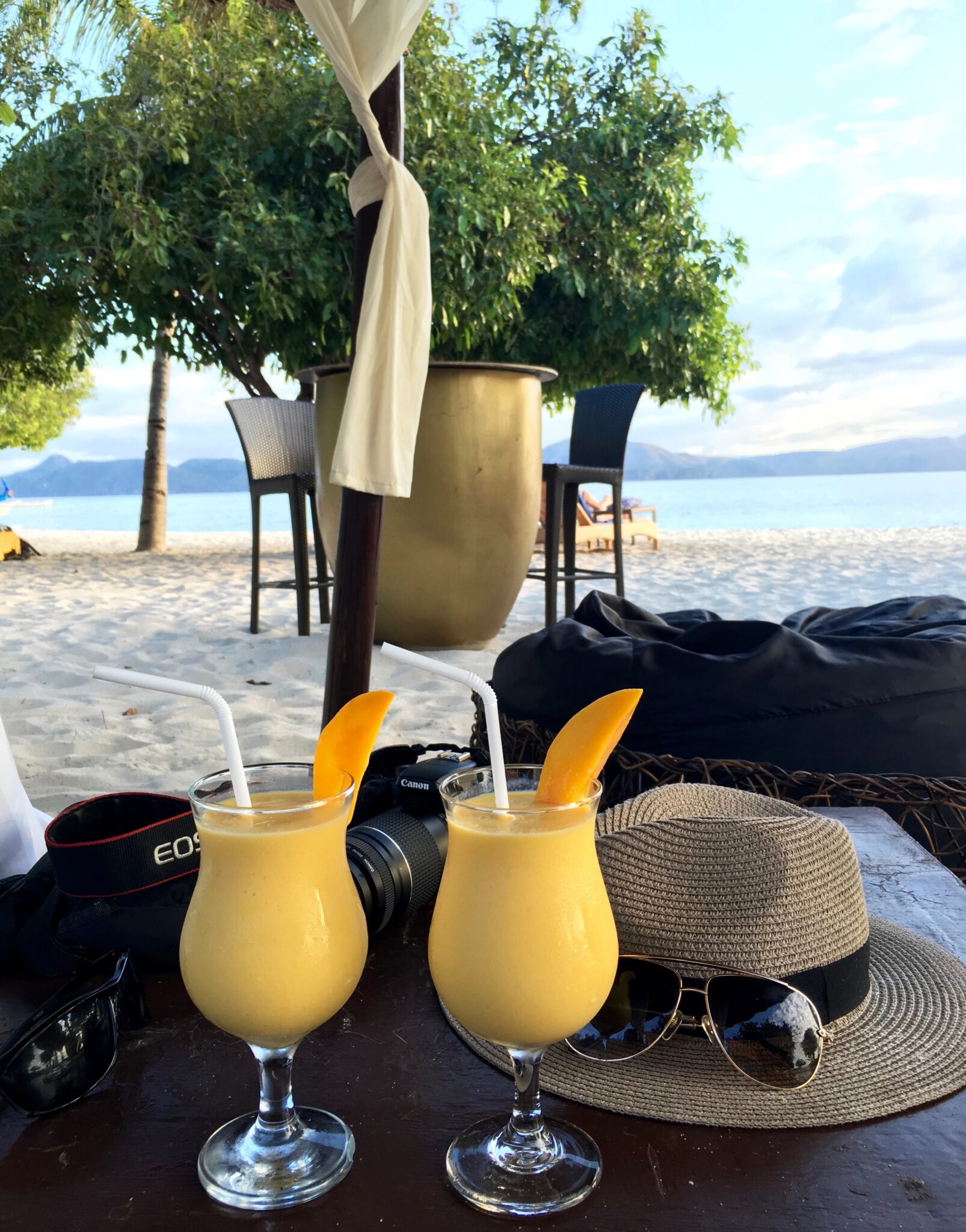 We love fresh mango juice.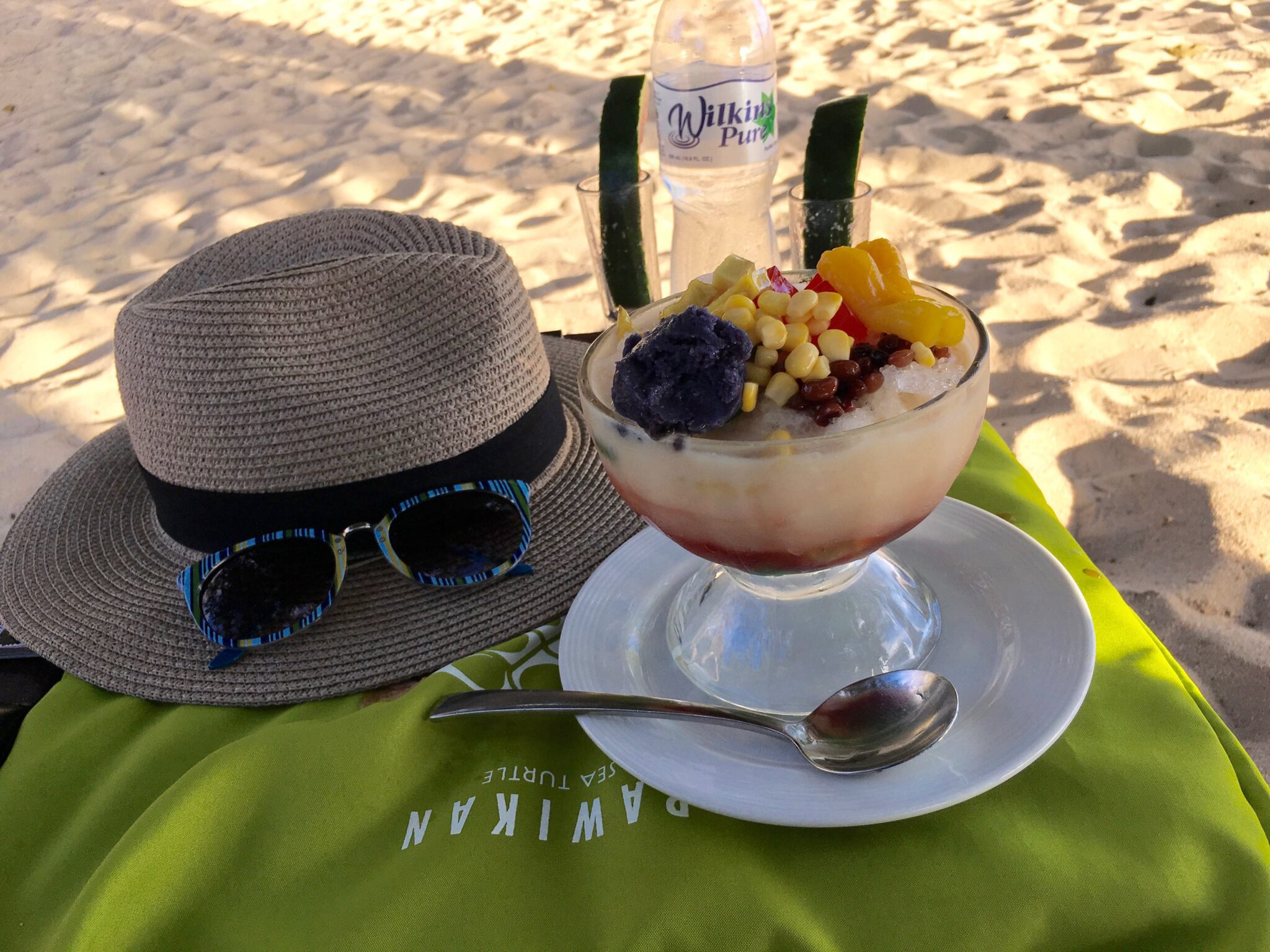 And of course, there's nothing like our favourite halo-halo!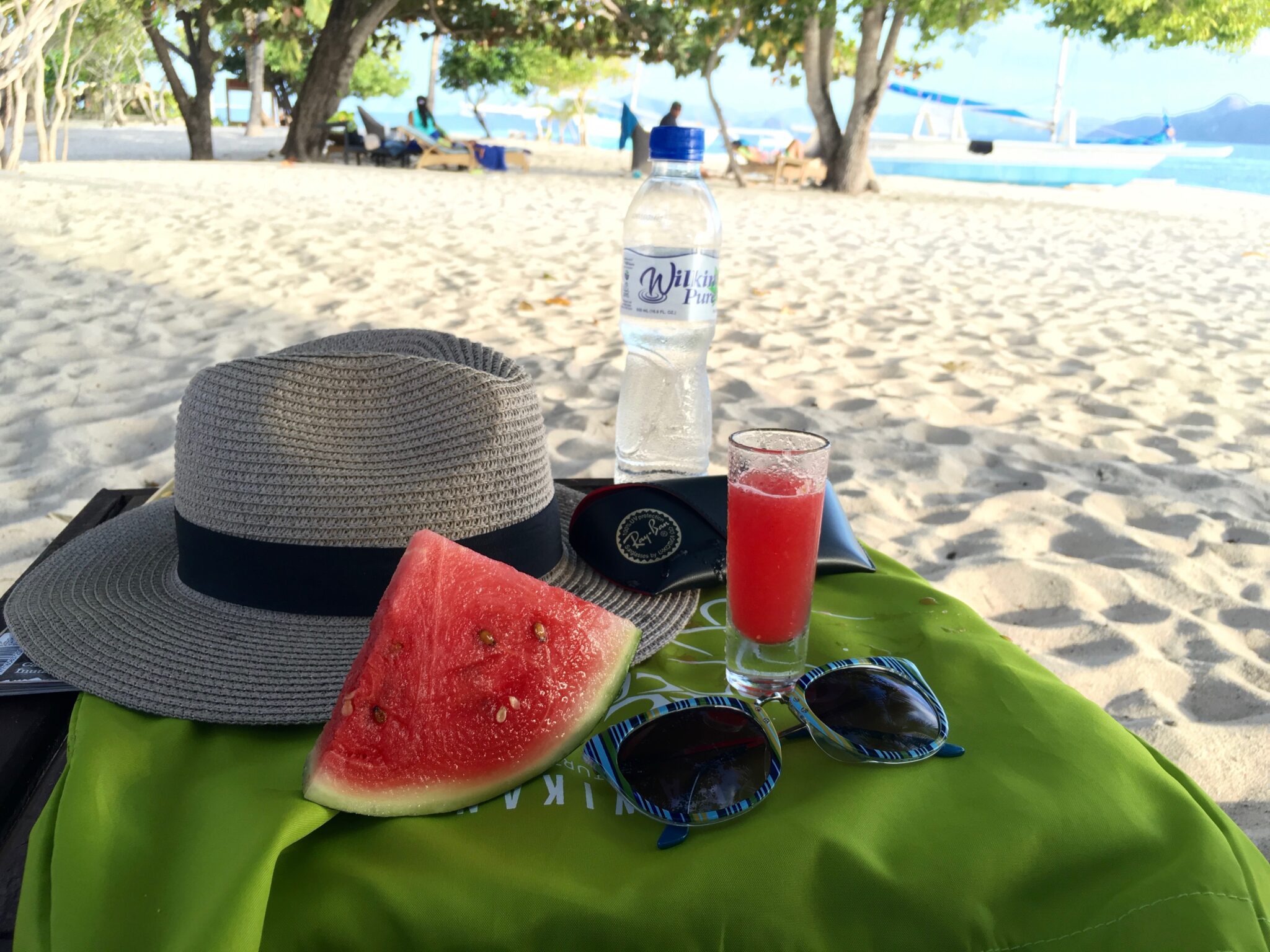 The melon juice is quite refreshing! Had loads of them while on the island.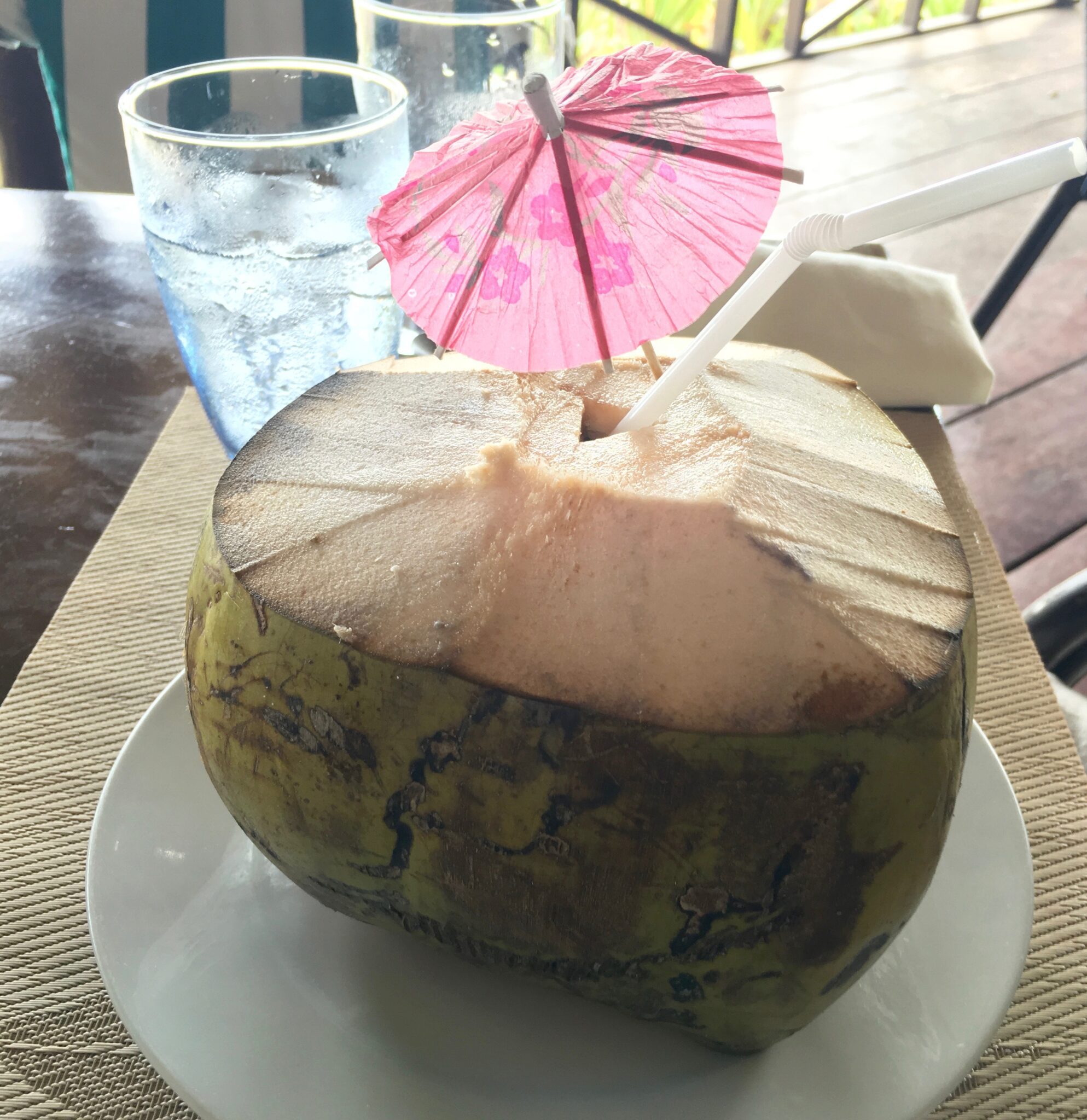 The thirst-quenching coconut juice is the best!  And I always ask a staff to open the coconut shell and I would end up devouring the young coconut meat. 😉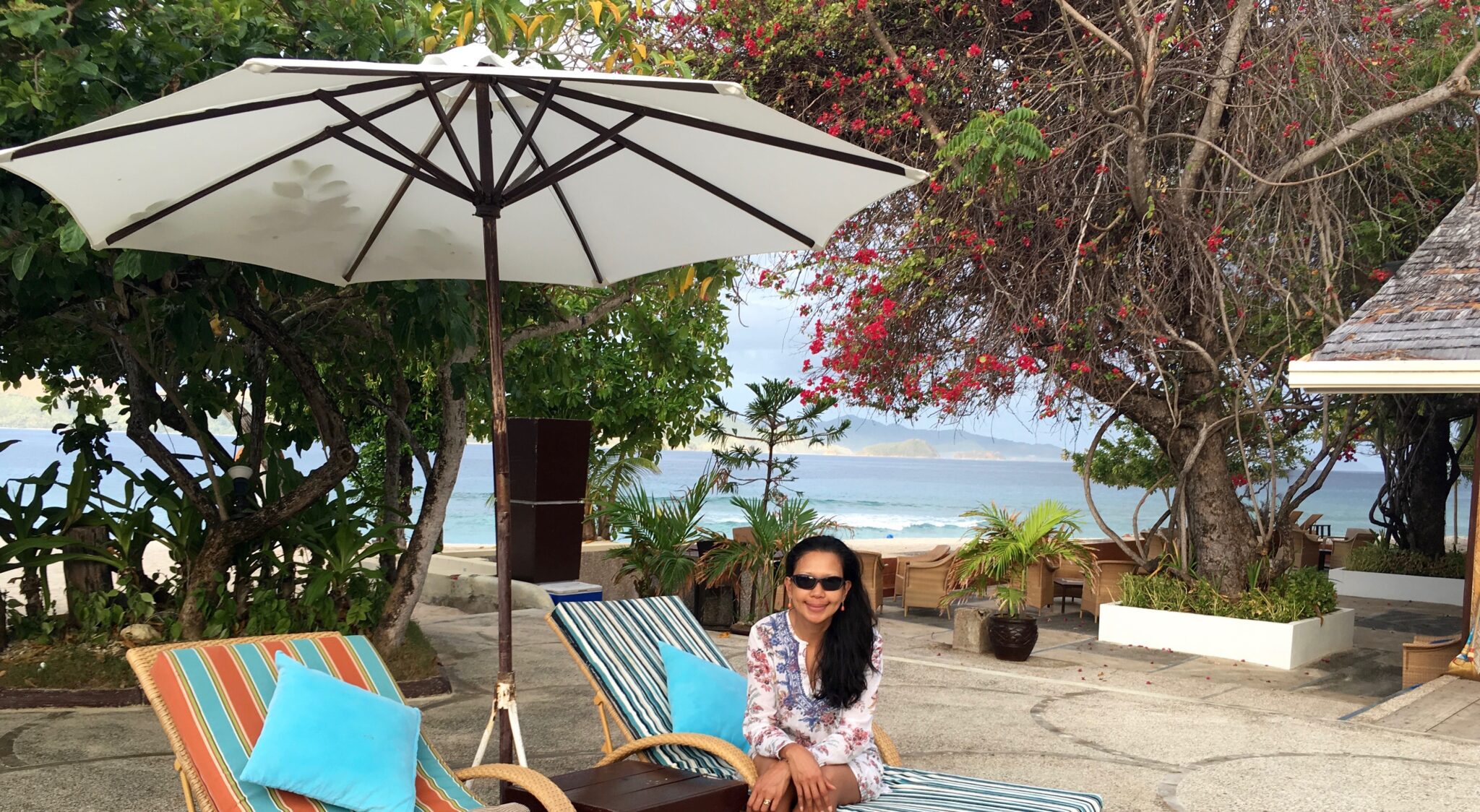 Sitting by the poolside reading a book in the afternoon was one of the things I enjoyed while we were there.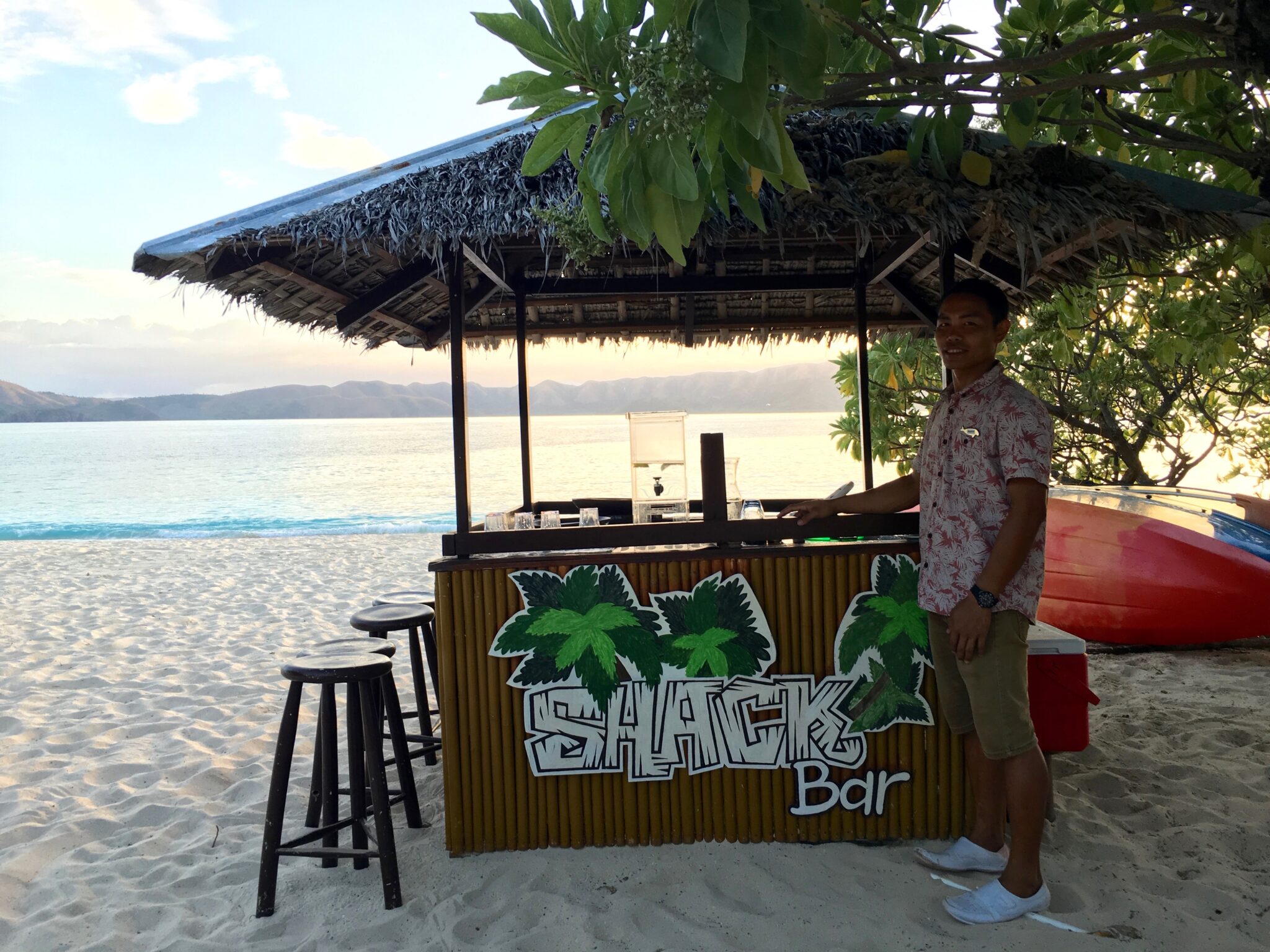 The staff manning the Shack Bar was very helpful to us when one afternoon after snorkelling I came out of the water with very itchy arms and legs because of the plankton. He got me a cup of vinegar and told me to rub it on my skin. It really did help relieve the itchiness but I smelled like vinegar even after a long shower. Rubbing myself with Hermes soap didn't help take the vinegary smell off my skin. 😉
One of the things we did appreciate about the resort was the daily supply of Filipino sweets which we always enjoyed with a cup of tea — it was our midnight snack!  There's always something different to munch on every single night.  It was a wonderful way of introducing our native delicacies to the non-Filipino guests.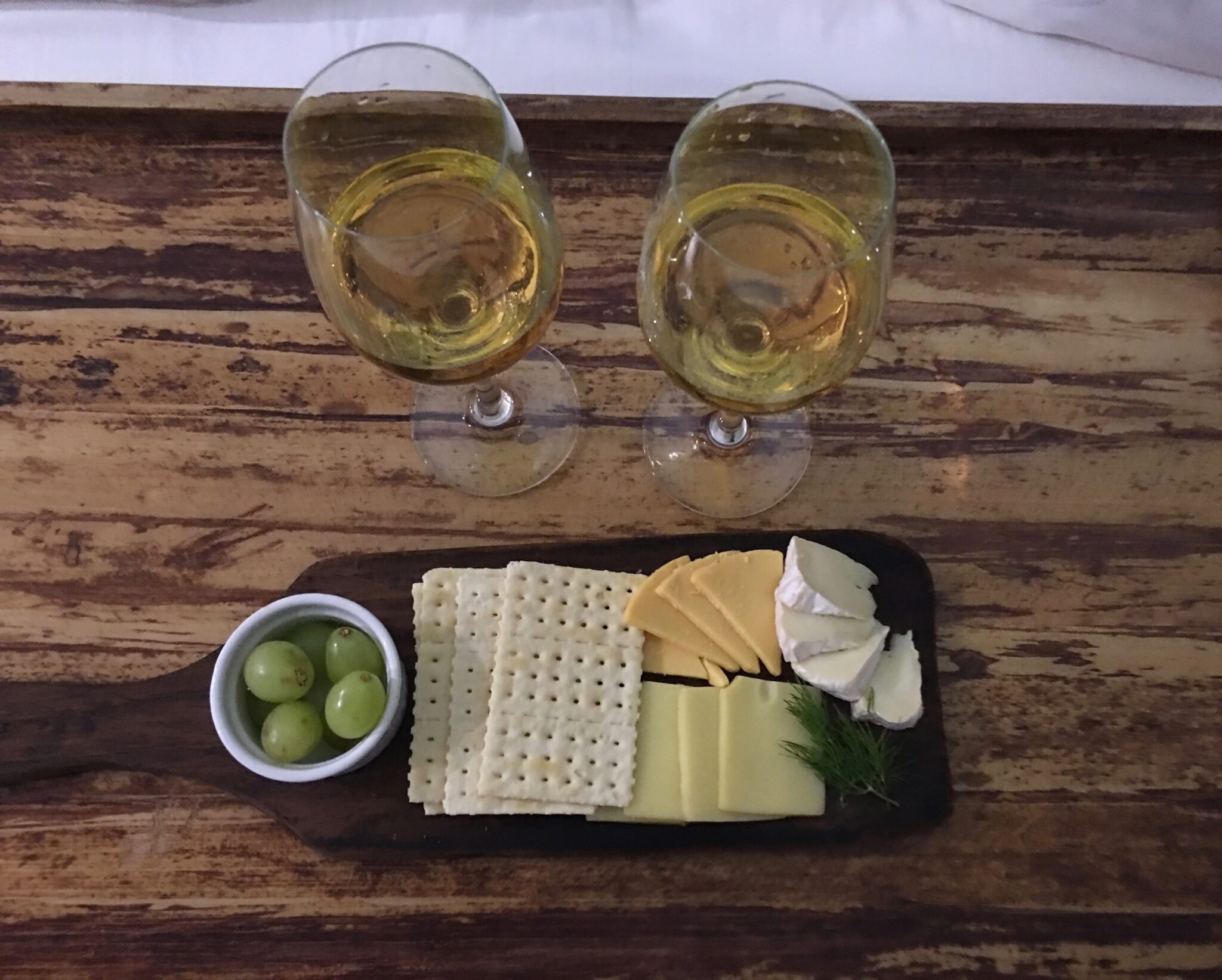 One night a staff came knocking on our door to deliver this special gift from the resort manager,  Joegil Escobar. He was very kind and sweet, always coming by to say hi to us every time we're dining at the club house.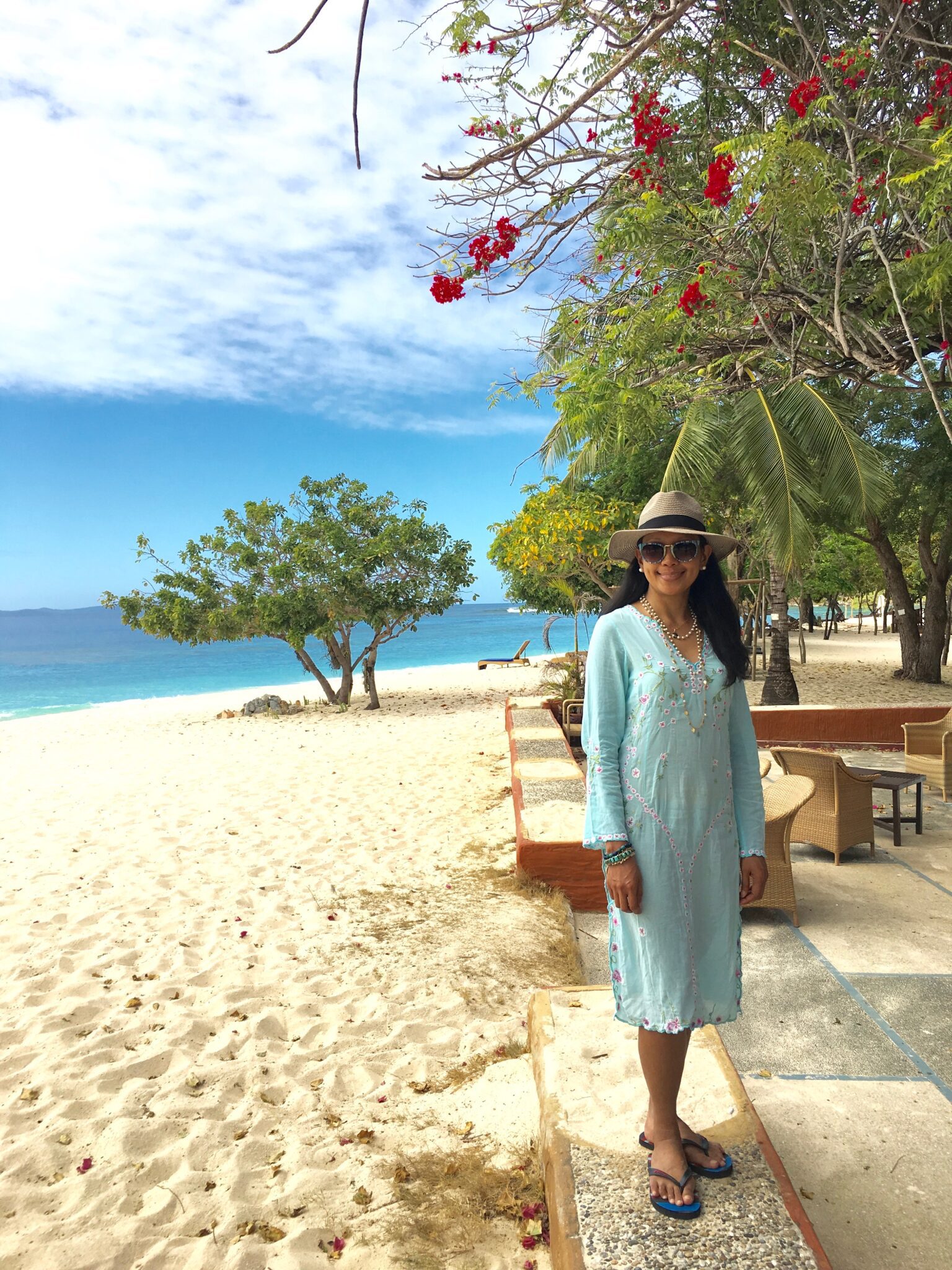 Unabashedly, I am a tropical girl; love the warm weather, the sand, sea and I am most comfortable wearing T-shirts, shorts and kaftans.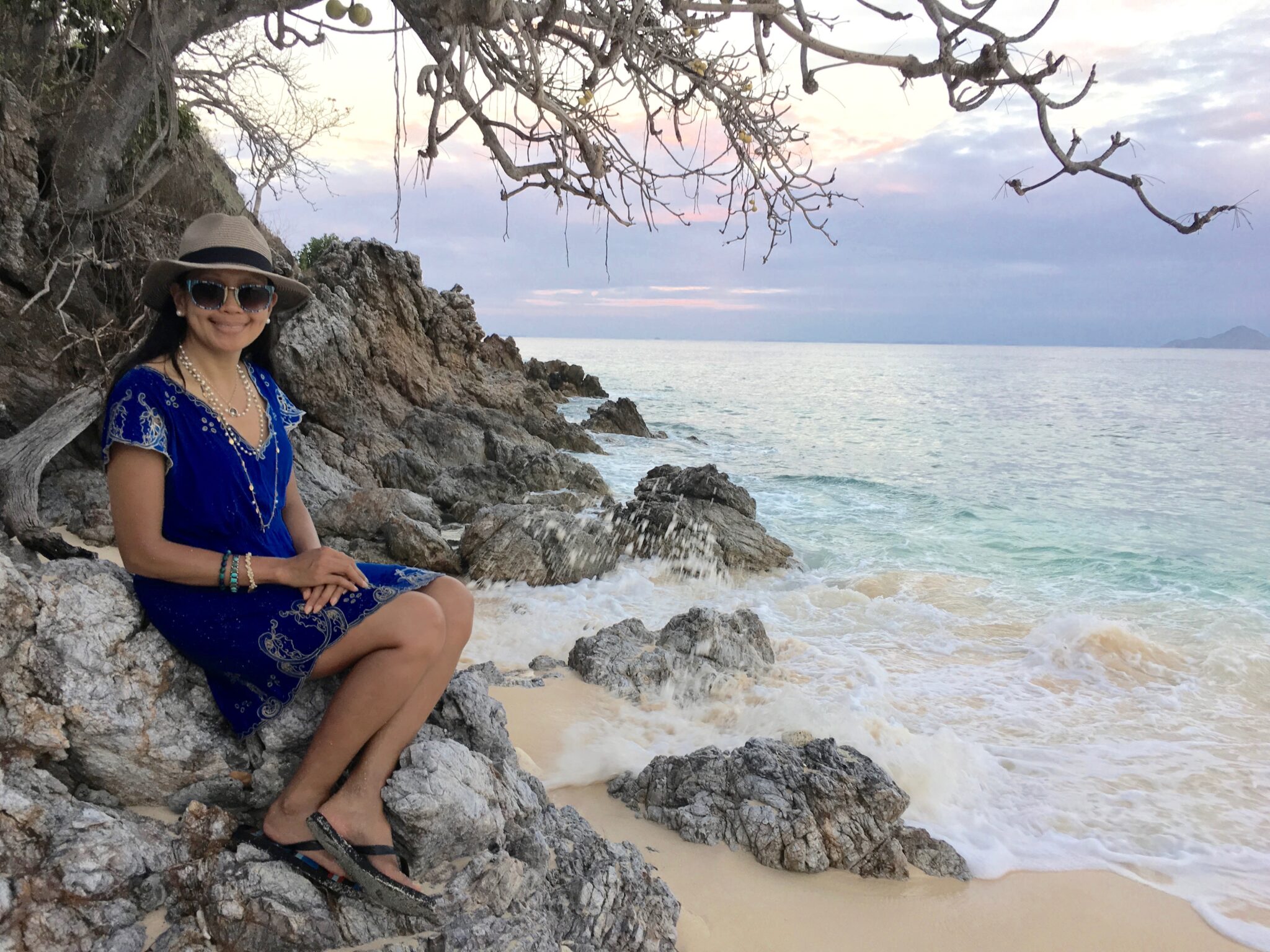 One afternoon Jared and I took a little walk around the island and he had me sit down on the rocks for a photograph, and all of sudden the waves came rushing towards me, didn't get the time to run so I got myself soaking wet as this picture shows. 🙂
On our last day the sea was rough and we decided not to do any swimming or snorkelling but simply explored the island on foot.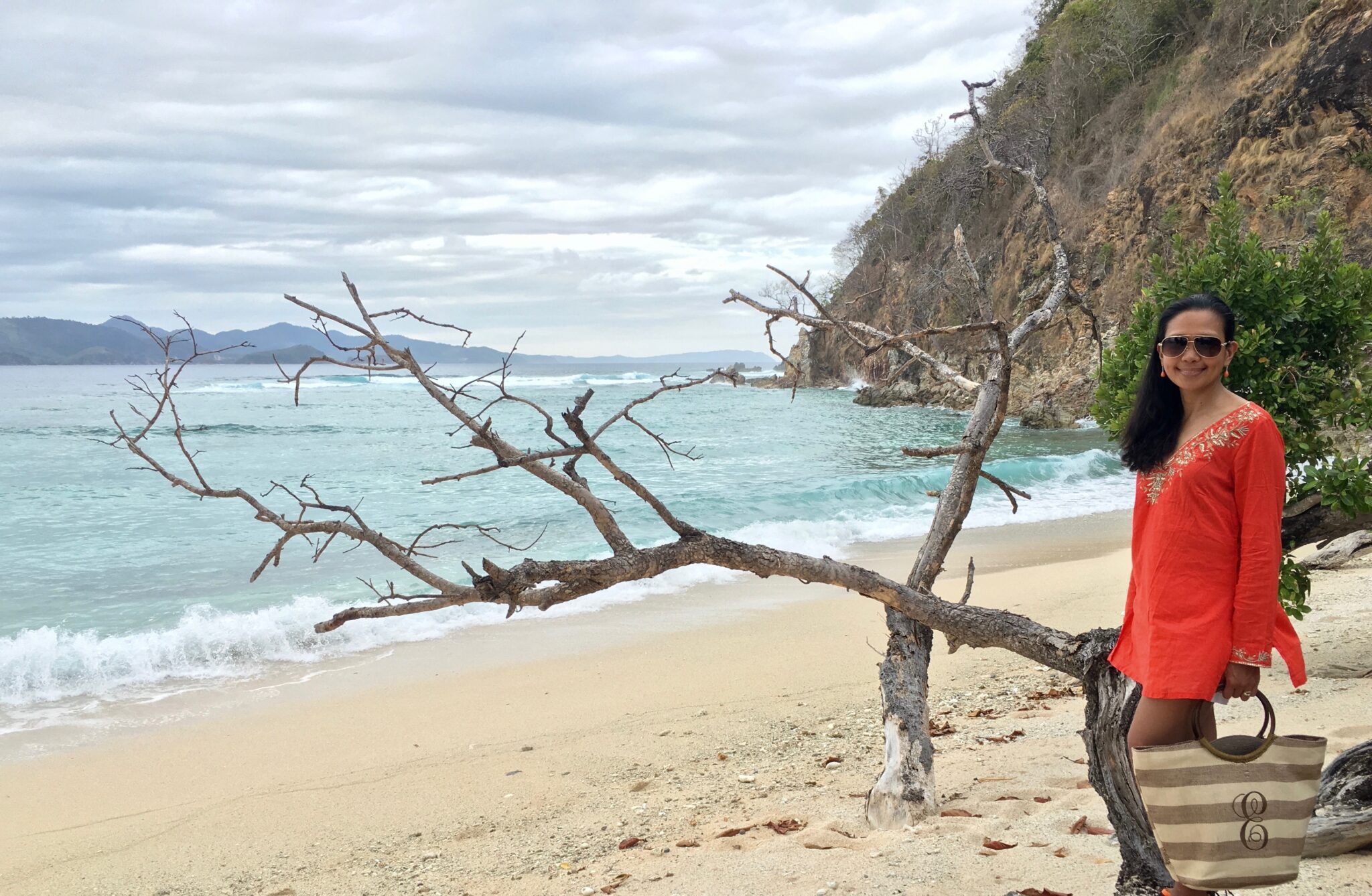 We hiked up to Eagle's Point, the island's highest peak, to watch the glorious sunset.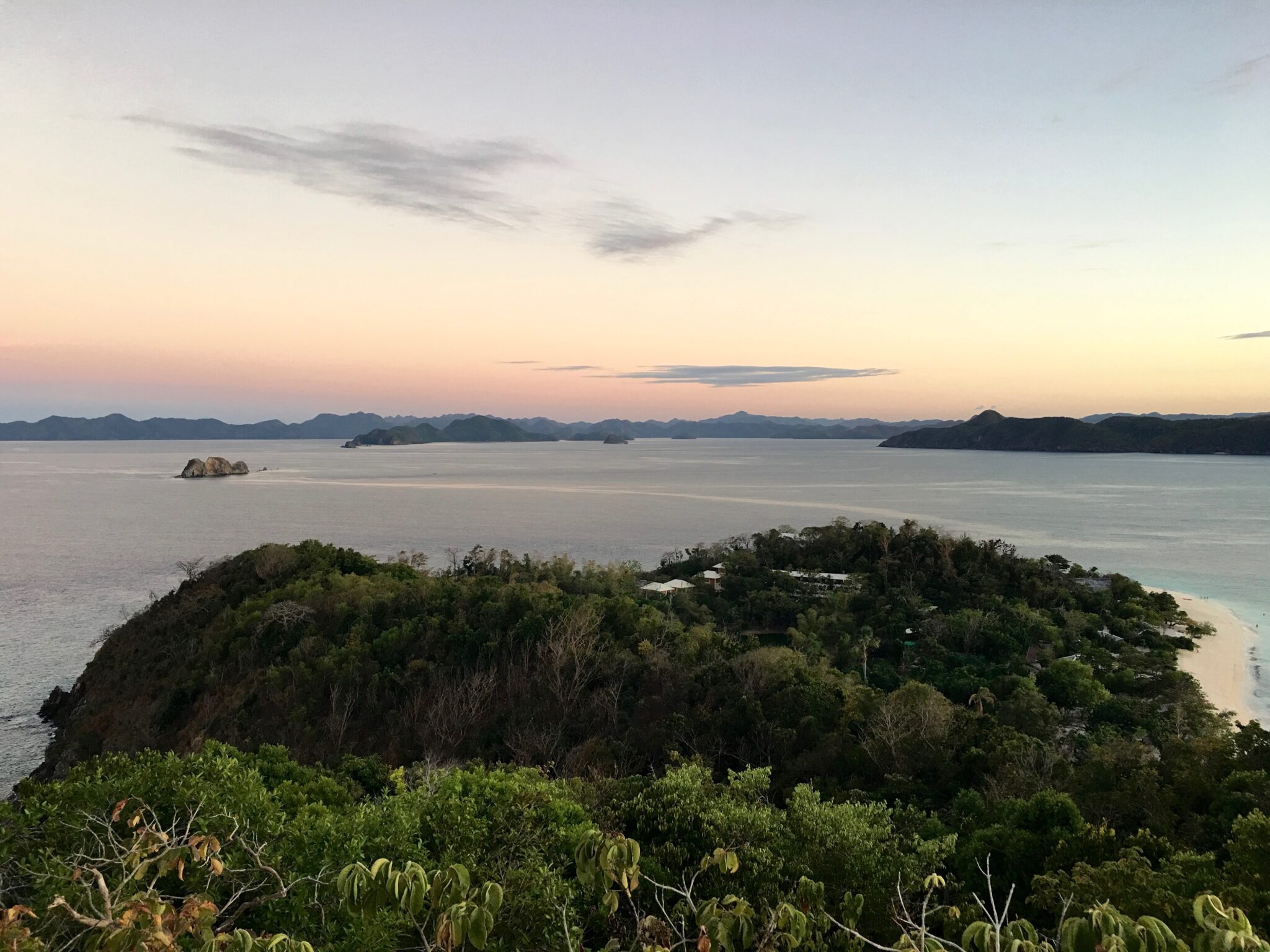 Coron and its surrounding islands and islets are absolutely stunning.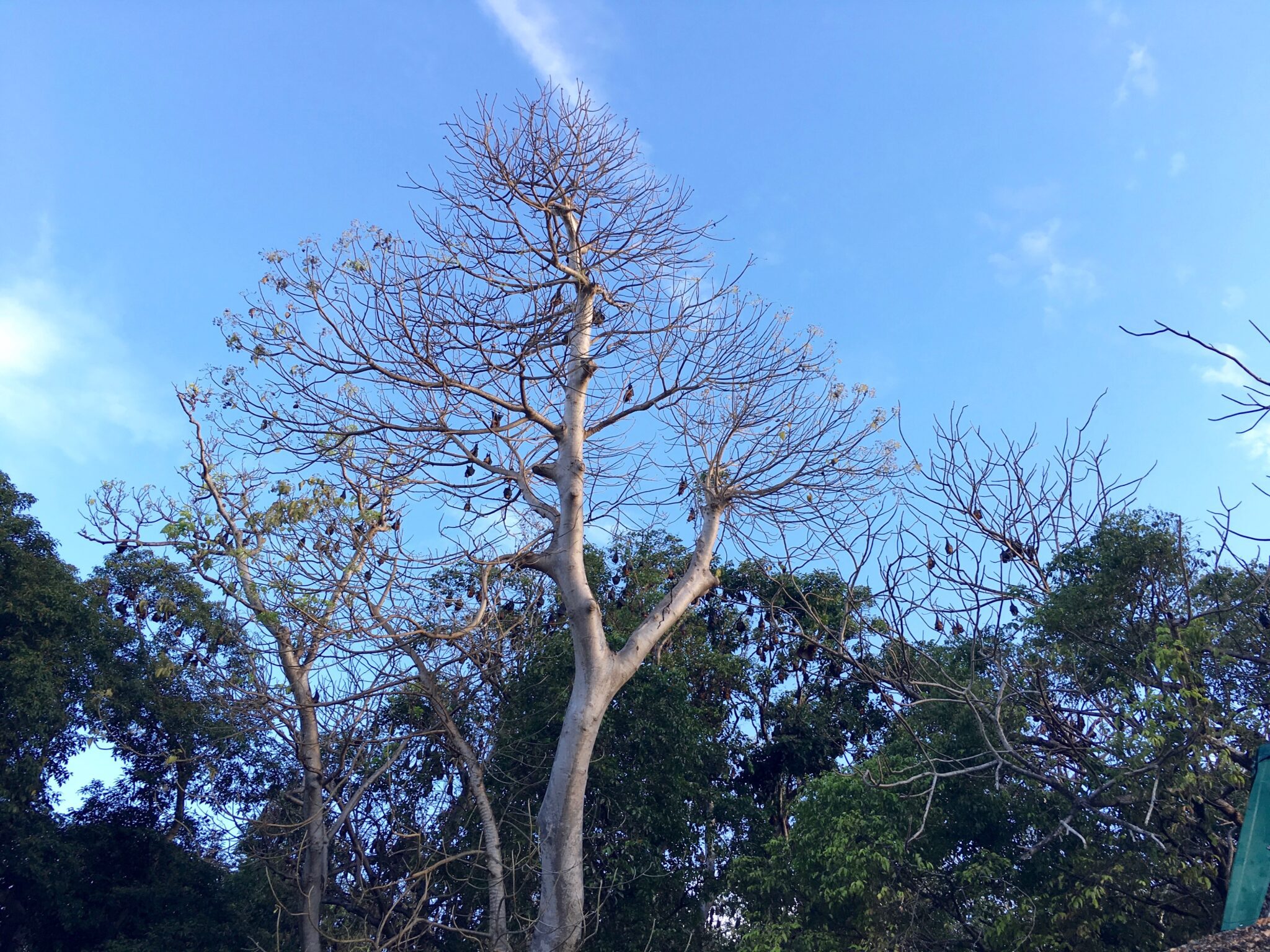 The resort is also home to various wildlife species. At any time of the day, you'll hear all kinds of strange sounds: bats wailing, birds singing, and sometimes you'll come across a monitor lizard hissing while walking around.
The monitor lizards seem friendly and not afraid of humans.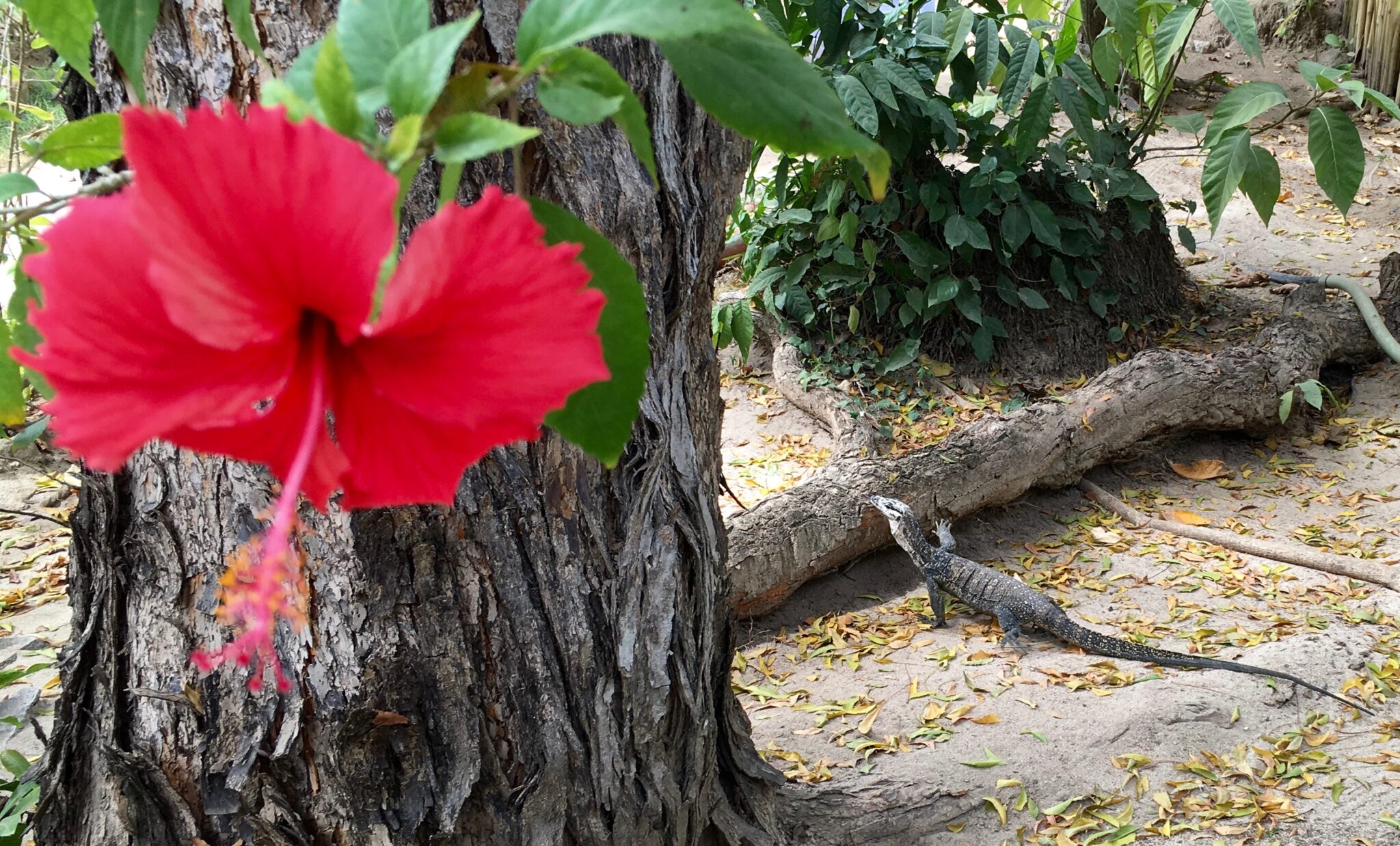 One morning while we were having our breakfast we saw two huge monitor lizards slowly walked over to the club house and some of the guests jumped out of their seats. 🙂 The lizards didn't leave until after two of the resort staff shooed them away.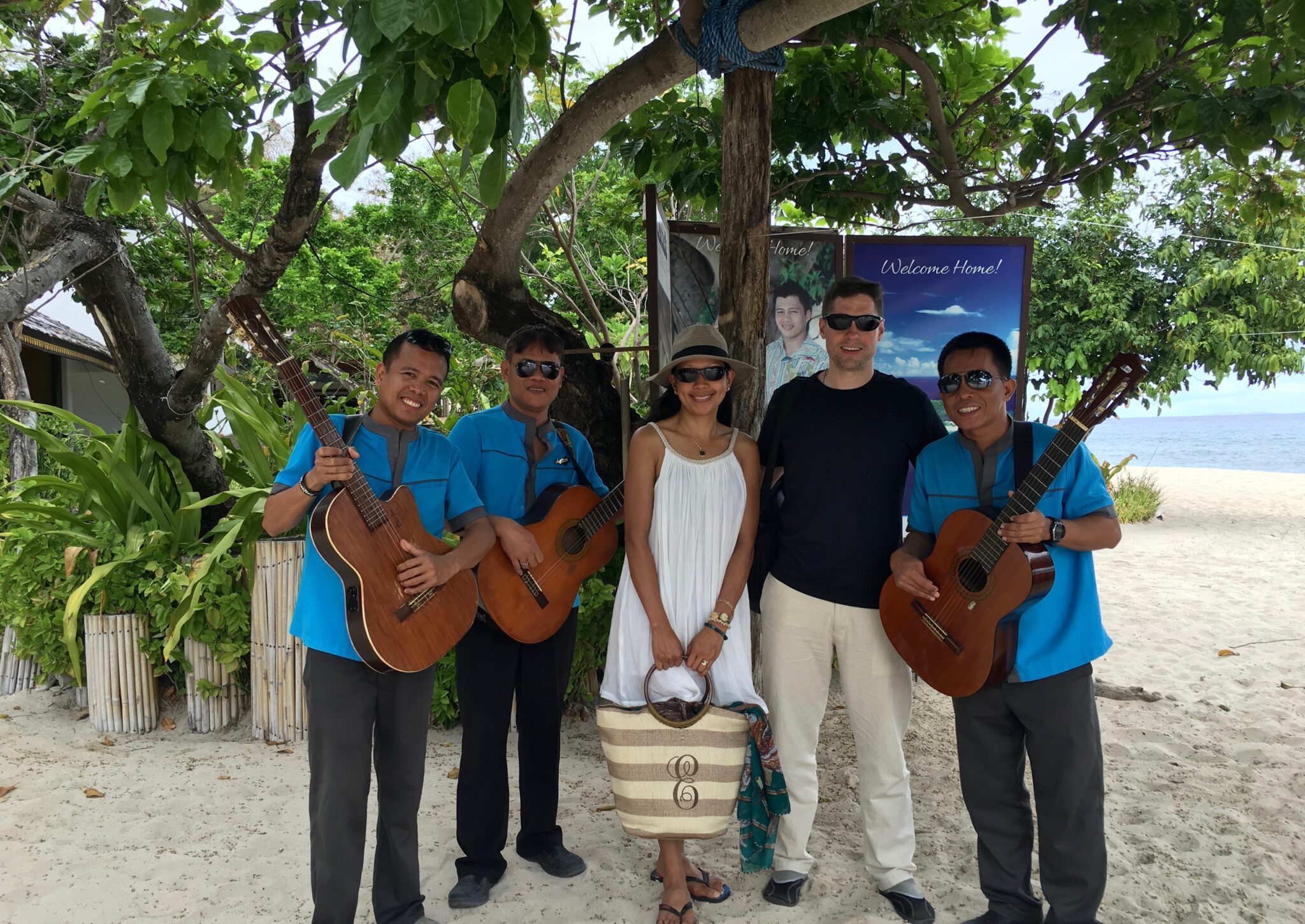 If there is one criticism we have of the resort is the fact that unlike El Nido Resorts where island hopping and scuba diving is included in the package, at Club Paradise it is an additional cost you have to pay if you wanna engage yourself in those activities. And they don't come cheap either. We paid around £100, for the two of us, just for the day tour to other islands. Other than that, we had a splendid time and the memories of the trip will certainly linger for a lifetime.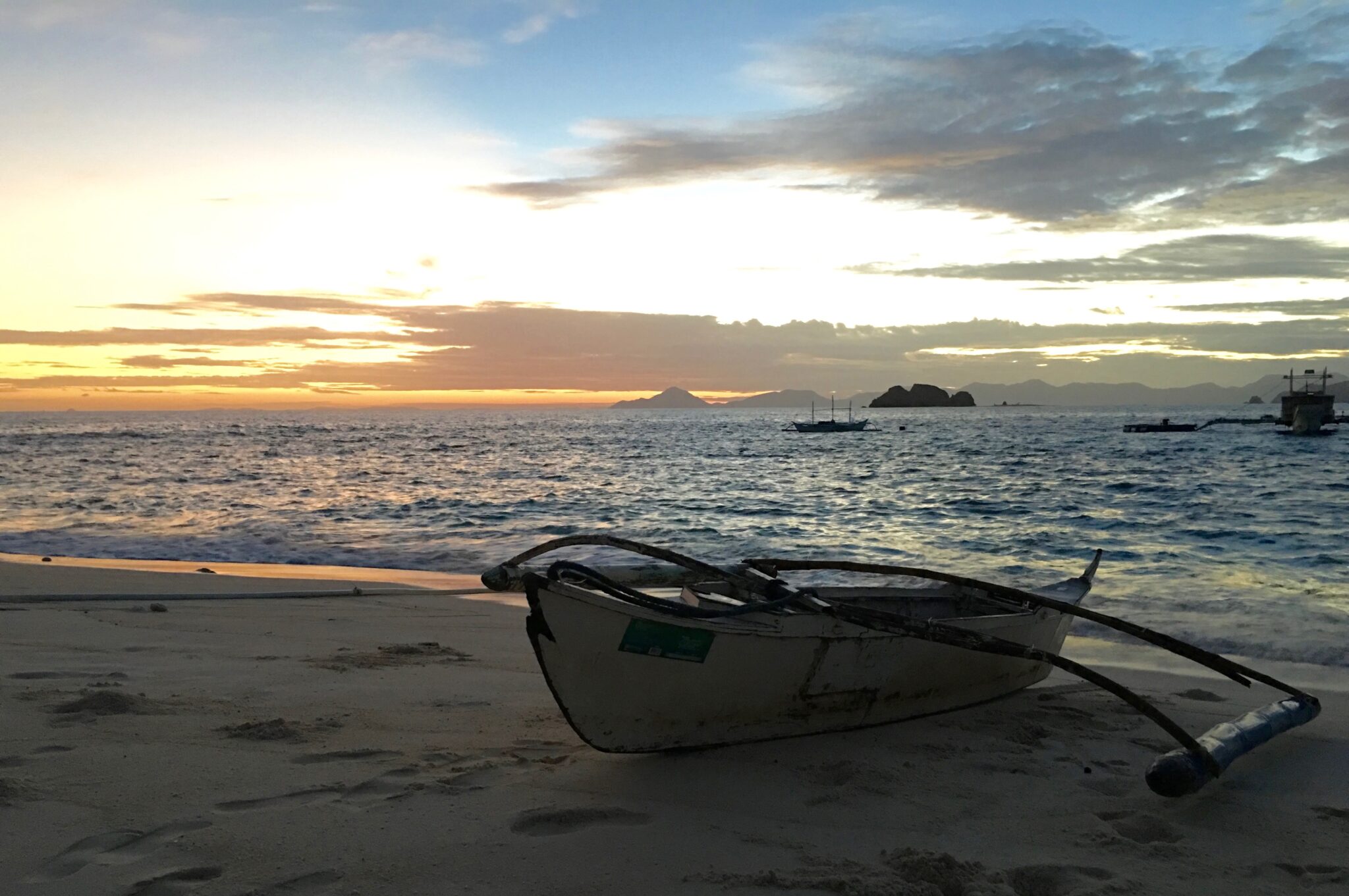 This photograph encapsulates the blissful childhood I had growing up in a tropical island. My hometown is facing the Pacific Ocean and walking around the beach, collecting seashells and seaweeds, watching the sunrise/sunset, and dipping in the warm water just as the sun is rising/setting in the horizon are some of the best memories I had as a young girl.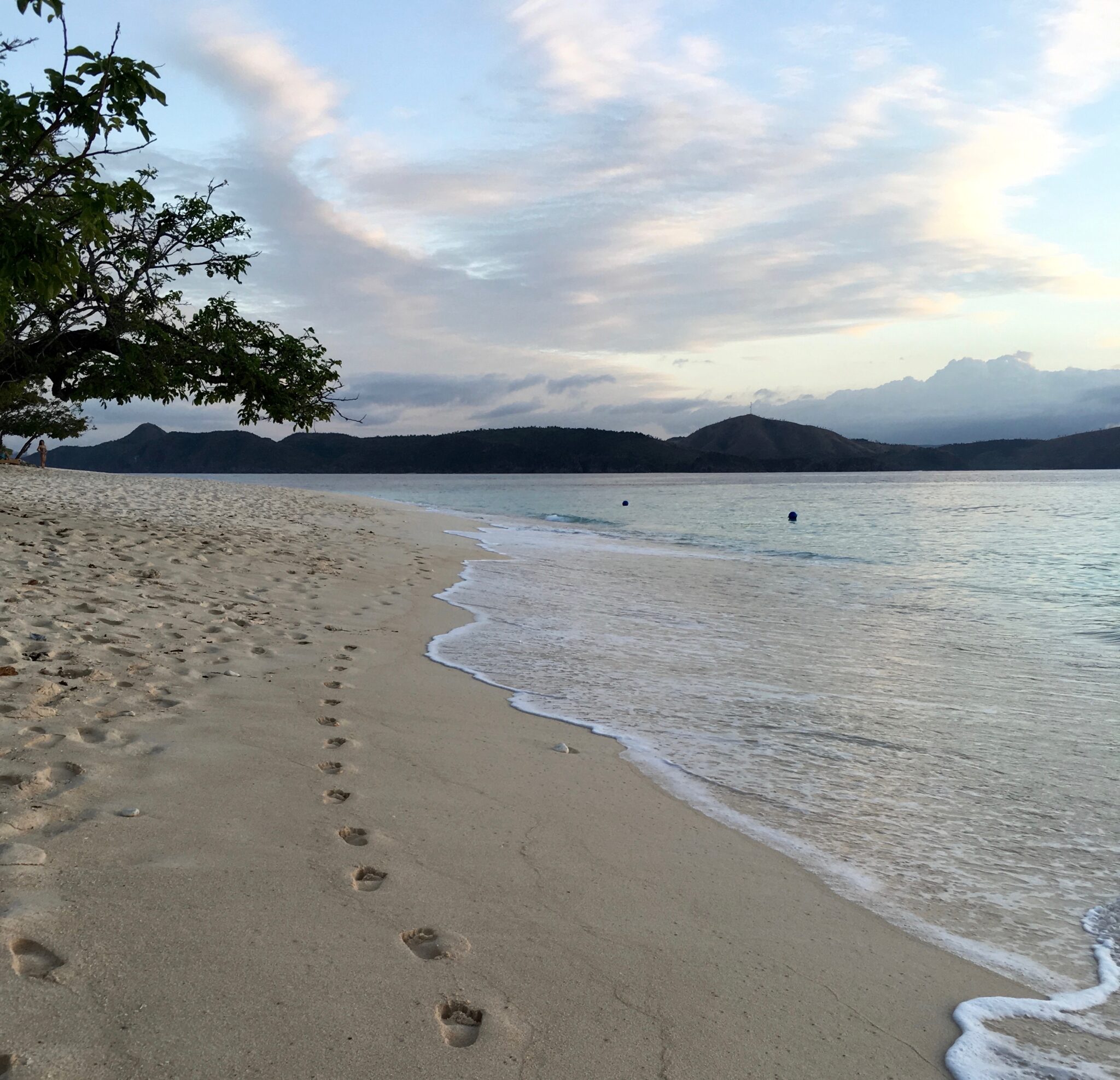 On our last evening on the island, we walked around the beach one last time.
I took my slippers off and walked barefooted.  I reminisced the good ol'days of my childhood and it made me feel like a little girl again.  As I look back  I noticed that I left my footprints in the sand.  I then realised that the high tide will erase them before midnight but I relished the moment and was reminded of this wonderful scripture: "Thy way is in the sea, and thy path in the great waters, and thy footsteps are not known." – Psalm 77:19
This 32 second video clip shows the lovely beach.
A short video clip of our departure from Busuanga Airport back to Manila.
(Featured Image: aerial view of Dimakya Island taken from Club Paradise website.)