This is my diary entry on the 16th of February 2010, three months after my mother passed away. My mom always carried with her a journal or tiny note pads and often jot down her thoughts. In hindsight I realised I've copied her habit. 😉 Even when my mom was on her deathbed I have kept a diary and wrote down everything she did; the conversations between family and friends who came to visit; the doctors and nurses who came to check on her, and I practically documented everything that happened every single day. Upon my return to London, rather than verbally talk about my grief I'd often pull out my pen and paper and wrote down my deepest thoughts and emotions. This is one of those entries that's too personal but I now feel at liberty to share it here. I've added some photographs to make it a little bit more interesting. 😉
Waking up feeling chilled and woozy this morning spurred me to be in a trance: being on a tropical island with the warm sun bathing my skin; the wind blowing through my hair; the coconut trees gently swaying against the breeze and the waves singing to a perfect rhyme. While I was lost in a daydream, the alarm went off and I gently pulled myself out of bed.
Gazing out from the window of my room, a thin snow was falling and the murky grey skies shrouded with mist were covering the leafless trees. The scenery outside is nothing short of dismal. As I gape over the snow covered pine tree and shrub across the road, I muttered about how pleasant it must have been to be in a place with glorious sunshine and a cloudless blue sky. Long exposure to a bone-chilling winter could induce such kind of wistful frenzy.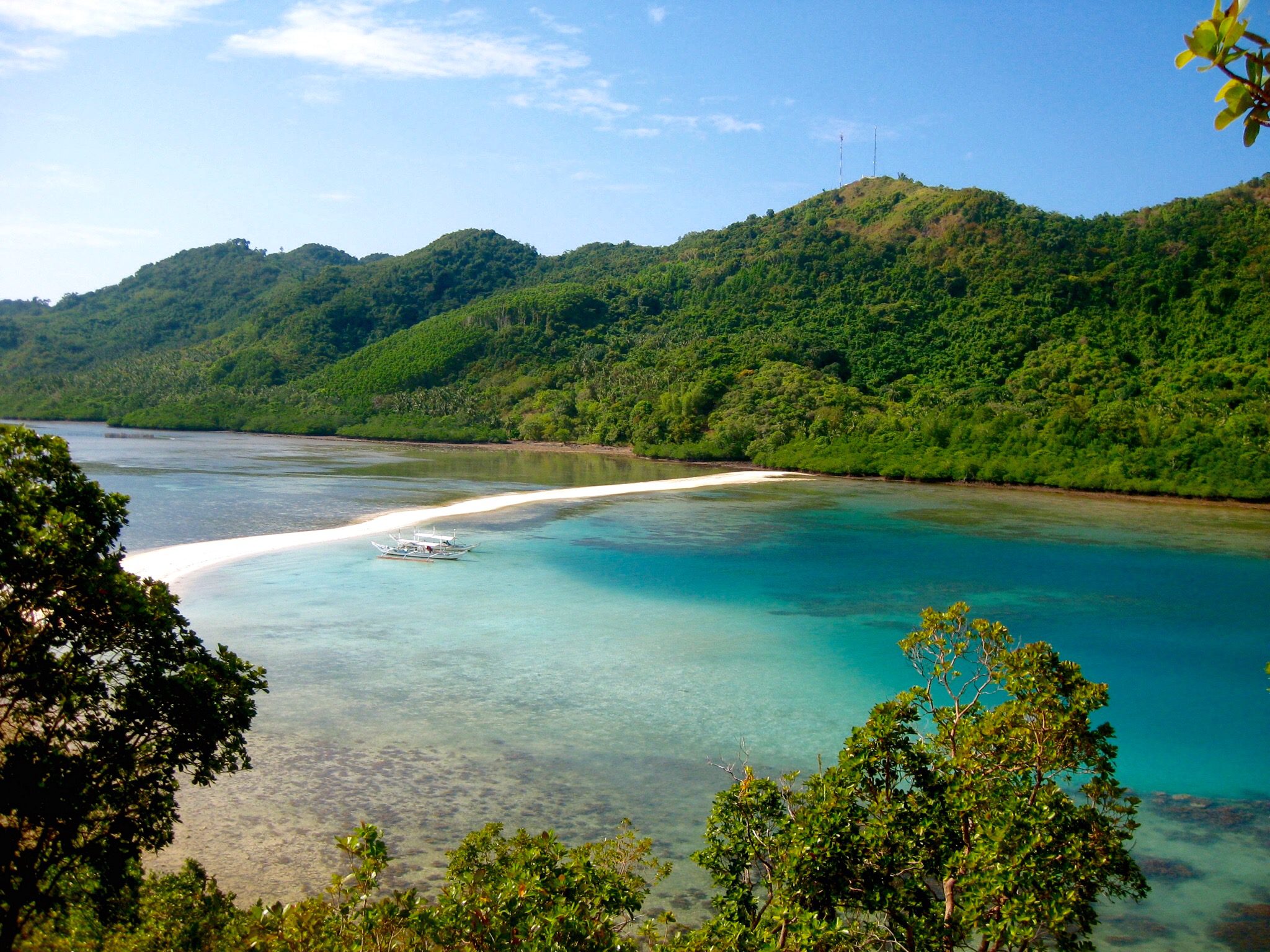 Which brings me into reminiscing about the recent trip Jared and I made to El Nido Resorts in the Philippines. A couple of weeks after the death of my mother, Jared and I were afforded, through a kind benefactor, the opportunity to travel to a first-rate vacation place in the Philippines. Just exactly what I needed as I was feeling drained after the whole rigmarole of the past three months. I was so desperate to be in a place where time does stand still, at least for a short while, where I can totally forget the outside world, recharge and unwind and simply rehabilitate myself after ten weeks of being with my mom on her deathbed.
The 90 minutes plane ride from Manila to El Nido was the wildest and most frightening flight I have ever taken yet with amazing views of gorgeous islands and coastlines.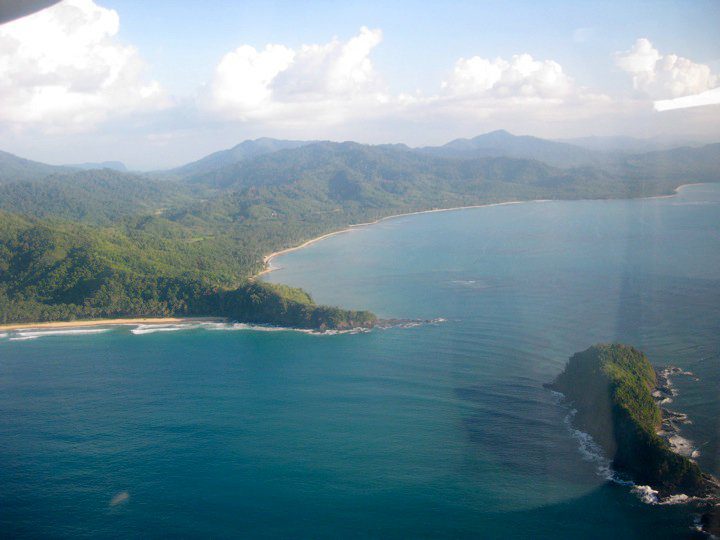 The 19 seater plane had two pilots with only Jared and me as passengers along with one resort staff who sat at the very back seat of the plane. Upon arrival at the rustic airport, we were whisked off for the short jeep ride to the dock where we took the thirty minutes boat ride to Miniloc Island Resort. The ferry ride had given us a glimpse into a different world: the gorgeous limestone cliffs; the deep azure colored sea with corals visible beneath and the distinctive panorama of the innumerable islands and islets.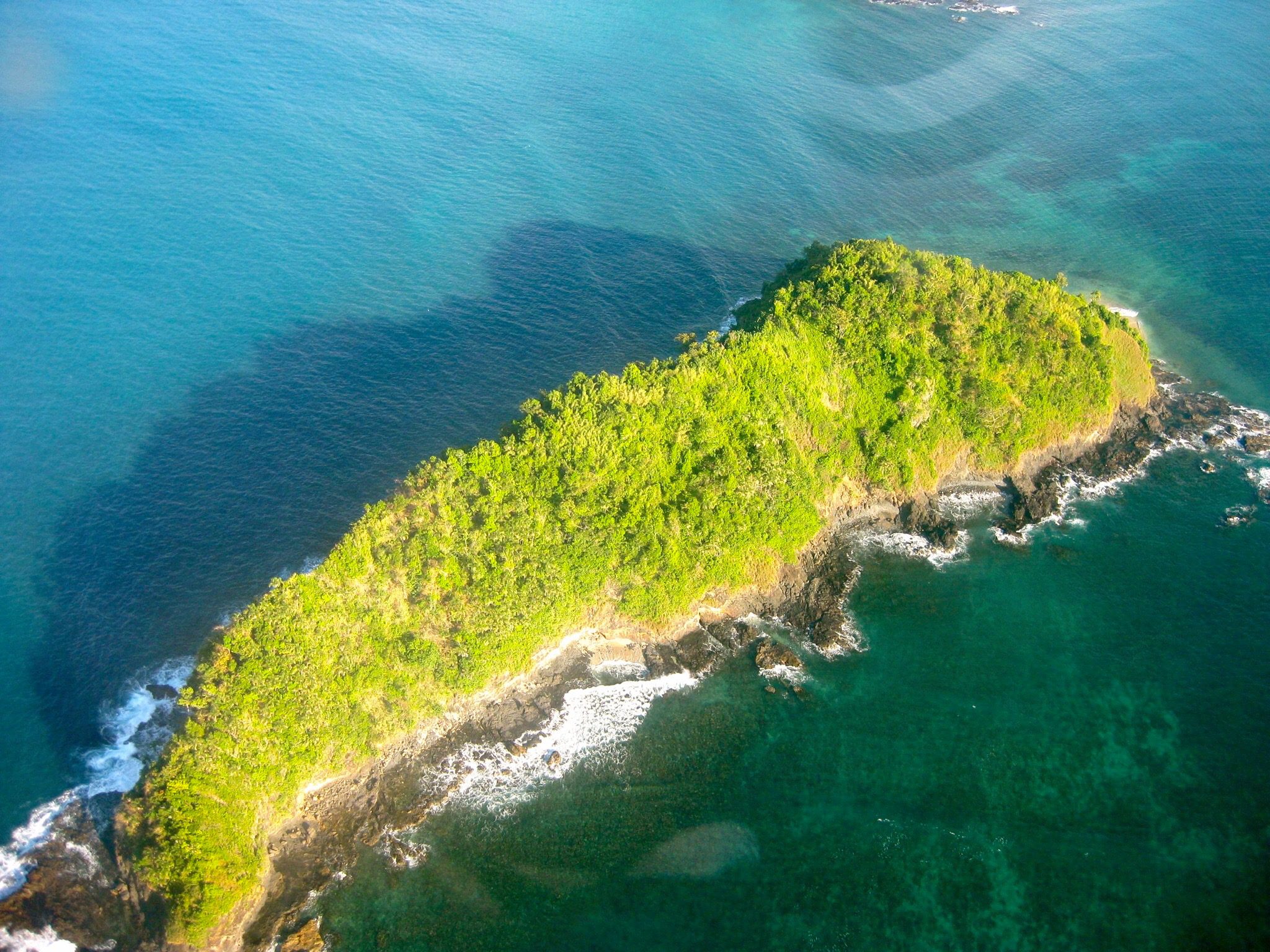 After twenty or so minutes we saw from a distant the resort nestled in a cove surrounded by magnificent limestone cliffs. Quite imposing were the standing casitas on stilts over the sea and linked by wooden walkway. These are the signature feature of the island. When the pump boat finally docked, we were welcomed by the staff with local songs. We then sat down and listened to the activity guide give an orientation while sipping a glass of fresh mango juice. We were briefed about the marine life on the island and the resort's commitment to maintaining an eco-friendly environment. We were told that all rubbish, including water, is recycled and that, each year the resort uses less electricity and water for what sounds like to me a sustainable nouveau bohemian living. We were handed out some eco-bags and were told to take with us anything that is bio-degradable. The island can only accommodate a hundred guests at a time and we were told they only have 35 guests including ourselves. Then we were taken to our casita, an authentic Filipino hut with thatched roof, timber floor, matting interior walls and much of the furniture composed of bamboo which is considered a "green" choice. Organic toiletries were provided in refillable ceramic bottles. There was no tv. But there was an air conditioning.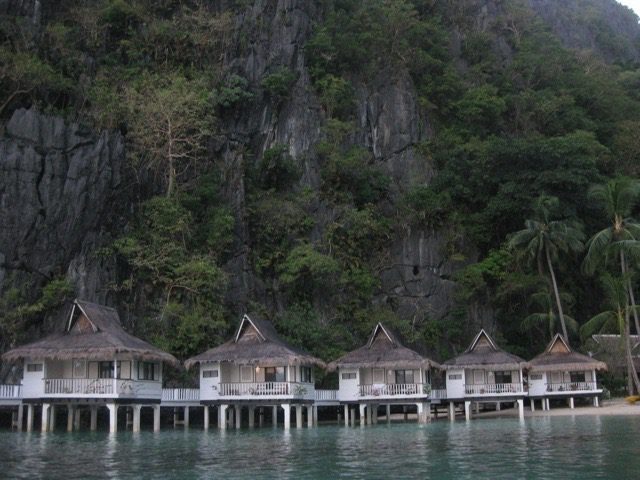 Our casita had a balcony with stunning view of the sea and just a few steps away from the white sandy beach. There's nothing quite like sleeping by the water and waking up to the sound of the playful waves and the ebb and flow of the whispering tides. Peeping out of the window each morning, the sun is bright, the sea glows turquoise and there's salt-spray in the air. The laid-back mood we got the moment we stepped on the island was a sheer bliss. Devoid of the harsh sound of car horns we're most familiar with in Manila, we felt like we were in a paradise. There's lots of privacy and tranquility on the island. And having the obsequious staff to cater to our every need and whim, we had a splendid time.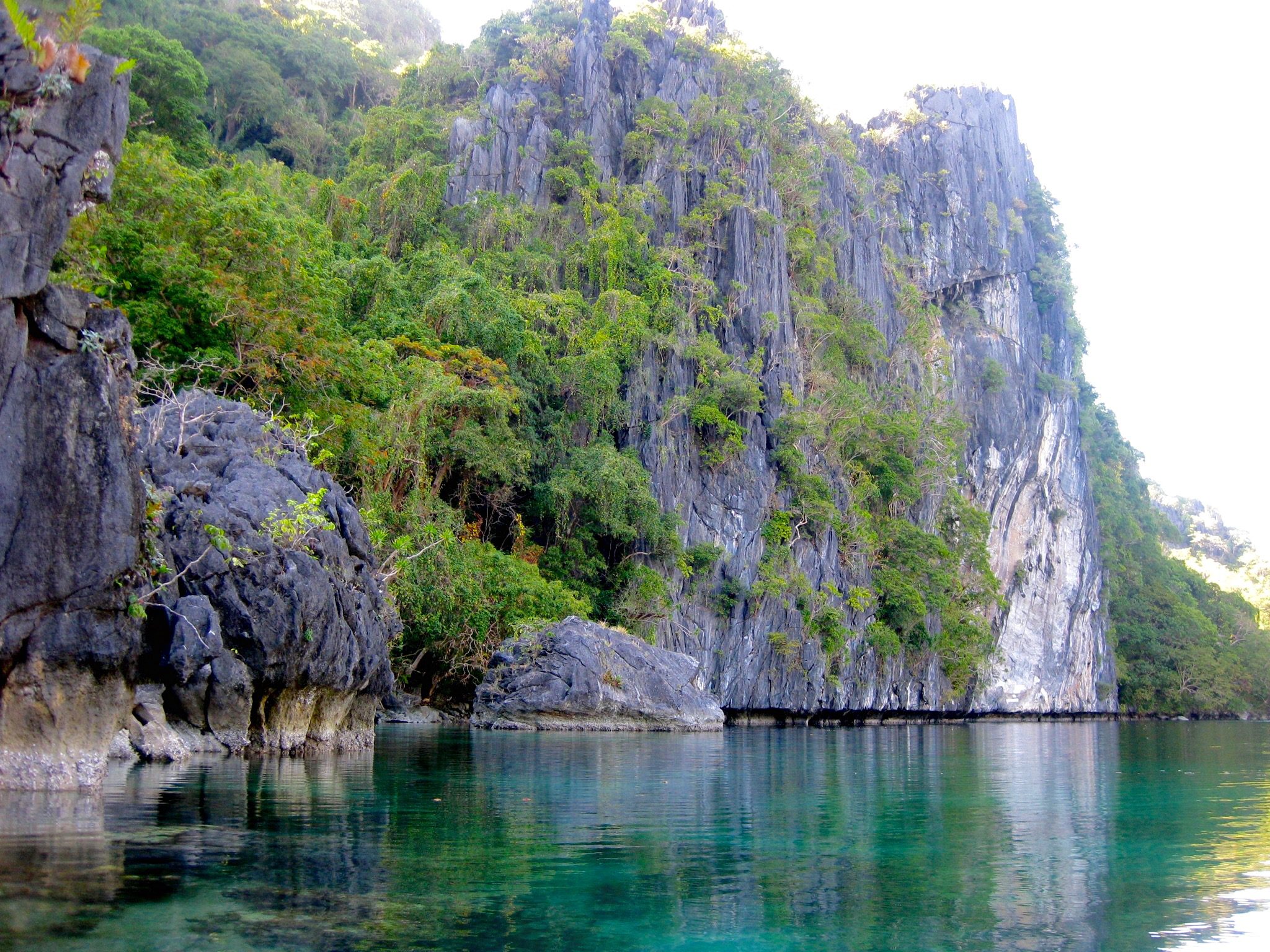 We stayed for five days. The first two days were spent island-hopping and visiting hidden lagoons and caves. As we bobbed from island to island, we get over-excited every time the boat pulled up to shore. And as we explore the pristine sandy beach, we stepped into what felt like our own private island documentary.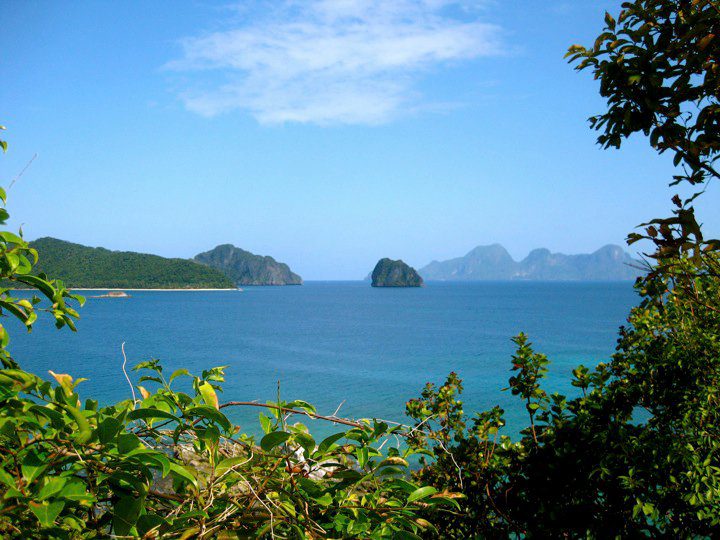 The last two days were spent at a more leisurely pace kayaking, snorkeling and diving on Miniloc's home reef. While kayaking in the big lagoon, we spotted some monkeys undulating the rugged cliffs.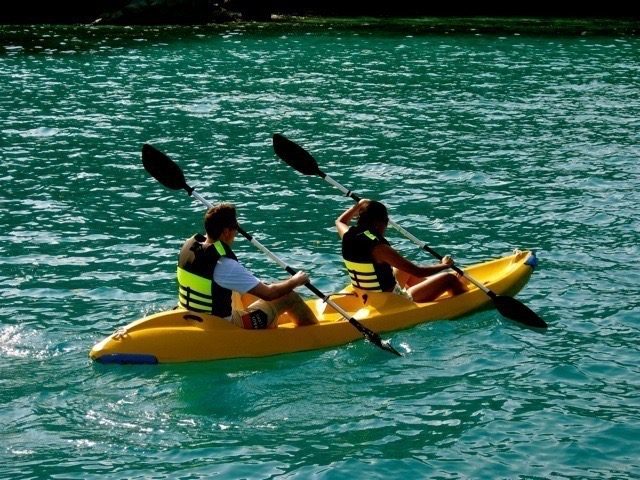 On the last day we got up at 4:30 AM and hopped on a boat for a sunshine cruise. We were sipping a cup of coffee while we wait for the sun to rise above the horizon.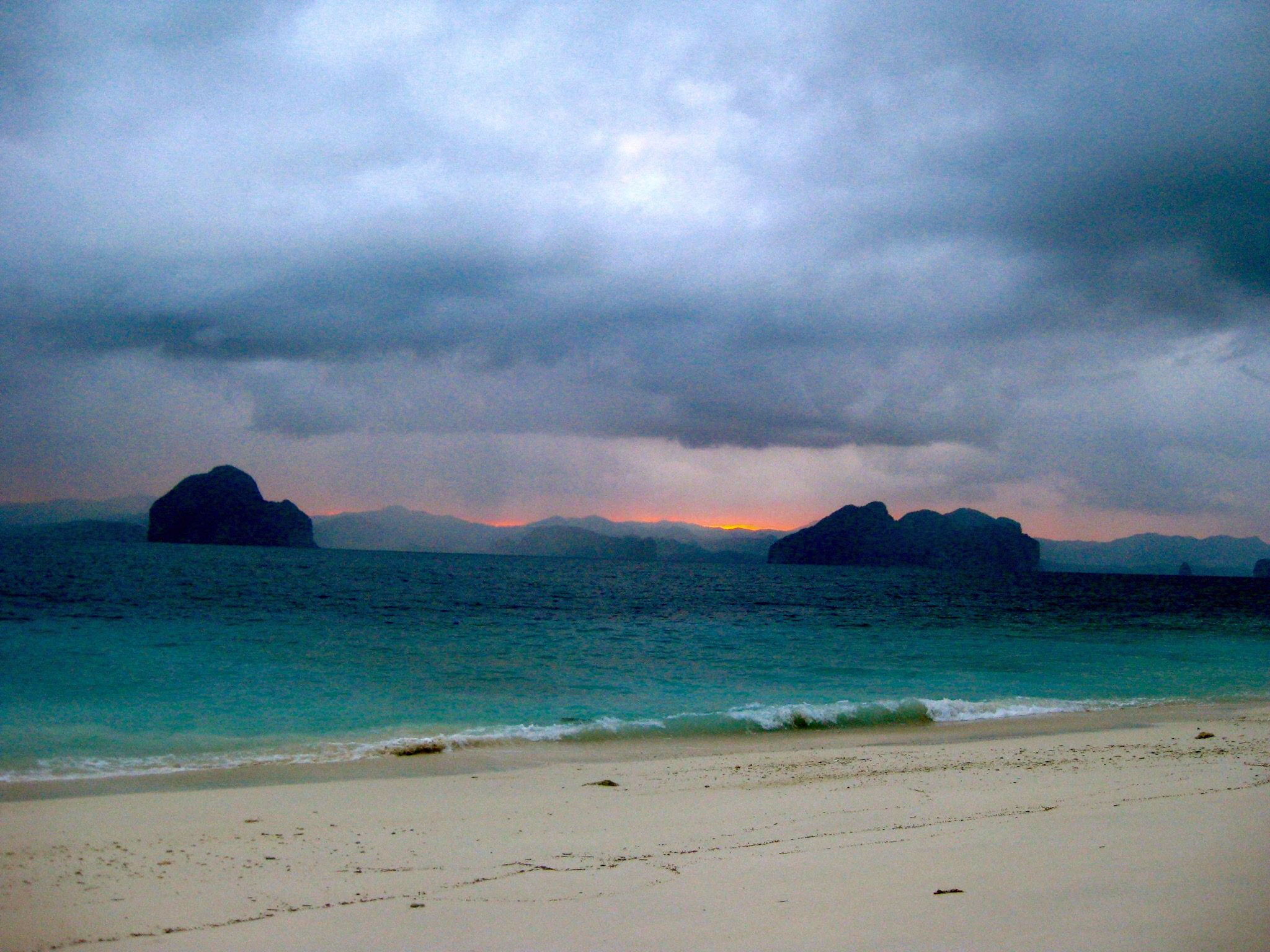 On our third day, we arranged for a private lunch on an island that's been twice used to film the American reality tv show "Survivor."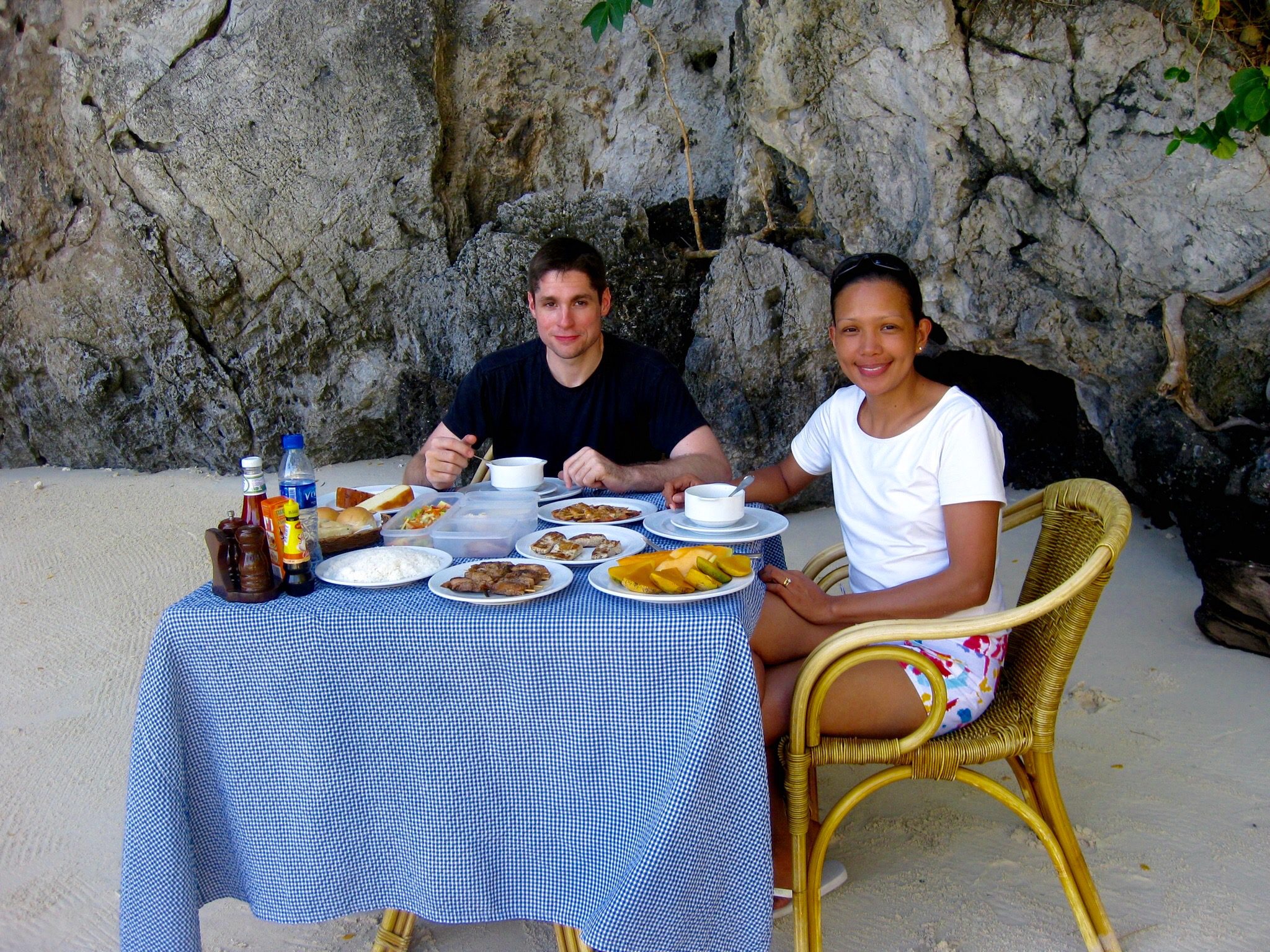 After the meal, we walked through the woods and spent the rest of the afternoon kayaking, swimming, and simply reveled at the incredible beauty of the island.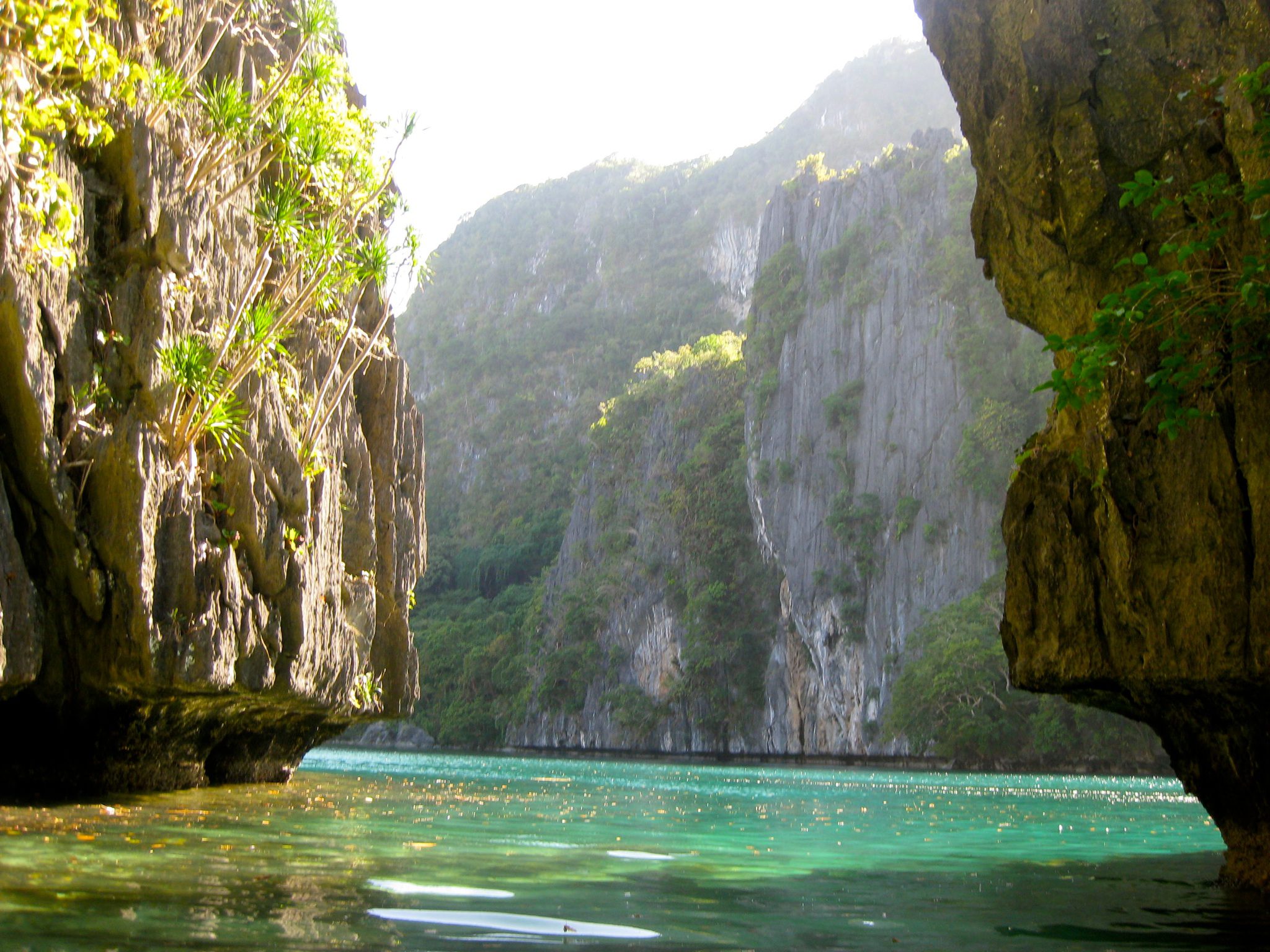 Each day as dusk fell and the dipping sun turn the ocean into a rippling mirror of bronze, the guests (who were mostly Europeans, only 3 of us were Filipinos, myself and two other Filipinos who were visiting from Canada), gathered by the club house to enjoy the sumptuous meal while watching the Filipiniana dance presentation. The food was excellent and is on a par with some of the five star hotels in Manila.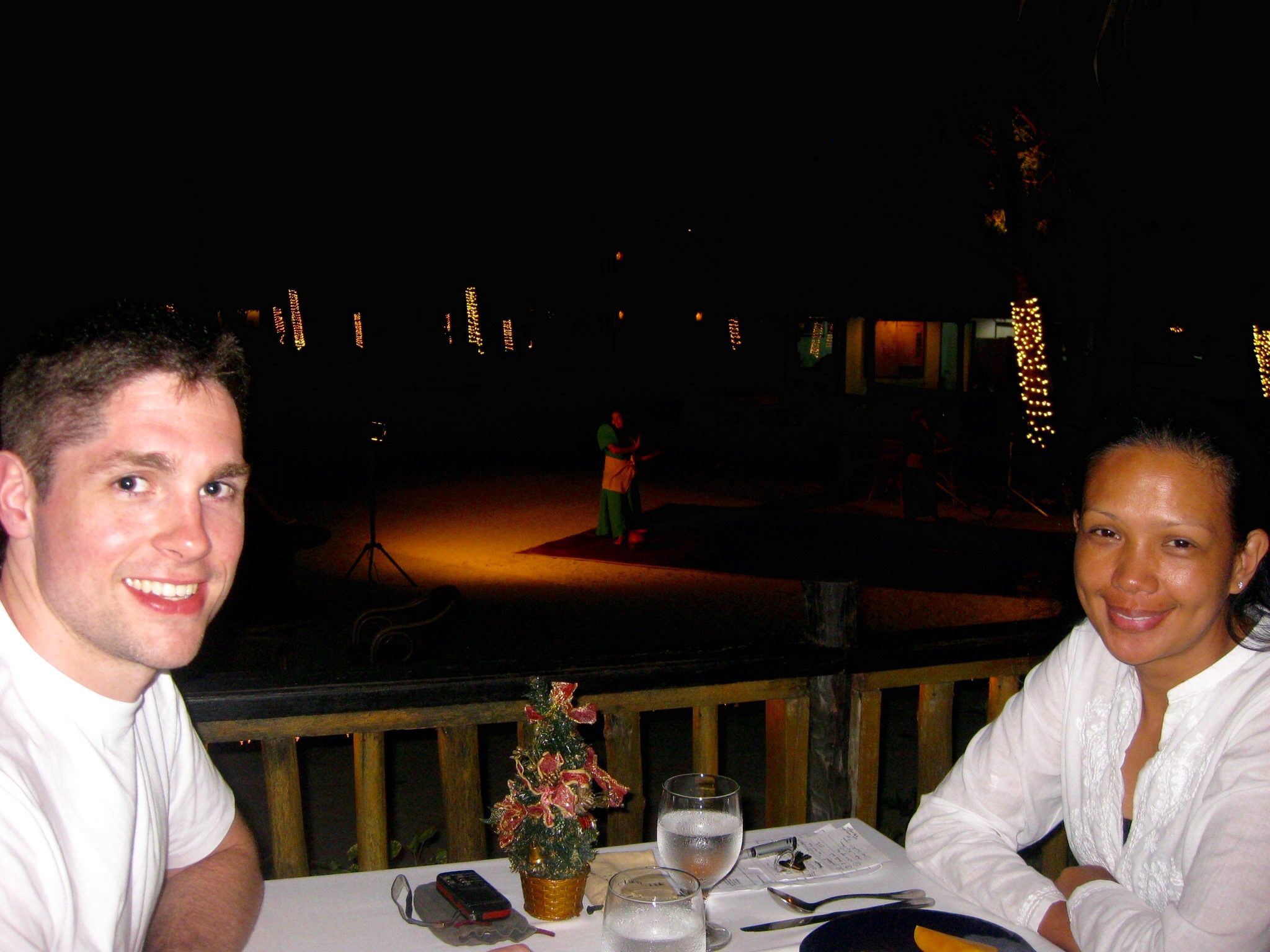 After a couple of sybaritic days, Jared and I applied ourselves into learning to scuba dive. Neither one of us had done it before. We attended a course and filled out forms which serves to exonerate El Nido Resorts Inc. from any legal responsibility in case of our untimely death. We signed the waiver and tried not to look too alarmed. There were so many things to remember at once: clearing the ears, breath-holding techniques, mask clearing, neutral buoyancy, sign language and a host of other skills required to start the sport. Jared plunged into the ocean with the instructor while I snorkel by myself. When it was my turn to dive, I got a little bit apprehensive. However, I put my kit on and plunged into the shallows with the instructor to practice basic skills.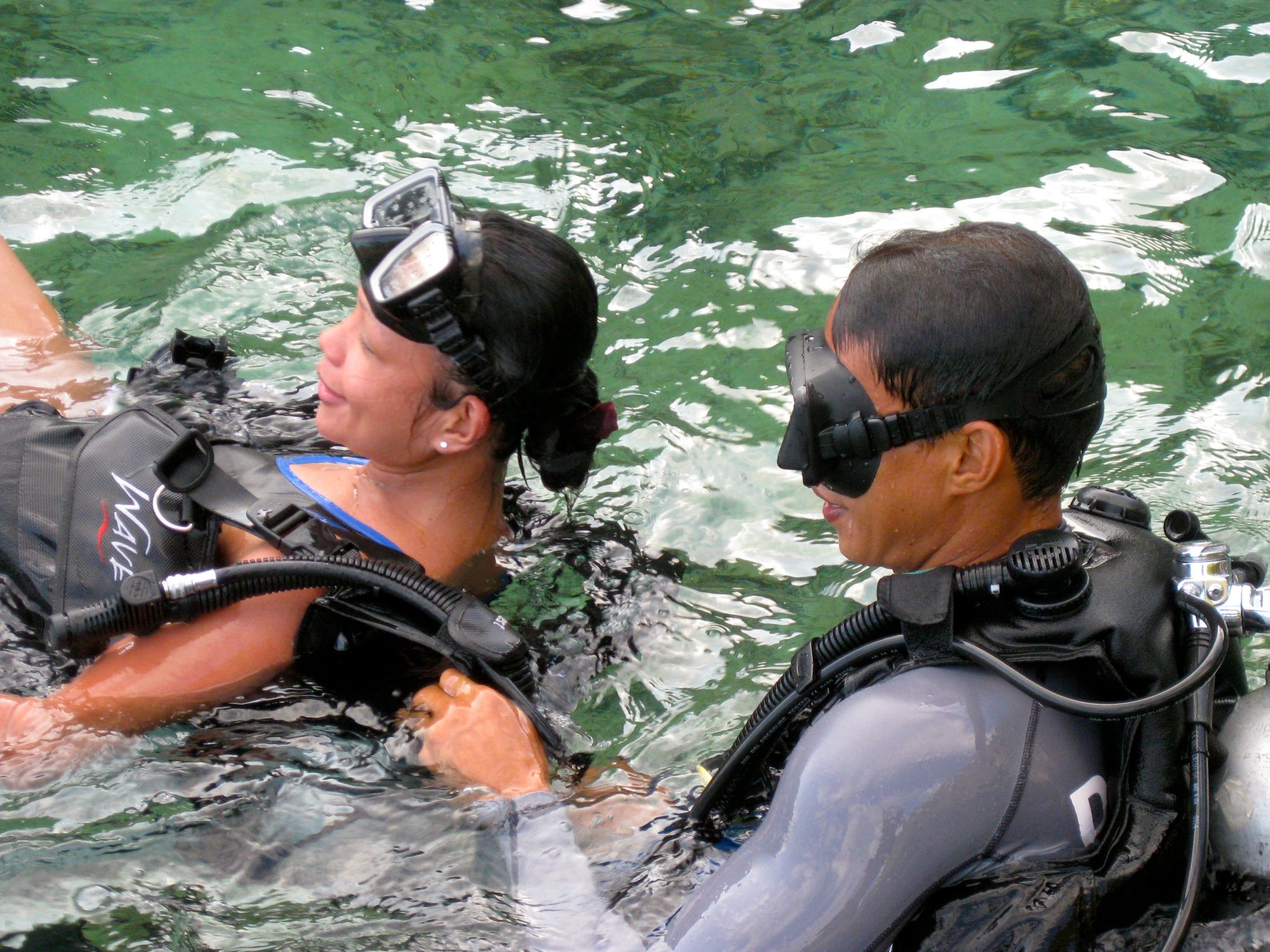 After I was ready for my first proper dive, we headed off to the calm waters around the island. At first I had trouble equalizing (popping my ears to relieve the pressure) as we began our descent. Having descended about five meters, I signaled to the instructor that something was wrong. I was slowly brought back up, then I doffed my mask and popped my ears. After about five minutes of rest, we took another dive. The thing that first struck me was that sea anemone litter the reef and a broad array of fascinating fish was ubiquitous. As we submerged over seven meters down there were school of fishes and the guide showed me various fishes hiding behind the corals and he even tried to get the colorful giant clams to open up. Swimming between ten to fifteen meters down the ocean amongst a myriad of lollipop-colored fish, largely oblivious to our presence, is strangely eerie. It's like being in a completely different world. Resurfacing from my first proper dive felt particularly magical. Scuba diving is honestly an experience unlike any other. It was truly an intensely exhilarating experience and I relished every minute of it.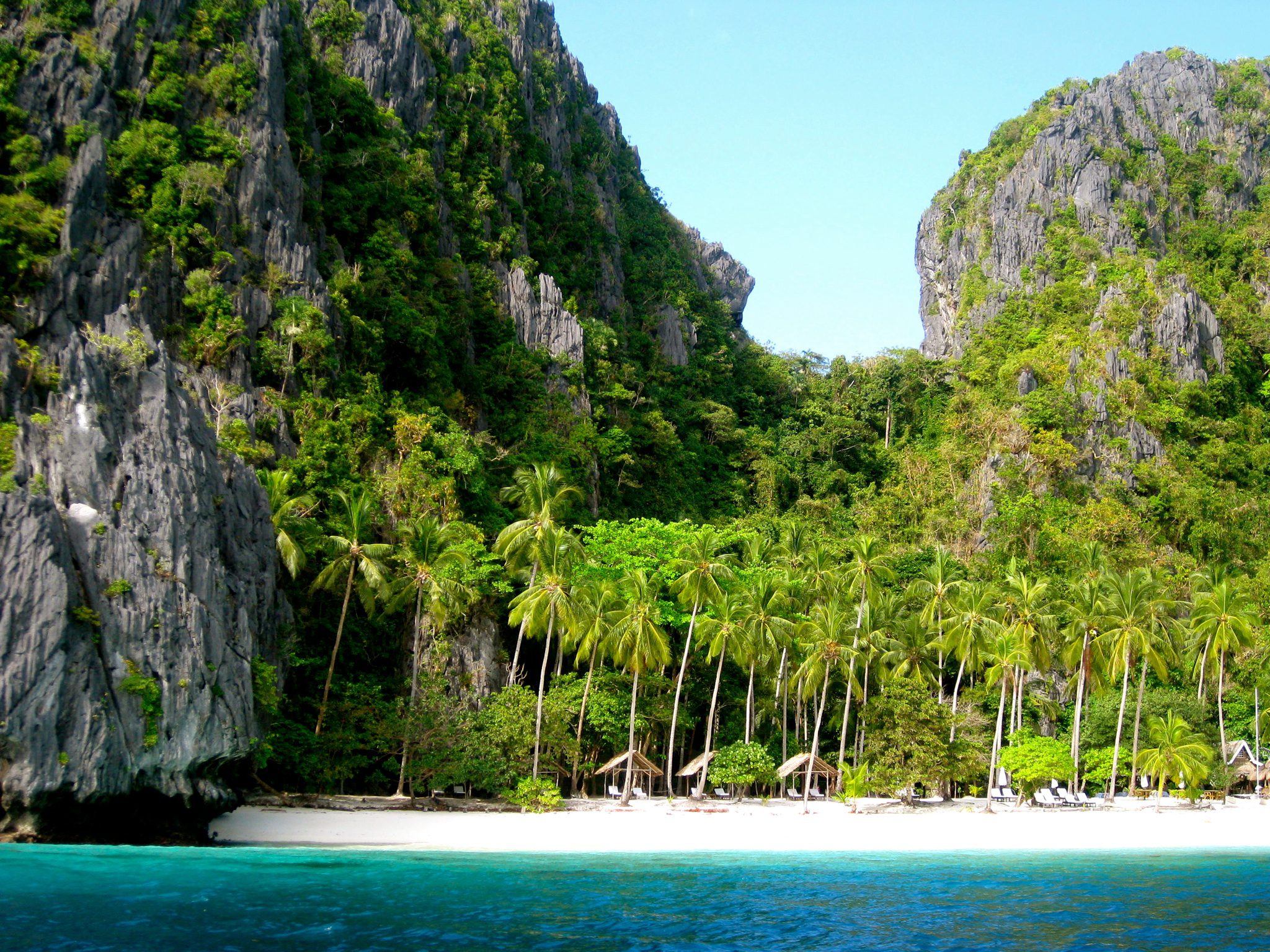 Of course there are far too many memories . . . the sunrise and sunset cruise; the kind-hearted resort staff and many more, but of all the many memories I cherish, I remember finding some giant seashells that reminded me of my mom. For a moment I was overwhelmed with a sappy mood. My mother had quite a few of those big seashells around the house when I was growing up. As I couldn't take it home with me (it's illegal to take corals, seashells, or any other marine life out of the islands), I had Jared take a photograph of me with one of the seashells on my lap.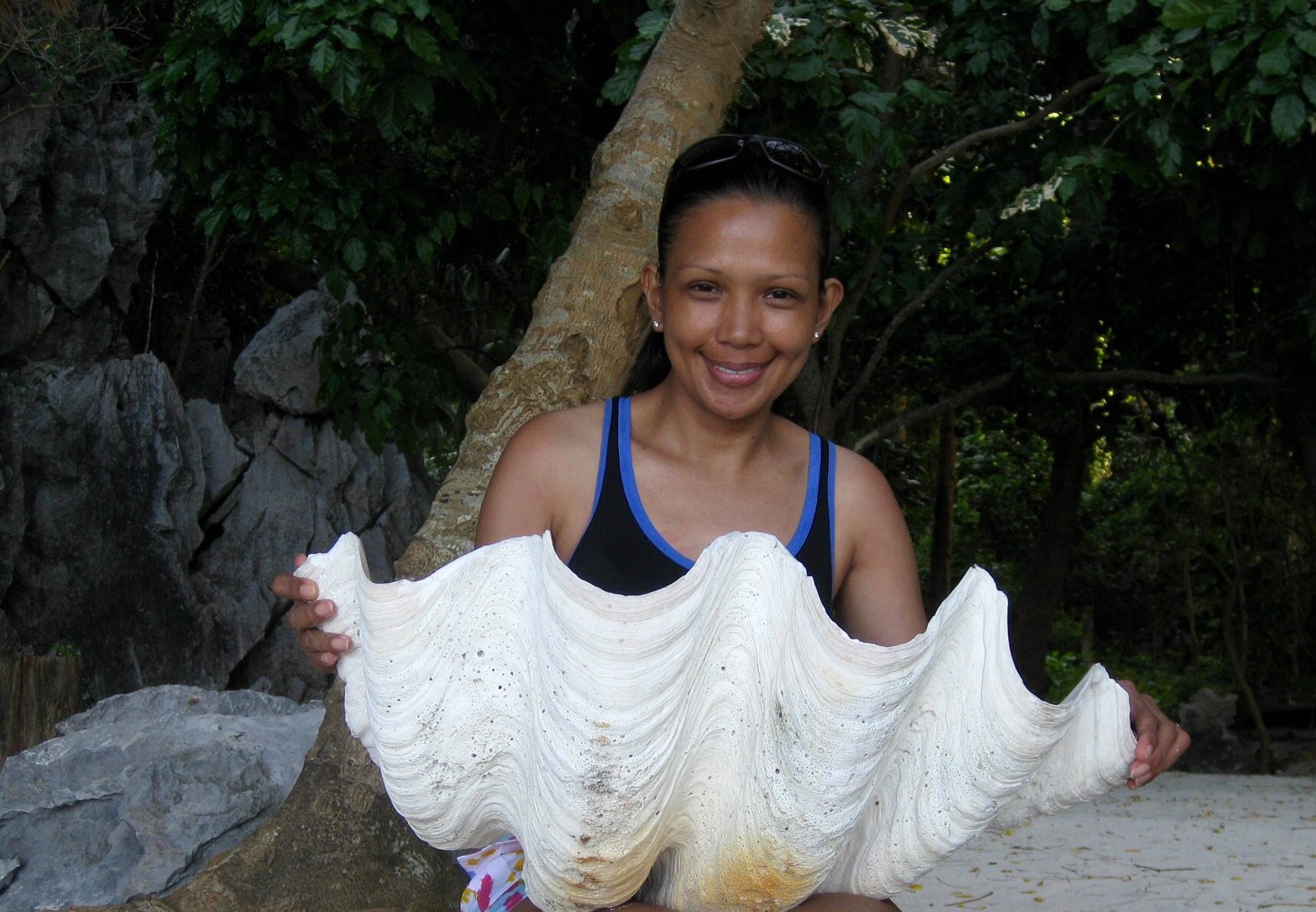 As we sail away from the island on a late Friday afternoon, I was staring at the majestic towering cliffs and enthused about the thought of coming back to El Nido again.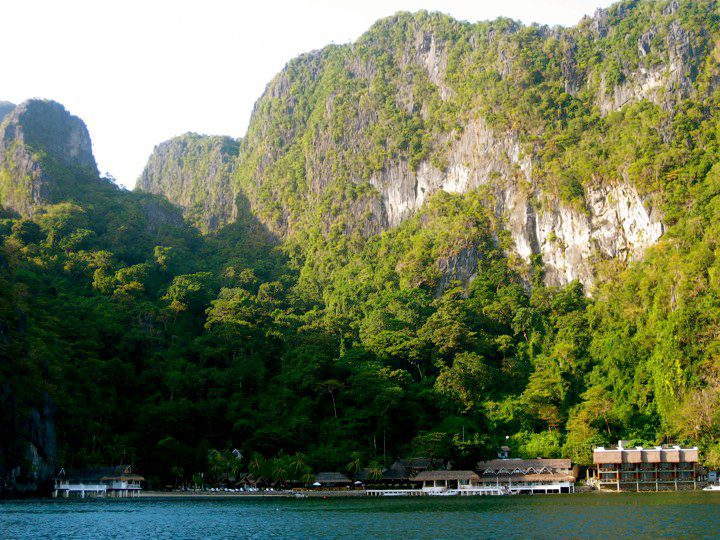 The scenery on the islands are so hard to put into words. Too beautiful for wordage. In fact, no description can do it justice.
Today as I sit in a couch nuzzled up in a thick blanket, peeping through the window and watching a handful of school kids playing with the snow, I was feeling a bit tired and jaded about the biting cold weather. And I began to mull over the wonderful time Jared and I spent at the El Nido Resorts.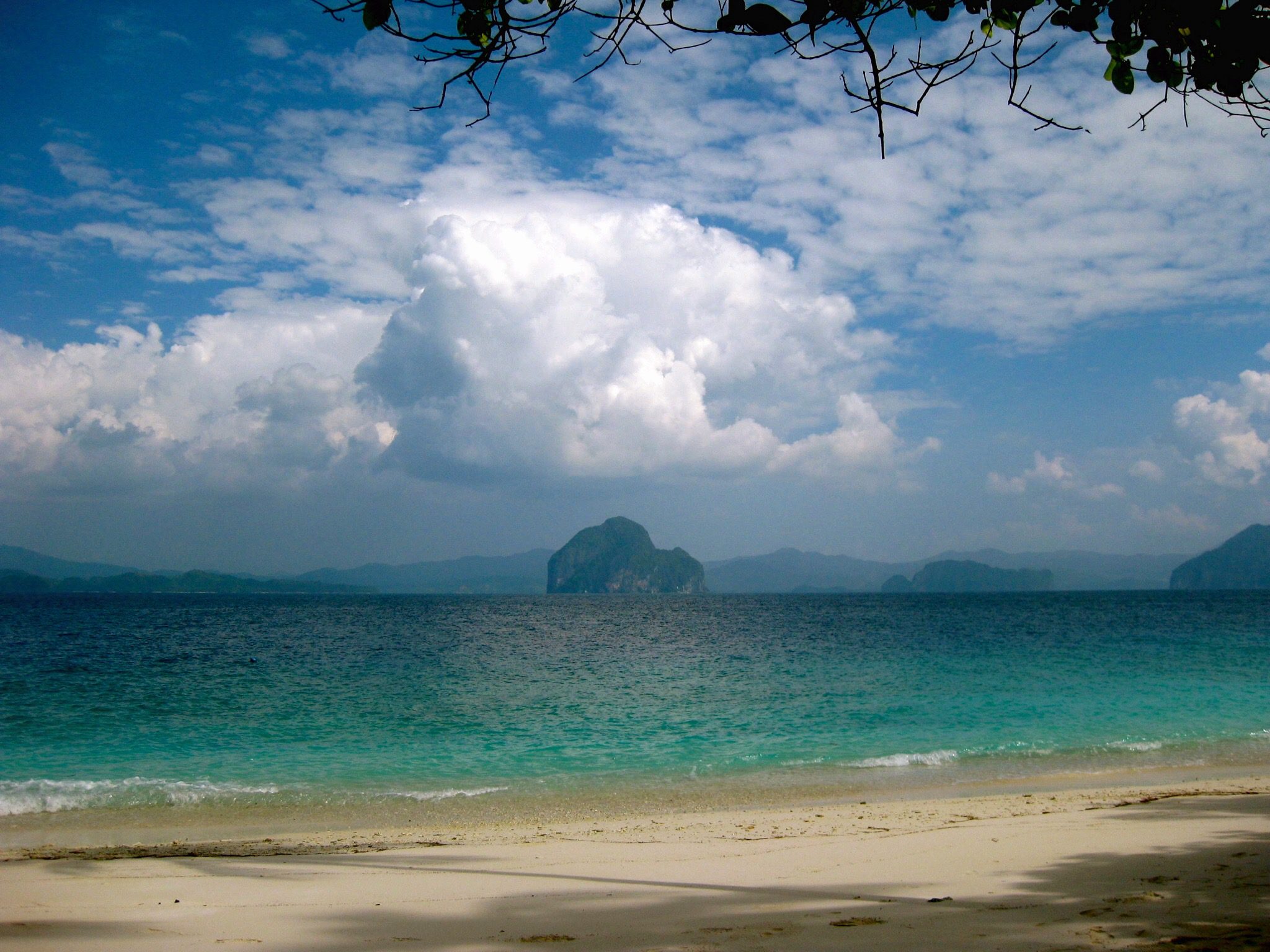 We immensely enjoyed those few days of bliss. It was utterly enchanting and without doubt an amazing experience. I know that my memories of El Nido will linger on, long after the British winter is gone. Yet few more months into all this bitterly cold days, and I am itching for the wind-in-the hair, raw beach aura that I love.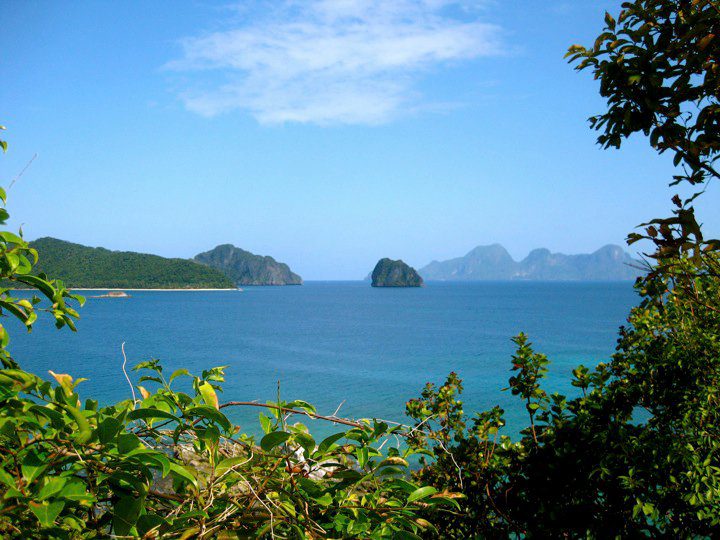 And I am specially thrilled at the prospect of going back to a tropical island again soon. A girl can only dream, can't she? 😉