The Berkeley is one of the chicest places for taking tea in London, and its famed 'Prêt-à-Portea' is on the 'must-try-AfternoonTea-list' of all my friends at the health club. And that's where my cousin, Lynn, took me for my birthday this year. Her daughter, Kathleen, knew about this place and with thoughtful consideration for her Tita Elna, Kat made the booking and probably mentioned it was a birthday treat. 😉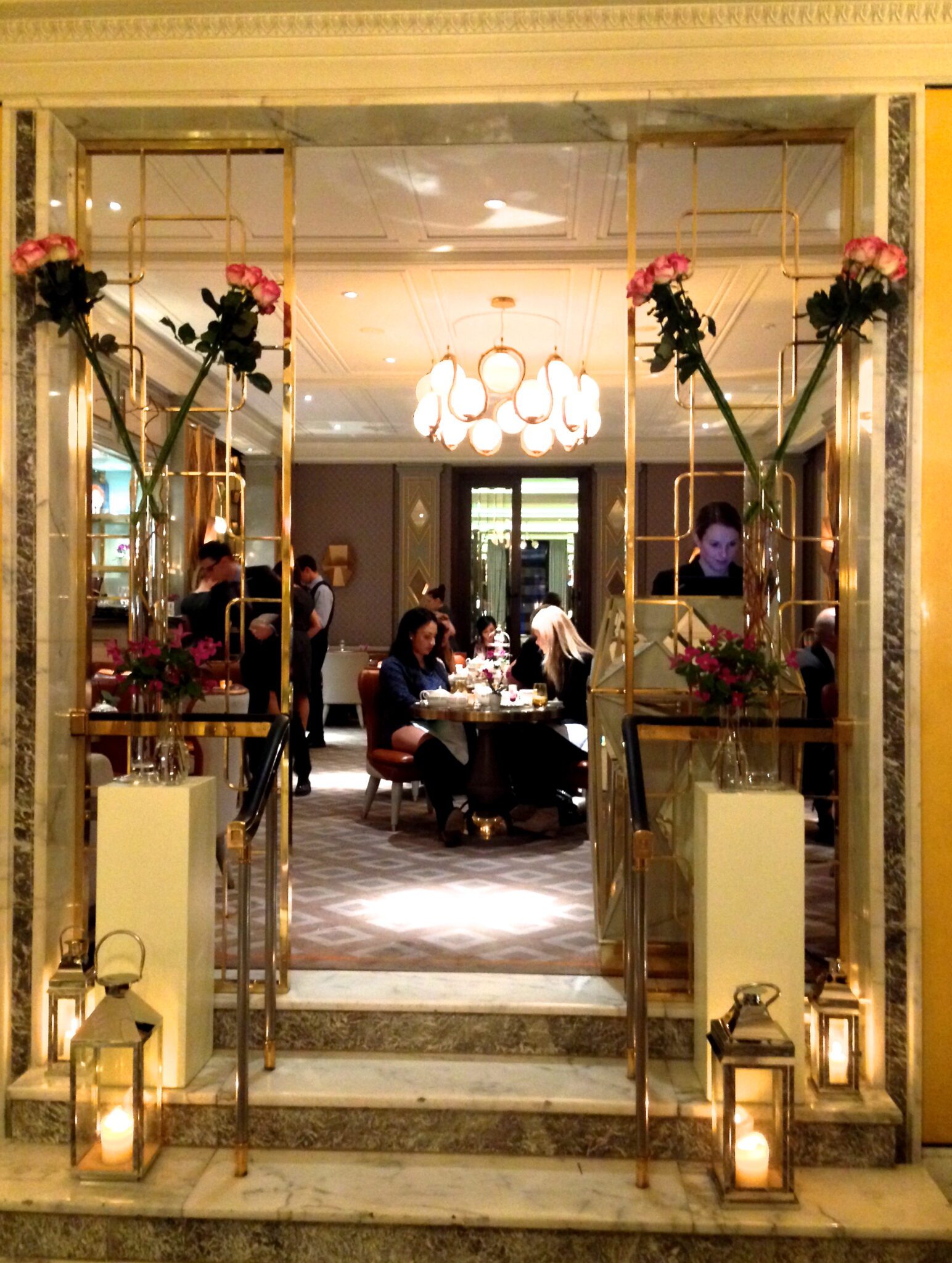 It's incomparable to other Afternoon Tea anywhere else. The creativity is unlike any other tea experience I've had in London. So unique that the hotel's pastry chefs create sandwiches and sweet treats inspired by each season's collection at London Fashion Week. So the seasonal menu changes according to the themes and colours of the fashion world. For Autumn/Winter 14-15 (yes, I was born on a winter month, in a tropical island), the colourful sweets and pastries were inspired by four of the world's top fashion designers, Valentino, Moschino, DVF, and Dolce & Gabbana.
A range of savoury treats and delicious sandwiches — smoked salmon, lobster, ham & cheese, egg & mayo and cucumber & herbed cream cheese — were served on a sandwich tray for each person before the sweets and pastries were brought in. All freshly made and delicious that even the bread is flavoured, and is not an ordinary plain loaf of bread you'll find at M&S or Waitrose.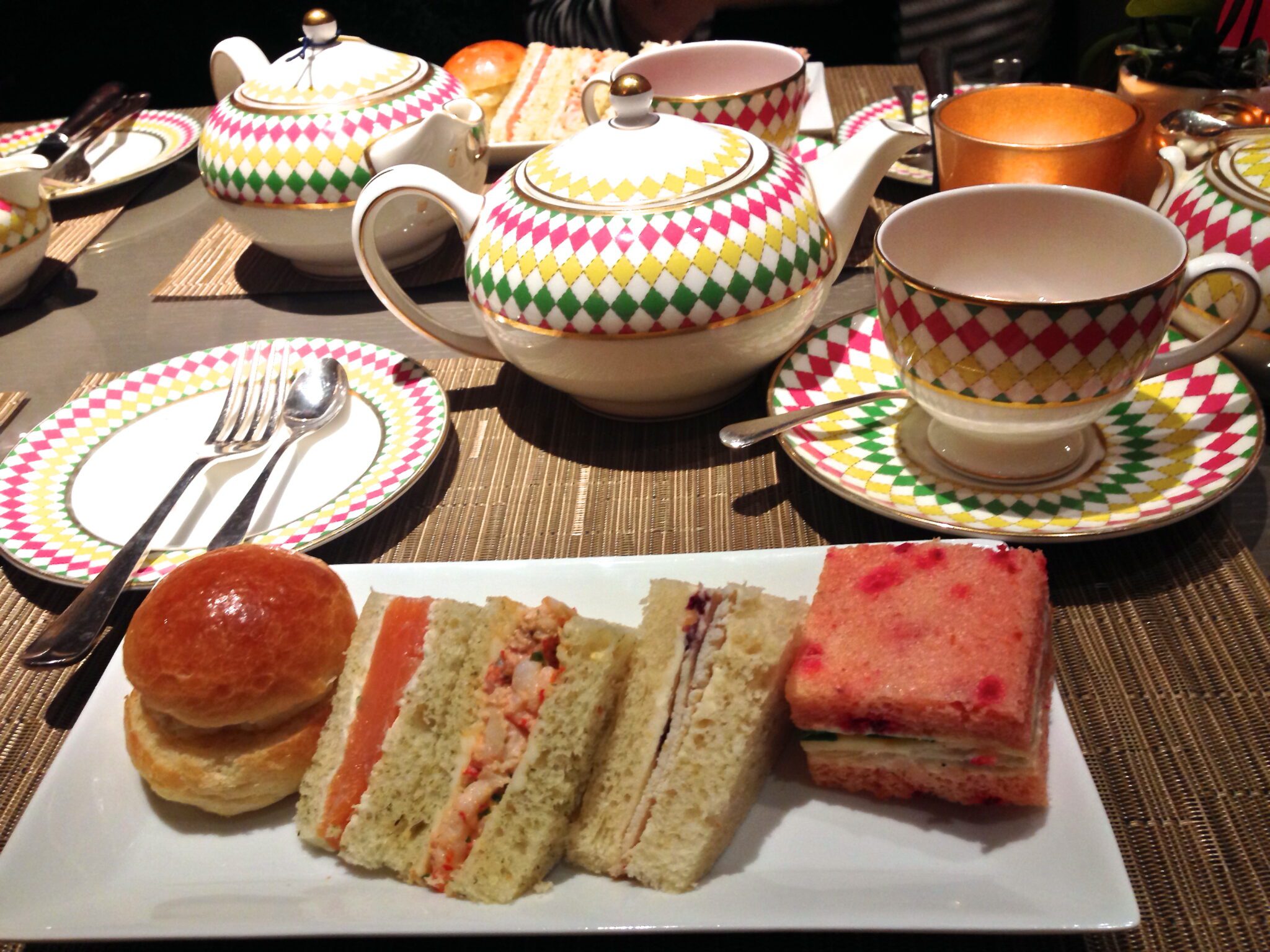 The bespoke 'Paul Smith' china in colourful shades really did make up for the winter's apparent bleakness. My birthday falls in the middle of winter and with all the less appealing and 'dead-looking' trees at Hyde Park (which is just across the street from Berkeley), and with everyone, practically everyone at the Tea Room, myself included, wearing black and grey, taking tea with a colourful crockery was a breath of fresh air. 😉
There is a good selection of loose-leaf teas to choose from, and I tried 4 different blends — Pear Caramel, Berkeley Blend, Vanilla, and my favourite was the Chocolate Mint Truffle. I've never had this unusual tisane before and I must say that the delightful taste of chocolate cacao nibs, mint and rooibos leaves was heavenly! I loved it.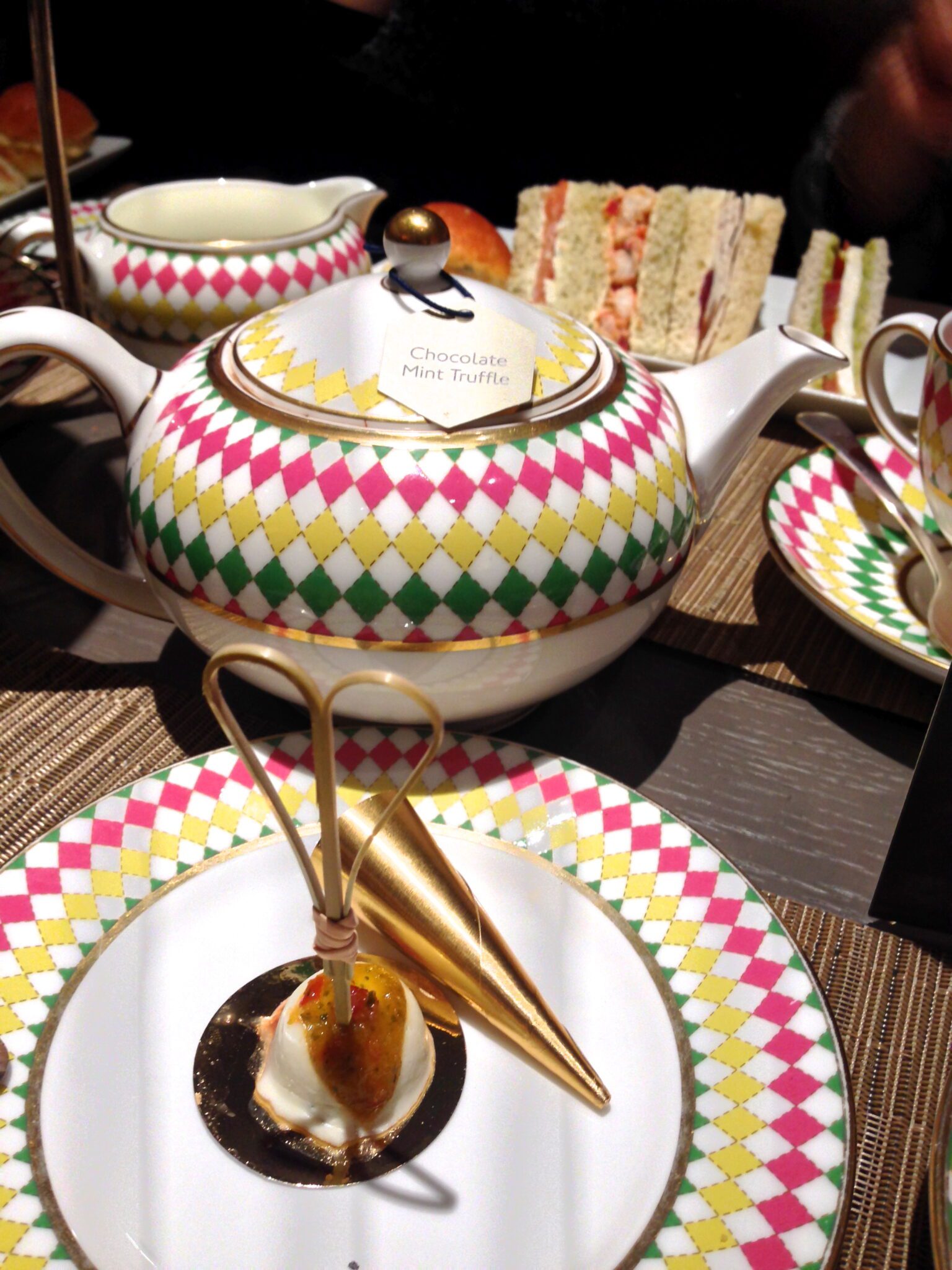 After eating the sandwiches, I was ready for some scones (for me, it's the highlight of taking afternoon tea anywhere) but I totally forgot that it's not included at The Berkeley's. In lieu of traditional scones, they serve a plateful of unique taster spoons, along with exquisite cakes and biscuits (or cookies for Americans), as well as glasses filled with brightly coloured concoctions on a classic three-tiered tray.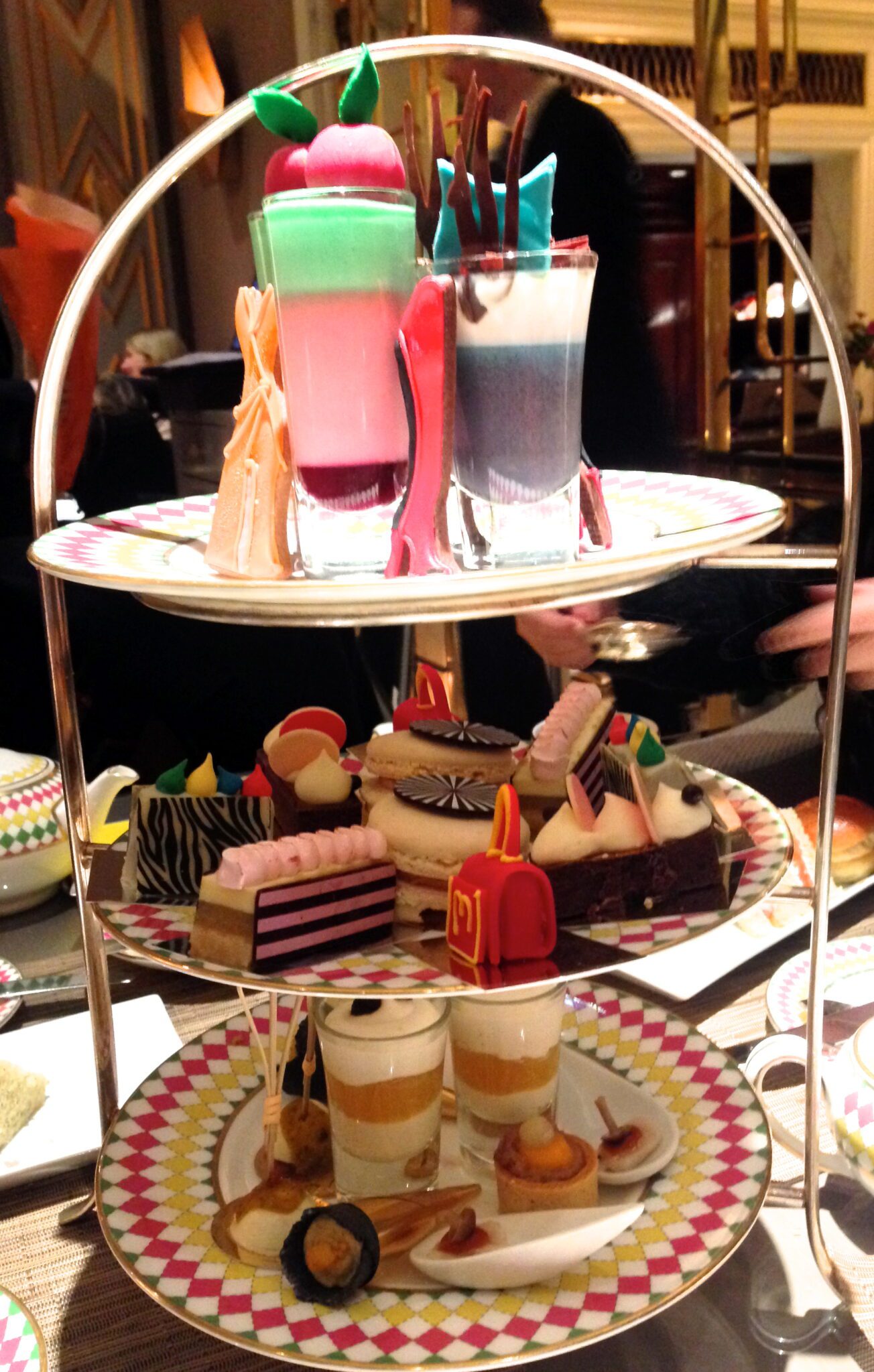 We worked (or shall I say, "did eat") our way from the bottom tier up, offering our verdict in between each bite, and proclaiming, "oh, this is my favourite!" or "ah, this is such a lovely cake!" 😉  Each piece has a distinct flavour of its own, and I tried to figure out what they're made of so that I can replicate them at home. Since Kathleen was at the culinary school, I had to ask her numerous times if she already learned how to make any of the sweets I've tried. There was so much selection of sweets that by the time the top tier plate was brought down, I was already too full and could no longer take another bite. We just ended up practically staring at the remaining cakes, picked them up one by one, took some photos, admired it some more with a chorus of reaction, "oh, that is so cute!" and "wow! that's cool!" — pretty much like watching a real-life runway show.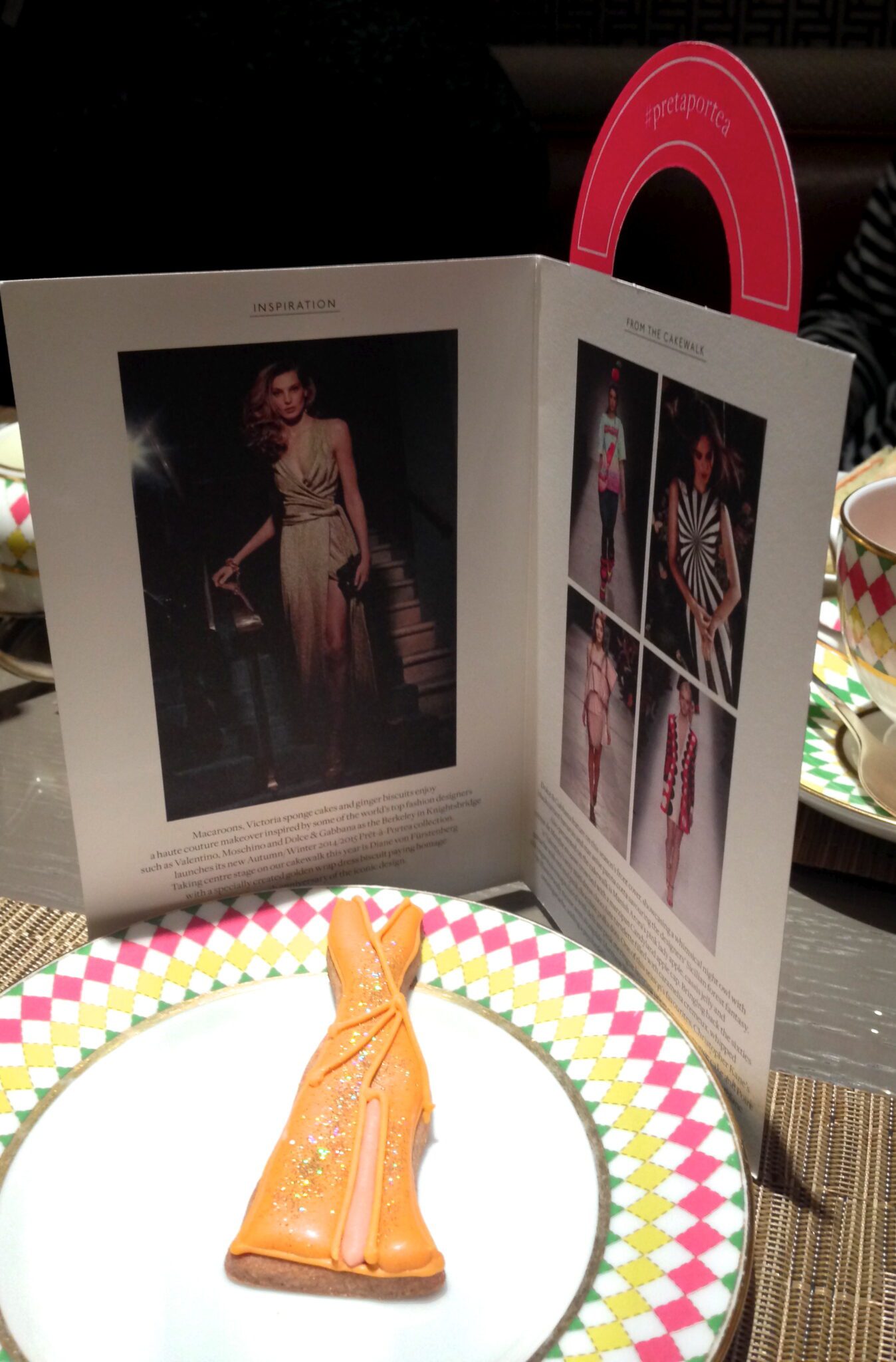 The mini-cakes and sweets are indeed a feast for the eyes as well as the taste-buds. And it's hard to pick a favourite. But perhaps the most playful interpretation, presented as a glamorous gold biscuit sprinkled with gold edible dust and 'one-leg' sticking out, is the DVF wrap dress.
Just as we were finishing up sipping our tea, the server brought a mini-cake topped with a candle and three pieces of fruits — 2 blackberries and an 'exotic' fruit that reminded me of my childhood.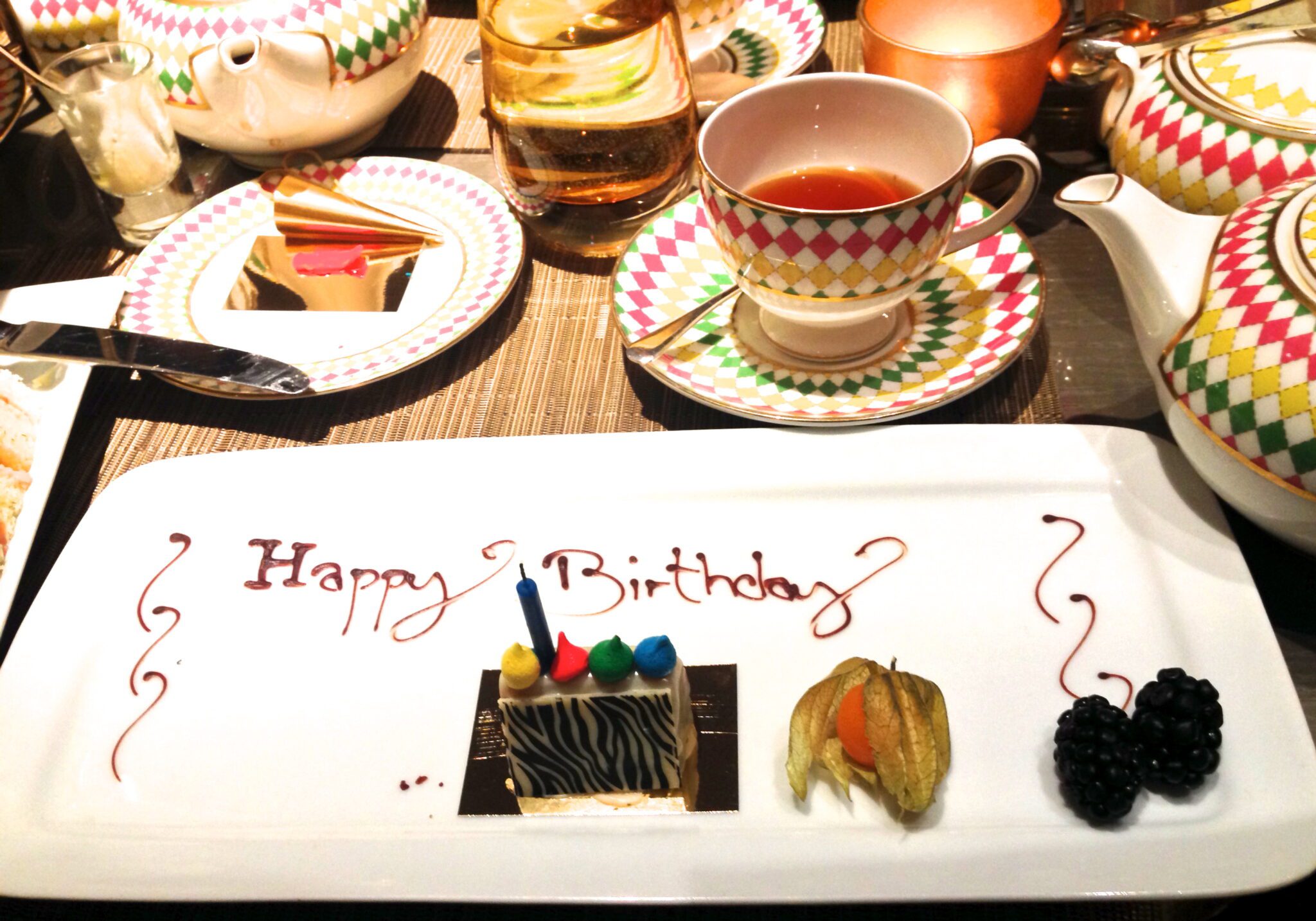 Interestingly enough, this tiny orange-gold, round-shaped edible fruit which we call in 'Waray' (language spoken in region 8, Samar & Leyte islands, in the Philippines) as "dolce de kurumbot' (literally means 'wrapped sweets' so-called because of the thin papery case covering it), transported me back to my birthplace. Who would have thought that this tiny tropical fruit I love eating as a little girl would make an 'appearance' on my cake-plate when I celebrated my mid-40s birthday in London!? Looking at this tiny fruit really did make me feel nostalgic. When I closed my eyes to make a wish before blowing the candle, I said a little prayer to ask the Lord to allow me to visit my hometown before the year is out. 😉
Between Lynn, Kathleen, Vic and I — all four of us, we could not possibly eat everything in the 2 three-tiered tray so the server brought some colourful take away boxes for the leftover sweets. Berkeley has a policy of not allowing anyone to take home their leftover sandwiches.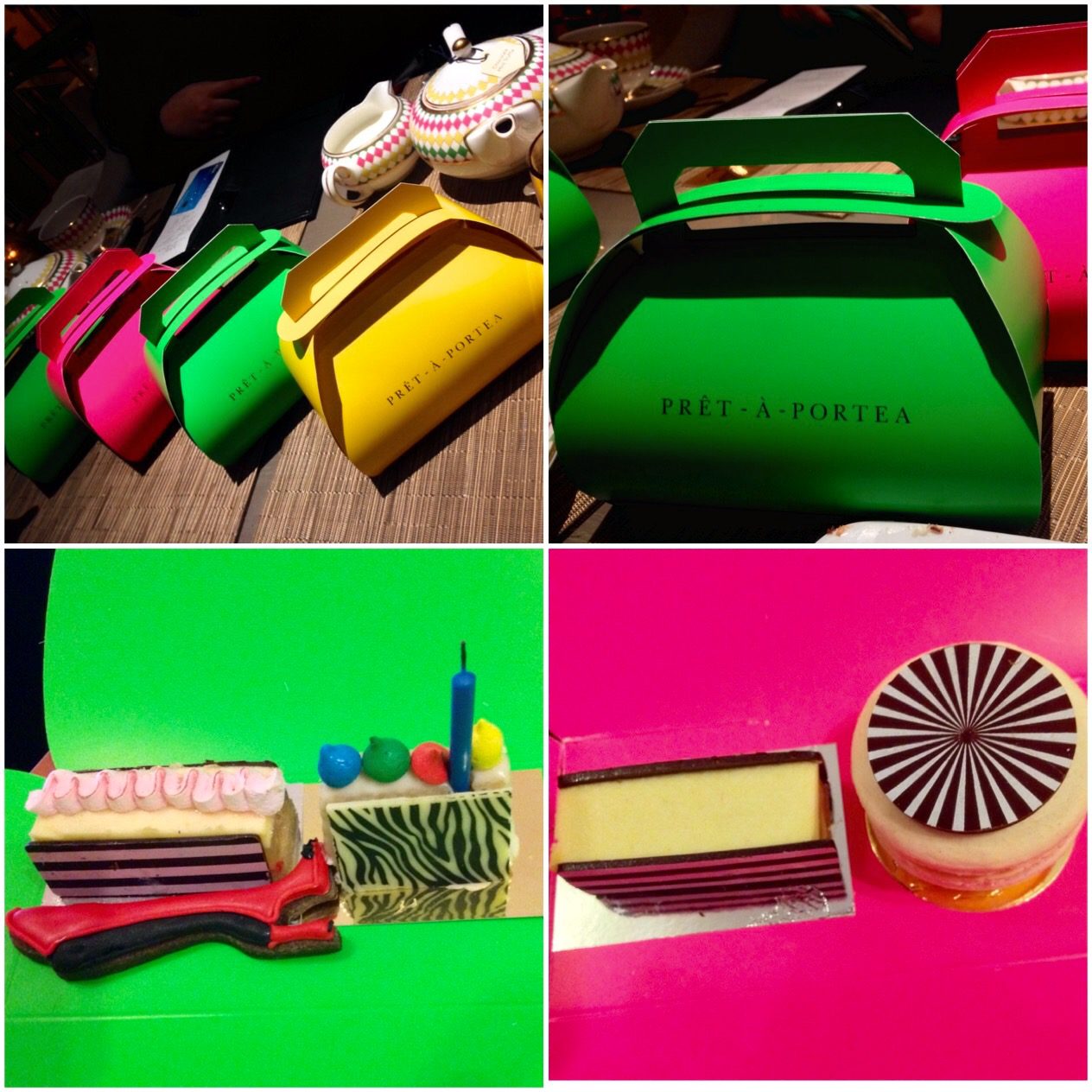 It's one of the best afternoon teas I've had in London, and if there's one criticism I have, it's Berkeley's hideous policy of not allowing their customers to take home their leftover sandwiches. It's the only place in London I've taken tea that doesn't do it.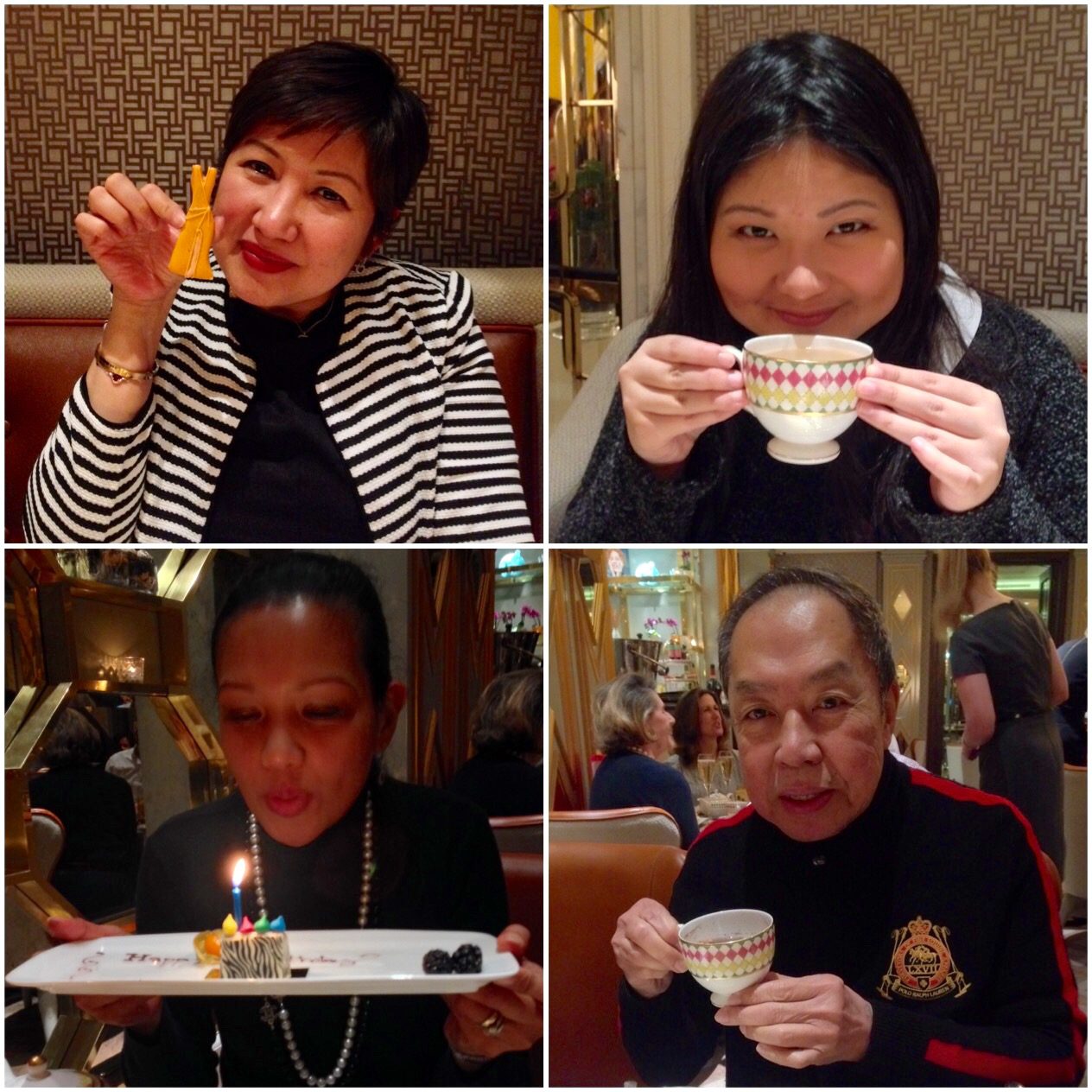 We had a lovely time. Two days later, which culminates my birthday itself, Lynn surprised me with a beautiful bouquet of flowers and more 'love' gifts.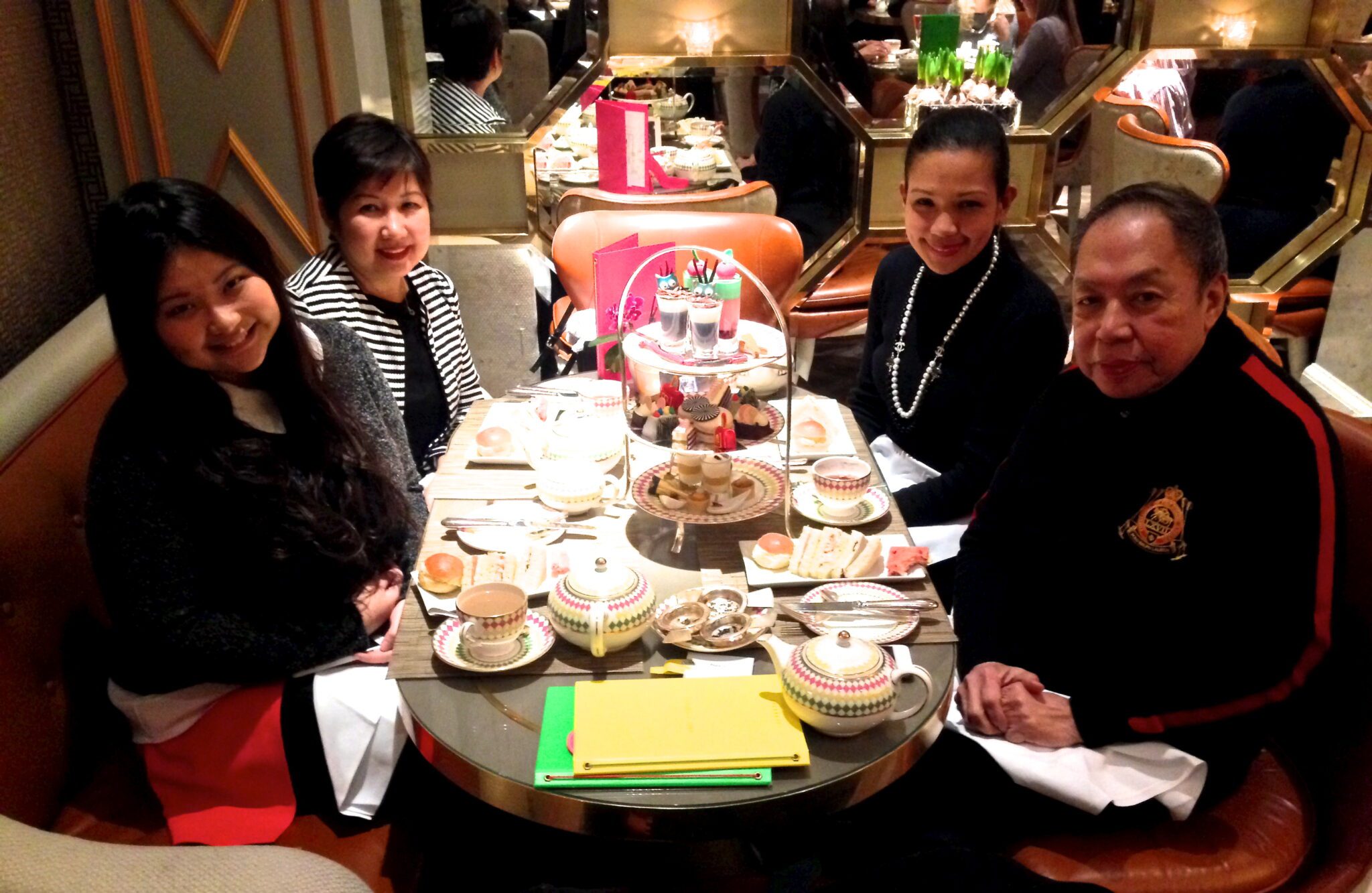 Thank you so much, 'patud baysay' (beautiful cousin), for the special birthday treat. You're the sweetest and most generous cousin anyone can have. I am so blessed.