Located in Kensington Gardens, Serpentine Gallery was established in 1970 and is housed in a tea pavilion built in 1934.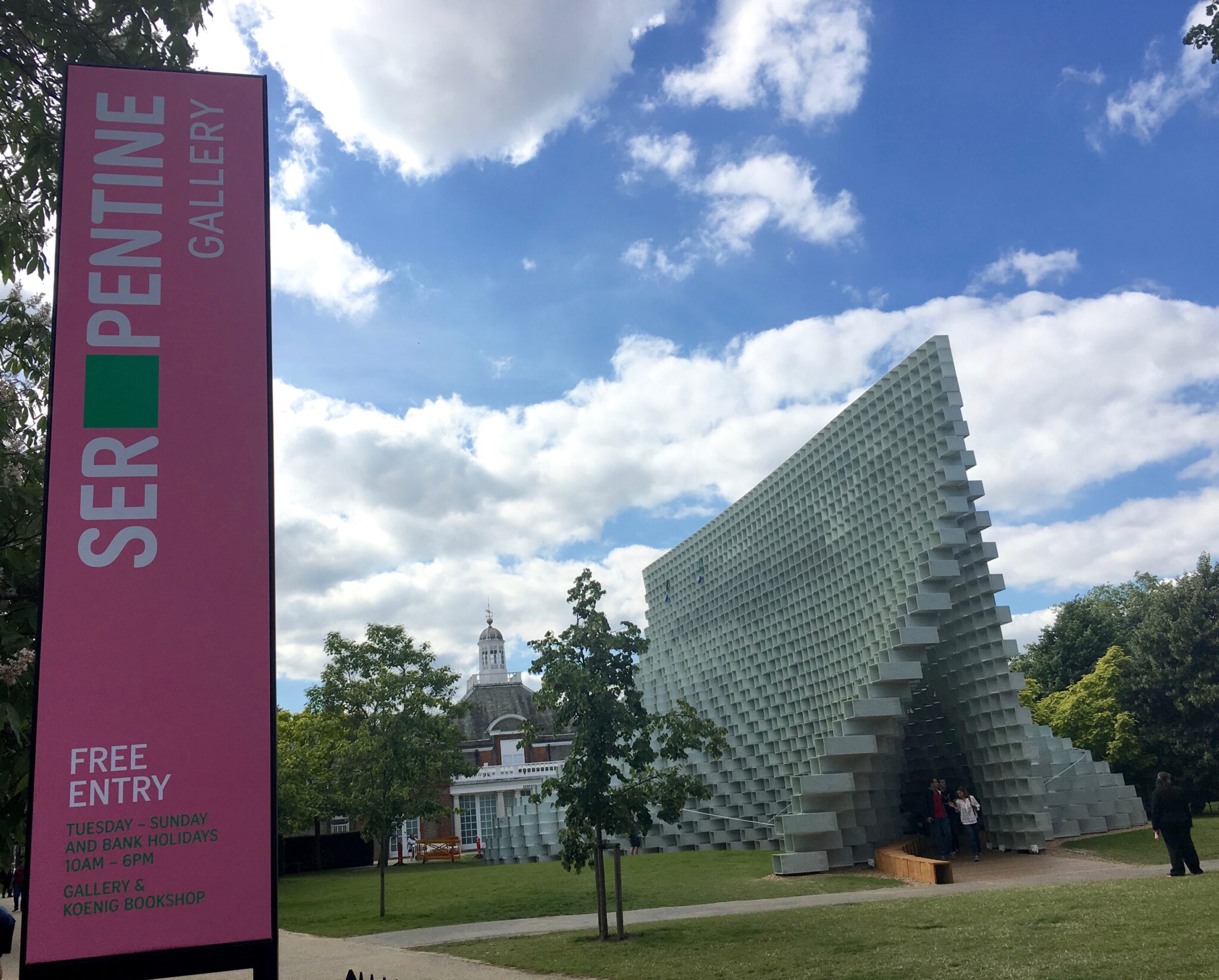 Since 2000 the Gallery's lawn has become a space for experimentation of architecture and materials rather than models and sketches.  It has presented projects every summer by some of the world's greatest architects, and each Pavilion must use the nearby Queen Caroline's Temple as their inspiration.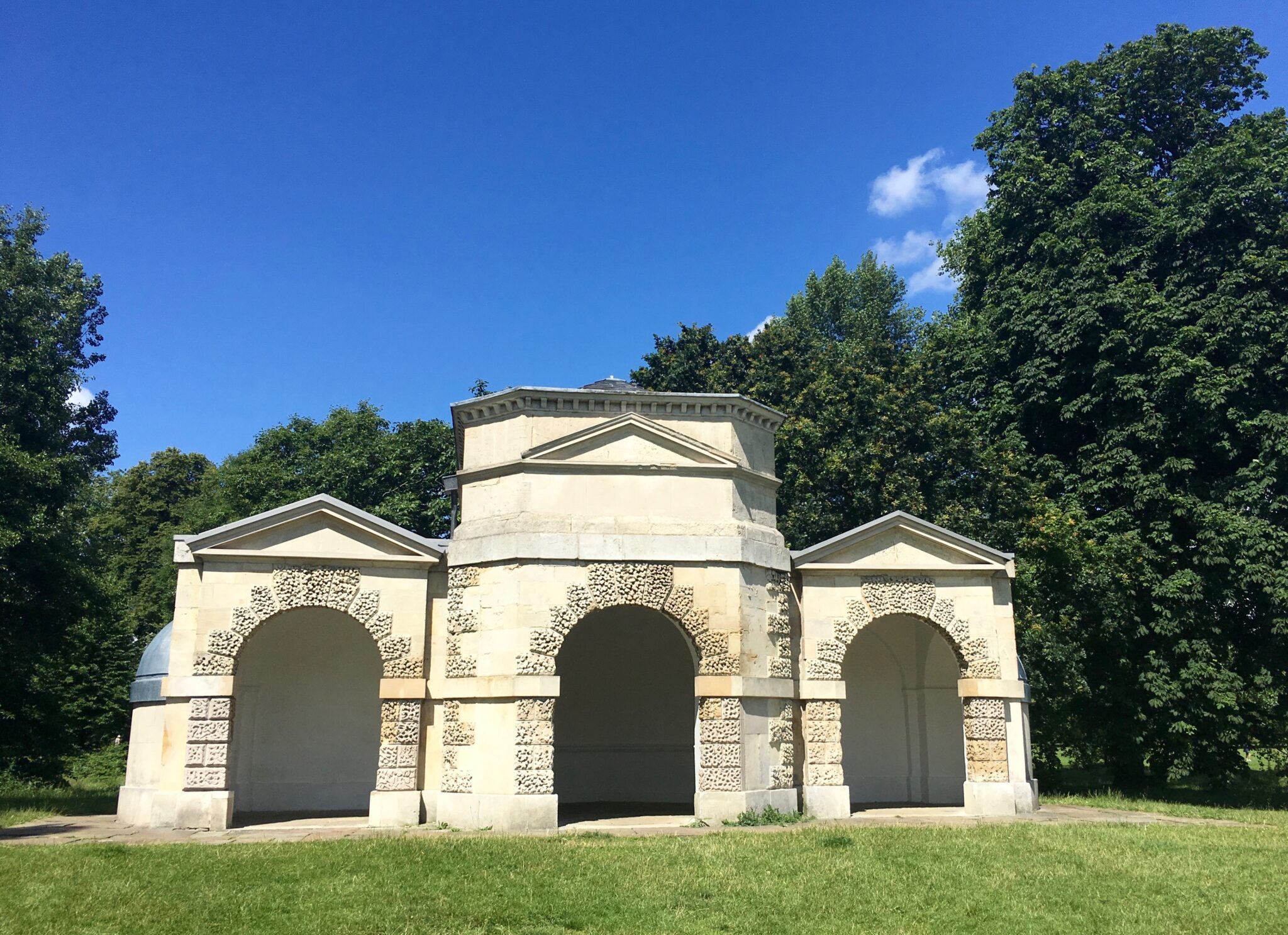 Each summer Serpentine Gallery invites renowned architects from around the world to create their first built structure in England.  The architects are only given a maximum of six months, from invitation to completion, to provide a unique structure and there is no budget for the project, it is realised through sponsorship.  This year they expand its annual programme to include with the Pavilion four 25 square meter Summer Houses inspired by Queen Caroline's Temple.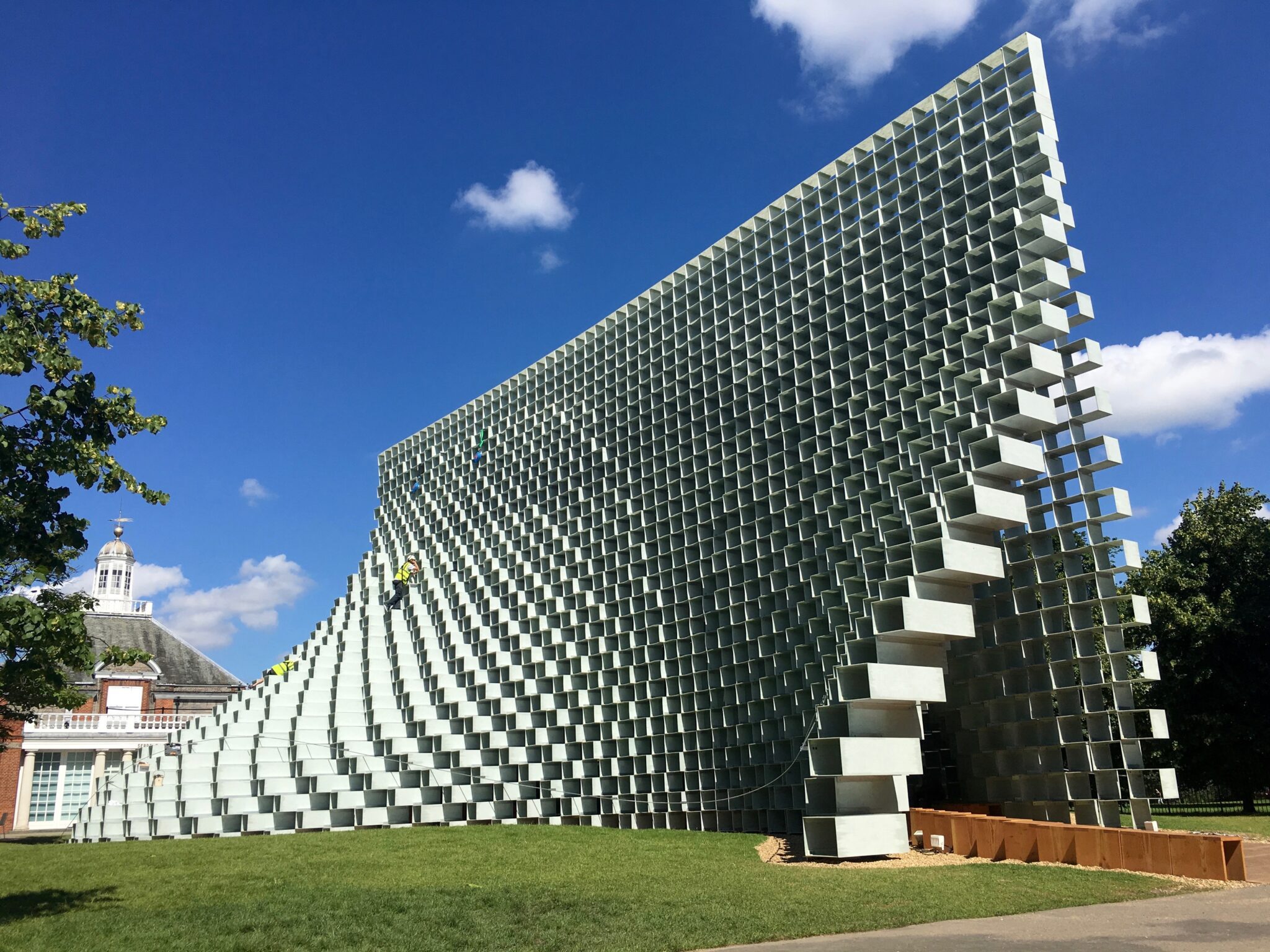 This year's Serpentine Pavilion (above picture), designed by Danish firm Bjarke Ingels Group (it's a Copenhagen and New York based group of architects, designers, and builders), is an unzipped wall that is by day houses a café and free family activities and by night becomes a space for Serpentine's evening entertainment.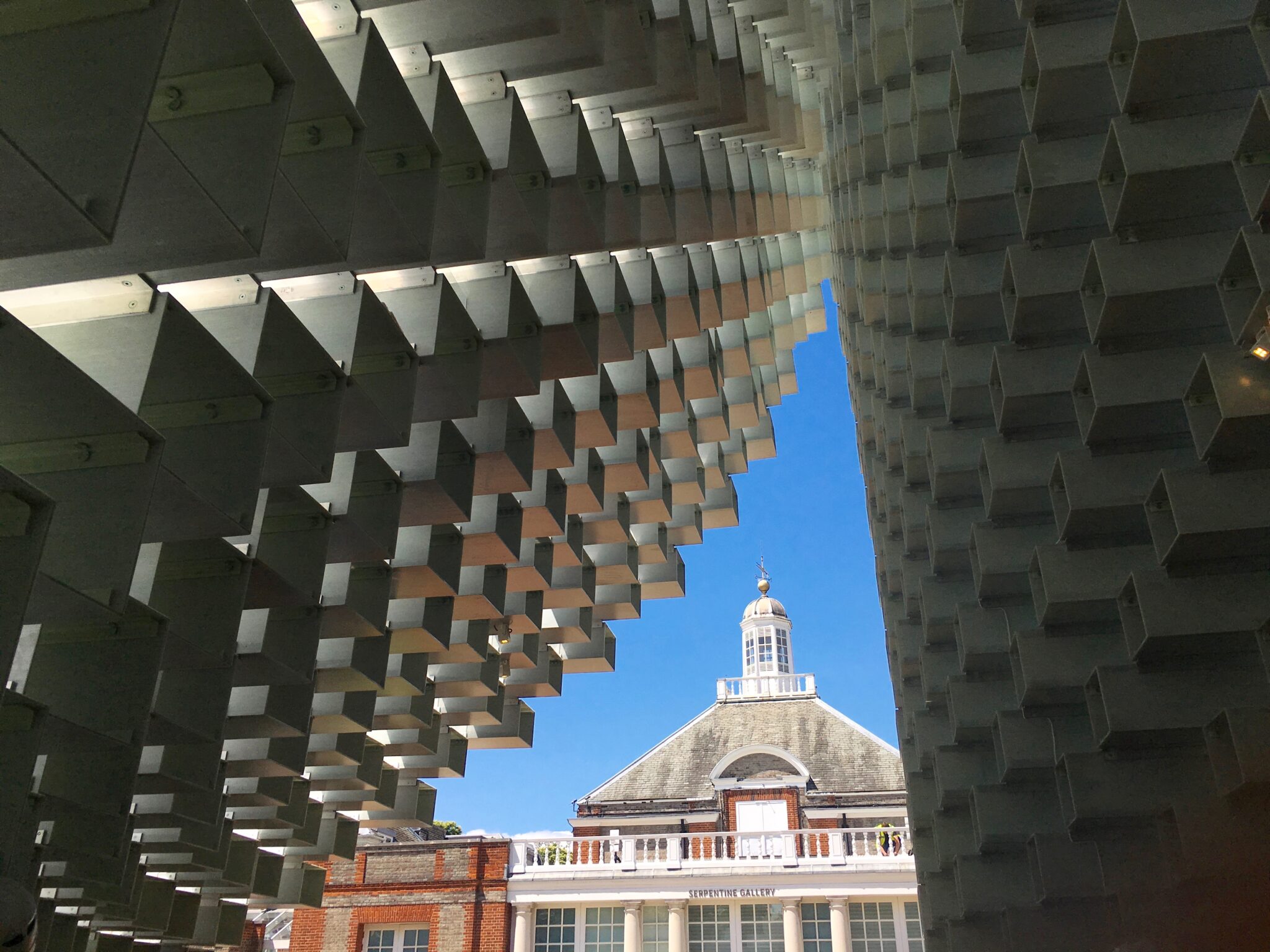 The unzipped wall creates a cave-like canyon lit through the fibreglass frames and the gaps between the shifted boxes, as well as through the translucent resin of the fiberglass.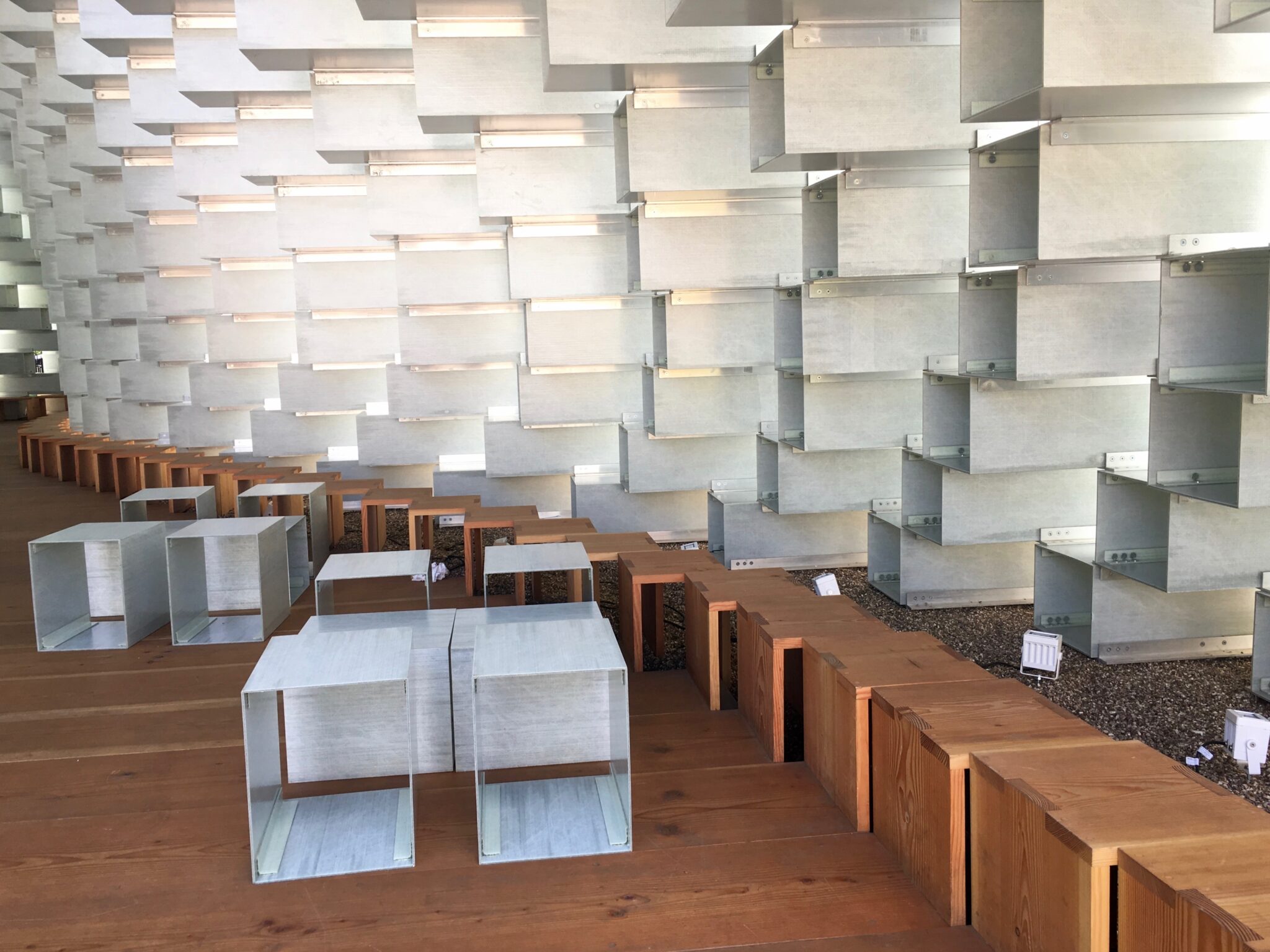 There's a coffee shop in the middle of the structure where you can get a drink, sit in one of those steel/wooden blocks and watch people come by. 😉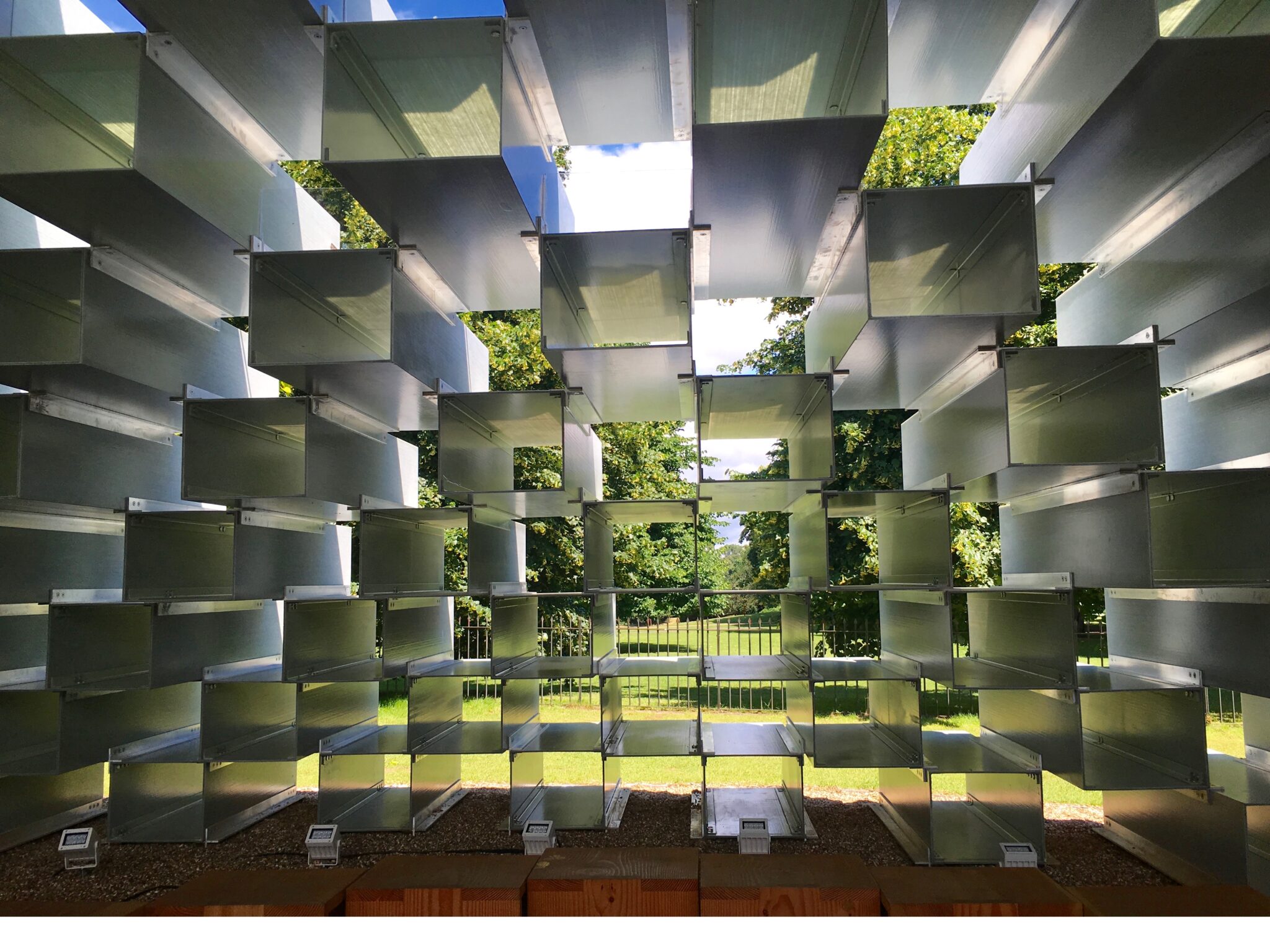 The materials include wooden floors and extruded Fiberline profiles, providing every surface with a warm glow and linear texture – from the mesh of woven glass fibres to the undulating lines of the grain of wood.
It is an undulating sculptural silhouette and entirely transparent. Compared to last year, in my own humble opinion, this year's Pavilion is colourless and downright ugly from the outside.  Complementing this year's Pavilion, optical illusions abound in all four structures called 'Summer Houses' installed in front of Queen Caroline's Temple.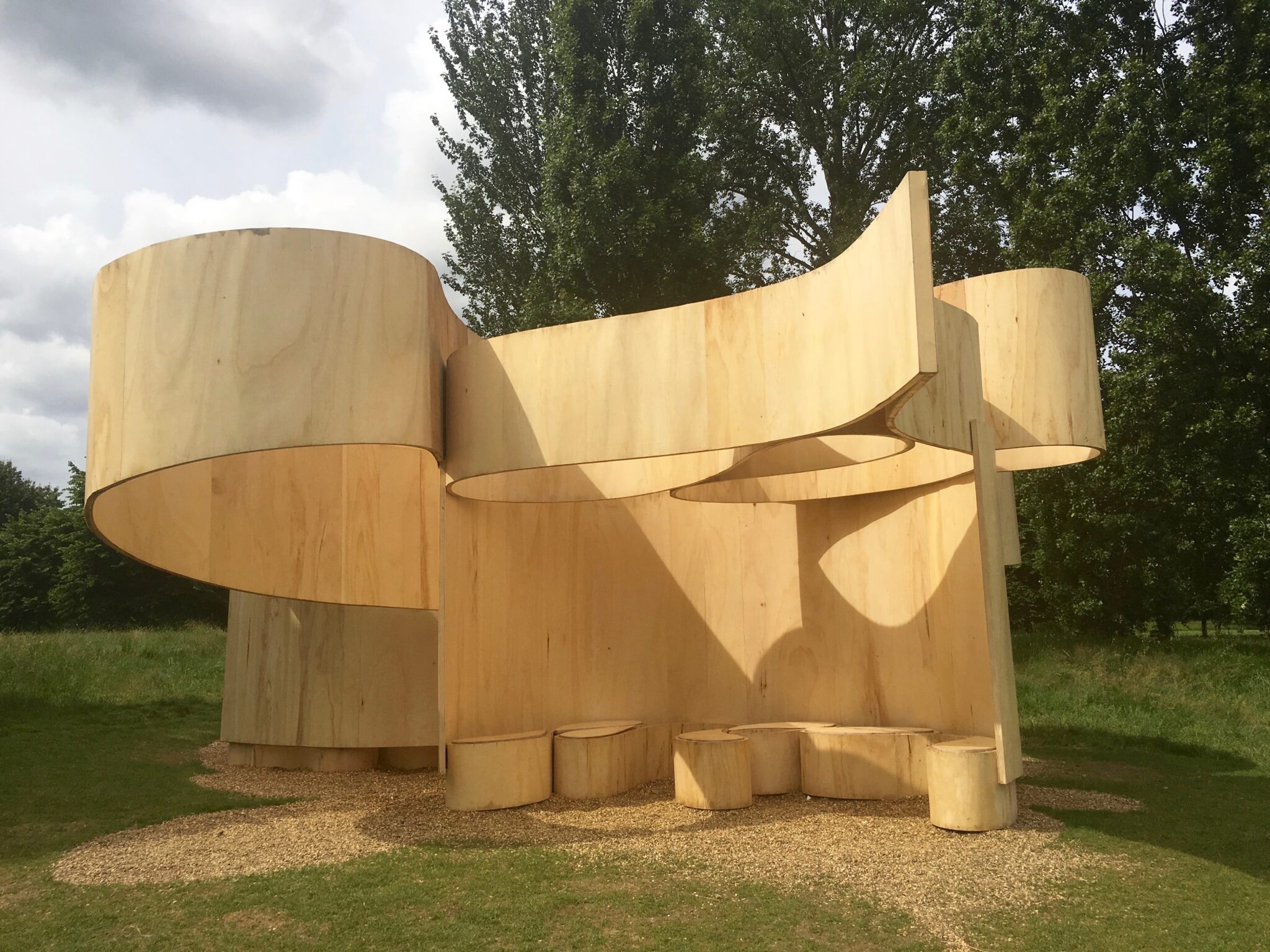 The first Summer House designed by Barkow Leibinger, an American-German architectural practice, is constructed from plywood and timber.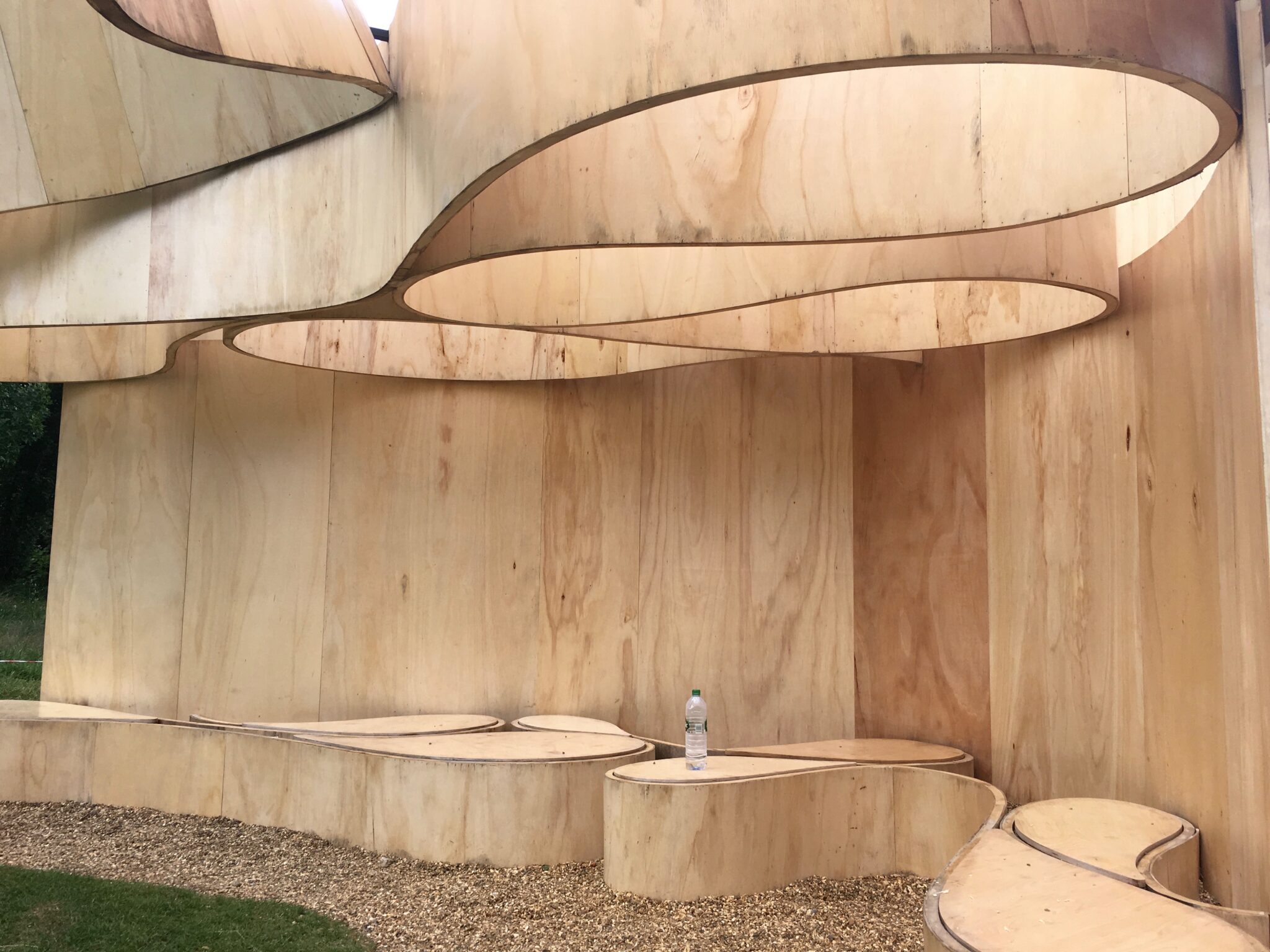 It is a pretty cool spiralling wooden design in three dimensions.  Here's what the Architects have to say about their project:
"Queen Caroline's Temple, an eighteenth-century historical 'summer house' attributed to William Kent and situated in the proximity of the Serpentine Gallery, stands – seemingly without purpose – facing a large meadow.  A second Pavilion, today extinct, also designed by Kent was situated on a nearby man-made mountain constructed from the dredging of the artificial The Long Water. This small pavilion rotated mechanically 360 degrees at the top of the hill, offering various panoramic views of the park and, reciprocally, different views of itself when seen from the park. It was meant both to be visible in the park and a structure from which to survey its surroundings. The little mountain and house disappeared at some point in history. With this absent structure in mind, we have designed a Summer House in-the-round. Standing free with all its sides visible, and conceived as a series of undulating structural bands, it is reminiscent of a blind contour drawing (a drawing executed without lifting the pencil up from the paper and only looking at the subject). The logic of generating a structure from loops is a self-generating one and comes from the idea of coiling material in your hands then stacking the coils upon each other. The horizontal banding recalls the layered coursing of Queen Caroline's Temple, despite its idiosyncratic nature." – Frank Barkow and Regine Leibinger
This summer house replica is by Kunlé Adeyemi, a Nigerian architect, urbanist and creative researcher.  Born and raised in Nigeria, Adeyemi studied architecture at the University of Lagos where he began his early practice, before joining Office for Metropolitan Architecture (OMA) in 2002.  He is currently an Associate Professor at the Graduate School of Architecture, Columbia University in New York.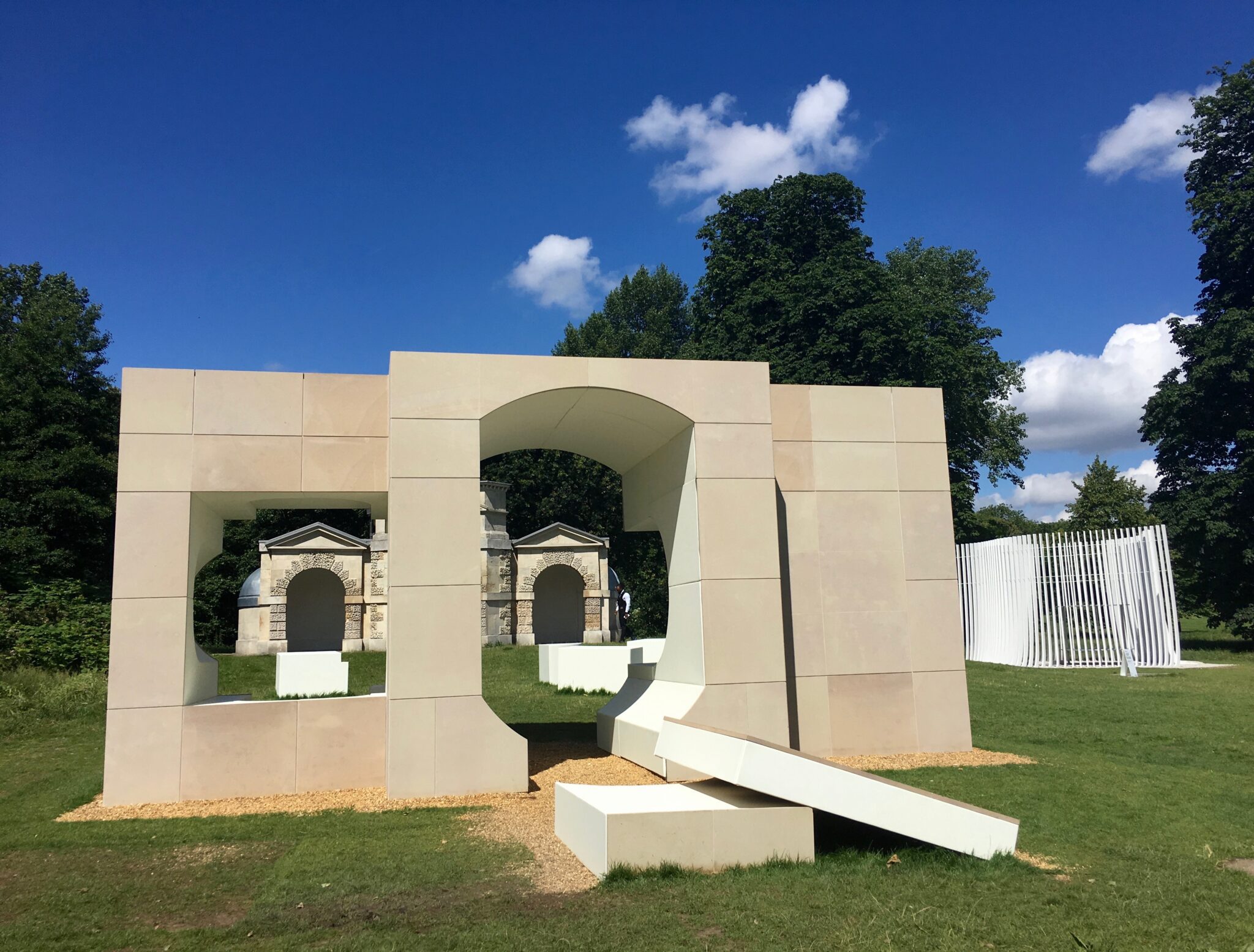 Kunlé Adeyemi issued this statement: "With a play on architecture, our design aims to fulfil the simple primary purpose of a Summer House: a space for shelter and relaxation. The design is based on projecting an inverse replica of the historic Queen Caroline's Temple – a tribute to its robust form, space and material, recomposed into a new architectural language. By rotating the Temple's interior space, we expose the structure's neo-classical plan, proportions and form. Using prefabricated building blocks assembled from rough sandstone similar to those used in building the Temple, in contrast with a soft interior finish, our composition generates basic elements of architecture – a room, a doorway and a window – for people to interact with the building, the environment and with one another. The carved out void, homely interior and fragmented furniture blocks create comfortable spaces for people to eat, rest or play – in and around the house – all through summer."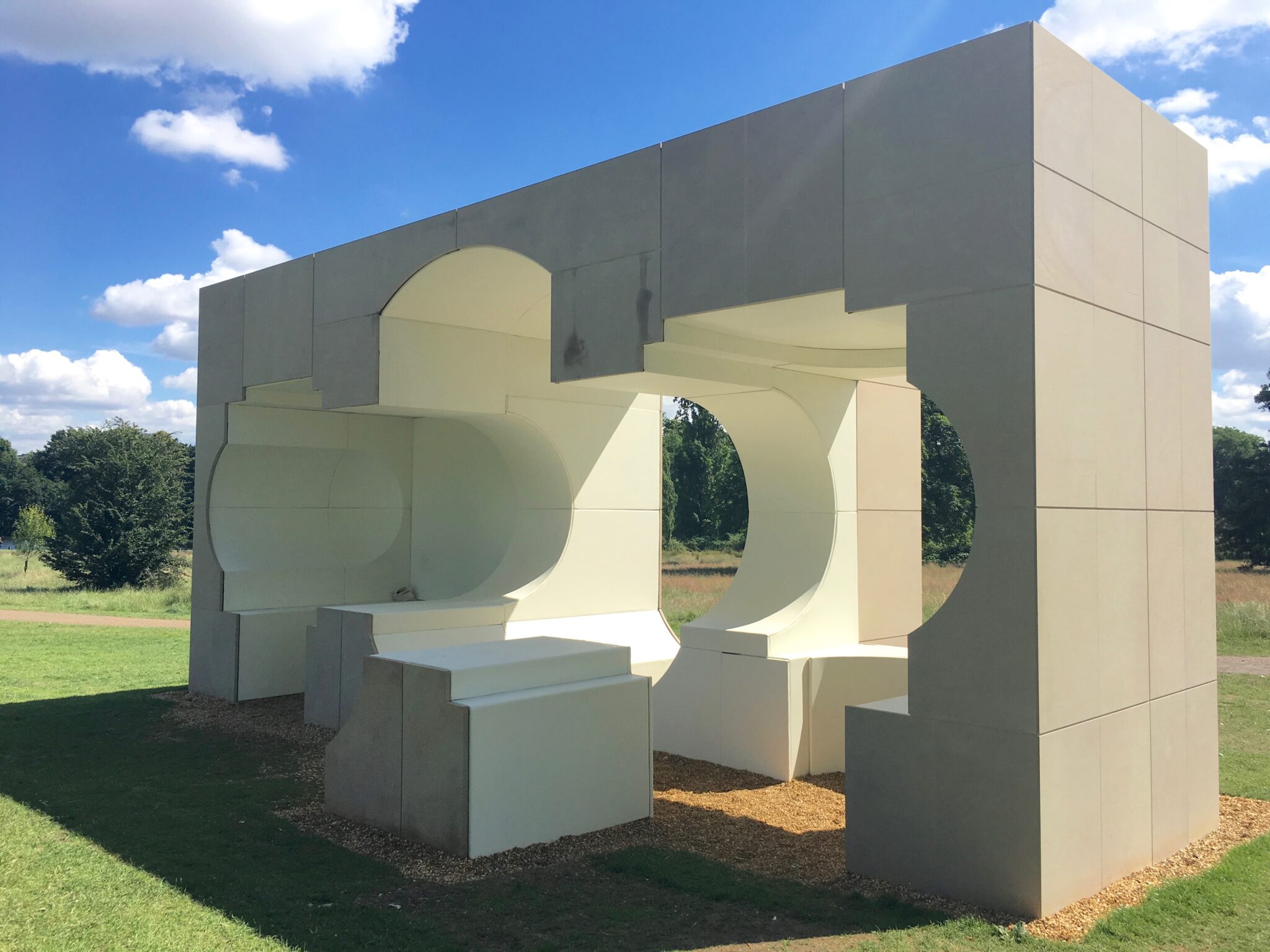 Back facade of Adeyemi's Summer House.  It's futuristic.  The white leatherette surface where anyone can lounge is a nice surprise.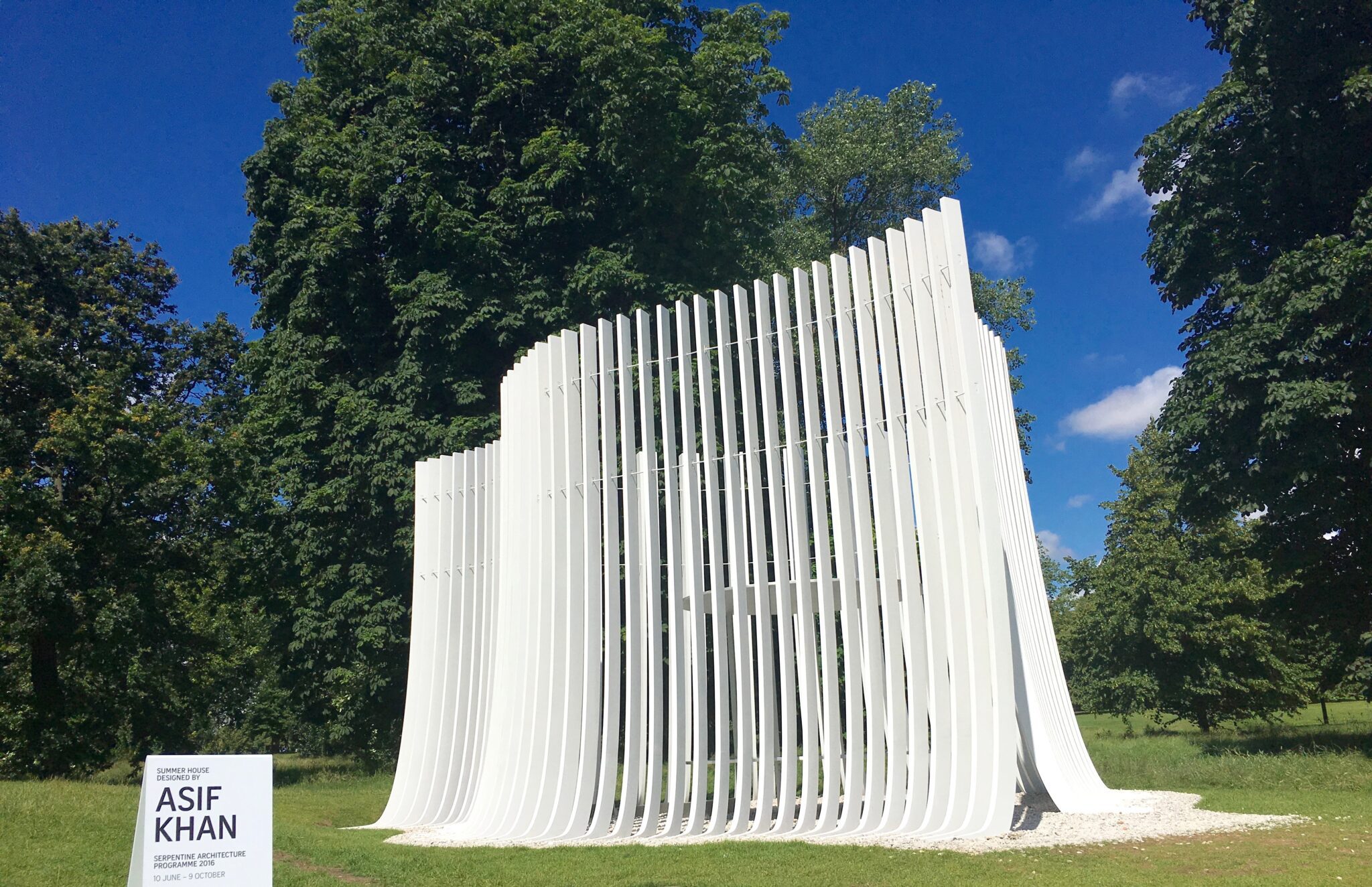 This Summer House created by British architect Asif Khan was made of white timber stave.
The timber posts encircles a stainless steel table to observe the sun's passage.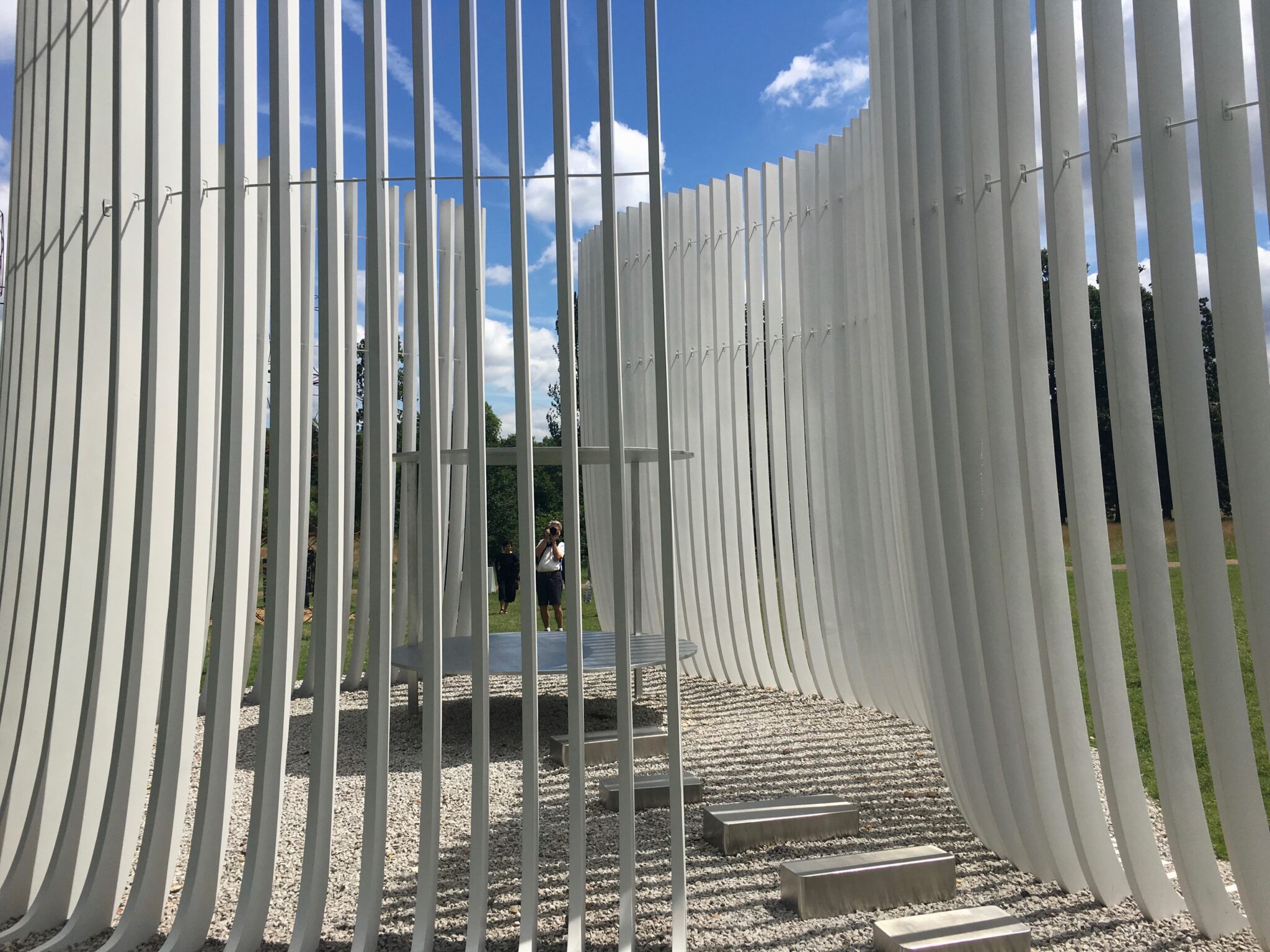 Khan's design is inspired by the fact that Queen Caroline's Temple was positioned in a way that it would allow it to catch the sunlight from The Serpentine lake.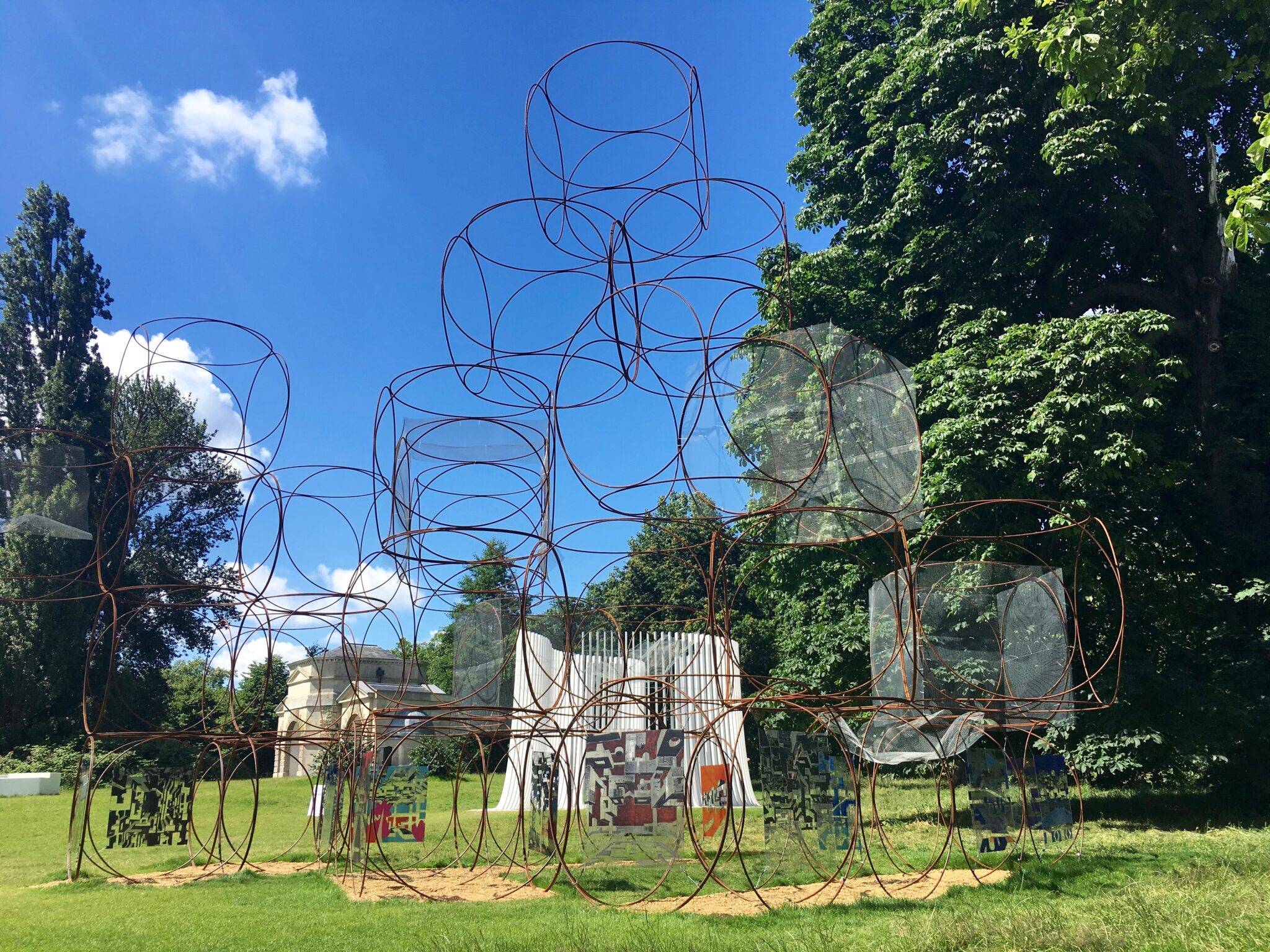 My favourite of all is Yona Friedman's interpretation of the Summer House.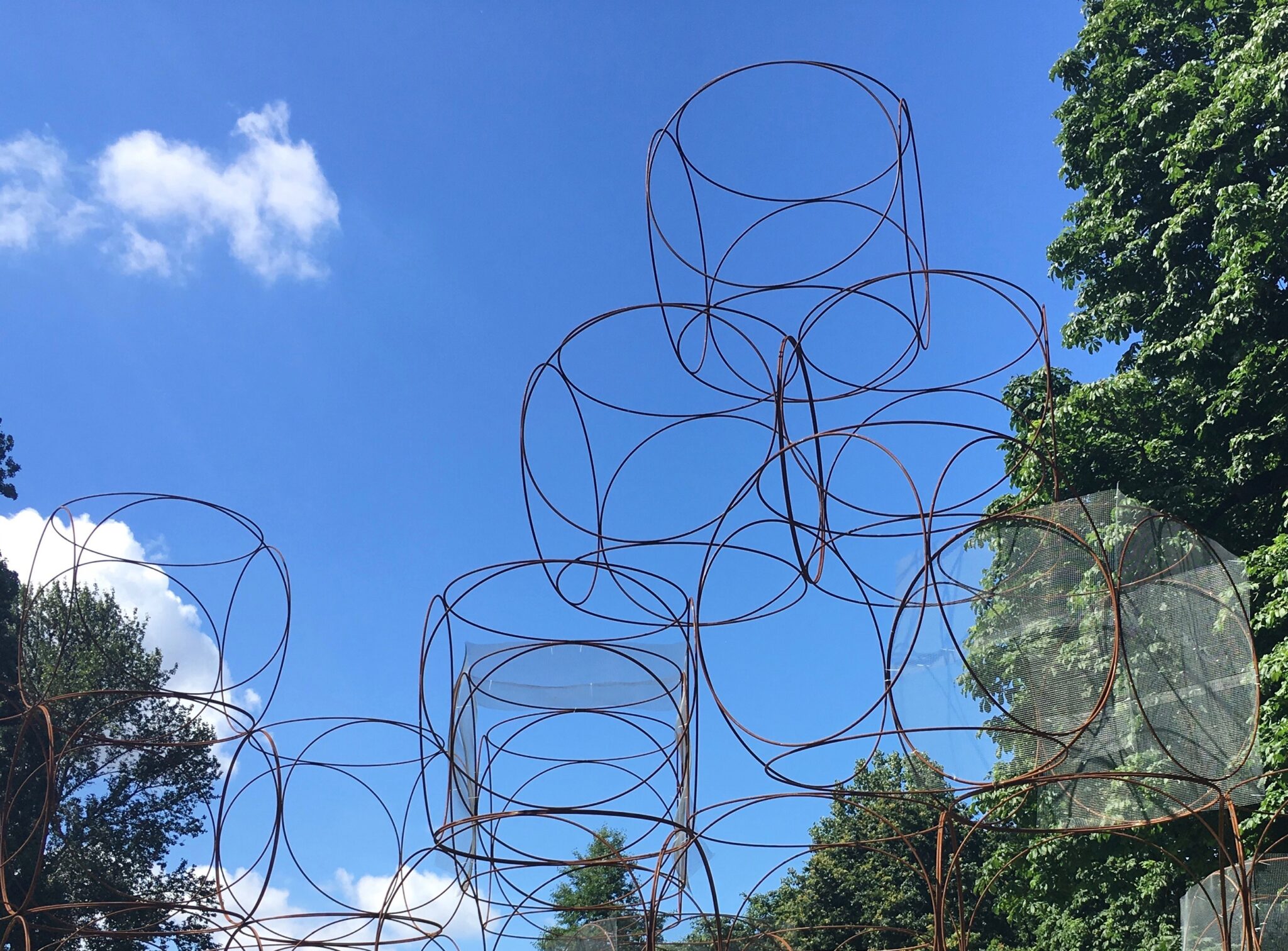 It takes the form of a modular structure that can be assembled and disassembled in different formations.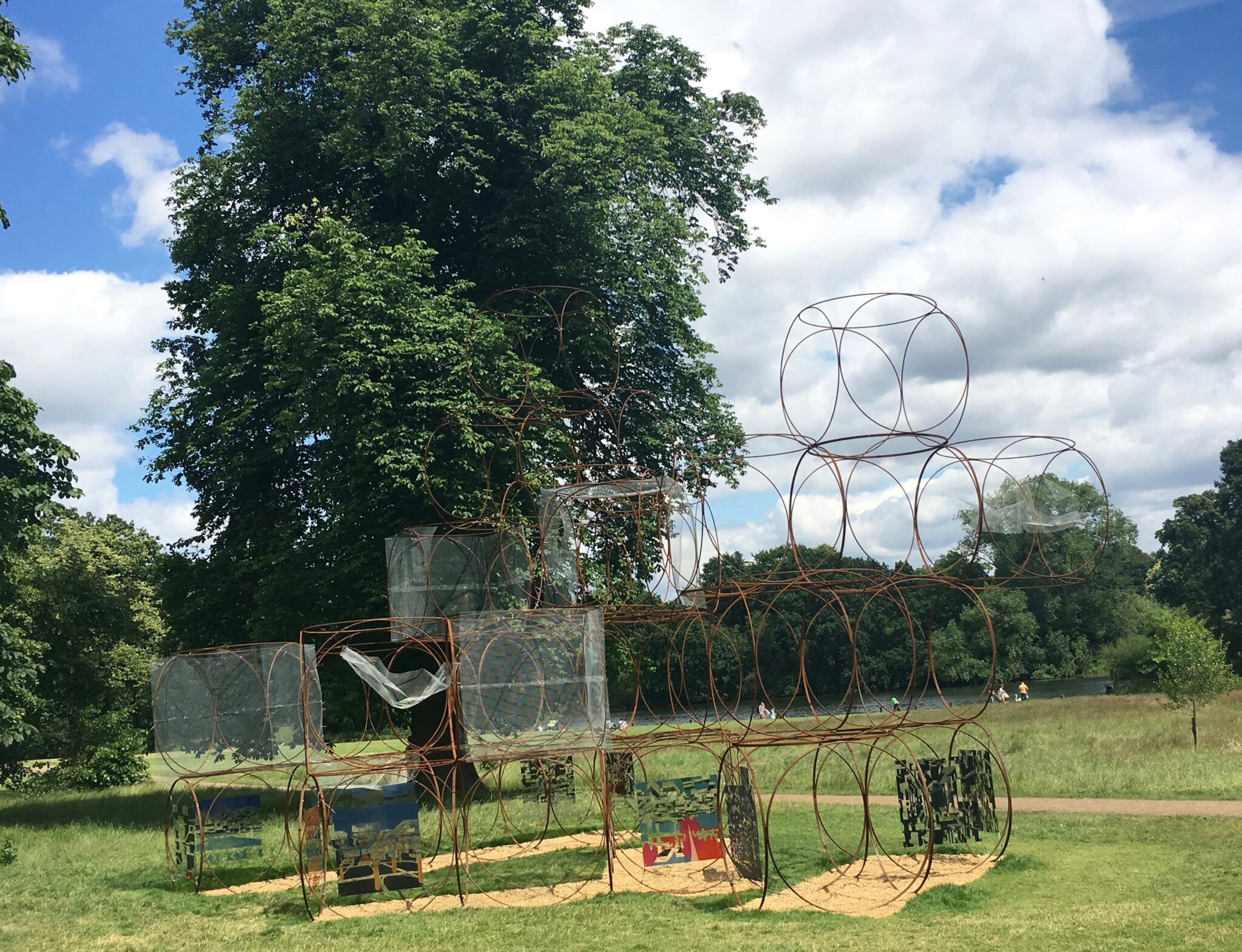 Friedman is a Hungarian-French architect, urban planner and designer who became famous in the 1950s-60s in the so-called age of megastructures.  The 93 year-old architect explains of his project:
"The proposed Summer House builds upon my project La Ville Spatiale (Spatial City) begun in the late 1950s. The manifesto for this project, published in 1959, was based on two pillars or principles: firstly, a mobile architecture that could create an elevated city space and enable the growth of cities while restraining the use of land; secondly, the use of modular structures to allow people to live in housing of their own design. The Serpentine Summer House is a 'space-chain' structure that constitutes a fragment of a larger grid structure, originally conceived for La Ville Spatiale. This original structure, designed for bearing light loads, consists of 30 cubes measuring 1.80 x 1.80 x 1.80 m3, built with metal rings of 1.80 m in diameter and assembled into a skeleton. Some of the cubic voids are enclosed with panels of polycarbonate. The Summer House is a space-chain construction of 4+1 levels. It is composed of cubes defined by 6 circles of 1.85 metre in diameter and made with steel tubes of 16 mm in diameter. The cubes are composed into irregular geometrical shapes that rest on the ground. The Summer House is a modular structure that can be disassembled and assembled in different formations and compositions. In this particular case, it is only the ground level that is accessible to visitors. But with slight technical changes, such as adjusting some of its constituting elements, all levels could be made visible to visitors. The project is conceived to serve as a multi-level 'showcase' for exhibitions. Part of the cubes can support transparent polycarbonate panels, which can be used as showcases containing artworks, plants or other objects. The Summer House is essentially a movable museum and exhibition."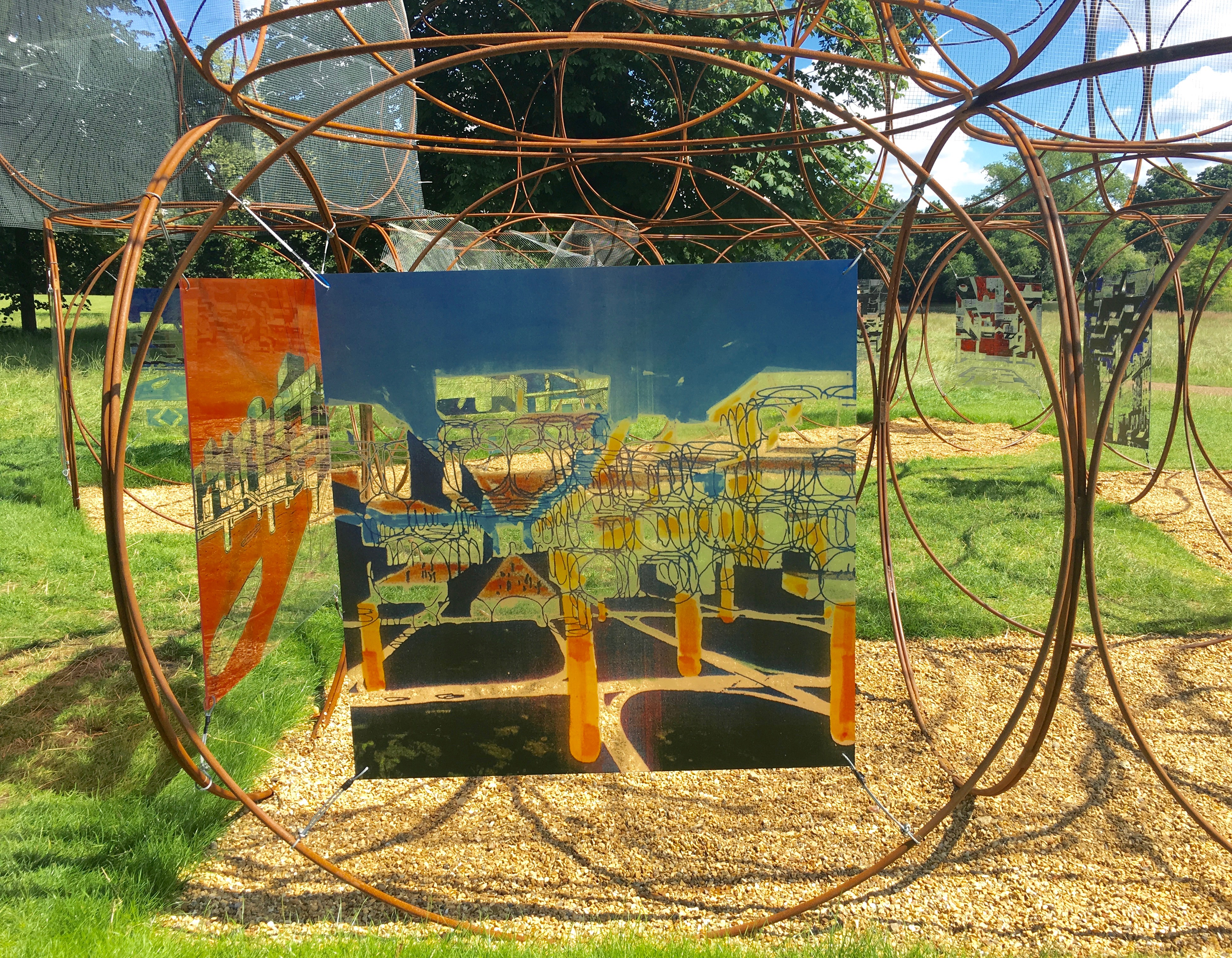 Though not as magical as last year's, the Pavilion and Summer Houses are well worth a visit.  Even for the architectural snobs out there, these structures may not be up to their standard but they can't deny the fact that they're pretty cool art instillation in the park. 🙂 It's open daily from 10am-6pm, until the 9th of Oct 2016.