Every first Sunday of the month we celebrate the birthday and anniversary of our church members and regular attendees, and baking a cake for this occasion is part of my ministry.  On Saturday morning I was on Pinterest trying to find a no-bake cake recipe (the oven is broken), and found this Napoleon Cake.  I made a few changes though; for the biscuit (or cookies) I wanted to use Graham Crackers but the American Food Shop in our neighbourhood didn't have any.  I then decided to go to Portobello Market to find Graham Crackers but for some reasons, all the shops I went to didn't have it so I settled on using a similar biscuit called 'Maria' after I saw them at Garcia's, a Spanish food shop on Portobello Road.  In the Philippines this biscuit is called 'Marie' and I grew up eating them.  Haven't had them for ages actually, and seeing them again after so many years certainly brought back a lot of fun memories. 🙂 
Ingredients:
1600 grams Maria/Marie biscuits (or Graham Crackers)
3/4 cup white sugar
2 whole eggs + 3 egg yolks
1/3 cup corn starch
1/2 cup condensed milk
3 cups skimmed milk
1 Tbsp vanilla extract
1/2 cup unsalted butter, softened
Berries to decorate the top. (I used frozen blueberries and blackberries.)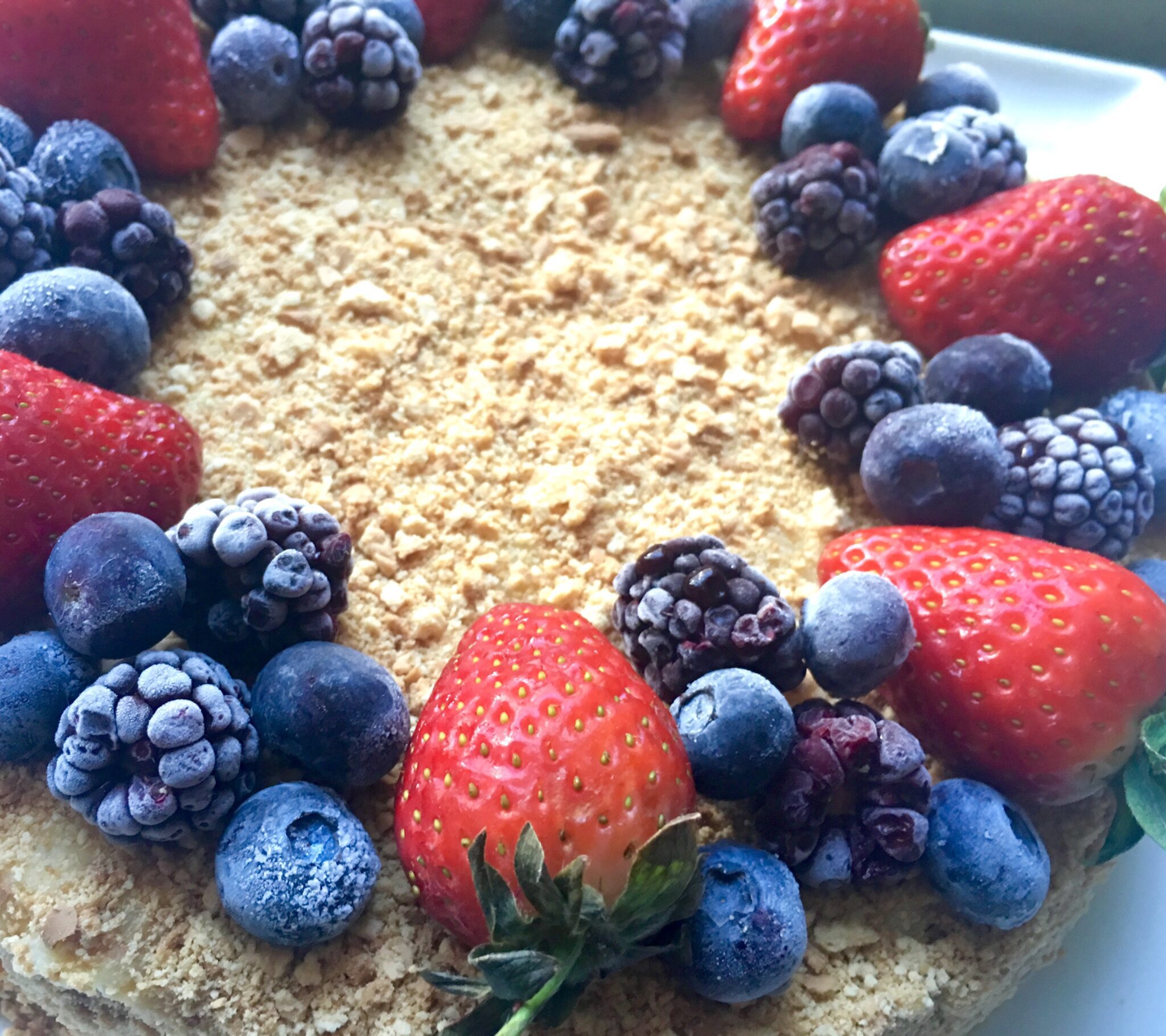 How to Make No Bake Napoleon Cake:
In a  saucepan, combine the sugar, whole eggs and egg yolks and thoroughly whisk together for about 1 minute. Add the corn starch and whisk until smooth, and add in the condensed and skimmed milk while whisking. Place over medium heat and continue whisking frequently until thickened and it just starts to boil, about 8 minutes. Remove from heat and whisk in 1 Tbsp vanilla extract then add pieces of butter and whisk until fully incorporated. Let stand at room temperature for one hour to cool down a bit. While custard cools, prepare the biscuits and make the crumb coat, 6-8 biscuit in a ziploc bag, seal and crush with a rolling pin.
Remove the base of a springform pan and place the tightened ring over the center of a cake platter. Spread 5 tablespoons of custard into the center, holding the ring steady. Arrange as many biscuits as you can fit in a single layer into the bottom of the pan. Add broken pieces to fill in any gaps. Cover with 5-6 Tablespoons of custard and spread evenly with a spatula. Repeat with remaining biscuits and custard until you have 5 layers of cookies. Spread remaining frosting over the top, sealing any gaps. Cover with plastic wrap and refrigerate overnight.
The next day take the cake out of the refrigerator, run a thin spatula or knife around the edge to loosen it from the pan. Sprinkle crushed biscuits over the top and sides, gently patting to get a good crumb coating. Arrange berries over the top in a ring and serve.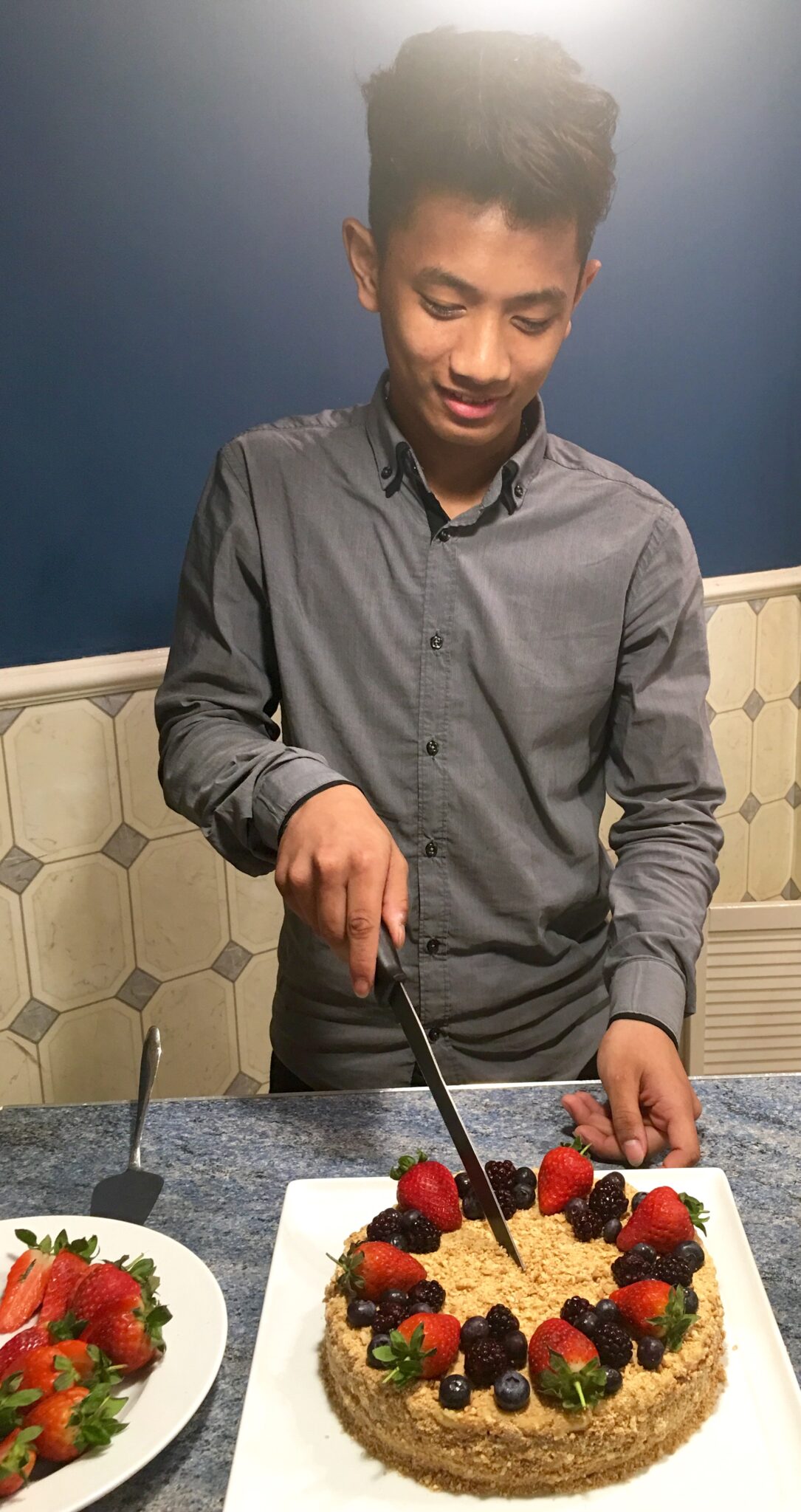 Denzil, one of our young people turned 15, and got to slice the cake and eat the biggest portion. There wasn't enough for everyone so next time I need to double or triple the recipe. 🙂