There are so many great places to take tea in London and it's hard to choose a favourite.  So last week I couldn't decide where to go until I remember that a diplomat friend of mine told me to try Lancaster Hotel's new playful twists on the traditional afternoon tea.  And that's where my friend Yasmin and I went to celebrate her birthday.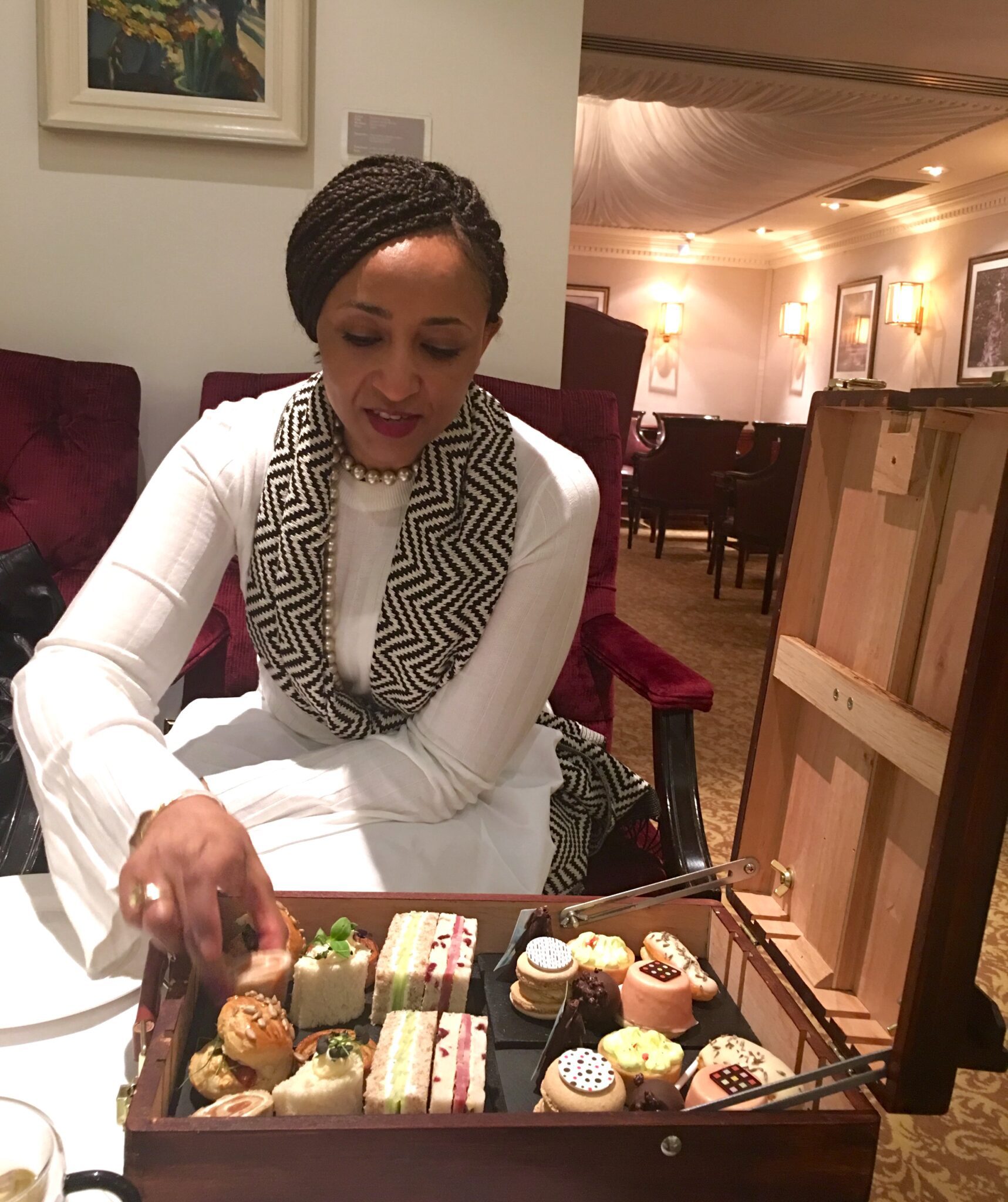 Aptly named 'ARTea' because of the artworks that adorn the lounge walls, it's a tea experience unlike any other.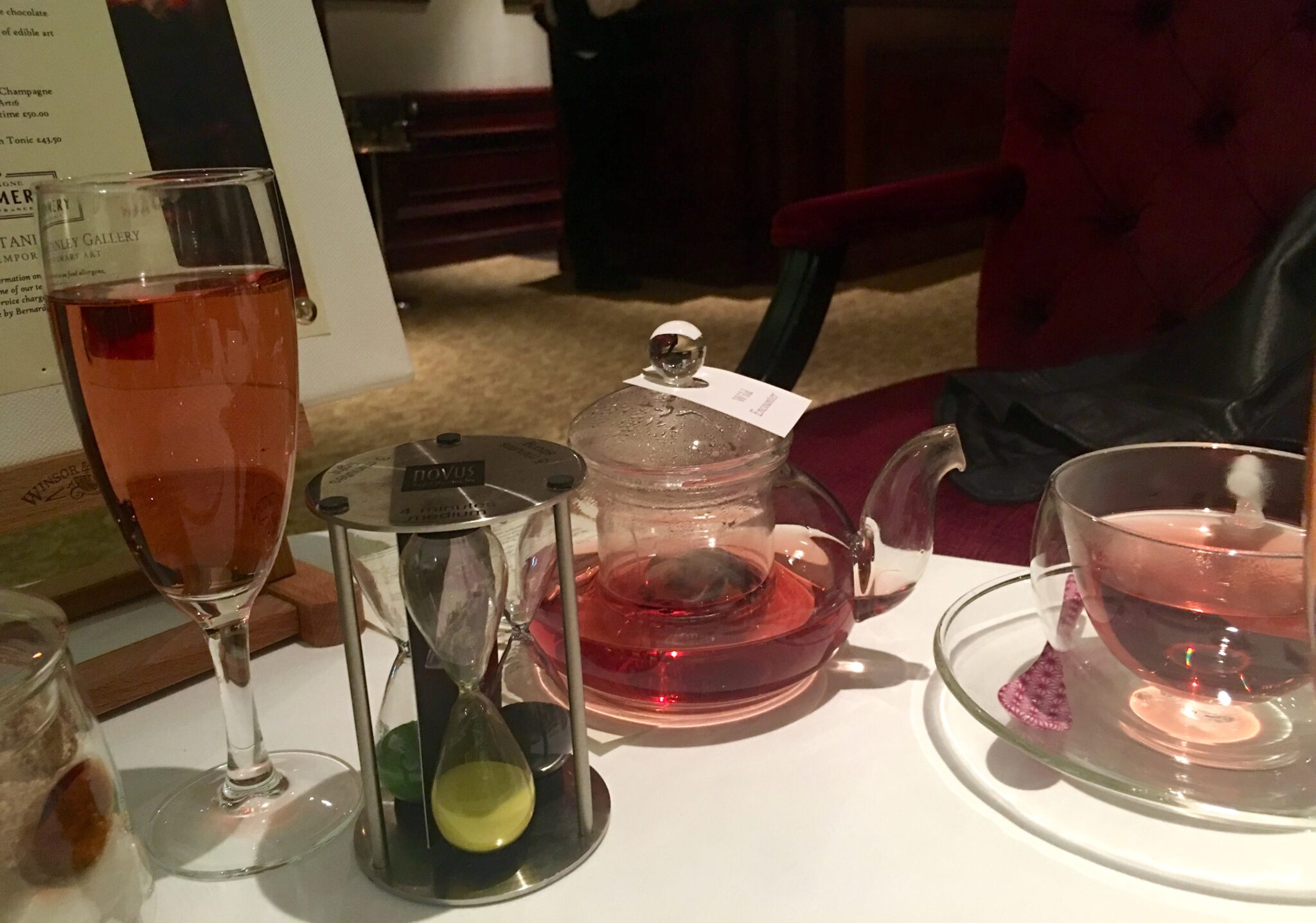 Tea was served in a beautiful glass teapots and cups — we tried White Pear & Ginger, Egyptian Mint and Pai Mu Tan (white tea) — all fantastic.  This is only the second tea room I've been to that provided a tea timer (St. Ermin's Hotel was the first).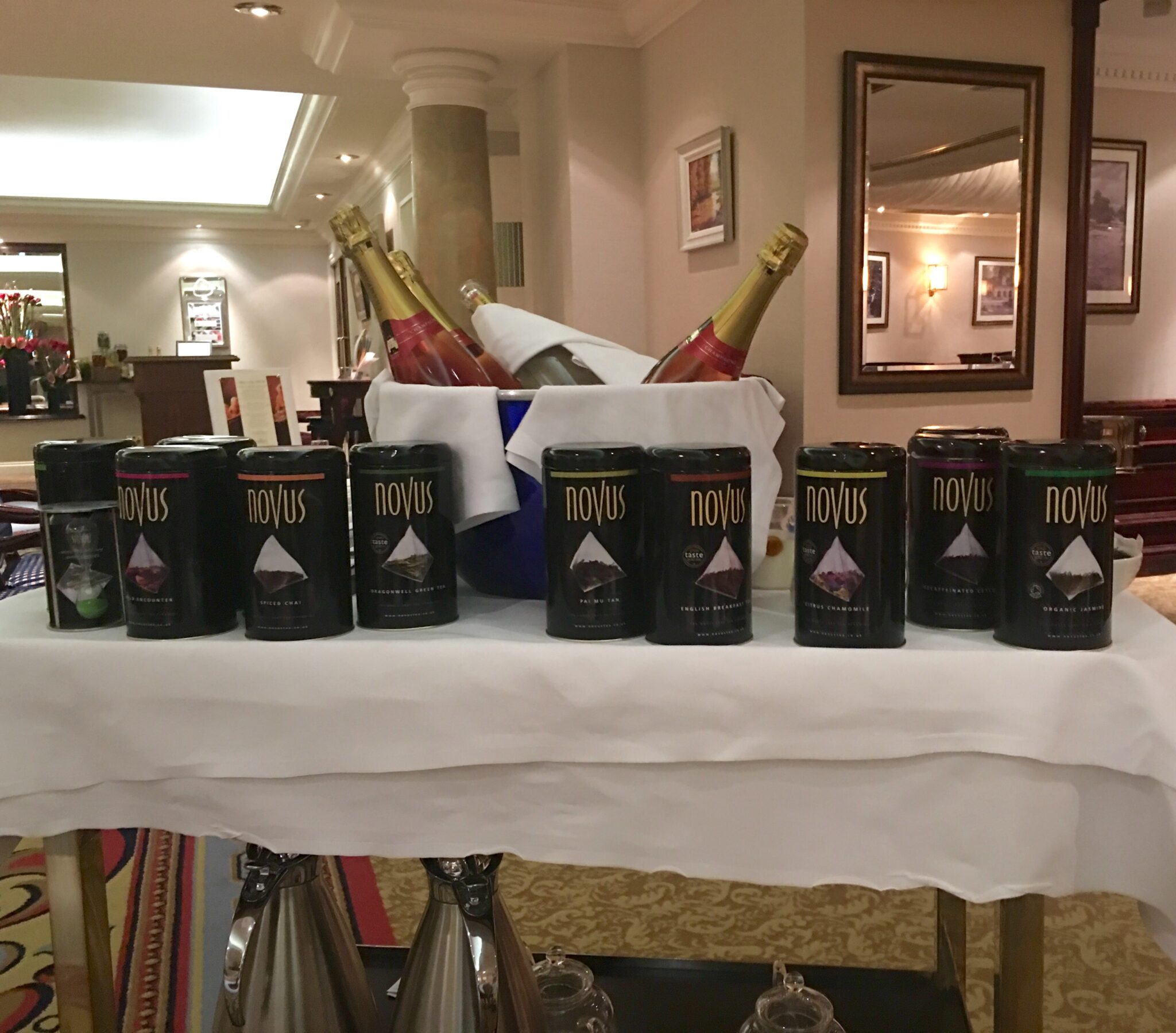 The delightfully attractive assortment of tiny morsels were served in an artist's box rather than the traditional three-tier cake stand. Looked amazing, and tasted even better.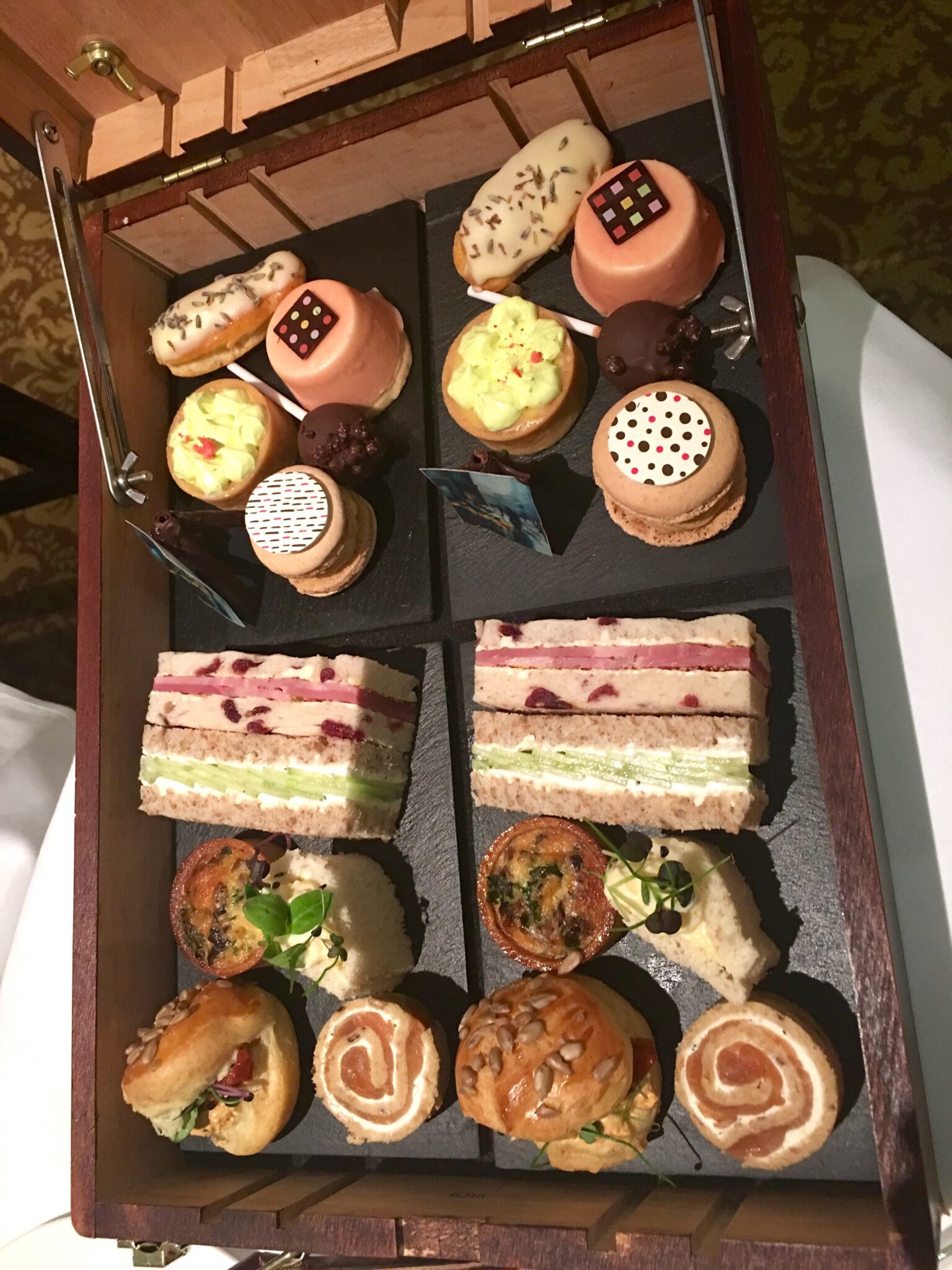 I particularly loved the variety of freshly made sandwiches and savoury bites — smoked salmon pinwheels (my favourite), honey-baked ham & mustard on cranberry bread, free-range egg and wild watercress on white bread, cucumber and rock salt on wholemeal bread, warm tartlet of wild mushrooms with tarragon, and sunflower seed choux bun with sun-blushed tomato and cream cheese.  The temptation to overeat was so strong but we didn't give in. 🙂 We didn't ask for seconds even though we could have done it.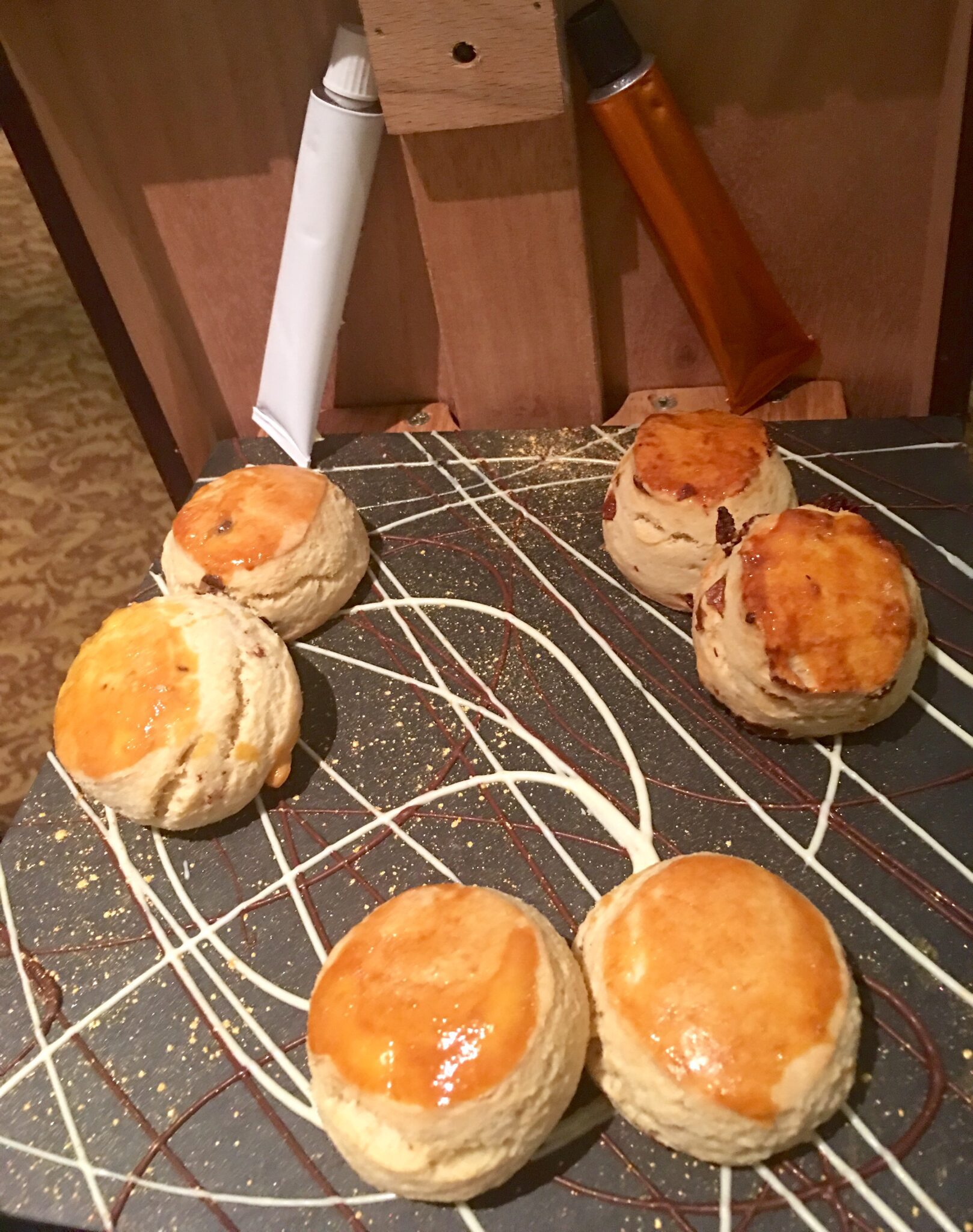 Scones, both plain and raisins, were served separately.  I loved the tiny tubes of cream and jam!  A nice touch to the 'art' theme.  The scones were perfect; tiny, soft inside and crunchy outside.

The sweets were pieces of edible art and delicious as well.  The tiny print (left pic above) matched with the painting on the wall (right pic), and it was pretty impressive.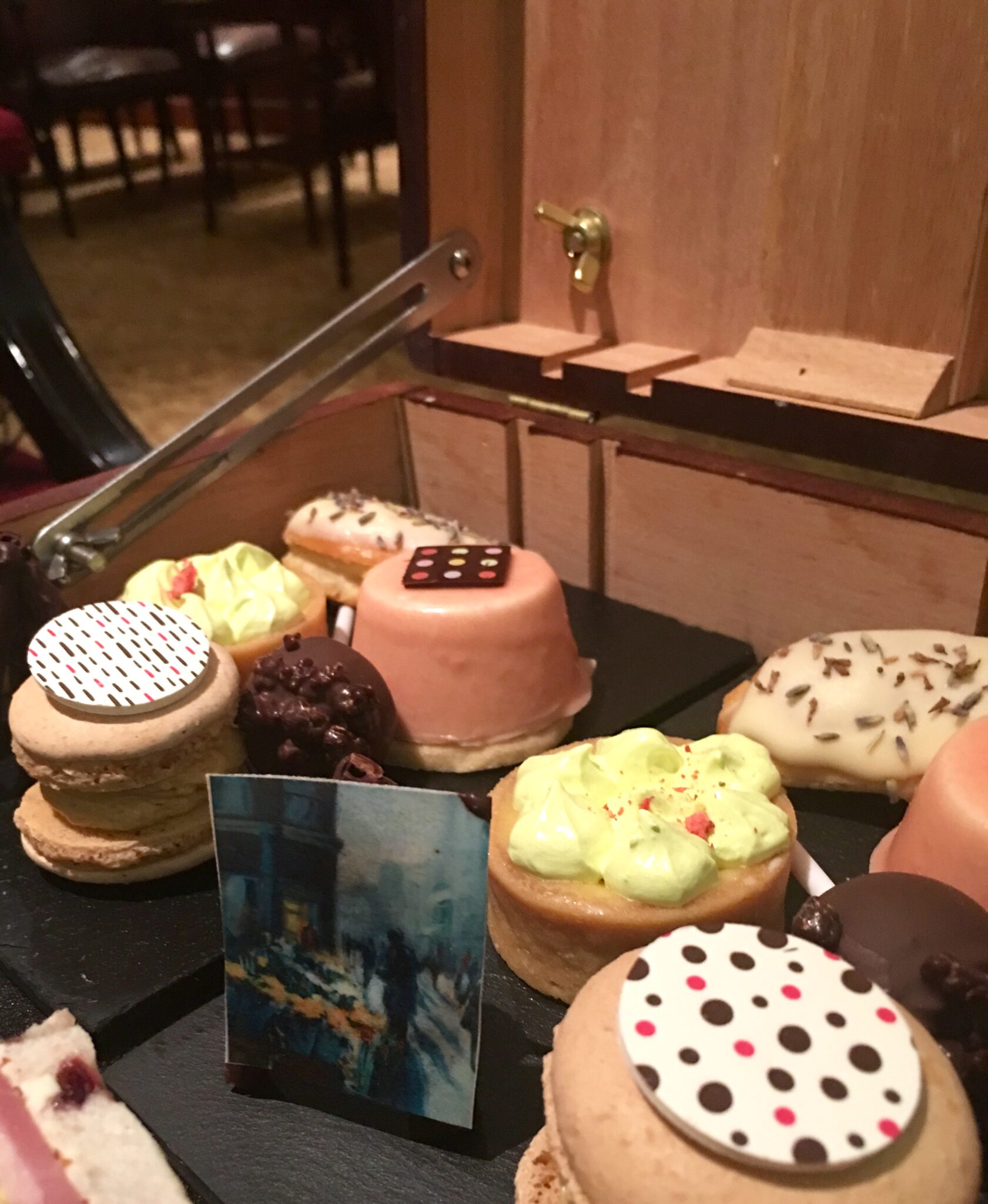 The delicate sweet and savoury treats, the scones, and everything was thoughtfully done and beautifully put together.  The tiny painting on a rice paper was a talking point but no, we didn't talk about that.  Nor did we talk about Picasso, Rembrandt, Van Gogh, Monet or any of the world's famous painters. 😉
Lancaster Hotel is one of central London's quieter tea venues, and I do think that it could have benefited from a little background music, may be a piano or something, just to liven up the room.  Nevertheless it was still a lovely lounge; a cosy and relaxed atmosphere in which to enjoy an afternoon tea.  The service was friendly and efficient, and it had many features to recommend it.
Yasmin and I had a wonderful time fellowshipping while eating the delectable treats and drinking loads of tea.  Another memorable tea-time indeed!
Oh, and I must mention that we decided to walk back home to burn a bit of calories. 🙂
Yasmin, thank you so much for being so kind, thoughtful, and sweet. What a blessing to have you as a friend and sister in Christ!