This should have been posted a couple of months back, around Christmas time, but life gets in the way and other plans happen. Over the years I try to make different gingerbread figures based on some iconic buildings in London like Big Ben, Shakespeare's Globe Theatre, etc.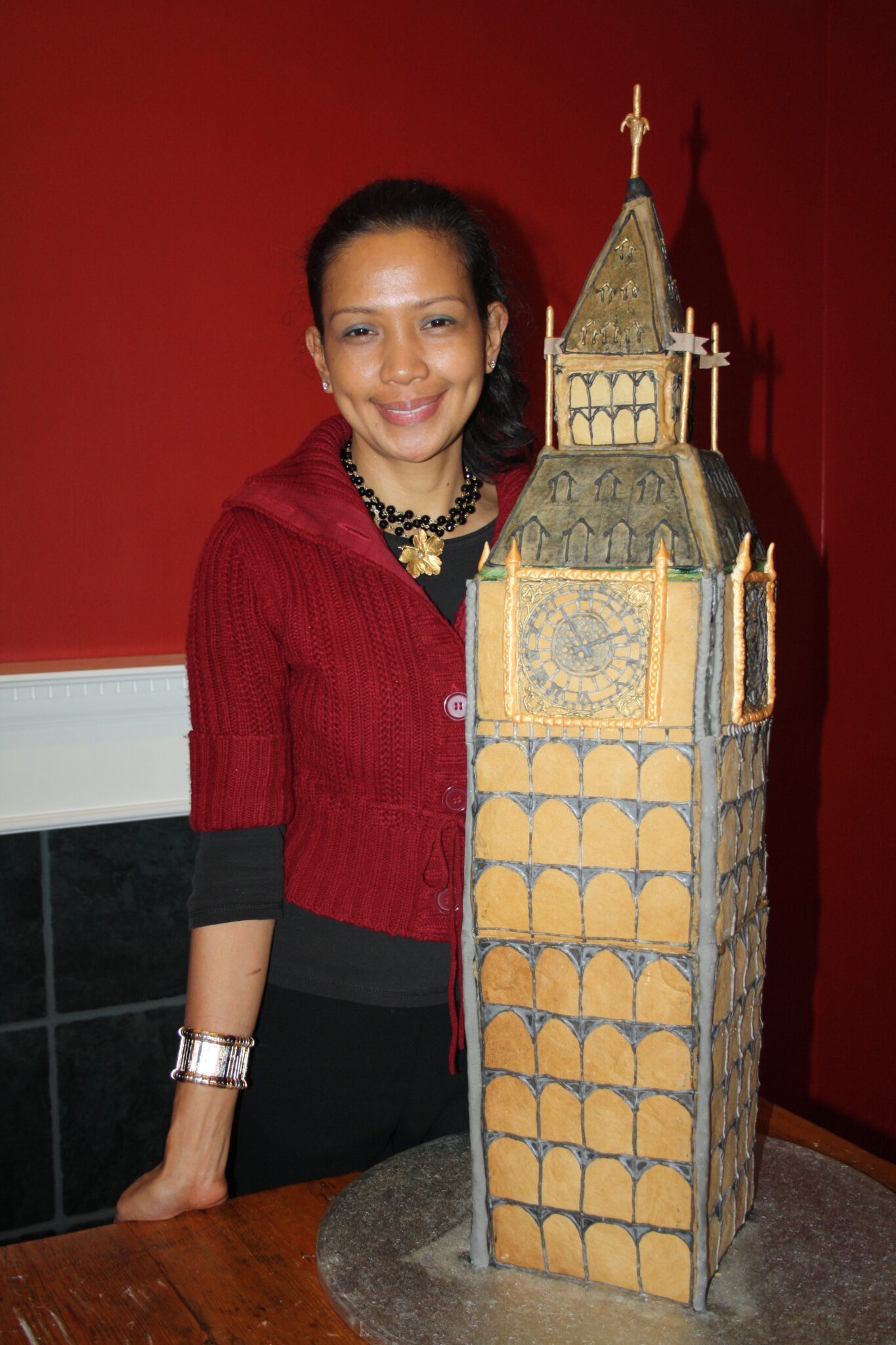 For Christmas last year, I made the Tower Bridge — it's one of the biggest gingerbread projects I've done.
First, I prepared the template, whipped up the gingerbread dough (recipe at the end of this post), rolled and cut them out, and baked them accordingly.
With edible pens and food colours, I draw the windows, lines, etc., on the gingerbread pieces and let them dry for an hour before I assembled them together. I prefer to use melted sugar glue rather than icing sugar.
It took me at least three days to finish everything: about 2-3 hours each day of baking, painting the pieces and assembly on the 1st and 2nd day, and the finishing touches on the 3rd day.
I use this piping gel recipe to make the 'water' and added brown and green food colour to achieve the authentic 'Thames River' appearance. 🙂  Just mix the ingredients over medium heat until boiling, cool and tint as desired.
⅓ cup granulated sugar
1 Tablespoon Corn Starch
¼ cup lemon juice
¼ cup water
I asked my niece Heather to draw the tiny flags, and she did a great job. I just put them in a tooth pick and stick it on the tower. Thanks Heather!
And yes, it only takes a minute for the kids at our church to destroy it. 🙂
After trying various gingerbread recipes over the years, I must say that I got the best gingerbread recipe in the world. 😉 Here it is . . .
Gingerbread
(make at least 3x this recipe for a gingerbread house)
1 cup butter
¾ cup sugar
1 tsp. baking powder
1 tsp. salt
1 cup molasses (or black treacle)
1 tsp. ground ginger
1 tsp. cinnamon
5 cups flour
4 tablespoons water (more if it's dry but add a teaspoon at a time)
Method:
Mix everything except the flour and water together until well blended.  Lower your mixer speed; add flour and water and mix until your dough is firm. Line cookie sheet with parchment/baking paper or if you have silicon sheets, use them instead. Roll directly onto baking paper with cookie pans. Cut your shapes using the templates or if it's for gingerbread cookies then use cookie cutters as desired. Bake at 350 for 10-15 minutes or depending on the size of the gingerbread house pieces.
Note:
Do not be tempted to add baking soda to the recipe or else the dough will be too soft, and your gingerbread house will collapse.