Situated in London's political hub amidst Whitehall Court, Royal Horseguards is one of London's landmark hotels. It is steeped with formidable history and remains one of the city's best kept secrets. The building is known for its use by the  Secret Service and the original Scotland Yard during the First World War. Rumour has it, and the British government has yet to confirm this, that a secret tunnel runs from under the hotel directly to Parliament and the Cabinet War Rooms  so politicians could escape to the safety of the command center during the Second World War. The building also housed many of the government department as well as foreign embassies, including the Russian, on the fifth floor, and the American, on the the sixth floor, during World War II. The hotel is also one of Winston Churchill's favourite drinking holes. The Churchill Bar, aptly named after the wartime Prime Minister, offers a sanctuary from the bunfight of Westminster politics and to this day is frequented by many British politicians wanting to unwind. Interestingly enough, when we were having tea last week, a local politician walked in and took a table right next to ours and he smiled at us and asked if we were enjoying our afternoon tea. He thought we were tourists and he so kindly had a little chat with us. (Thank goodness, he didn't ask what we think about the weather – that's what the Brits often talk about.) When we told him that we often see him on tv, he was quick to respond, "don't believe everything you hear and see." 😉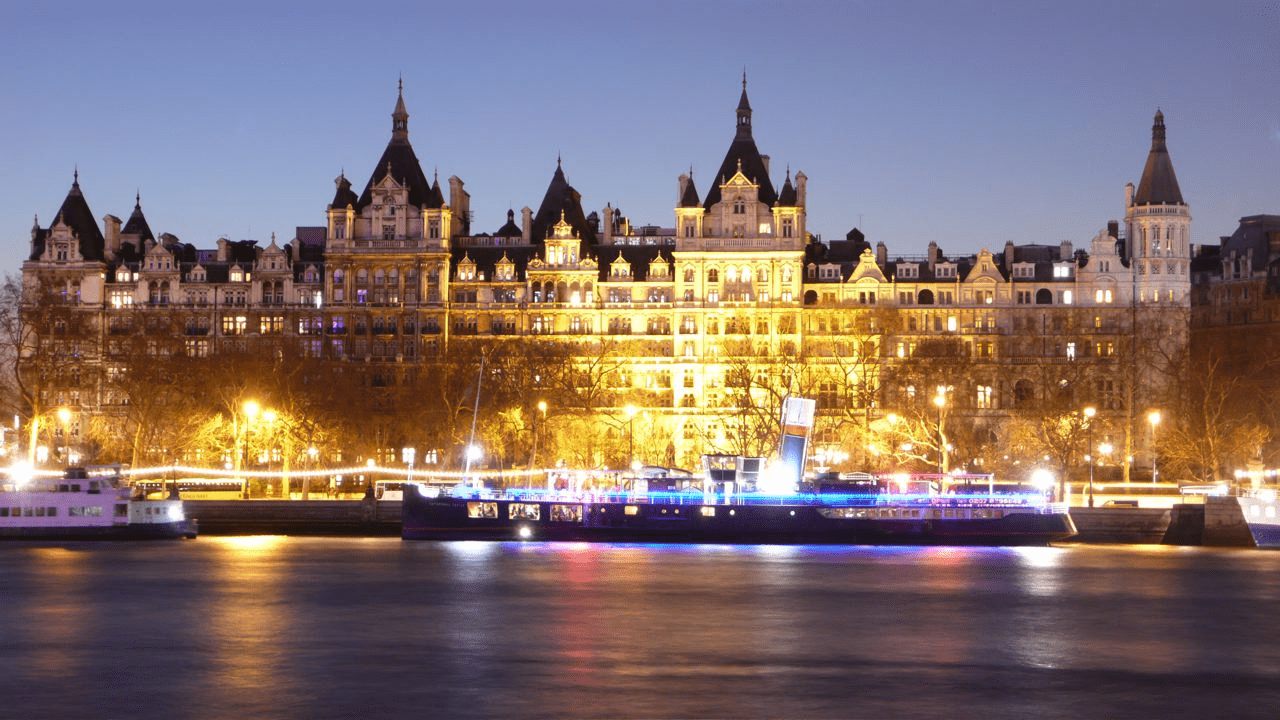 I always pass by this historic and stately hotel every time I give a Christian heritage tour to visiting family and friends. Right behind the Royal Horseguards is the Embankment Gardens where the monument of William Tyndale, English theologian burned at the stake for translating the bible into English during the Reformation, stands. For years I've always wanted to take tea at this hotel but just didn't get around to doing it. Finally, last week a friend of mine who celebrated her birthday at the end of the summer wanted to take me to an Afternoon Tea for a late birthday treat and she had me chose the venue. My google search led me to this site with a good offer for tea at the Royal Horseguards.
We arrived an hour earlier than scheduled (for this reason) but we were accommodated right away. We even got to pick the perfect spot in one corner of the room away from everyone else. We opted for the Signature Afternoon Tea, a traditional selection of elegant finger sandwiches and savoury bites, handmade cakes and pastries, warm, freshly baked fruit and plain scones, fruit preserves and Cornish clotted cream.
The dainty finger sandwiches were smoked salmon and cream cheese, cucumber, hummus and cream cheese, and chicken salad. The sandwiches were unlimited which is standard for most hotels in London. The savoury bites were a slider with shredded beef and egg salad in a choux pastry.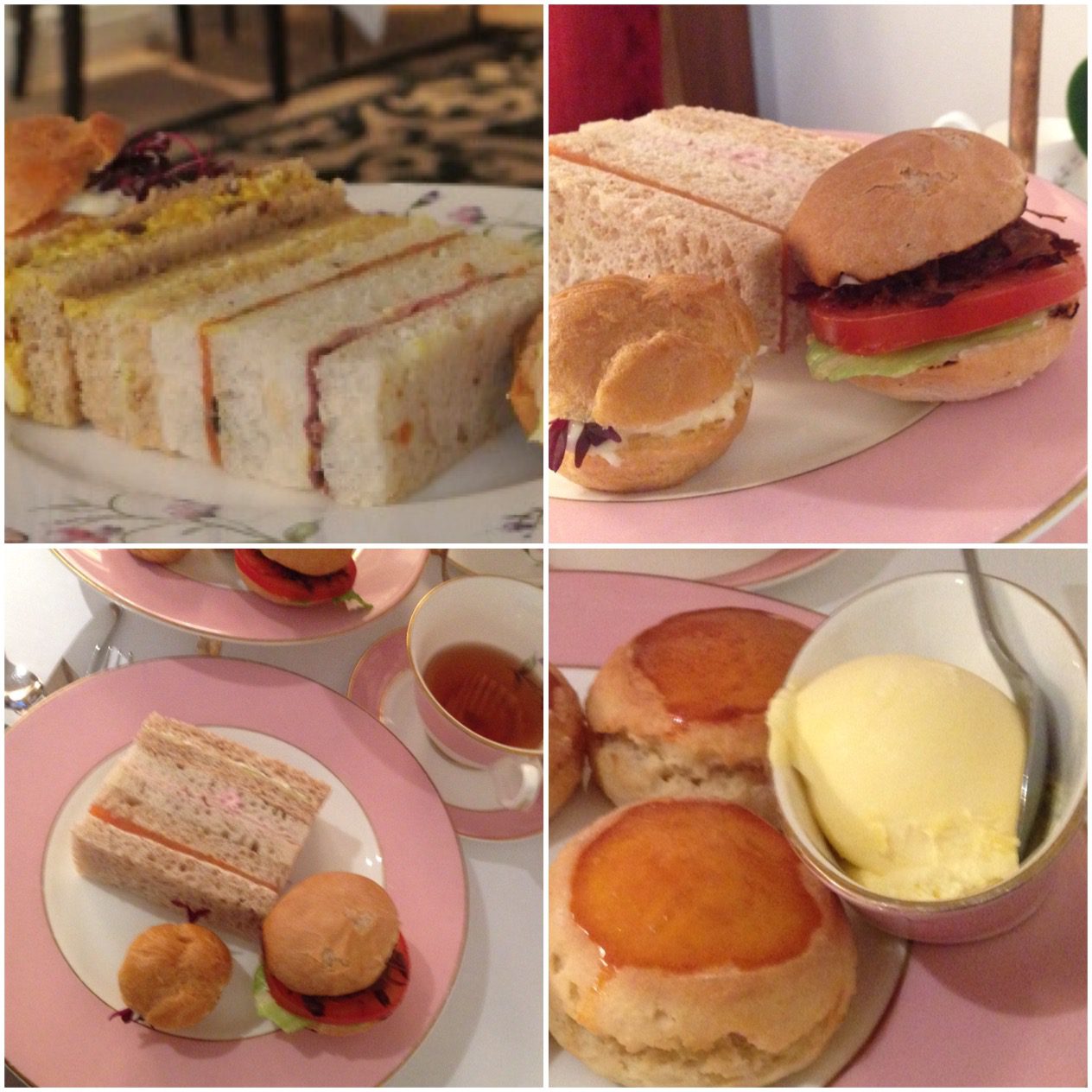 They have some of the prettiest crockery I've seen. It's in pink and white with exquisite floral design that made me feel so girly. 😉 They are 'Made in England' fine bone china specially produced by Heritage Collection for the Royal Horseguards.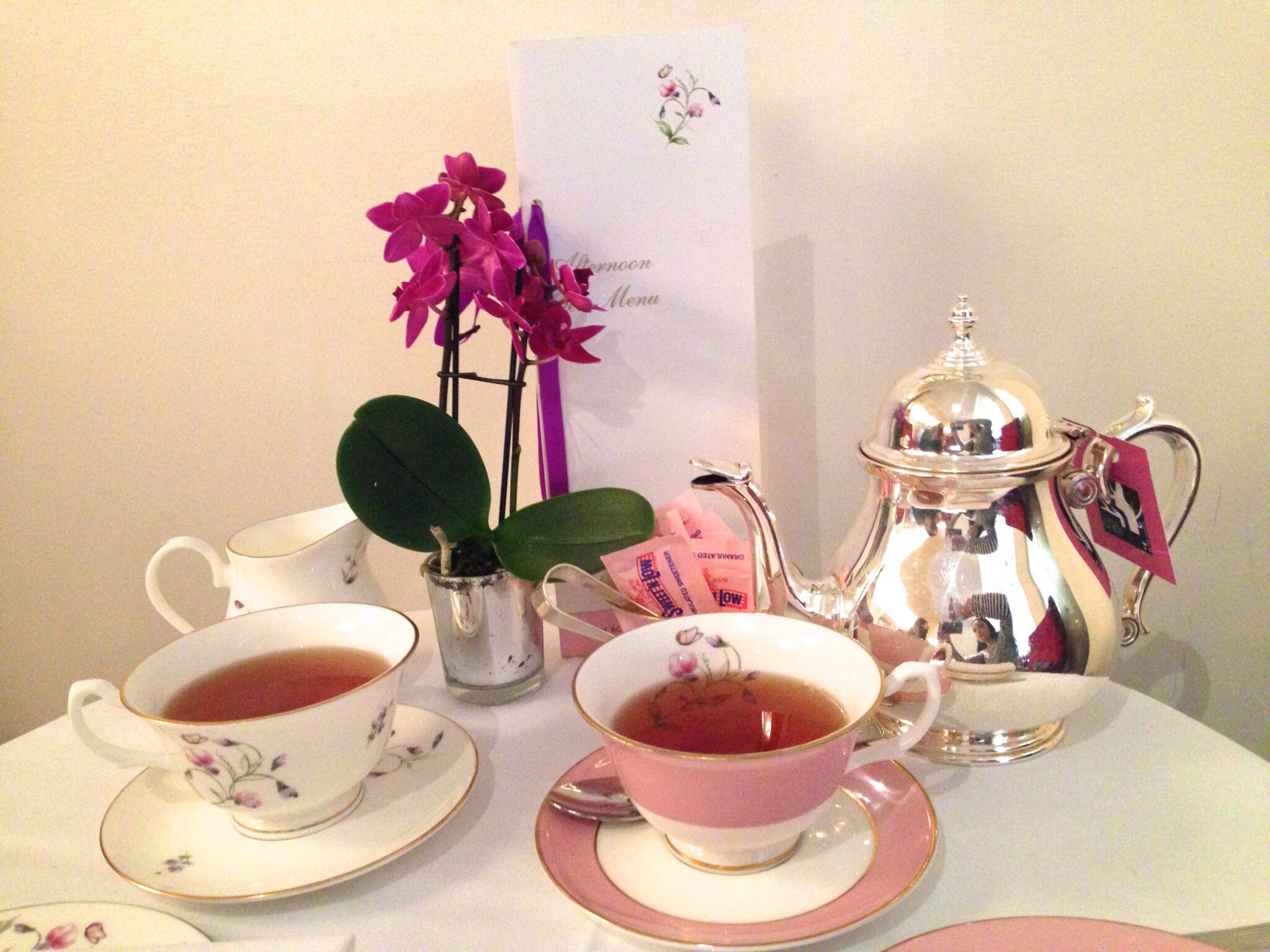 We had the 'Strawberry and Cream Tea', a unique blend tea leaf, which reminded me of the same one I got from here during a trip to Paris a few years back. We also tried the 'White Needle Tea, Pear and Ginger' leaf blend which I really like.
For me personally, the highlight of the Afternoon Tea is not the pastries and sweets but the scones. I love scones. I must say that the Royal Horseguards had excellent scones. They were brought in warm right after we finished our sandwiches. At the other hotels we've been to, they brought everything together at the same time – sandwiches, scones, sweets and pastries. At Royal Horseguards, they bring the scones whenever you're ready to eat them which is a wonderful idea as they are best served still warm from the oven.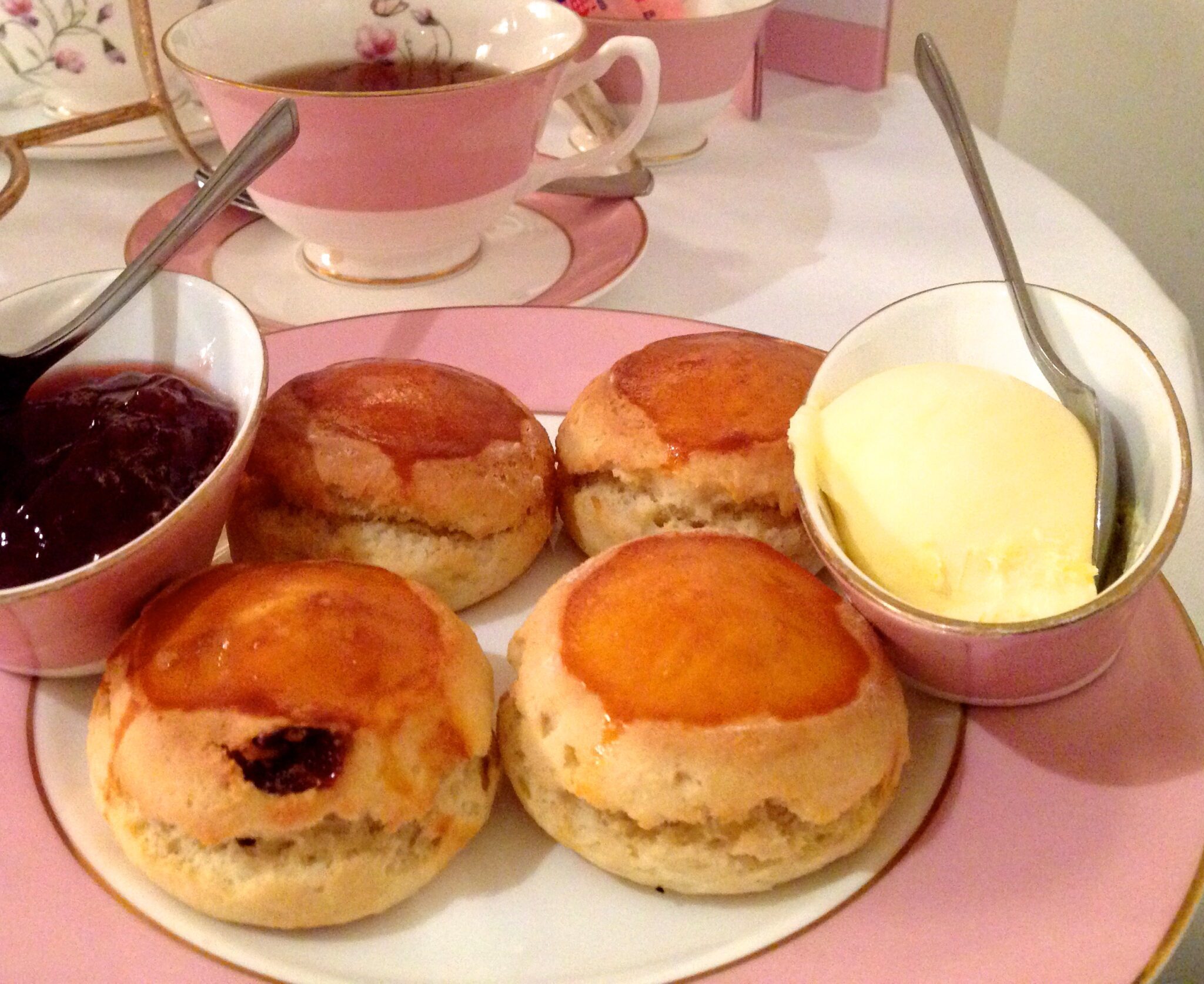 The sweets and pastries were not only beautiful to look at but equally scrumptious as well. They included passion fruit tarts with coconut meringue, lemon cupcakes with marshmallows topped with an edible flower, raspberry macarons, Darjeeling tea infused chocolate creme brûlée trifles, and yozu infused layer sheet cake. We didn't get to finish all of them. We decided to call it quits after a couple of hours of sipping a cuppa and a chit-chat.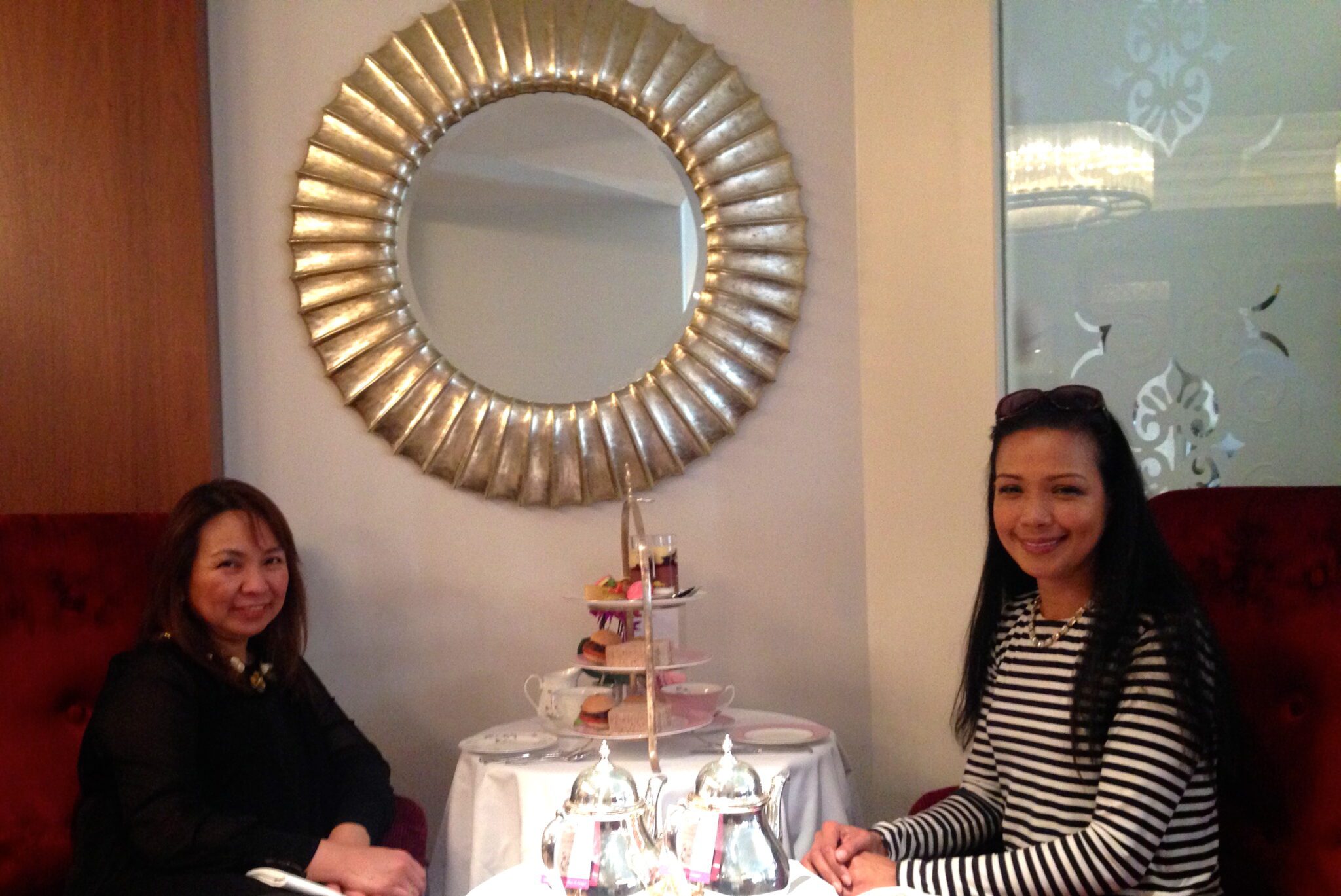 Before coming here, I thought the hotel was too formal and stuffy because of its reputation as a place where most British politicians are hobnobbing with the hoi polloi. I was wrong. Despite its grand setting, it has an informal and relaxed atmosphere. Also, it's worth mentioning that we got an outstanding service. Our server was very sweet and kind. When we asked her to remind us the name of the politician who was sitting next to our table, she told us that though this man often comes to the hotel she doesn't know who he is (she's from Romania), but she went over to ask her boss and came back to tell us the man's name.
The Royal Horseguards has been awarded the 'Award of Excellence' in the Tea Guild's Top London Afternoon Tea Awards for two years in a row, 2012 and 2013. This is the 'Oscars' of the afternoon tea world, and the fact that they even give this type of award simply tells you how the British people love their tea and take the ritual of tea drinking with enormous enthusiasm. 😉
Will I come back again for tea? Sure. If they have a '2 for 1' offer again. 😉 May be next summer I'd come back for tea again when I can enjoy sipping tea at the terrace overlooking the Embankment Gardens and River Thames.
Note:
Embankment Gardens is the site of an old port in the 15-16th century where they used to unload Tyndale Bibles inside sacks of flour. The bibles were smuggled into the country from Geneva where the English theologian William Tyndale was living in exile because it was illegal for him to translate the bible. He was captured (as ordered by King Henry VIII) and was burned at the stake for his faith.