The Palm Court at The Langham is one of the most elegant places to take afternoon tea in London. Langham claims to be the first London hotel to serve Afternoon Tea to its guests since its inception in 1865. It is the first grand hotel in Europe and although it was damaged by The Blitz during the Second World War, it was completely restored to its original Victorian grandeur. The lobby is so impressive that as you enter the magnificently restored Palm Court with its cast iron gates and silk wall panelling, you are instantly transported into a tea-time wonderland.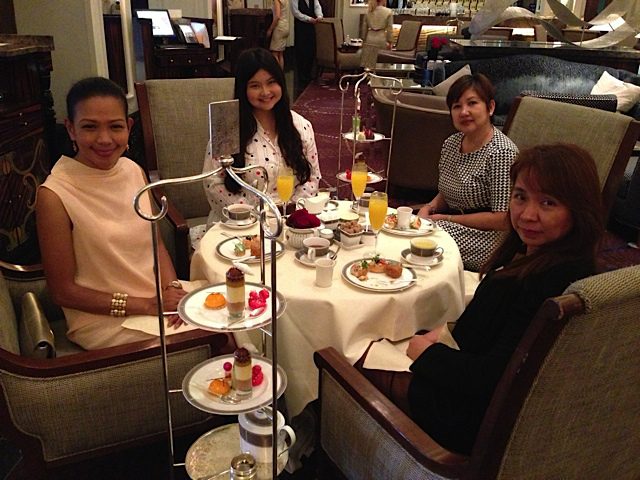 As we were seated by a member of the staff, we were instantly impressed by the unique furnishings and exquisite Wedgwood tea sets and sparkling cutleries. Everything was perfect and careful attention was obviously given to tiny details like the tea stands and even the embroidery and tassels on the tablecloths.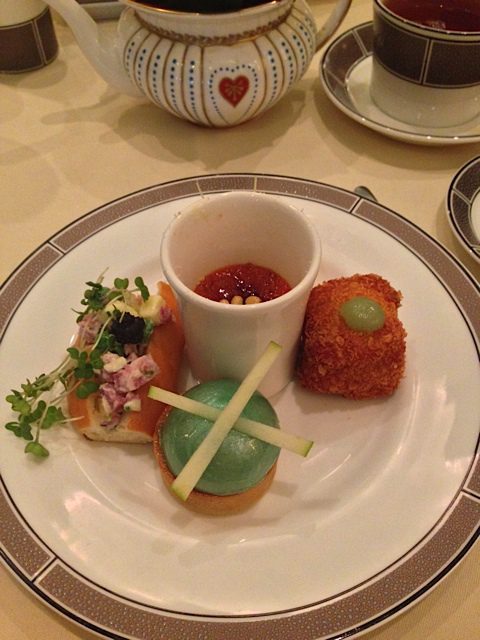 The Afternoon Tea menu offers an extensive selection of tea and tisanes (over 30 of them from around the world) with helpful description of each brew that would make a non-tea aficionado's head spin. But our server was well-informed about all the seemingly exotic tea blends on offer and encouraged us to try anything we wanted. We learned afterwards that the hotel has a tea sommelier who travels around the world to secure the best supply of tea and he trains the staff how to properly explain their tea blends to the guests. We tried a handful of them in succession including some of the in-house "Langham Blends" but my favourite was the Moroccan Mint, a mild green tea with a hint of dried mint, as well as the Vanilla Rooibos, a light, sweet, citrus tea with a hint of vanilla flavour.
An amuse bouche called 'red pepper brûlée with pine nuts' was brought in right after we ordered tea. So delicious with great silky consistency and amazing flavour. Next came the five different sandwiches namely London cured smoked salmon with whipped brie and rocket, corn-fed chicken with tarragon mustard and plum tomato, Burford brown-free range egg and mustard cress, smoked mountain ham with Comte cheese and white truffle oil and cucumber with cream cheese and chives. All freshly made and delicious but I am partial to smoked salmon sandwiches.
A selection of warm scones (butter, fruit and chocolate) came with clotted cream and strawberry preserves followed by scrumptious pastries and mini-cakes. The scones are perfectly moist, light and airy. I am a purist and love my scones plain but the fruit scone at The Langham was surprisingly good, even the raisins were champagne soaked. But the chocolate scone was, in my humble opinion, simply the best. I've been to so many Tea Rooms in London and none of them served chocolate scones. The pastries and mini-cakes were an absolute work of art to look at and equally delicious. Everything was so good, we had seconds. But after sipping loads of cuppa while chattering away for hours we still didn't get to finish all the sandwiches and mini-cakes so our server boxed them up in pink Langham take-away bag.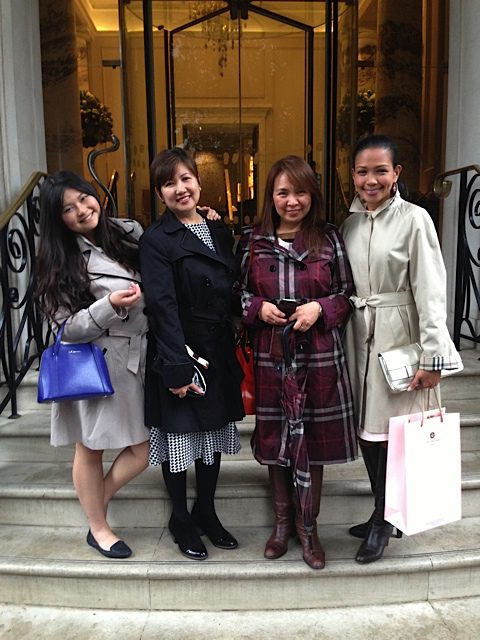 The staff were all very welcoming and afforded us an exceptional service. It was my friend Adiben's special birthday treat to celebrate her 'golden year' and it turned out into a fabulous experience for a significant occasion.