Tate Britain has a new exhibition with the largest collection of Van Gogh paintings in the country in nearly a decade. It's in two part; the first looks at Van Gogh Experience in London, the art and literature and its role in his journey as an artist. The second explores the impact of his art and life in British artists up to the 1950s.
Van Gogh came to England at the age of 20 and lived in the country for nearly three years between 1873 and 1876. He worked in Covent Garden as an art dealer and at the time the city was so much larger than the size of any place that he had lived or known.
London presented him with a striking new reality; the city's advanced technology, the transport, and it was already powered by electricity and the industrial revolution was at its zenith. England has a young Queen and a young royal family, the city was quite impressive, it was like the superpower and the center of the world. And for Van Gogh it was indeed the place to be. He admired Charles Dickens and was greatly influenced by the social reform agenda he promoted in all his writings. He wrote his family and friends, "My whole life is aimed at making the things from everyday life that Dickens described." He truly immersed himself in English culture, enjoyed walking its streets, rowing at River Thames, strolling around Kensington Gardens, and enjoyed other English pastimes. He wrote his sister in 1875 and said, "How I love London!"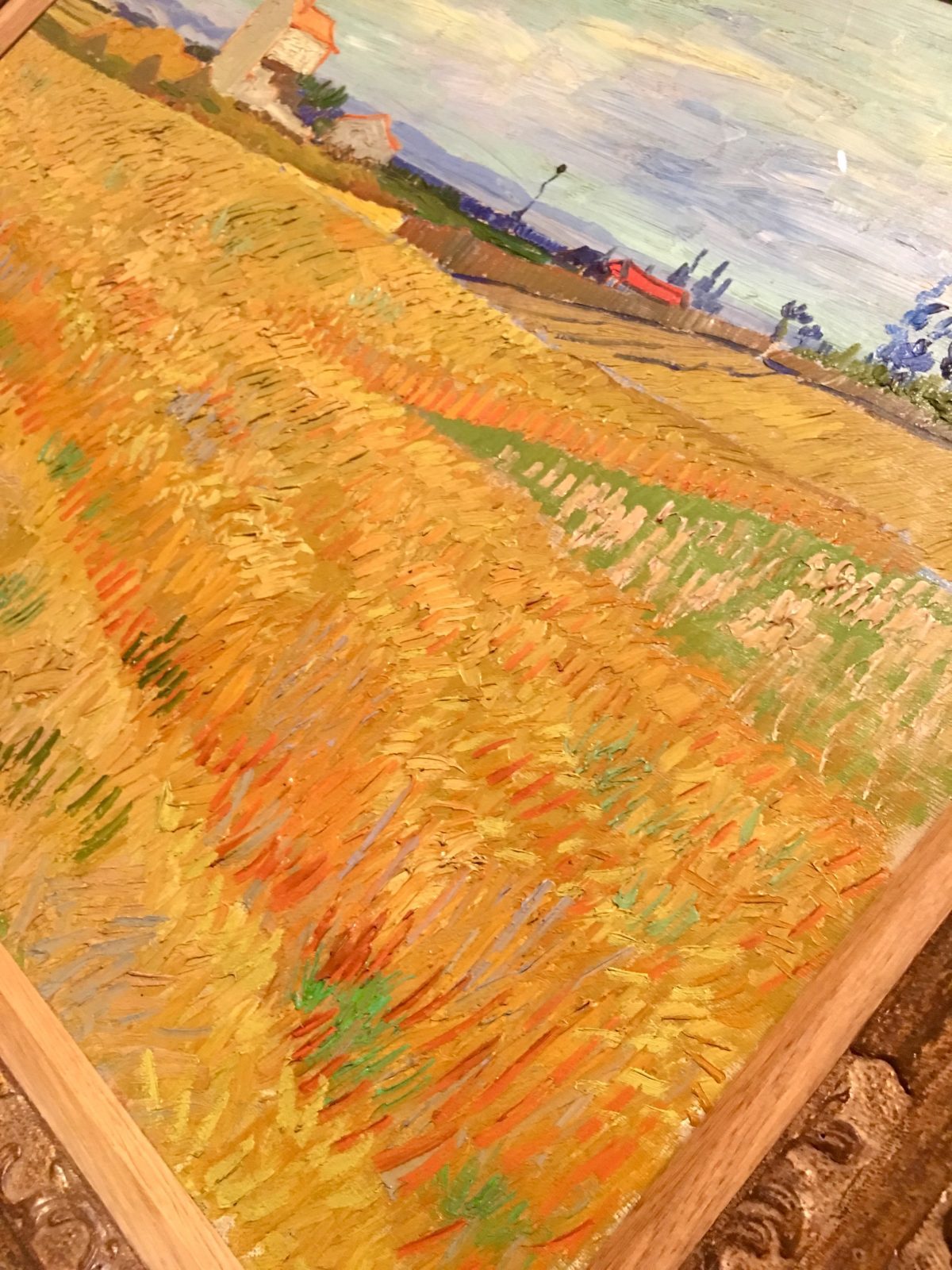 The traditions of Victorian England also inspired Van Gogh. He enjoyed the modern ideas of Christmas — Christmas trees, gifts, and dinners — all of these came into trend during the Victorian period. (Few years ago I blogged about this tradition that Prince Albert and Queen Victoria started and now part of the British culture – here's the link .) There was a novelty to it all that truly appealed to Van Gogh.
It is a pretty fascinating exhibit of more than fifty of his most famous works that were brought together from around the world including Shoes, Starry Night over the Rhône, L'Arlésienne, and two works he made while a patient at the Saint-Paul Asylum, At Eternity's Gate and Prisoners Exercising.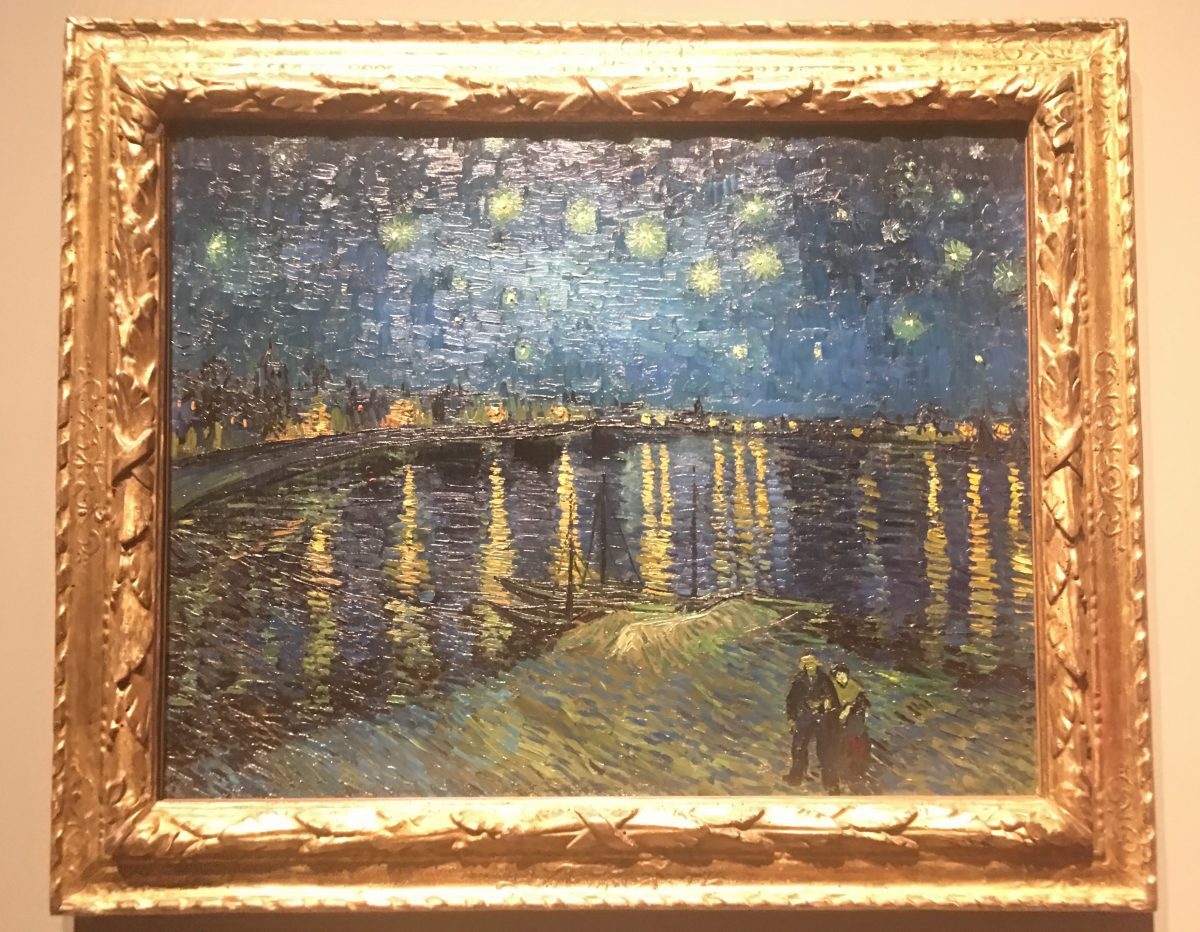 The very rarely lent Sunflowers from London's National Gallery is also included in the exhibition. Of all his works I've seen, this photo below is my favourite and it's part of the collection presented at Tate Britain
Van Gogh gained inspiration from the surroundings, the art and culture of Victorian England, and his time in Britain was a life-changing experience for him that it greatly influenced the art he would begin making four years later.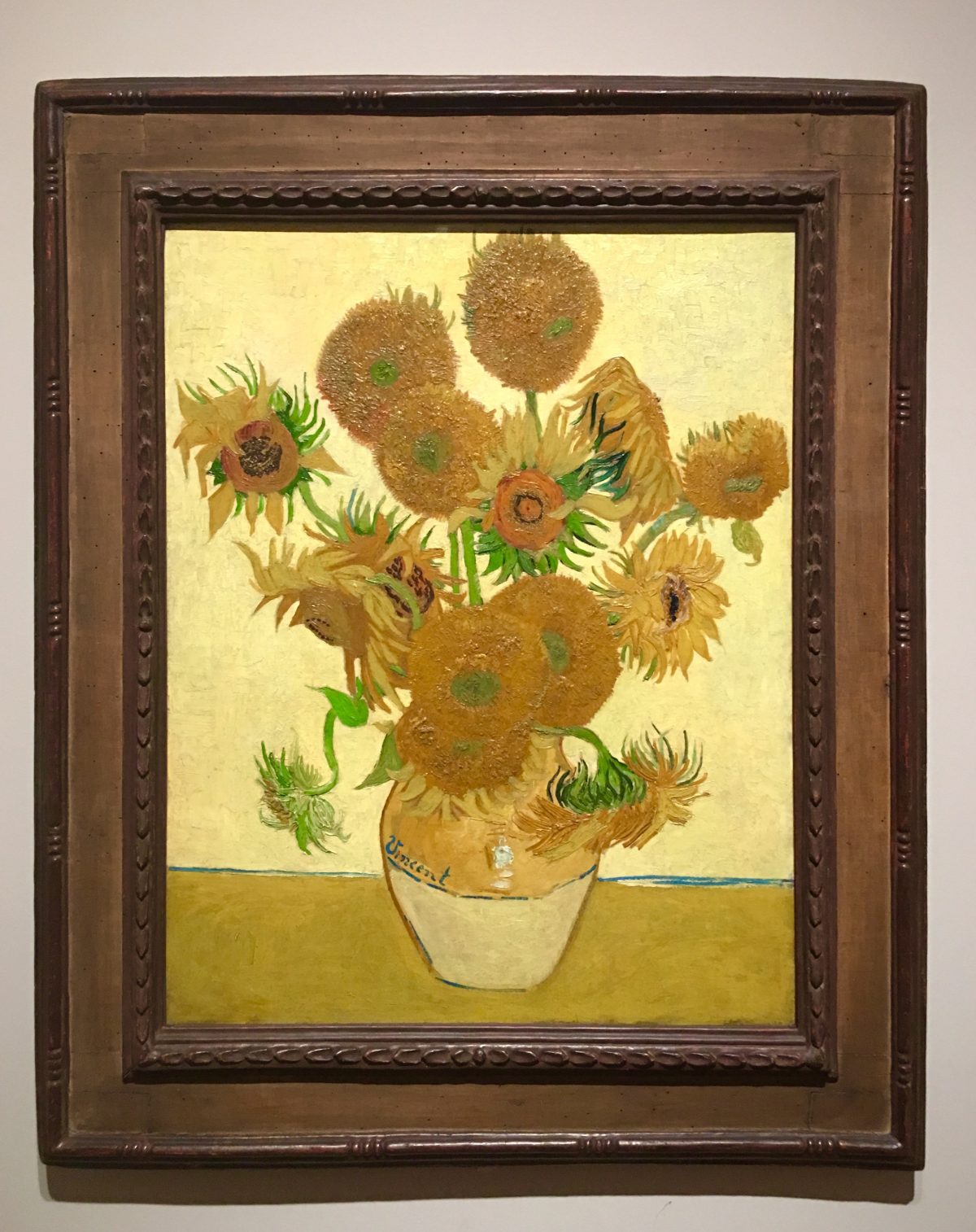 Many British artists have been influenced by Van Gogh and he remains popular even to this very day. A number of British artists like Harold Gilman ensured Van Gogh left a legacy in Britain. His use of bold colours and expressive brushwork were copied; the most popular was the sunflower painting and has been interpreted in various forms by British artists of every generation and fills the museums and galleries throughout the country.
As brilliant as Van Gogh was as an artist, sadly, he lived a very unhappy life and was in turmoil for years. He clearly tried to find something to satisfy himself — art, religion, whatever it was that he thought would fill the void in his heart. Sadly, he didn't find an answer. He took it upon himself to end his life at age 37.
A question was asked in one of Tate Britain's podcast as advertised when I visited the gallery, "Is there a link between mental health and creativity? Do artists have to suffer for their art'?" I haven't listened to it because I know it's full of atheistic and Cultural Marxist agenda. People would say something like, "Oh, he had mental health issues that's why he killed himself!" That's true he clearly had mental health issues but that's just a manifestation of a much deeper problem. Many historians claim Van Gogh was a Christian based on his two year tenure as a preacher from age 25-27. Personally, I don't believe he was a Christian. Even if he preached and became a pastor in a small Congregationalist church in Borinageto, a poor mining village in southwestern Belgium, it didn't mean he was a Christian in a true sense of the word. In fact, he left the church after a couple of years and never got himself involved in any church activity until his death. His artworks in the later years of his life depicts a grim reality of how he felt inside — a dark manifestation of his spiritual condition. Indeed a true child of God even if he's afflicted with mental or other type of illness, still look to God, and put his trust and hope in God. As for Van Gogh, he was obviously hopeless — an evidence, a true manifestation of someone who is not a true Christian, or a child of God.
Regardless of his tragic life, he's unarguably one of the most talented artists the world ever had. I'd highly recommend this exhibition to any art enthusiasts. These art collection may never be brought together in England again. Exhibition ends on the 11th of August; don't forget to book your tickets online to avoid the long queue, or simply get a friend who's a member of Tate Britain to get you in. 🙂