Don't be fooled by the title. 😉 The sun hardly comes out nor do we get much sunshine in London this time of the year. And even when it's sunny and bright, it's still freezing cold outside. Interestingly enough, around late autumn and early winter I always come across an article in the newspapers about people in the UK being encouraged to take vitamin D supplements; and that they claim that lack of sunshine and the gloomy weather is one of the main causes of depression for a lot of people in the country. Every few years they conduct a survey, and it seems like majority of the respondents always tick off the 'weather' among the list of items given as the number one cause of their depression. How in the world can people blame the weather as the main cause of their misery is beyond me!? Seriously, a lot of people just don't realise that it really isn't the weather that's causing them distress and desolation. It is much deeper than that but it's a subject I'd rather not get into. 🙂 Which reminds me that regardless of the weather, London is a vibrant city, full of eccentric people, and there are loads of reasons to be cheerful and happy about! 🙂
When I am out doing some errands I always see something that catch my attention. Like last week when I was walking down Kensington Church Street on my way to High Street, I spotted a pink car being driven by a lady wearing a pink cardigan and pink fur neckpiece (fake or real it looked like a fur to me). She was all dolled up, and it sure made me smile, and I thought of Barbie dolls, and all of that kiddie stuff. And yes, I get to bump into all types of eccentric people every single time I am out on the streets of London.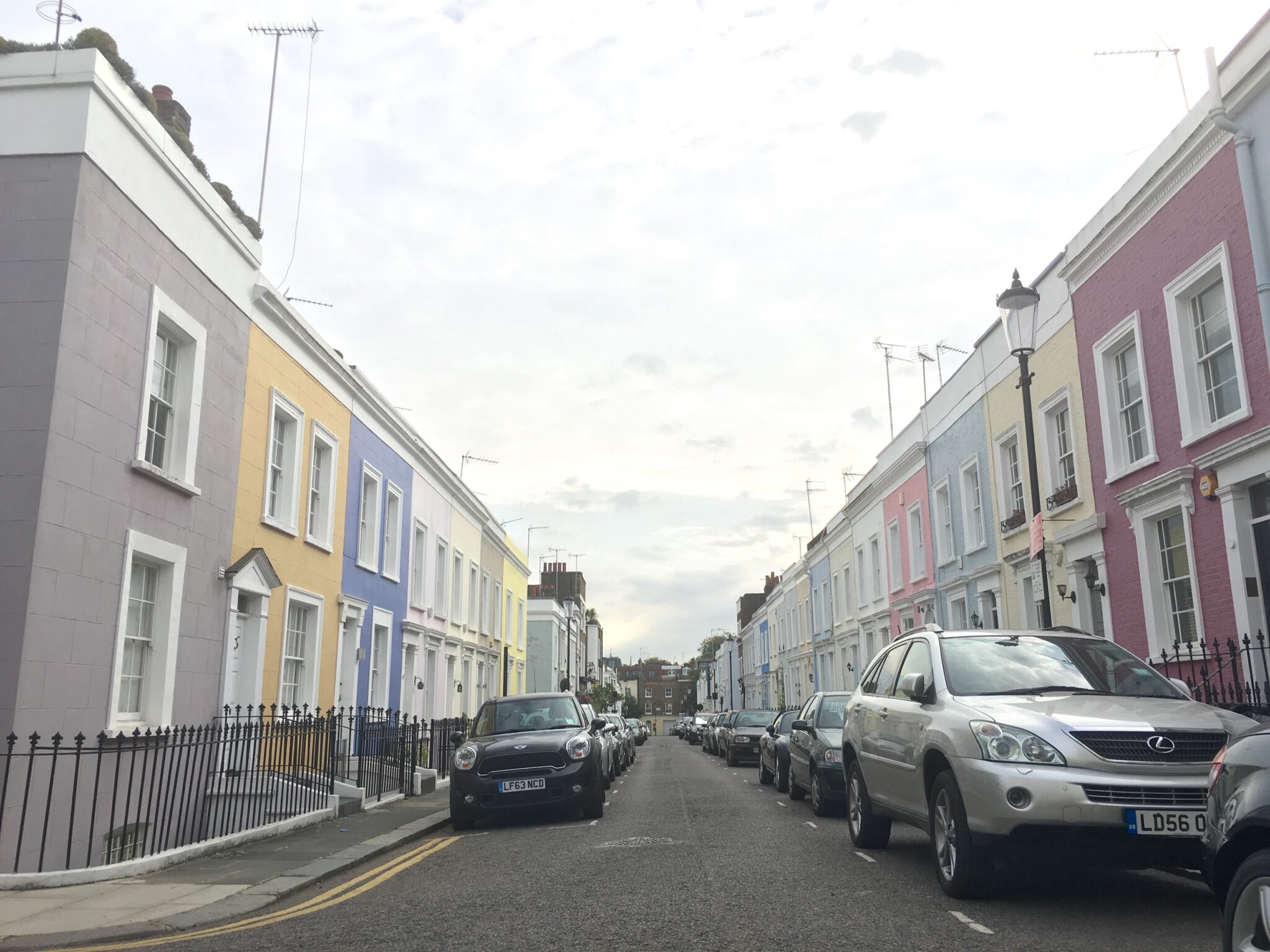 Then there's all of these colourful terraced houses in Notting Hill that certainly do put a little 'sunshine' in the city's sunless and dismal weather. Sure the weather does affect people's temperament, and when it's grey and gloomy outside, it can get you down a little bit. But there's plenty of reasons to be joyful and thankful for. Personally, I always look at the glass half full, and all of these little things around do remind me everyday that it's not that bad living in London after all.

Even if I wish I could stay indoors all day long, and don't feel like going out in the cold, I simply have to get out, and get on with life! 🙂 Though I complain a lot about the cold weather, and wearing coats and boots, I just don't allow that to get me depressed. I do like to go out, and enjoy taking long walks in the park even in the dead of winter.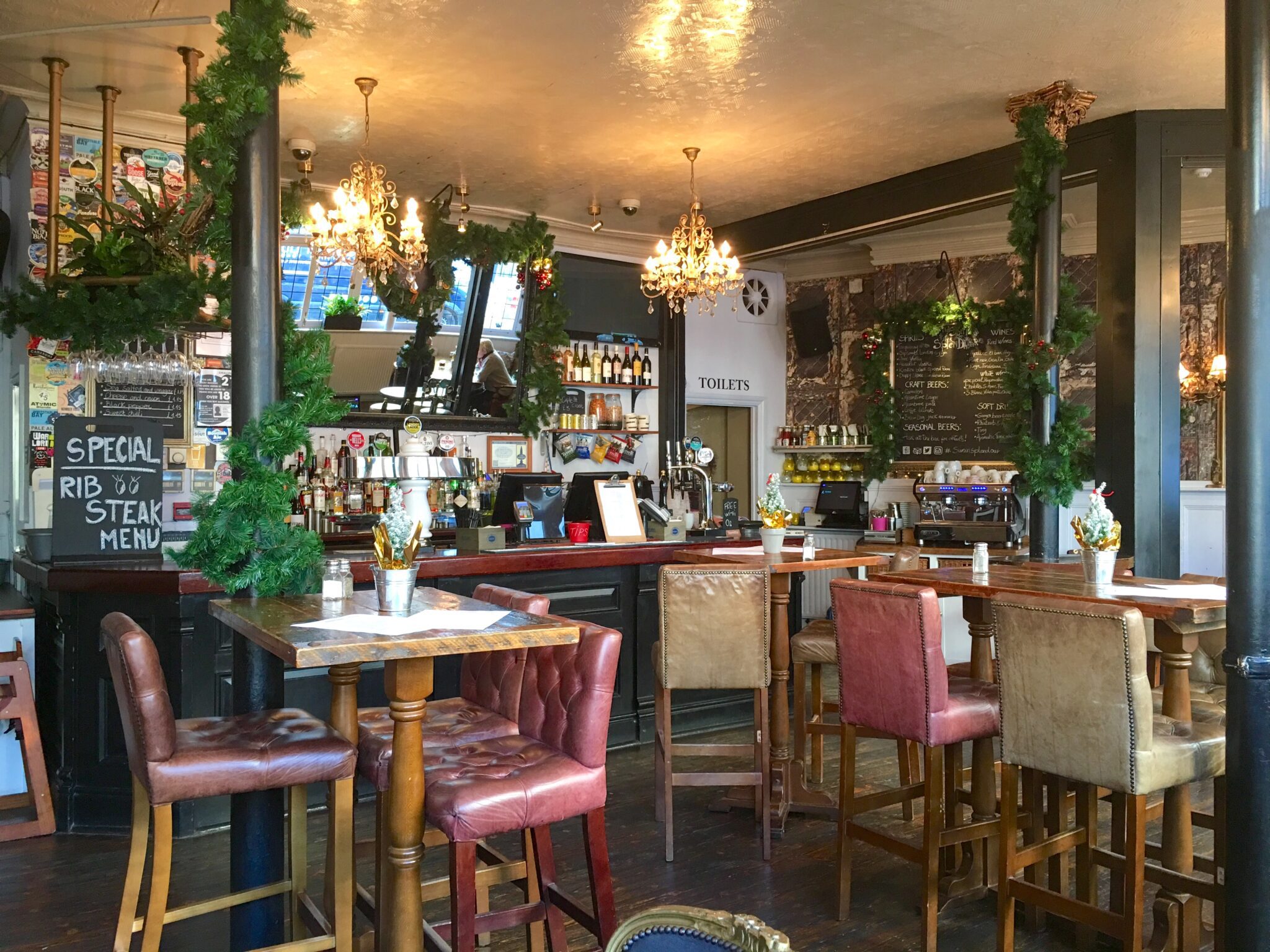 So last week a friend of mine and I talked about meeting up for lunch and she suggested we go to a place in Notting Hill where she hasn't been. I searched the net for a new place to try and several of them came up, and with a list of old and new restaurants, I sent them to Kristine for her to choose from. She picked this pub/restaurant called
The Sun in Splendour.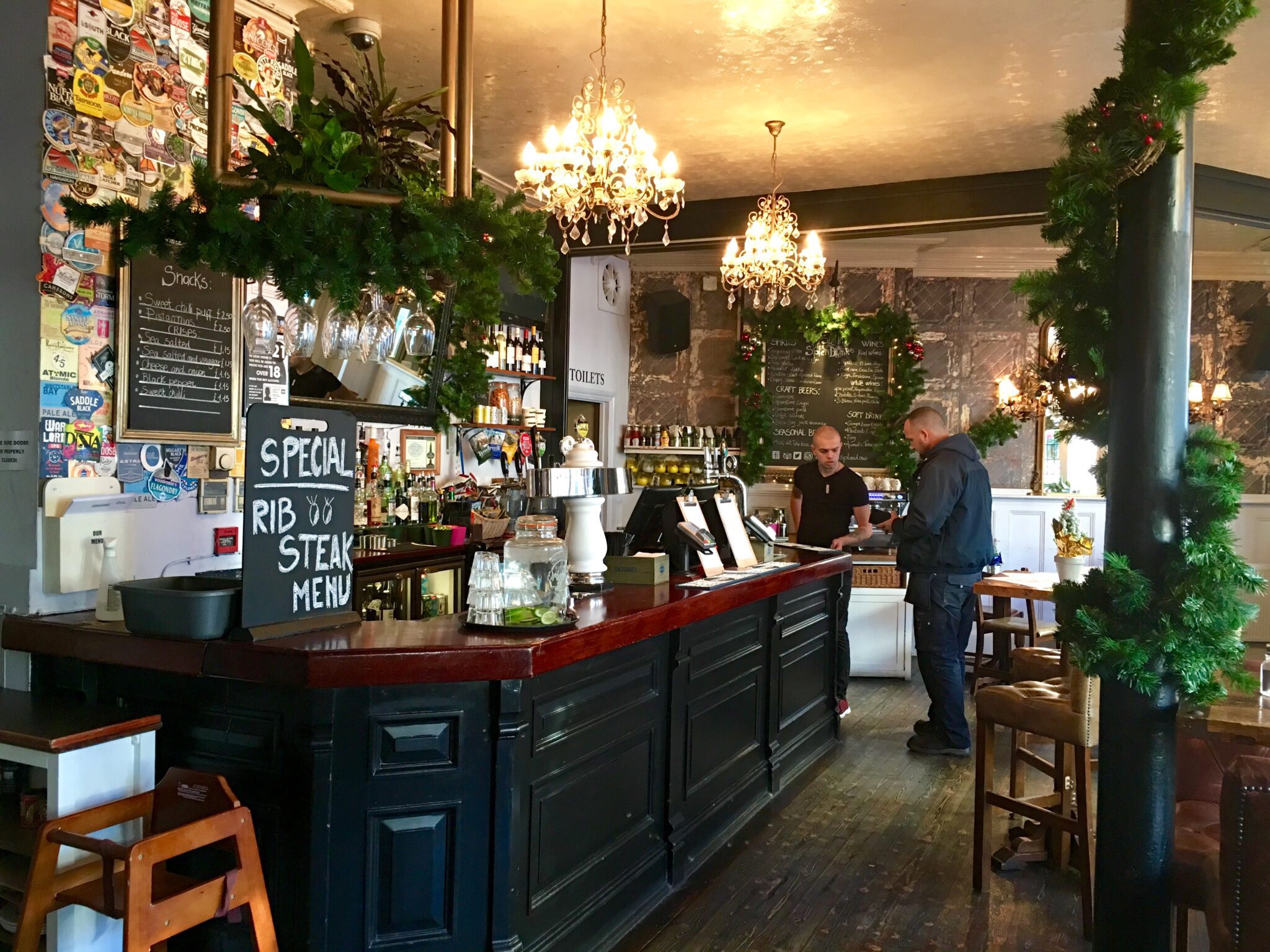 Our church building is just a stone throw away from this place so I leisurely walked from the church, arrived a little early, and as soon as I got there I was surprised to see how charming this place was. It's so full of character. They even have a small patio, and anyone who wants to sit outside and eat in the cold can certainly do so. Can't tell you how many times I've passed by and/or have seen this pub on my way to Portobello Market, and I just always dismiss the idea of checking it out with thoughts like,
"oh, it's just one of those ubiquitous English pub/restaurant with boring unsavoury food." 🙂 
Don't get me wrong. I am not a food snob. But I am not a big fan of British food either. 😉
Of course, Kristine and I opted for the indoor dining. 🙂 We are tropical girls, and prefer to be dining under the sun but with sub-zero temperatures, we'd rather sit indoors with a full blast heater to keep us warm. 🙂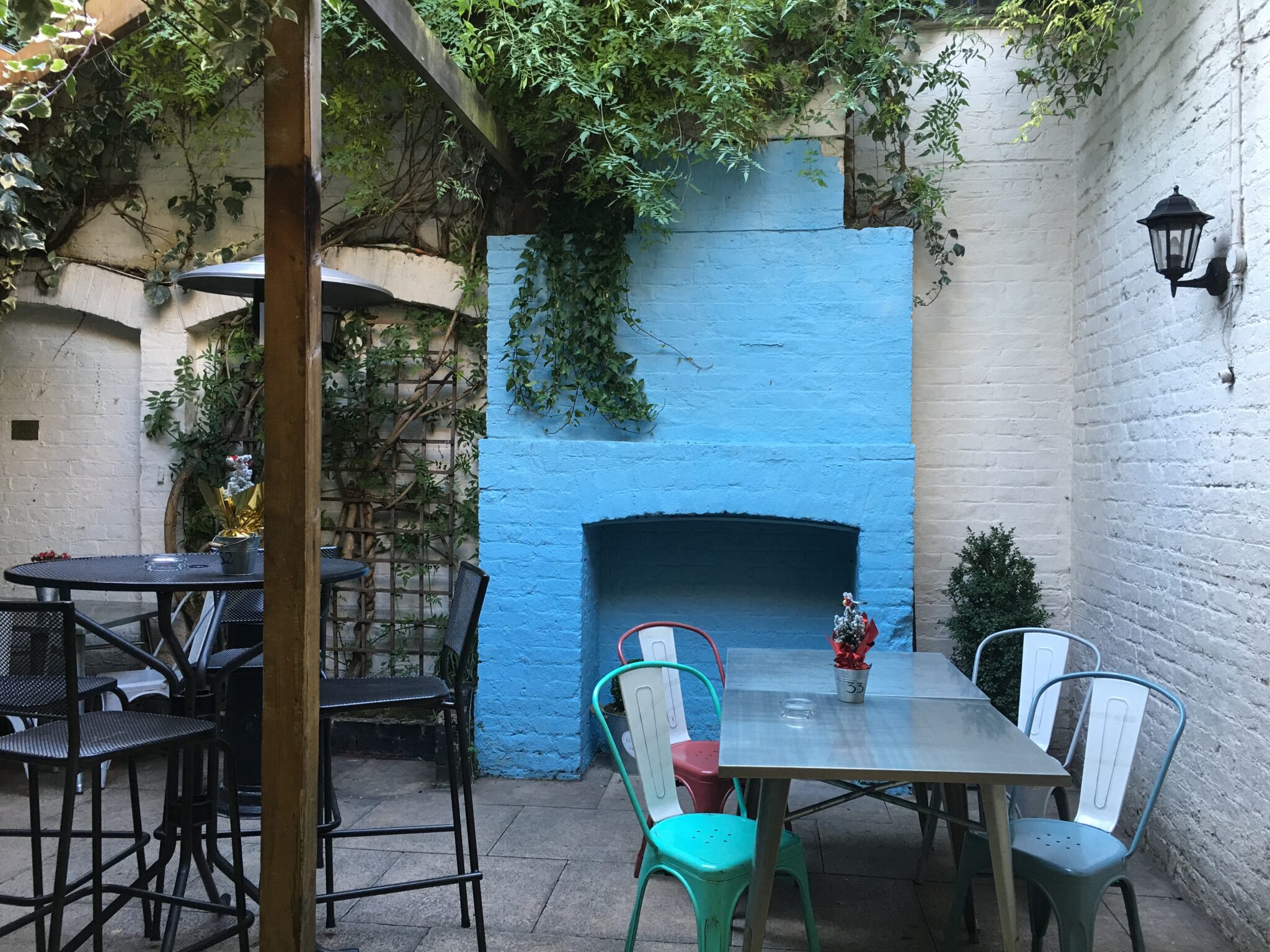 The Sun in Splendour 
does serve classic British food — fish and chips, mash and banger, steak and chips, shepherd's pie, fish pie, etc., but we didn't try any of that. Kristine ordered chorizo and mozarella beef burger and I had the classic British beef burger — very American, I know! We Filipinos opt for American rather than British food when presented with the choice — we are loyal to the Americans, you see. 😉 If the Philippines had been under the British empire, we probably would prefer to eat mash and bangers. 🙂 Anyhow, Tine and I both had sweet potato fries instead of the classic French, or rather American Fries, that came with the burger. And we weren't disappointed with our food — the hamburger was pretty good. And I particularly liked the thin, crispy sweet potato fries. Price-wise, it's standard for London, particularly Notting Hill restaurants. To top it all off, Tine and I had a splendid time catching up with some very interesting stories to share with each other.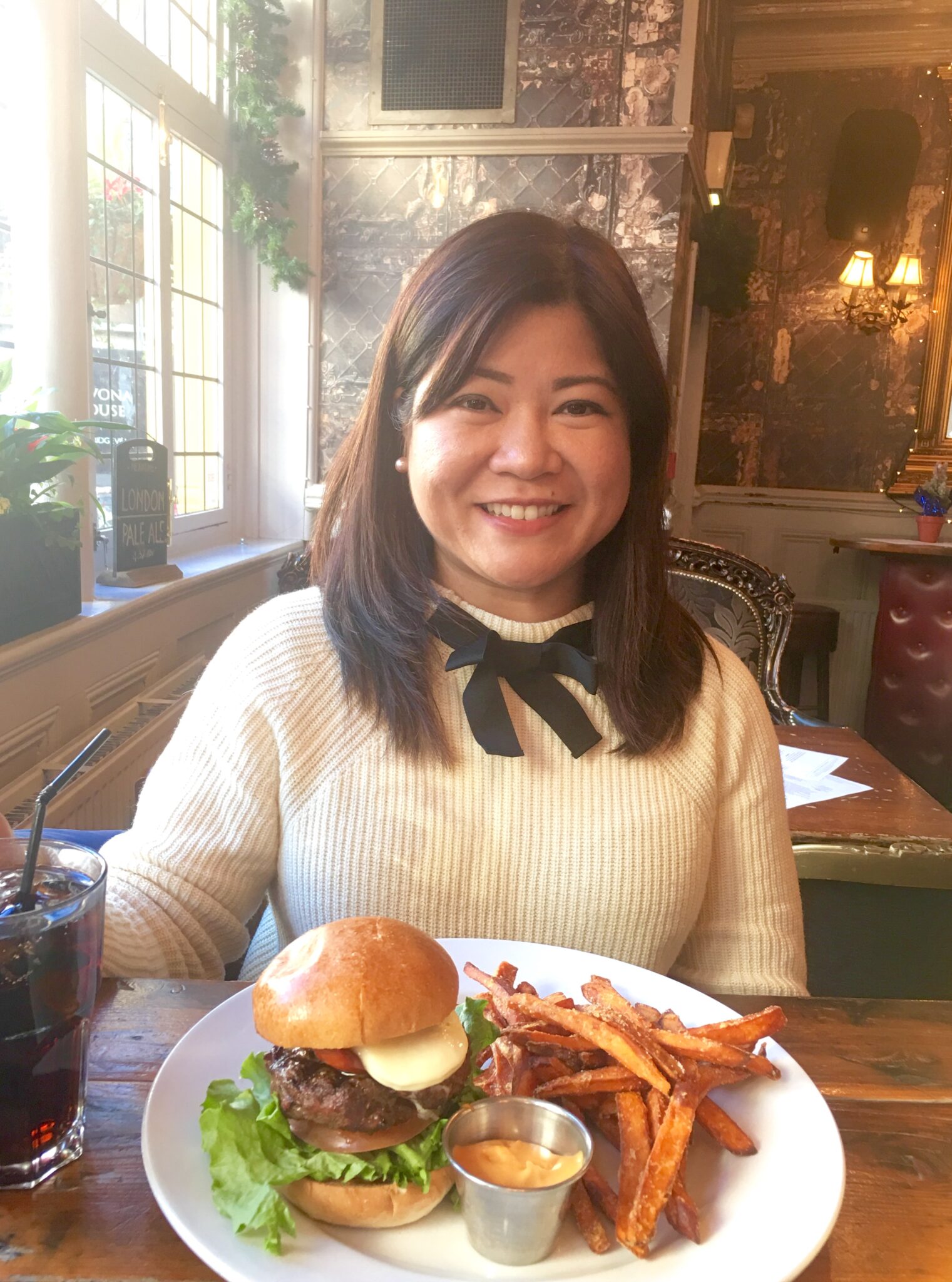 I never would have thought that 
The Sun in Splendour
 is such a quirky and interesting place to eat! Sometimes I forget that Notting Hill is full of hidden gems. Now this pub went into my list of significant places to eat, at least for Tine and I — where Tine shared some very personal things about herself, stuff that recently happened in her life. 😉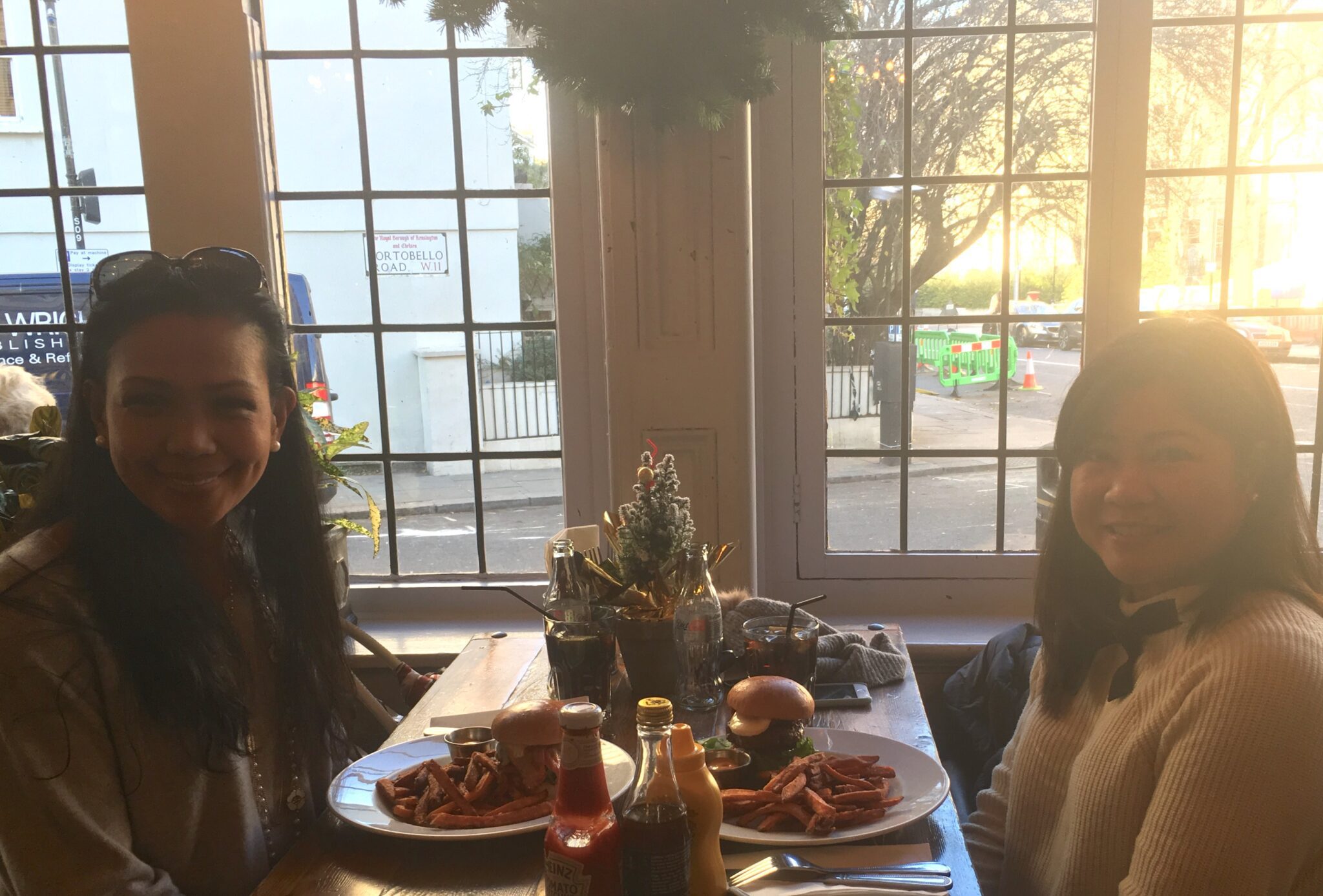 As you can see in the picture above, the sun's shining brightly, but as mentioned earlier, don't be fooled by the sun and its grandeur. On a day like this, sunny but with sub-zero temperatures, you'd be better off going to 
The Sun in Splendour
to have a hamburger or a cuppa rather than go for a walk in Kensington Gardens! 🙂