Every time I think of scones, I am always transported back to Tokyo when I first had them in 1992. I must say, it was love at first bite — not too sweet but crunchy on the top and bottom layer, soft pillowy tender on the inside — it became a favourite snack. It's perfect with green tea.
Scones are very easy to make and as much I wanted to make it all the time, I don't do it simply because I'd end up eating them all. 🙂 But I indulge myself with a very good freshly baked scones occasionally from Sally Clarke Food Shop & Bakery on Campden Street, just off Kensington Church St. They have the best scones in our neighbourhood and it's my 'go-to-place' to satisfy a craving. (Btw, Sally Clarke didn't pay me for this post. 🙂 )
I hardly bake nowadays and haven't made scones for over a year, but this week I finally got to do it. Delia Smith's and Mary Berry's plain scones recipe are two of my favourites but I found one on Epicurious with candied ginger and although it's more cakey, it's very good. Anyone who loves candied ginger will certainly like it. The only adjustment I'll do next time is to add more lemon zest. By the way, every time someone asks me what I think is the best thing the English people contributed to the culinary art, I tend to answer, "Scones and Afternoon Tea IMHO, not Fish and Chips or Mash & Bangers or Bubble & Squeak or Tod-in-the-hole!" 🙂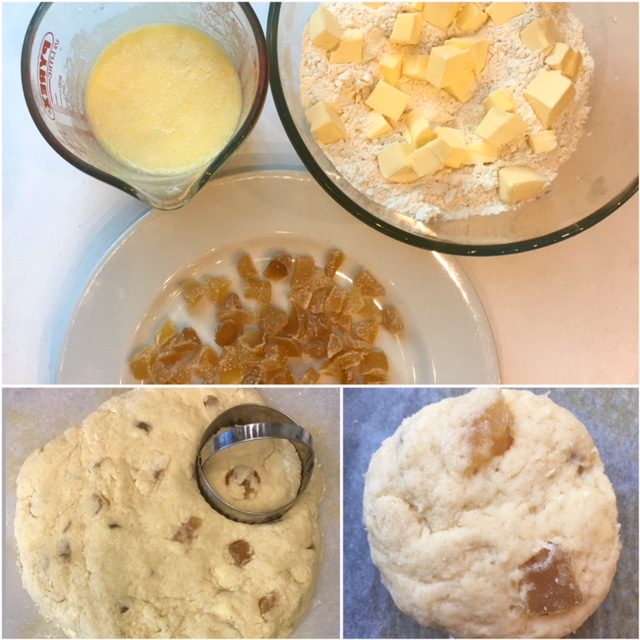 Here's the recipe from Epicurious.

GINGER SCONES 
Ingredients
Special item: 3-inch round cutter
2 1/4 cups unbleached pastry flour or unbleached all-purpose flour
1/3 cup granulated sugar
1 tablespoon baking powder
1 teaspoon finely chopped lemon zest (about 1/2 lemon)
1 1/2 sticks (6 ounces) unsalted butter, cut into 1-inch cubes and frozen
4 1/2 ounces candied ginger, finely chopped into 1/4-inch pieces to equal 2/3 cup
3/4 cup heavy cream, plus extra for brushing the tops of the scones
Preparation
Adjust the oven rack to the middle position and preheat the oven to 400&Deg; F.
In the bowl of a food processor fitted with the steel blade or in the bowl of an electric mixer fitted with the paddle attachment, combine the flour, sugar, and baking powder, and pulse or mix on low to incorporate. Add the lemon zest and butter, and pulse on and off, or mix on low, untl the mixture is pale yellow and the consistency of fine meal.
Transfer the mixture to a large bowl and stir in the ginger. Make a well in the center and pour in the cream. Using one hand, draw in the dry ingredients, mixing until just combined.
Wash and dry your hands and dust them with flour. Turn the dough out onto a lightly floured work surface and gently knead a few times to gather it into a ball. Roll or pat the dough into a circle about 3/4 inch thick. Cut out the circles, cutting as closely together as possible and keeping the trimmings intact.
Gather the scraps, pat and press the pieces back together, and cut out the remaining dough. Place the scones 1 inch apart on a parchment-lined baking sheet.
Brush the tops with the remaining cream.
Bake for 12 to 16 minutes, until the surface cracks and they are slightly browned.