This time last year we were billeted at Sofitel Philippine Plaza Hotel before we returned to London, and I meant to write a review of our visit but life gets in the way, and other plans happen. I finally got to finish the draft I wrote last year.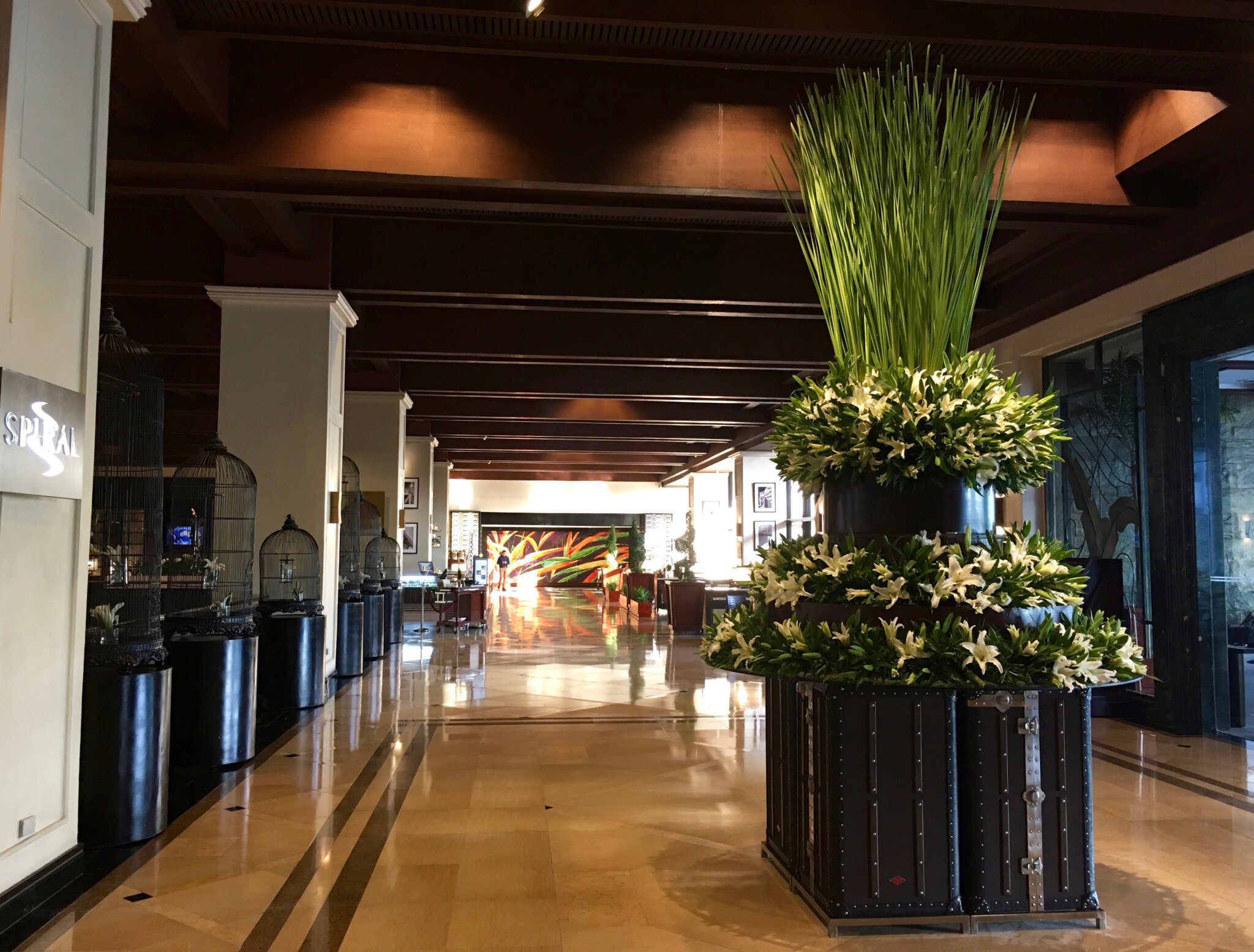 They say you never get a second chance to make a first impression. So when it comes to a hotel, the lobby needs to be the showpiece. As such, when I enter a hotel I always observe every detail in the foyer so I don't entirely miss the impressive entrance hall they have so cleverly crafted.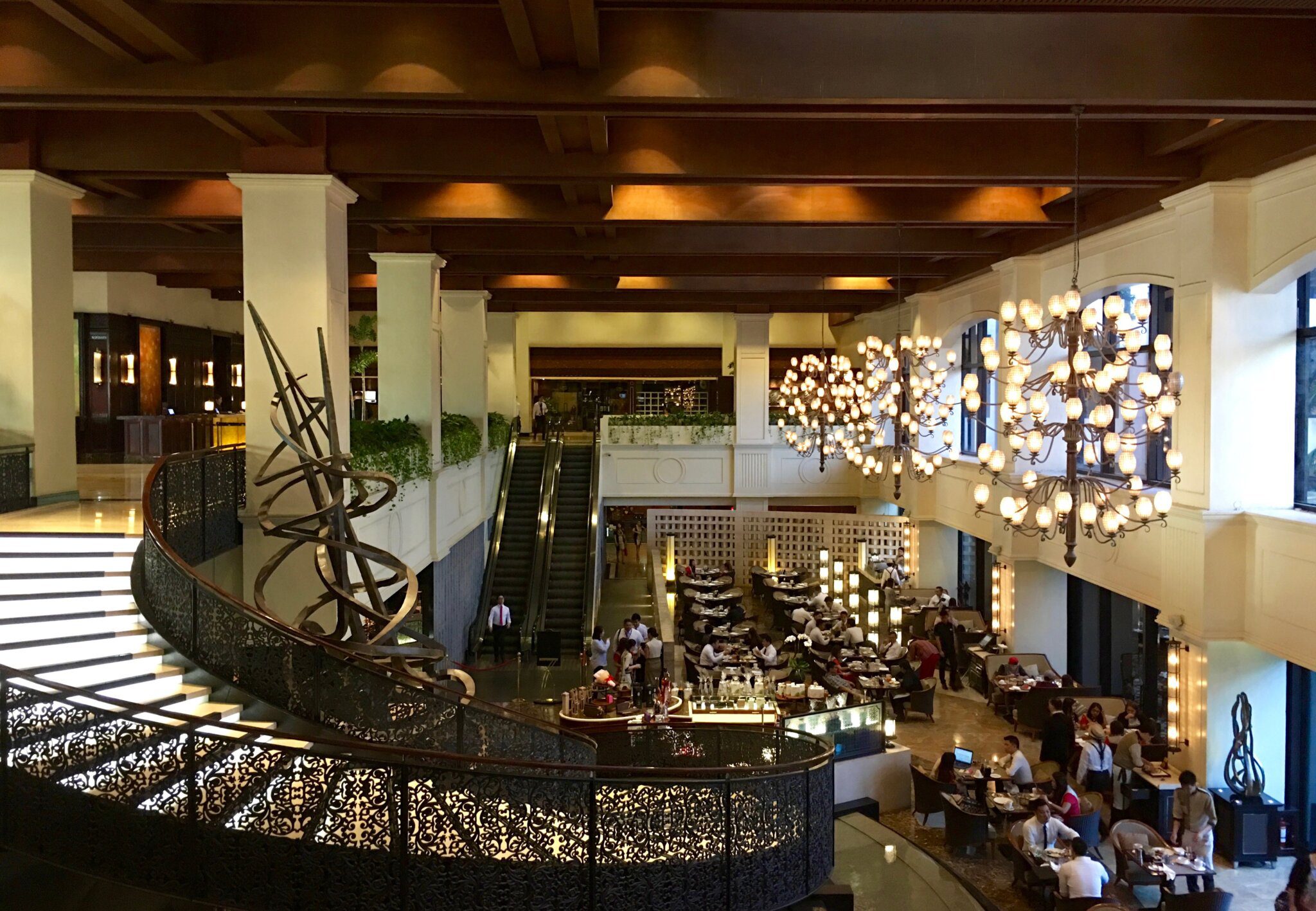 My first impression of Sofitel Philippine Plaza Hotel, after it was acquired and renovated by AccordHotels Group, was a good one. First, there's a gentleman with a white-gloved hand resting on the huge door handle; no matter which convoluted way you made your arrival (for us it was indeed a staggeringly humid day, and an unbearably bad traffic), your first entrance through this massive hotel is unencumbered by anything as trivial as having to open your own doors.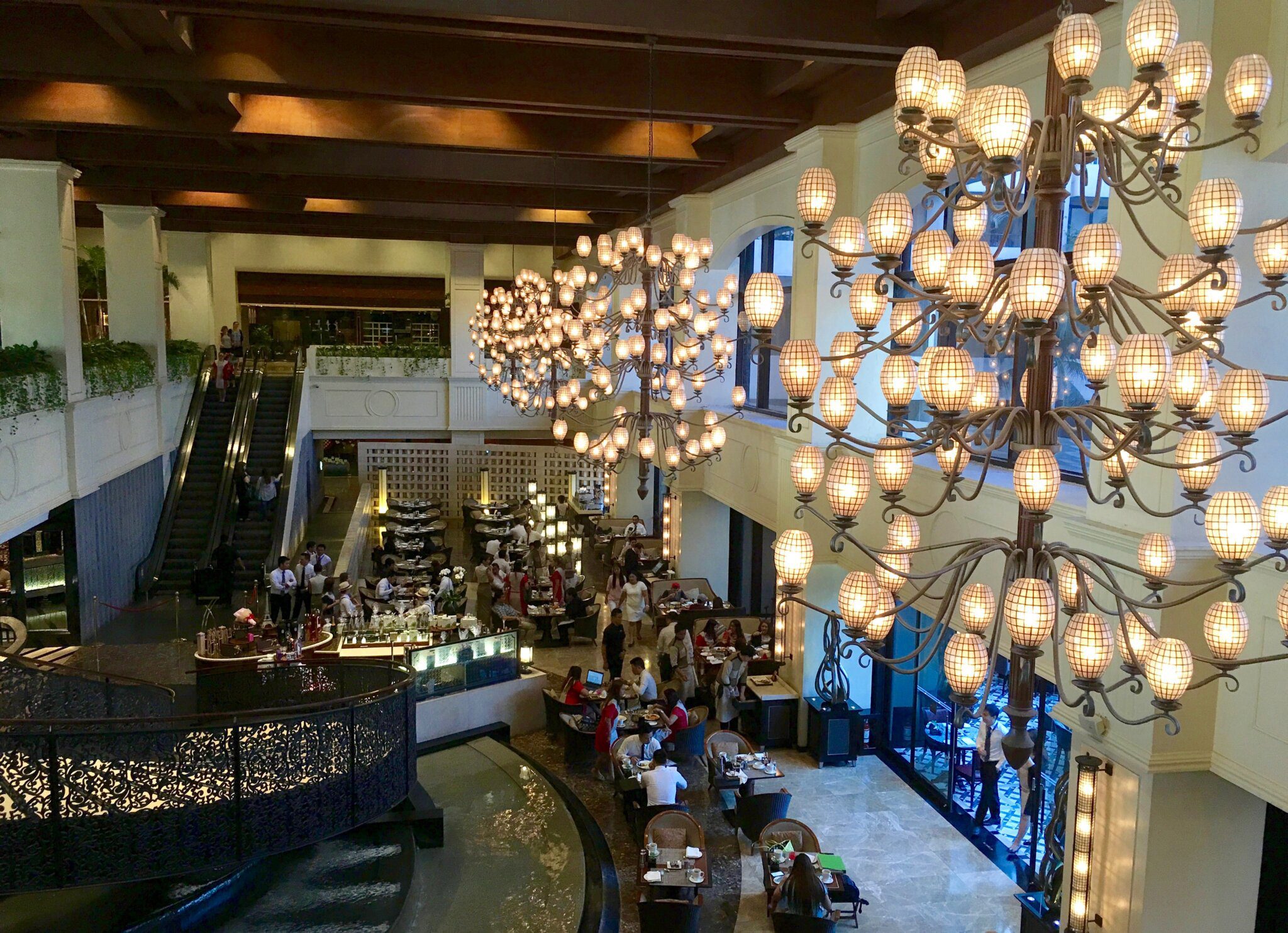 Formerly known as The Westin Philippine Plaza Hotel, this is my old stomping ground and I have a lot of memories in this place. Taken over by The AccorHotels Group in 2006, the 609 bedroom hotel is one of the grandest of the hotels in Manila Bay area. Inside are grand ballrooms, a spa and health centre, glossy bars and restaurants, and of course, the best outdoor pool in the city.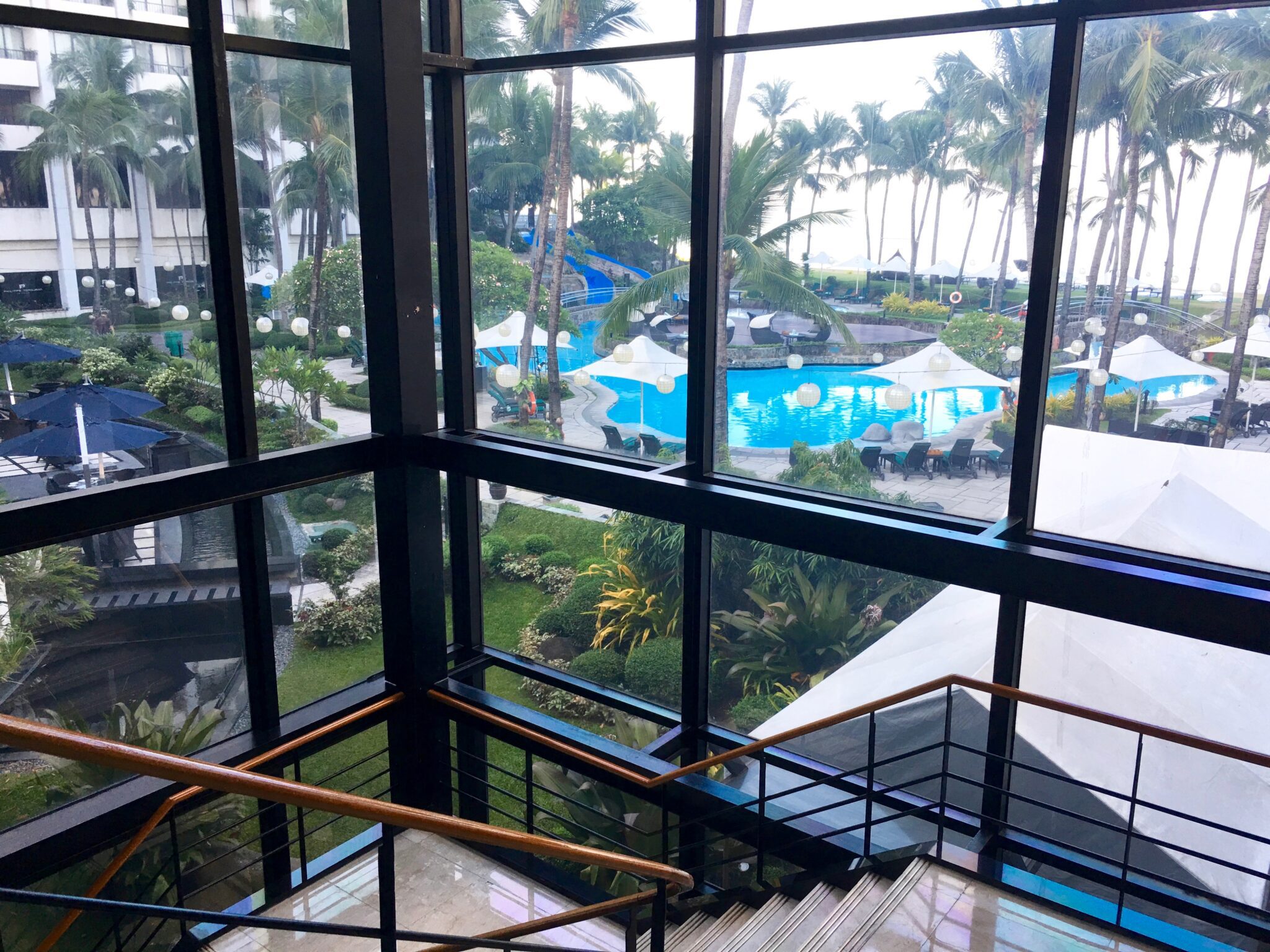 This enormous building, conveniently located in between the infamous Manila Film Centre and Coconut Palace, and within walking distance of some of Manila's most popular culture spots, is a lavish labyrinth of corridors centred around four towering capiz chandeliers, grand spiral staircase complete with stunning views of the historic Manila Bay, the lagoon-shaped swimming pool, and the soaring coconut trees.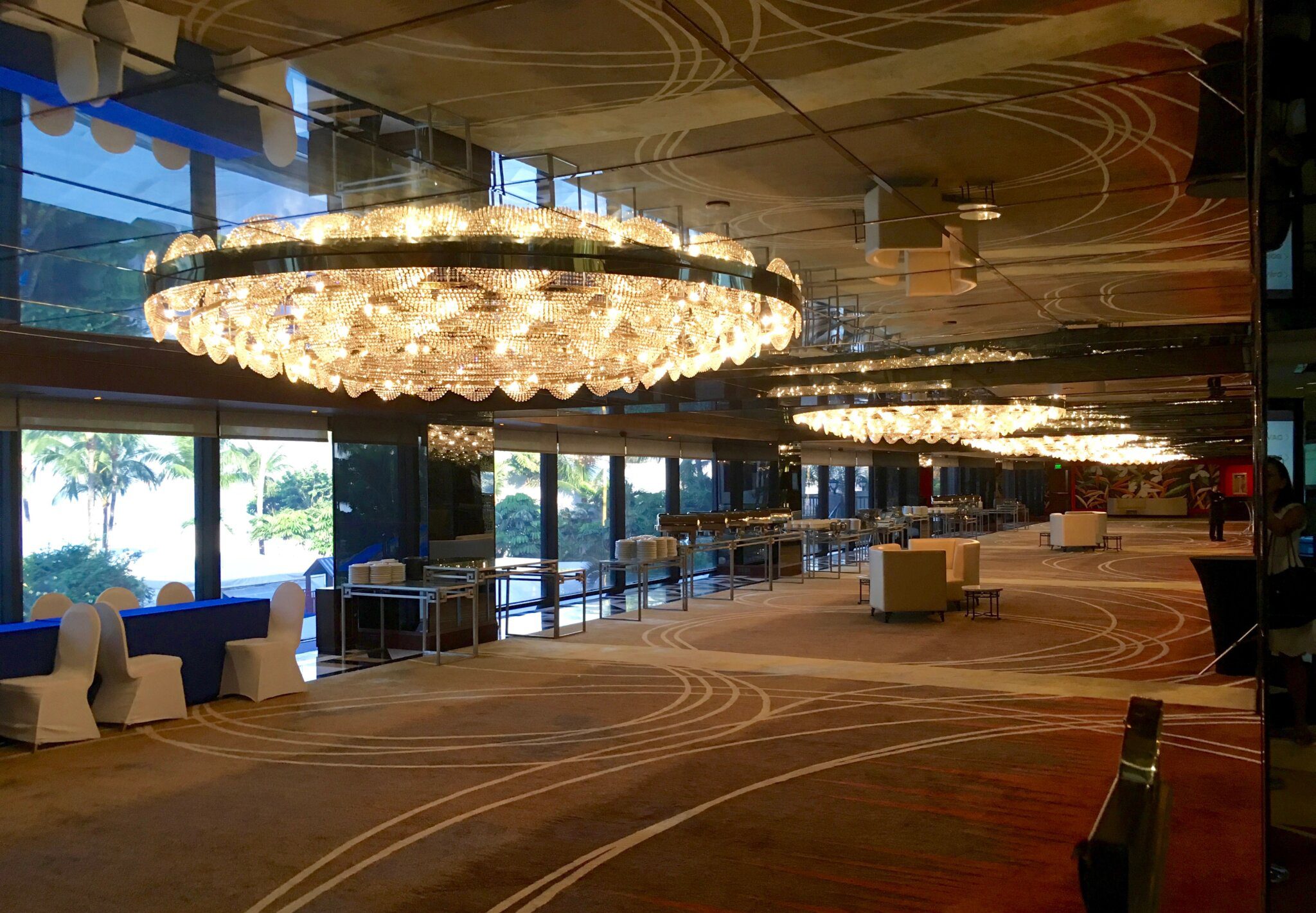 Things didn't start out good when we first arrived. It was past 1 o'clock in the afternoon; the lobby was over crowded with a long queue, and we waited for over half an hour before a staff was able to accommodate us. And we were told that our room wasn't ready until about 2-3pm. After checking in our luggage, we decided to walk around, had lunch and came back to the front desk after over a couple of hours only to be told that they had a 95% occupancy, and the ocean view room we had reserved wasn't available. We complained and spoke with the Front Desk Manager, and to make a long story short, the few minor mishaps at the Front Desk compelled the Duty Manager to upgrade us to a room on a higher floor with a great view.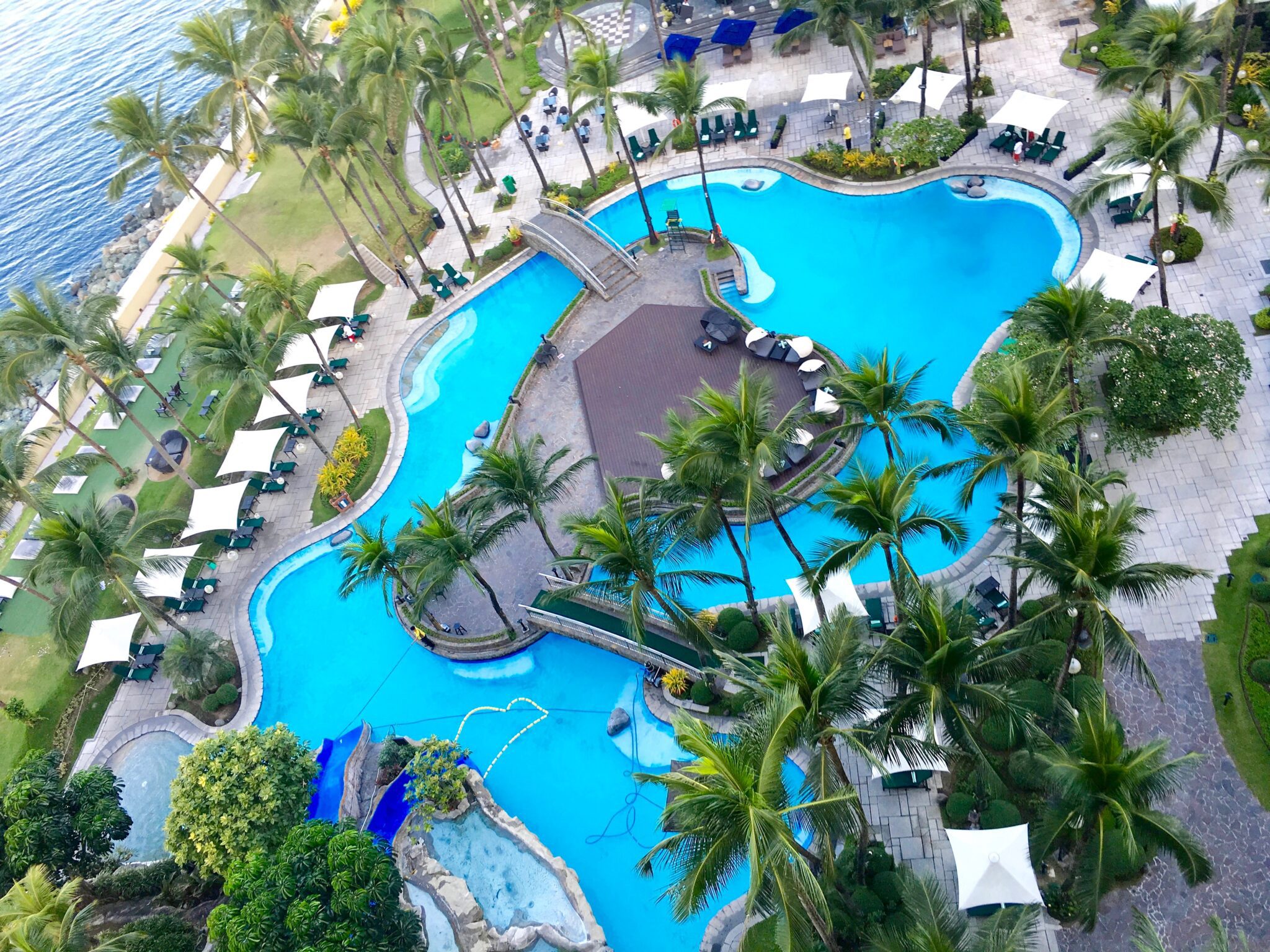 You can imagine our delight when the Duty Manager himself escorted us and brought us to the Club Floor. The suite itself was exceptional. A spacious lounge with views over Manila Bay, a grand bedroom with huge wardrobe with the fluffy branded dressing gowns and slippers, a white marble and glass walled bathroom, not to mention the stunning views across the bay, and a hallway the length of our street of where we live in London.

Of course, this is one of the jewels in Sofitel's blindingly brilliant crown, and there are plenty of smaller but still luxurious rooms to choose from. But we were just as happy to be upgraded to the club floor and have a perfect view of Manila Bay.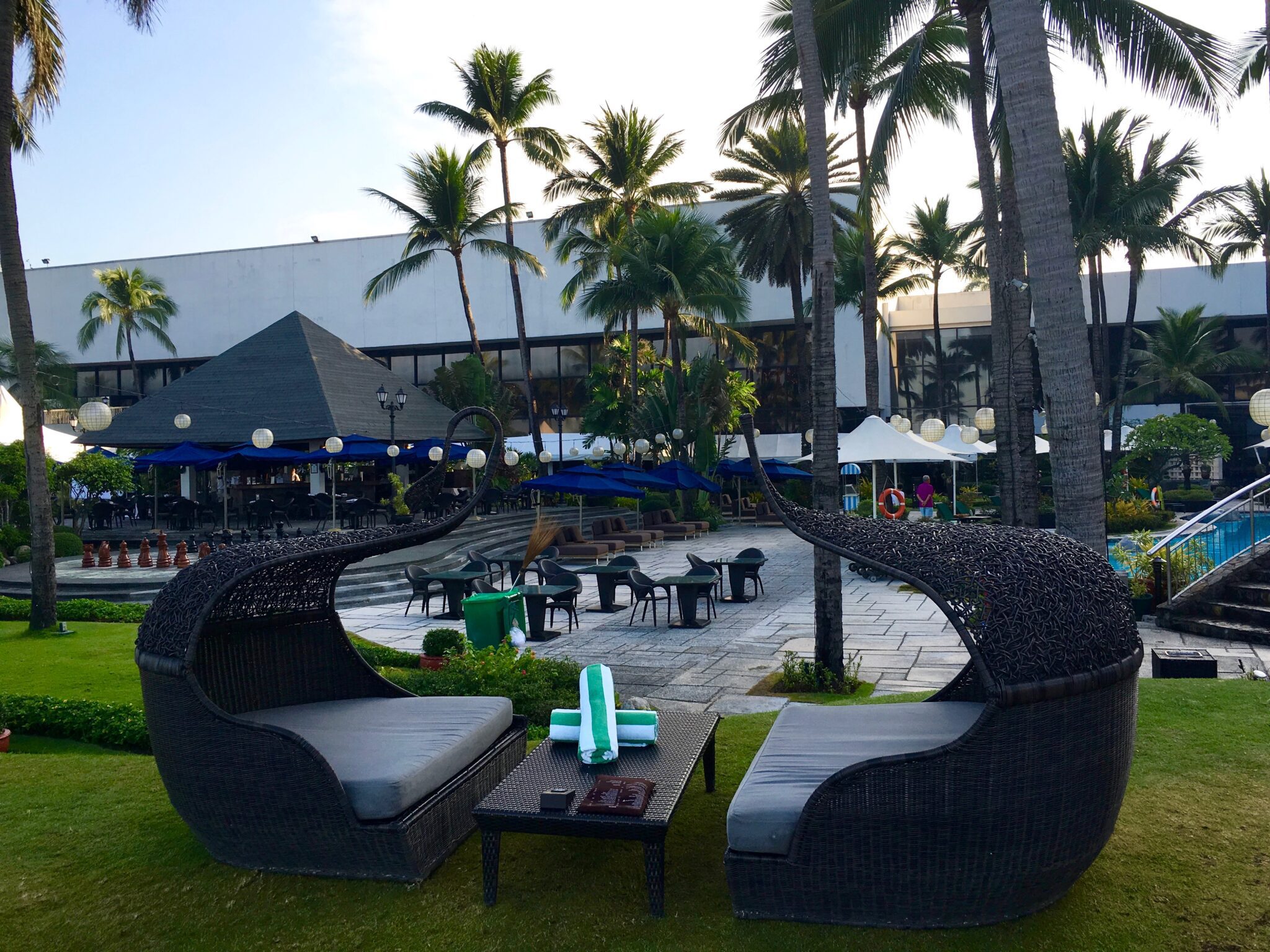 Once we were finished taking in every detail of the club floor suite, we headed down to the garden and pool area. This is supposedly the glittering heart of the hotel; the main feature that makes Sofitel the best resort hotel in Manila, and justifiably their pride and joy.
Manila has no shortage of outdoor dining restaurants, but the setting of the Sunset Bar facing Manila Bay, is tough to beat. The spectacular Manila Bay sunset plus the cultural presentation and live musical entertainment is unrivalled in the city.
My head was twisting and turning in different directions, craning to admire the sunset and taking photographs while at the same time trying to observe a procession of revelers heading back and forth.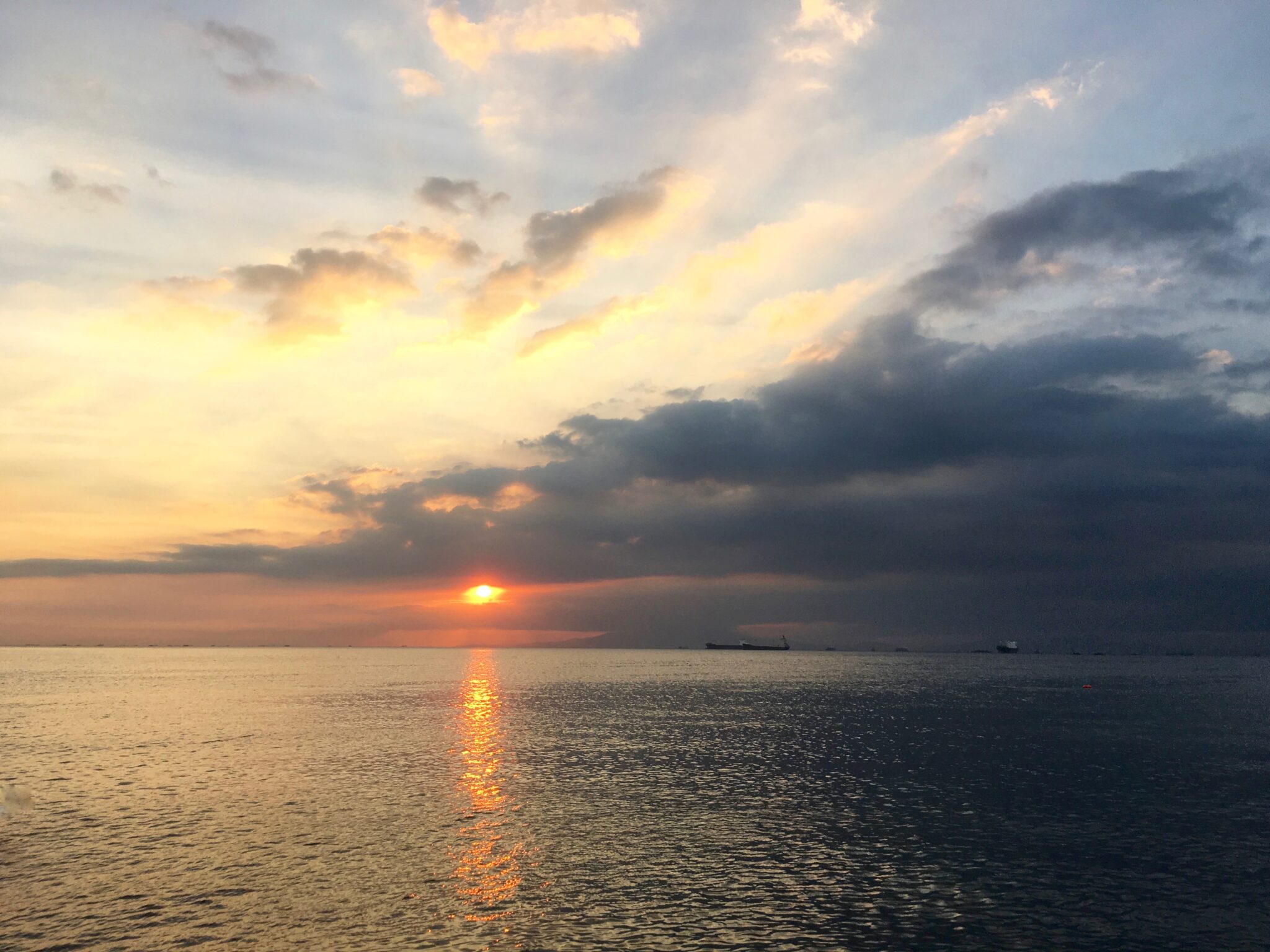 We love to hang out at the Sunset Bar or sit in one of the rocking chairs or futon until it gets dark.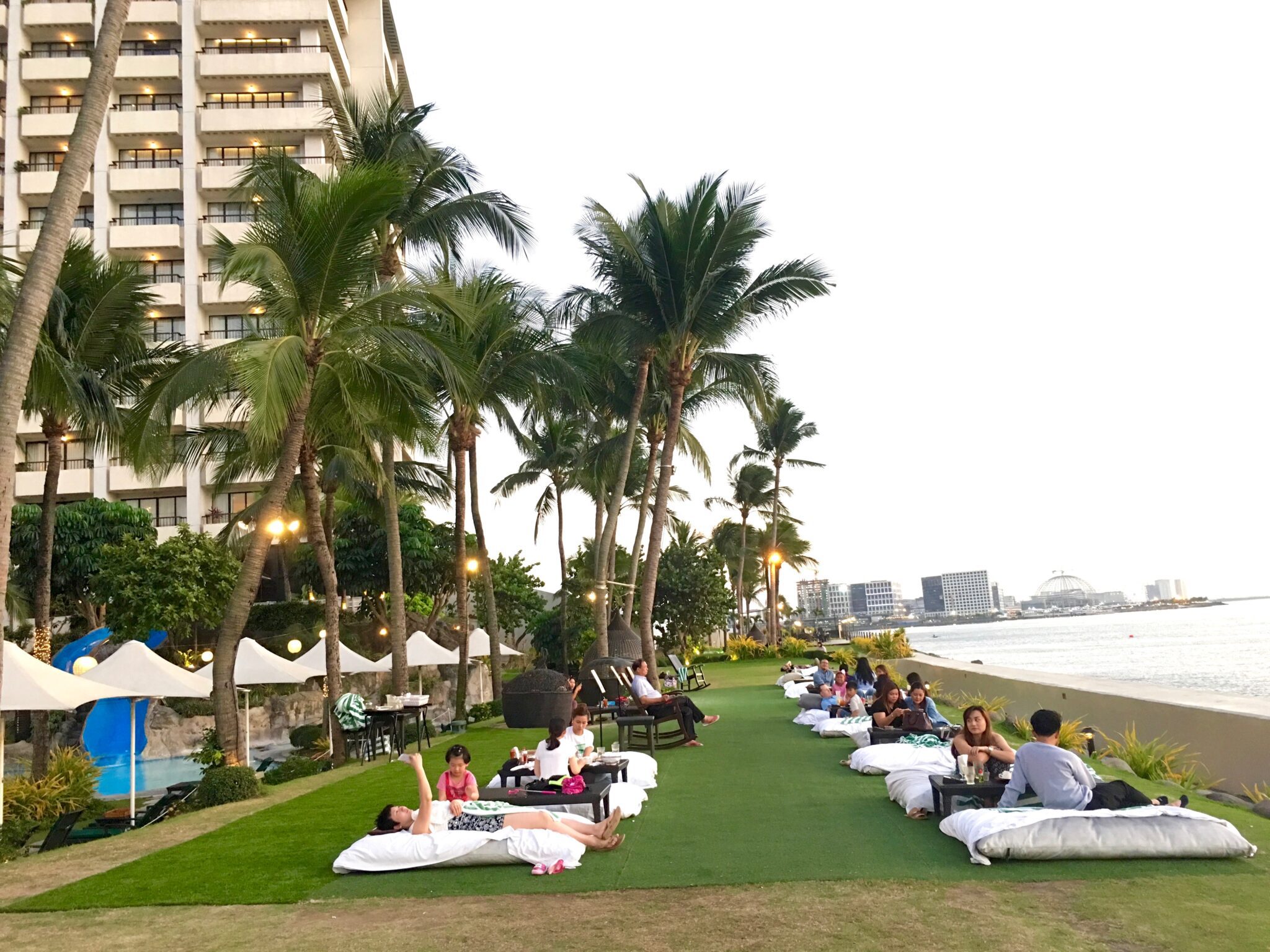 One of the perks of staying at the club floor is the access to Club Millésime lounge where they offers meals — from breakfast, snacks, coffee/tea to dinner, and even wine tasting — to the club residents.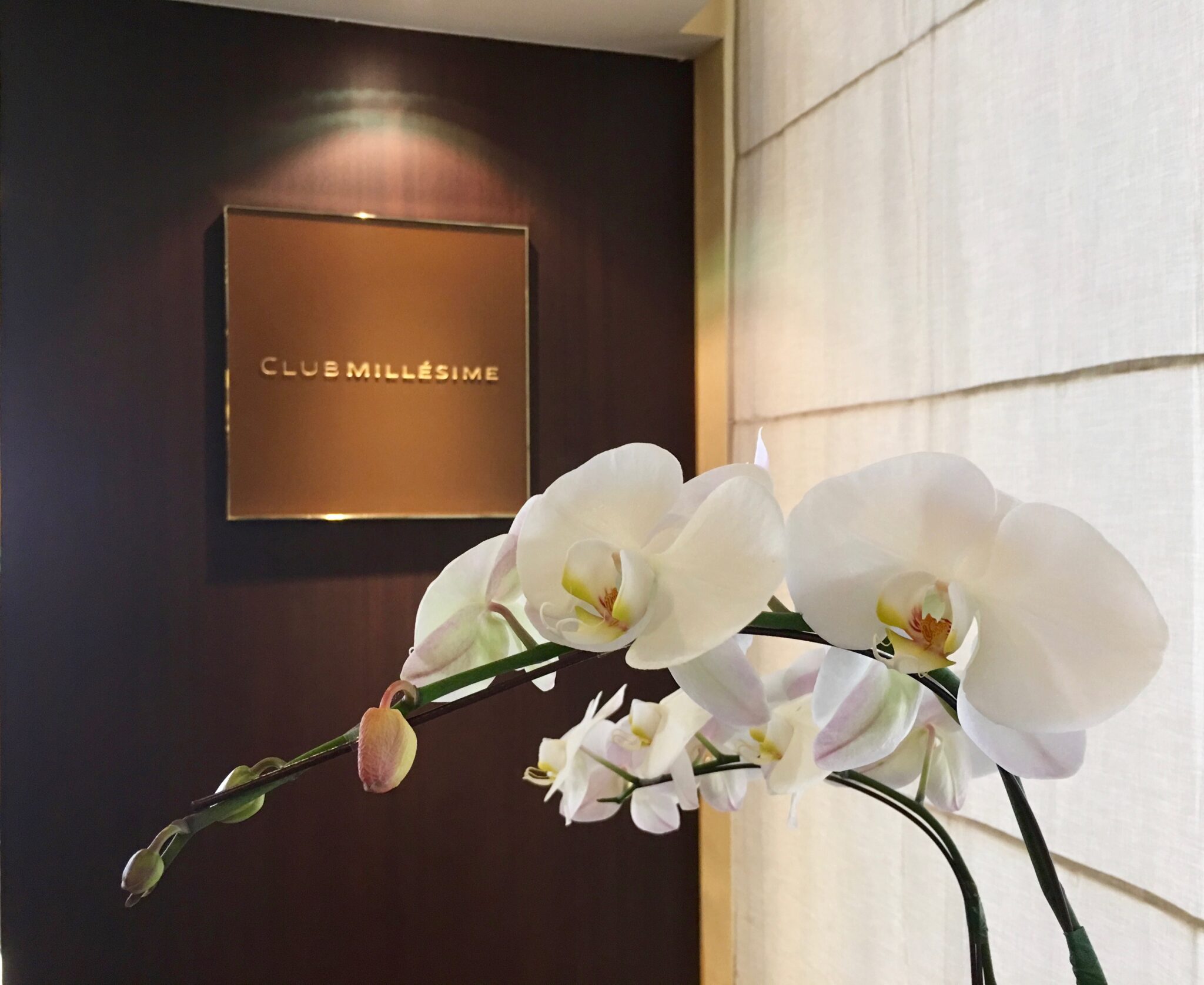 Our breakfast came from the daily menu — Filipino or Japanese breakfast or whatever you fancy.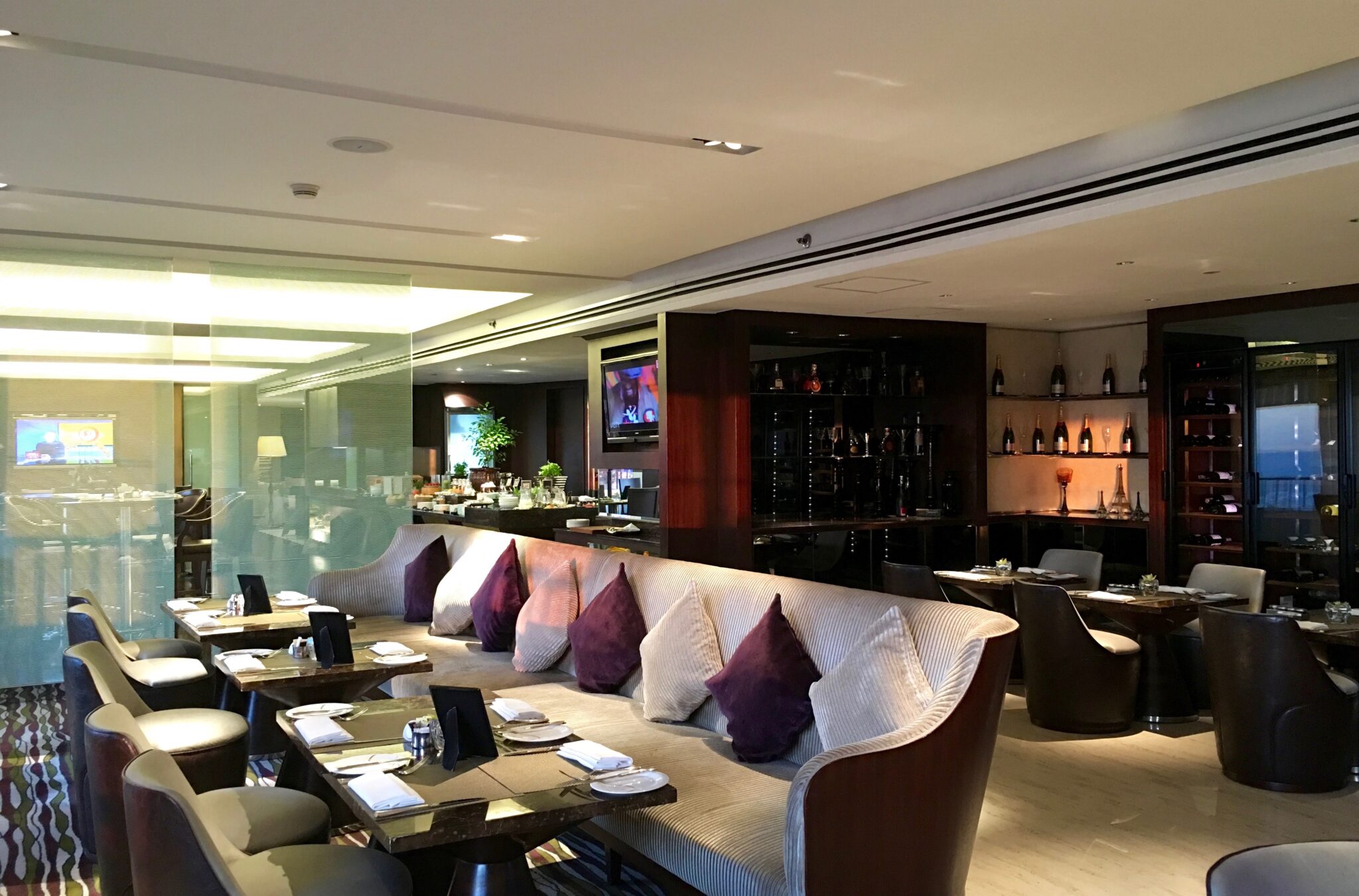 The club lounge was never crowded and the residents have more privacy. There's also a balcony where the guests can enjoy watching the sunrise while having breakfast.
They offer favourite dishes updated to suit the most refined of palates.
One morning I woke up craving for a Japanese breakfast; a huge portion was served — fried rice, scrambled eggs, salmon teriyaki with miso soup — all delicious and I didn't even get to finish it. Jared loves beef
tapa
,
tocino, longganisa
with fried rice or
pandesal
and he had them every morning.
There's also choice of continental breakfast with a good selection of pastries, cereals, all types of salad, smoked salmon, ham, fruits, etc.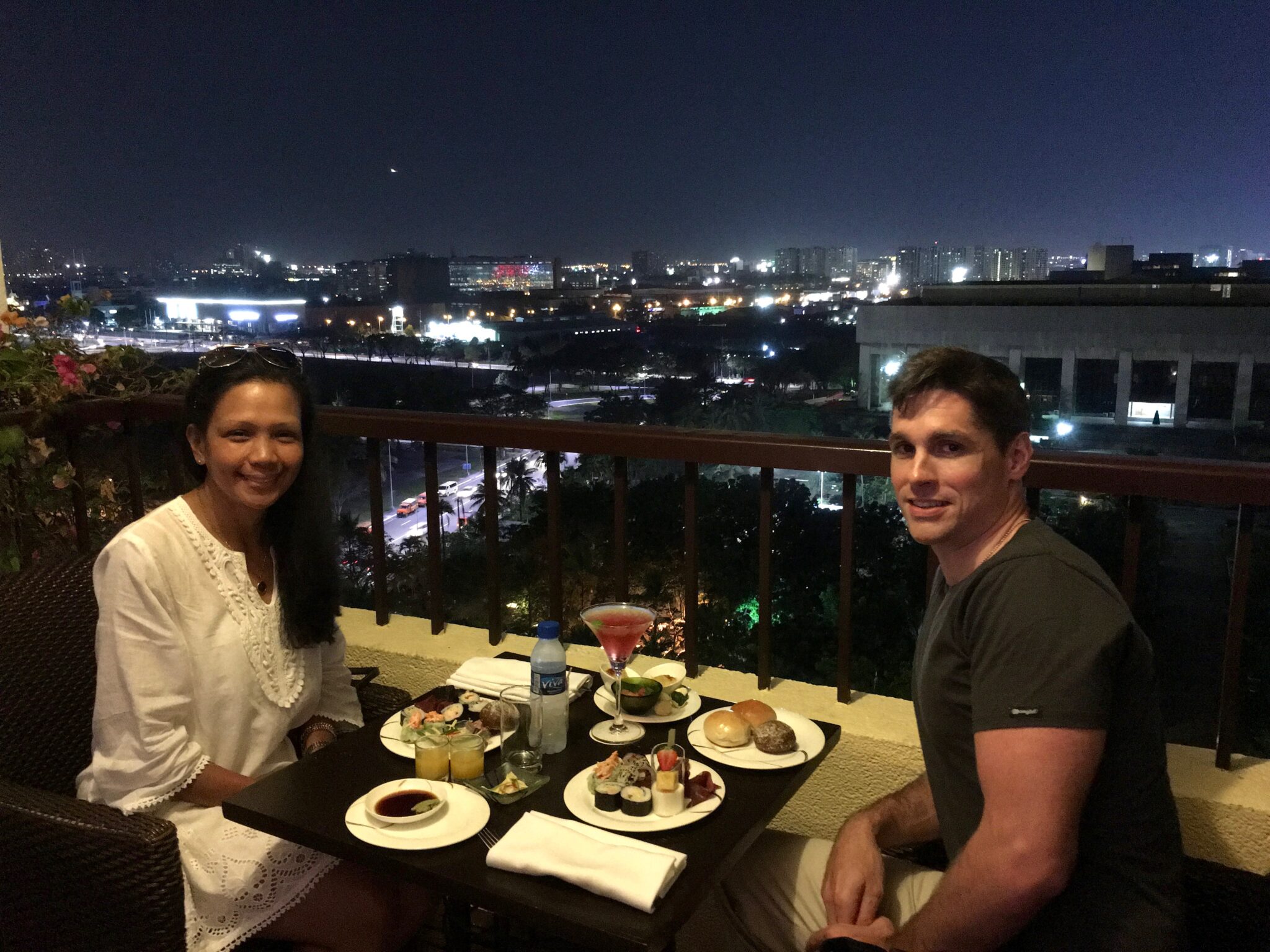 On our last night at the hotel we had dinner at the balcony of Club Millésime lounge. We feasted on sashimi, sushi and other Japanese food.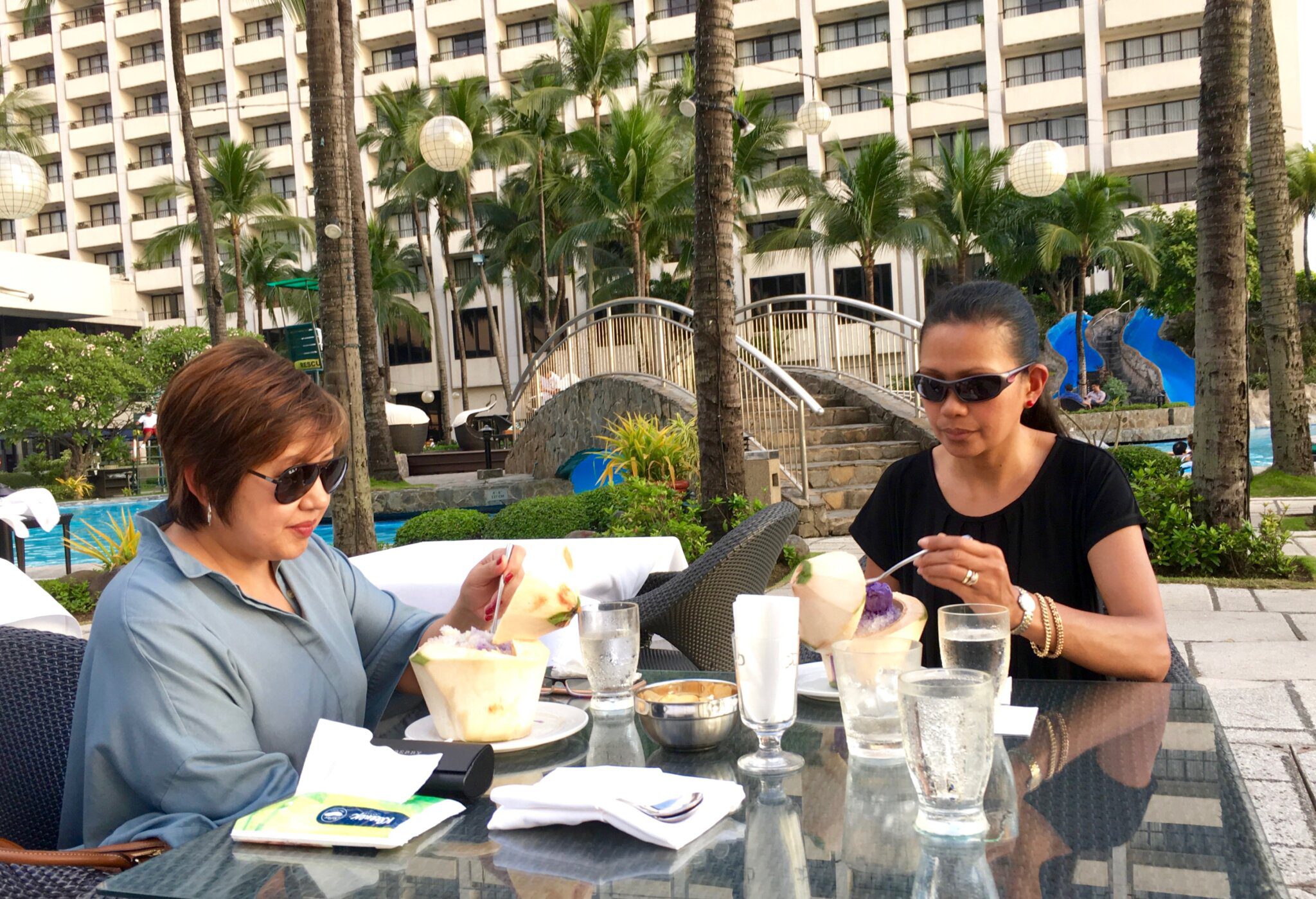 One afternoon,
patud baysay 
('beautiful cousin' as Lynn and I fondly call each other) came over and we had the indulgent
halo-halo
at the Sunset Bar — it was perfectly topped with a delicious 'ube' (purple yam) ice cream served on a
buko 
'young coconut' shell — very refreshing and filling!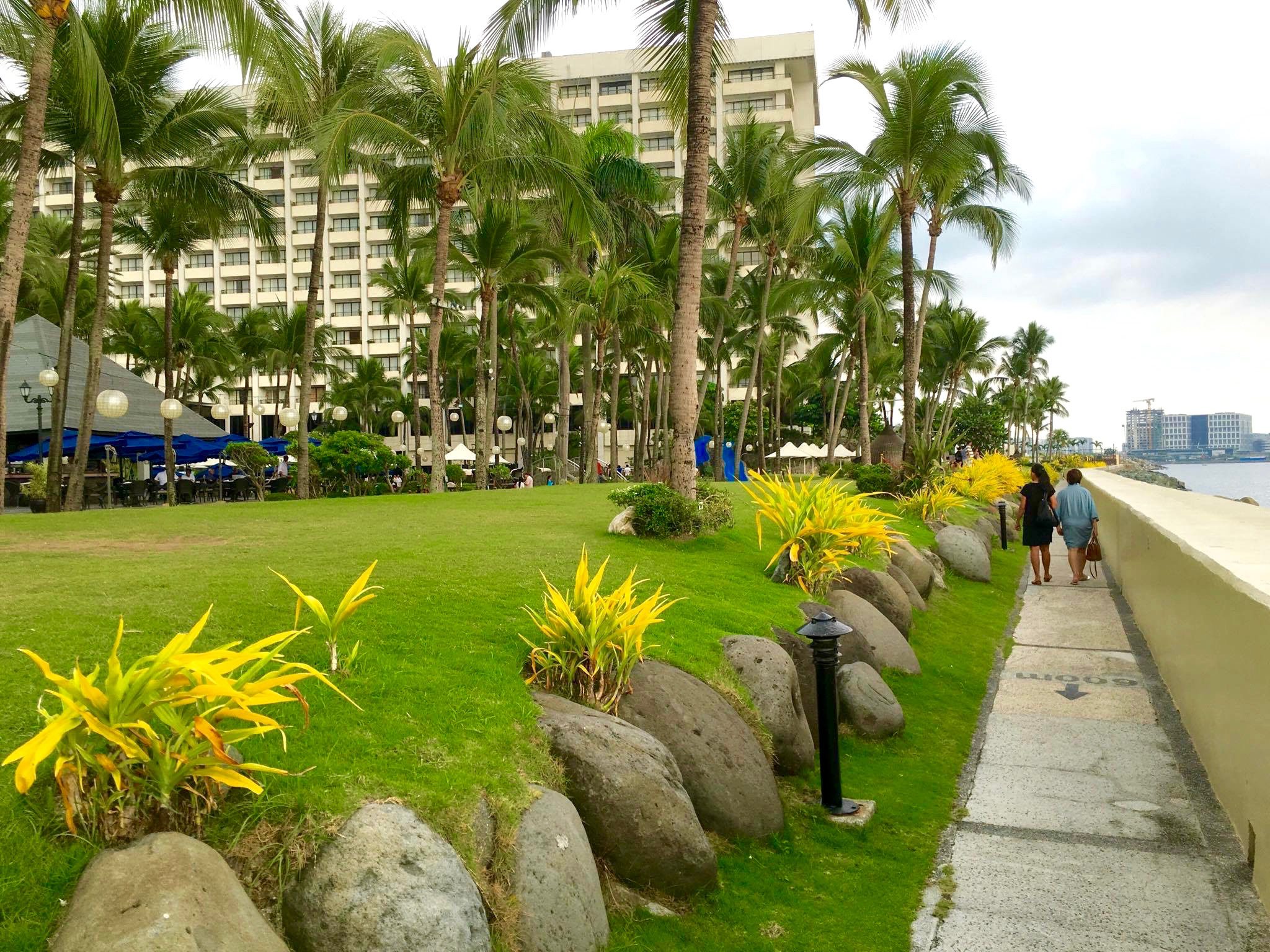 Afterwards, we walked down memory lane . . . to the same spot where Philip had asked Lynn to marry her twenty seven years ago.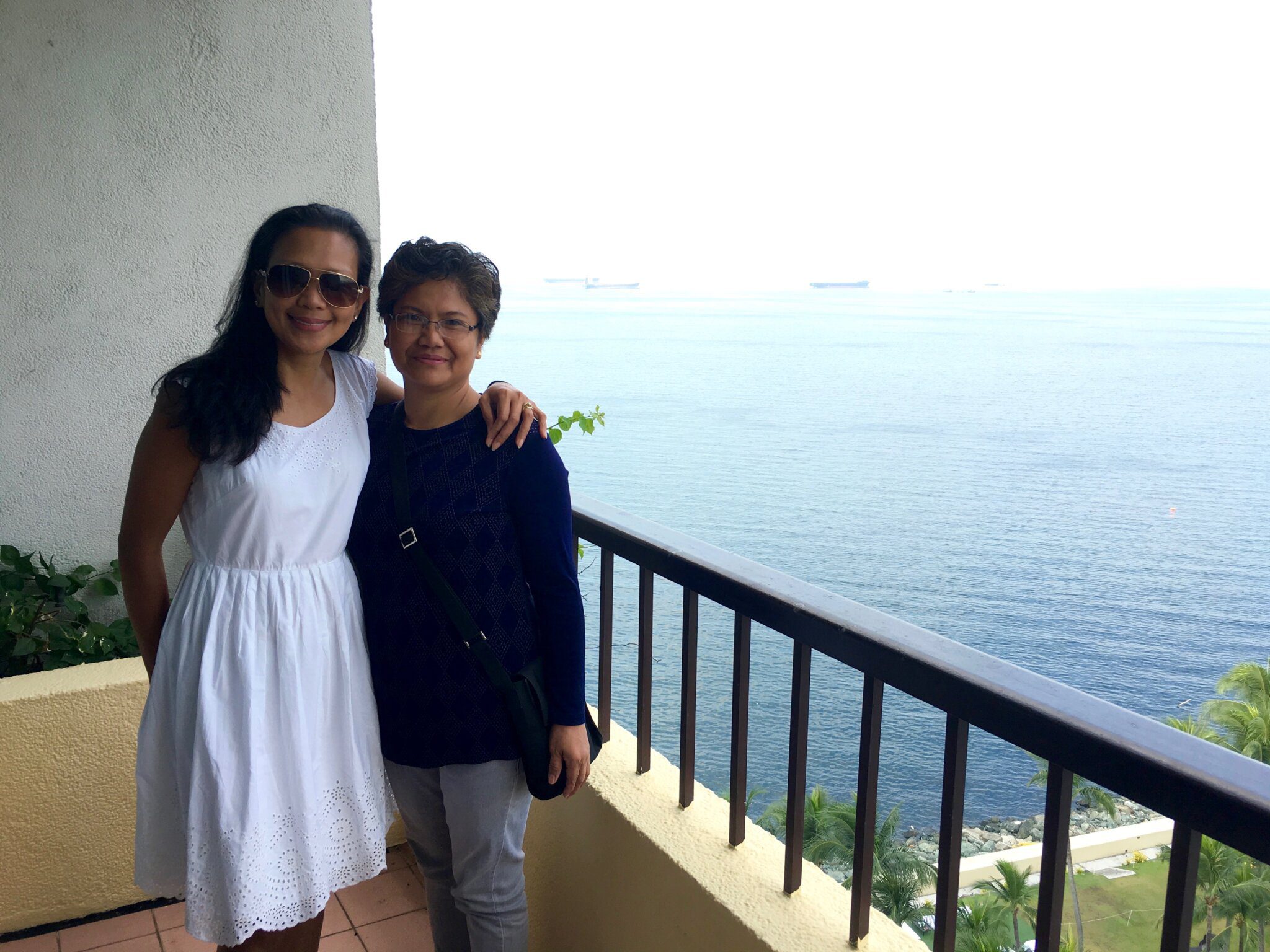 We sure had a wonderful time staying at Sofitel. We always have. It is one of our favourite hotels in the country (
Manila Hotel
 is on top of our list), and we always stay here for a few nights every time we visit the Philippines
.
Our last visit was exceptional; the staff were very attentive, anticipating and catering for our every whim from the moment we were billeted at the club floor until the moment we left. It can be hard to find a spot to unwind in the bustling heart of Manila, but as we left Sofitel and forced our way back on to get our flight back to London, we couldn't help but feel that we'd just relished in few days of pure, unabashed luxury.
Jared and I have a lot of good memories in this hotel. As mentioned earlier, this is my old stomping ground, and I introduced Jared to 'hotel hopping' and all other things he wasn't familiar with but now loves to do every time we visit the Philippines. I have pictures in this hotel from the 80s that I need to scan, and recently while I was going through some old digital photos I found some that made me very homesick. Above left photo, I took this while Jared and some of our friends (The Nables & De Ocampos, Gina Caba and Taung Lian) were having a chat after dinner at the Sunset Bar in 2004 or 05; and the other picture is of my mother and myself looking tired (from eating too much haha!), also at the Sunset Bar back in 2006 or 07.
These photos make me feel very nostalgic indeed. I miss home very much.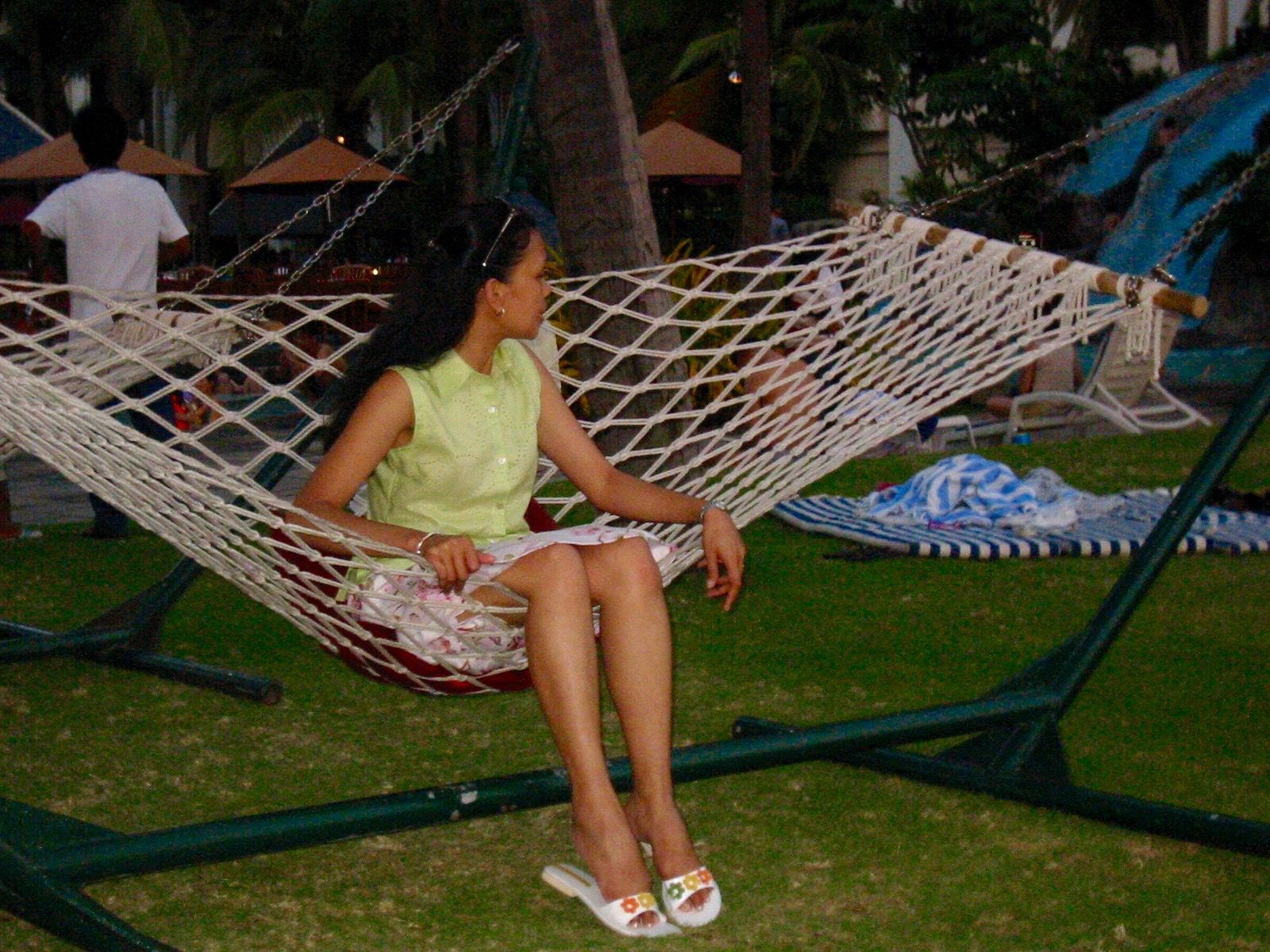 I miss the languid, hot and humid days in the Philippines. After wearing sweaters and coats for months on end, I am ready to jet off to an exotic location. 🙂 And I am specially thrilled at the prospect of going back to a tropical island again soon. A girl can only dream, can't she? 😉