For Christmas this year I made a mini-gingerbread village instead of a huge house or one of London's iconic buildings as I've done in the past. As soon as I started making the templates I realised that it's a lot more work and time-consuming than I had imagined. Needless to say, I really enjoyed doing it. It certainly did bring back a lot of childhood memories.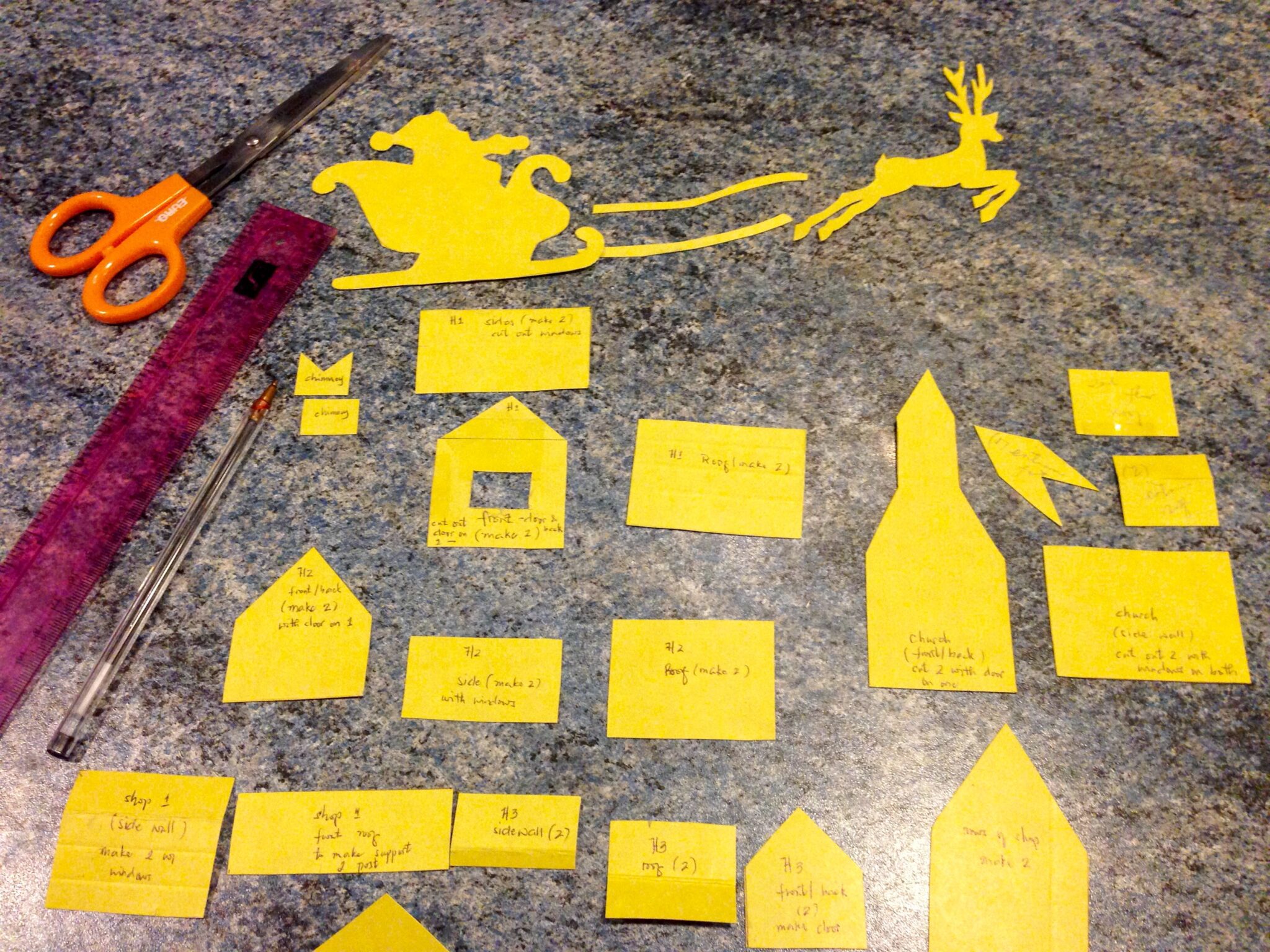 I first made the templates – 4 different size houses, church, shop, ski lodge, bridge and a barn.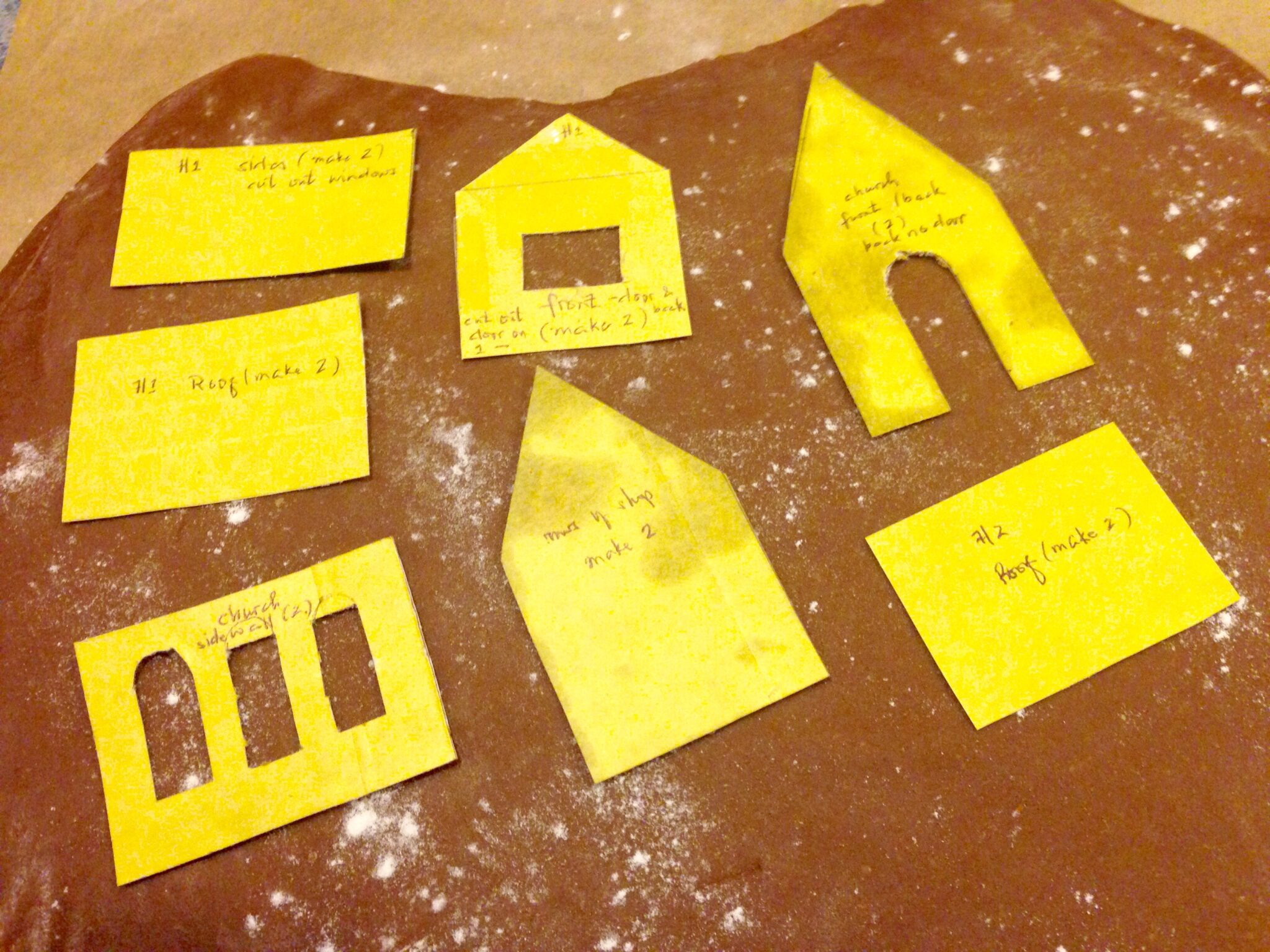 Had to put them together in each group as soon as they're done baking to make sure I don't get confused trying to find the tiny pieces when I assemble each house.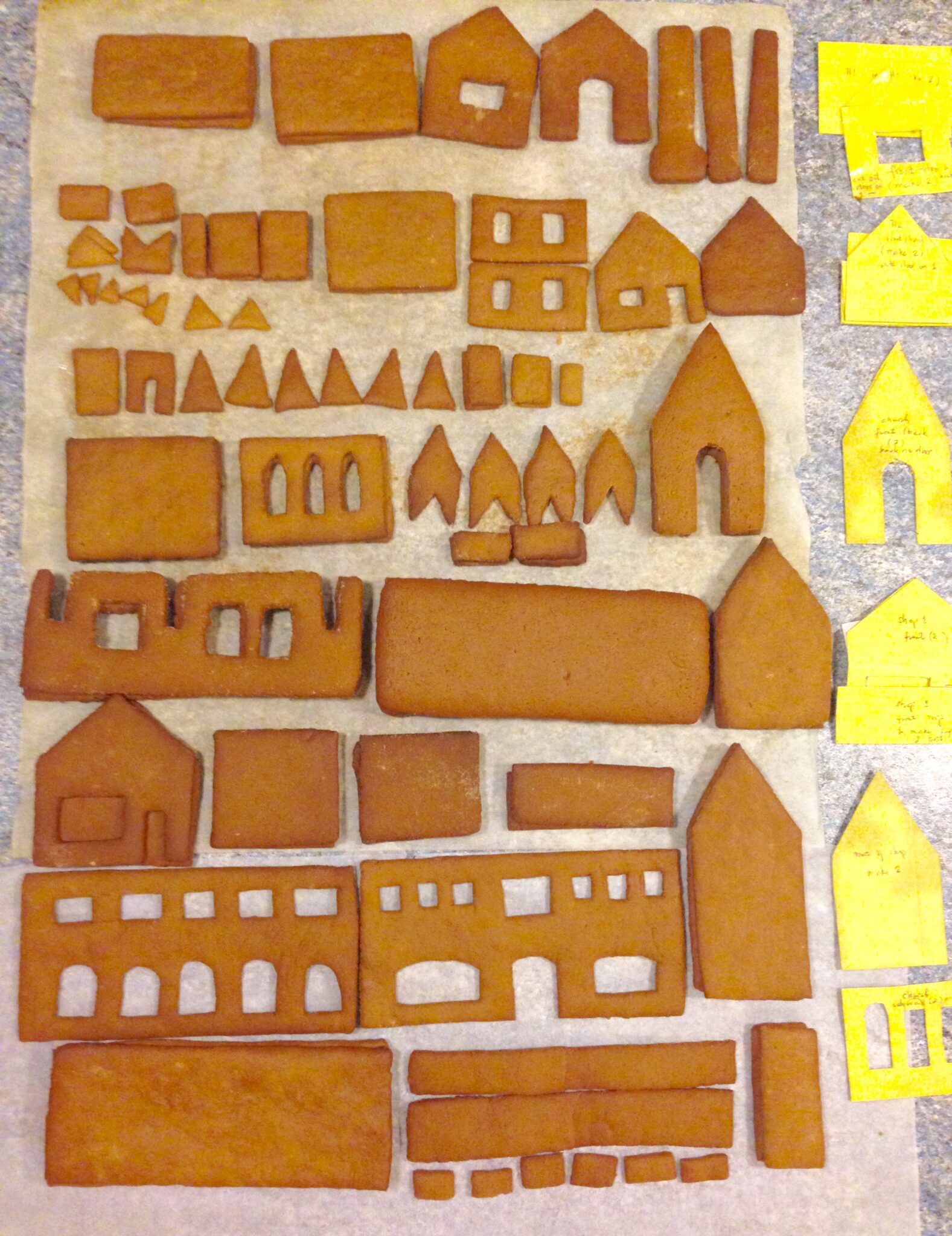 I used this American candies for the windows. They were crushed into small pieces and baked for 3-4 minutes.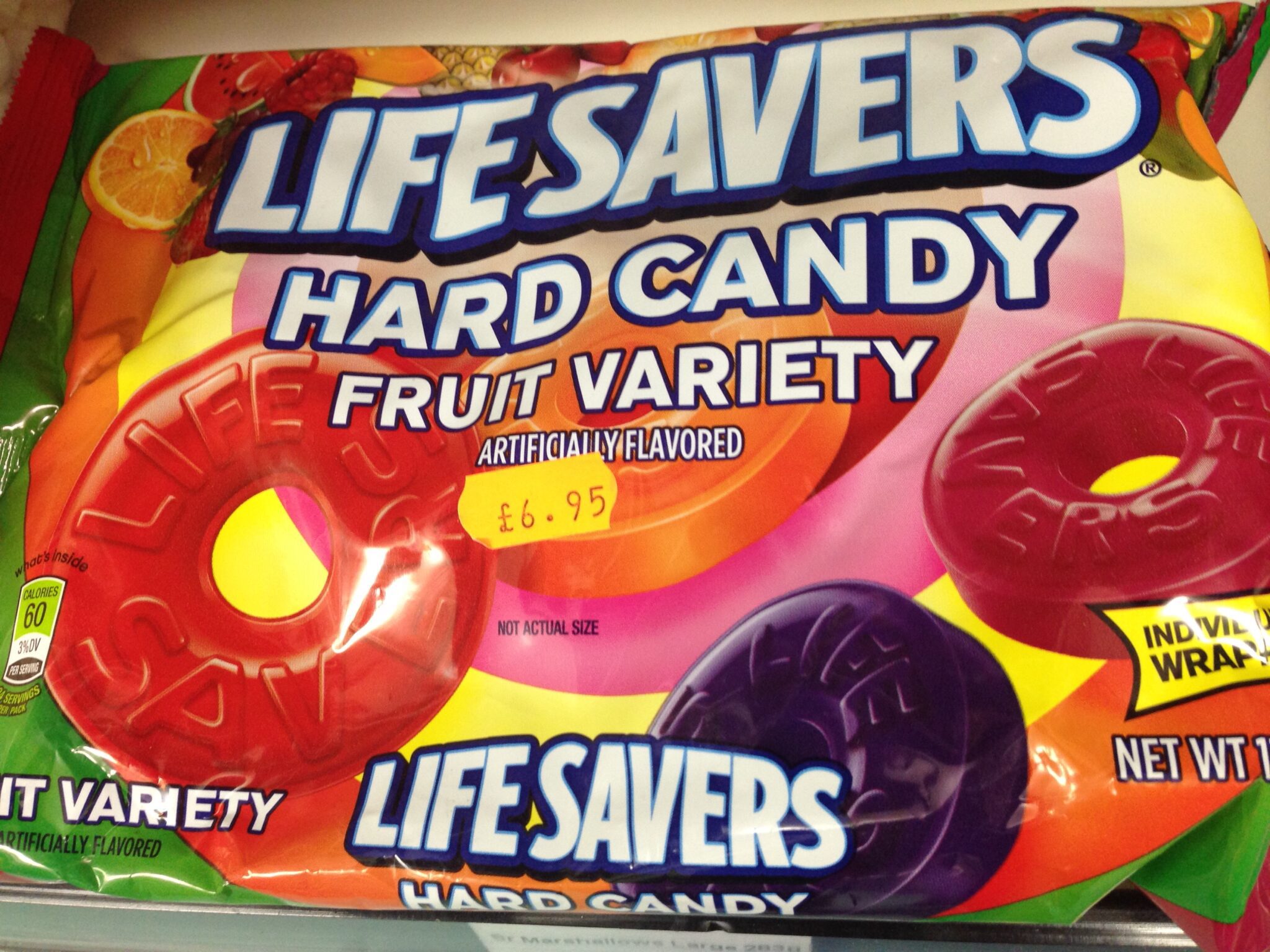 They look nice when different colours are mixed together.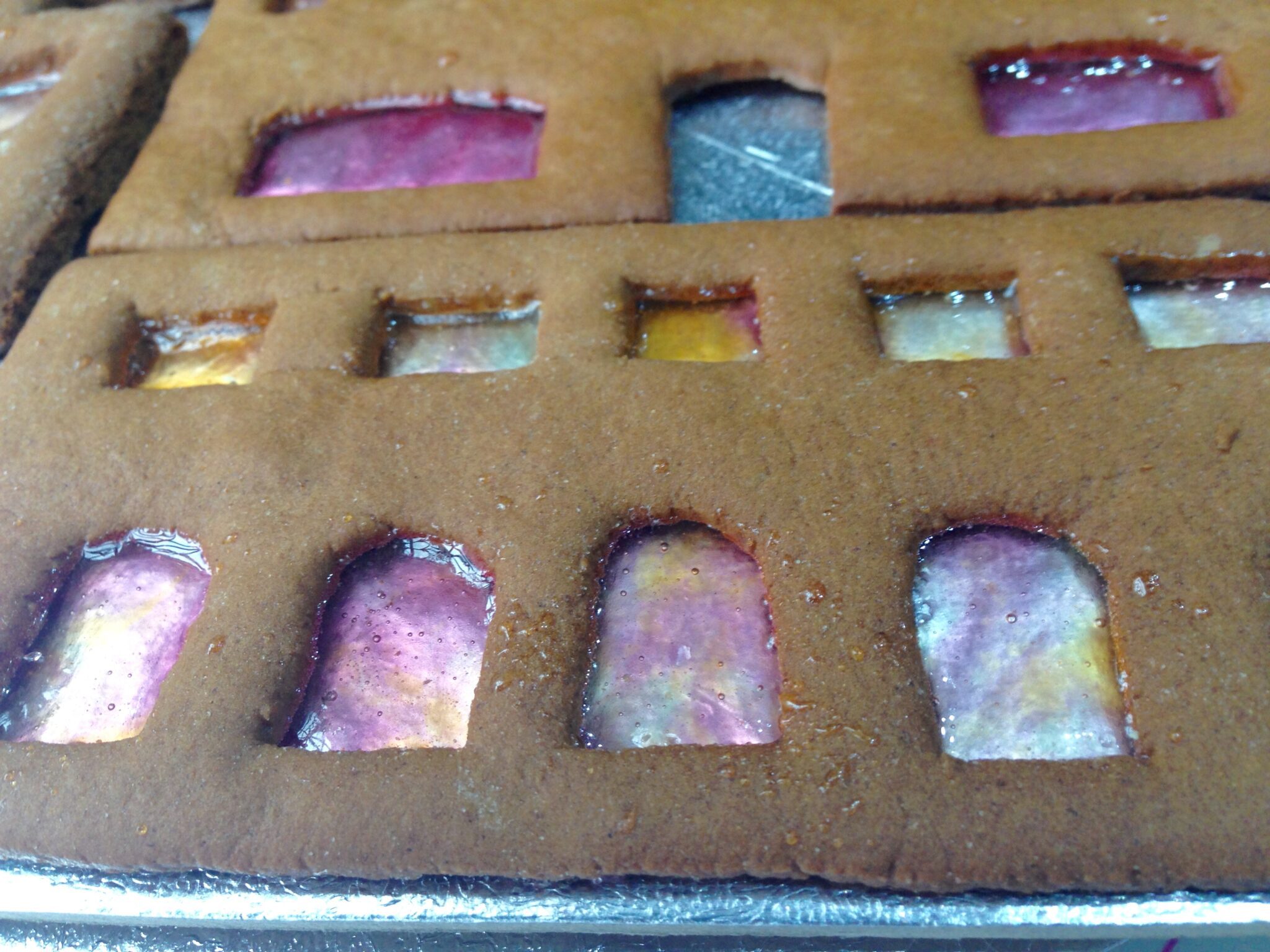 Icing sugar was piped in and left to dry before putting them together.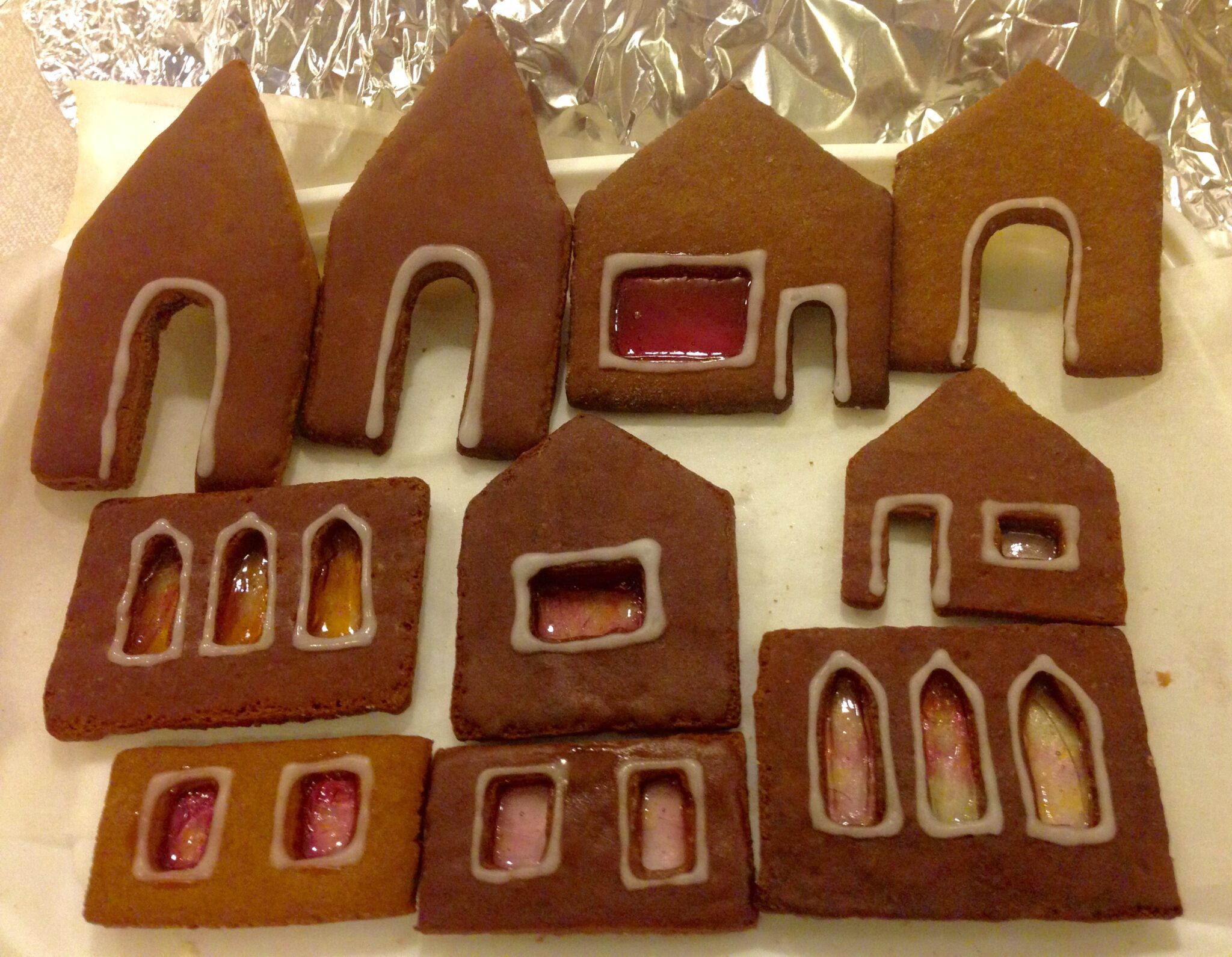 I used an icing recipe that quickly dried up in about 15-20 minutes so I didn't have to wait for a day to put them together.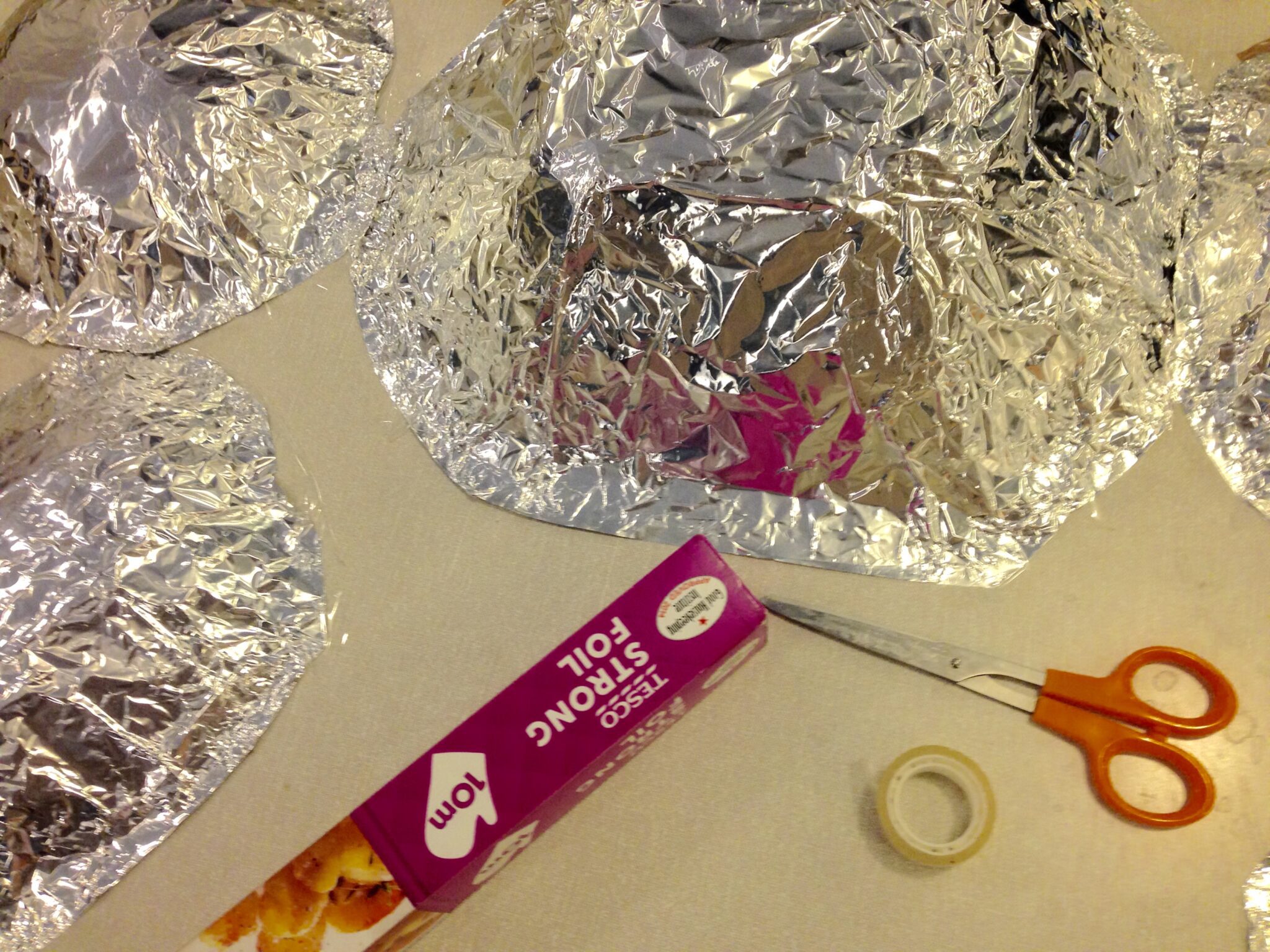 I then used a cardboard and foil to make the mountains. And three kilos of icing sugar was used to cover the whole table.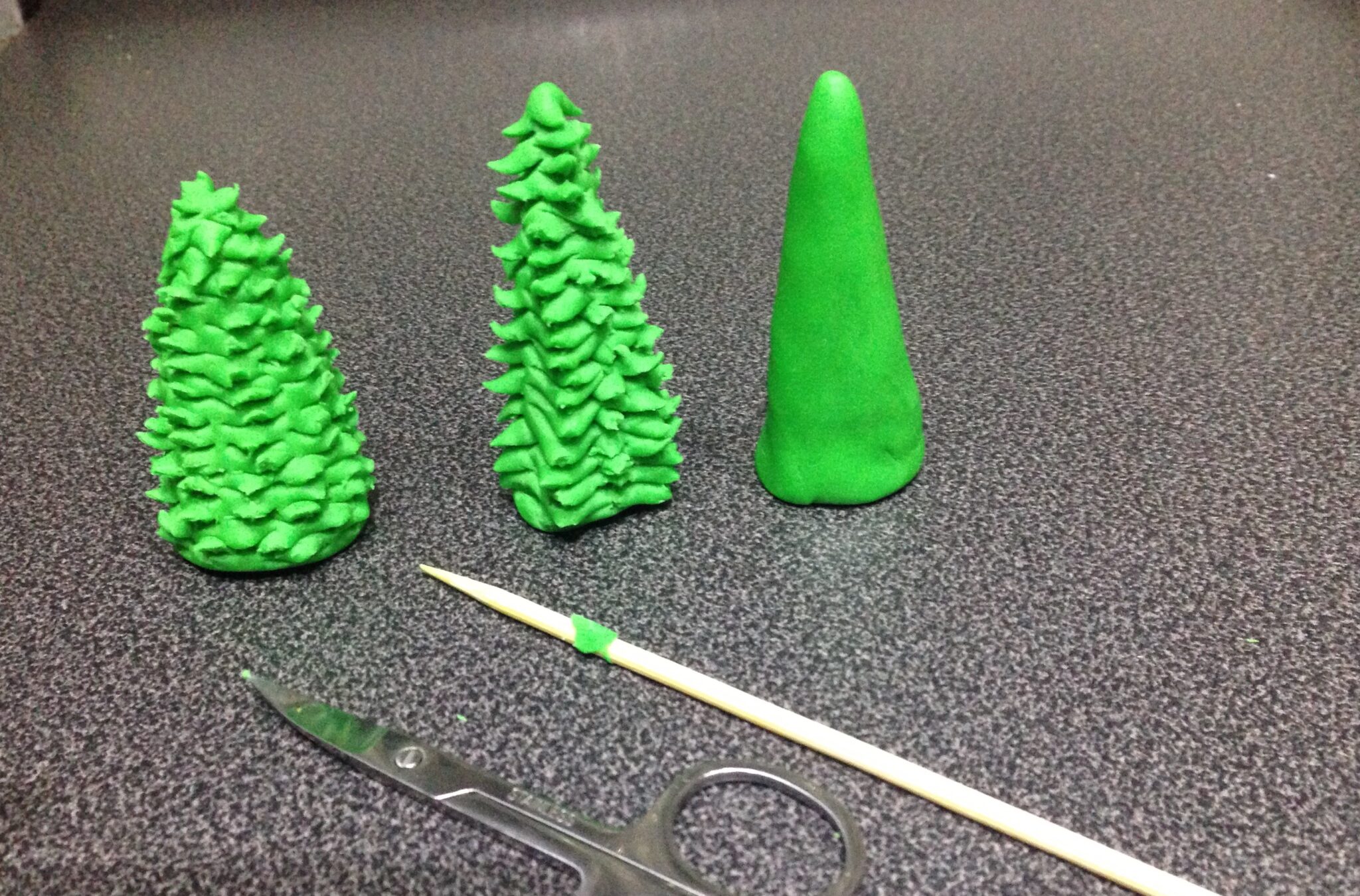 For the pine trees, green fondant was shaped into a cone, inserted into a barbecue stick, and I used a small scissor to cut little snips and gently brushed the edges to point upward to give it a more realistic look. 😉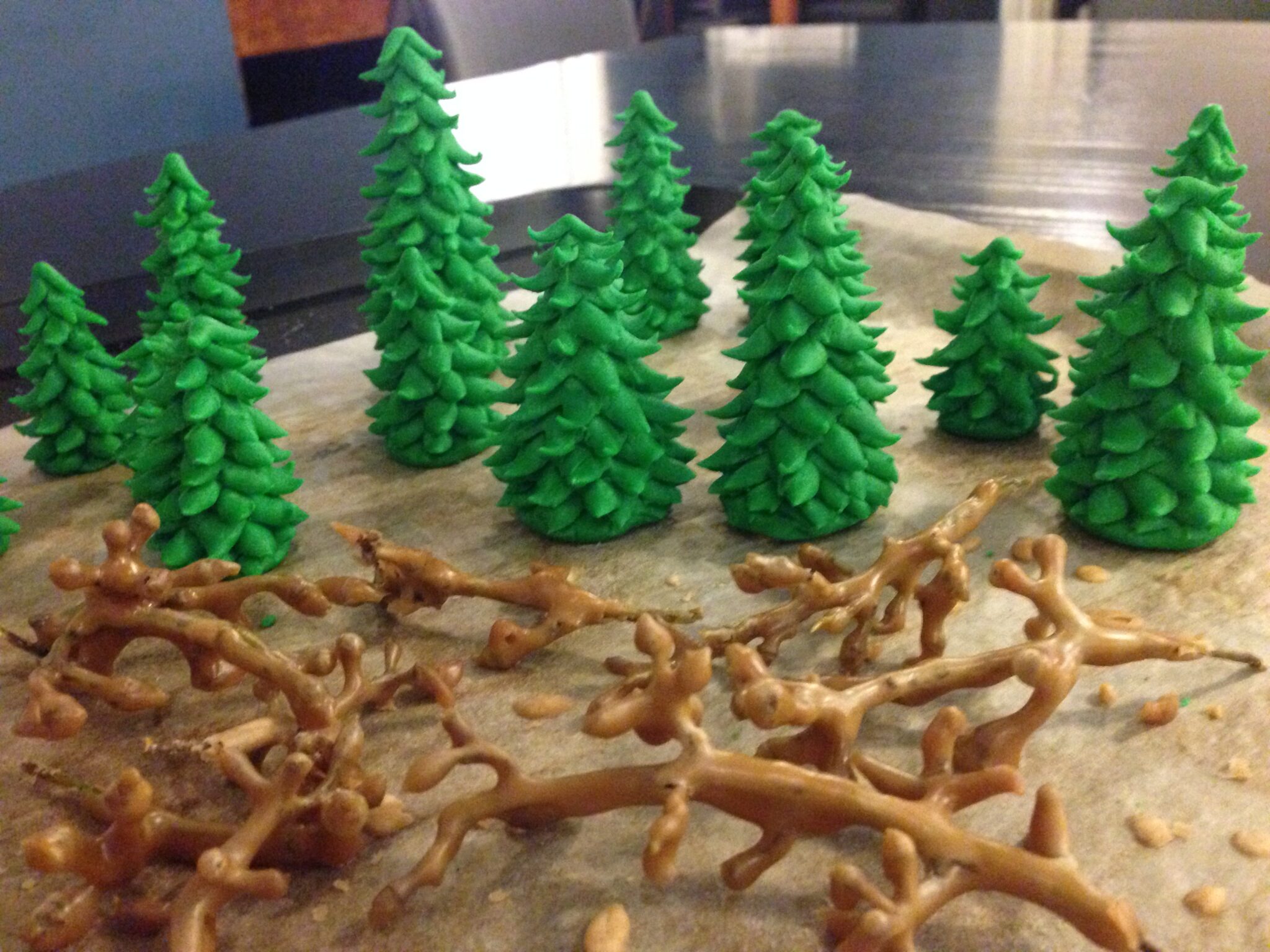 Grape stems were dipped in icing sugar mixed with cocoa powder to have a different type of winter tree in addition to the fondant pine trees. As soon as they were dry they were assembled together along with the marzipan and fondant pieces to decorate the village.
Santa Claus is trying to get into the house through the chimney but he's too big! 🙂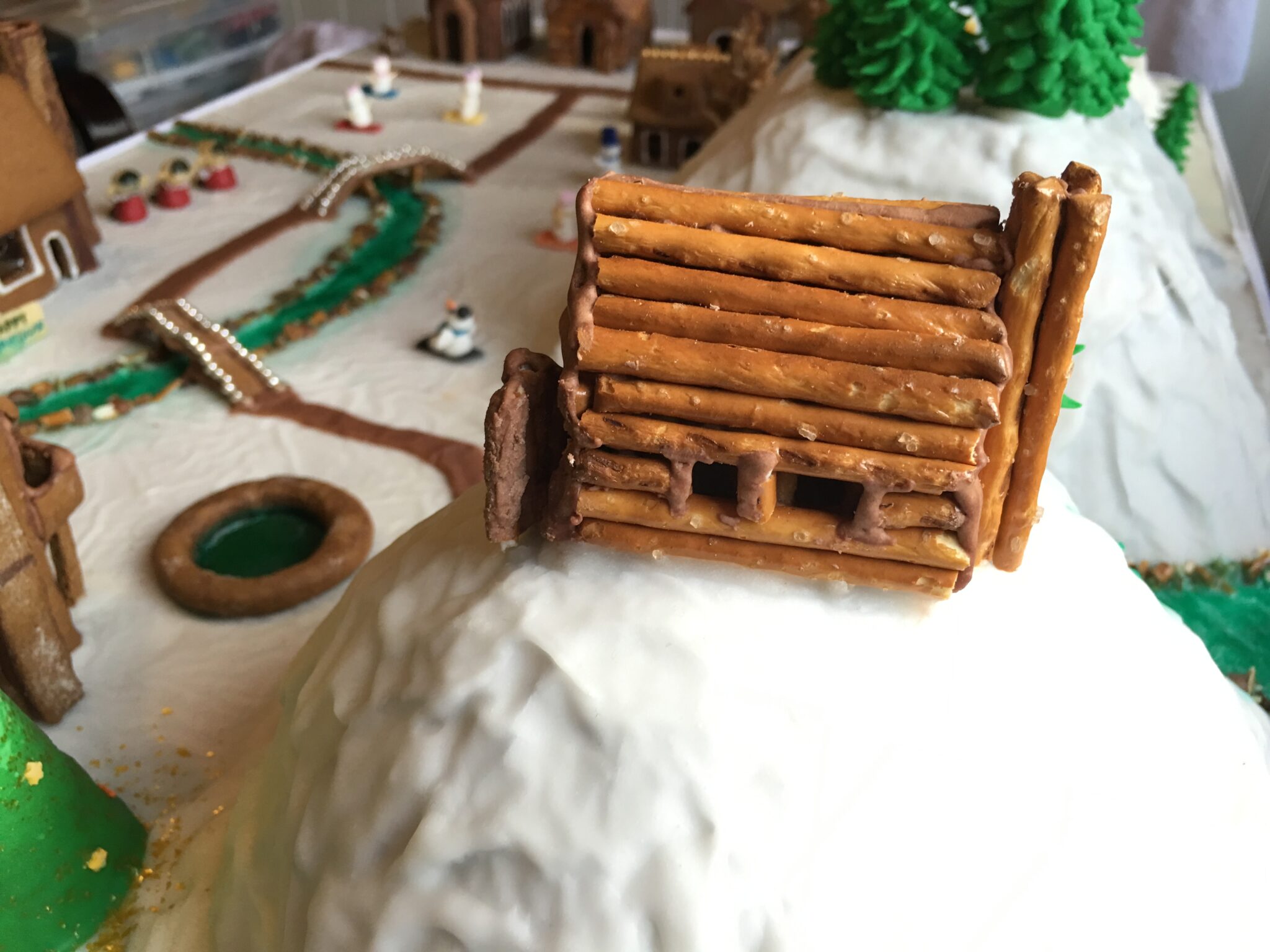 The log cabin on top of the hill was made of tiny pretzels.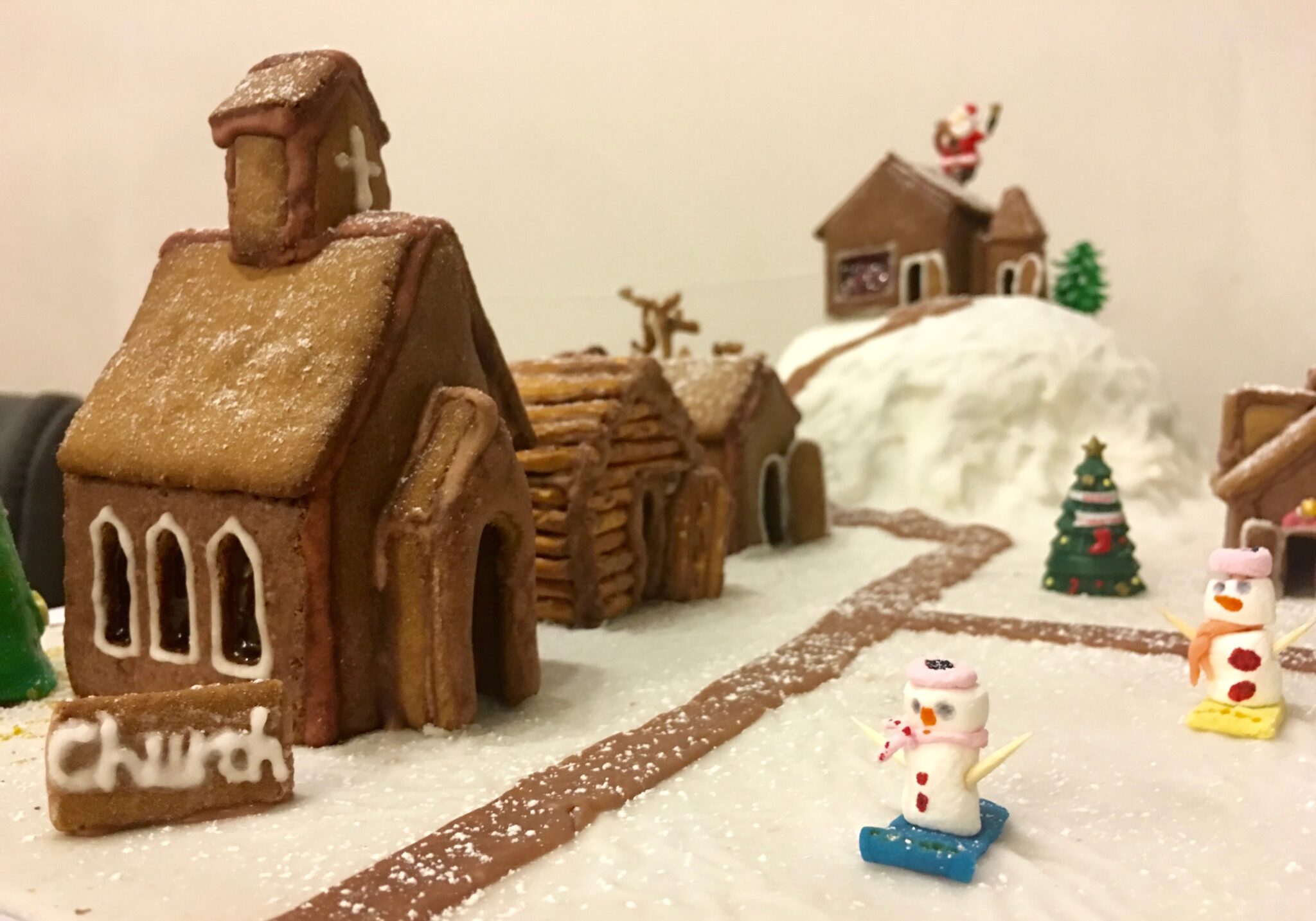 Three snowman was made of tiny marshmallows with toothpicks as arms because the first three I made out of fondant and marzipan were a lot of work. 😉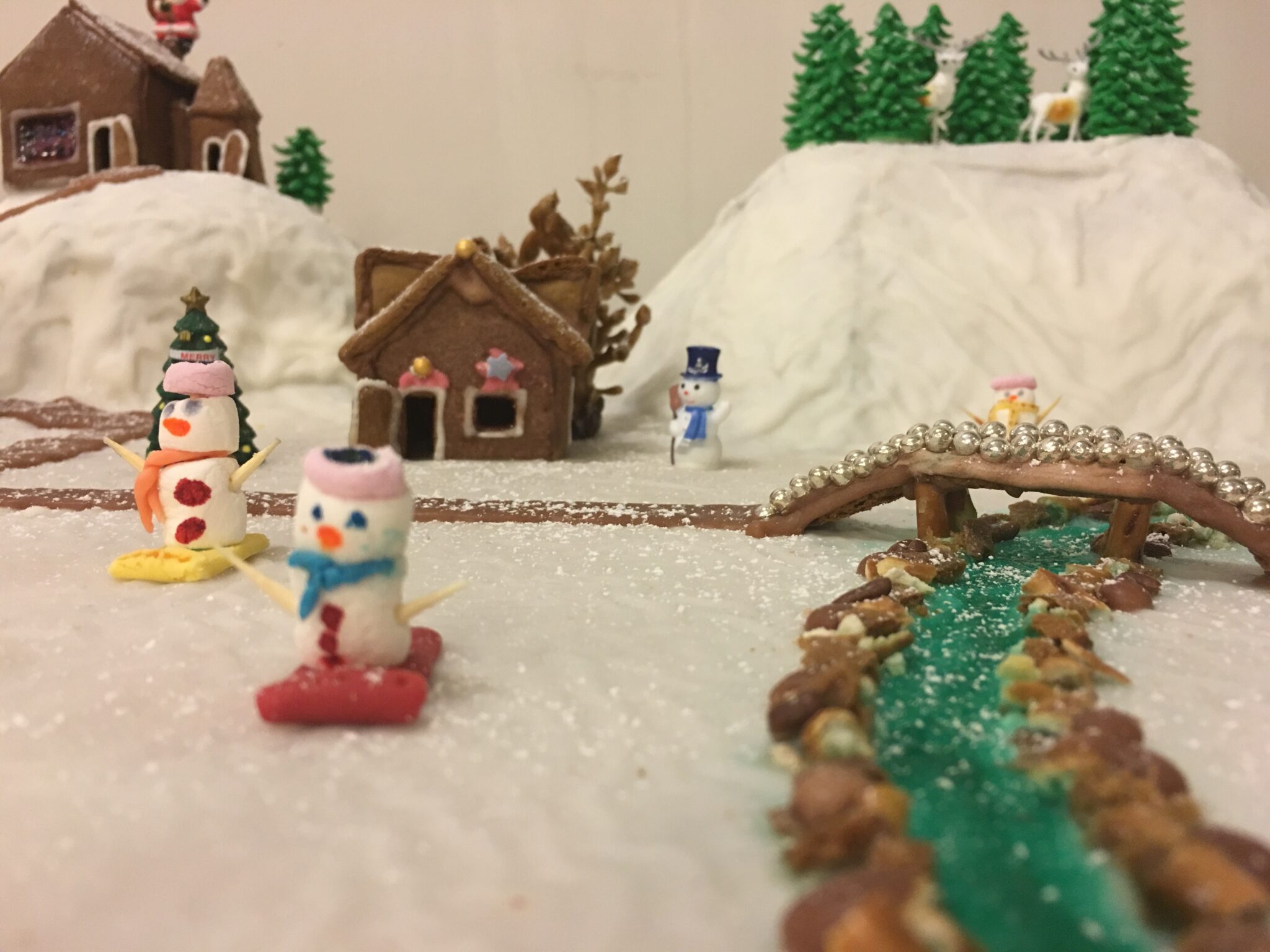 The waterfall and river was made of gelatine with a drop of turquoise food colour.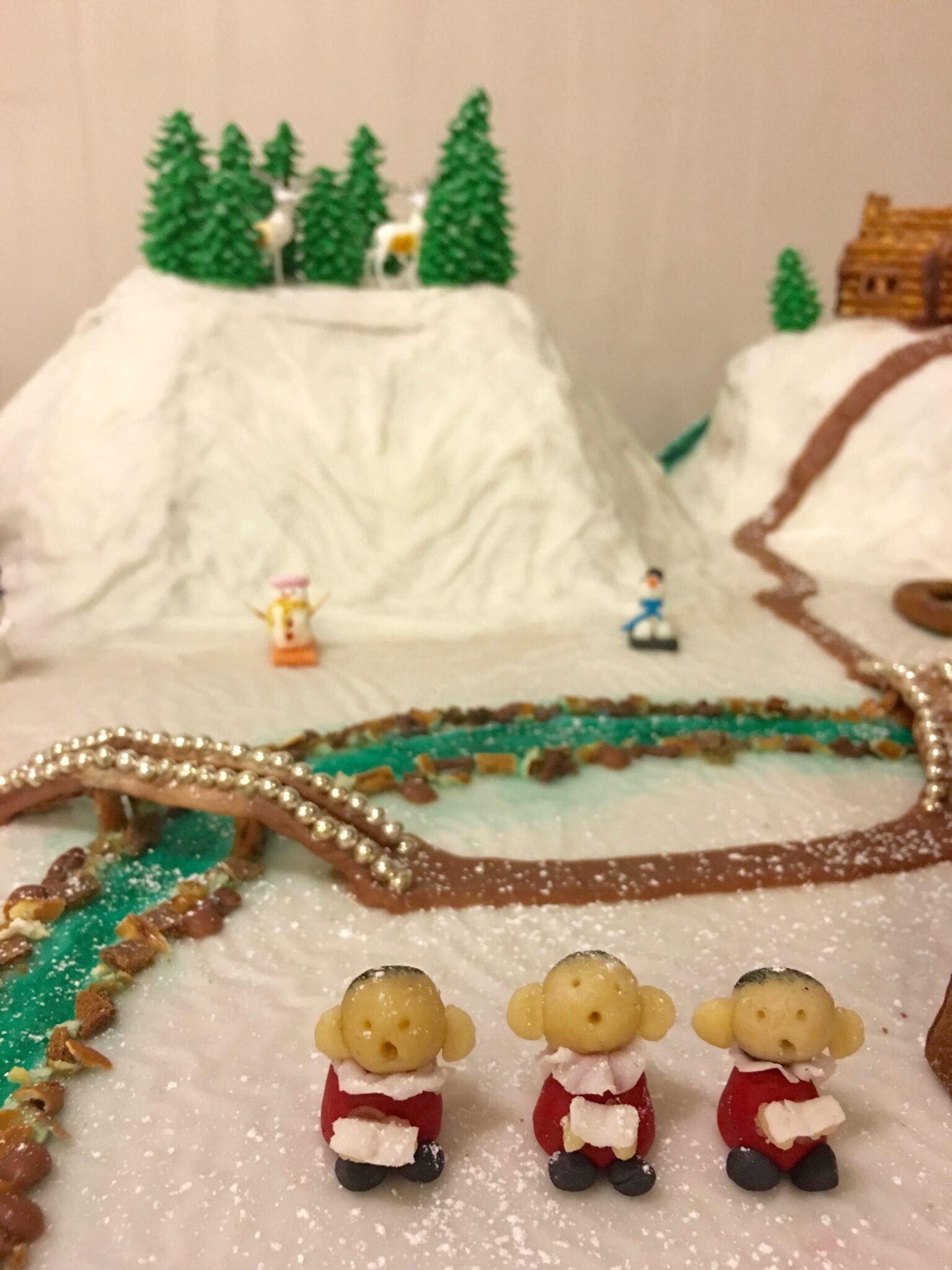 The choir boys were made of marzipan. They're so tiny and attaching the ears and the other tiny pieces like the song book, feet, etc., was a bit of a challenge.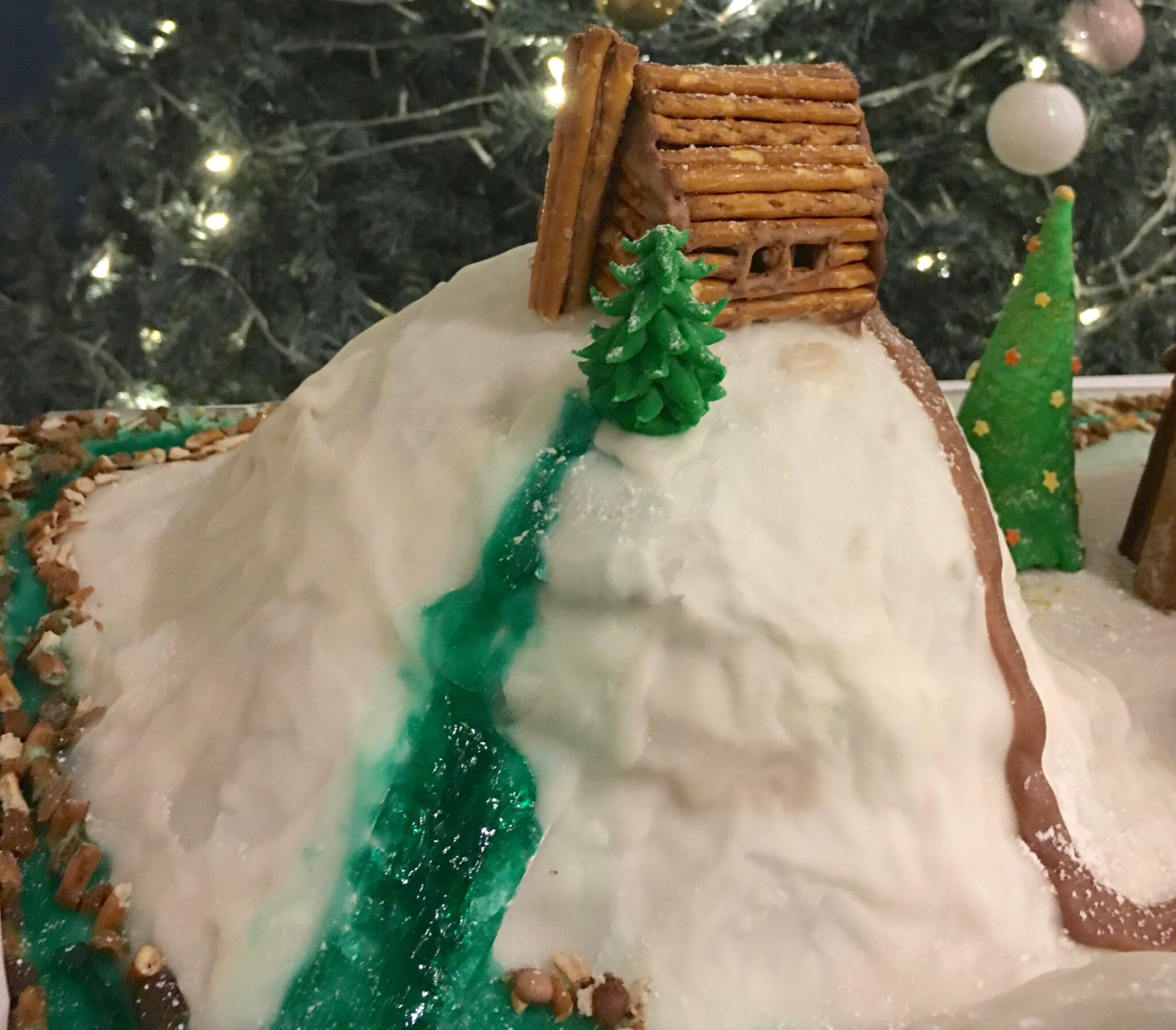 I planned on making more fondant trees to put on top of the mountain where the waterfall starts but did run of time to do it. The other tree is made of ice cream cone dipped in green icing sugar.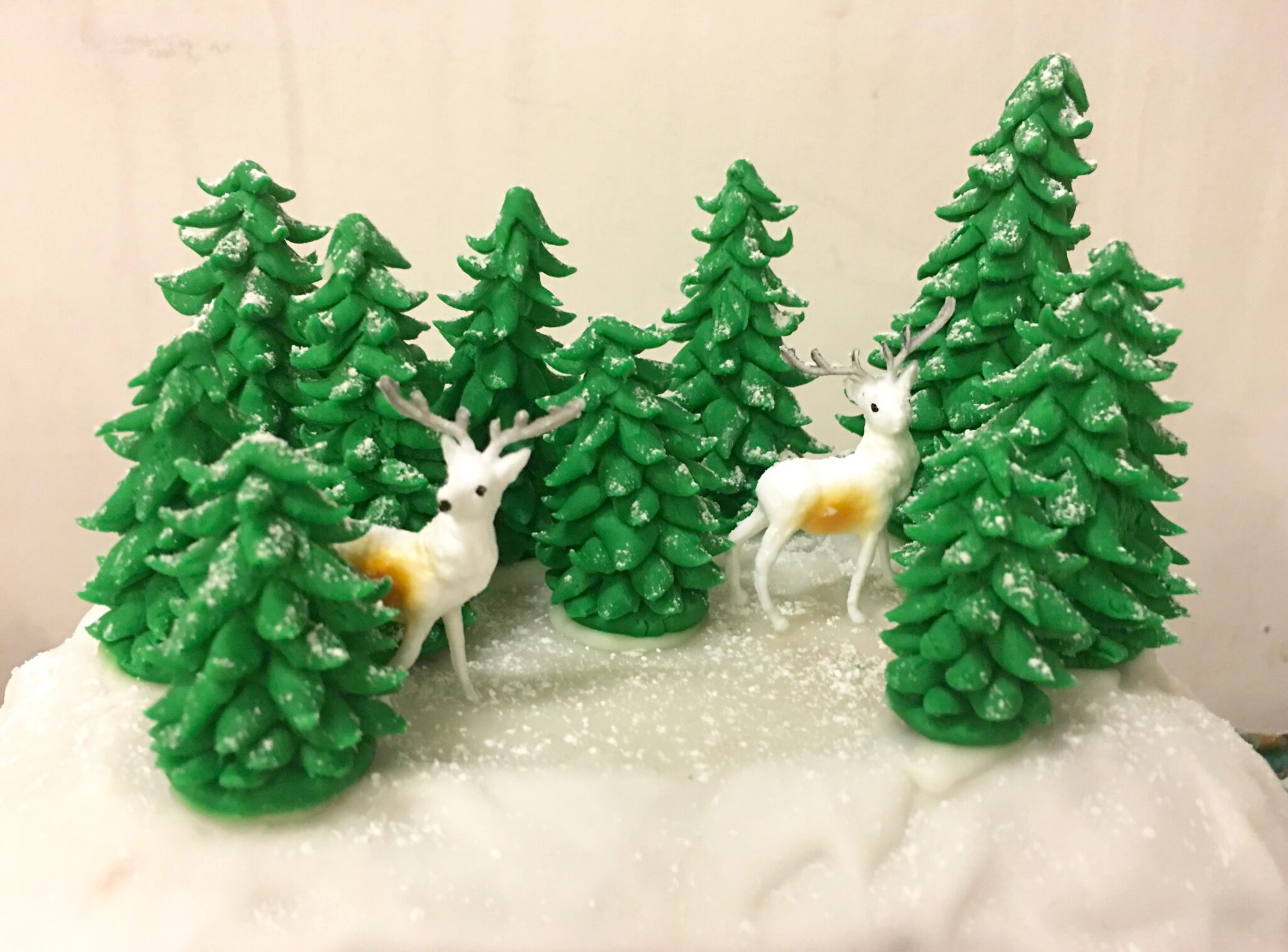 The 'hunting mountain' has a couple of bucks coming out of the woods. 😉 I tried to make a doe out of fondant and marzipan but it wasn't easy making them so tiny hence, I decided to just use the plastic cake toppers.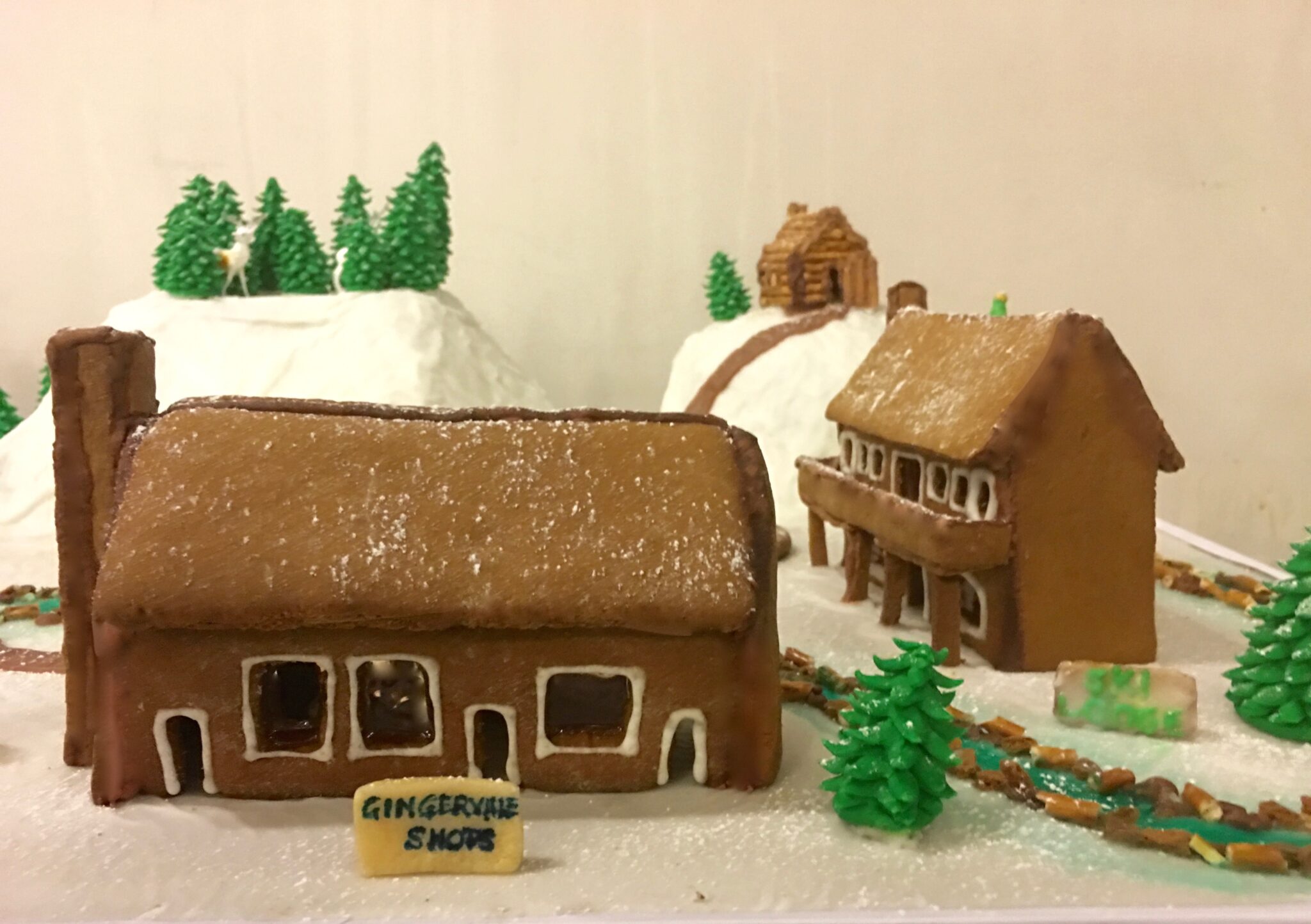 The 'Gingerville' shops and 'Ski Lodge.' 🙂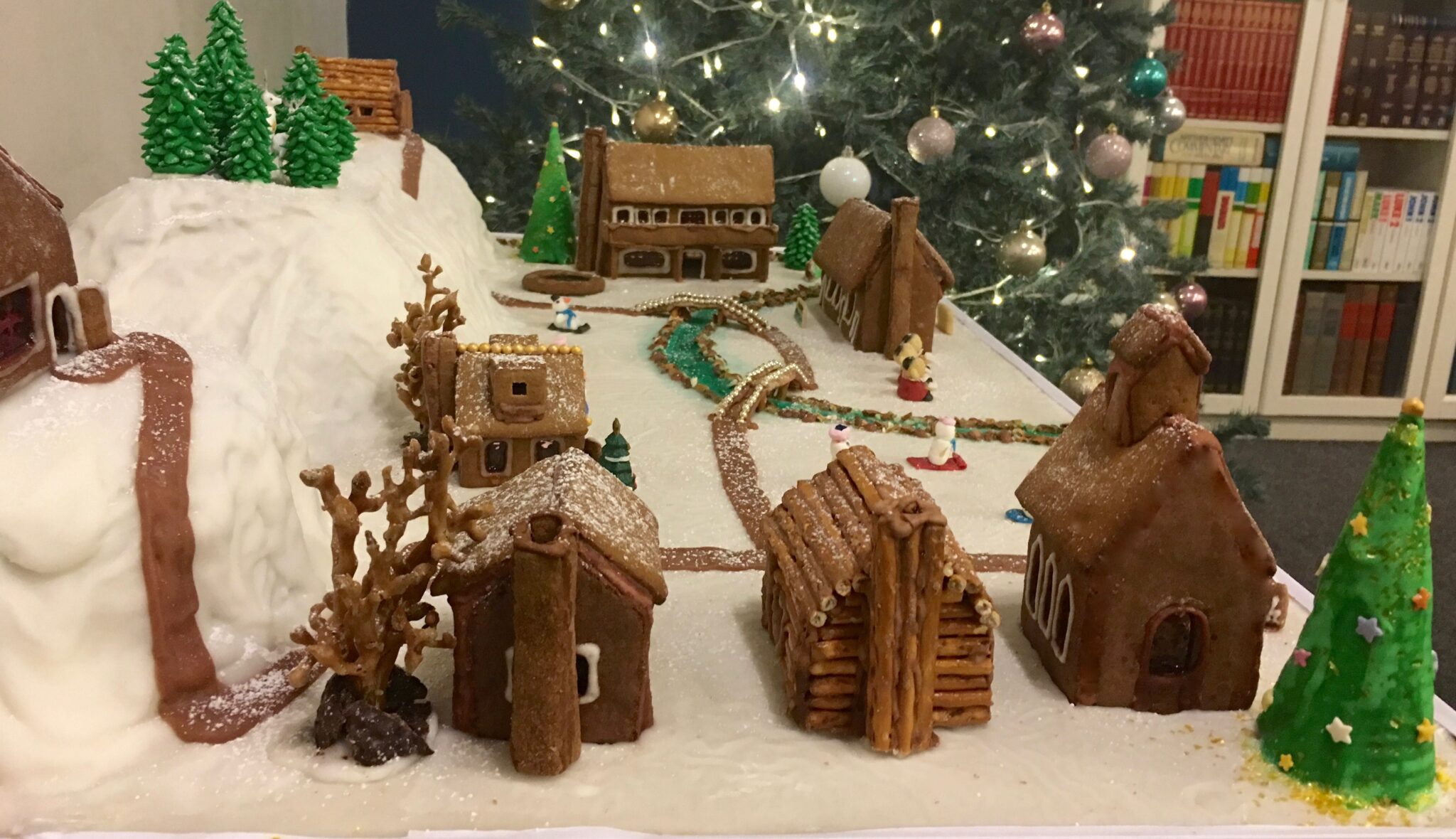 The gingerbread village has been on display at our church fellowship hall from the 24th of December during our Christmas dinner . . .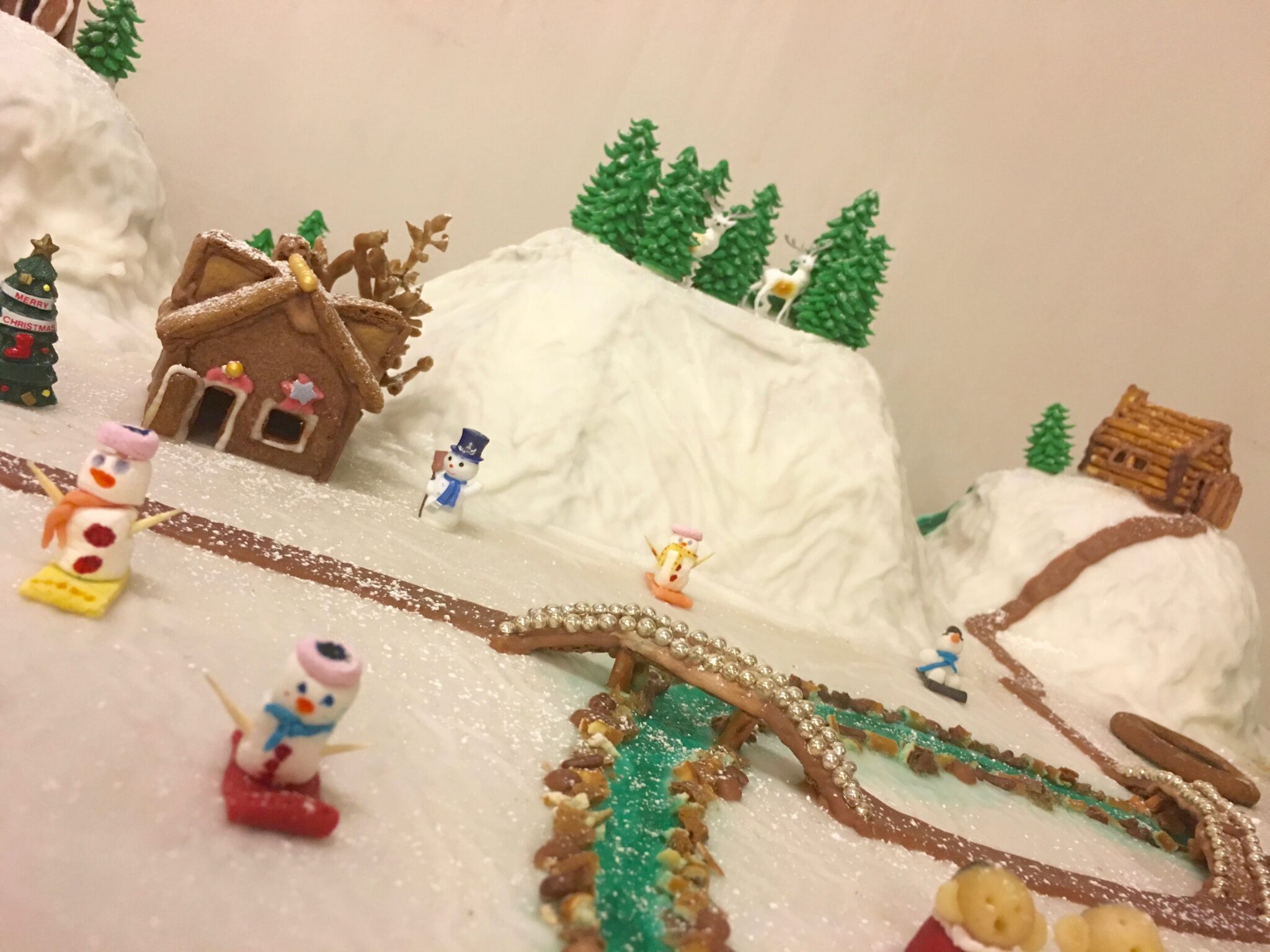 And the kids will then dismantle and eat the gingerbread tomorrow, the 27th of December, after our Sunday morning worship. 🙂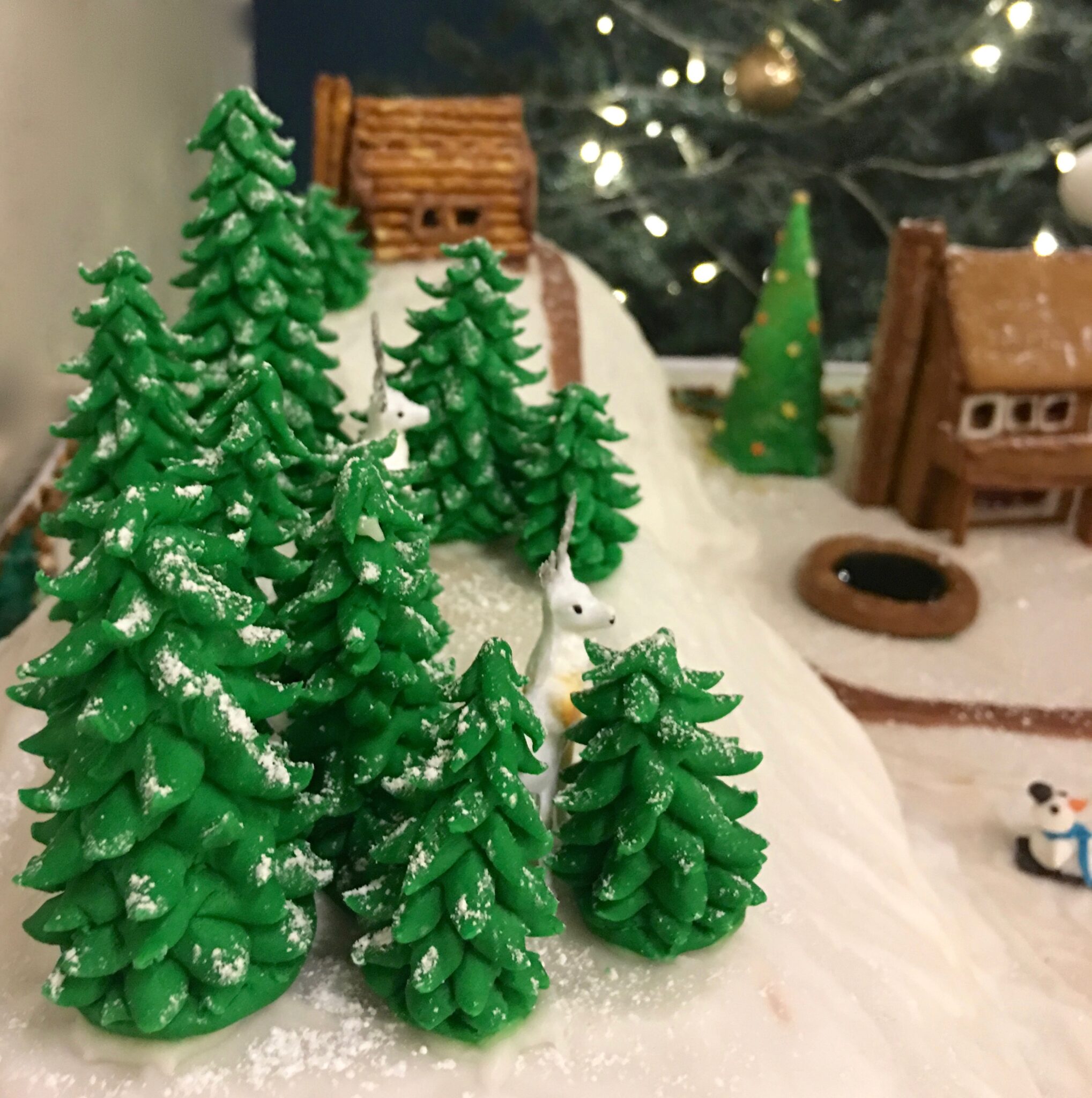 I sprinkled a bit of icing sugar on the whole village to have some kind of 'snowy' effect. 😉 A couple of weeks ago we had the teenagers at our church for a Friday night fellowship and I asked them if they wanted to help out. Sadly, nobody wanted to do gingerbread anymore except for 13 year-old Denzil who helped put icing sugar all over the table and helped assemble a house. The other teens, all between 13-16 years of age, feel like they're too old to be making gingerbread. The last few years they have been making different gingerbread houses with me. Not this year though. 🙁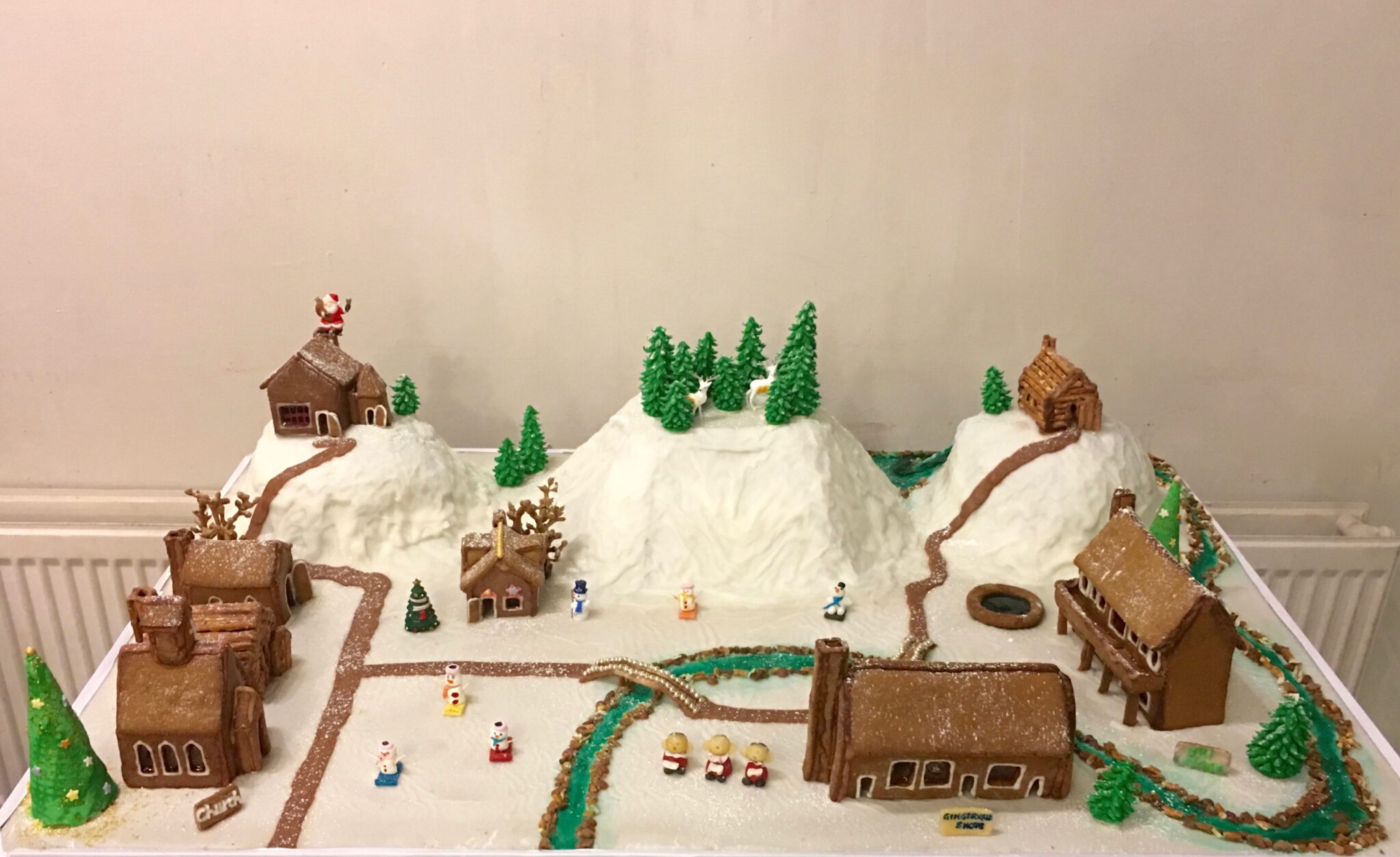 So I decided to just do it with the smaller kids. Last Sunday they got to decorate their own gingerbread house. Two year-old Aaron, the youngest, did eat loads of candies while his Mum had fun decorating the gingerbread for the first time in her life! 🙂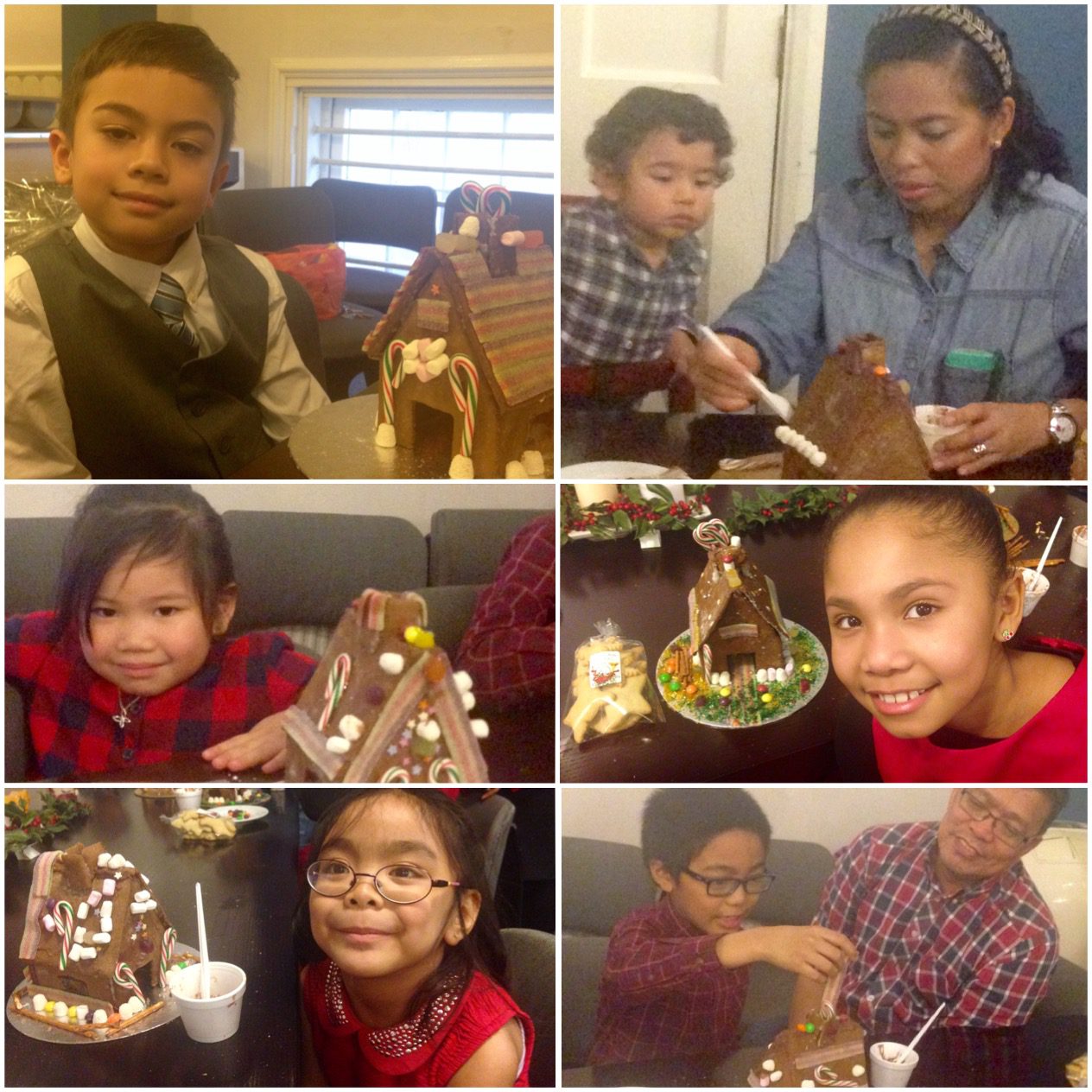 Trystan, Aaron, Kelly Mae, Jennifer, Jeninah and Joel got to take home their own gingerbread house to play with and enjoy until Christmas day. But I know some of them just couldn't wait to eat the gingerbread and ended up devouring them as soon as they got home. 😉