History of the Hotel:
The Dukes is not ostentatious nor glamorous, but rather a discreet hotel.  It used to be a hotel for dukes, earls, and other members of the British nobility who wanted to remain as inconspicuous as possible.  Anyone who is showy and wanted to be seen, went somewhere else.  Its proximity to the Court of St. James's (St James's Palace/Clarence House is just a stone throw away), made the hotel an old stomping ground of the old  British aristocrats.
The Dukes is one of the many icons of St. James's and its courtyard is very historical; it traced back to the 1500s when Henry VIII (the infamous king who beheaded two of his six wives) bought a convent and built St. James Palace as a hunting lodge. The surrounding woodland (what we now refer to as 'St. James Park') used to be the king's hunting ground and the lodge was his place of refuge from court politics (although Henry VIII's Whitehall Palace – the biggest in the world back then with 1,500 rooms – is just about 10 min 'horseride' away).  When Oliver Cromwell came into power after King Charles I was overthrown and beheaded, he turned St. James Palace into barracks during the English Commonwealth period, 1649–53.
In 1660 Charles II  returned to England to reclaim the throne and St. James's became a highly fashionable area in London.  Elegant coffee houses were opened around the area where the Dukes Hotel stands today, and it was where the aristocrats rubbed shoulders with the royals and their courtiers.  When coffee houses fell out of fashion, the Gentlemen's Clubs were established.  Three of which are some of the handful of pioneering 'members-only private clubs' that are still located in St. James today.  One of them is the Carlton Club, situated right next to Dukes Hotel, and among its most famous members were the war-time Prime Minister Winston Churchill and the first woman PM Margaret Thatcher.
In addition to aristocrats, many politicians, artists and hedge funds managers are regular guests at Dukes Hotel.  But the bar is something to write about because it's the same bar where James Bond's creator Sir Ian Fleming (a former British Naval Intelligence Officer) coined the famous line of his favourite cocktail drink: "A Martini. Shaken, not stirred."  It was also at the hotel where he wrote parts of 'Casino Royal' in 1953.  The Dukes Hotel and its colourful history was supposedly a source of inspiration for Ian Fleming, whose hero 'James Bond' Fleming took from the American ornithologist named James Bond and the code number (007) referred to the breaking of a World War I German diplomatic code.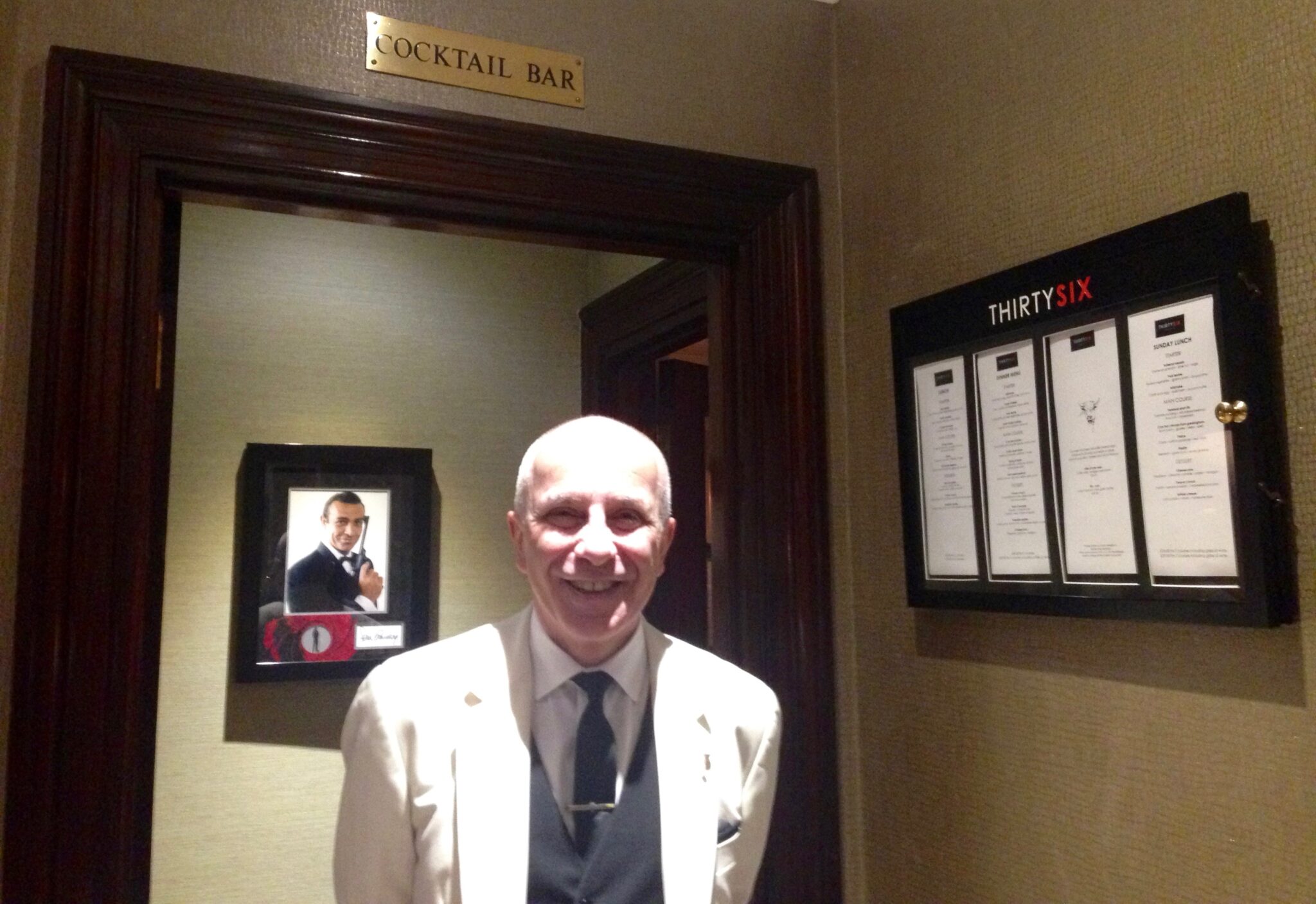 Of course, we just can't go to The Dukes and not pay homage to Sir Ian Fleming's favourite watering hole so we entered into the bar to have a look inside and take some photos.  We bumped into Mr Palazzi heading out and he happily agreed to pose for a photograph — told him it's for a blog and he had given us a big smile. 🙂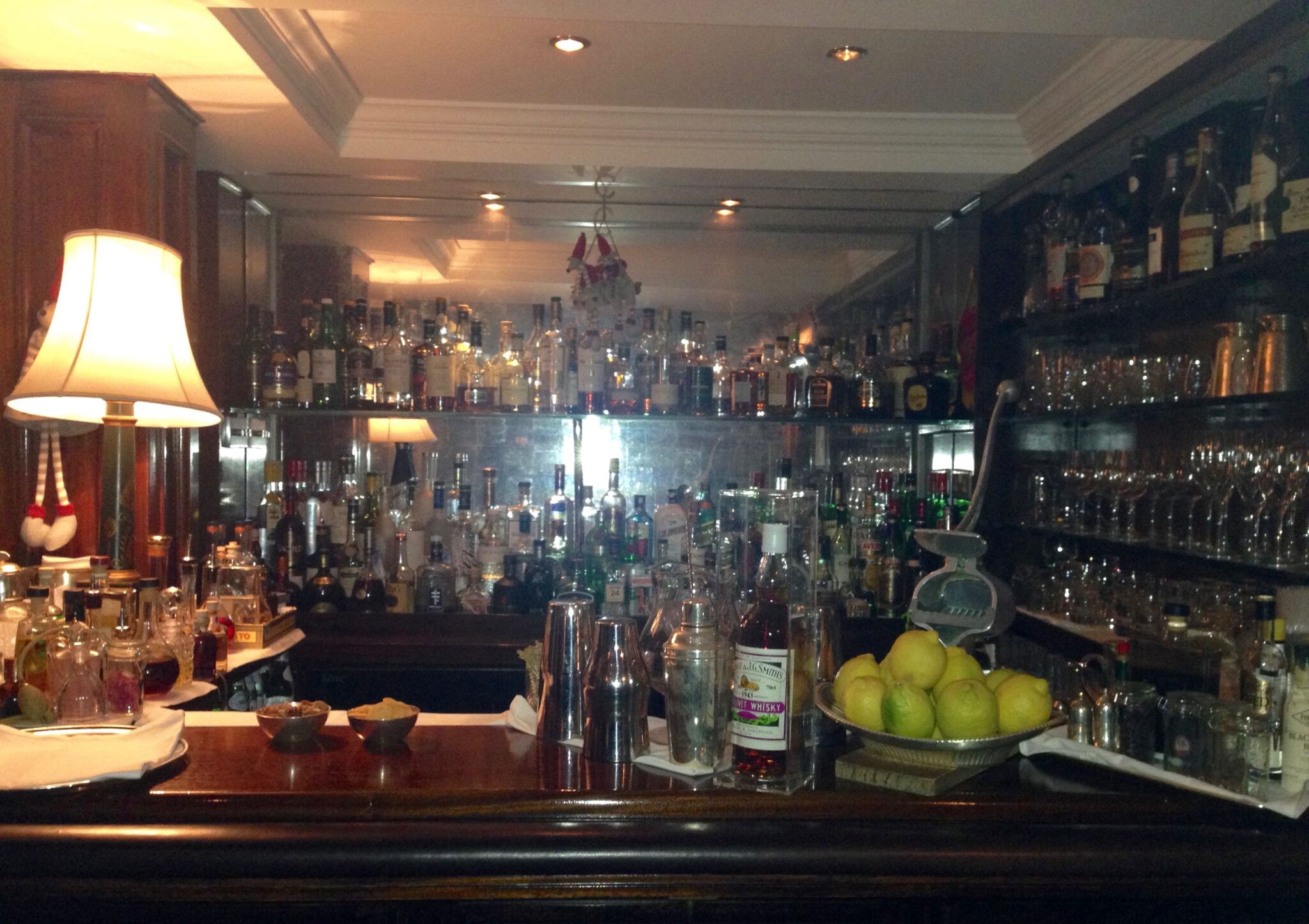 We did not get to sample any of their famous drinks, partly because we were there not for their 'Bond-inspired martinis' but for tea, and partly because it did not seem like the kind of place we would relax with tuxedoed elderly men. (I must confess, I don't like the taste of a martini – it is disgusting.  I couldn't stomach it, and I'm just not fond of any cocktail drink, alcoholic or not.)  While we were at the bar, I couldn't help but be reminded of a story I've read about in a war history book years ago about the two war-time leaders, American President Franklin D. Roosevelt and British Prime Minister Winston S. Churchill.  Apparently, both men were fond of the alcoholic cocktail and when they got together for the first time, Churchill found out that he did not care for FDR's version of a martini; Roosevelt's martini had extra dry Vermouth whereas Churchill prefers Plymouth gin poured over ice.  Every time I hear the word martini, I always think of FDR, Churchill, Ernest Hemingway and of course, Ian Fleming and James Bond.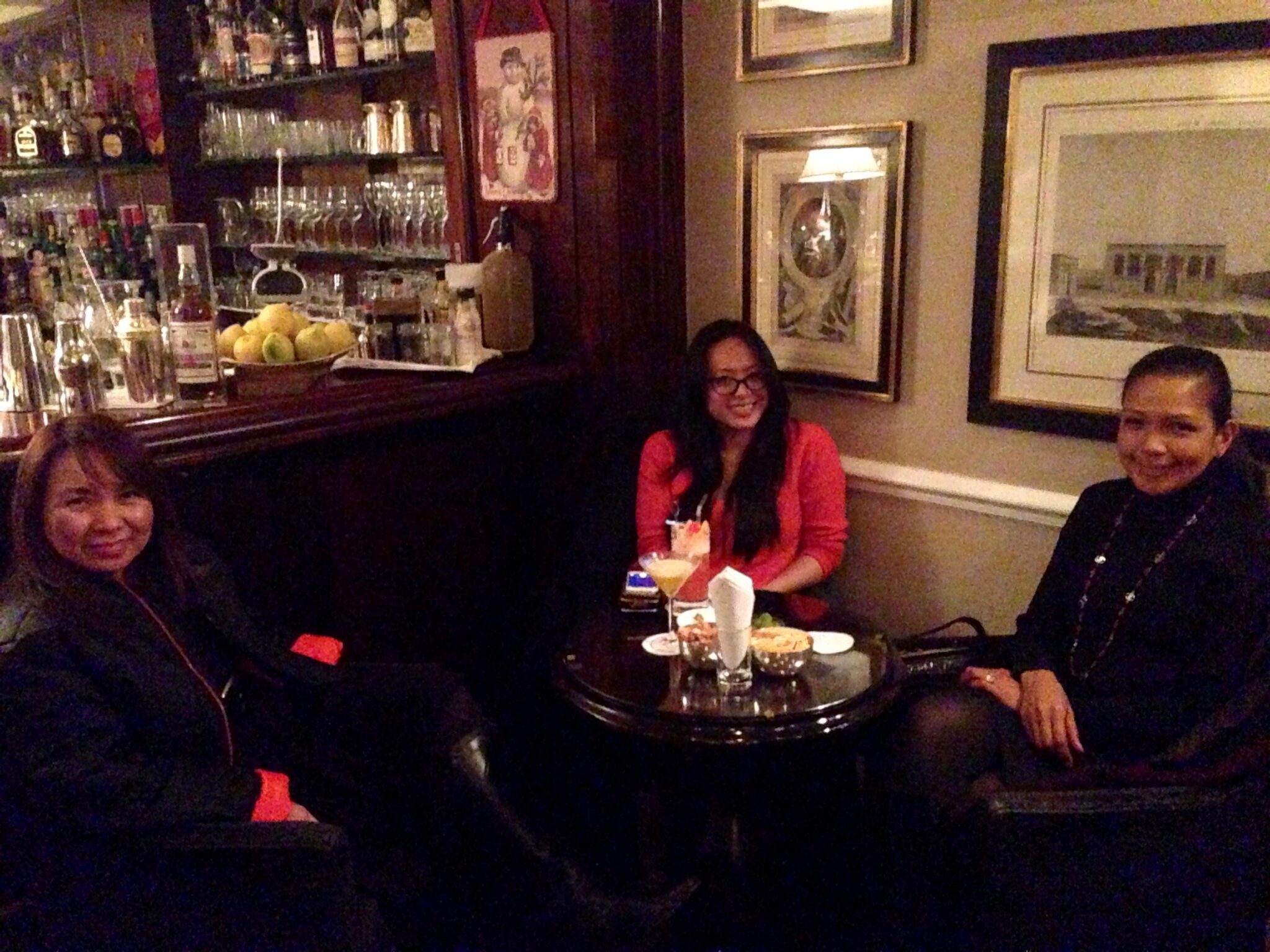 Afternoon Tea: 
As much as it is renowned for its highly rated James Bond Martinis, Afternoon tea at The Dukes is just as remarkable.  Tea is served at the elegant drawing room and conservatory overlooking a lovely courtyard.  There's a pile of cakes and sandwiches fit for royalty, all served in a calm, tranquil and intimate (but not stuffy) surroundings.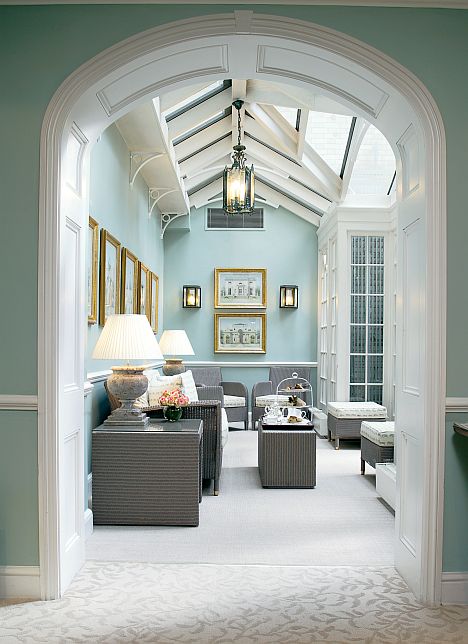 Mavy invited us to tea to celebrate her birthday and I suggested The Dukes Hotel for obvious reason: I've said it in my previous posts that I've been making my rounds visiting London's historic hotels.  So many of these hotels are mentioned in the history books I've read about in the past and their connections to England's history is pretty fascinating. But I digress. 😉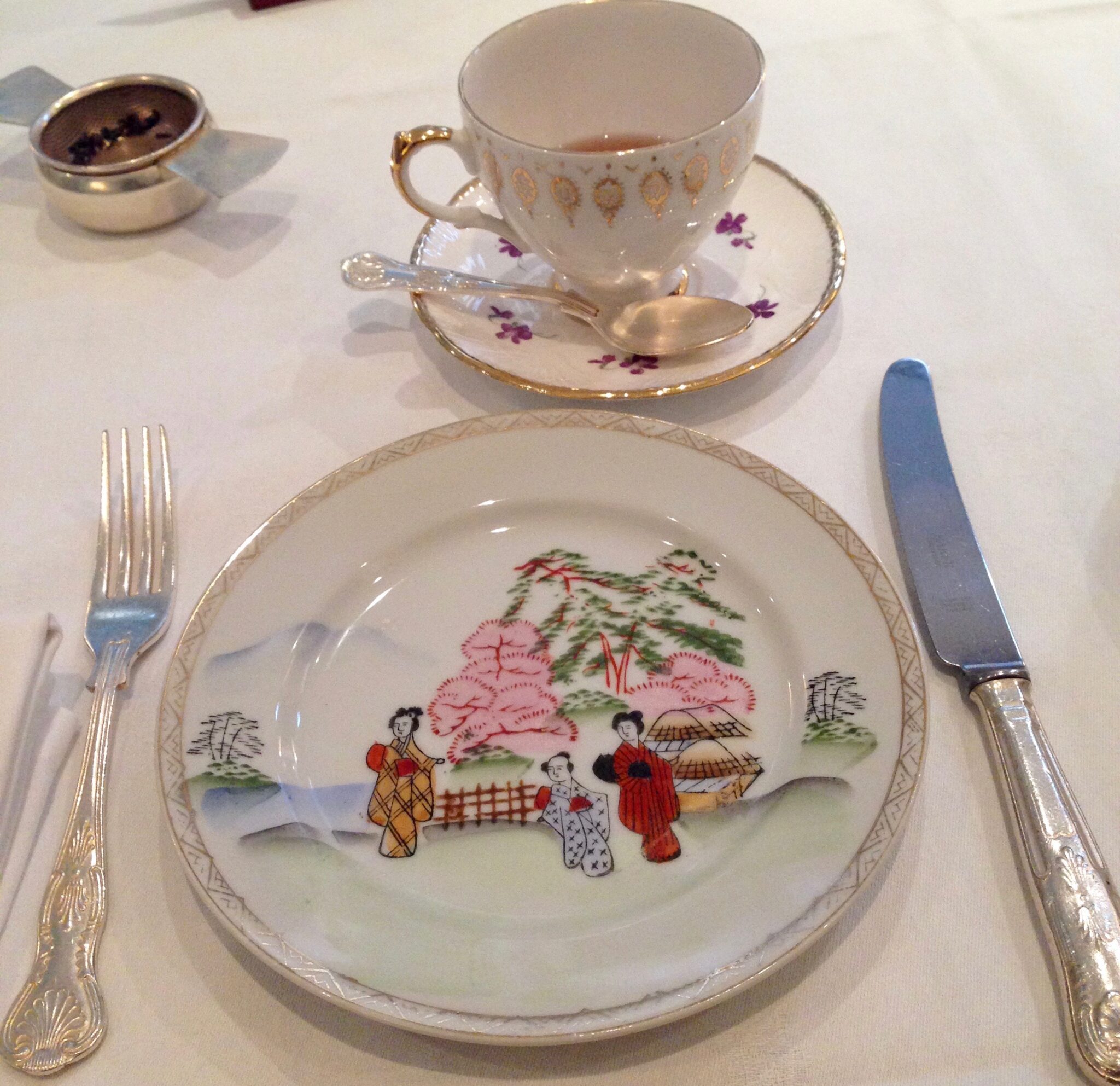 As we entered the elegant drawing room, I immediately noticed the mismatched crockery, and I love it!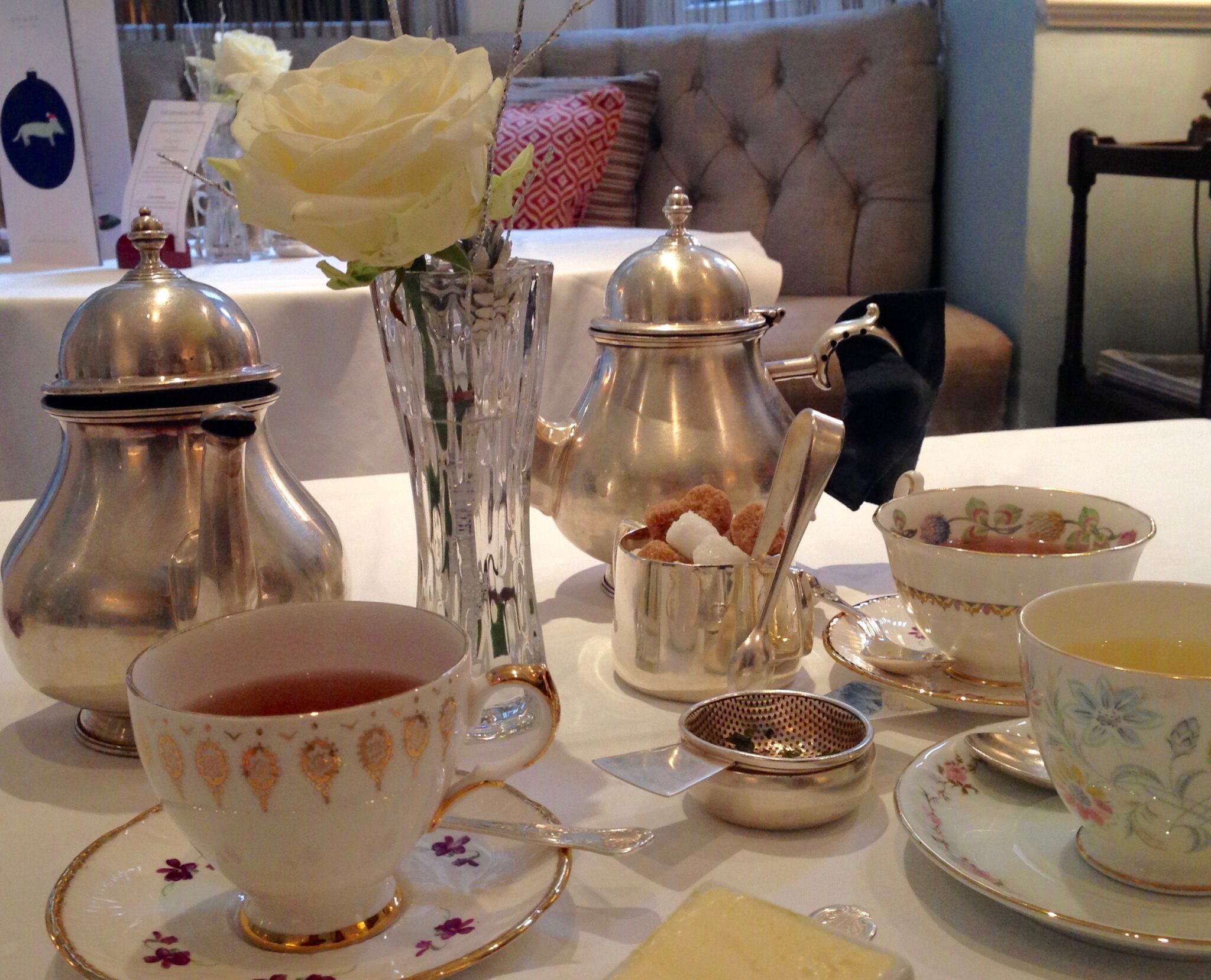 Tea was served first; I ordered the Dukes house blend first, a refreshingly light rose scented tea and also tried the Sencha with mango and rose petals — all very good.  The tea brands Newbyteas and Tea Palace was also available in four or five different blends (I have tasted an excellent ten or twelve selection at the Intercontinental Park Lane London when I had tea with Miho-San, her mom and sister). Mavy tried different herb teas just like I did while Adiben had her favourite roasted green tea.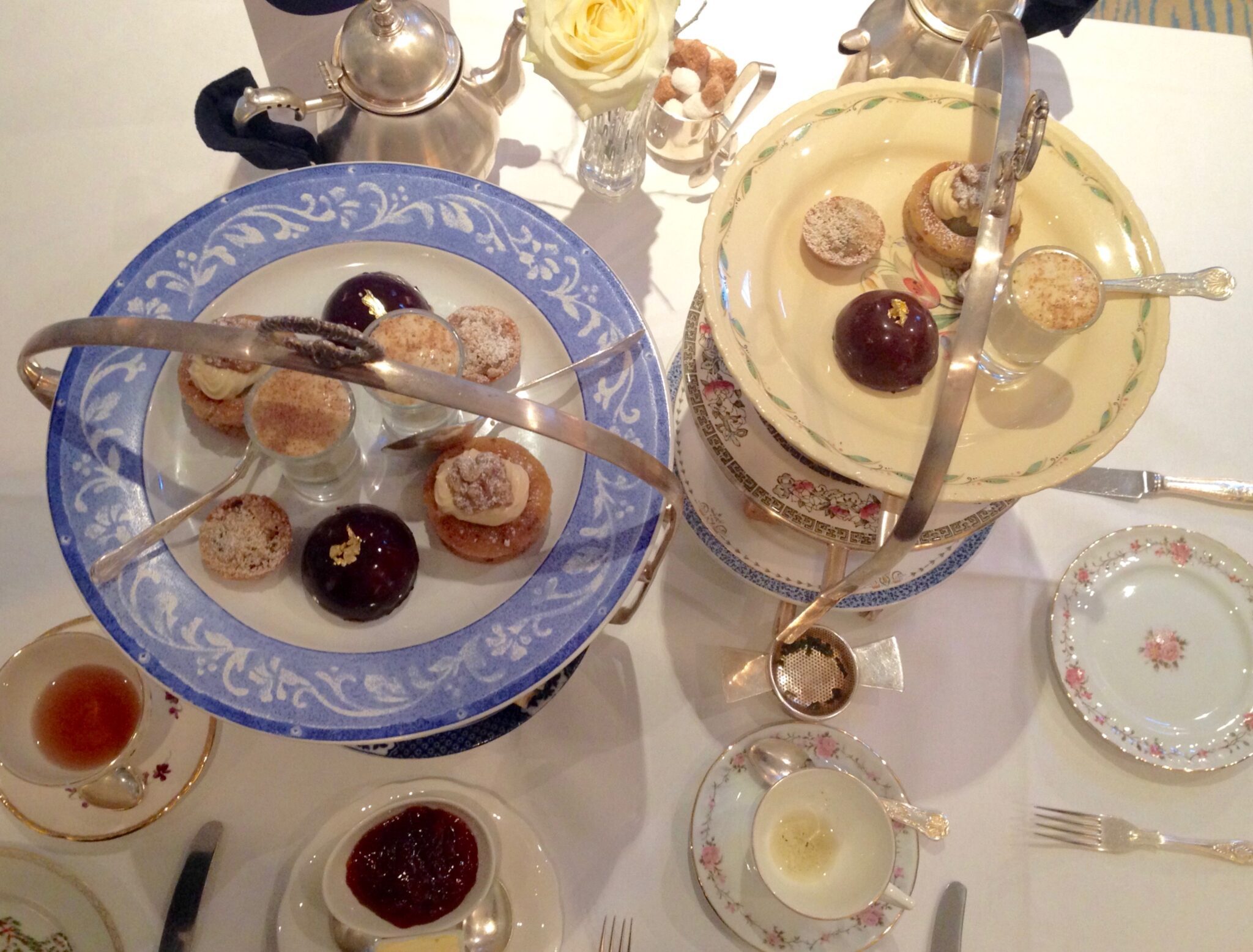 After tea was served, we were presented with three-tier cake stand filled with classic sandwiches, scones, pastries and desserts.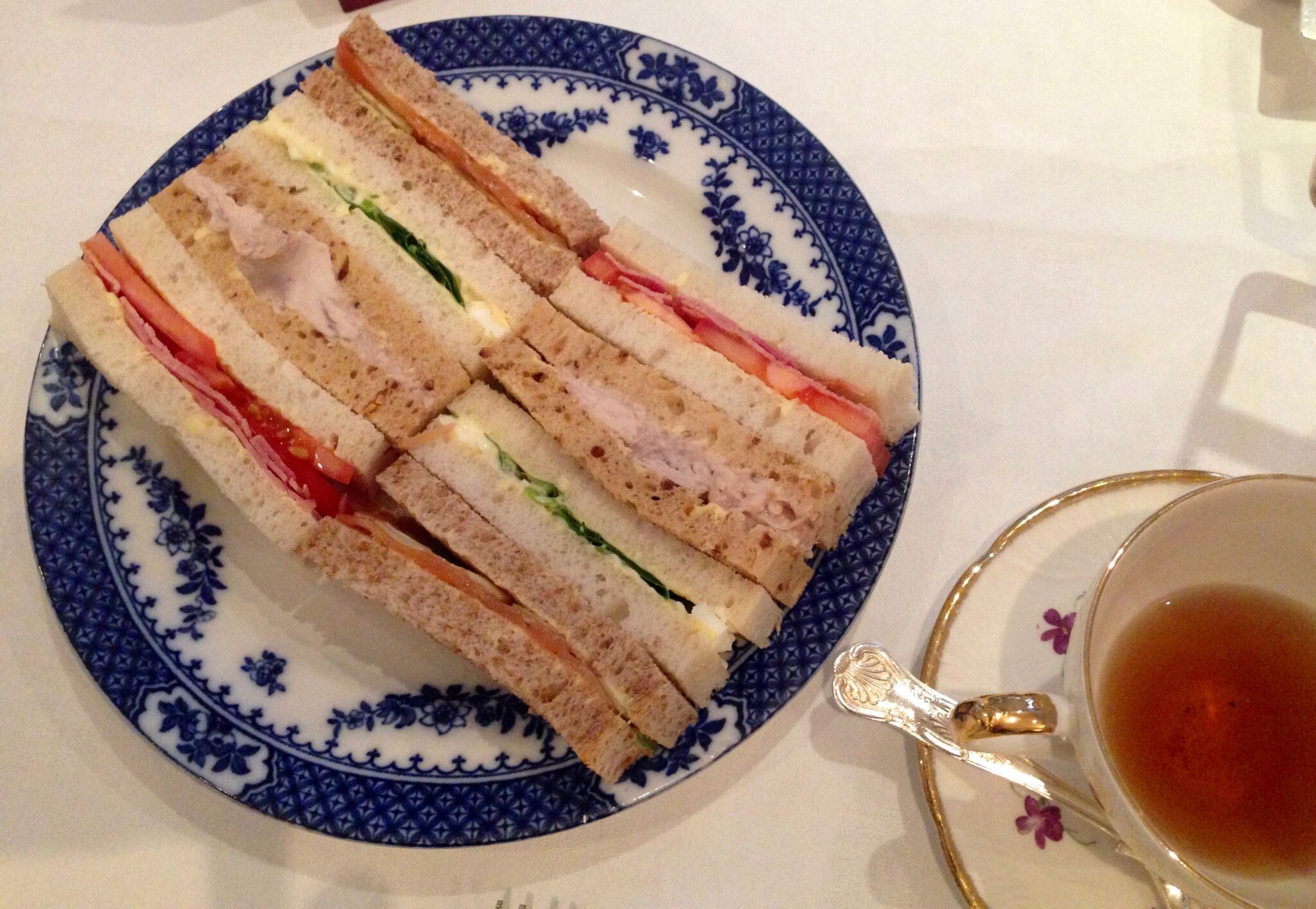 As always, we started with a selection of sandwiches: roast ham and tomato, Scottish smoked salmon and cucumber,  eggs and watercress, and a very good roast turkey and cranberry mayo.  We asked for seconds and nearly thirds! 😉 All freshly made and of excellent quality.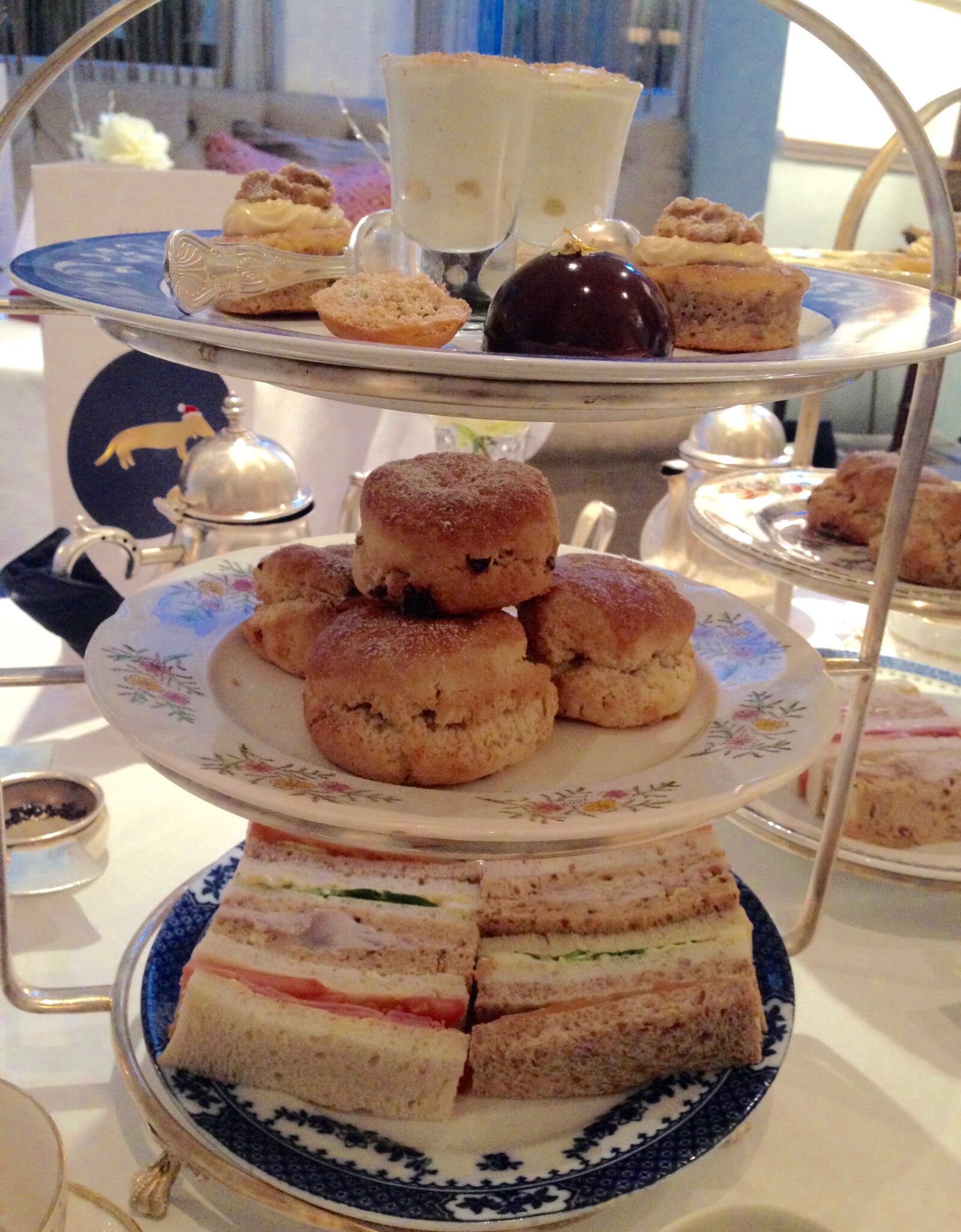 After we finished the sandwiches we had the Apricot and Cinnamon scones.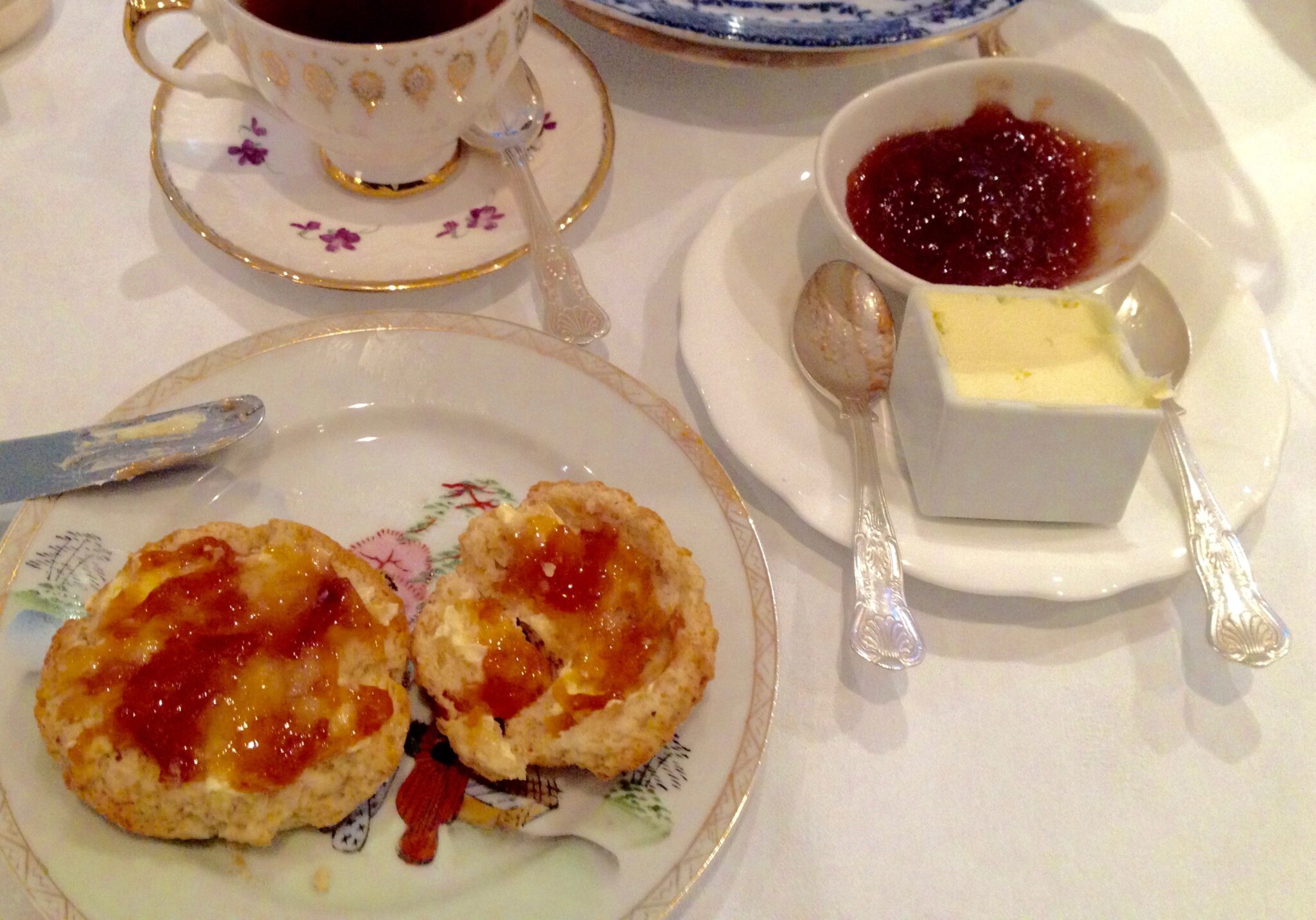 Although no longer warm (they were served together with the sandwiches), the scones were freshly baked and very good topped with clotted cream and strawberry jam.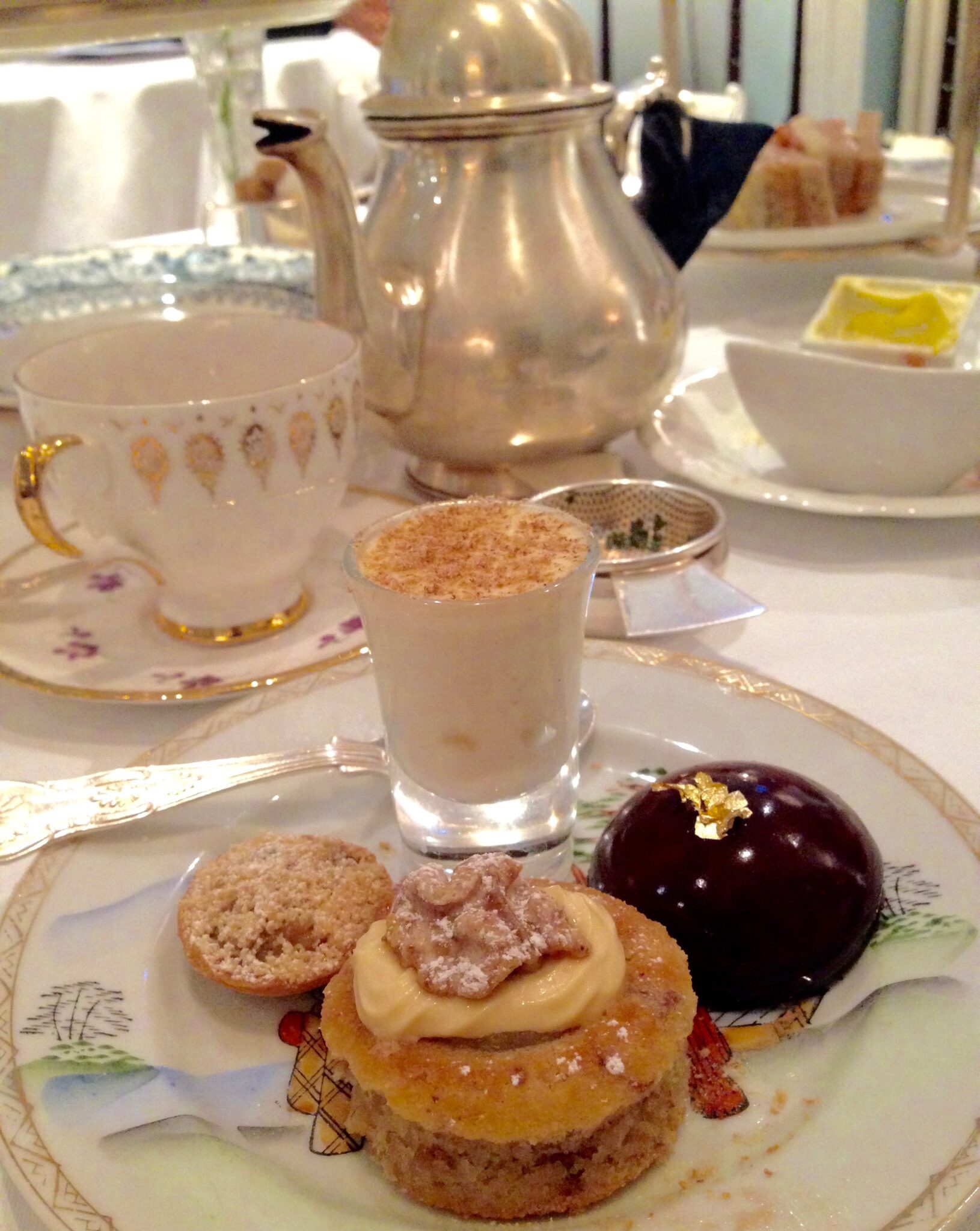 The assortment of British tea pastries and traditional cakes were sublime; a carrot cake topped with cream cheese icing and candied walnut, apple crumble in a bowl-shaped pastry, chocolate cake with mouse in the middle and topped with gold flakes, and a remarkable white chocolate mousse with tropical fruit compote.  It was just too much and we had a little bite but didn't get to finish everything.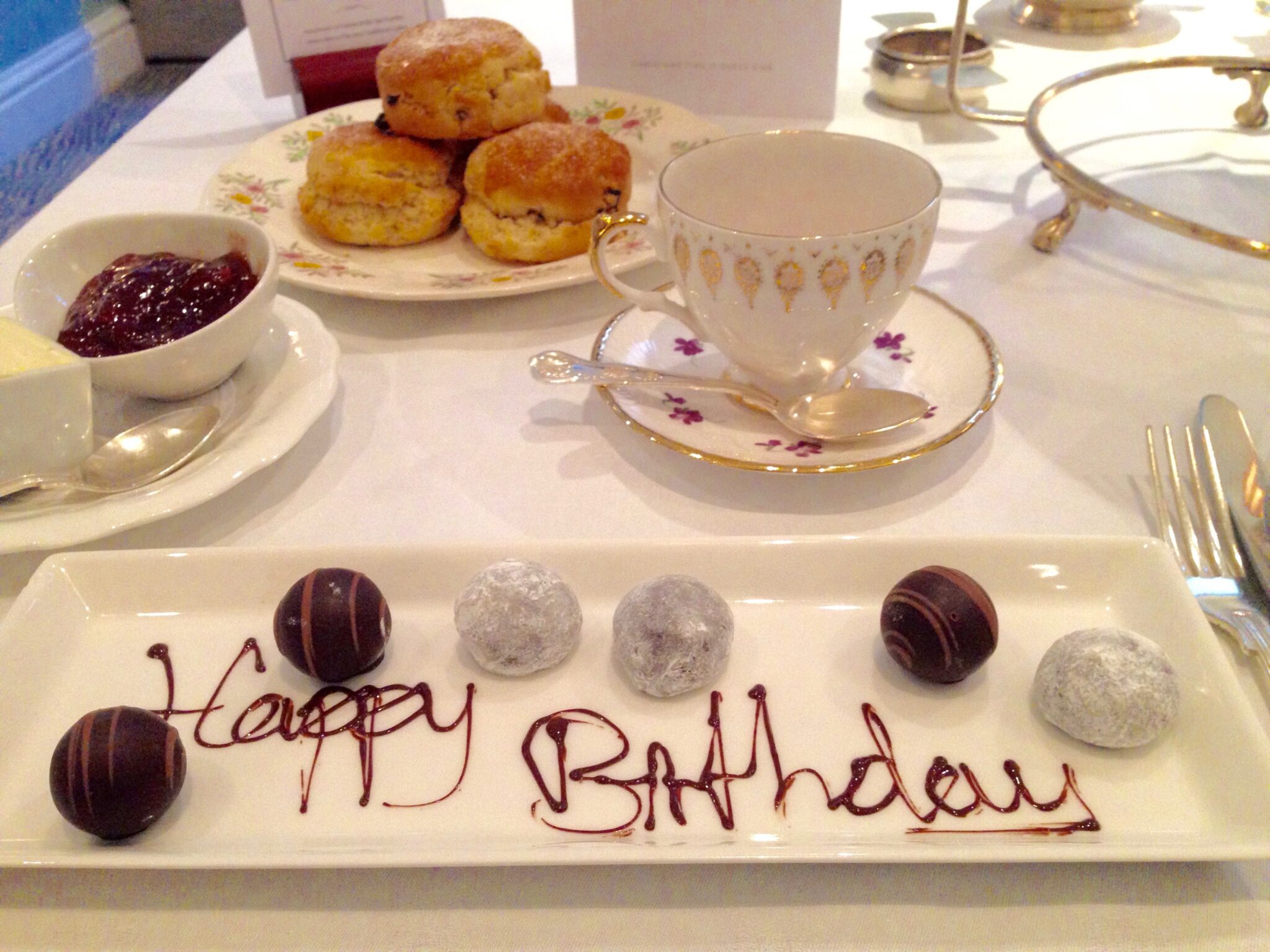 Six pieces of white and dark chocolate truffles in a long plate was presented to the 'birthday girl' just before we started eating the sweets.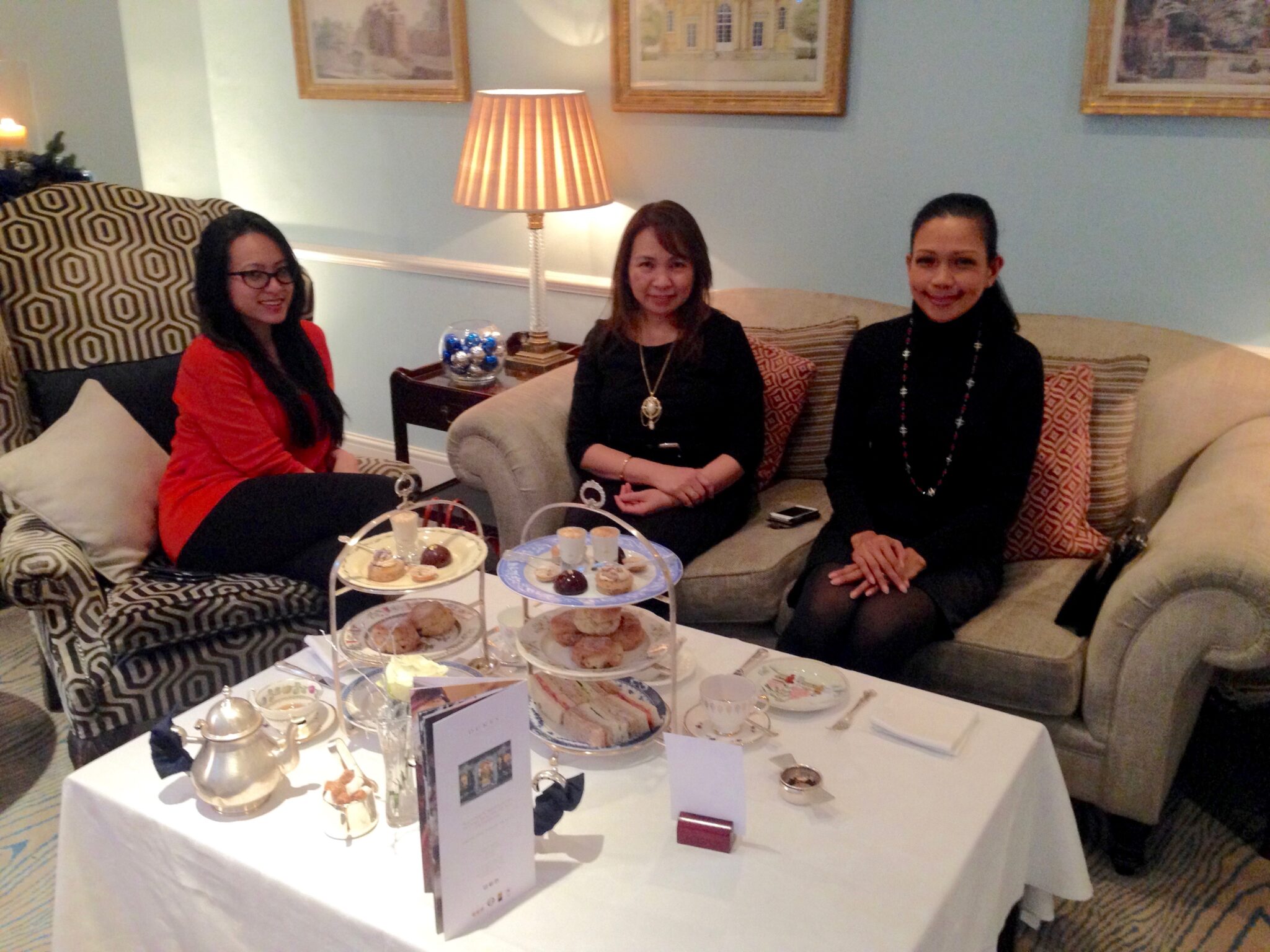 The waiters were friendly and attentive but not intrusive.  Teapots were refilled while we relaxed on comfortable couches.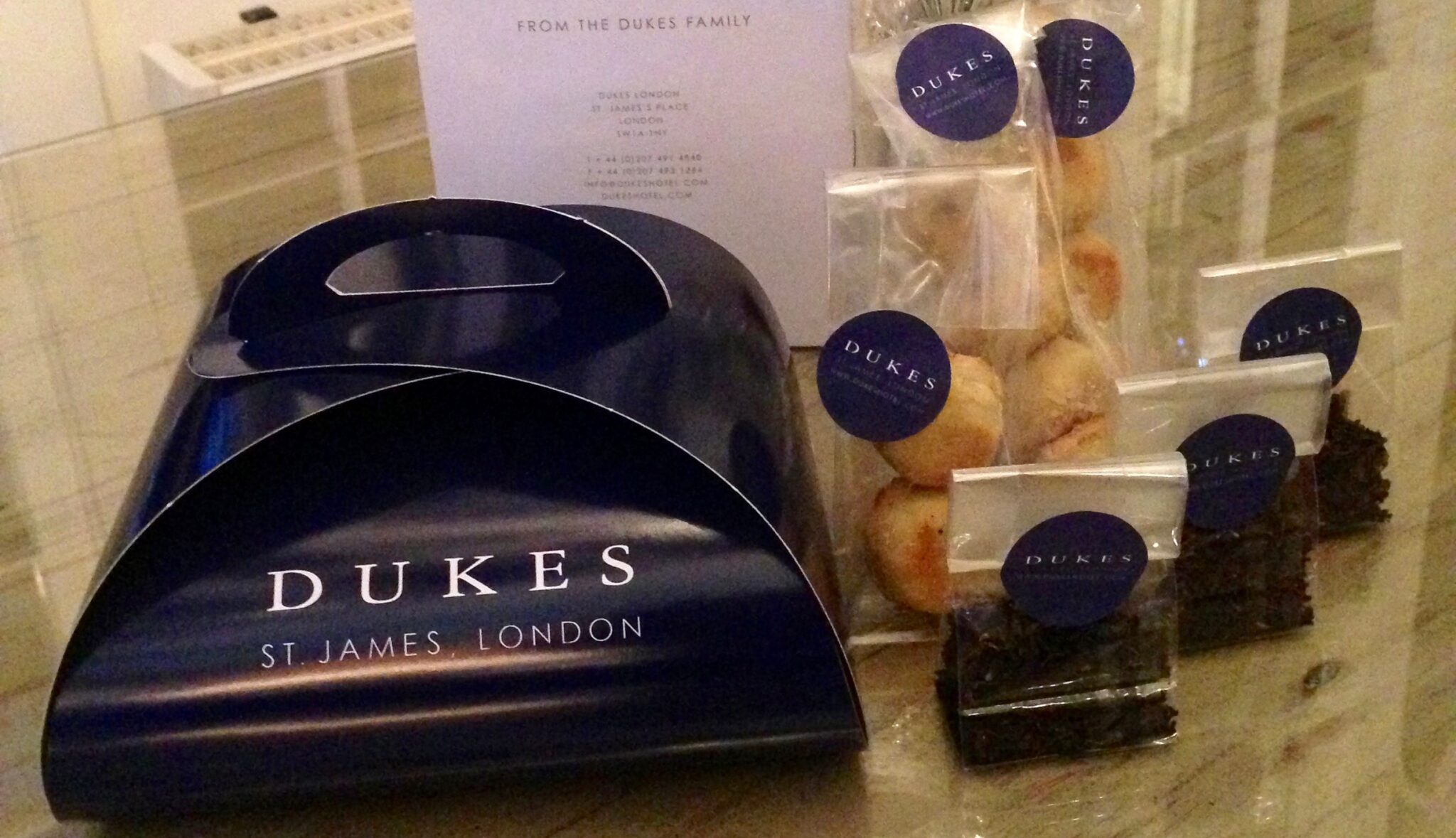 Just as we were getting ready to leave, the waiter had given each of us a goody bag filed with cookies.  Never expected a 'take-away gift' so it really was a lovely surprise.  Adiben paid for the tea and wouldn't allow me and Mavy to share the cost, and insisted it was her treat for Mavy's birthday and the 'big news' shared with us that day.  Thank you so much Sister!
The Dukes is not as grand as The Ritz, The Savoy or The Claridges but the service is excellent.  Perhaps the hotel is not as well-known to the ordinary Londoners (except to the 'James Bond aficionados') as much as it is to the American tourists.  But it really is a place worth visiting not just for its history and its famous Bond Martinis but also for tea.  And I must say that The Dukes has it all: the fame, the class, the style, and a friendly yet discrete service of the highest quality.