I've lived in London for over sixteen years now, and in the last five years I have seen how some Filipinos are making waves in the UK, particularly in the creative and design industries. Since 2001 the British Council and the British Fashion Council (BFC) have chosen a number of  emerging fashion designers from 25 countries including the Philippines to the International Fashion Showcase – London Fashion Week (IFS-LFW). The purpose of this programme is to showcase the work of new designers and to celebrate the universal relevance of fashion in contemporary culture. Most, if not all, of the Filipinos who were invited to the LFW over the years have been featured by Vogue and other international fashion magazines, and have made a name for themselves at home and/or abroad. Mitch Dulce, Ken Samudio, John Herrera, and others are some of the talents that were discovered by some fashion editors at the IFS-LFW, and their products are now being sold in the UK and other parts of Europe.
Of course, there are other Filipino designers who are not part of the London Fashion Week, but also making waves in the international scene. One of them is Ann Ong. I've heard about her a few years back but didn't get to personally see any of her work nor get to meet her until a month ago when she came to London to launch her collections. And I couldn't have been more impressed. She's not only gentle and humble but also beautiful, quite elegant, and a very sweet lady. The way she carries herself and relates with people is quite admirable.
Ms Ong only started making accessories in 2009, and she already won so many awards both local and international. She won a Katha Awards at Manila FAME Trade Show (Philippines' premiere design and lifestyle event) three consecutive times. She rose to fame right after she won the first Katha Award in October 2012.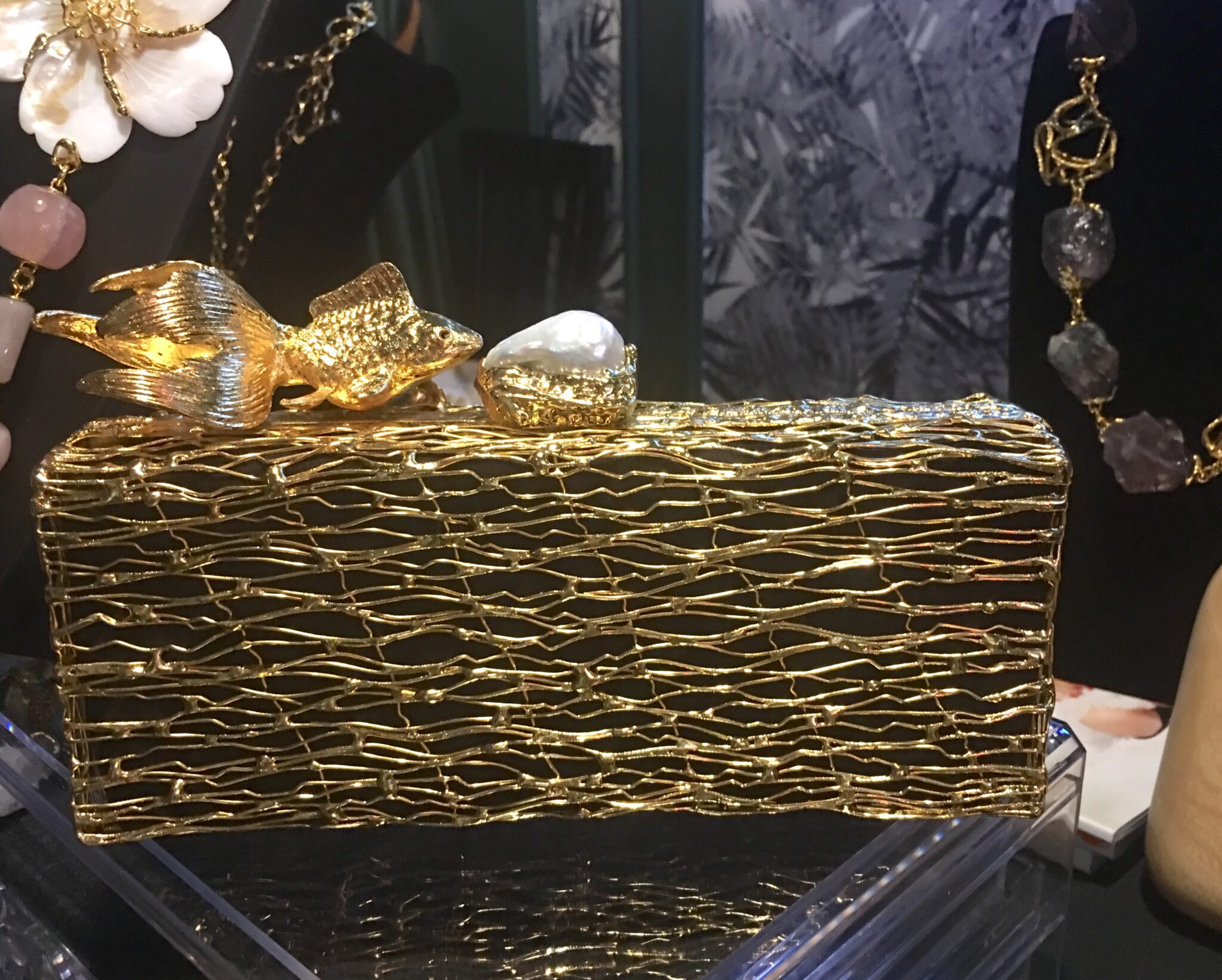 This clutch bag is called 'Binanig' as it was impressed from the banig (woven mat), and is a perfect example of Ann Ong's creativity. It is very fascinating that she thought of creating a woven mat design and it came out so elegant in a luxurious clutch bag. It is a functional piece of art, she told me at Romulo Cafe when she was showing it to me, and she adds, "you can use this as a clutch bag or use as a home table top accent."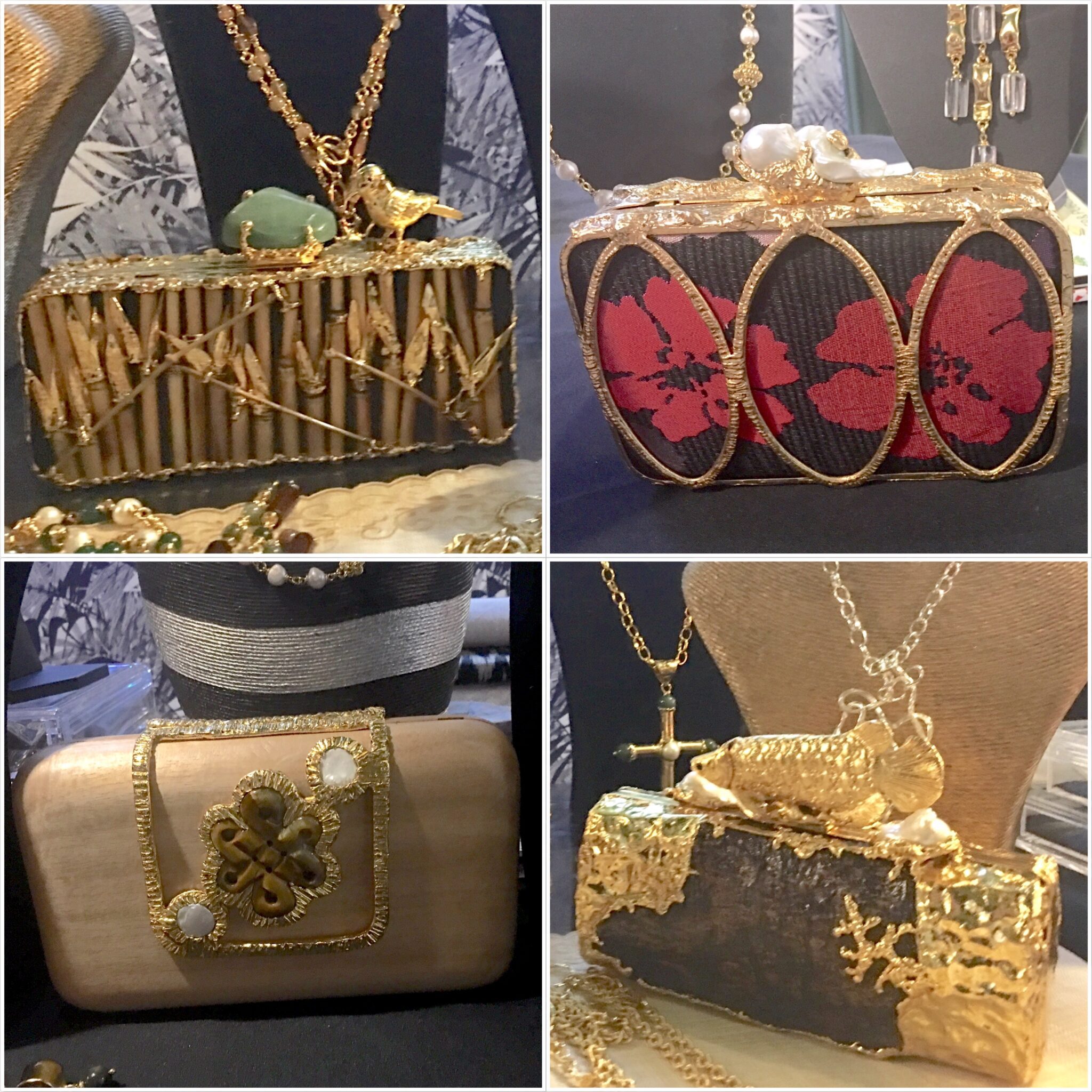 These other clutch bags – made of local materials such as new and old recycled woods, pearls, mother of pearls, etc., – are just as exquisite as the Binanig.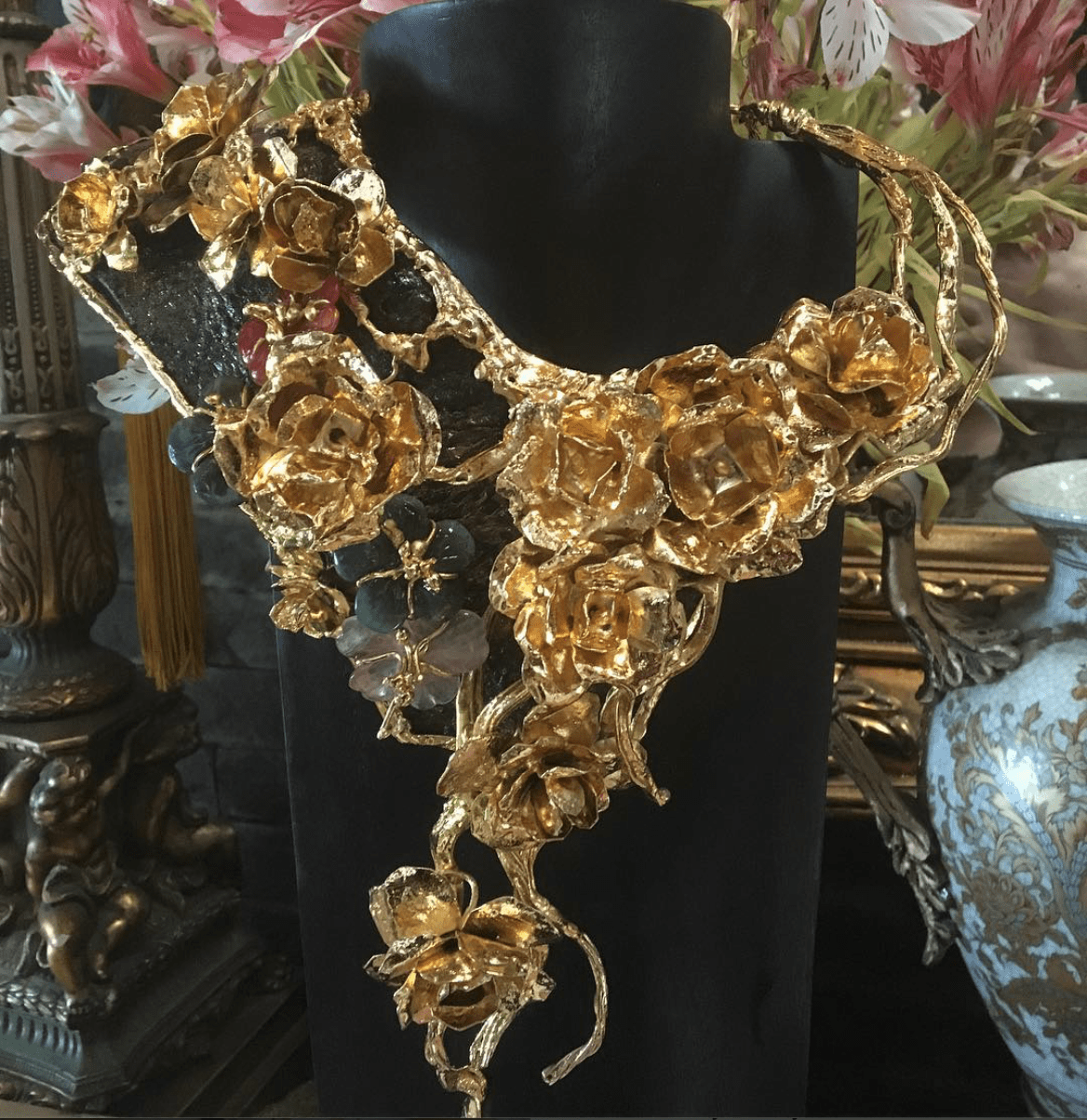 This floral necklace is an award winning piece – a real showstopper! Ann Ong is the first Filipina to win the Best Product Design in New York Winter Trade Show in January of this year.


Everything is beautifully crafted. Her modern tambourine necklaces with pearls, jade, rose quarts, and other semi-precious stones are all eye-catching.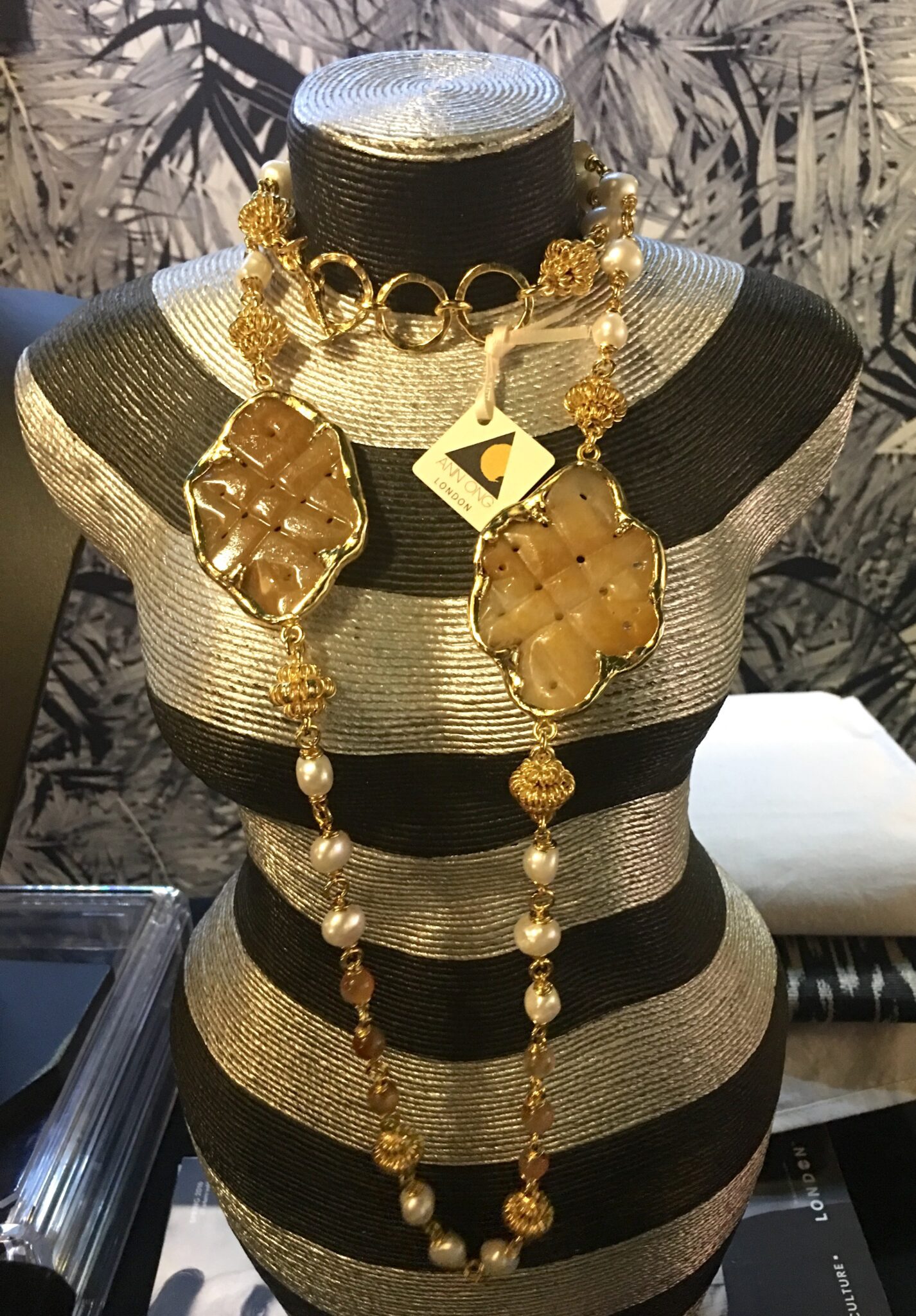 I like big and chunky fashion accessories so I want them all for myself! 😉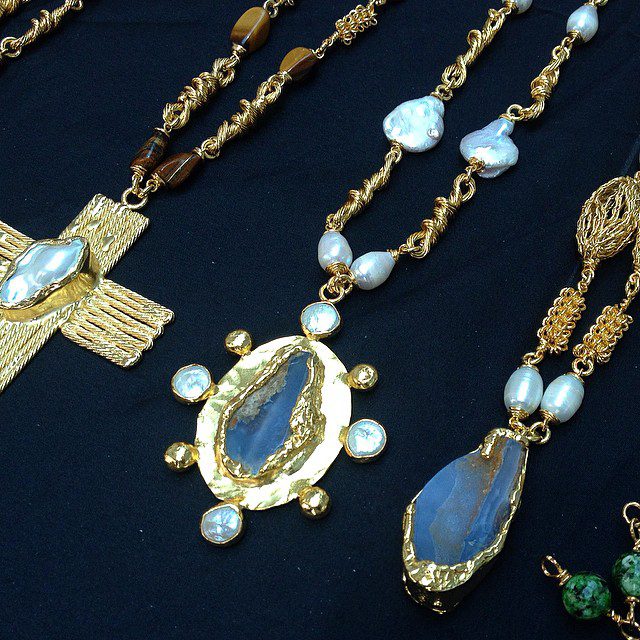 The next photos are all 'one-of-a-kind' bangles/cuffs in silver and gold.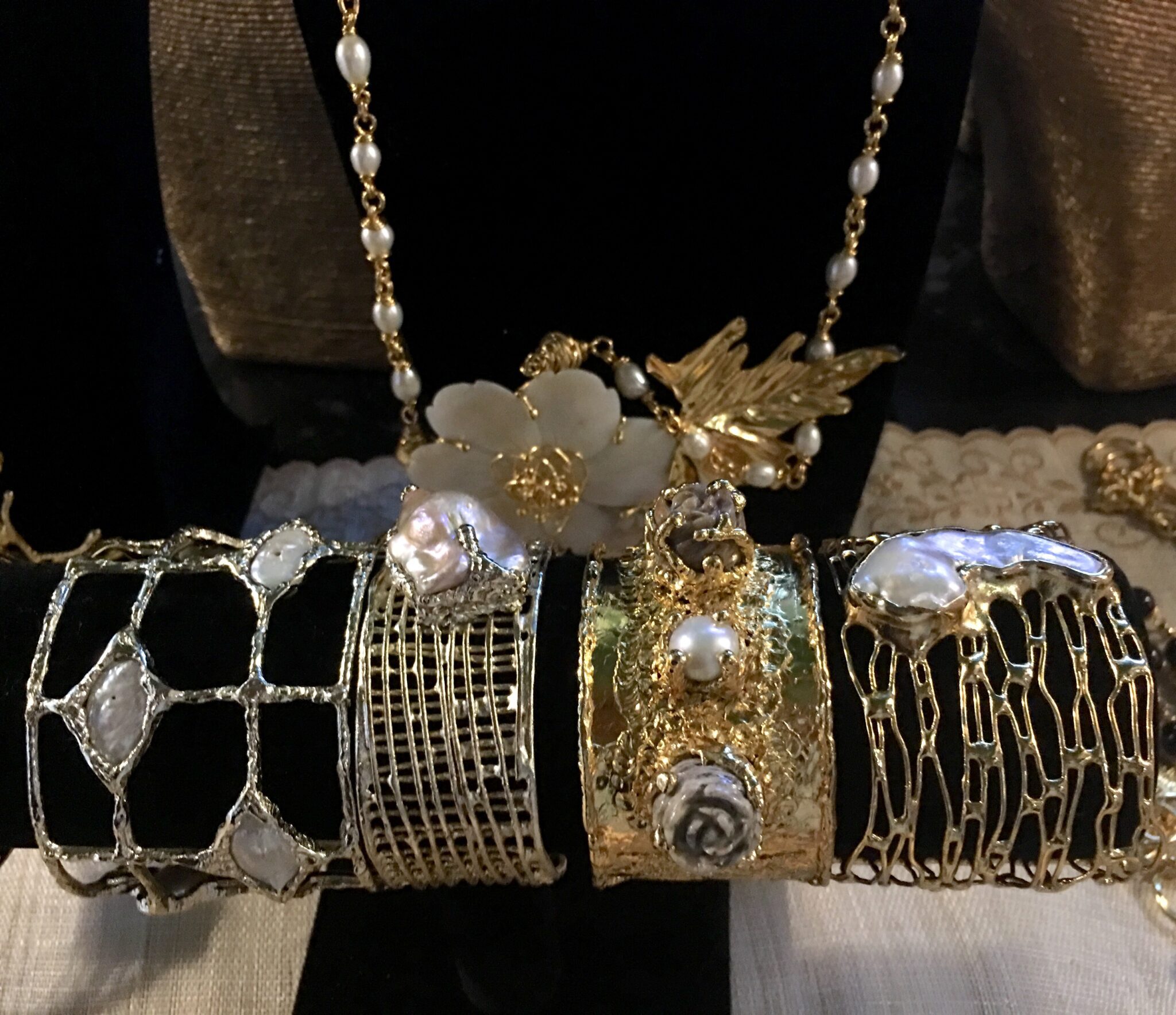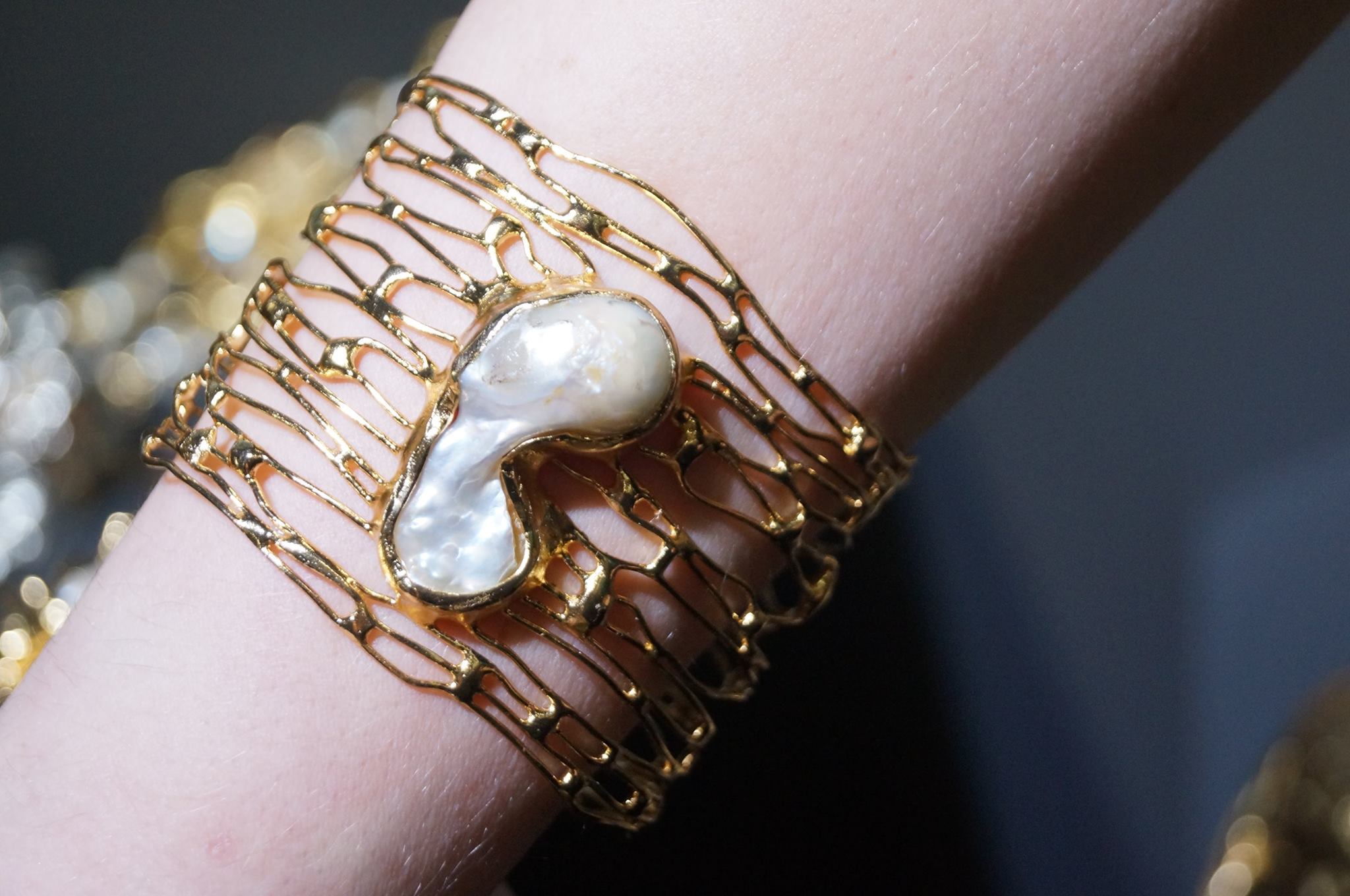 This bangle, made of old wood, rose quarts and gold plated silver is so unique. I was in awe of Ms Ong's ingenuity when I saw the collections she brought to London.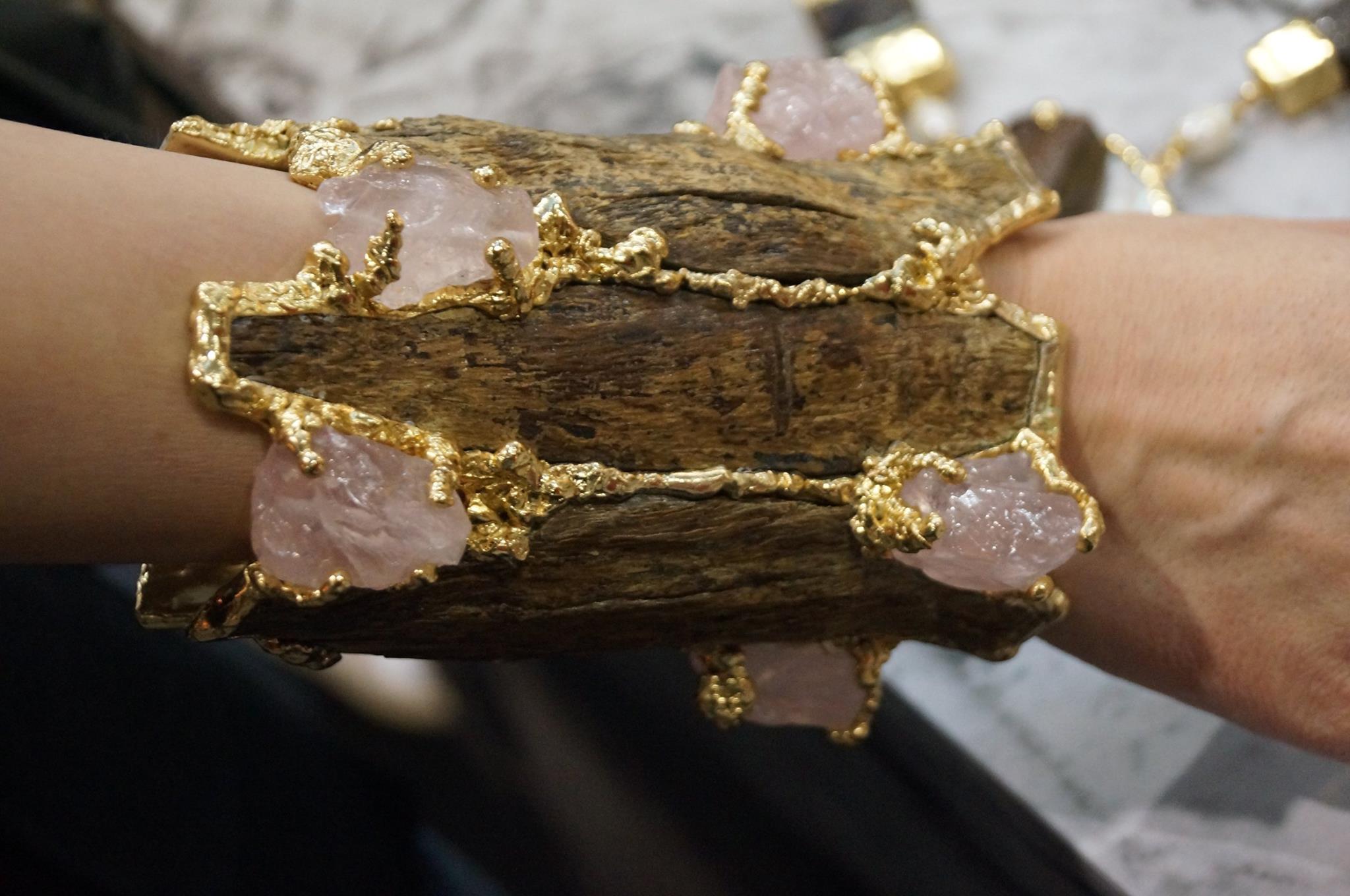 She does not only create necklaces, bangles/cuffs, clutches and other fashion accessories but she also creates home accessories like this candle holder set in an old recycled wood (below photo). Her accessories are all handcrafted, they all look elegant and luxurious, and well received by everyone who came out to see the collections recently launched in London. I hope that Harrods, Harvey Nichols, Liberty, and other top department stores in London will soon start selling Ann Ong's accessories.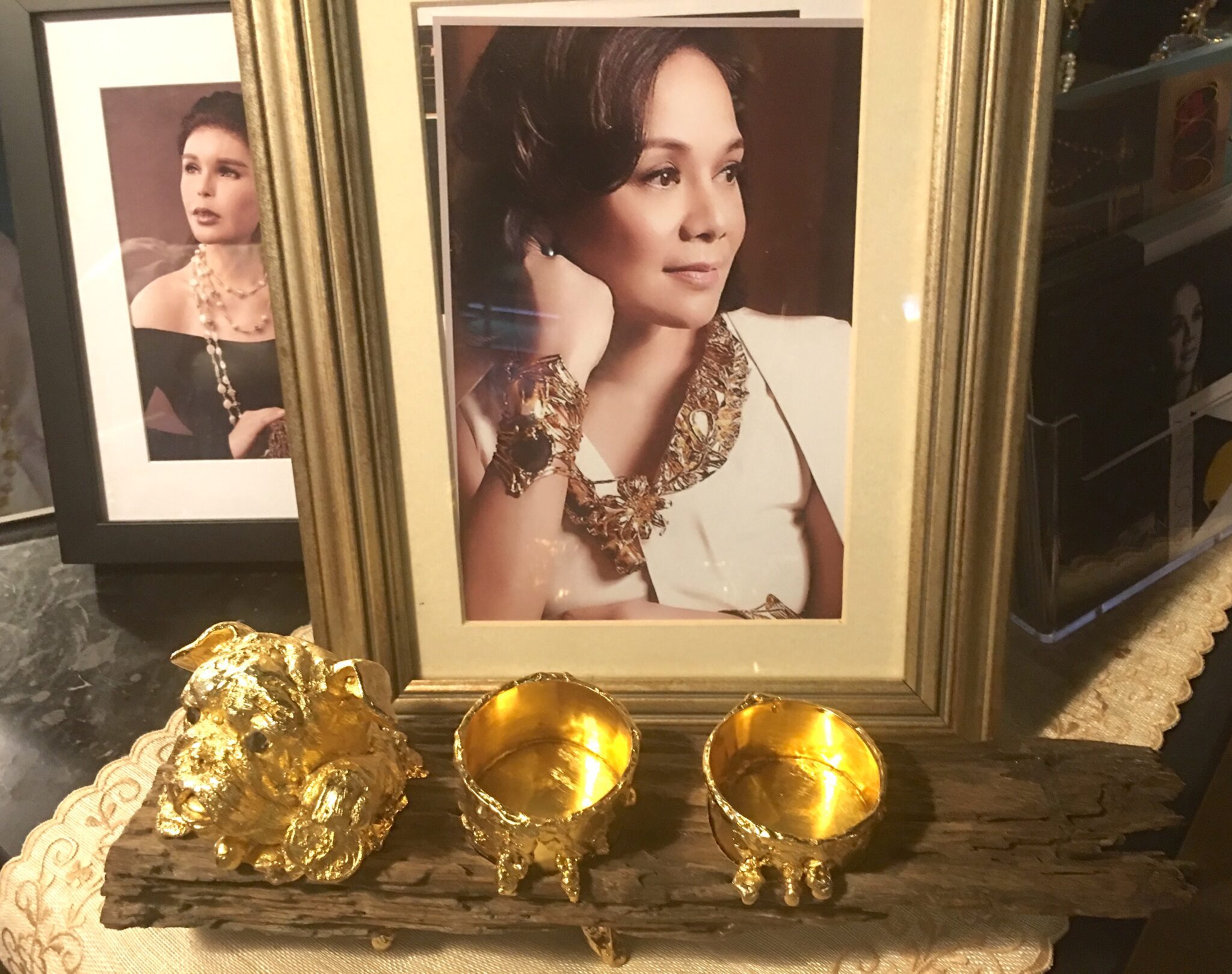 Her friends from Manila (Sandy Poblador, Minda Feliciano and other Manila socialites) flew to London to show their support. The Filipino Ambassador, some Embassy staff, and many other Filipinos, as well as non-Filipino fashionistas also attended the event.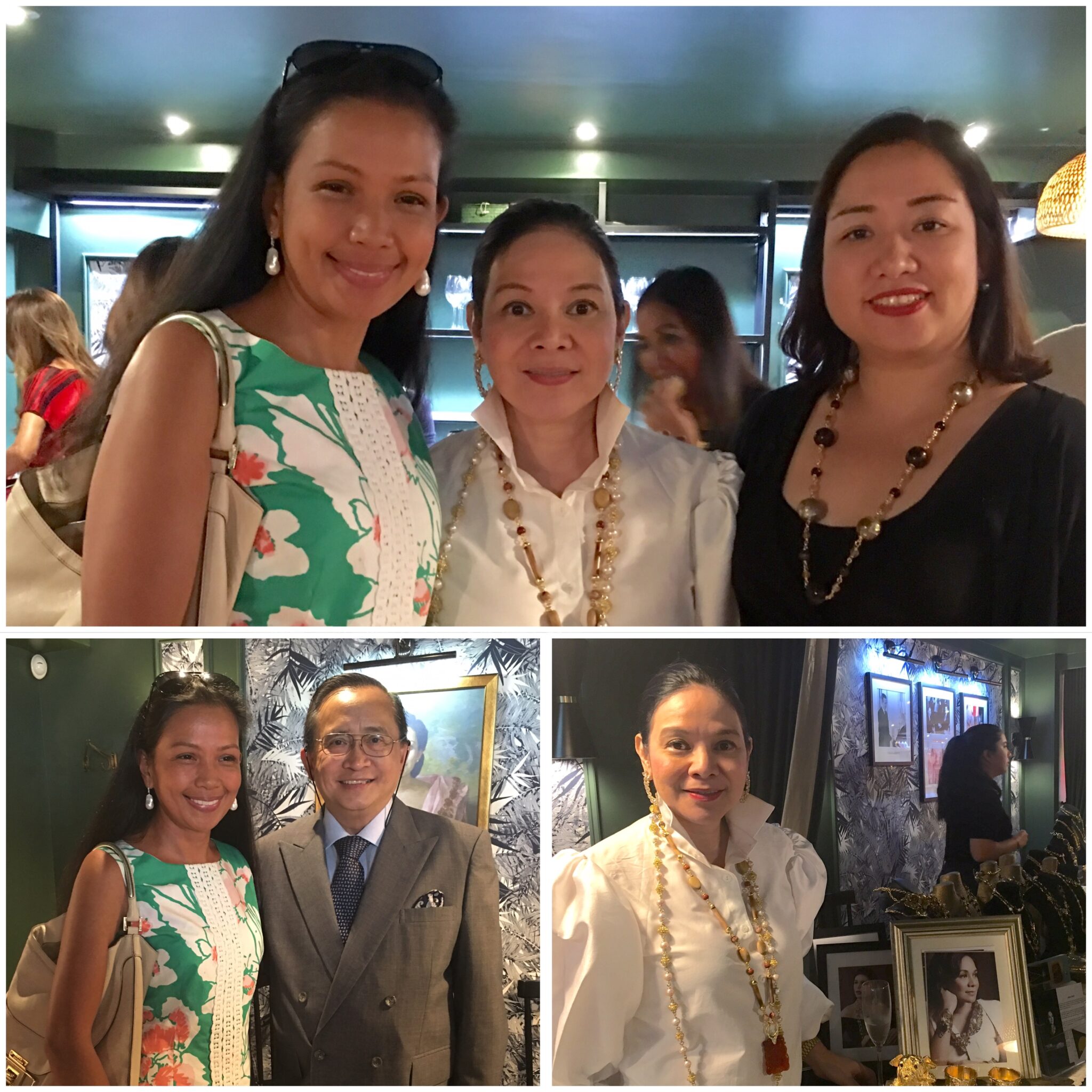 A picture of myself with the designer herself, Ann Ong; Kitchie Umali (my old friend but don't get me wrong, she's young 😉 ) Phil. Commercial Attaché; and Ambassador Evan Garcia, Phil. Ambassador to the Court of St. James.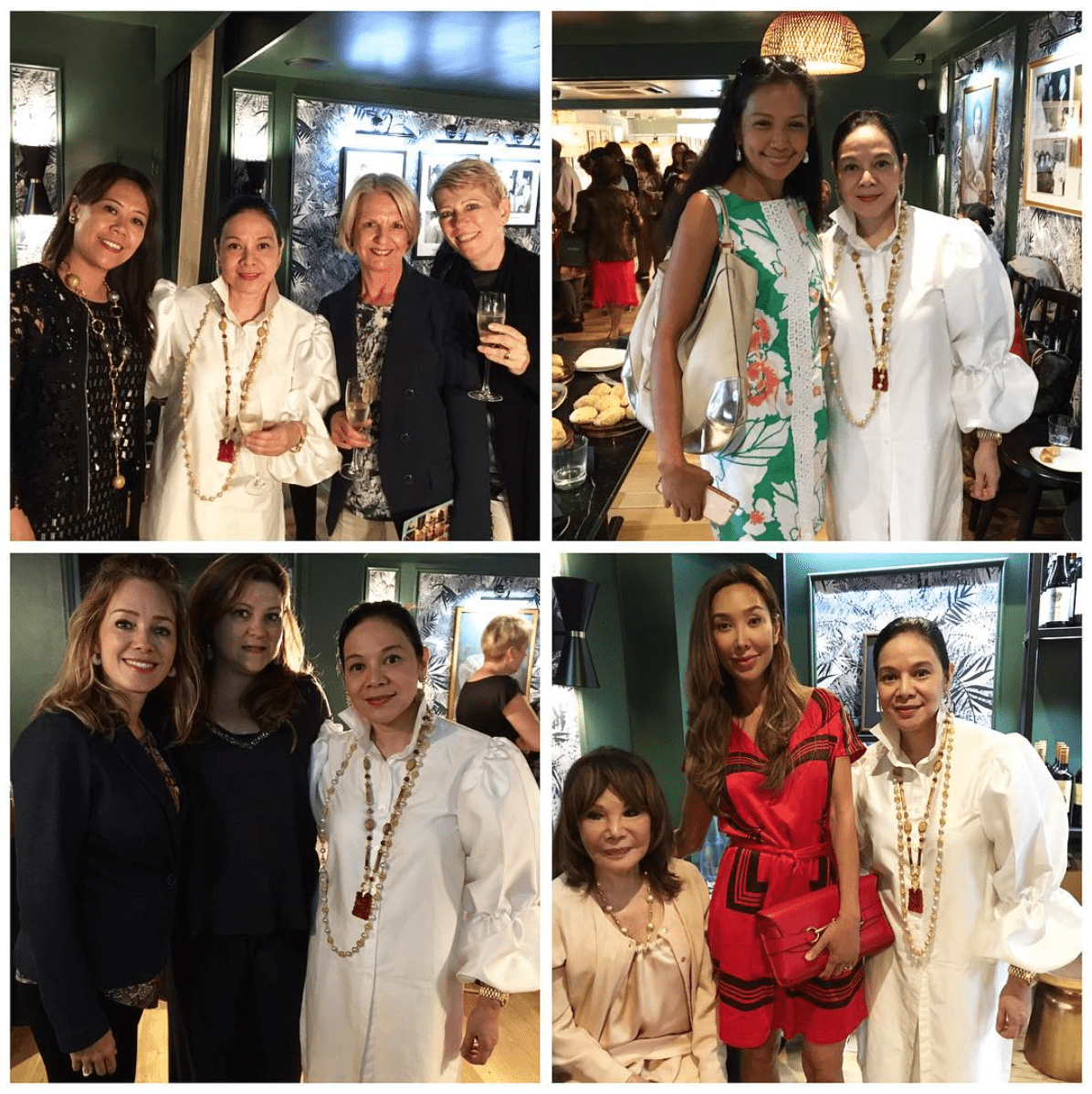 This photo shows Mila Lee, Ann Ong's business partner in London, Carla Sibal, Minda Feliciano and others who attended the event. Ann Ong was featured by British VOGUE as one of the featured jewellery brands in their November 2016 edition.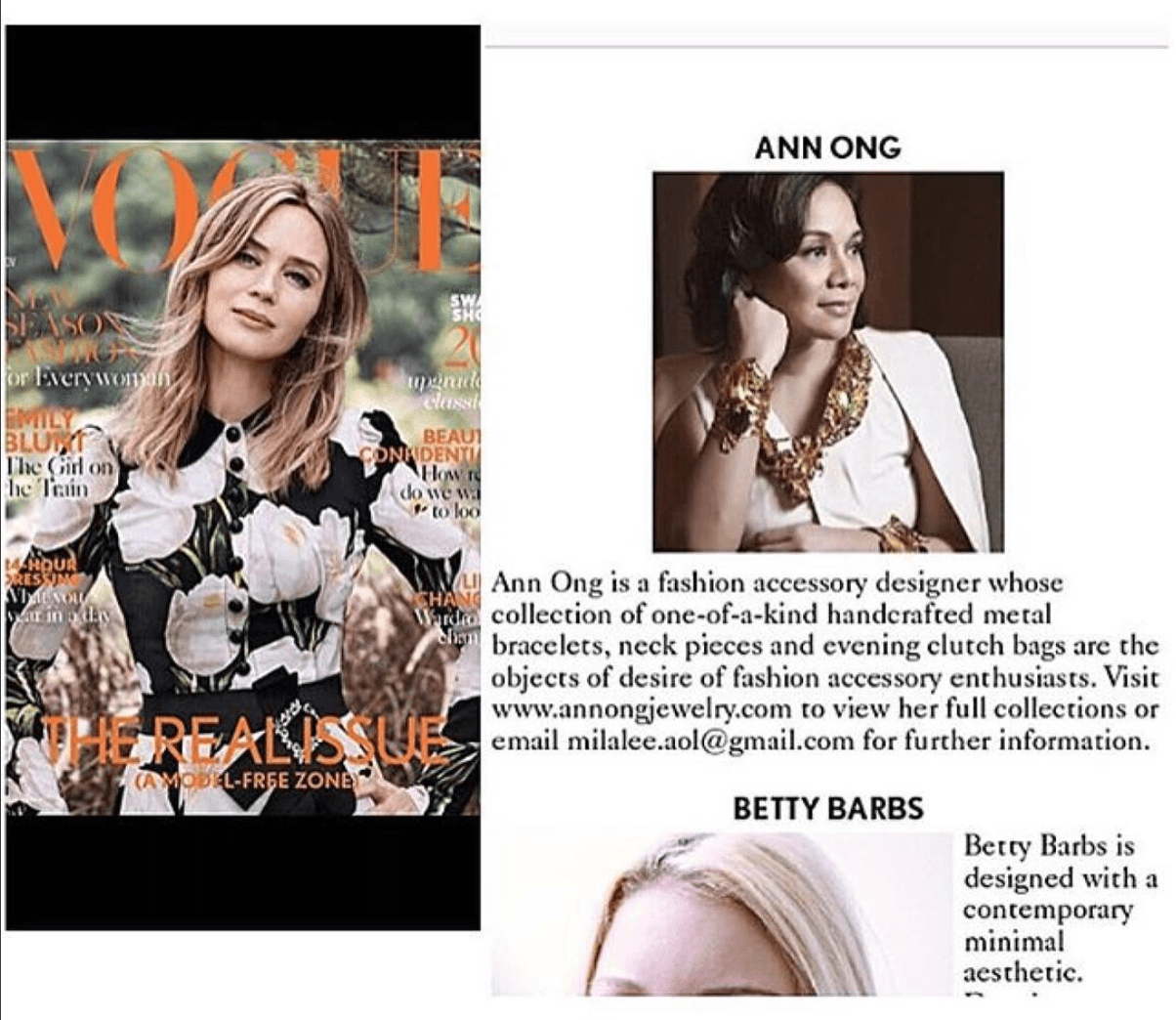 She will be back to London in December for the Chelsea Christmas Gift Fair on Dec 2-3 at the Chelsea Old Town Hall. Anyone interested to know more about Ann Ong's accessories please check out her website. Alternatively, you can email Mila Lee, the brand's main contact person in London: milalee.aol@gmail.com.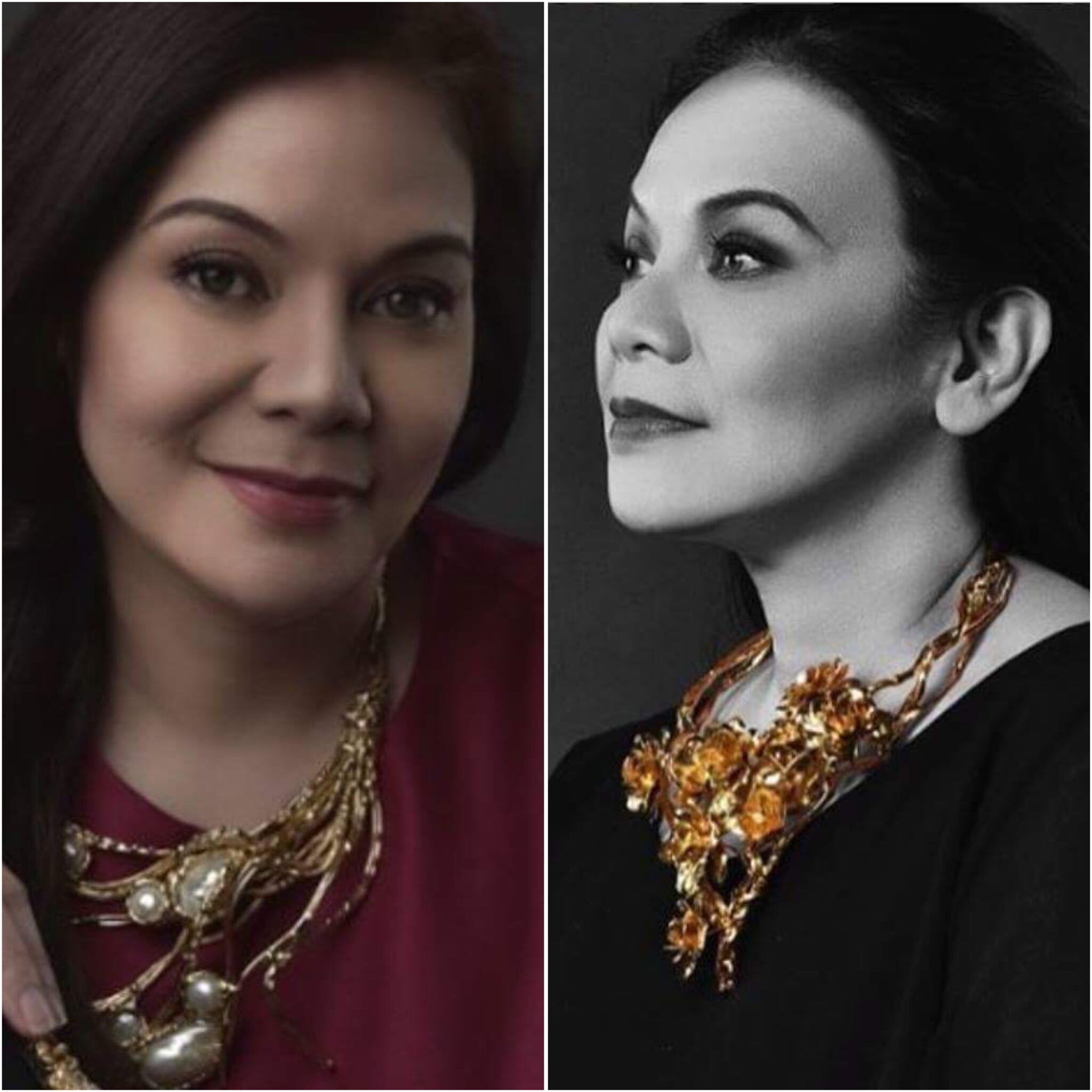 I took two photos from Ann Ong's Instagram account, and I've put them together to show that she's the perfect person to model her artwork. Ann Ong provides jobs for Filipino artisans, and supports charities in the Philippines such as Gawad Kalinga and others that are close to her heart. I was so captivated by Ms Ong even before I went to her event so I looked her up on google and found this fascinating story about her life. After reading this article and meeting her in person I came to truly admire her more. Indeed, she's one of those ladies I could spend time with every single day; sit down and chat with over a cup of tea for hours on end.