Unlike any other day, Notting Hill was unusually quiet and less crowded yesterday.  It was Good Friday after all, and a long easter weekend in the UK.  The week before, Adiben asked me to take her on a Christian heritage tour; the last time we did it together was seven years ago when her friend Annabel came to visit from New York.  Adiben and I met up at church before 2pm; as soon as she saw me she told me she's tired and hungry and would rather grab a bite and skip the tour.  I was starving as well so I happily agreed.  Adiben and I both love to eat you see.  We'd blithely drop everything just to satiate our cravings and even travel to unfamiliar places to try something new. 🙂
For some reasons she suggested we go here.  Not only is it just a minute walk from our church, but Adiben and I haven't been here before.  Lest you assume that Adiben and I are being snobbish for not trying this neighbourhood restaurant before, despite its distance to our place of worship, let me assure you that is not the case at all.
I'll cut to the chase.  We had a phenomenal meal.  But before I'm quite there, let me clarify something . . . and you'll need to allow me the leeway of a moment to dwell upon the restaurant.  Kensington Place Restaurant & Bar is one of those places that's defined by a particular group of people — the posh, the upper-class set.  The massive floor to ceiling glass walls allow the passers-by to see the people dining in, and just about everyday I see a famous face or two either having a meal or going in or out of the restaurant. People that you'd often read about in the newspaper or glossy magazines; familiar faces you'd see on tv or movies.  For instance, the brother of the late Princess Diana, the Earl Spencer (can't tell you how many times I've seen him here); the controversial aristocrat Lady Colin Campbell; the future Marquess and Marchioness of Bath — these type of people are frequent diners here. Over the last seventeen years I've seen several other members of the British aristocracy at Kensington Place restaurant.  I've also seen Dame Judie Dench, Keira Knightly, Hugh Grant and countless other international celebrities having a meal here.  Unlike 5 Hertford Street and other places where the British aristocracy and celebrities go to seek anonymity, I guess those who want to be seen come to this restaurant.  This place certainly draws a hipster crowd, but there are also plenty of Notting Hill yummy-mummies, ladies-who-lunch and wealthy elderly patrons, some of whom I often see wearing the most stylish outfits and massive bling-bling I've ever seen.  It is a sort of environment you could put on your latest high-fashion (or fashion-victim) purchase, come to Kensington Place Restaurant and feel right at home.  For that reason, I've never really wanted to try this restaurant.  Their flamboyant clientele and the brightly coloured tables and chairs (now it's just a yellow and blue chairs but it used to be both the tables and chairs in bright green, yellow and other pastel shades) — all of that really did put me off.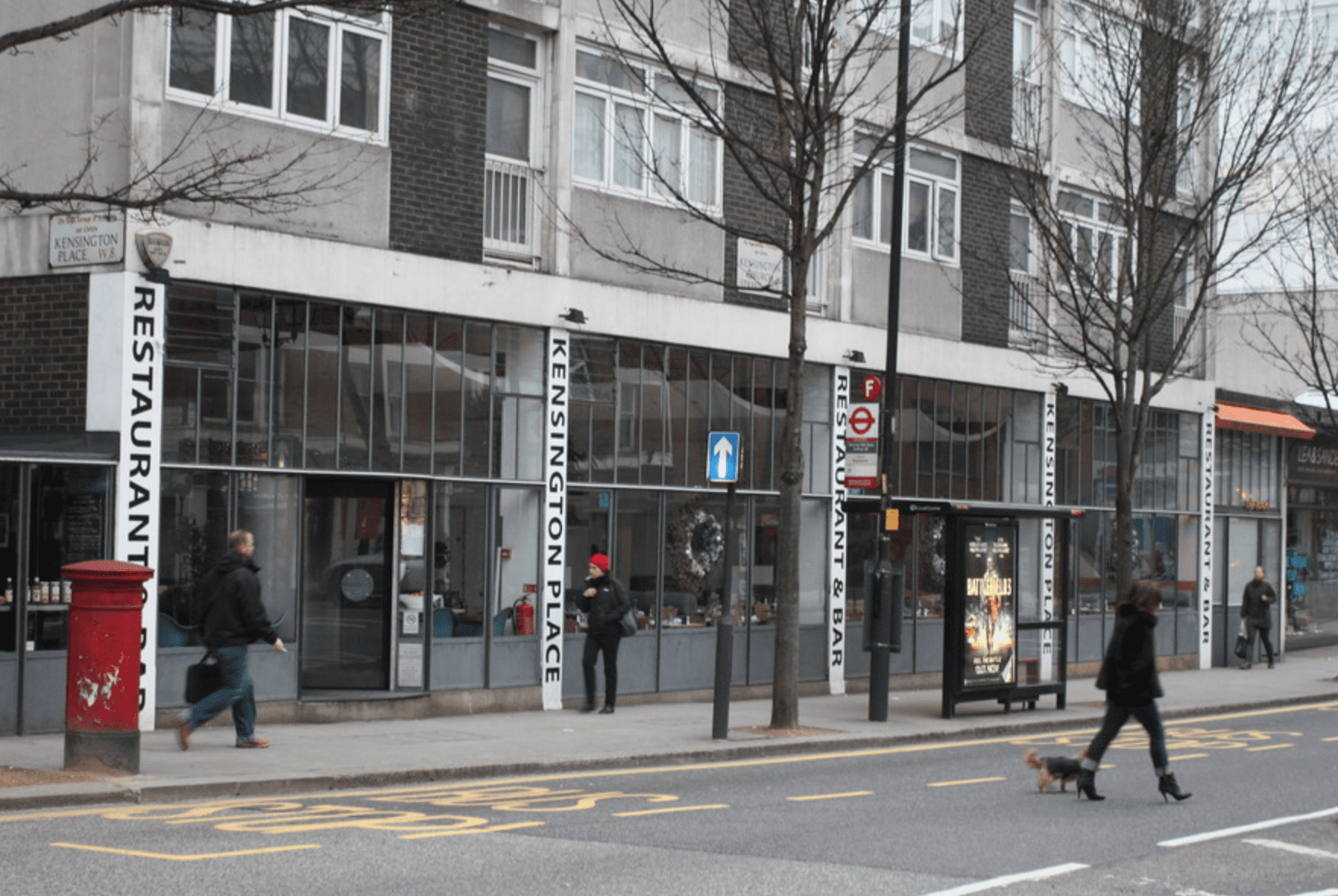 When I arrived in London back in 2000, I said to Jared one time as we were walking by Kensington Place, "Why don't you take me here for dinner one night?" My husband was quick to tell me that it's where the fabulously rich and notoriously famous people hang out (I had no idea until then), and that he had been a few times but didn't have a good dining experience here.  Because of that he didn't really encourage me to even consider it a place worthy of our penny.
One time back in late 2000, my former boss at Burberry, an aristocrat who only wants to be called by his first name rather than his courtly title 'Lord or Viscount' (back then Japan Market, the biggest market of Burberry, was under a huge department called 'Royalties.' Not only does it handle the royalty payments of the licensees around the world but that's where the royal family — British or any of the European royal houses and the aristocratic set, place their order, whether off-the-rack or made-to-measure stuff).  Going back to the invite, John wanted me and others at work to join him and his wife for a drink at Kensington Place Restaurant one Saturday night, and I politely declined the invitation.  He said to me, in a strong English accent, "Oh no, dear! But you live just across the street from the restaurant, how can you not come and join us?" (back then we lived in a flat on 202 Kensington Church Street/Rabbit Row). I had a good excuse to give; told him that I never go out on a Saturday night because I have to get up early for church the next day.  John and others at work never invited me for a Saturday night out since then.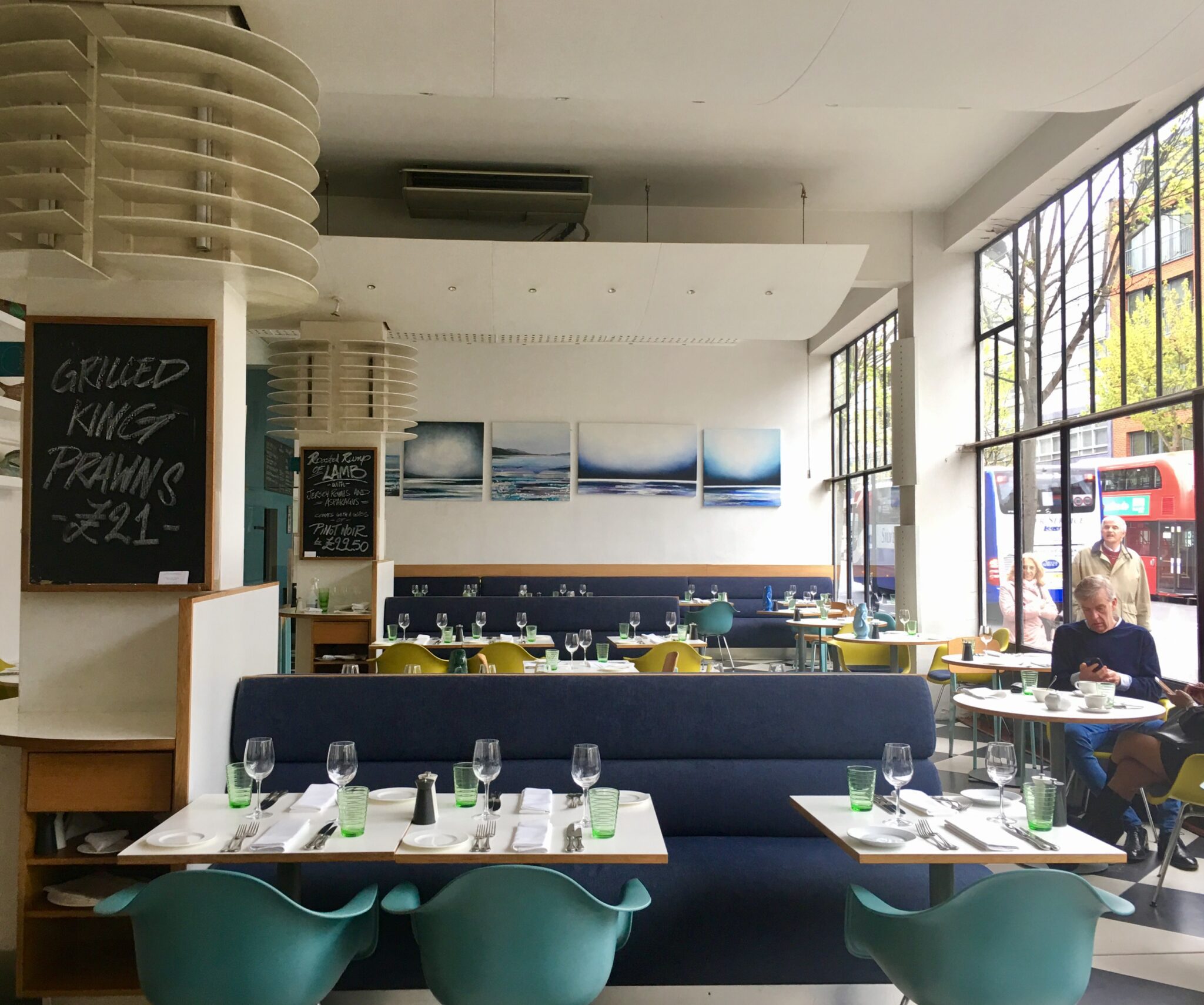 Adiben and I walked into the restaurant and surprisingly, it was very quiet and less crowded.  I immediately noticed a lady smiling at me.  She looked familiar but I didn't recognise her at once.  Thought she's Filipino, and must overheard us speaking in Tagalog.  As soon as we were seated, it dawned on me that I saw her photographs in some of Daphne Oseña-Paez's Facebook post.  I looked over to where she's sitting and saw former Filipino senator, Edgardo Angara, and her son, Sonny, currently a senator as well.  I then realised that it was Tootsy, Senator Sonny's wife, who was smiling at me.  They weren't sitting by the window so we didn't even notice they were there until we walked passed their table.
But the food, yes, the food.  The menu is composed of an a la carte and set menu with a long wine list. We ordered a bottle of still water and starter but even before they were served, I decided to walk over to see the Angara family for two reasons: first, I'd like to personally thank Senator Edgardo Angara for the recommendation letter he wrote on behalf of my brother.  It was made possible by my friend Fides Herrera-Lim, Senator Angara's niece; and second, I also wanted to say hi to Tootsy who seemed very friendly and kind.
I am naturally shy (though I'm good at hiding it 😉 ) so I was a bit timid to actually approach them.  I am always a bit apprehensive about approaching a famous person but Jared would always encourage me to talk to them; when we're out and bump into a celebrity or someone famous (and we see them on the streets of Notting Hill just about everyday), he'd talk to them and I just watch, smile and go quiet.  Anyhow, I thought I couldn't pass up this opportunity to personally thank Senator Angara Sr; I might not have any other opportunity to see him, especially that he's on his 80s and looked frail from a distance.  They are not just any other Filipino political family, I convinced myself . . . they are blood relations with my friend Fides, and besides, Senator Angara Sr was the president of UP (University of the Philippines) in the 80s and I've seen him on campus a few times back then; he had been a great help to my brother, both for his job transfer and job promotion.  All of that caused me to muster enough courage to walk over to the Angaras while they were waiting for their dessert.  I have to admit, it was a bit awkward; I stammered and all of that. 🙂 But I mentioned Fides and Leo, of course, to break the ice. (I tell you, I need to master the art of name-dropping. I am not very good at it, may be a few practice will make it perfect haha!).  Then looking over at Tootsy, I told her that I recognised her because I saw her photos at Daphne's TBT (throwback) post on Instagram and Facebook (another name-dropping, sorry Daphne).  We had a little chat together, and I found Senator Sonny just as friendly and nice as Tootsy, and their three kids are very cute and well-behaved.  I left their table somewhat encouraged that I got to accomplish my goal to personally express my gratitude to Senator Angara Sr.  He is incredibly gracious, and so with his son and daughter-in law.  But it was Tootsy's friendly and sweet demeanour that made an indelible impression on me.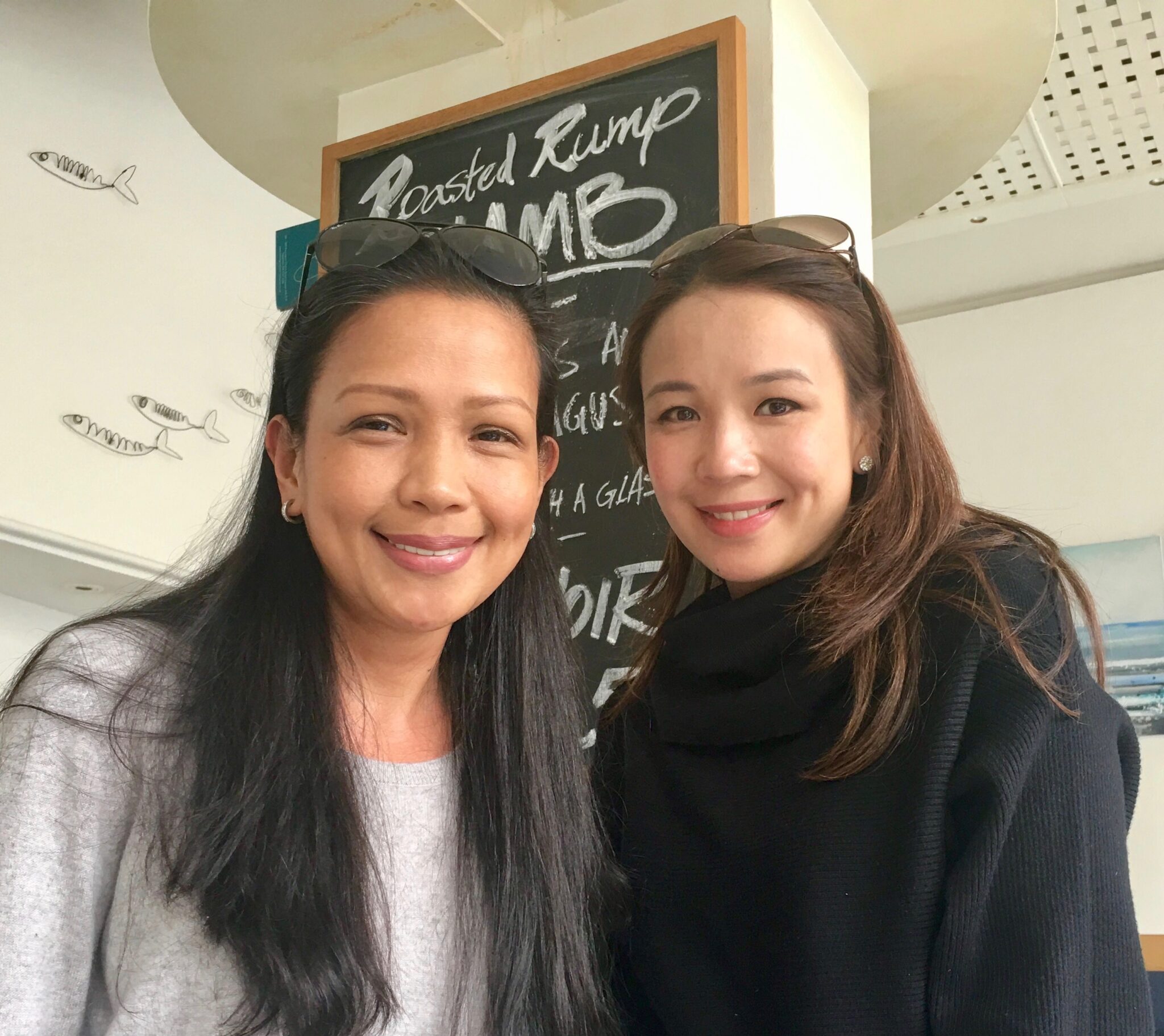 I went back to our table and started eating my first course, at which time, Adiben was half-way through her soup.  I ordered the Smoked Salmon with dill-crème fraîche and toasted rye.  The subtle creaminess of dill-crème is perfect here, playing gently to the smokey salmon flavours.  Adiben had fish soup with rouille croutons and gruyere, which she really enjoyed.

After a nicely spaced interval, our main course arrived.  I had Seared Sea Bream with fennel, beetroot and orange.  This dish is very simple but a stand-out.  The fish was impeccably fresh, and flavorful; served atop a bed of perfectly cooked beetroot, a half-cooked crunchy fennel that exploded with orange flavour.  Both fish and vegetables were subtly seasoned to heighten rather than overwhelm.  Again, the veggies wasn't very much but a perfect portion for such a tiny slice of fish.  I was left craving for more after I finished it. 🙂 Whereas Adiben had a massive portion, Cod Fish and Chips, didn't even finish the full serving but enjoyed it nonetheless. I even helped her with the chips (French fries to Americans) but still had some leftover.
And then before we ordered the dessert, I saw the Angara family getting ready to go; I went over to see them one last time, took a picture of the whole family (I asked permission, of course!), and said goodbye.  I have to say, I will always have that sense of gratitude (
"utang na loob"
) towards the Angara family.  Oh, and I even forgot to tell Senator Sonny that he got my vote . . . that, I did vote for his dad, Senator Angara Sr (he was elected to the Senate four times).  I've always put Senator Angara Sr in high regard, both as an educator and a statesman.
 E
vidently, 
Senator Sonny is walking in his dad's footsteps, and I sure do hope he will continue to have a good record in the senate just like his own father.  Told Adiben that as far as I know, the Angaras were never associated with the "Napoles pork barrel scam" or any of the corruption rubbish going on in the Philippines.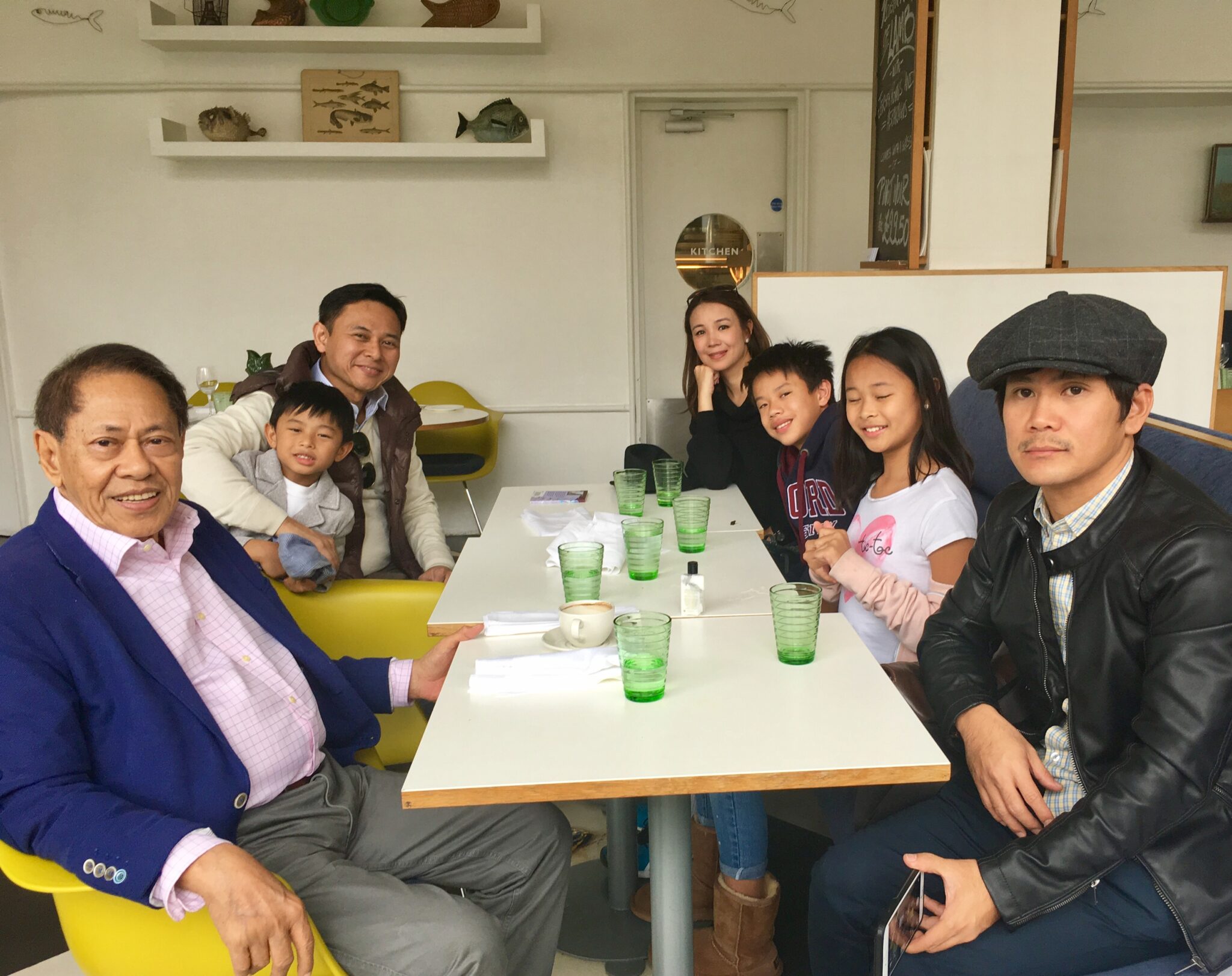 After all of that, came the dessert.  Adiben and I shared a dessert called 'Rhubard Mess' — a sophisticated version of Eton Mess — and it was very good.  The bed of piped cream with bits and pieces of soft rhubard, and a crisp white meringue on top — all served with a scoop of house-made rhubard sorbet.  It couldn't be bad, and was in fact absolutely delicious ('divine' is the appropriate word to use here), managing to be both rich and light, not too sweet but simply perfect.  The predominant flavor was of course, rhubard, which was lovely in the composition of the whole, and it was a winner, in my humble opinion.  (I will try this at home but will first ask one of the chefs for the recipe; they all hang out, either smoking or chatting right in front of our church building, on their free time).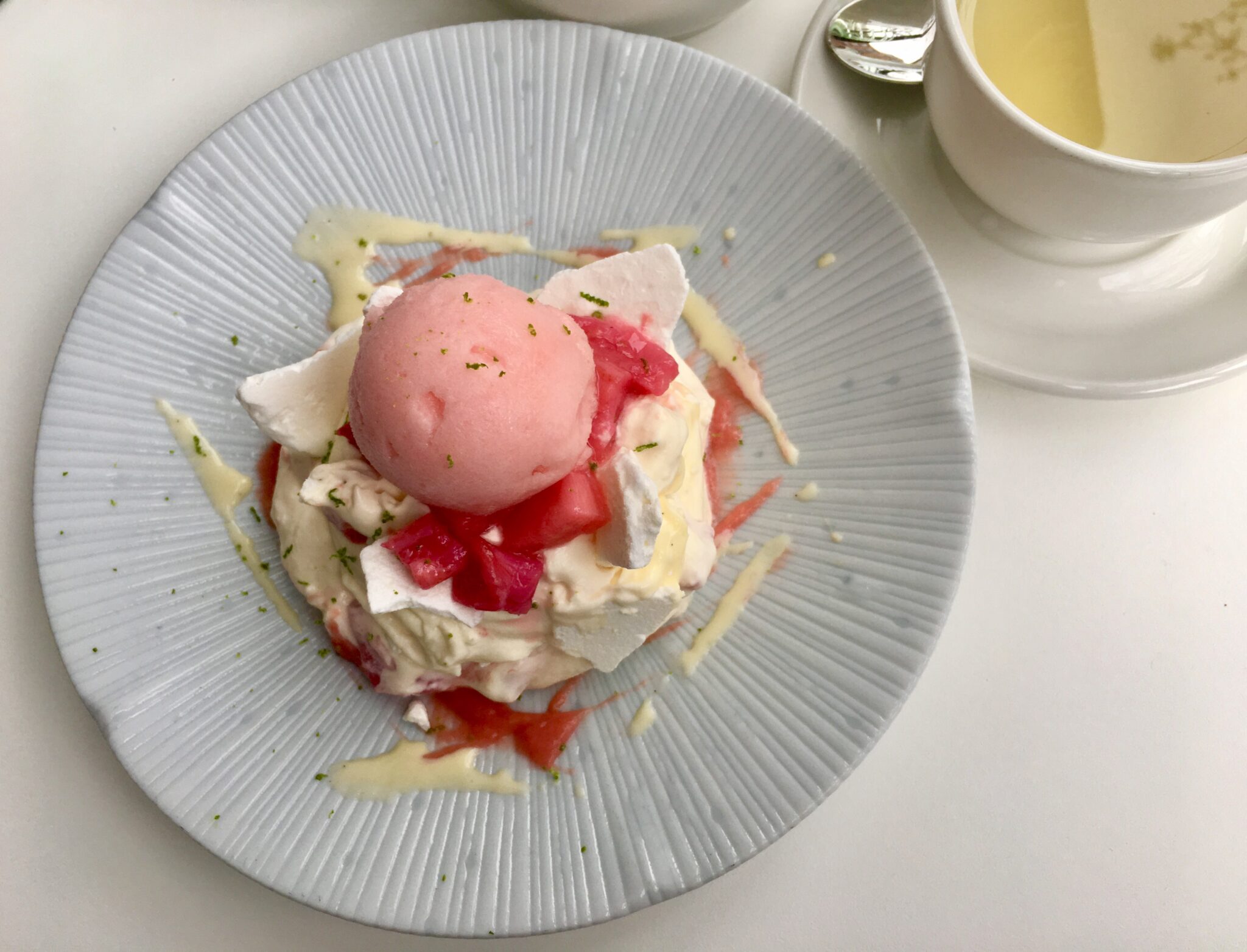 It was a perfect dessert to end the meal; with a cup of green tea to go with it, both Adiben and I left the restaurant satiated.  Although I assume that sitting by the glass wall will be very uncomfortable, it actually isn't.  (Well, we aren't celebs so nobody cared to stare at us haha! But the Angaras waved goodbye from the street as they were passing by our table).  It's worth mentioning that this is a moderately expensive meal by London standards. Oh, and the chairs, yes, those colourful chairs!  They are not cushy.  In fact, I sat on a plastic yellow chair — not the most comfortable — and the tables are not so generous either.  Despite all of that, we had a splendid meal.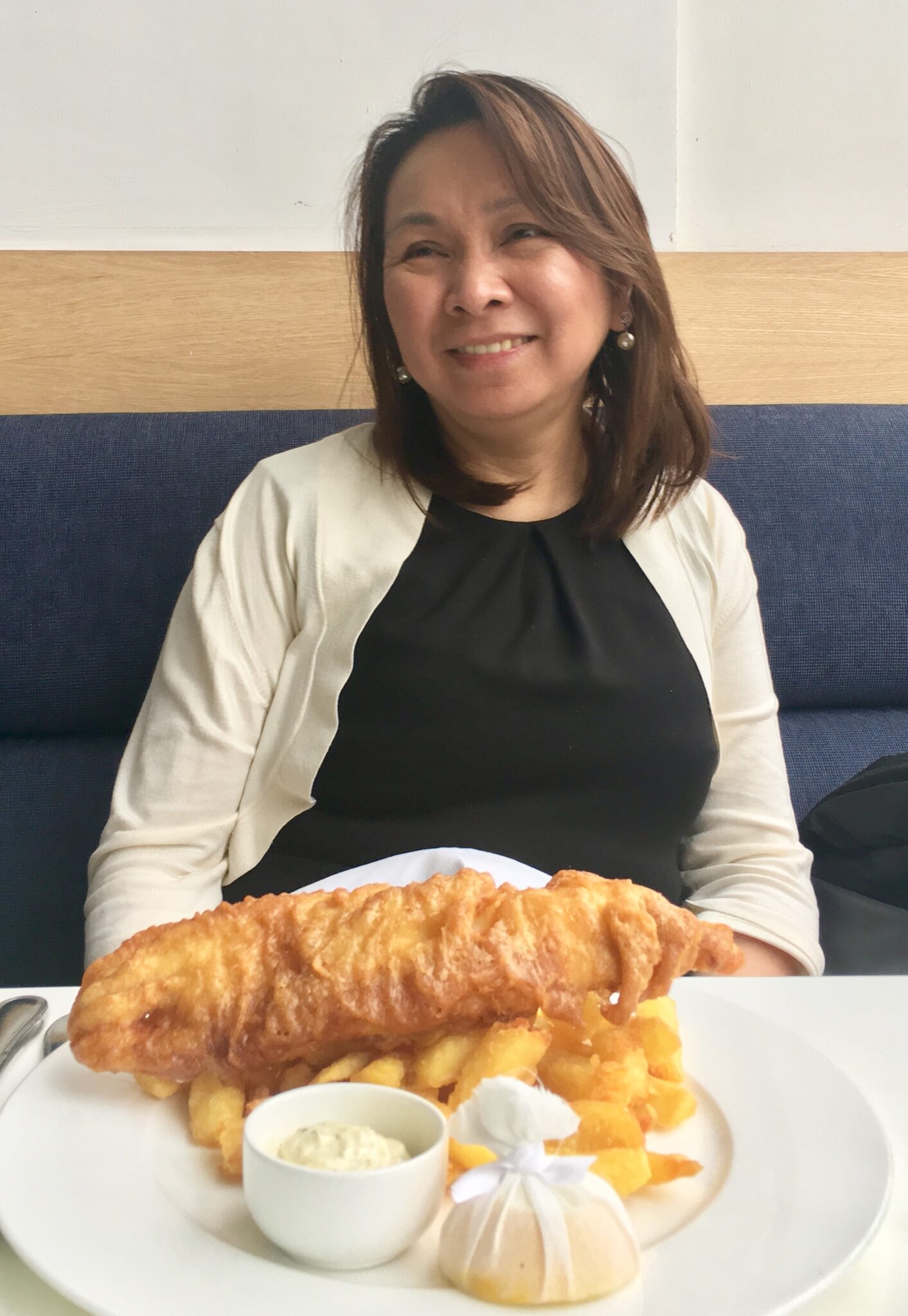 Adiben and I showed up not in our best outfits, but rather wearing our more downscale duds, and that was okay, too.  It was unplanned or else we'd be in stylish tweed jackets or something their clientele would wear. 😉 And Adiben would probably be lugging her most precious Chanel bag with a Burberry burgundy trench coat and a matching umbrella.  As for me, I'd most likely show off my vintage Chanel bag. 😉
(a recent gift from my sweet 'patud baysay' — beautiful cousin — Lynn Syliangco)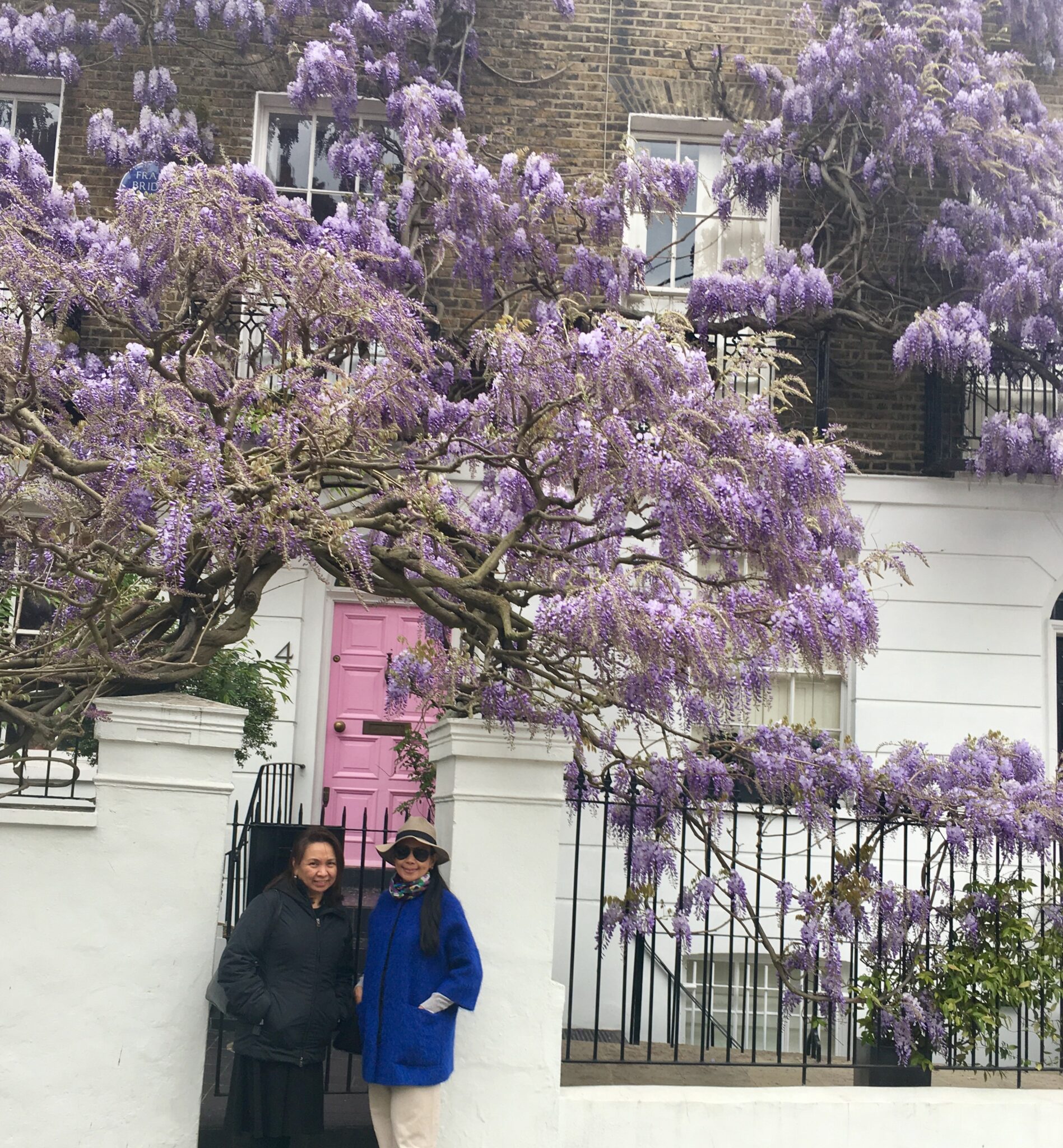 It was a bit chilly and windy but we decided to walk around the neighbourhood after lunch.  The glorious, colourful display of wisteria is a sight to behold; we saw a lot of tourists taking pictures of the spring flowers and pastel-coloured houses.  Of course, we couldn't help but join in the 'wisteria-hysteria' bandwagon as well! 🙂  That's the sort of silly things Adiben and I get into when we're together — eat to our heart's content and walk around to shed off the calories we put in, and pretend like tourists. 🙂 And when we're together we talk about politics without fail (she's related to the Laurel family so politics runs in her blood).  In between our chit-chat about Philippine politics and British history, Adiben always make me laugh with stories about her boys.  She's hilarious. Jared and I always have a good laugh when she's telling us a story.  She doesn't even try to be funny.  She just is. And you know what else happens every time we're together?  We always meet someone, a famous personality or a weird, outlandish character every time Adiben and I are out together.  When I got home yesterday and told Jared about meeting the Angara family, he said to me,
"Great story! That's one for the books, my dear!"
🙂 And I replied,
"That's one for the blog. So that when I talk to my family and they ask me how's my week been, I only have to say, "Not much. Just read my latest blog post!" 🙂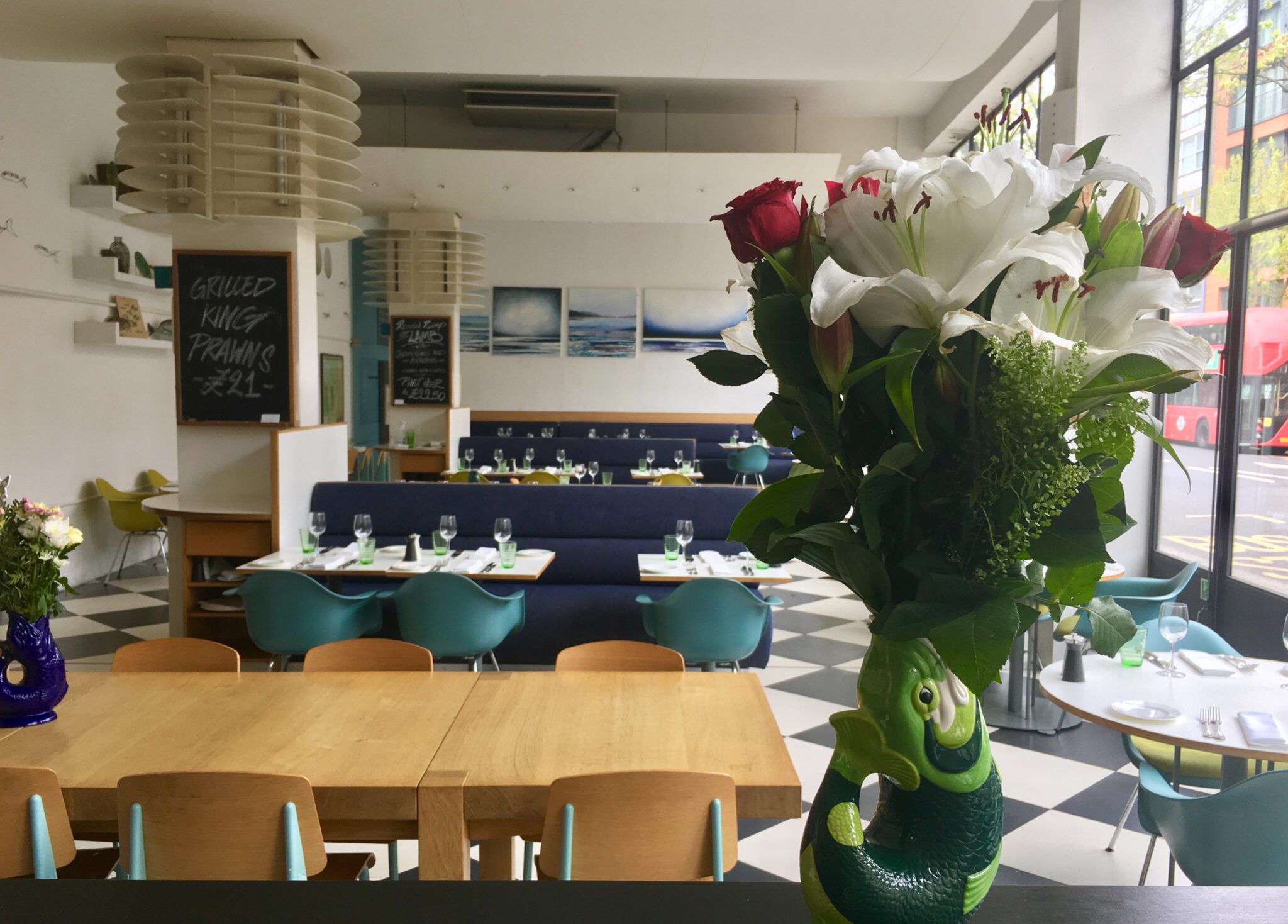 Note:  It wasn't until summer last year when Kensington Place Restaurant and Bar launched 'Notting Gill Chippy' that we tried their fish and chips, albeit rather just the take away service.  I have to say, it's the best fish and chips in Notting Hill (we've done take away a few times prior to our lunch yesterday), and in all honesty, it's better than Geales's, but more on that later.  And thank you again for the special treat, Sister Adiben. What am I gonna do without you?