It is an odd place, Shetland. I had never heard of it until a good friend of ours informed Jared and me three years ago that he bought a holiday home here. He's been making frequent trips to Shetland since the 70s, and been inviting us to visit and explore the islands. He told us that in the summer, there's nineteen hours of daylight, but in the winter, there's only four-five hours of daylight, and that, it's one of the best locations to see the Northern Lights, or Aurora Borealis. To be perfectly honest, I was more excited to see the Northern Lights than anything else. That is, until I started to dig deeper into the island's rich history.
It is a location slightly off the beaten track; 400 miles north of London while Oslo, Norway's capital, is just 300 miles away. An English friend who heard about our trip laughed and said, "Shetland? Of all places you can visit  in the UK why are you going there?" But then she told me that it's the kind of place no one will choose to go to but if you have the opportunity you don't  pass it up.
We gratefully accepted our friend's kind offer to visit Shetland; he made all the arrangement for us — return tickets, rental car, island-hopping tours, and practically everything that needs to get done. All we had to do was to get on the plane and off we went to a new adventure! 😉
The name alone — Shetland — sparked my curiosity. I did some reading — its history, topography, culture, economy, etc., and the more I learn something, the more I get curious and excited to explore the place. The islands, previously part of Norway and Denmark, were given as a dowry of Princess Margaret, daughter of King Christian of Norway and Denmark, to her marriage with James III of Scotland in 1469. The poor king didn't have the moolah to give and as part of a political arrangement (as you may know, marriage between monarchs back then was always a political alliance), he had both the islands of Orkney and the Shetlands held by the Scottish Crown as an assurance, redeemable when the 'cashless' Scandinavian King made the dowry payment of 50,000 Rhenish Florins. Sadly, the poor king wasn't able to pay so the islands became officially part of Scotland. Norway wanted them back at some point but it was too late. Scottish Parliament denied any petition to hand the islands over back to Norway. (Can you imagine King James teasing his wife, the Danish-Norwegian princess, for days on end about the failure of her father to pay the dowry?) Well, as you know, Scotland eventually became part of Britain therefore, Shetland is now part of Britannia.

 The main island is only 70 miles long and it's where the plane from Aberdeen landed. From the airport we went straight to Lerwick, the only town in Shetland established in the early Victorian era, 1840. Above picture shows Fort Charlotte, it was built in 1781 and housed a garrison throughout the Napoleonic Wars and later became a base for the Royal Naval Reserve in Shetland.
From the airport we drove through some of the most picturesque places of the island. One of them is St Ninian's (photos above), the largest active tombolo in the UK, and one of the finest sand tombolos in the world.
We walked around the high street and explored the town centre and its quaint little shops. Lerwick, Britain's most northerly town (an old Norse word which means 'bay of clay'), is quite small with only over 7,500 people who live in and around the area. We went inside a shop to check the exquisite jumpers, tweeds jackets, scarves and shawls. Shetland is a sheep-rearing country; wool production, knitting, spinning and weaving is one of the main industries here.
The town centre has many uphill and downhill lanes that only one or possibly two persons at a time can walk in and out to get to the other end, and I was fascinated by it and wanted to walk into one of those but didn't have the time to do it.

This is Lerwick's high street, and as you can see, traces of its Victorian roots can still be seen, and easily recognisable.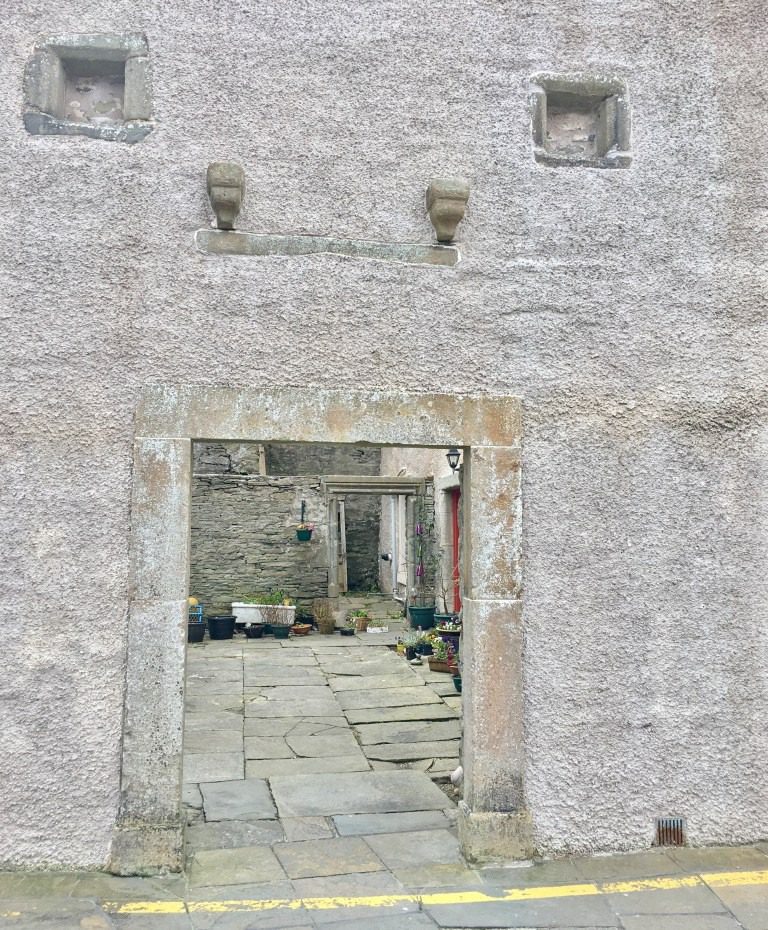 It is a charming little town. Not very busy and people are quite friendly and nice.
The town is an old seaport, very peaceful, so clean and scenic. We walked along the waterfront lined with hotels, B&B, restaurants and other establishments and it has a nice view of the other islands with lots of yachts and fishing boats.
It was sunny and cloudy at the same time; whichever way you turn to, the scenery is breathtaking and instagram-worthy especially when the sun is out.
As we were walking along the promenade we came across a little surprise — a beach with fine golden sand — and there's a set of steps that goes right down to the beach and anyone can go and swim in its clear and clean blue water. If it's summer, I probably wouldn't mind coming here for a little swim. 😉
About half of the islands' residents, just over 23,000 people according to recent survey, live within 10 miles of the borough.
Shetland's connection to Norway has remained, its architecture and culture, is more Scandinavian than Scottish.

There's a lot of quaint, colourful houses, and fascinating doorways all over the town centre.
After dinner we drove to our friend's house — in the middle of nowhere — for about thirty minutes.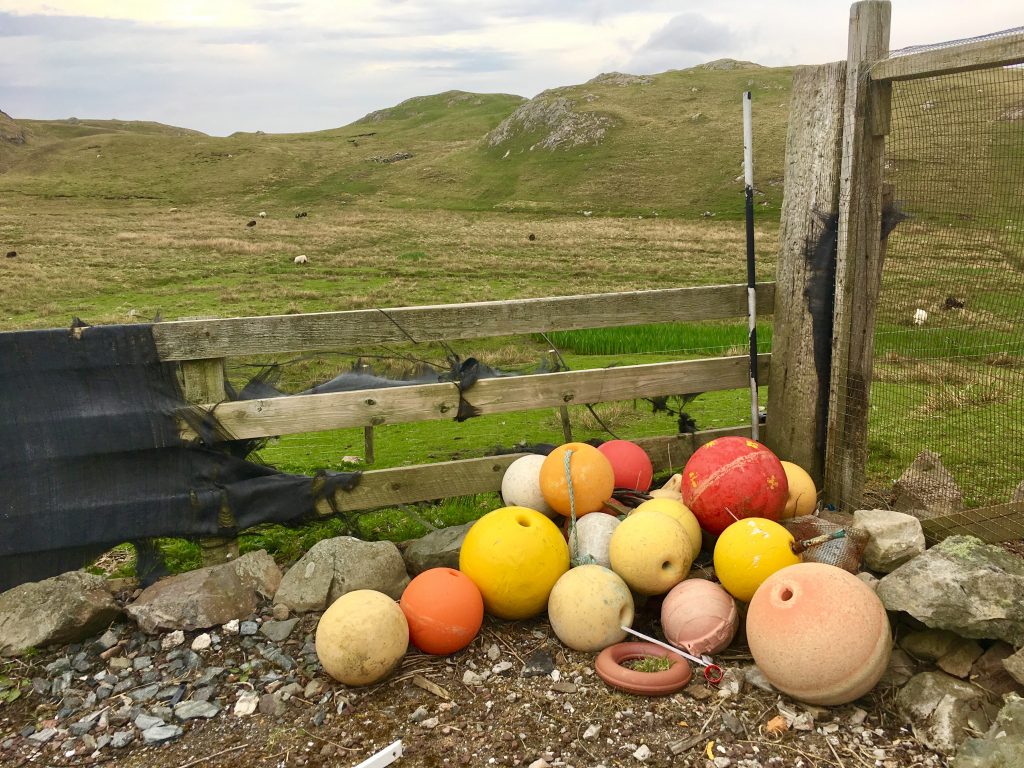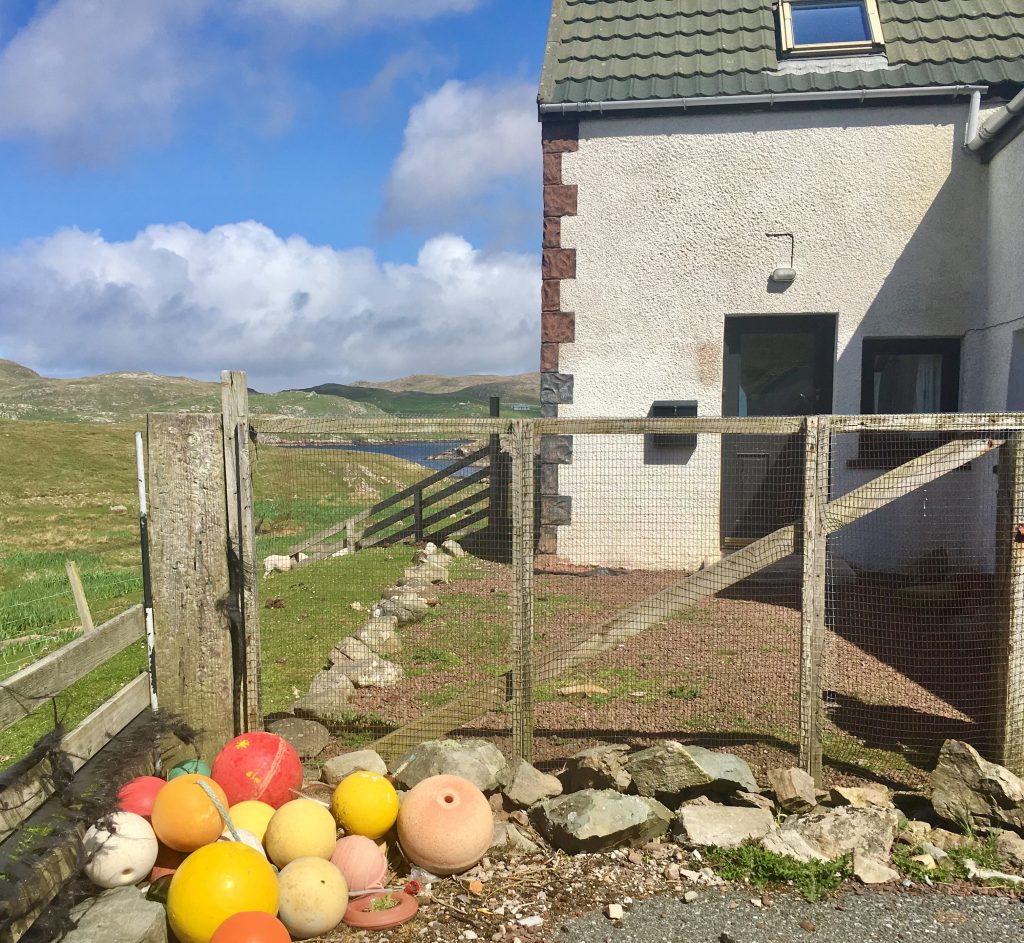 Located in the foot of a hill overlooking the north sea, it is such a very tranquil and idyllic place to getaway from the hustle and bustle of city life.
From the outside, it looks like an ordinary farmhouse, pretty much like most of the houses on this side of the island.
As soon as we got inside, I was so amazed and very impressed how Kevin was able to transform an old Victorian farmhouse into a very modern, stylish and a cosy five bedroom holiday home. It's so full of character with two sitting/living area, a library with books on all four corners of the wall, a huge kitchen and dining hall that can easily accommodate a dozen people for tea or dinner. He changed everything from the floor to ceiling, walls, carpets, cabinets, furnishings, everything is new (I will have to ask his permission if I can post some pictures of the interior).

With a magnificent view of the hills, lakes (or 'lochs' as they call them here), and north sea from every corner of the house, I was overtaken by it all that I thought to myself, I could probably live here, if there's sunshine everyday! 🙂 We've been here for three nights, and have visited, by car and ferry, the other inhabited islands. Will blog about it separately. We have an open invitation from Kevin to come and visit anytime we want. He's exceedingly generous and one of the most gentle and kind person we know.

As the sun was setting on the horizon on our first day here, at around 10pm (photo above), I gleefully watched the lambs playing in the field and told Jared, "I'd be happy to live here. In the spring and summer I'd be out and about exploring the islands but I'd probably be staying indoors and complaining of the dismal weather during the winter months!" 🙂 I do thank the Lord for bringing us here. So grateful to have had the opportunity to experience Shetland's wild beauty in springtime. I must say that for all its wildness and oddness, Shetland has a stark beauty of its own. We are heading out shortly to do more island exploration. And we will be back to London tomorrow night but can't hardly wait to visit and experience Shetland in the autumn and winter, to get a glimpse of the Northern Lights!
Note: Here's the next two posts . . .
Shetland, 2nd of 3 Parts
Shetland, 3rd of 3 Parts