With the recent passing of my 95 year-old aunt, I decided to share my diary entry dated 26 Sept 2009. On this particular day, typhoon Ondoy brought massive rainfall and caused severe flooding, death and suffering to thousands of people in Manila and neighbouring provinces. I happened to be in the Philippines at the time taking care of my mother on her deathbed. My cousin, Manay Susan, and I, along with my mother's caretaker, and with the help of other family members, we'd take turns keeping an eye on her. There's always someone watching her 24/7 making sure she's alright. She passed away three weeks after I wrote this.
As I am writing this, the wind is screaming, the rain falls in torrents, thunder is rumbling, lightning is flickering in succession in the distance but seems to be moving closer. The heavy downpour, what seems like buckets of water, is pelting the windows relentlessly. When I was a little child growing up in Samar, there were thunderstorms, similar to typhoon Ondoy, that visited my hometown. In memory, there was more thunder and lightning, and I used to be so frightened of them.
Sometimes it rained non-stop for two-three days. I remember lying in bed at night wondering if it would ever stop. Images of biblical floods would come rushing through my mind and building an ark like Noah seemed like a scenario. Of course, the storms passed with no need of an ark. But night was the time when my fears took shape, monsters, ghosts, and other Philippine mythical creatures crawling under my bed, or hiding in the 'baul' (wooden chest) or behind the head board and closet. But I remember the fear that lingered on within me for years, as far back as I can remember growing up, was actually my fear of death — not only of myself dying, but of my mother and father dying as well. It was enormously terrifying, I couldn't talk about it. I never shared it with anyone. I recall asking myself questions like, "what will happen to me if my parents died while I am still young?" or "what will happen to me when I die?" These questions haunted me for years. I kept those questions to myself, letting it crawl over me at night and sometimes crashing into my thoughts during the day. Indeed my worst fear growing up was of my parents dying, and if there has been a lessening of my fear, it happened after I become a Christian. Now, at age 40, I can say with confidence that I do no longer fear death and see it as a joyful reunion with the Lord and with loved ones who have gone before me.
When I was a child, my father used to read me biblical stories. We had a series of children books, some of them were stories from the old testament given by our relatives who were Jehovah's Witnesses, and the story of Noah and the Ark was my favourite. From those books, we would choose a story each night and more often than not I'd ask my father to read Noah and the Ark.
I looked back to those days of my childhood pondering them as I watch my mother sleeps, embracing those memories as the joyous occasion it's supposed to be. I thought about how much life seems to change. I wondered if, when I'm in my seventies, if I'd live that long, if I'd be like my mother, growing old gracefully as she did. That used to seem like a huge expanse of time; right now I am 40 and my mother is 77 — she had me at age 37. I am almost twice as old as she is now, and it seems like a blip on my laptop screen.
Watching my mother slip into old age with much more humour and serenity (even in the last couple of years since her ailment), I am reminded of my father and his death. Once again I perceived some sort of awareness that life is indeed too precious — everyday, every hour, every minute, every second – practically every moment of it is valuable. That's pretty much what I felt when I saw my father on his death bed, and now seeing my mother's rapid physical decline brought those feelings to the core of my being. Ideally, we should all hold to that consciousness, that awareness, no matter what age we are — but sadly, very few of us actually do. And I realised that, even in old age, my mother had a unique beauty and grace. Even at the hospital I made sure she still had her hair done everyday — I'd brush her hair looking like the way she always had them. I'd spray some fragrance on her which she loved and have done so on her own, using different types of fragrances, for as long as I can remember. (Oh, and she never throw away any bottles of her used fragrances!)
My mother loves her hometown, and speaks of it so fondly and poetically especially in the last few weeks. There's something about her stories that made me wish my father and other elders were still around, and we were back in our beloved hometown.
Life is so unpredictable, never knowing what the day will bring. A few times, in the last couple of years, I have had to prepare for my mother's death; once, she was confined at a hospital back in 2007 and I thought she'd never recover. She has been in and out of the hospital just about every 3-5 weeks since mid 2007. One day she is full of grins and smiles; the next she is very quiet and confined in a hospital bed.  Just a few weeks ago her room was filled with silent tears flowing down the cheeks of those around her hospital room, the next day it was filled with loud laughter. And I realise that for all the rejoicing that my mother has gone through, I know that her death is inevitable. I was told by the doctor that she hasn't much longer to live. Just a matter of days or weeks.
Despite all this, life seems so much richer and meaningful. It may be hard to see her go but there is joy and peace; there's an assurance from the Lord that overwhelmingly takes over my heart knowing that my mother will join Her Creator. And that fulfilment will come in many surprising guises, just like what happened 25 years ago when my father passed away. The death of my father had led me to search for the meaning of life. The loss had changed me for the better. I now have a far better understanding of how a terrible situation can turn into the sweetest and most meaningful event. I have become a better person after that experience of losing him. My life had turned out strangely for the best. I had to grow up very quickly. As John Lennon once said, 'life is what happens when you are busy making plans.'
At times, we have to resort to the darkest humour in our situation. Yet life seems somehow to be that much more complex and extreme. Over the years I've learned to live in the present, not in the past nor in the future, simply trusting the Lord, since He knows what tomorrow will bring. Yet the daily unpredictability of life seems to be so much less when you have been through some of the most traumatic, most tragic events. In the midst of all the trials that I have faced — losing my father at a young age was the greatest so far — God's love turn up unexpectedly in the strangest places. He'd bring me, time and time again, to a place of remembrance that He is in control of all things. That He works in mysterious ways; always faithful and never fails in keeping His promises. Sometimes God works through people around me who have, in their own way, revealed so much generosity and kindness that I never would have guessed they had in them.
In the last few days, I watched my mother's eyes; she seems more calm, more serene and seem so much more at peace despite her condition. I saw similar blissful disposition in my father toward the end of his life. My mother seems to have accepted death since she lost my father, and that she simply had always looked at death as a joyful reunion not just with God but with her loved ones. She seems as peaceful and relaxed as moonlight across the surface of a calm lake. I believe that my mother does look forward to the world that wait for her — in heaven with her Creator — a world with real peace and joy, without sorrow, or pain, or any suffering — just a peaceful, perfect place. And I remember, she had told me on many occasions that she's not afraid of dying.
I now understand how the process of dying gives the dying person and those around them the opportunity to show pure love and support for one another. And to allow their loved ones to put aside whatever problems they're facing and focus on what is truly important. None of this would have been possible were it not for my mother's determination to lead by example. She once told me after my father's passing that death is a natural part of life and is not something to be feared. These weren't just simple words but she lived it. I remember one day I was telling her that losing my father caused me to be full of rage, confusion and disbelief. She showed me by example long after he passed on that she has learned to be more accepting of her lot in life; that we shouldn't complain but just get on with it, taking it one day as it comes. She continued to show the same extraordinary strength of character and courage. I suppose we get all the lessons we need in life from our parents. Whether we learn from them or not is entirely up to us. But I believe these lessons are presented to us in different circumstances. The past year has tested and challenged me to such degree that I find myself delving into my own personal history in new ways I never had imagined, even going back to my roots I had either neglected or simply taken for granted.
A rainbow of memories and emotions came flooding through my mind as I write this. This process of reminiscing has been made all the more poignant as I reflect on the current circumstance I am in. No space of time, no lapse of years can erase these memories — these unforgotten treasures will remain with me for the rest of my days. It has given me so much joy and comfort to revisit the past, to ponder about the good old days. As early hours in the morning is my schedule to keep an eye on my mother, I'd watch her sleeping peacefully, and I try to contemplate about the memories of times past. As always, I find myself smiling and crying at the same time but always grateful to the Lord for my elders and every family member, and for all of the blessings He showered upon my life. (ELS. Diary entry dated 26 Sept 2009)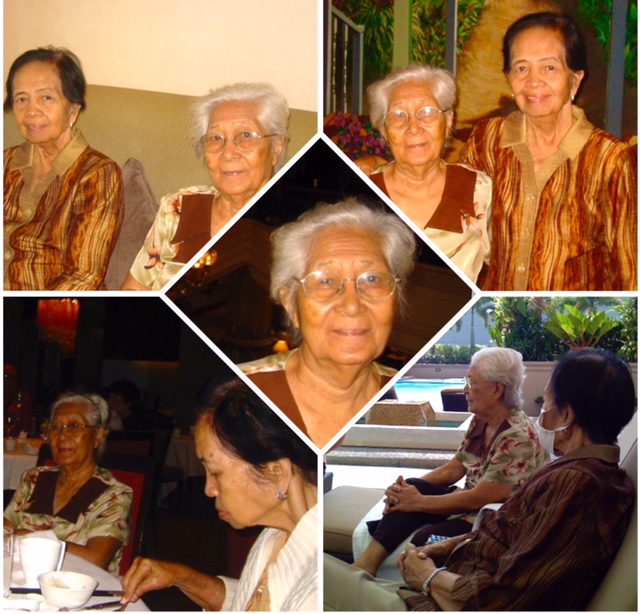 A collage of photos from 2008 — was the last time my mother (aged 78) and my aunt, Nay Joven, as I fondly call her (at 85), were together. At the time my mother had been in and out of the hospital, was very thin and frail and even looked older than Nay Joven.