Next door to Tate Gallery Britain is Chelsea College of Arts, a constituent college of University of the Arts London (UAL), one of UK's most prestigious art and design school. The UAL Summer Show showcases the results of a year's hard work from students who are completing the post-graduate studies. One of the graduates is my Filipino friend, Olive Lopez, who kindly invited me to attend the show. She recently earned her MA degree in Textile Design from UAL.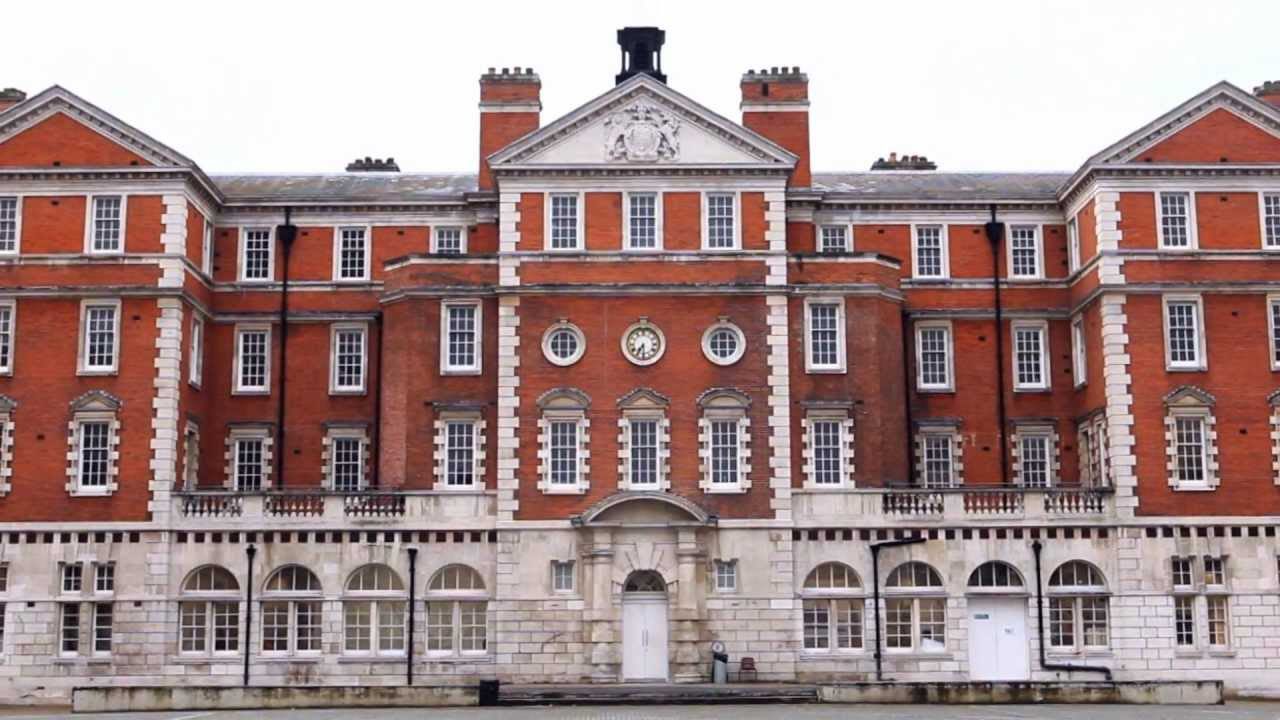 The building where  Chelsea College of Arts – UAL now occupies used to be a military facility called QAMH or Queen Alexandra's Military Hospital, a general hospital for the Army and the only British institution that taught military surgery during the first World War. The vaccines against typhoid fever was developed here, and during the second World War it was the research center for the protection against chemical warfare and the creation of gas masks. The hospital closed in the 1970s when the Queen Elizabeth Military Hospital (QEMH) was built at Woolwich.
Chelsea College of Arts is filled with artworks of the graduate and post-graduate students spread across the campus not just with Fine Art, but also includes Interior & Spatial Design, Textile Design, Graphic Design Communication, and Curating & Collections. And as such, it was easier to take in the show as a series of mini-exhibitions, in which a large number of 'up-and-coming' artists share a space that was curated according to each artist's aesthetic concerns. I find that a lot of the artists seem to be going against the grain and breaking the rules. From gallery to gallery, I wondered why any ideas about traditional forms of art seem to have been easily waylaid by the experimental and fanciful nature of most artwork in the galleries. Although I had a quick look at the other shows, my focus was on Textile Design.
There's several artworks hanging on the wall that lure the visitors in as they enter the building. But I started with Olive's project called 'TexTiles' — she came up with an idea of combining scrap textiles with blocks of tiles. She collaborated with Machuca Tiles Philippines and a handful of women in an impoverished community in Antipolo to complete this project. It was quite a unique concept, and I've never seen anything like it before.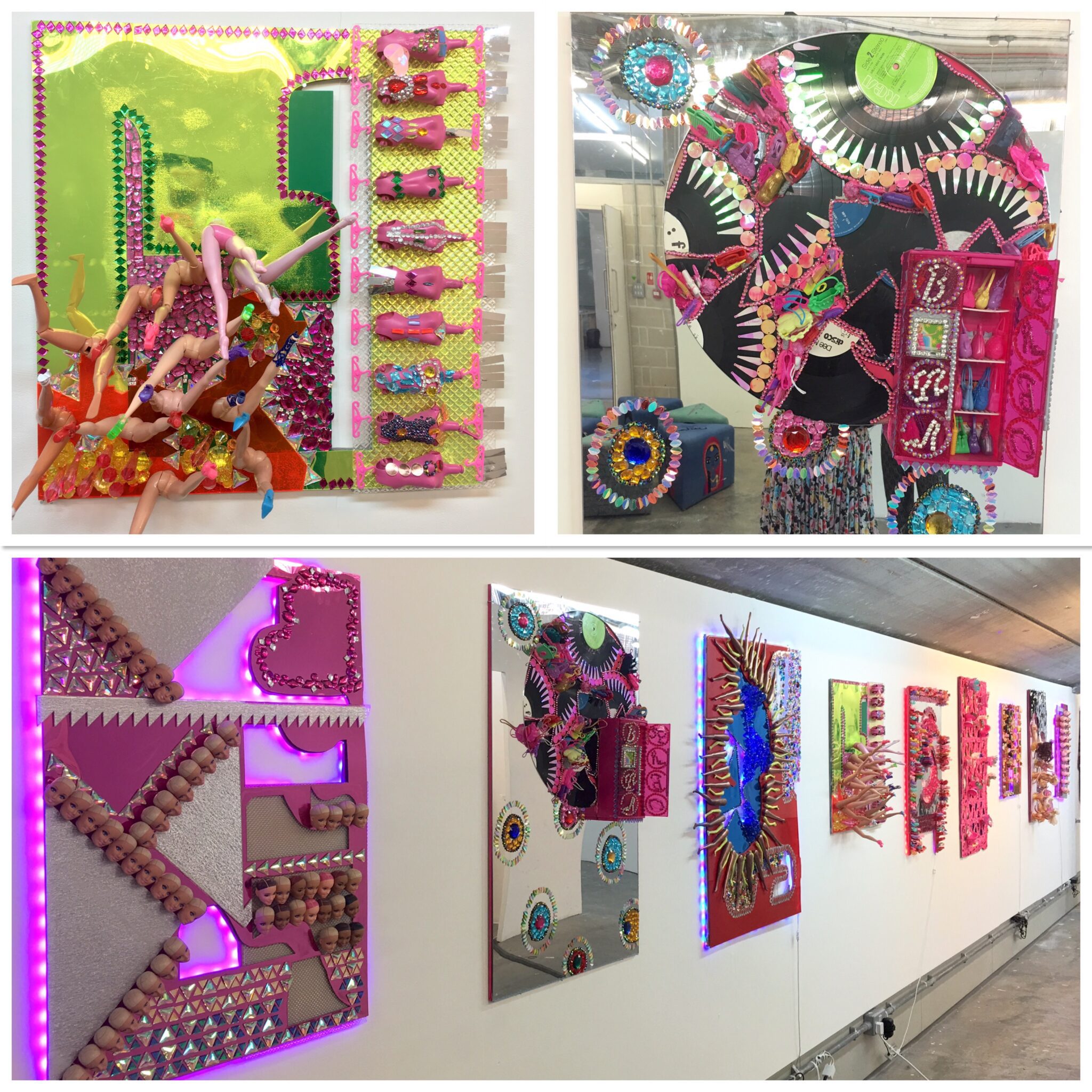 I took a closer look into each one of the artworks hanging on side of the wall with discarded Barbie dolls, sequins, buttons, and other objects for clothing — they all form an exuberant and visual creative jumble that share a wistful affinity between viewer and artist.

It would be easy to spend an hour or two, or to completely lost track of time here, to keep exploring several themes such as human basic need, geographical identity, renewable material, landscape of paper, and other ideas that the artists are interested in.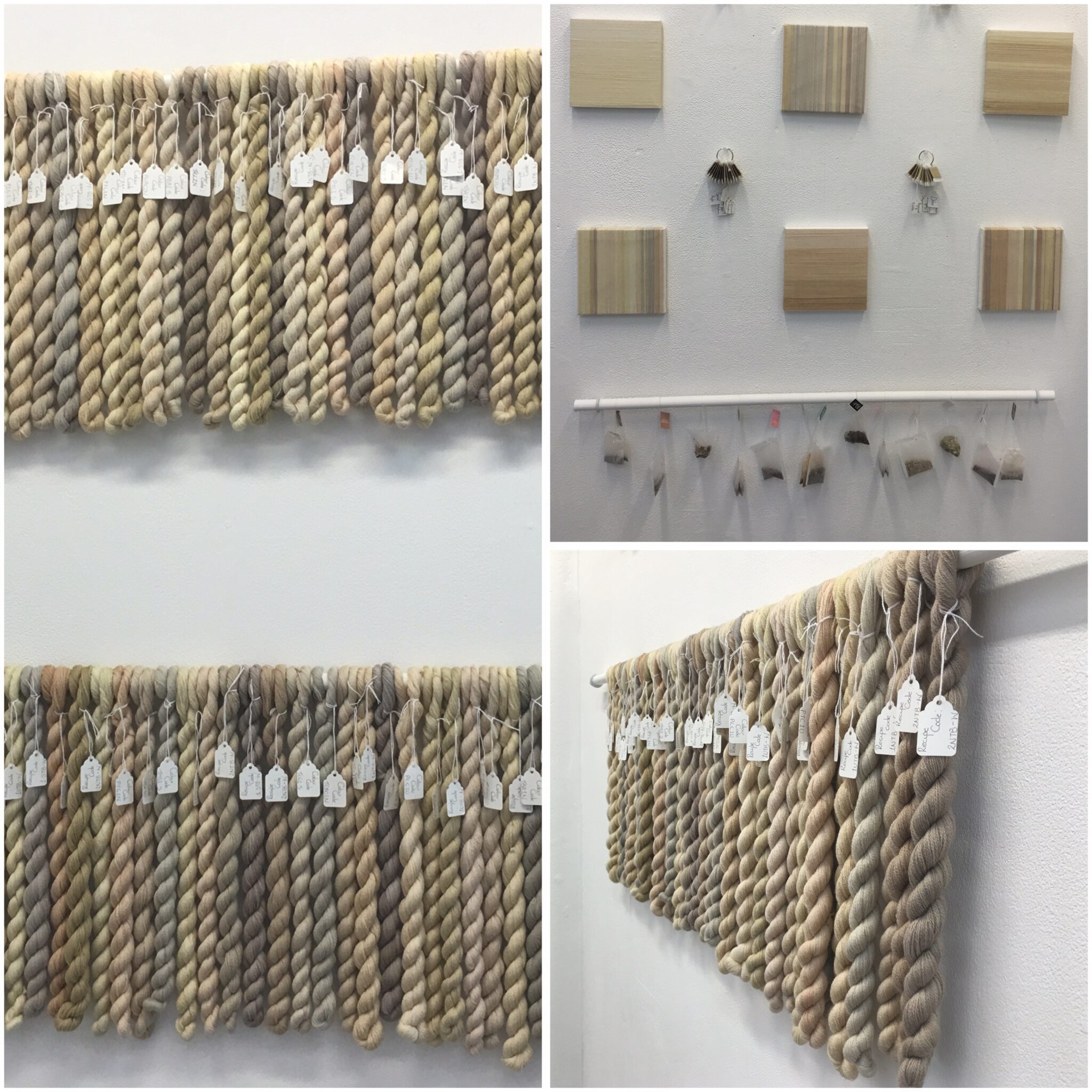 I was fascinated with this particular project by a student named Hayley Peek who introduced tea into the textile industry using tea leaves as a natural dye.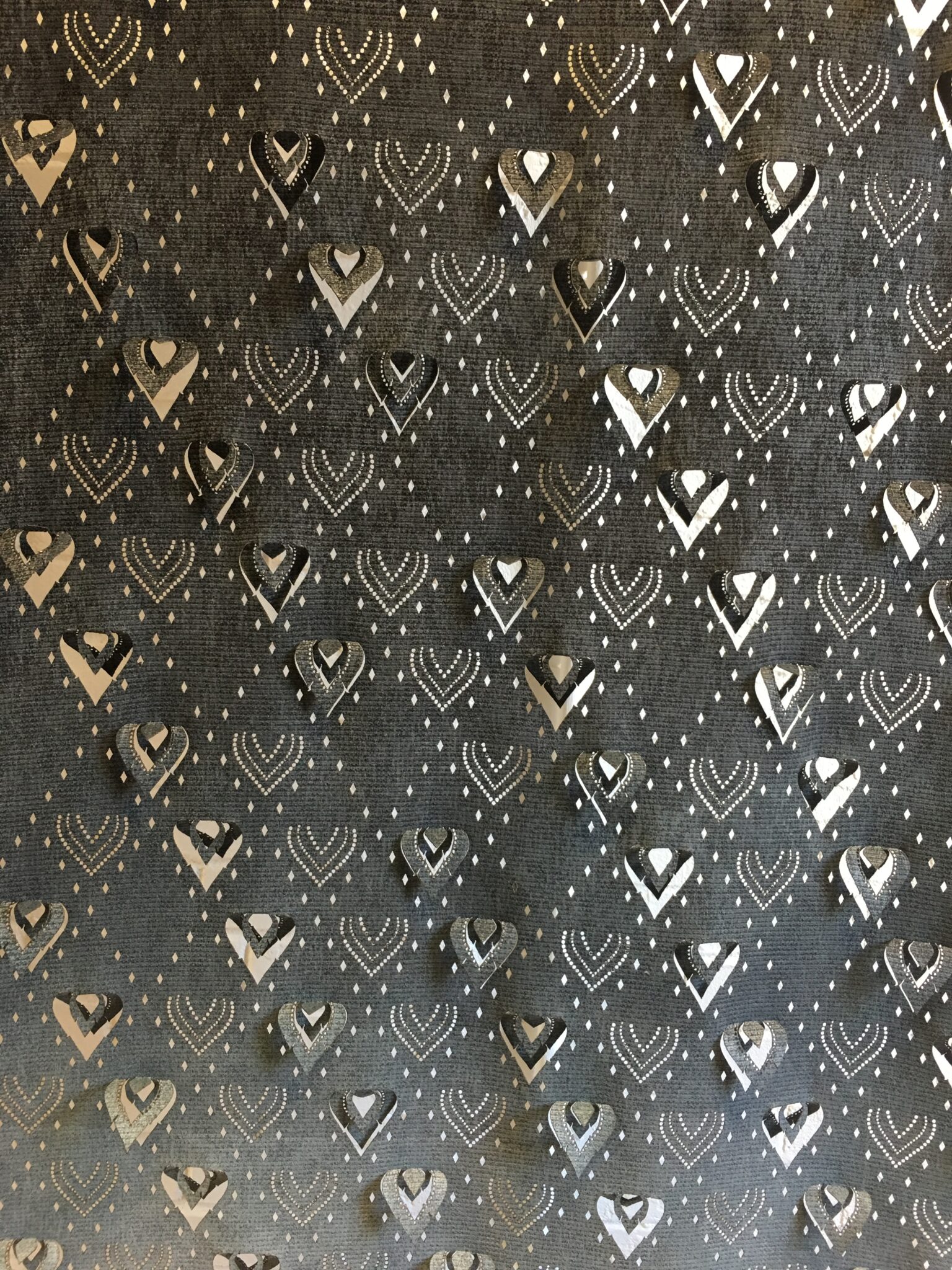 A student from Thailand, Boonyanuch Wangkitchinda, converted the Water Hyacinth, a worthless material, into sustainable laser-cut fabrics. Water Hyacinth is the most invasive weed that's causing great harm to the aquatic life in tropical countries.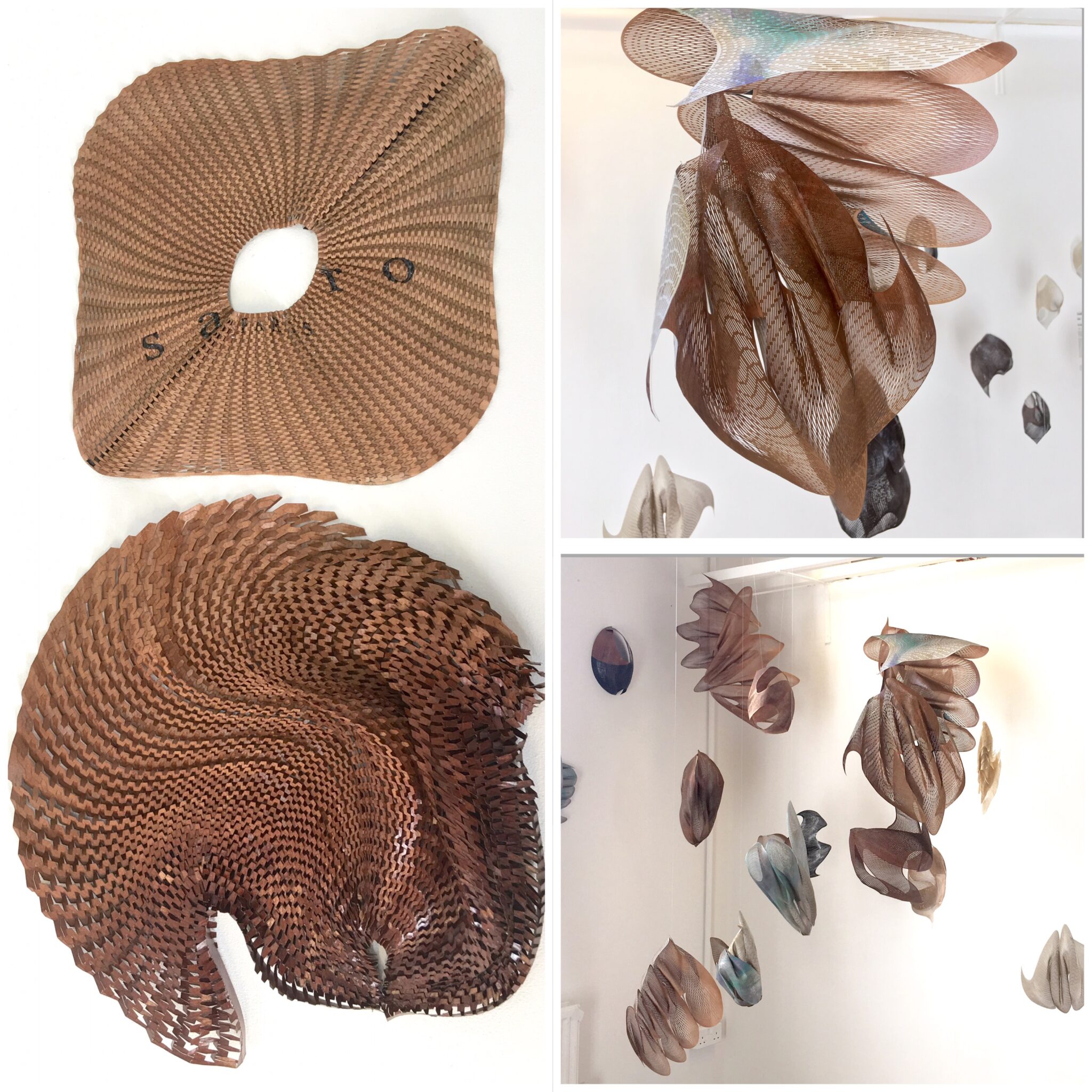 Kuniko Maeda from Japan created some very unique decorative artworks made of recycled brown paper bags using Japanese traditional craft technique.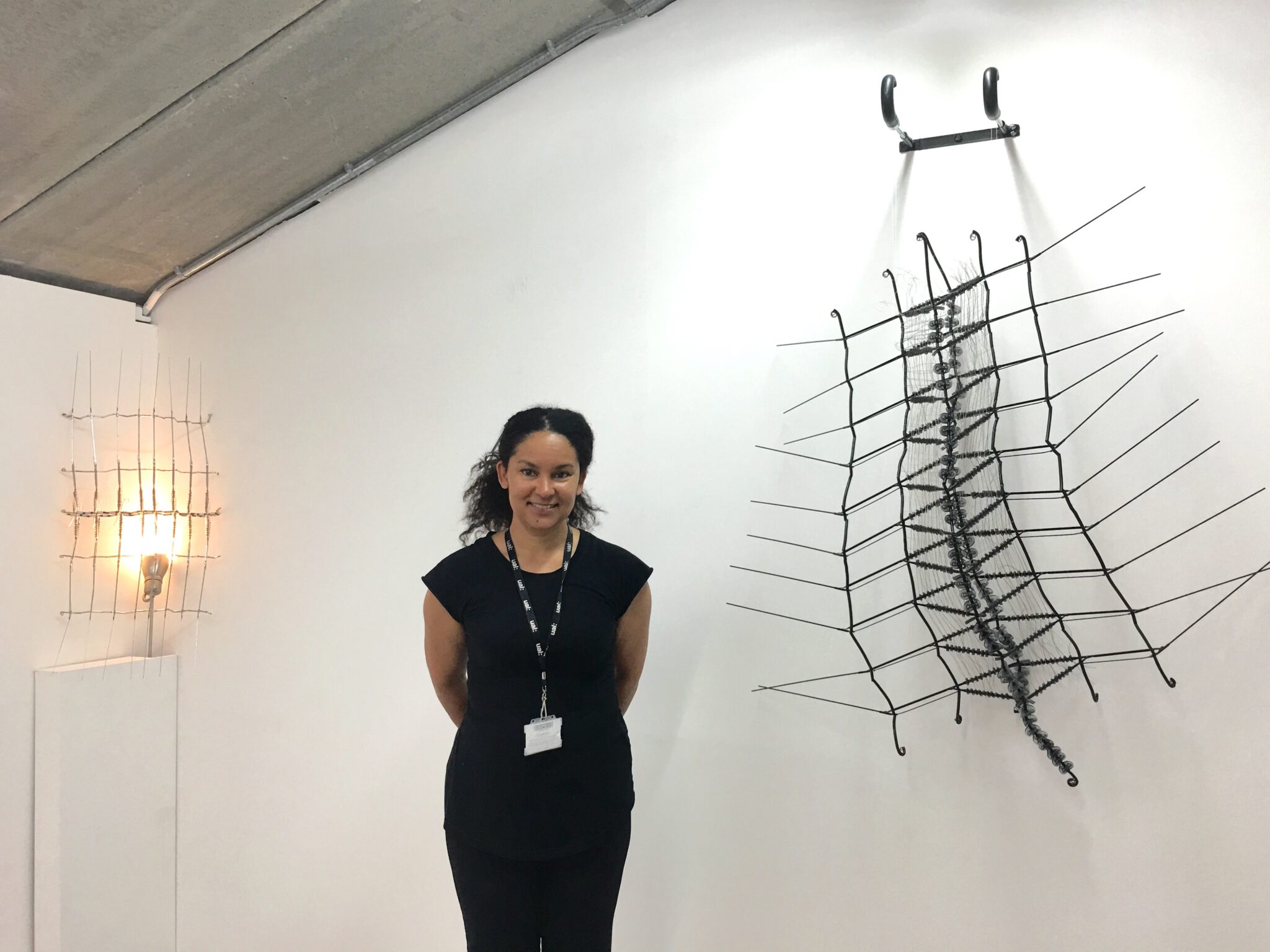 British-born and high school art teacher, Diana Burton, also took MA in Textile Design and here she is posing for a photograph (after I asked her to-thanks Diana!) with her project which she calls 'A Deviant Object' made of discarded broken umbrellas. She got an award from UAL for this work.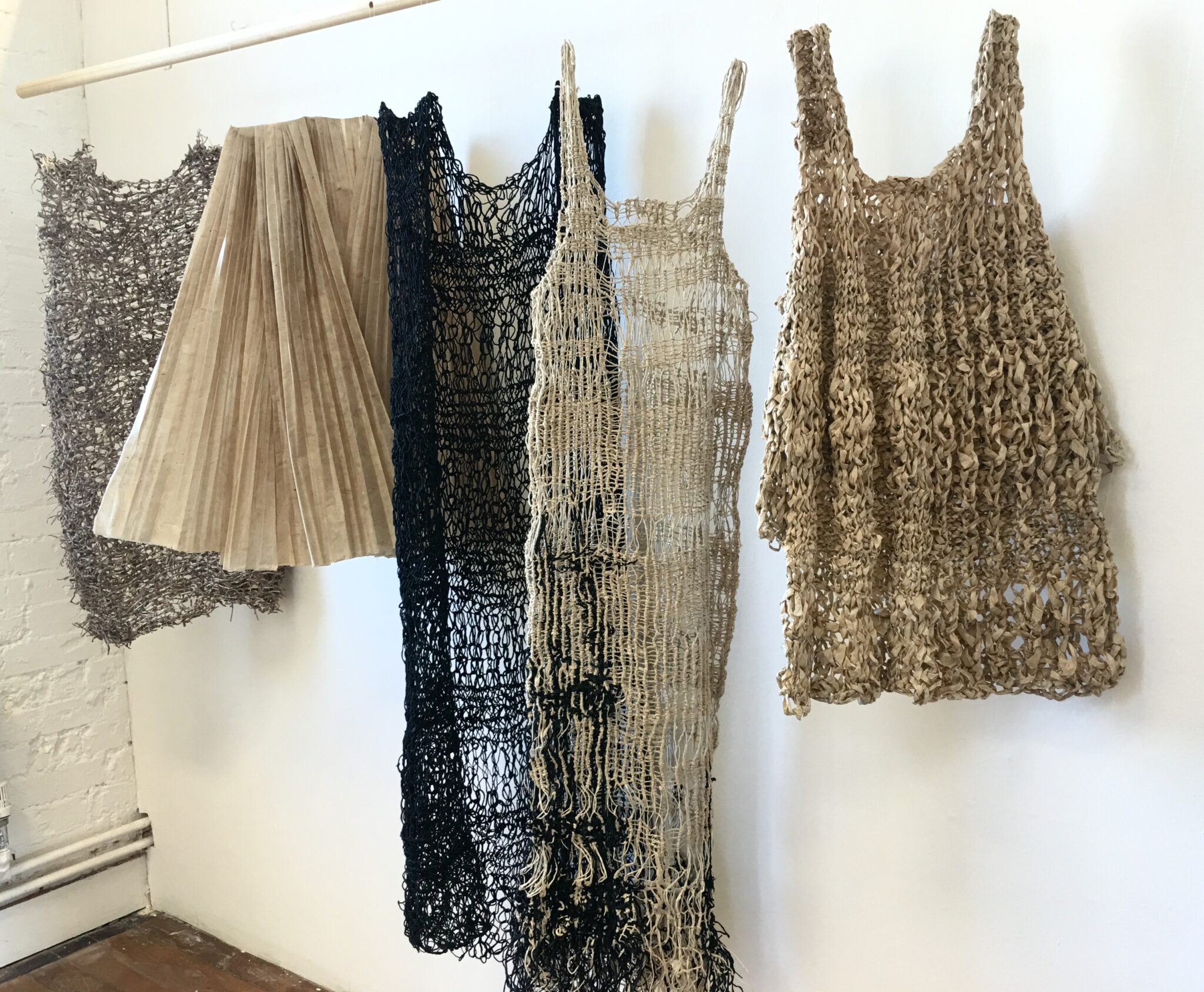 A student from China, Tan Huh Lee, focuses on how to recycle sewing thread waste into a piece of reversible textile fabric in order to create a new material.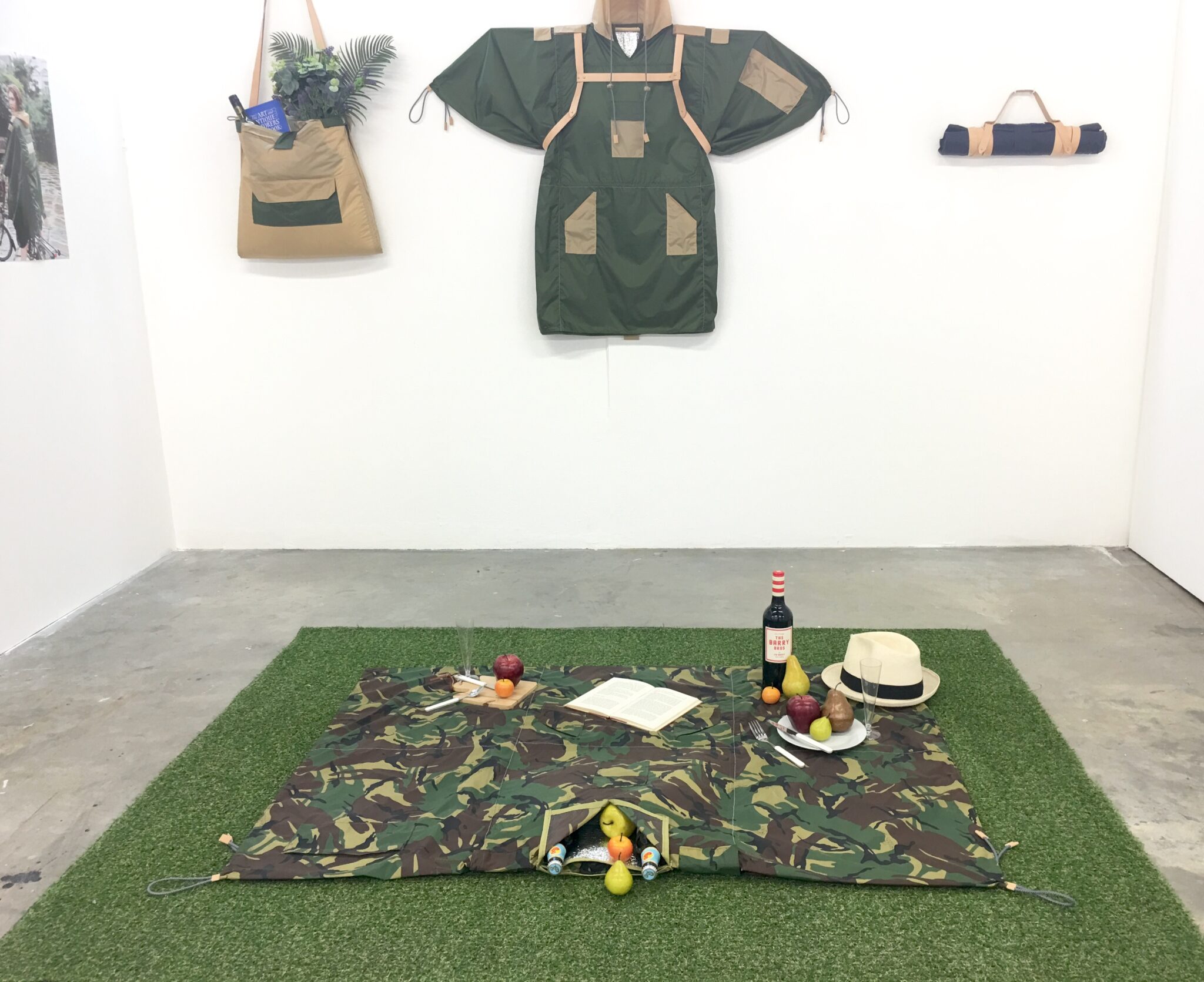 I failed to get the name of the student who did this — a really cool project — camouflage water resistant fabric was made into a multi-purpose object; can be used as a bag, a jacket or picnic rug.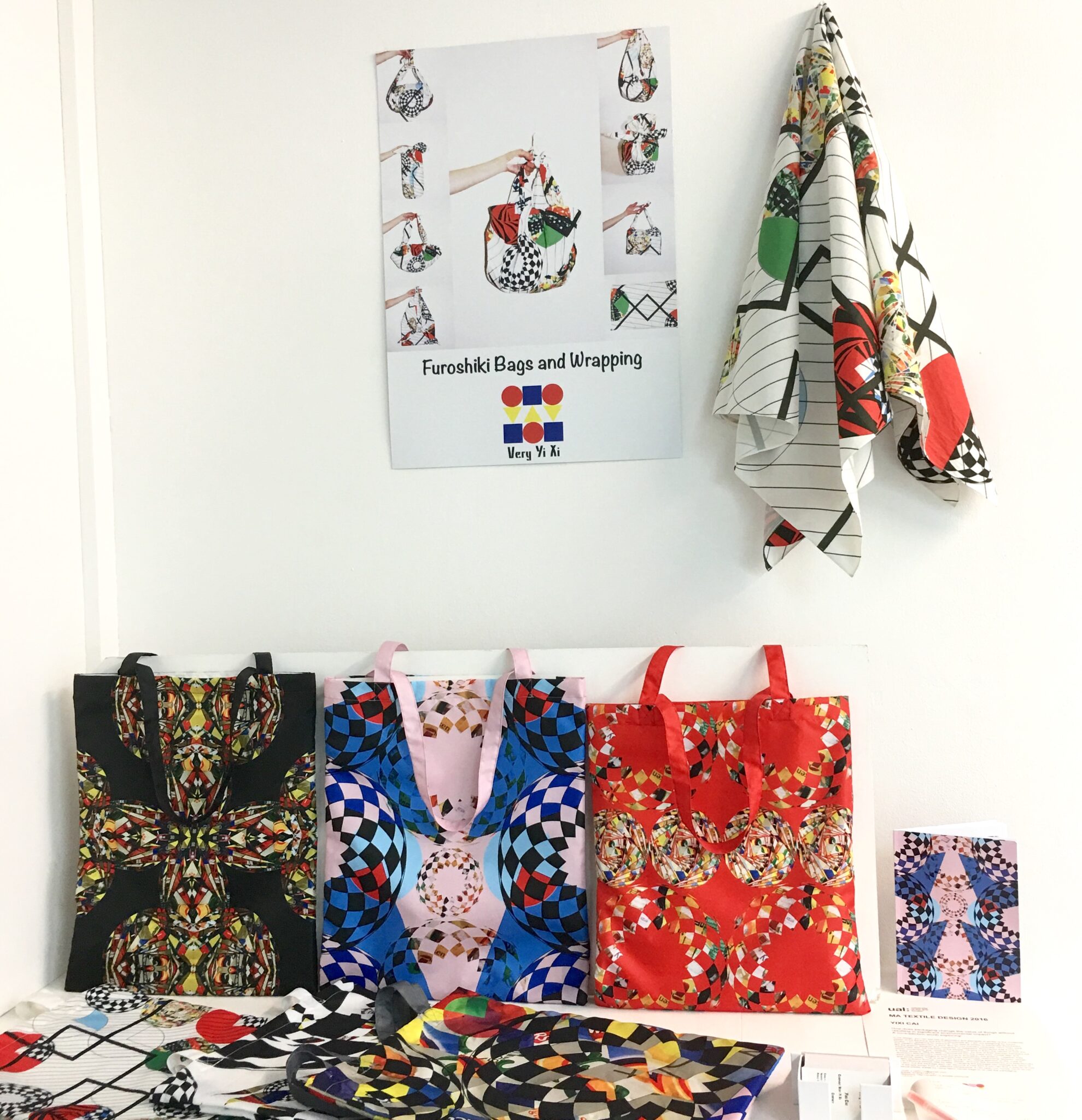 Yixi Cai, a Chinese student, created this geometric design and is calling the attention to what she calls a "the crisis of plastic pollution" by reducing plastic waste and using fabric carrier recyclable bags.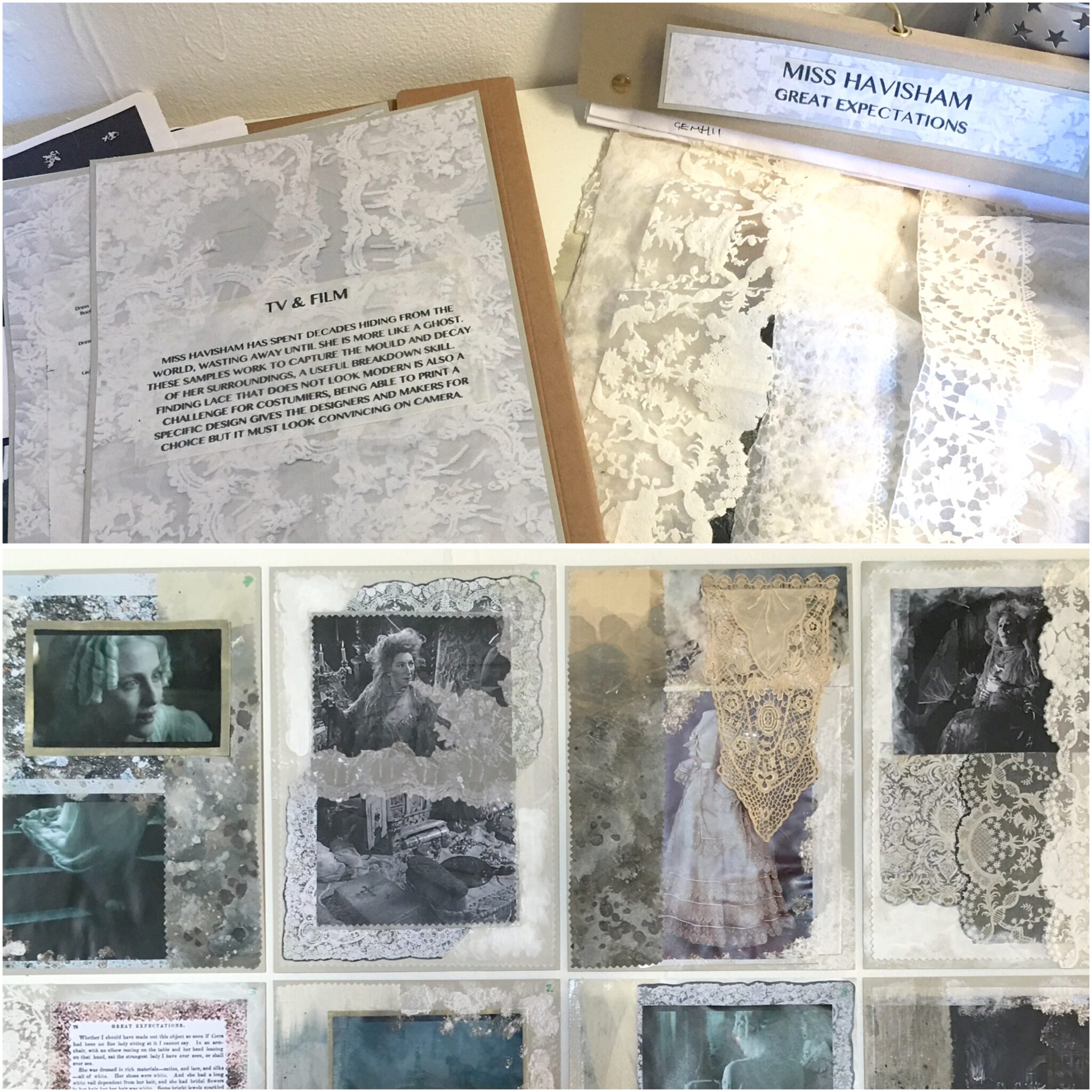 Laces, tulle and net fabrics never seem to get old or go out of fashion. The creator of this project is focused on period costume/outfits for tv and film.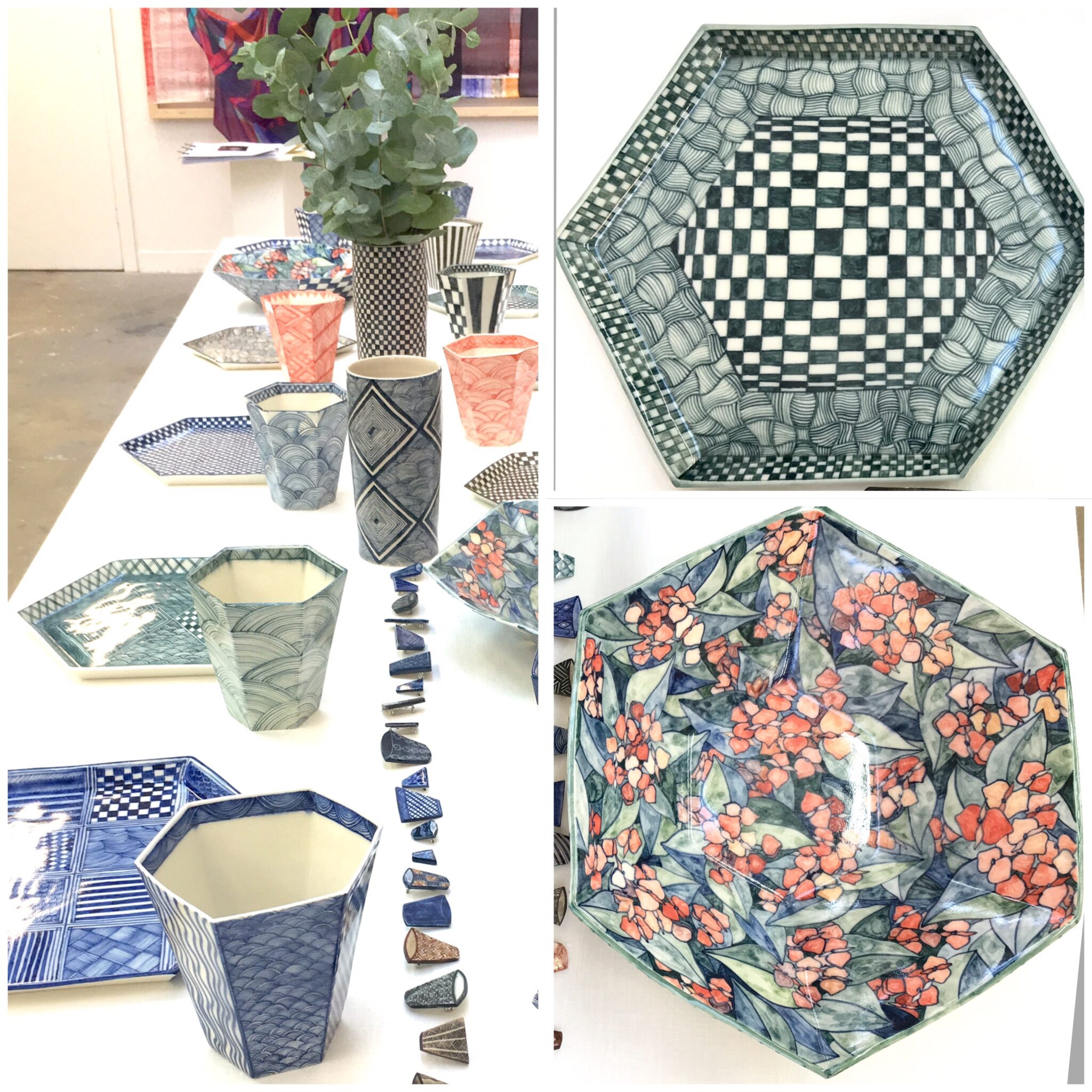 These traditional Japanese-looking tableware  were made of fabrics incorporated into ceramics. I really like them especially the octagonal shaped plates and bowls.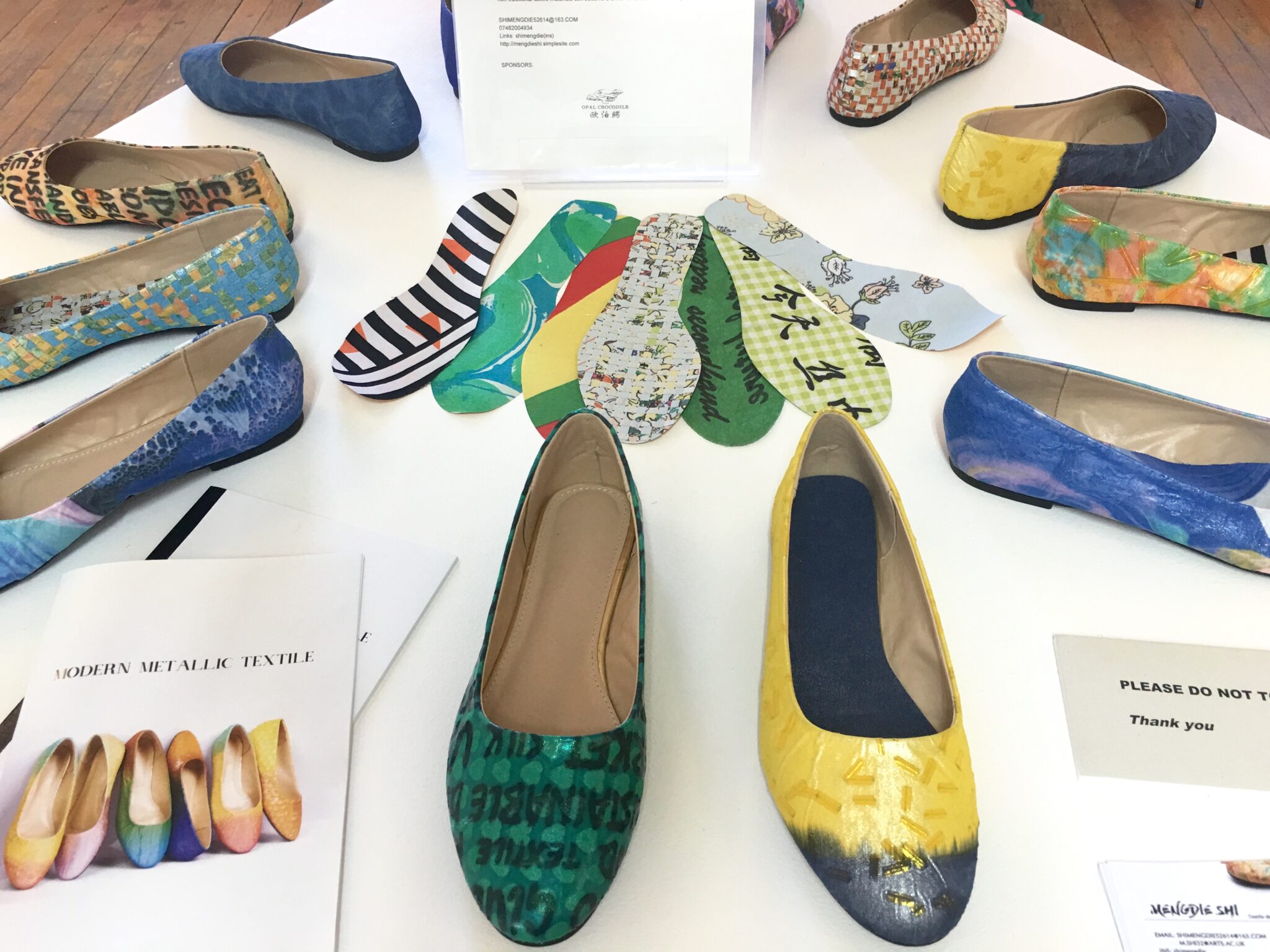 These flat shoes in different prints and colours are made of metallic textile.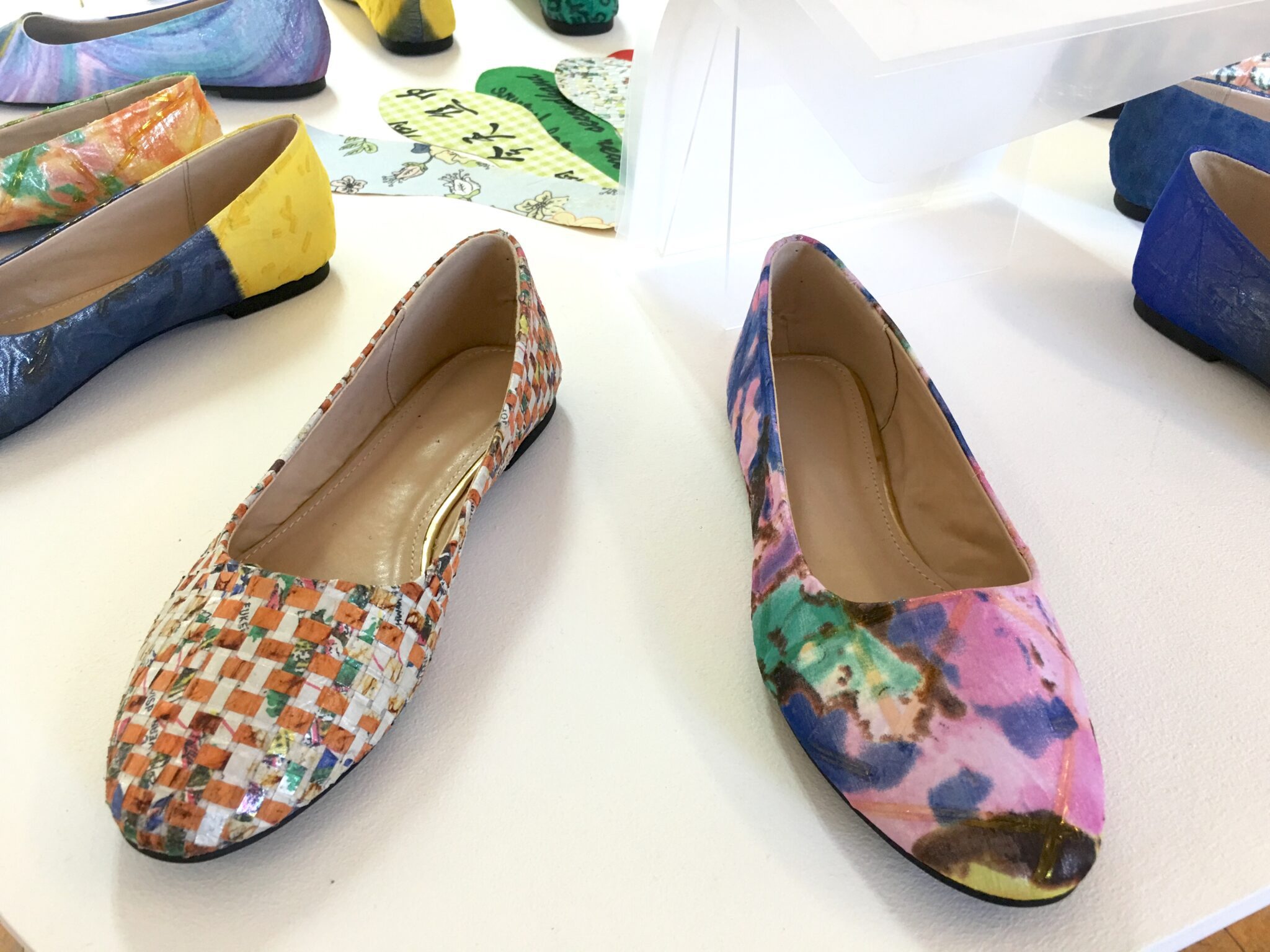 I like these two shoes — very girly! 😉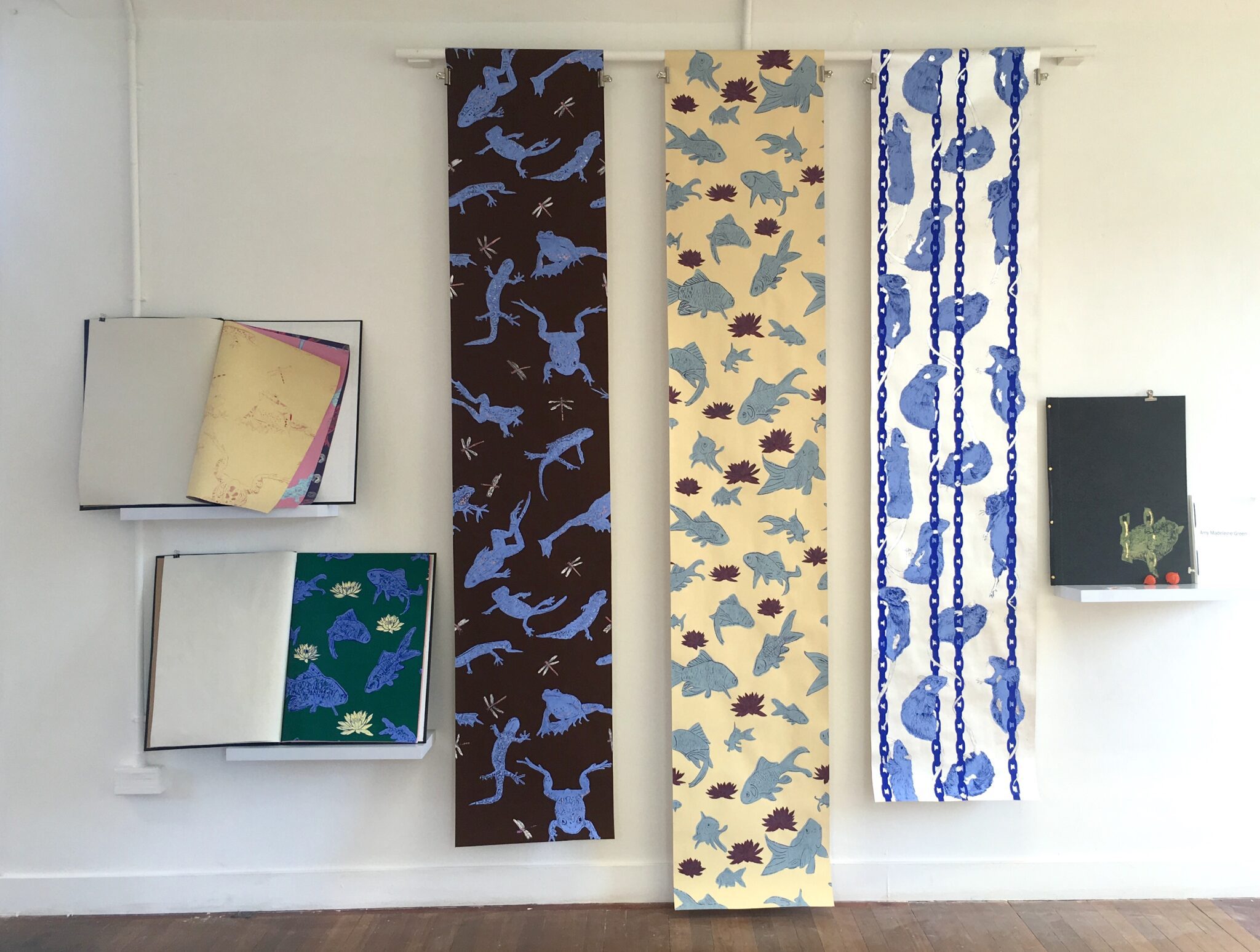 Hand block printed wallpapers made from recycled paper and natural pigment.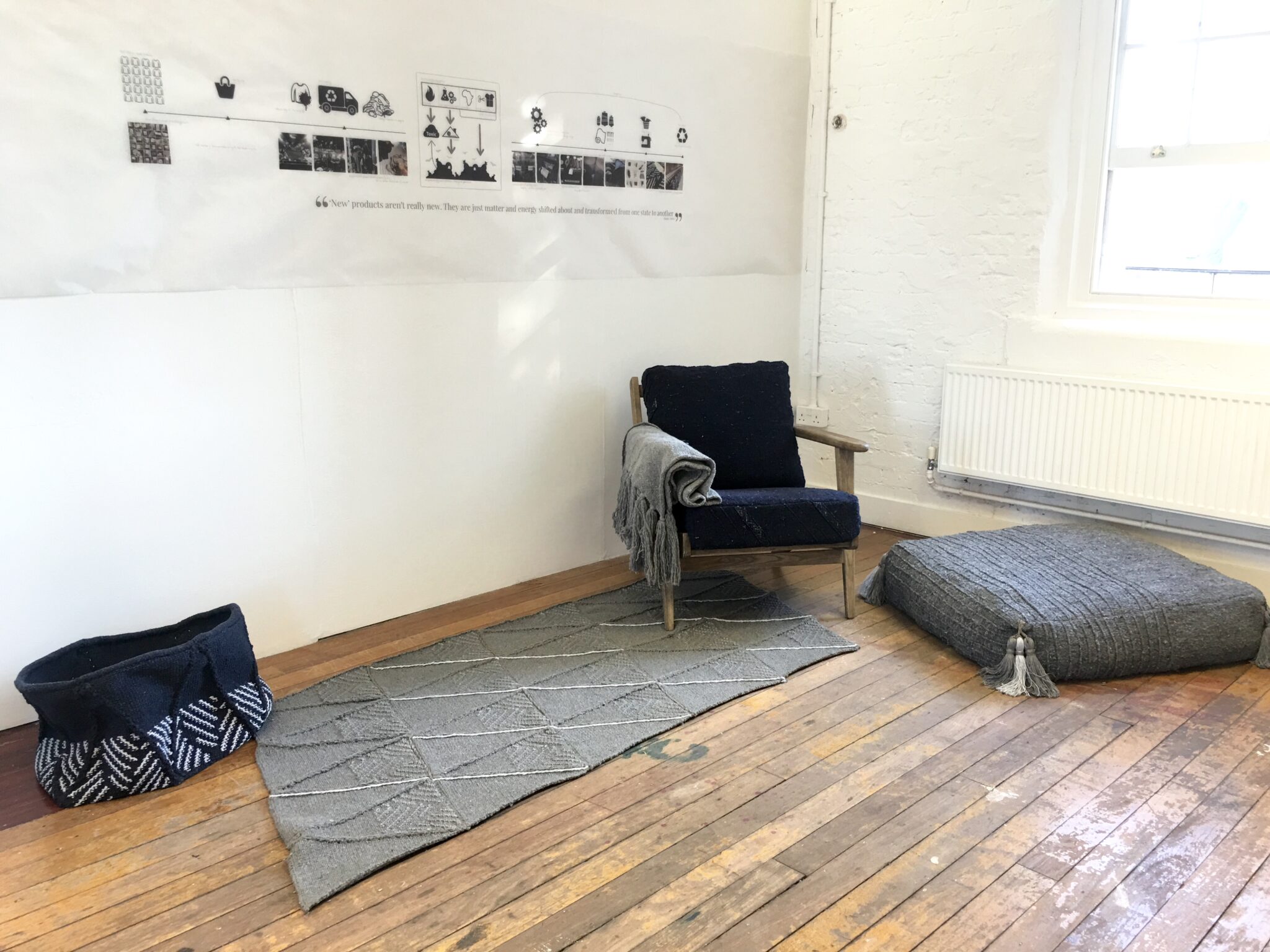 There are rugs, furnitures, and other home accessories. These are but a few works in the show; there is so much more to see and sadly there isn't space here to put a picture of everything. The  subsequent photos are just some of the many works I noticed — great pieces clamouring for attention!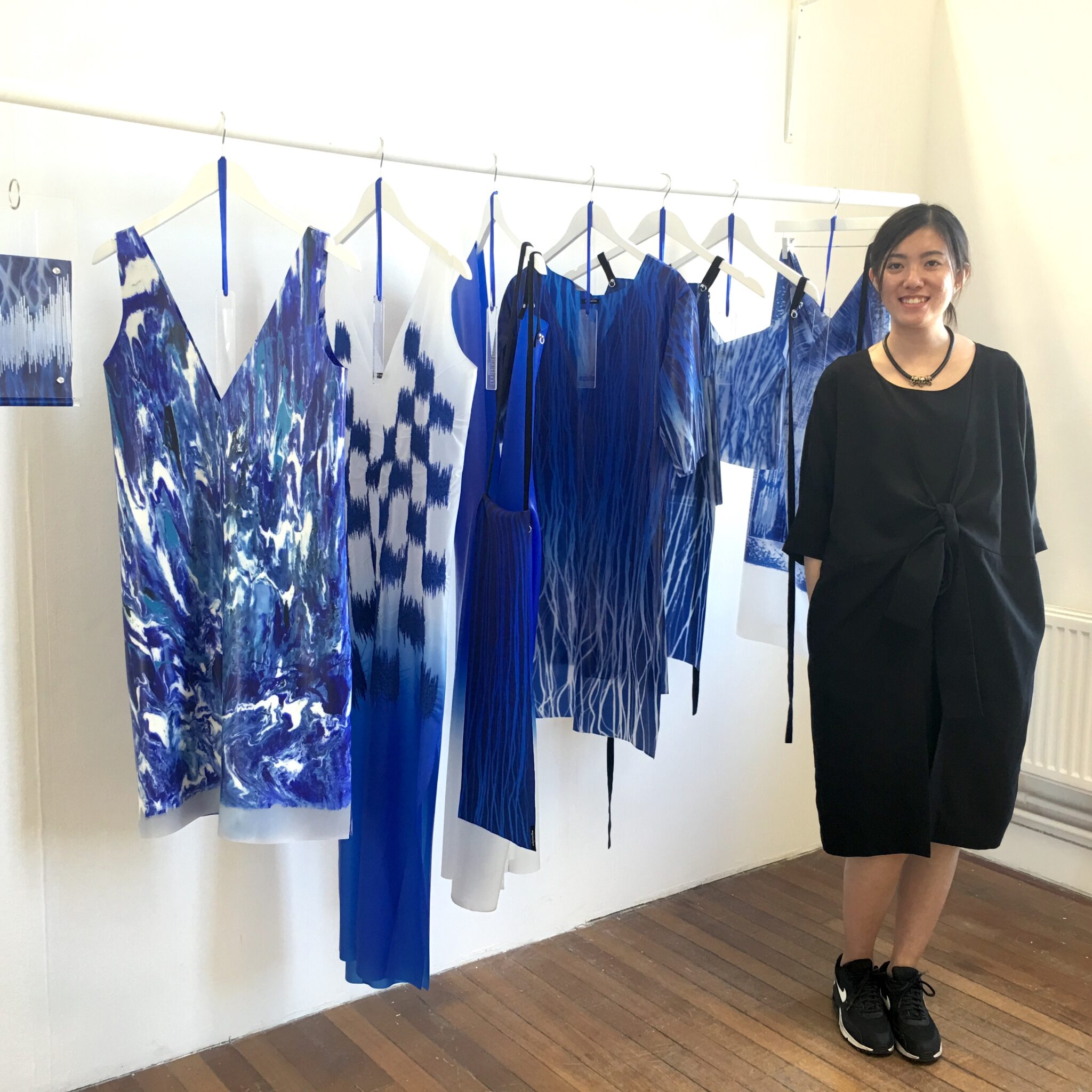 Colourful clothing!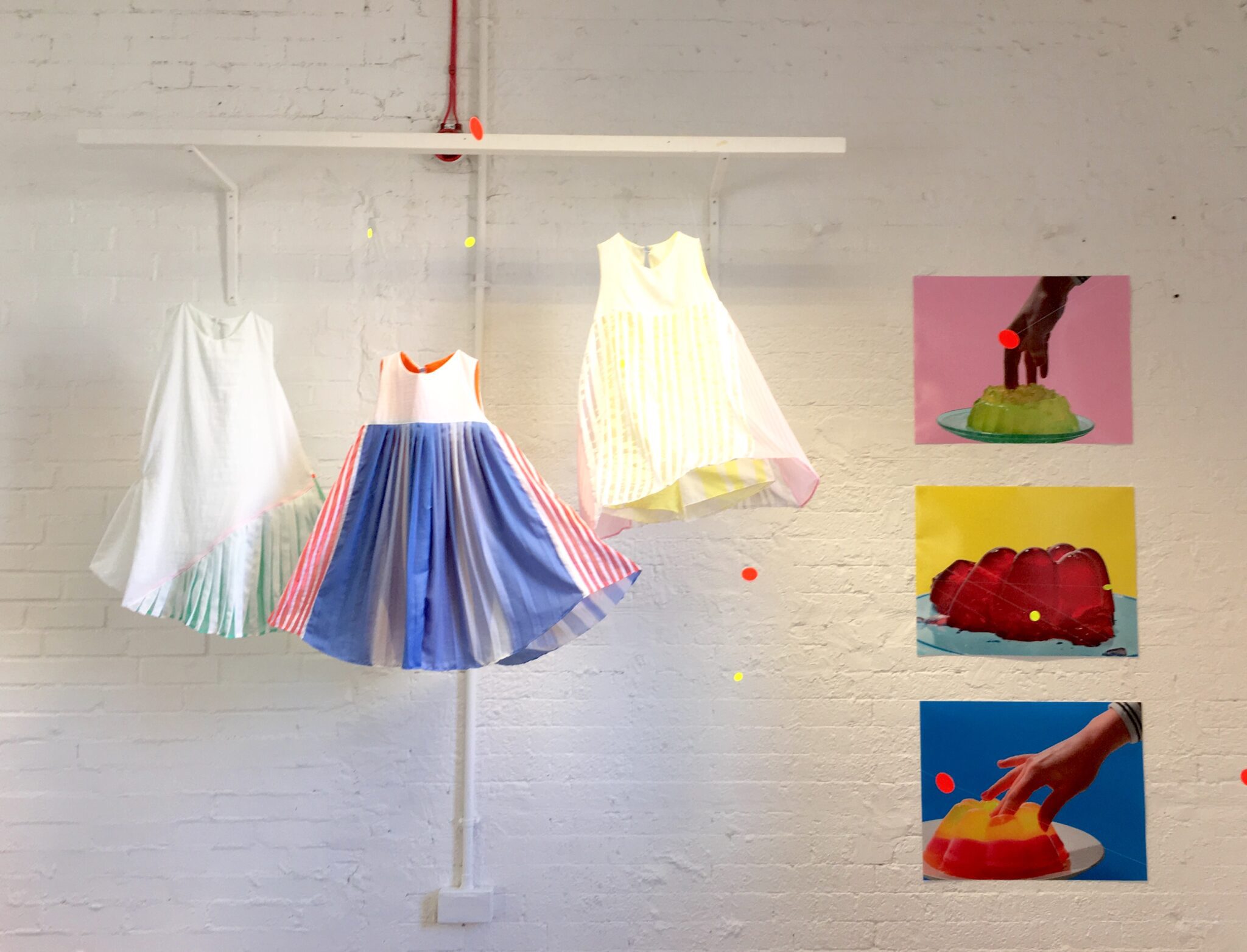 Cute dresses for little girls.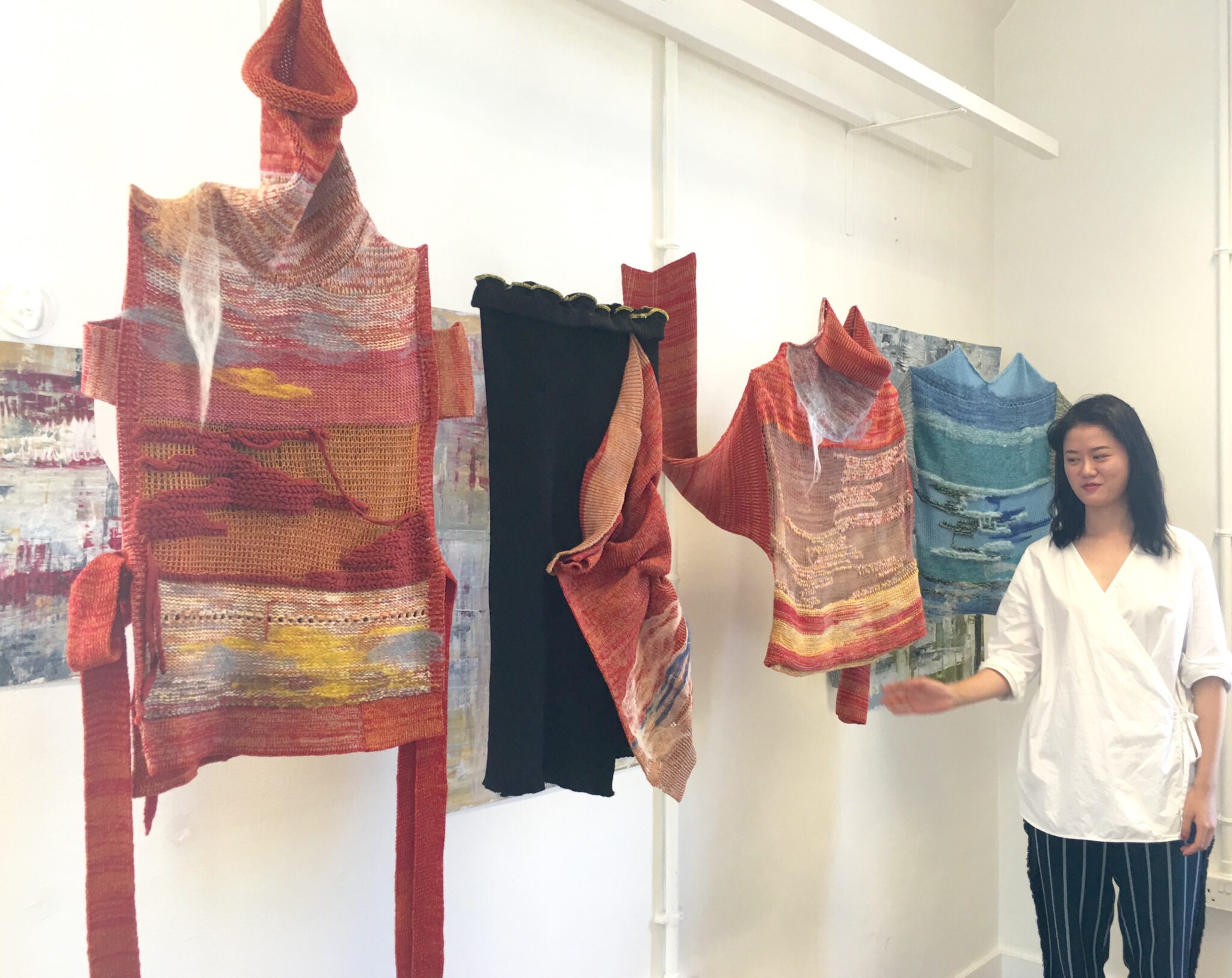 Autum/Winter outfits.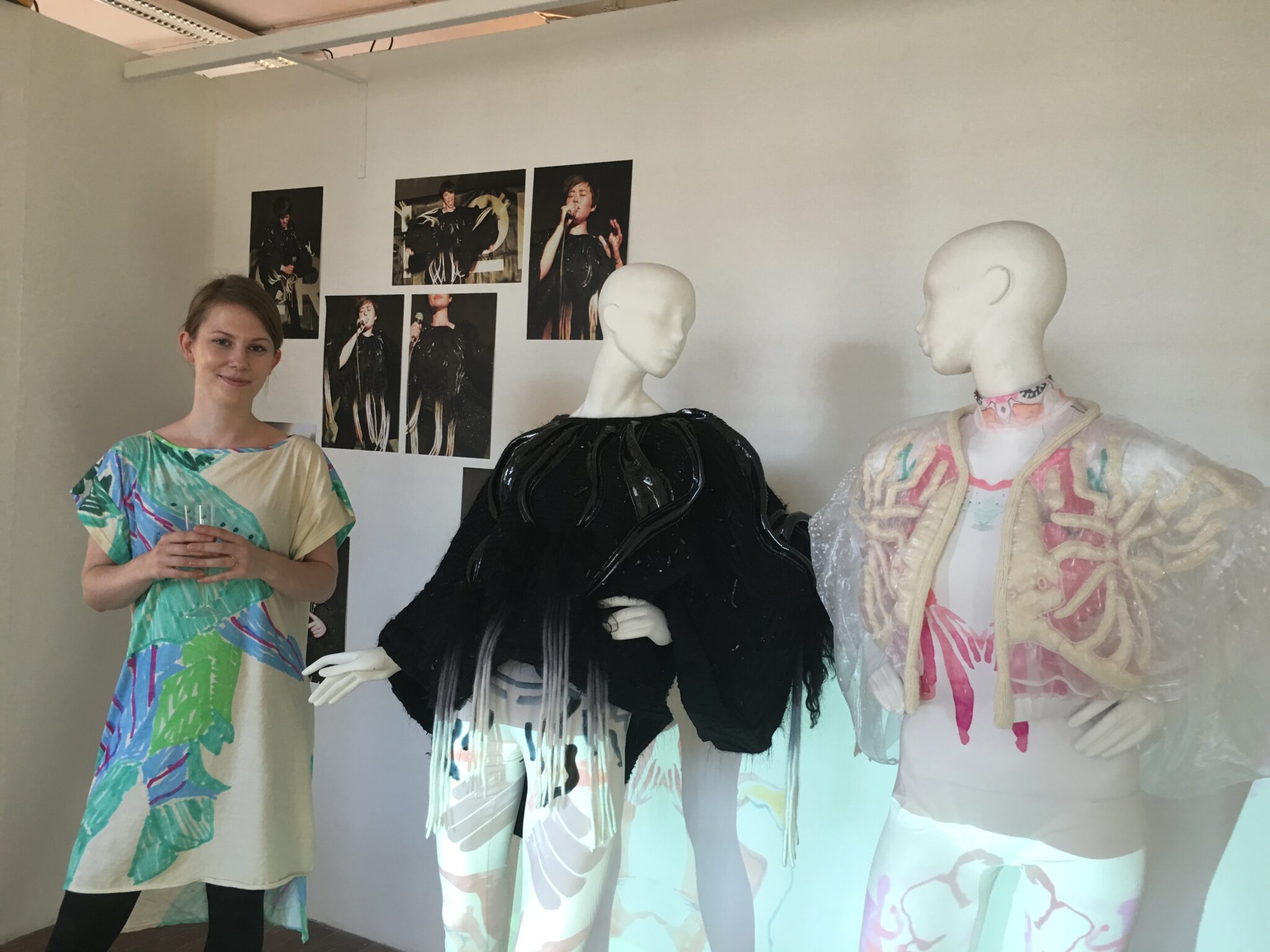 Couture pieces.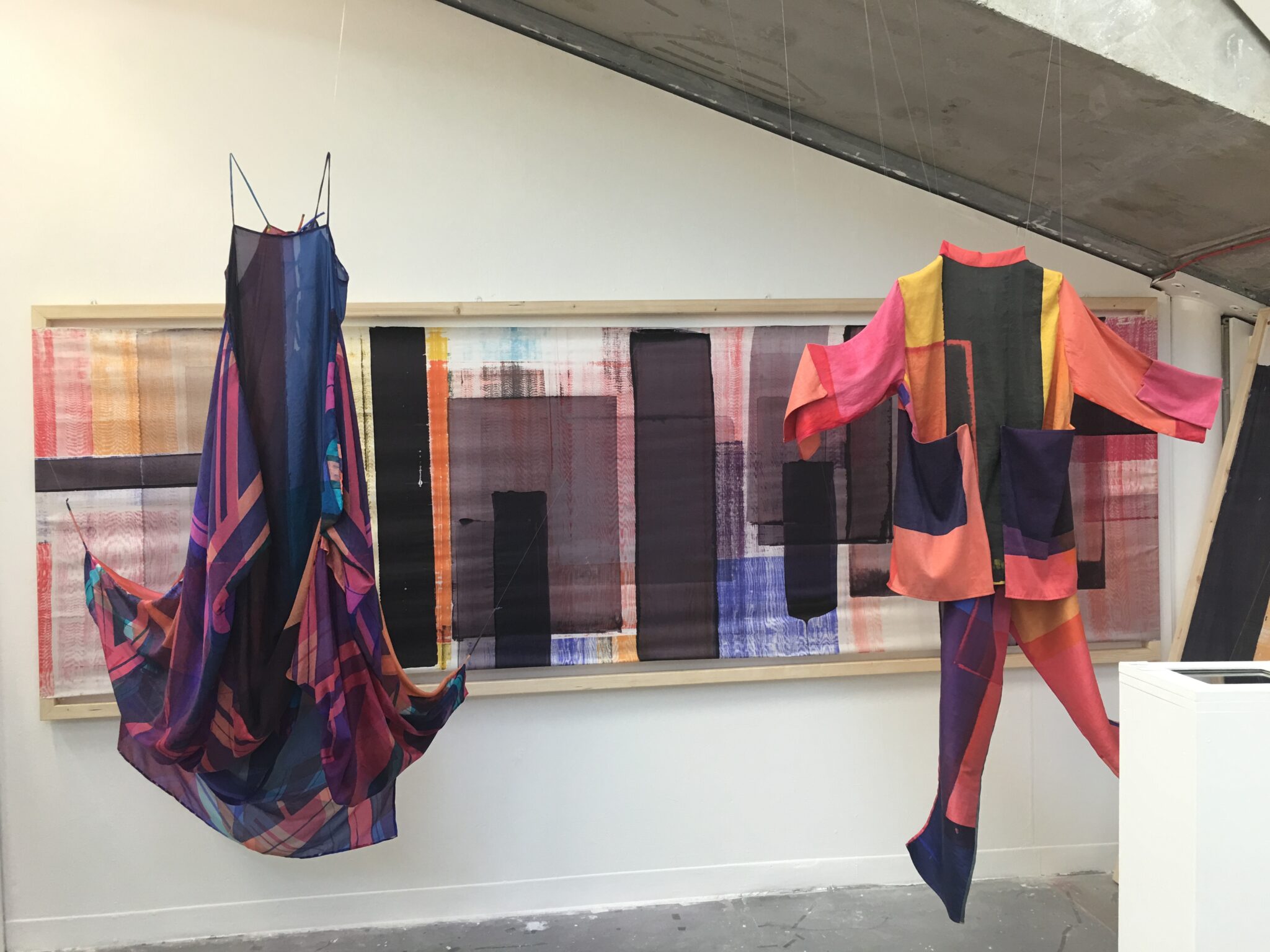 Summer outfits made of silk.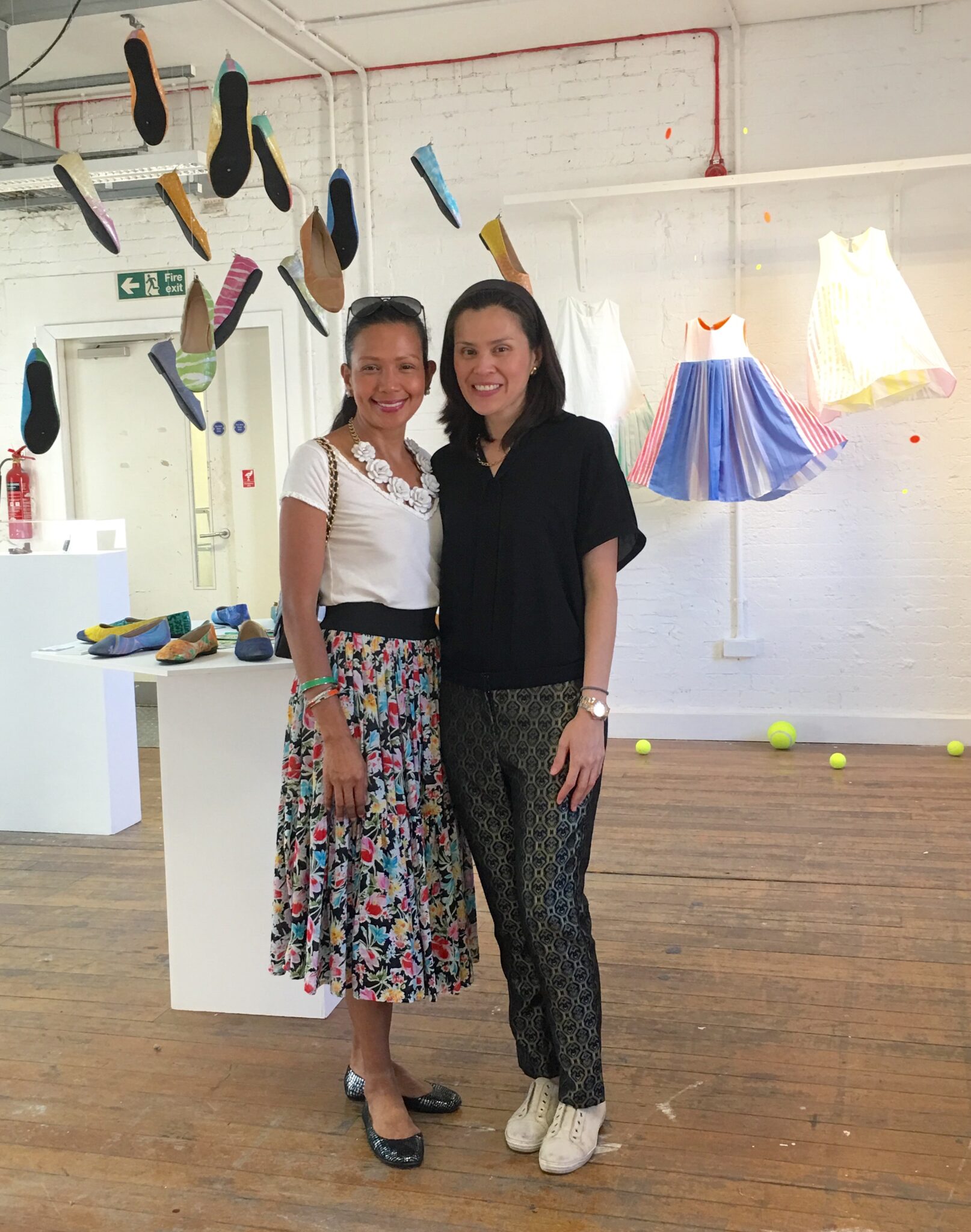 Of course, Olive and I had to pose for an obligatory souvenir photo. 😉 Thank you so much for inviting me to your show, Olive! So proud of you. Congratulations on earning your Master's Degree in Textile Design. Wishing you God's richest blessings as you go back to Manila and make a very important decision on your next career path.