I woke up this morning asking myself, "What's going on in the world? I mean, in the political arena alone it seems like the world is going crazy. 🙂 And from whatever angle you look at it, the fanatical hype of political extremism abounds. I don't know about you but I am sick and tired of all the political chatter on social media so I'd rather talk about food right now — about cakes, soups, comfort food — anything but politics!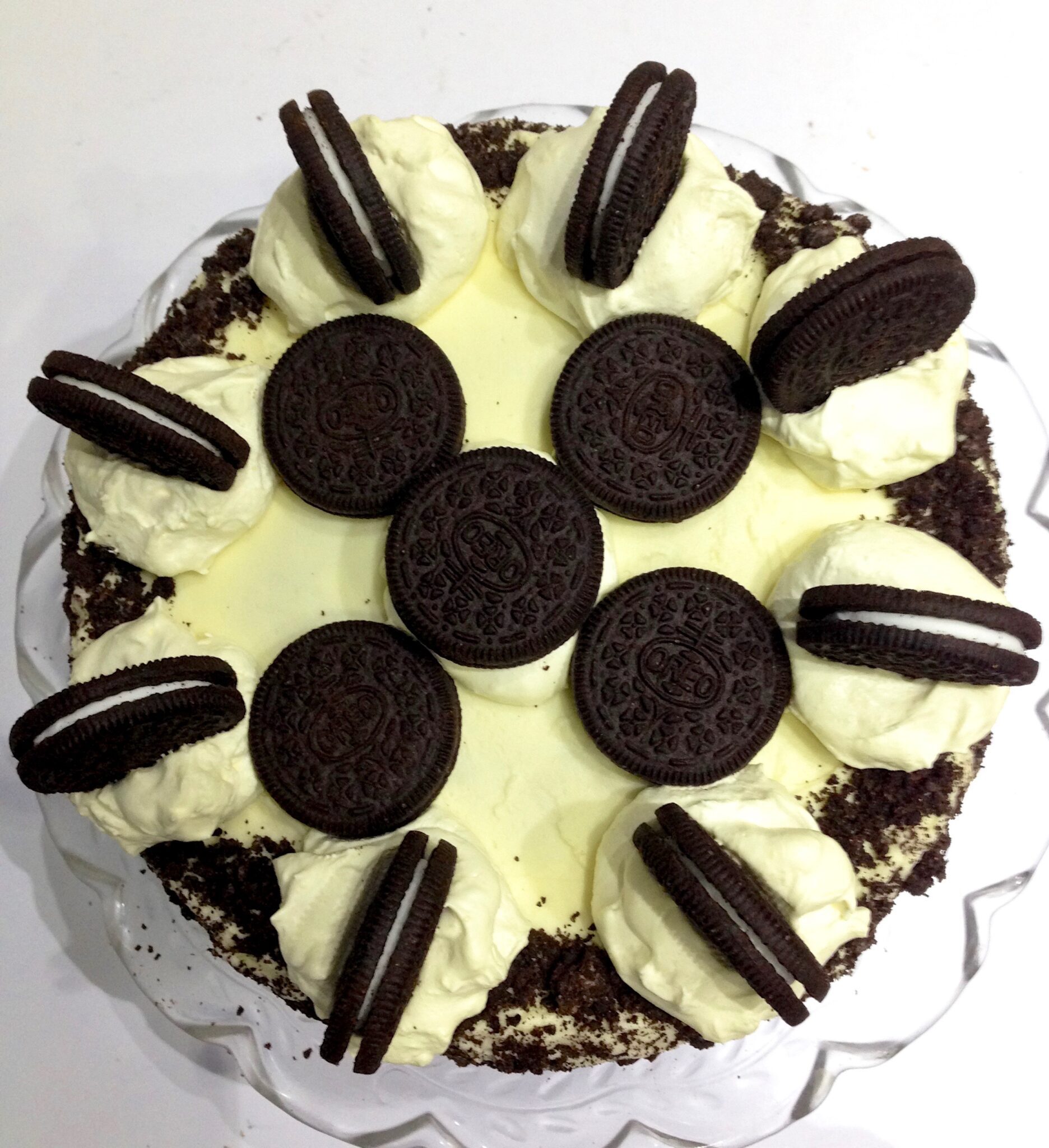 Just look at this Oreo Chocolate cake! I made it for a friend's birthday. Quite an easy dessert to make and delicious, too. Take a little break from politics, grab a cup of tea, and have a slice of cake. 😉
Oreo Chocolate Cake (adapted from BBC Good Food)
Ingredients
For the cake:
250g self raising flour
250g light brown soft sugar
50g cocoa
250g dark chocolate
250g butter
4 eggs
For the filling and topping:
154g pack of Oreo cookies
250g butter
3-400g sifted icing sugar
few drops vanilla extract
1-2 tablespoons milk
Method
Preheat your oven to 160C/fan 140C/gas 3. Grease and line 2x20cm sandwich tins.
Mix the flour, sugar and cocoa together. Melt the chocolate and butter and 200 ml water together over a low heat, then beat this along with the eggs into the dry ingredients.
Pour into the two sandwich tins, and bake for approximately 40 mins, until well risen, and a skewer inserted in the middle comes out clean. Transfer to wire racks and allow to cool.
While the cake is cooling, make the buttercream. Beat the butter until creamy, then add 300g of the icing sugar and vanilla. Mix well. An electric mixer is really useful here! You may find the mixture a bit dry – if so, add a tablespoon of milk at a time. If the mixture is too wet, add a little more icing sugar.
Blitz all but one of the cookies in a food processor. Mix half of the cookie crumbs into the buttercream, and reserve the other half.
Spread the butter icing between the two cakes, and over the top of them when sandwiched together. Sprinkle the remaining cookie crumbs over the top. You could add mini oreos to decorate of you like! Eat the reserved cookie with a glass of milk, to reward yourself for all your hard work!
Regardless of what's going on in this world, let's not forget that God is in control. At all times. Let me just share this scripture passage that came to mind this morning:  "The king's heart is in the hand of the Lord, as the rivers of water: he turneth it whithersoever he will. Every way of a man is right in his own eyes: but the Lord pondereth the hearts." – Proverbs 21:1-2, KJV
Here's the link to BBC Good Food website.