This morning I woke up thinking about my family in the states, and reminiscing about the numerous trips we made to the US to join Jared's family for thanksgiving celebration. A particular passage in the scripture came to mind as I was getting out of bed, 1 Thessalonians 5:18: "In every thing give thanks: for this is the will of God in Christ Jesus concerning you."  After breakfast I checked Matthew Henry's Commentary on this passage, and I was encouraged by his words. Here's what Mr Henry, a Puritan minister in England, and considered the most prominent devotional Bible commentator who lived in the 1700s, had to say:
We are to rejoice in creature-comforts, as if we rejoiced not, and must not expect to live many years, and rejoice in them all; but if we do rejoice in God, we may do that evermore. A truly religious life is a life of constant joy. And we should rejoice more, if we prayed more. Prayer will help forward all lawful business, and every good work. If we pray without ceasing, we shall not want matter for thanksgiving in every thing. We shall see cause to give thanks for sparing and preventing, for common and uncommon, past and present, temporal and spiritual mercies. Not only for prosperous and pleasing, but also for afflicting providences, for chastisements and corrections; for God designs all for our good, though we at present see not how they tend to it. Quench not the Spirit. Christians are said to be baptized with the Holy Ghost and with fire. He worketh as fire, by enlightening, enlivening, and purifying the souls of men. As fire is put out by taking away fuel, and as it is quenched by pouring water, or putting a great deal of earth upon it; so we must be careful not to quench the Holy Spirit, by indulging carnal lusts and affections, minding only earthly things. Believers often hinder their growth in grace, by not giving themselves up to the spiritual affections raised in their hearts by the Holy Spirit. We must not despise preaching, though it is plain, and we are told no more than what we knew before. We must search the Scriptures. And proving all things must be to hold fast that which is good. We should abstain from sin, and whatever looks like sin, leads to it, and borders upon it. He who is not shy of the appearances of sin, who shuns not the occasions of it, and who avoids not the temptations and approaches to it, will not long keep from doing sin.

Last year Jared and I hosted a thanksgiving dinner, and for some reasons I didn't get to blog about it. It was the first time I had to fix thanksgiving meal all by myself but with Jared's help, of course. 😉 As I wanted to make it special, I thought long and hard about the table setting, menu, and all of that.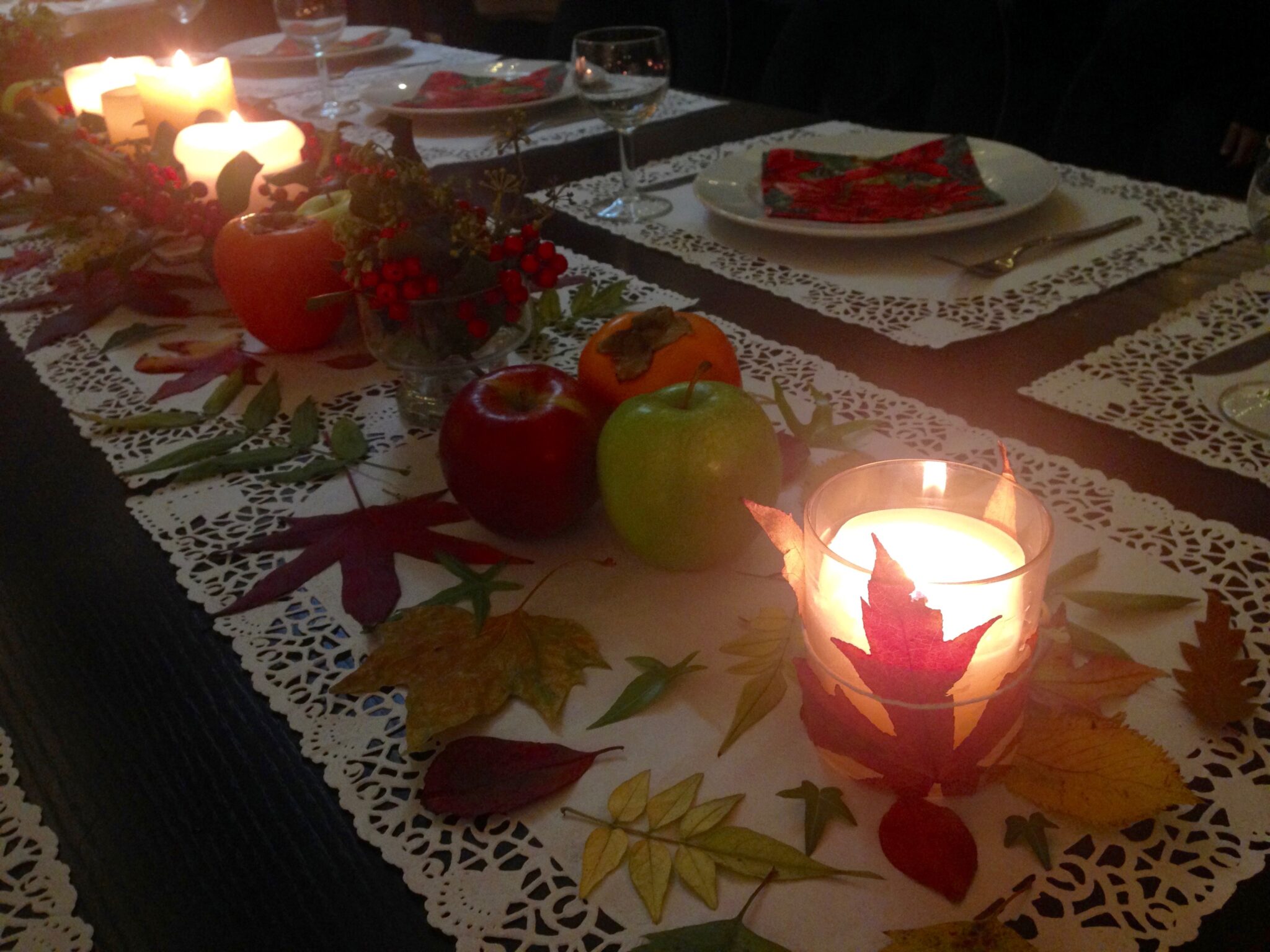 I collected leaves from the park, bought candles and different types of  autumn fruits — used them all as the above pictures show. It looked great with the candles lit up, if I may say so myself. 😉
As I was very busy with cooking, baking, and all of the preparations, I didn't get to take pictures of the turkey, ham, and the rolls. The only photos I found on my iPhone are the ones I am posting here. Top photos — Red Lobster Cheddar Bay Biscuit and Roasted Brussel Sprouts.
The cut-up ham and sweet potato casserole topped with marshmallows.
For dessert, I made Chocolate Pecan Pie — before and after baking photos.
And of course, thanksgiving meal isn't complete without the Pumpkin Pie. 🙂 My mother-in law makes the best thanksgiving meal. Miss her a lot and wish we were in the states right now. 🙁 She is coming to London for Christmas though so can't wait to have her with us for a couple of weeks.
As I pray for my family and friends in the states this morning I was reminded of the goodness of the Lord and His faithfulness. I'm so thankful for so many things, big and small, including the trials and difficulties that come my way. As Christians we are commanded to always be thankful. 
"In every thing give thanks: for this is the will of God in Christ Jesus concerning you." 
 – 1 Thessalonians 5:18
Happy thanksgiving to all my family and friends!